---
Most likely you are still enjoying the soup days of winter. These layered, flaky Dill Ricotta Biscuits are the perfect pair for your simmering dinner.
---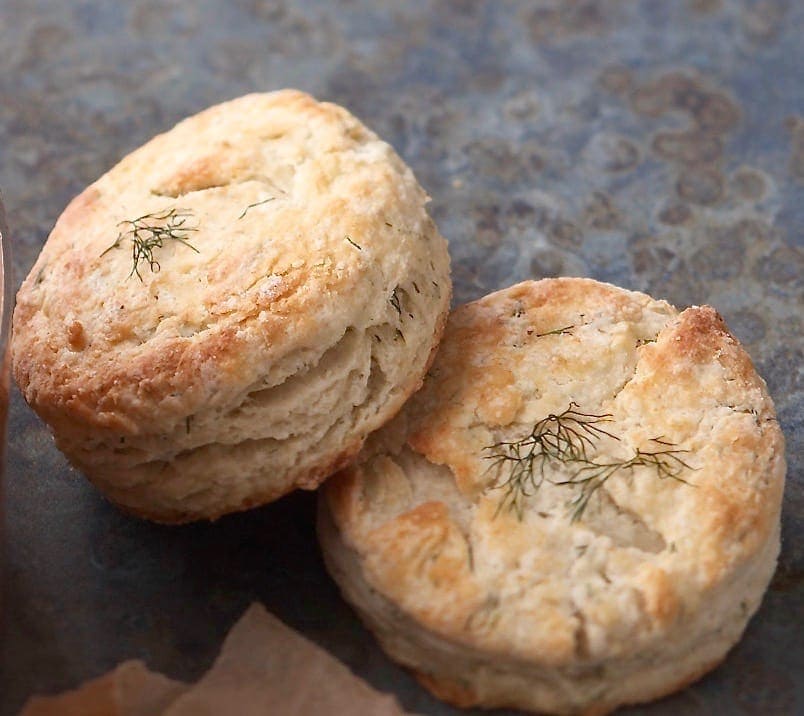 I love making soup for the zone I get into. Chopping veggies, bits of herbs and adding all the flavors is calming for me. I'll even do it to procrastinate the rest of my life responsibilities! Typically a fresh baguette or even a crouton or two (or more than a few!) are good to serve along with it.
I have a bit of a weakness for bread. Pretty much any kind will do! These biscuits with a bit of butter are genius with any soup. And fill the quota for bread like a charm.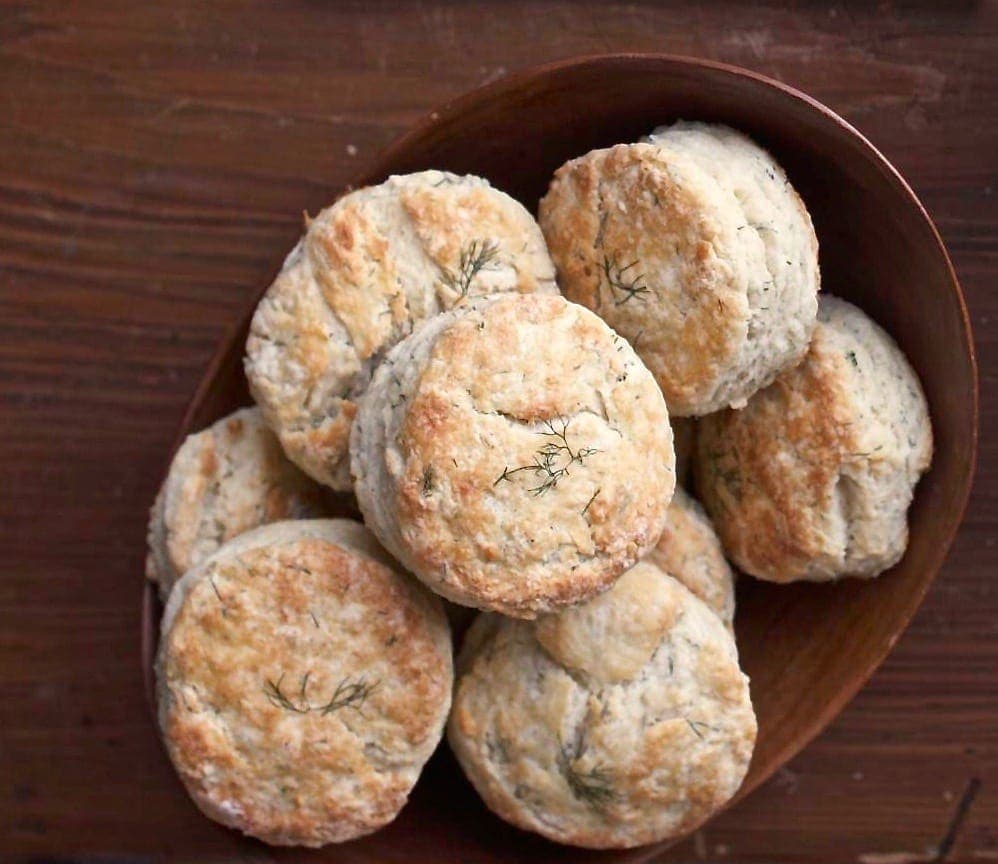 I added ricotta to the biscuits to add lightness to the texture. And the milk solids help the biscuits achieve a lovely golden brown color while cooking. The biscuits are made using the basic blending method of cutting the butter into the flour and leavening and gently mixing in the liquid and ricotta.
Don't over mix the dough and pat it out on your work surface to cut. Over mixing will create a tough biscuit because the gluten in the flour has more of a chance to develop.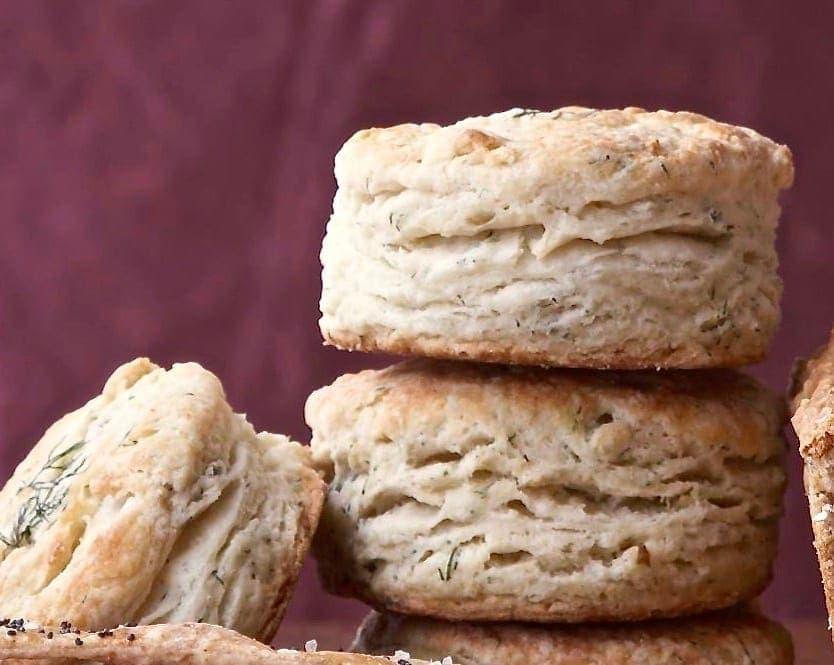 The gorgeous layers and flakiness come from the bits of butter melting and creating little steam pockets as the biscuits cook.
For photo-worthy biscuits, here is a trick I've learned from my years in food styling: When you cut each biscuit with a round cutter, don't twist and turn. Cut straight down and lift straight up. This keeps the layers separated on the sides and allows the biscuit to rise straight up to the sky as it bakes, instead of collapsing to one side or the other from the little twists during cutting.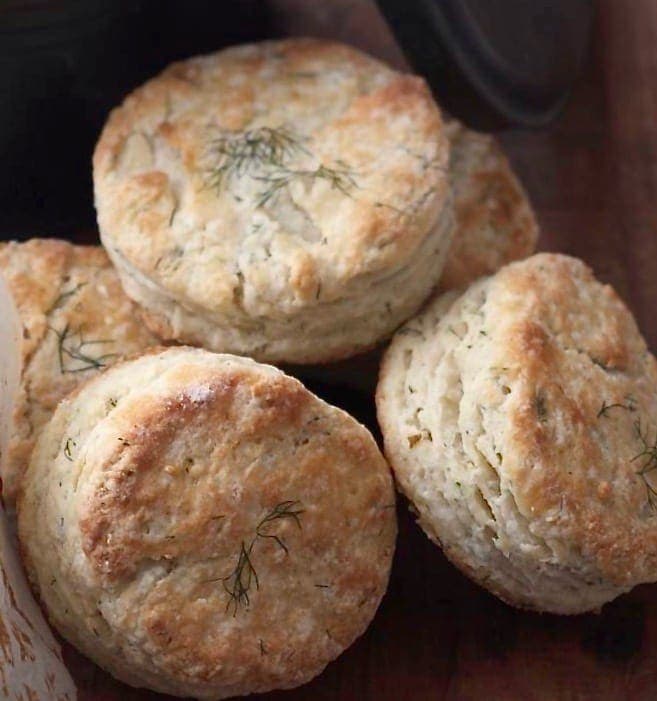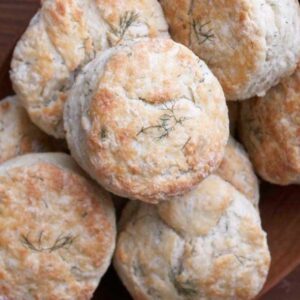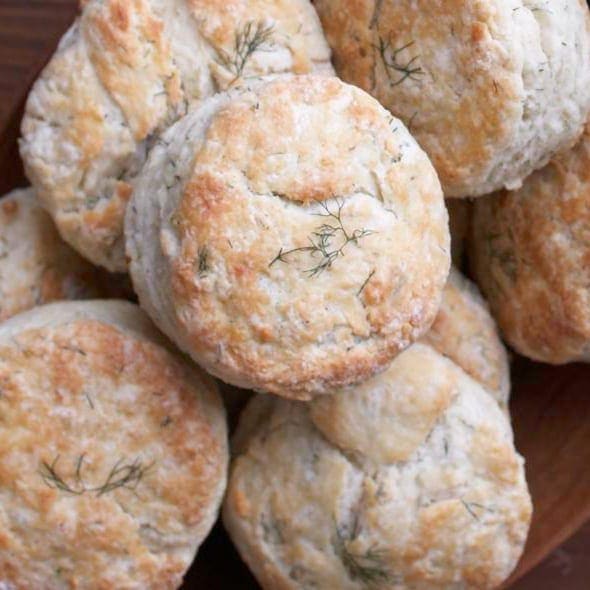 Dill Ricotta Biscuits
A perfect addition to serve with your favorite meal, winter-time soups or on spring buffets. They make delicious sandwiches with leftover roast ham.
Ingredients
4

cups

all-purpose flour

plus more for work surface

1

tablespoon

baking powder

1

teaspoon

baking soda

1

tablespoon

sugar

1½

teaspoon

salt

½

cup

1 stick butter

cut up

1

cup

buttermilk

1

cup

part-skim ricotta

3

tablespoon

chopped fresh dill
Instructions
Heat oven to 375°F. In a large bowl, whisk together flour, baking powder, baking soda, sugar and salt. Using a pastry blender or two knives, cut in butter until mixture resembles small peas. In a medium bowl, whisk together buttermilk, ricotta and dill; stir into flour mixture. On a lightly floured surface with floured hands, pat out dough to 1-inch thickness.

Using a 3-inch biscuit cutter, cut out biscuits. Push together dough scraps and shape into more biscuits. Place biscuits, 1 inch apart, on a baking sheet.

Bake until puffed and golden, 25 to 30 minutes. Transfer sheet to a wire rack and let cool slightly. Serve warm.
Notes
Light and fluffy biscuits with a twist of flavor.
They make tasty biscuit breakfast sandwiches.
Nutrition
Calories:
265
kcal
Carbohydrates:
35
g
Protein:
7
g
Fat:
10
g
Saturated Fat:
6
g
Cholesterol:
28
mg
Sodium:
511
mg
Potassium:
198
mg
Fiber:
1
g
Sugar:
2
g
Vitamin A:
355
IU
Vitamin C:
0.1
mg
Calcium:
131
mg
Iron:
2.1
mg
These herb-laced, buttery biscuits pair perfectly with my Sausage and Greens Soup or Spicy Maple Bacon Drumsticks.
Make a delicious soup recipe today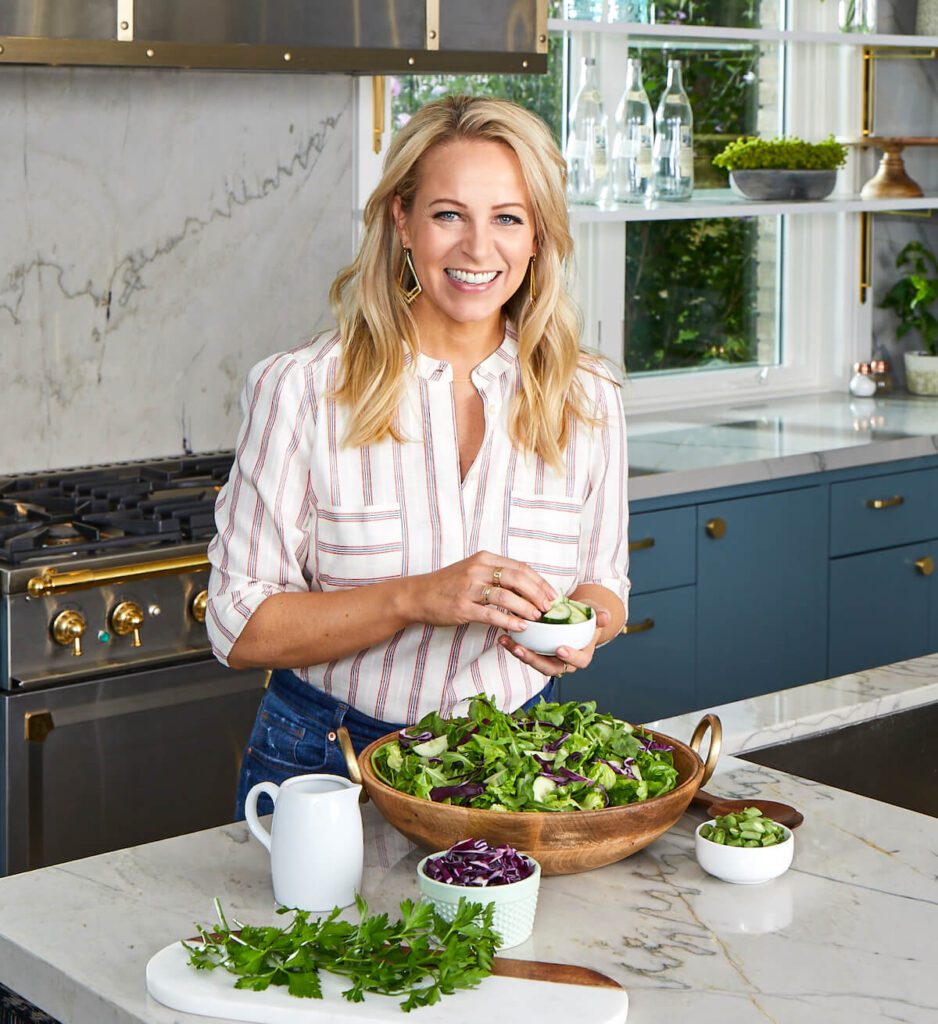 About Tara Teaspoon
I've been in the food publishing business for over 20 years, creating recipes & food-styling for magazines, books, television & advertising. Order my new cookbook & stick around for amazing things to eat.
Recipe Tara Bench. Photography Blaine Moats. Prop Stylist Carol Linnan. Originally published LHJ 2/08