You are in the right place to enter for a chance to win one of the prizes during this year's Tara Teaspoon Week of Giving! Running November 9, 2023 through November 15, 2023 with over 15 incredible gifts!
Enter your name and email in the form box below, and hit "enter."
It will ask you if you're a robot, confirm you aren't, then watch for a confirmation email. If it's missing check promotions or junk. Giveaway details are below.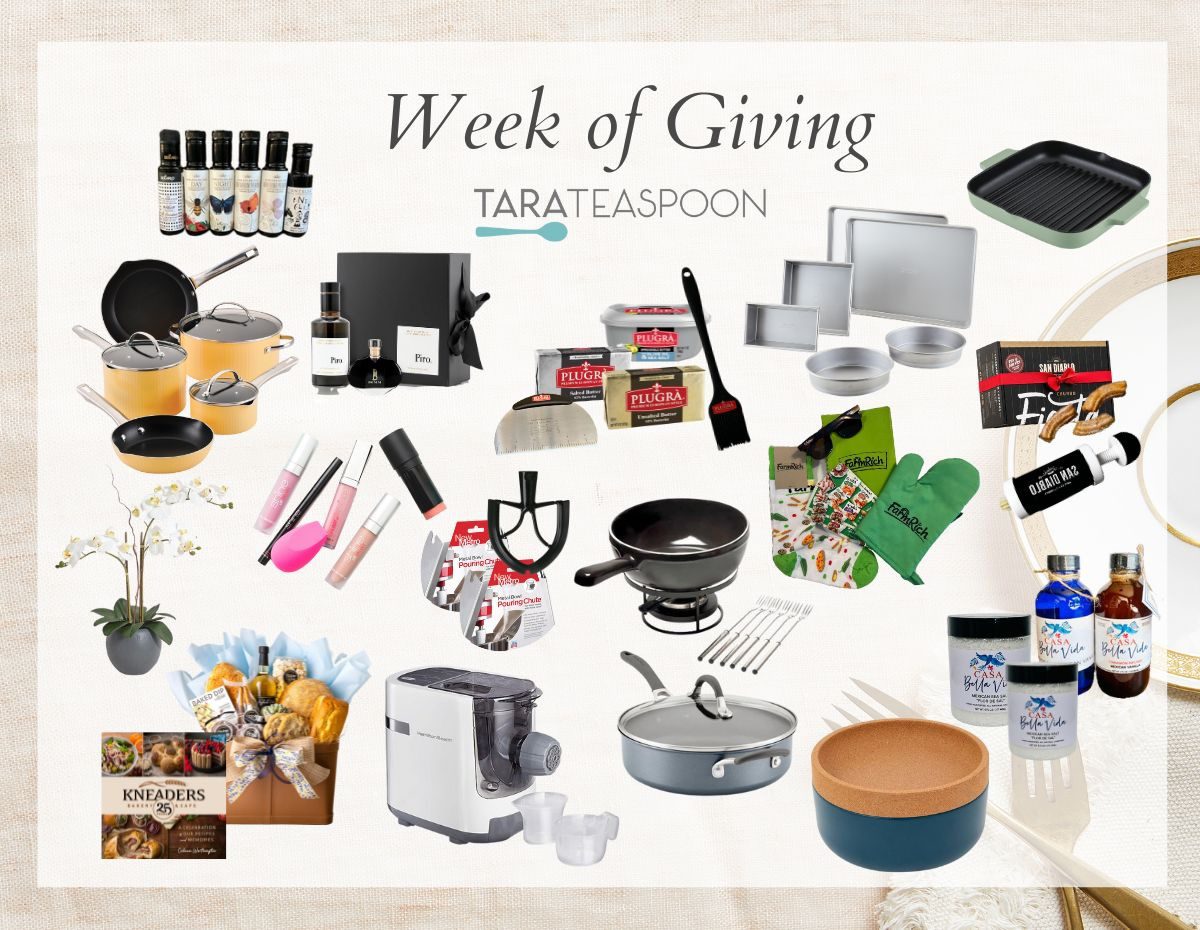 Jump to:
I have put together a week of giving to give back to all of you. A full 7 days and 15-plus winners!
All you have to do is enter your full name and email, and you'll be entered into the drawings that will happen almost every day.
It's my way of saying THANK YOU for being here with your support as followers and subscribers.
A Closer Look At The Prizes
A heartfelt thank you to the incredible and generous brands that have made the giveaway an extraordinary experience! With over 15 brands participating, their exceptional gifts have elevated this event to new culinary heights.
The combined value of these remarkable prizes exceeds $2000, promising a week of culinary wonders and delights for the fortunate winners. I am truly grateful for their support and dedication to making this giveaway an unforgettable celebration of flavor and community.
If you love the items and don't win, click the link to purchase your own. And give them a follow on social media.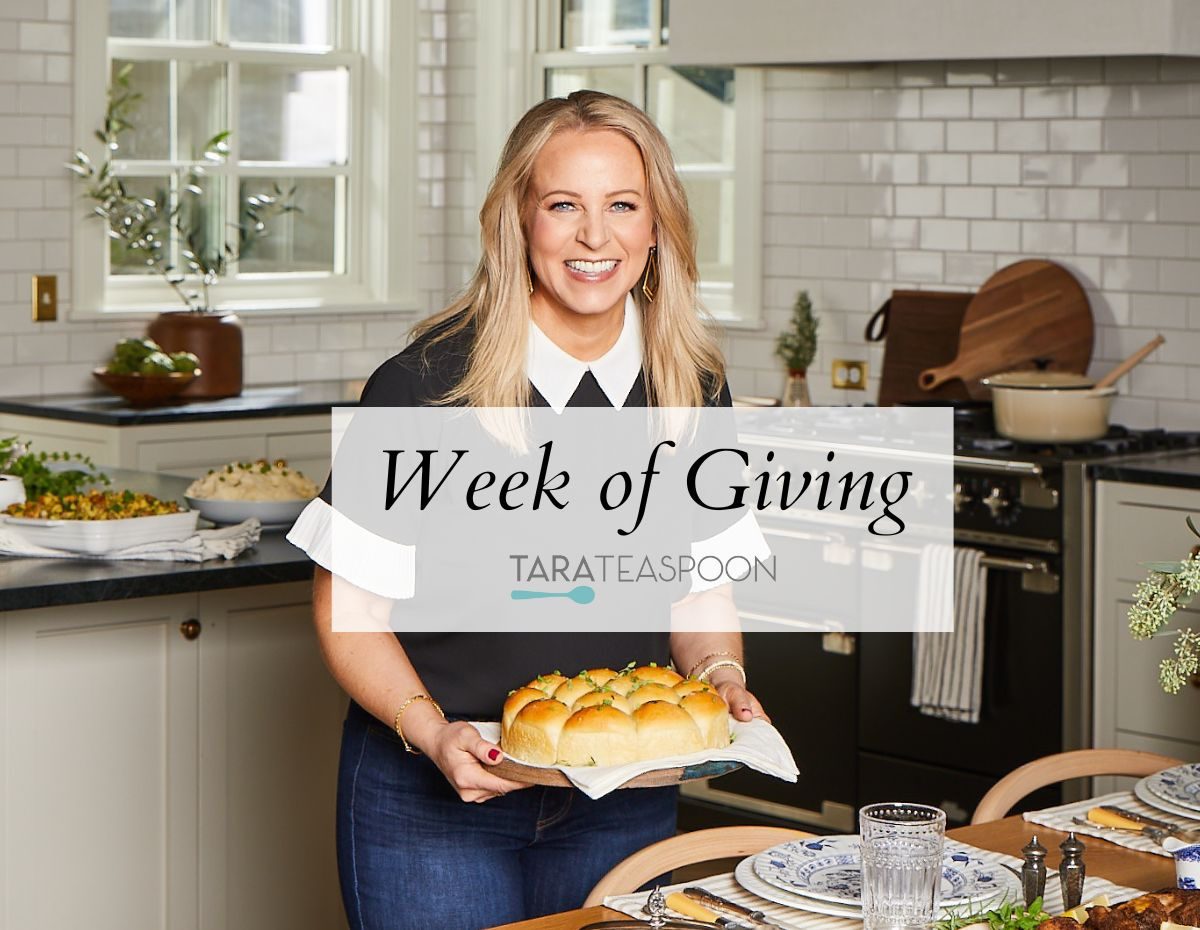 Week of Giving Details and Rules
Tara Teaspoon Week Of Giving Giveaway Official Rules. Please note the 48-hour claim window and other restrictions.
Welcome to the giveaway. Before you embark on this joyous journey, please familiarize yourself with the following terms and conditions:
Eligibility: To participate, entrants must be 18 years of age or older and residents of the continental United States. This giveaway is exclusively for individuals who meet these criteria. If eligibility is in question Tara Teaspoon Inc. may require proof of age and location.
Entry Deadline: The giveaway entry period concludes on November 15th at 11:59pm Eastern Time (ET). Entries submitted after this specified time will not be considered. Prizes will be randomly rewarded throughout the duration of the giveaway running November 9th through the 15th until all prizes are won.
Transparency: The prizes offered in the Tara Teaspoon Week Of Giving Giveaway are generously donated directly by brands that Tara Teaspoon Inc. supports. There has been no exchange of money or remuneration involved in this process. Tara values and champions these brands, and this giveaway is a heartfelt expression of that support. We believe in sharing the finest culinary experiences with our dedicated audience, and we're thrilled to do so in collaboration with these exceptional brands. Thank you for being a part of this extraordinary culinary celebration!
Winner Selection: Winners will be selected through a completely impartial process. An online random number picker will be employed to ensure the utmost transparency and objectivity in the selection. It's important to note that each winner is eligible to claim the one prize they are chosen for throughout the week. Once an entrant is chosen as a winner, their name will be removed from subsequent drawings. Rest assured, every entrant will be included in each random drawing, offering everyone an equal opportunity to savor the delightful prizes on offer.
48-Hour Claim Window: Once a winner is selected, prompt action is required! Winners will have 48 hours from the moment of receiving the email notification to claim their prize. Should a winner fail to respond within this time frame, another entrant will be chosen for that prize. Entrants who fail to respond will be notified, but cannot claim a prize after 48 hours of being emailed. We encourage all entrants to diligently check their email inboxes, including spam folders, to ensure they don't miss out on their opportunity to indulge in our delicious prizes.
Privacy Assurance: Entrants' privacy is of utmost importance to Tara Teaspoon. Rest assured, your email address will be treated with the utmost confidentiality. It will not be sold or disclosed to any third parties. Additionally, by entering the giveaway, participants agree to receive the Tara Teaspoon newsletter, which will provide culinary insights, recipes, and updates.
By entering the Tara Teaspoon Week Of Giving Giveaway, participants acknowledge and accept these official rules. Tara Teaspoon reserves the right to modify or terminate the giveaway at any time. Best of luck to all participants, and may the flavors be with you!
YOU can give too! See my gift guides to find gifts for the cook and food-lover in your life!