Sweet cardamom bread called Pulla Bread is a staple in Finland. Soft and aromatic, it has a sprinkling of pearl sugar and almonds.
These braided loaves of sweet cardamom bread are soft and light and disappear fast.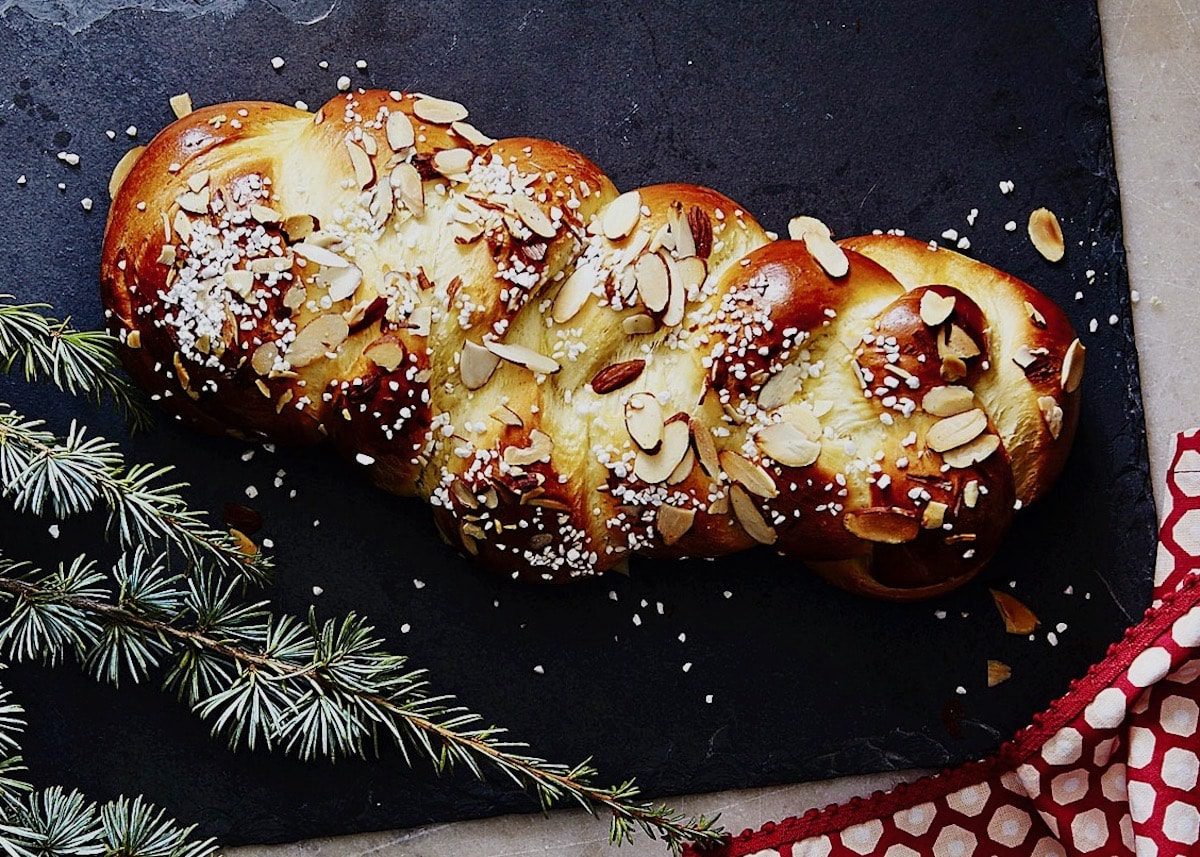 You'll find it by many different names: Pulla Bread, Nisu, Finnish Bread, Finnish Coffee Bread, Voisilmäpulla (ok, maybe we both don't use that one!) and Cardamom Bread, but whatever you call it, I guarantee it will be a favorite.
Jump to:
What is Nisu and is it the same as Pulla?
Pulla is a slightly sweet, cardamom-scented bread eaten with coffee or tea in Finland (so popular it's like the coffee and donuts combo here).
There are certainly several variations on the traditional, often it's made into rolls instead of braids or speckled with raisins.
Here, if I dare say, is the most divine recipe—it might just become a holiday, no, a weekly tradition!
It's soft and uniquely flavored with the signature sprinkling of sugar and almonds on top.
Nisu is the older reference for this Finnish yeasted bread. Food52 has a great story about the history of the word from a Finnish descendant, who tells us Pulla is simply the all-encompassing word for the sweet bread typically served with coffee.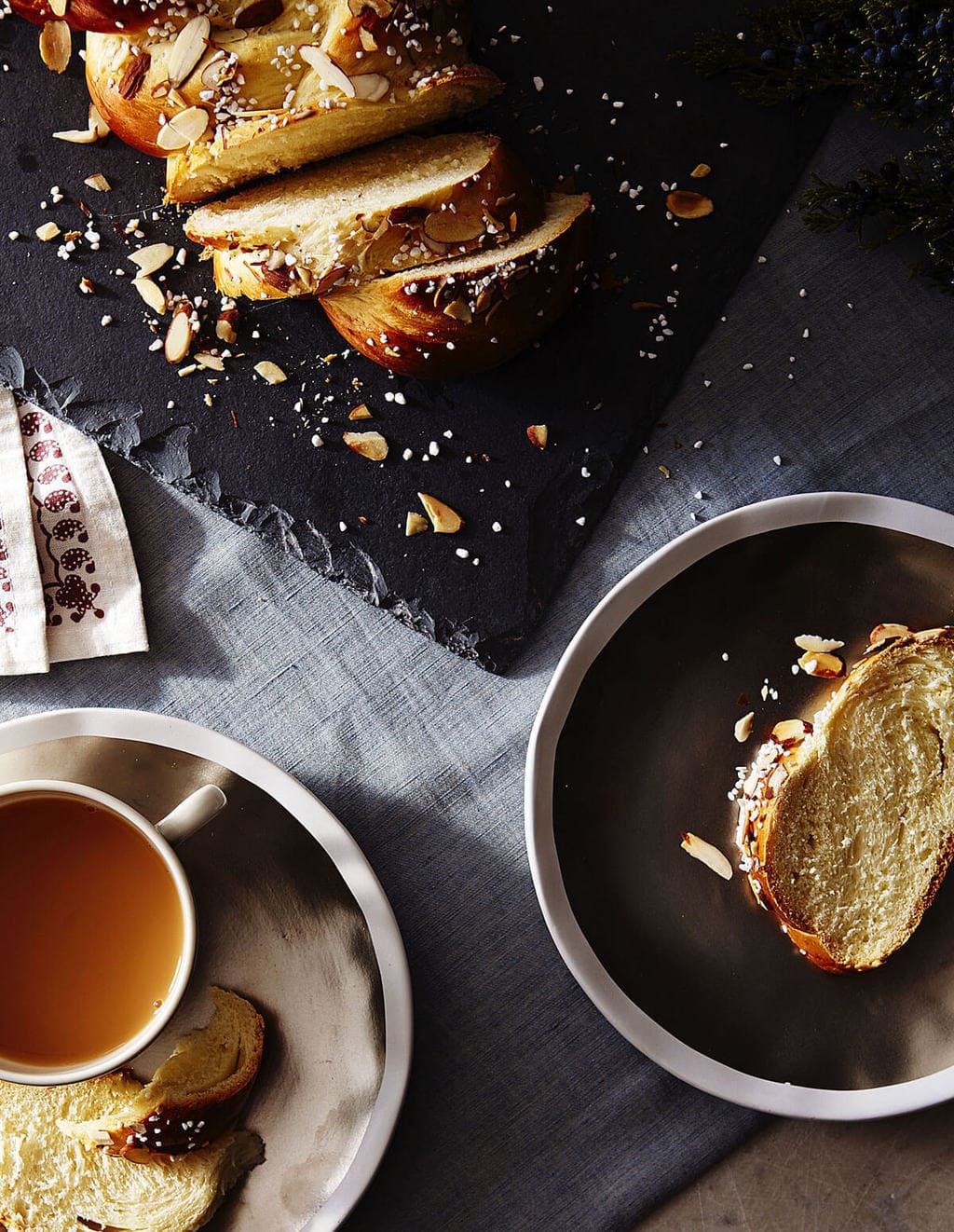 This Cardamom Bread Recipe (Legacy and confessional)
My sweet friend Emily shared her family recipe for this Finnish bread with me. It's truly the softest, most beautiful Pulla bread I've ever seen, and the best I've tasted.
This Scandinavian bread has been a Harris family staple since my friend Emily's dad made it for her mom when they were first married. The best part—he made it out of boredom on his two-week Christmas break from law school!
After finding the recipe in a cookbook he had from his time living in Finland on a church mission, he surprised his wife with braided loaves of bread and an apartment scented with sweet cardamom.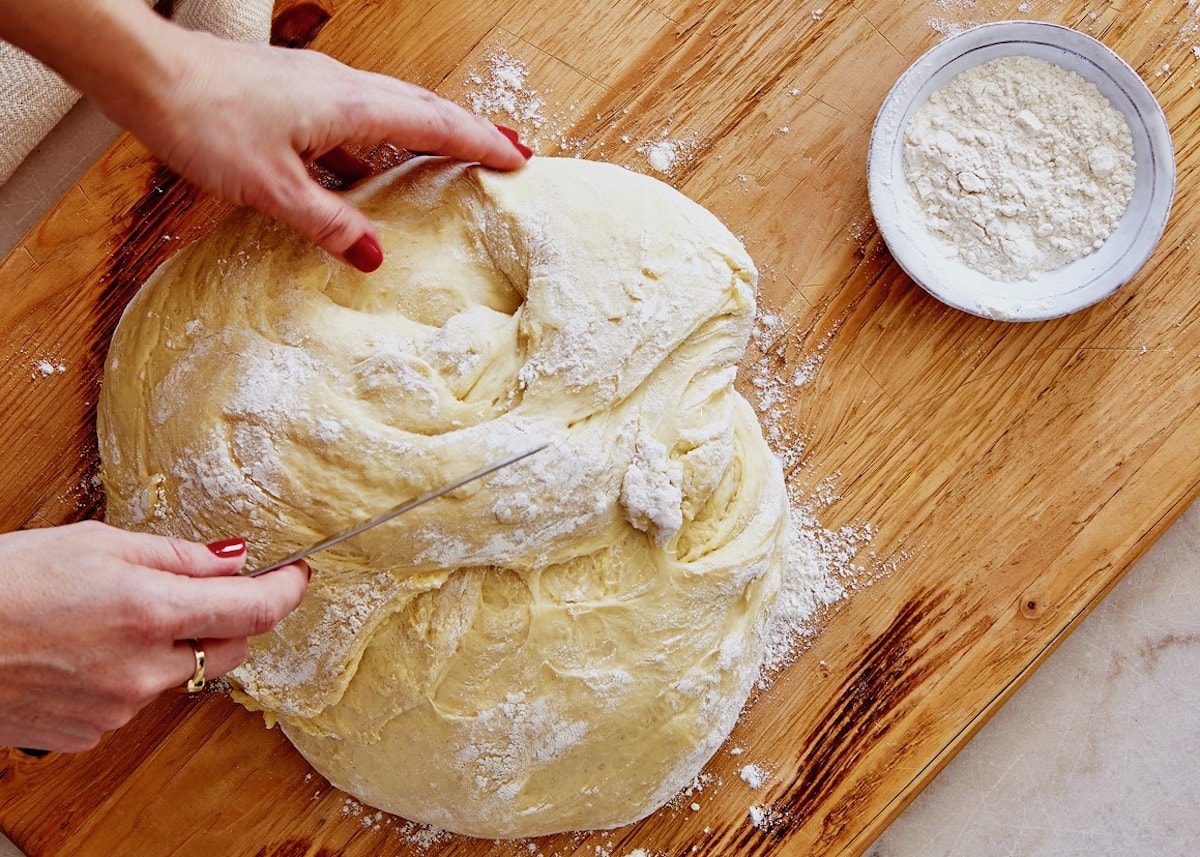 From a Christmas discovery to a tradition, this cardamom Pulla Bread is now made 100 loaves at a time!
Emily's mom, Jean, now bakes the bread every Christmas to give away, and of course, eat.
One year she made over 100 loaves! The bread, warm out of the oven, is so tempting the Harris kids enacted a "Pulla Bread tax." Stating that some of the loaves from each batch had to stay home to be eaten. Fair enough!
Emily's favorite memory is of a particularly snowy December night when the roads hadn't been plowed yet. Dad pulled her and her brother through the neighborhood on their Radio Flyer sled to deliver the loaves. It's THAT worth it!
More than one of their friends have confessed to eating entire loaves themselves, even hiding the special delivery from their spouse. Clearly, you should make this bread and see what all the fuss is about!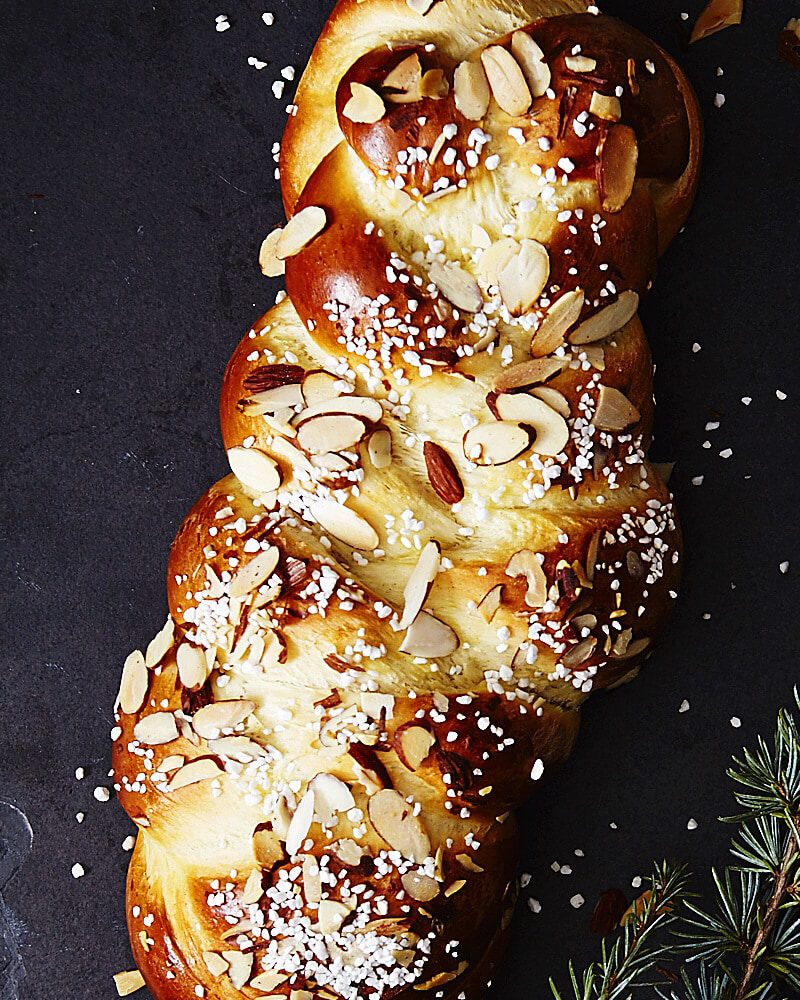 Finnish bread with Pearl Sugar
Sliced almonds and Swedish Pearl Sugar add to the elegance and taste of the cardamom scented bread. Sprinkled on just before baking, the almonds get lightly toasted and add a crunch to the few special bites of crust.
Swedish Pearl Sugar, found online or at some grocery stores, is a gorgeous sugar that doesn't melt when baked, and stays a vibrant opaque white color. It's granulated sugar that has been processed into tiny pieces and polished to resemble pearls! It resembles snow on top when Pulla Bread is made in the winter.
How to braid Pulla Bread
See just how to create the beautiful braided loaves.
On a board or lightly floured surface, divide the entire recipe of dough into 3 pieces.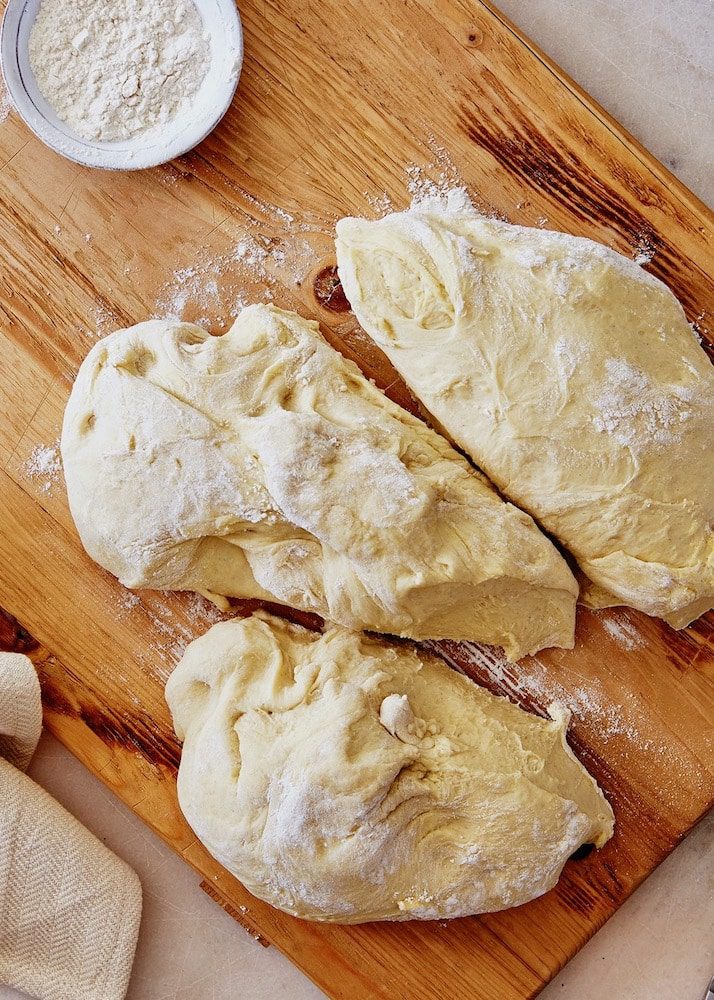 Divide those three pieces into 3 small pieces each. For a total of 9 pieces.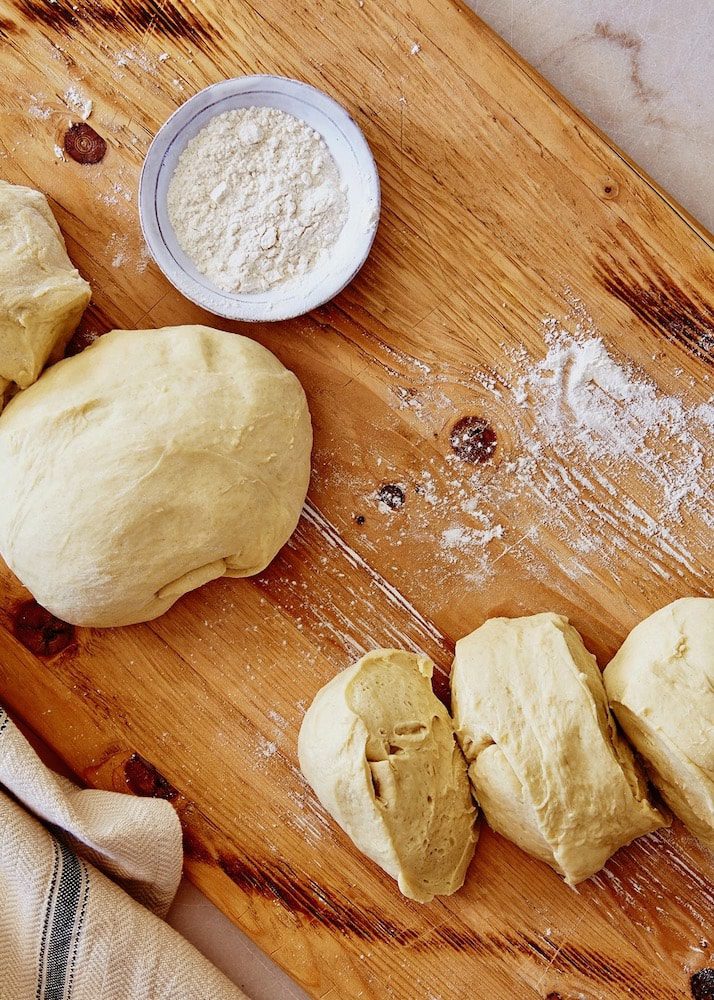 Roll the balls into long ropes, about 1 ½ inches in diameter. You'll have 9 ropes.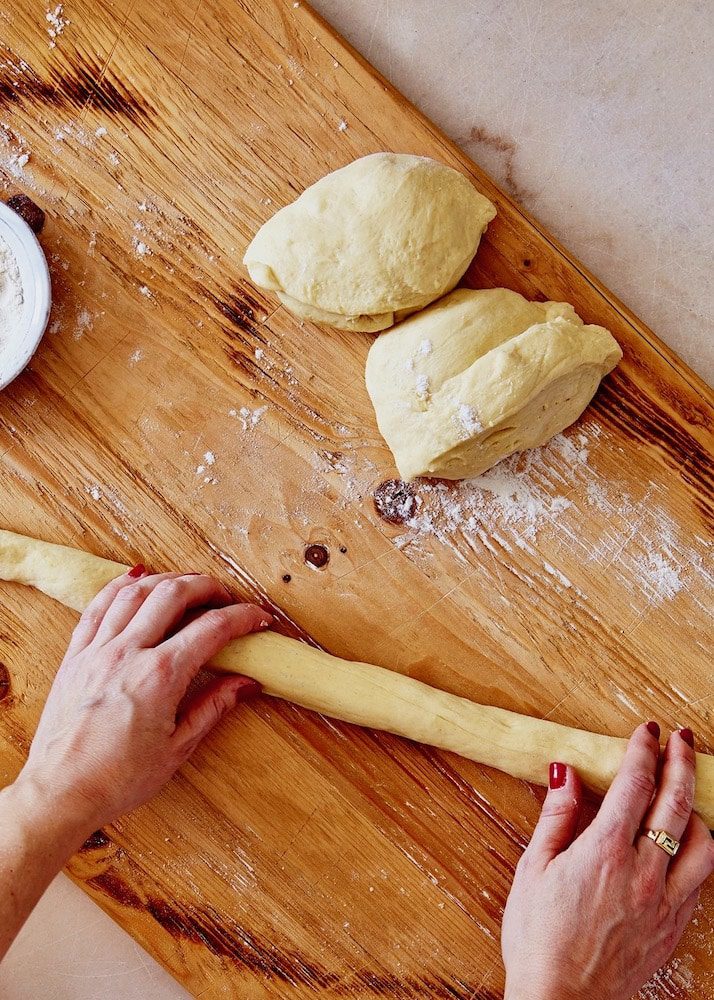 Once the balls are rolled into long ropes you can braid them to make 3 large loaves. Or, cut them each in half and braid them to make 6 small loaves. The small loaves are perfect for gift giving.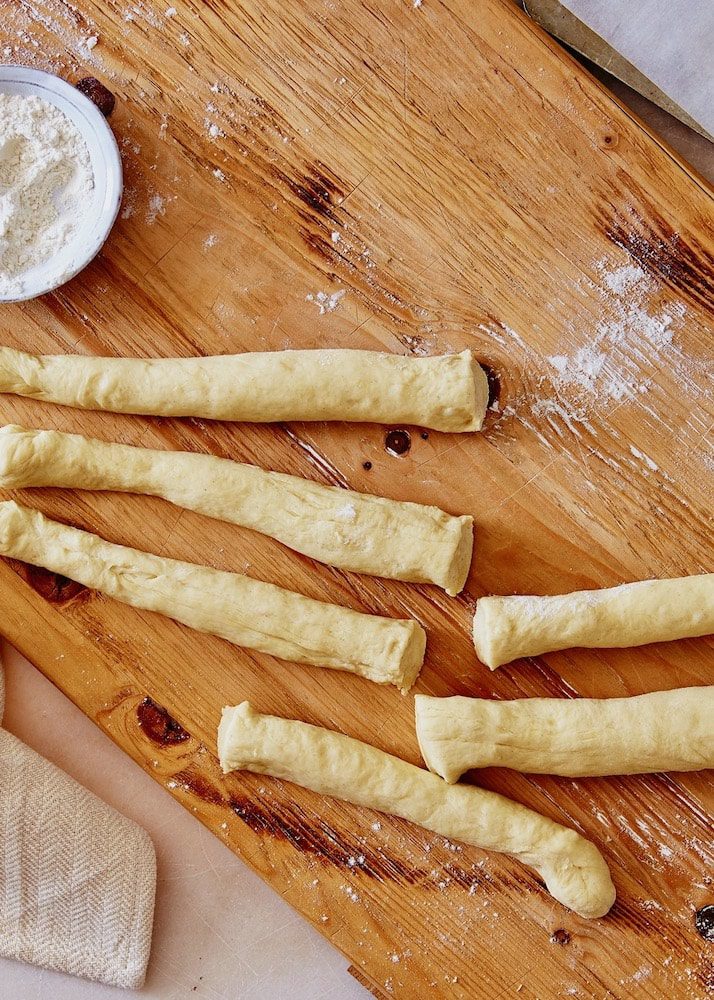 You'll need several baking sheets if you are making 6 loaves. A simple braid is the most traditional way to prepare each loaf.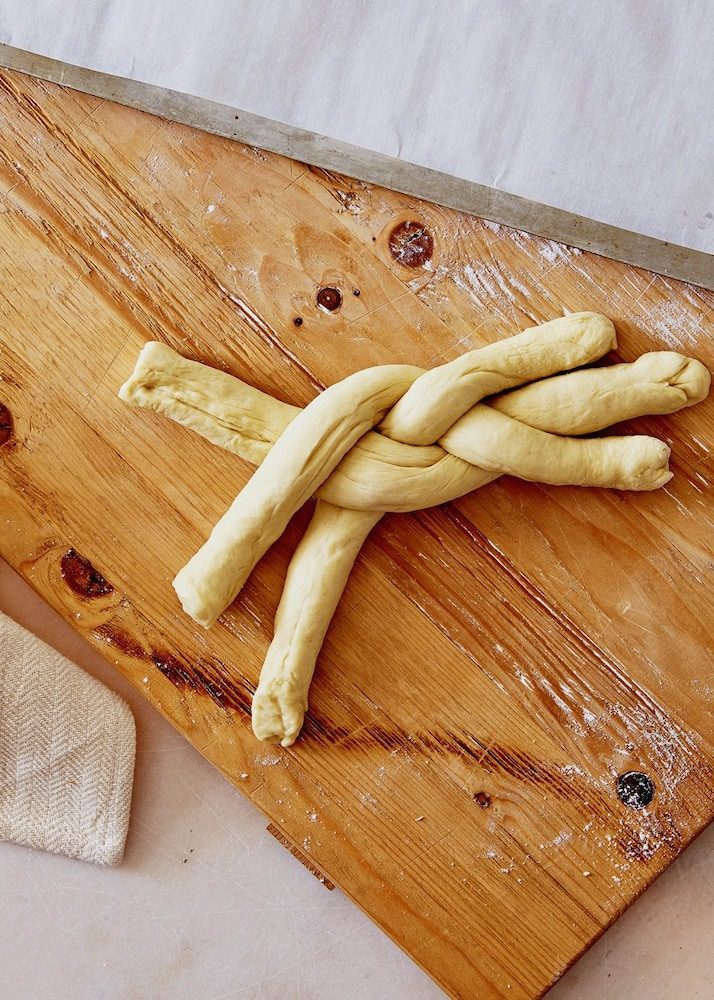 Tuck the ends of the braid underneath the loaf and pinch to secure. You won't see that part!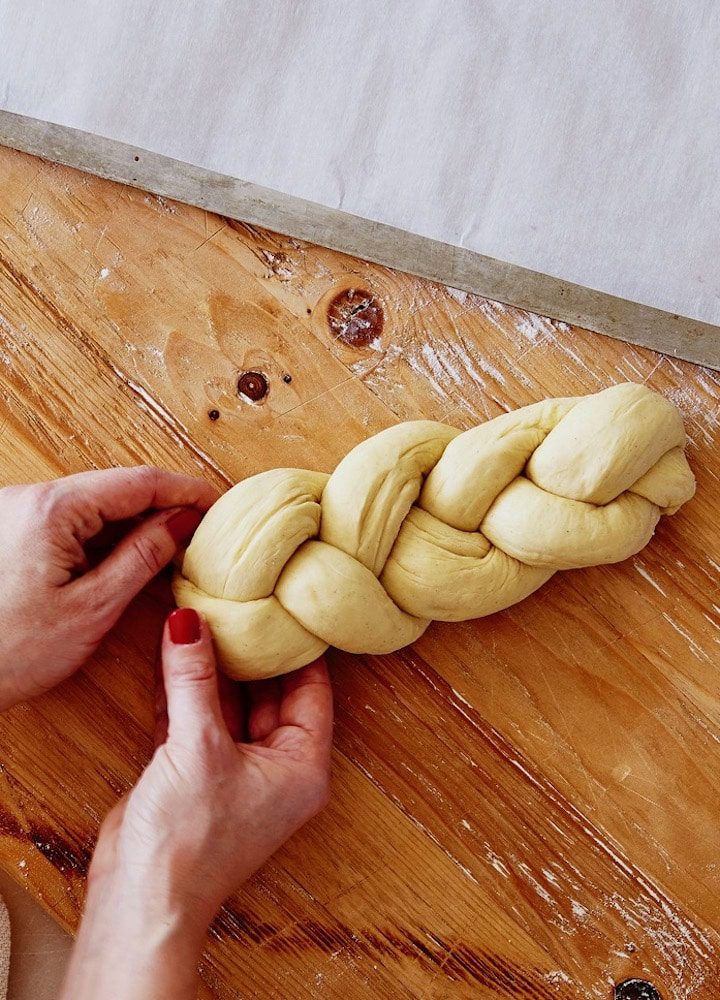 Place loaves on parchment lined baking sheets. They can be spaced two or three inches apart. Repeat with all the remaining ropes.
Let the loaves rise in a warm place with greased plastic wrap on top.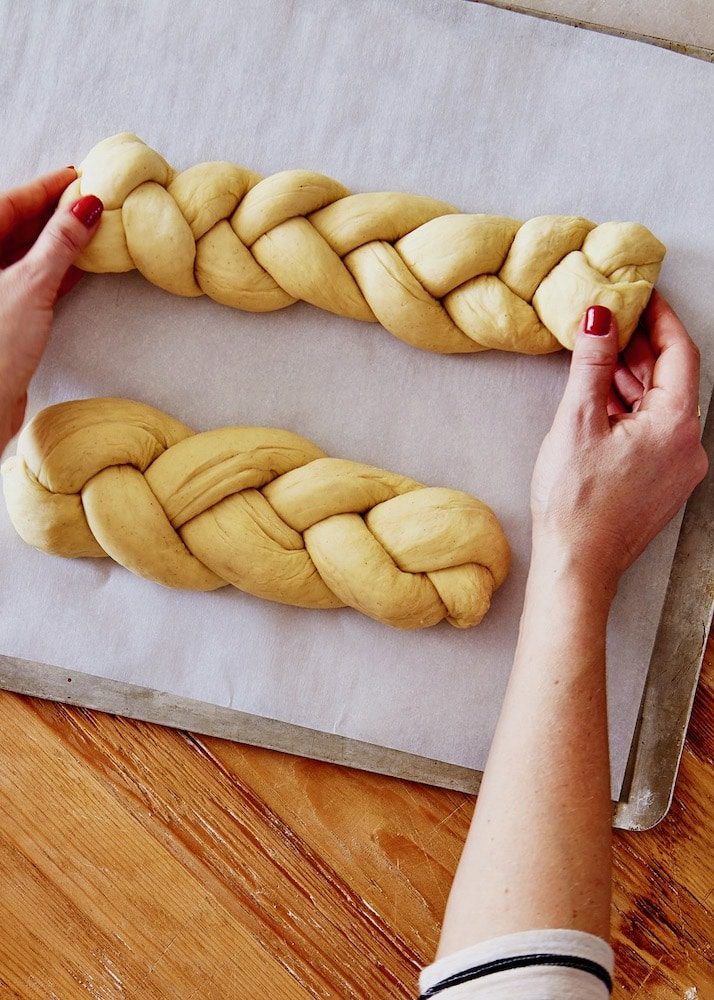 Use a soft pastry brush to brush each loaf with the salted egg wash mixture. This will help the sugar and almonds stick as well as give the loaves the signature coffee-brown color.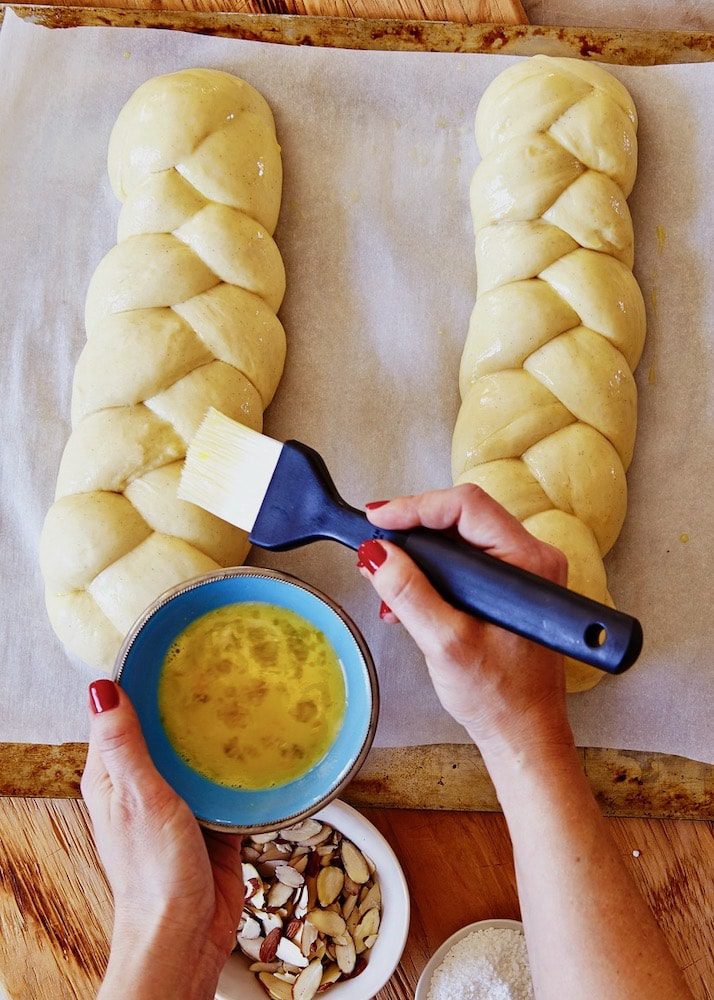 Sprinkle the loaves with sliced almonds and pearl sugar. The more the better, I say!
Bake and enjoy!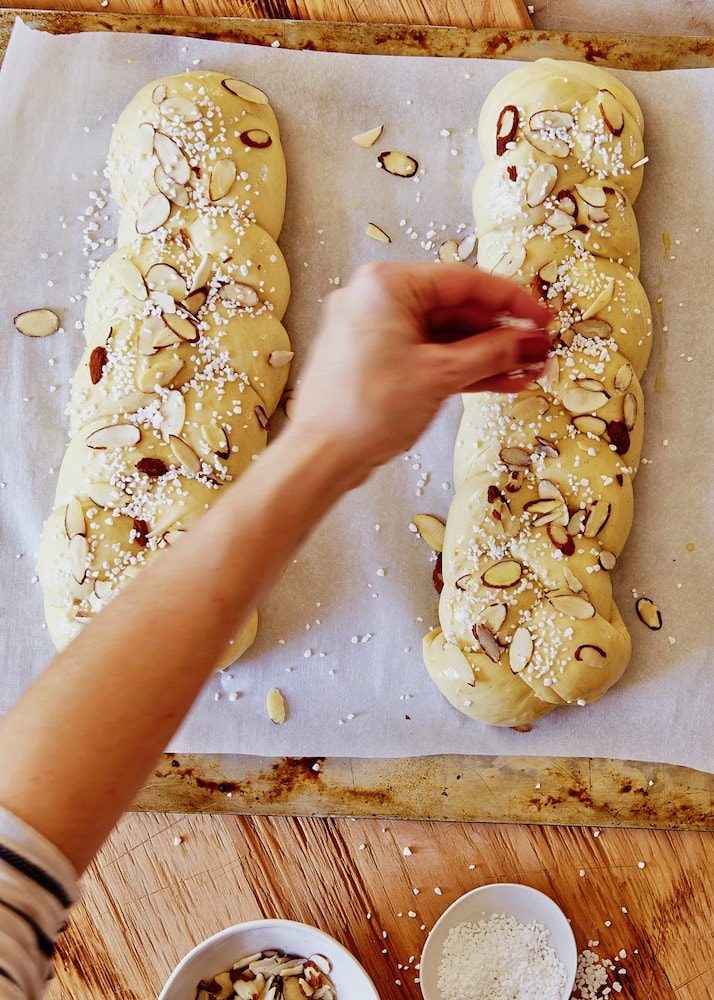 How to make soft light Pulla Bread
This braided cardamom bread gets its rich and tender texture from plenty of eggs.
Eggs act as a leavening agent in breads, helping them bake up light and fluffy, as well as a tenderizer for the crumb. The fats from the egg yolks help tenderize and lighten the bread. While not as egg-rich as Challah or Brioche, Pulla has enough eggs to create a softer, dense but still light, yeast bread.
Eggs also contain the emulsifier lecithin. Lecithin is often added to bread to make the texture soft and smooth. Eggs do the trick!
Finnish Pulla Bread is more similar to Brioche by recipe. Challah is a Jewish bread and is made kosher, so there is no dairy. Brioche, being the French bread that it is, has both eggs and plenty of butter.
Fats, especially butter, add flavor to bread.
Butter makes the crumb very tender and extends the shelf life of bread. This is a bonus since I love leftover Pulla Bread lightly toasted the next day with a drizzle of honey.
Cardamom bread in Scandinavia
Cardamom is a typical spice found in southern Indian cooking and curries, but over the centuries of spice trade it made its way to Scandinavia and is the star ingredient in Finnish and Swedish baking.
Heralding back as far as the Vikings who were said to have encountered the spice in what is now Turkey, cardamom is one of the most significant imports for Scandinavia.
Finnish Pulla Bread Recipe: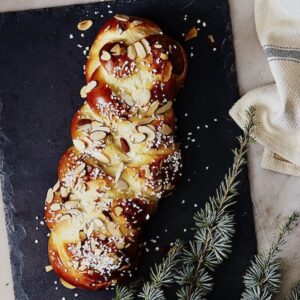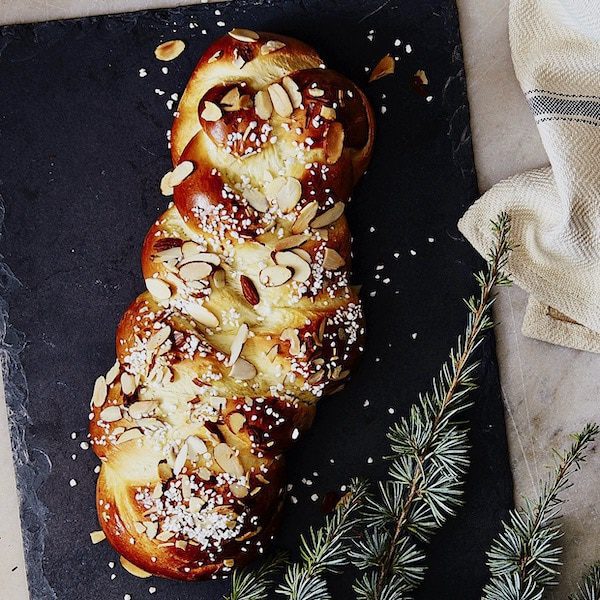 Pulla Bread - Finnish Cardamom Bread
This braided bread is a staple in Finland. It's a slightly sweet cardamom bread, and can be devoured warm, or sliced when cool. The recipe makes 3 large loaves or 6 small loaves.
Ingredients
2

pkgs

instant dry yeast

(2 scant tablespoons)

½

cup

warm water

2

cups

plus 2 tablespoons warm milk

1

cup

granulated sugar

3

teaspoons

salt

1

teaspoon

ground cardamom

5

large

eggs

8

cups

all-purpose flour

plus more if needed

½

cup

unsalted butter

melted

Sliced Almonds
Instructions
In a small bowl dissolve yeast in warm water; let stand 5 min. In the bowl of an electric mixer fitted with the dough hook, combine 2 cups of the warm milk, granulated sugar, 2 teaspoon salt, cardamom, 4 eggs and 4 cups flour. Add the yeast mixture and stir for 1 min.

Stir in the melted butter and add the remaining flour, about ½ cup at a time while the mixer is on low speed. Dough should pull away from the bowl when enough flour is added. Let dough knead for 5 minutes on low. Cover and let rise until double in bulk, about 1 hr.

Turn mixer on low again and knead dough for 30 seconds. Remove from bowl to a floured work surface. Divide dough into 3 balls.


Starting with one ball, divide it into 3 smaller balls for a total of 9. Roll each into a long rope, 14-to-15-inches long, about 1½ inches in diameter. Cut these ropes in half to make enough for 6 small loaves (18 ropes), (or leave them long to make 3 large loaves.)


Pinch the ends of the 3 ropes together and begin to braid. At the end of the braid tuck the tips under the loaf and pinch to secure. Transfer loaf to a parchment-lined baking sheet. Repeat with remaining balls of dough.

Loosely cover loaves with greased plastic wrap and allow to rise in a warm place until almost doubled in size, 45 min to 1 hr. Heat oven to 375ºF.


Whisk together remaining 1 teaspoon salt, 1 egg and 2 tablespoon milk. Brush each loaf with egg wash and sprinkle with Swedish pearl sugar and sliced almonds. Bake until deep brown and cooked through, 18 to 20 min. Cool slightly and eat warm. Bread will keep airtight for up to 3 days.

Notes
The nutritional analysis is a program estimate for 1 small loaf.
Pulla Bread is a staple in Finland. Soft and aromatic with cardamom, the loaves get a sprinkling of traditional pearl sugar and almonds to make it special.
• The Harris family makes this recipe into 6 small loaves. The perfect size for gifting. Simply divide the dough into 6 pieces instead of 3 and make the braid ropes half the length.
Nutrition
Serving:
1
loaf
Calories:
989
kcal
Carbohydrates:
166
g
Protein:
26
g
Fat:
24
g
Saturated Fat:
13
g
Cholesterol:
204
mg
Sodium:
1265
mg
Potassium:
365
mg
Fiber:
5
g
Sugar:
38
g
Vitamin A:
829
IU
Calcium:
145
mg
Iron:
9
mg
Delicious bread and quick-bread recipes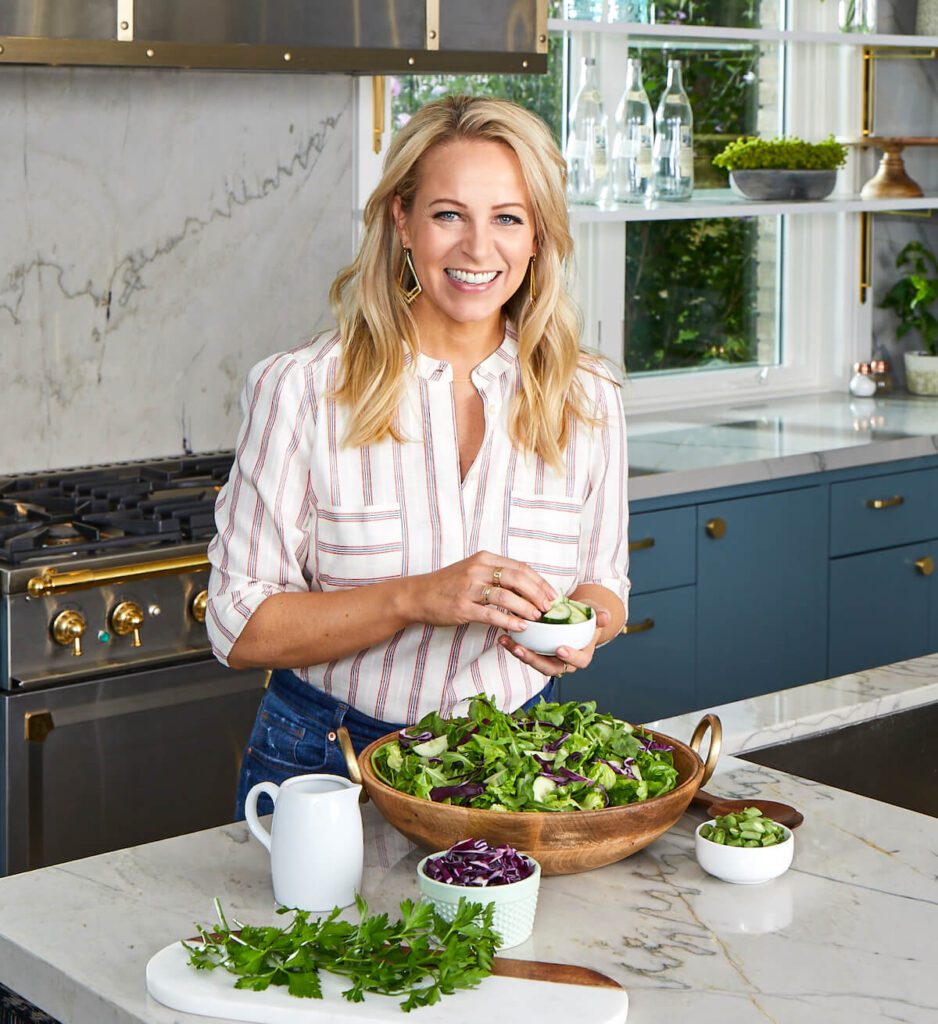 About Tara Teaspoon
I've been in the food publishing business for over 20 years, creating recipes & food-styling for magazines, books, television & advertising. Order my new cookbook & stick around for amazing things to eat.
Recipe courtesy of The Harris Family. Food Styling Tara Teaspoon. Floral design by Emily Harris. Photography Ty LaMont Mecham