Welcome to The Tara Teaspoon Table, my official giveaway club!
I love sharing my favorite kitchen tools, ingredients, cookbooks, and more. with you in these giveaways.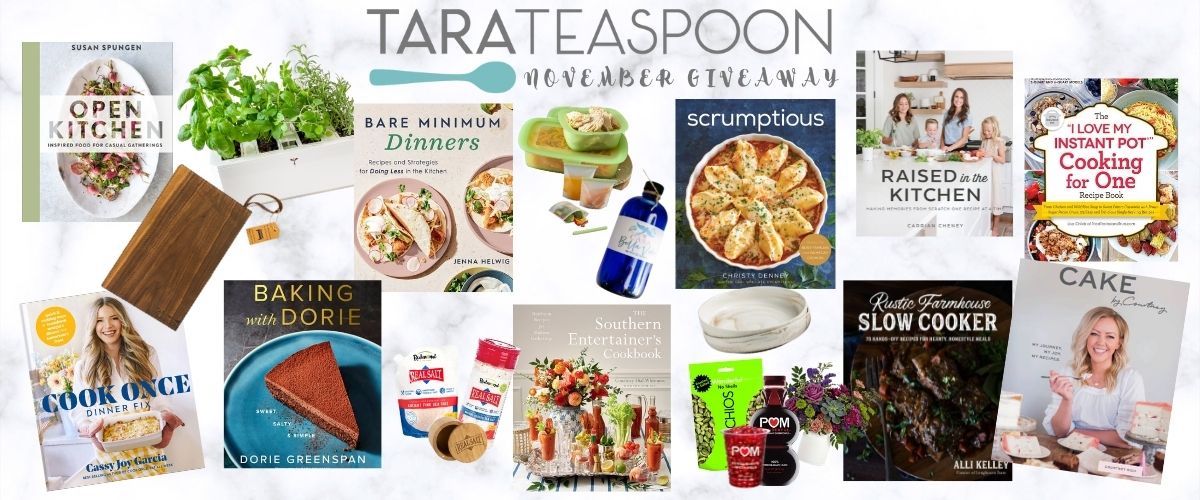 The holidays are here, and I want to help make them as stress-free as possible by doing some of your holiday shopping for you! I've teamed up with some of my favorite brands and cookbook authors to find the perfect gifts for the cooks and foodies in your life. (Keep scrolling to check out the list of prizes.)
But first I want to know what holiday cooking looks like for you! So here's what you have to do:
To Enter: Take this survey to tell me about your holiday cooking and the challenges that come with it.
This month's prizes:
With so many prizes, there are MANY chances to win! Nine lucky winners (picked randomly from submissions) will win one of the following prizes.
Prize #1 - Indoor Herb Garden
Prize #2 - Vanilla For the Year
Prize #3 - The Baker's Fix
Prize #4 - Wonderful Winnings
Prize #5 - Salt of the Earth
Prize #6 - Leftovers Lovers
Prize #7 - The Gourmand
Prize #8 - All-in-One
Prize #9 - The Gathering Table
Entries will be accepted until one day before the end of the month: 11:59pm EST on November 29th.
Thank you!
Our friends have gone above and beyond with these incredible donations to this month's giveaway, and we are so grateful.
These giveaways are a thank you to you for supporting my cookbook, making the recipes on TaraTeaspoon.com, and sharing the love with others in a comment or book review online.
Selected randomly, the winner(s) will be notified by a member of the Tara Teaspoon Team. Winners will be announced each month on my Instagram Stories. Entry opportunities end the 2nd to last day of each month and drawings take place on the last day of each month.
Newest recipes from Tara Teaspoon!