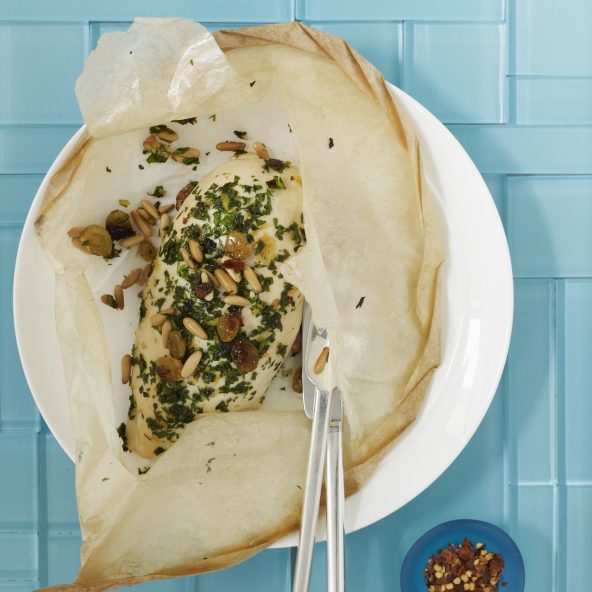 Chicken In Paper
Cooking in parchment is an easy, low-fat and fun way to do dinner.
Ingredients
4

small boneless

skinless chicken breasts

⅓

cup

finely chopped flat-leaf parsley

1

clove

garlic

minced

Zest of 1 lemon

¾

tsp

kosher salt

¼

tsp

red-pepper flakes

⅓

cup

golden raisins

3

tbsp

pine nuts

toasted
Instructions
Heat oven to 400ºF. Place each chicken breast between two sheets of plastic wrap and pound to an even ½-thickness. Prepare four 20-by-30-inch pieces of parchment: fold in half and cut into a half-heart shape. Unfold and place chicken on one side of each paper.

In a bowl combine parsley, garlic, zest, salt and red-pepper flakes. Divide mixture among chicken breasts, covering the surface of each piece. Sprinkle with raisins and nuts.

Fold parchment over chicken breasts and pleat in 1-inch increments, folding edges over tightly to seal packet. Fold the last pleat underneath the packet. Place packets on a baking sheet; bake until packets are puffed and chicken is cooked through, 15 min.

Carefully transfer packets to plates, cut the paper across the top and tear to open.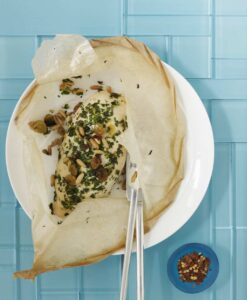 If you're French you call this cooking technique "en papillote." I am not French, so we're calling it Chicken In Paper. (But feel free to throw that French term around if you want to impress folks with your foodie genius.)
En Papillote means to cook something in paper…parchment paper in this instance. Your prepped food, lean meats, vegetables, seasonings, etcetera go into a sealed packet and essentially get steamed in the oven. Usually it takes about 15 minutes (remember, steam is super hot–this stuff cooks fast!), and your results are locked in flavor, moisture and a really cool presentation.
For even faster cooking, give your chicken a few taps with the rolling pin or meat mallet to flatten.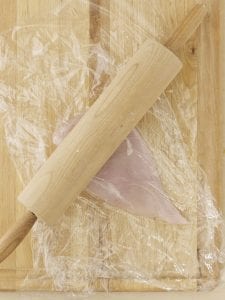 For cute parchment packets, fold 20-by-30-inch pieces in half and cut into half-heart shapes. Unfold and fill.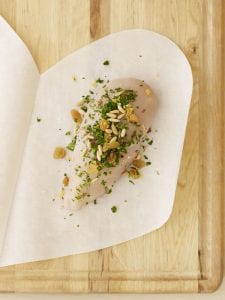 Fold tightly around the open edge to seal, tucking the final pleat under.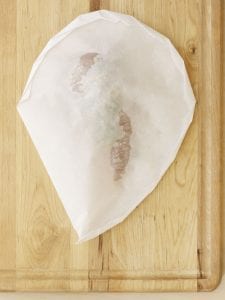 Recipe by Tara Bench, original published in Ladies' Home Journal, Sept/10. Photo credit Hallie Burton. Food Stylist Anne Disrude. Prop Stylist Randi Brookman Harris