---
Baked Chicken in Paper with golden raisins, herbs and pine nuts cooks in 15 minutes! It is total simplicity and flavor in one recipe—easy to make and sure to wow everyone at the table.
---
Learn about the true French name: en papillote, and why this cooking method is easy and makes chicken juicy and delicious.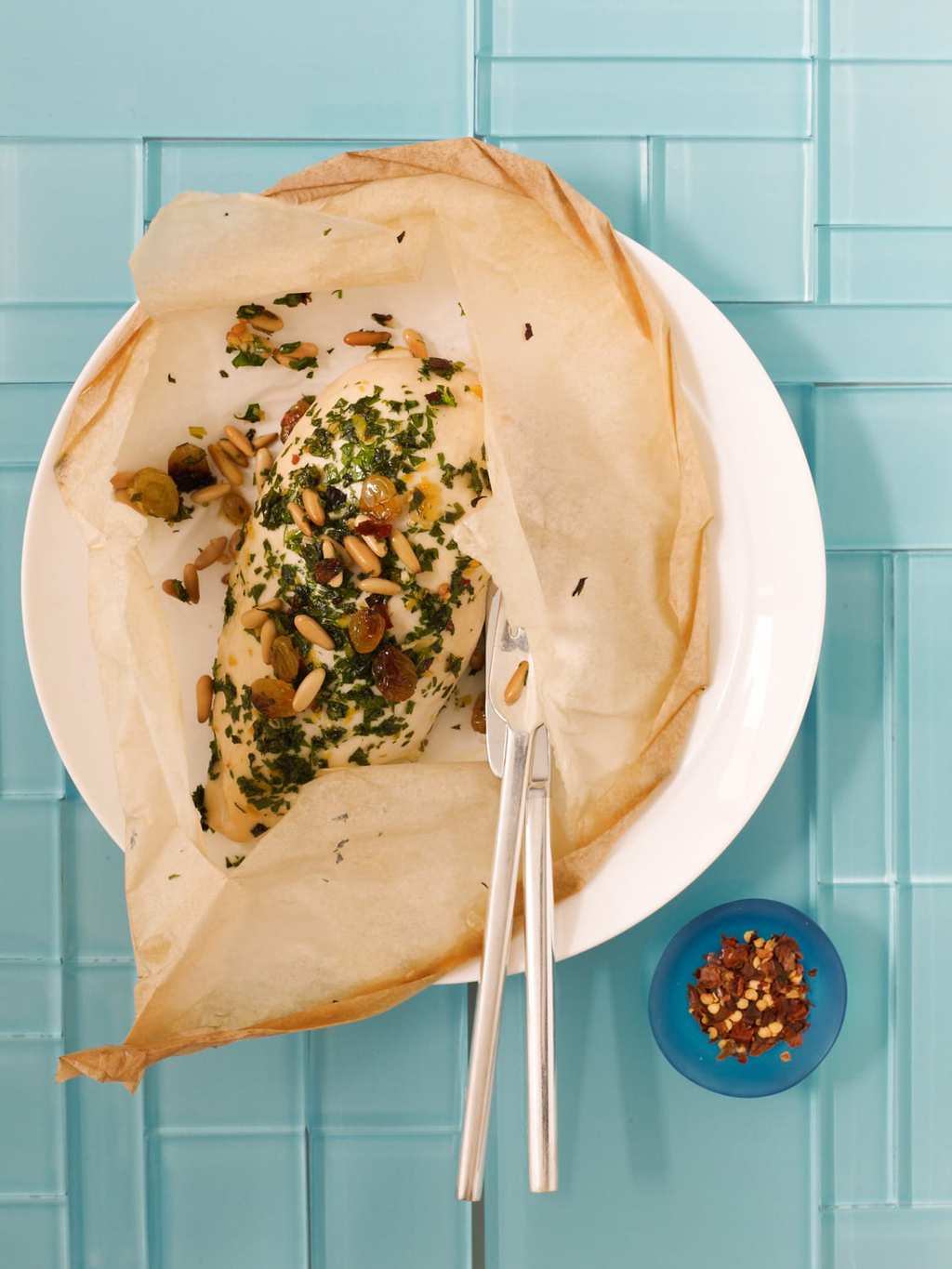 Jump to:
Baked chicken in paper is the French technique of cooking en papillote.
Perfectly cooked chicken and little-to-no clean up are just two of the benefits of using the French baked chicken technique "en papillote."
It doesn't matter if you can't pronounce the name (exactly why I call it Baked Chicken In Paper), or if you've never ventured away from your same-old chicken recipe, this dinner is so simple that you'll find yourself coming back to it often.
🍴 What is en papillote?
En Papillote means to cook something in paper, and traditionally this means parchment paper.
By making a pocket out of parchment, you are creating a little steam room for your chicken, and it cooks perfectly without drying out.
The sealed packet of paper infuses the chicken with the flavors you include and gently cooks the protein.
How long to cook chicken en papillote
Boneless chicken in a parchment paper packet cooks for 15 minutes at 400ºF.
The chicken cooks in 15 minutes at 400 degrees—a short time to bake chicken.
If you have a really thick piece of chicken, an inch or more at it's thickest point, you'll want to cook it just a bit longer.
I pound my chicken so it is an even ½ inch thick. You can do this too. Flatten your chicken into a thinner piece with the rolling pin or meat mallet.
Place chicken breast between two pieces of plastic wrap
Use a rolling pin or meat mallet to gently pound the chicken to ½-inch thick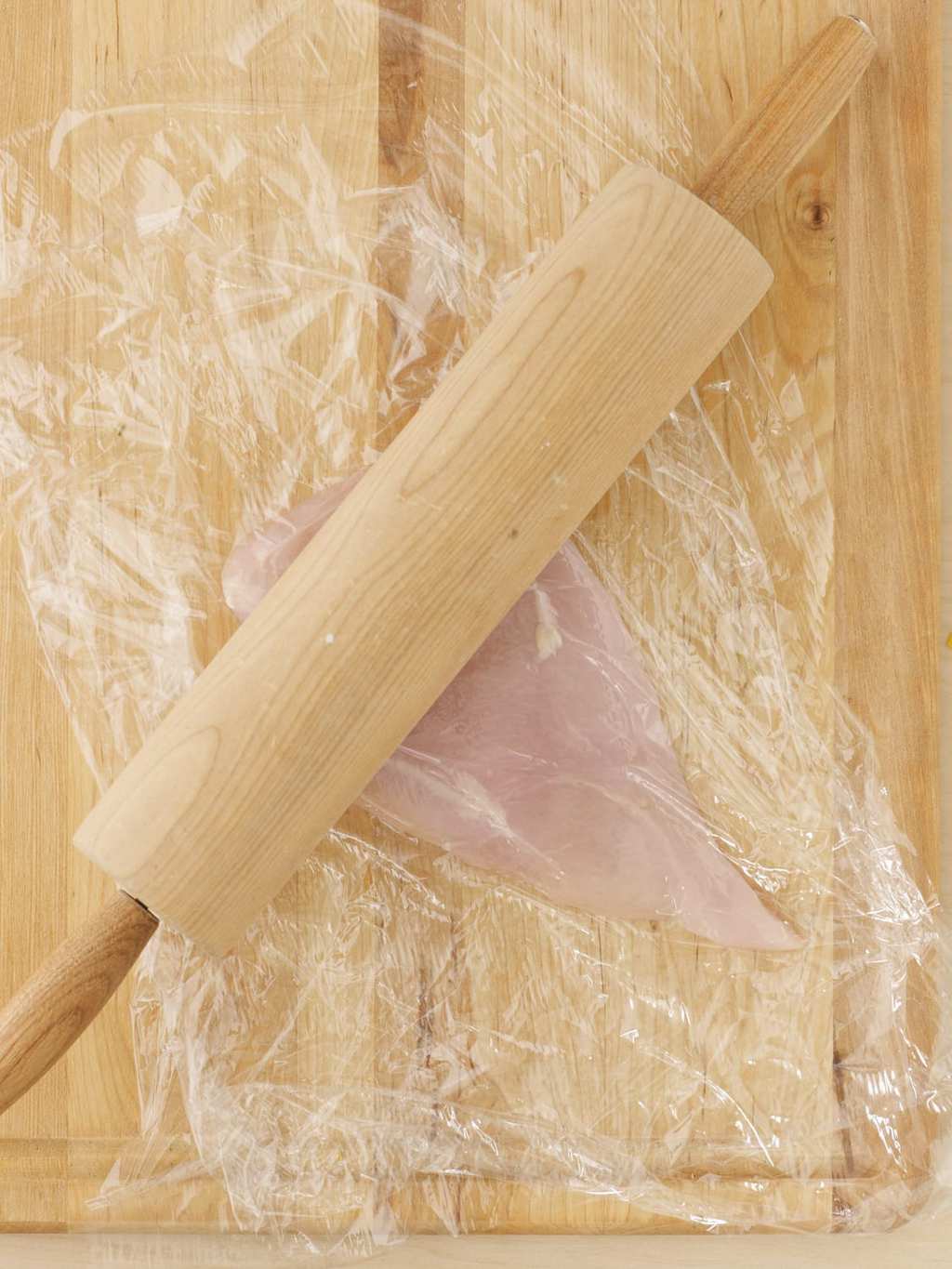 🍴 How to make chicken en papillote
Chicken en papillote is at it's base, steamed chicken. I like to add lots of delicious flavor like lemon, herbs and veggies.
Making chicken in paper is easy. You just pile chicken and seasonings plus any other ingredients, on one side of a piece of parchment paper. Fold the paper over the ingredients, seal the edges, and bake.
For me, dinner isn't only about how the food tastes, but also how it looks.
Baked chicken in paper creates a nice presentation and is so fun for kids. Each person gets their own packet to unwrap and eat!
Make cute parchment packets
• Fold 20-by-30-inch pieces of parchment paper in half and cut into half-heart shapes.
• Open the heart shape like a book.
• Add chicken, seasonings and vegetables on one side.
• Fold the other side of the heart over the top and crimp the edges in 1-inch increments, pleated over each other.
• Bake for 15 minutes at 400ºF.
• Upon taking the chicken out of the oven, you simply unfold the parchment and voila, you have a beautiful dish.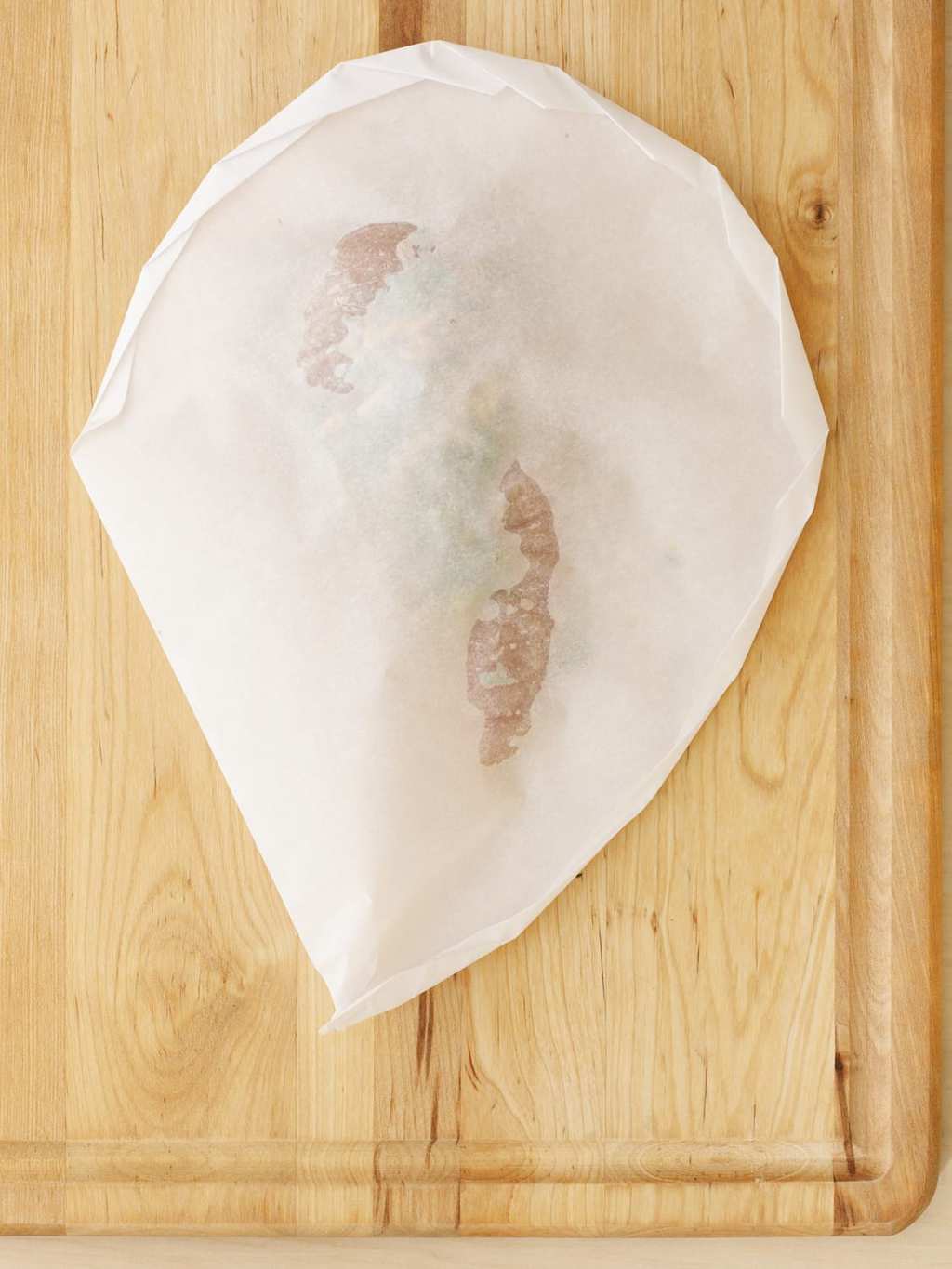 You can also fold the chicken and herbs in a parchment rectangle and twist the ends–anything to seal in the steam!
This is how it looks when you just use a rectangle of paper.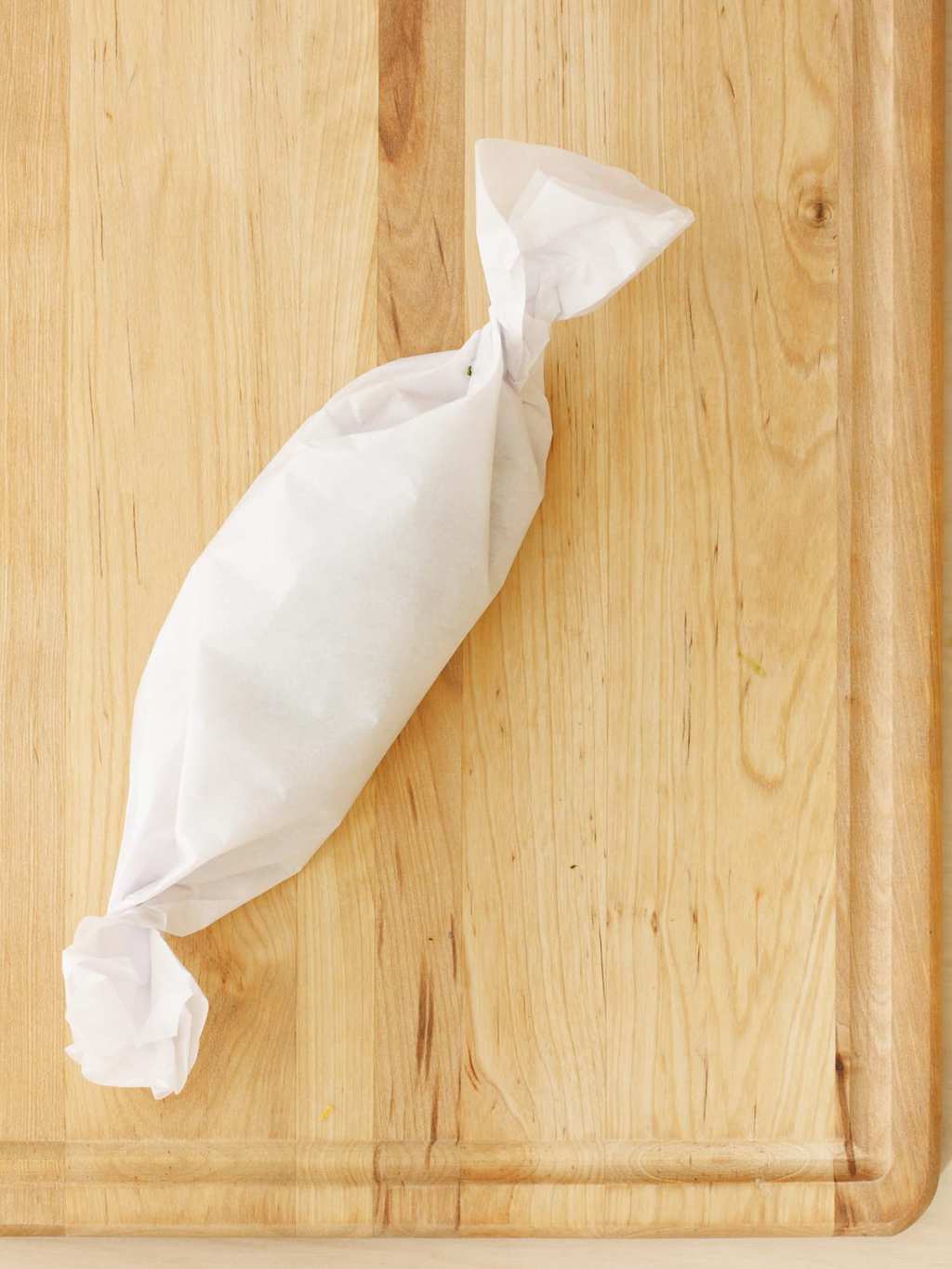 🍴 What to cook with chicken in paper
In this baked chicken in paper recipe I used sweet golden raisins, crunchy pine nuts, parsley, garlic and lemon to season the chicken.
I added red pepper flakes for a little heat. You can leave that out if you'd like.
Kids will love to help assemble these packets and add their own seasonings.
Here are a few other ingredients you can cook with the chicken in parchment packets:
Shredded or thin-sliced carrots
Sliced zucchini or yellow squash
Small pieces of butternut squash
Spinach or other greens
Cherry tomatoes
Green beans or haricots verts
Artichoke hearts
🍴 Can I make chicken in paper with foil?
You can make chicken in paper in foil packets, sure. It wouldn't be chicken en papillote, but it would cook in a similar method: steaming.
Parchment paper is so inexpensive, and easy to use, plus it makes a fun presentation. But these flavors and this recipe can certainly be cooked in foil packets if you'd like. Cook according to the recipe below.
I love making these packets with my individual parchment sheets. Buy them Here.
---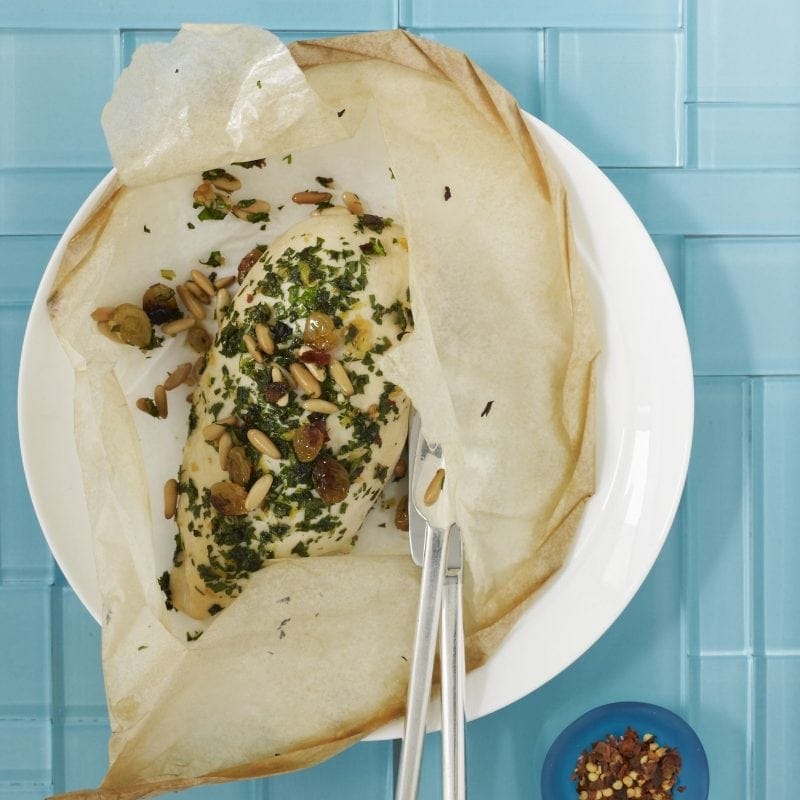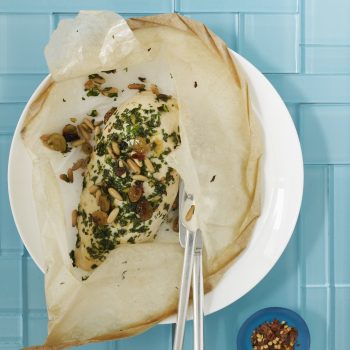 Baked Chicken In Paper - Chicken en Papillote
Baked Chicken in Paper with golden raisins, herbs and pine nuts cooks in 15 minutes! It is total simplicity and flavor in one recipe—easy to make and sure to wow everyone at the table.
Ingredients
4

chicken breasts

boneless skinless

⅓

cup

flat-leaf parsley

finely chopped

1

clove

garlic

minced

Zest of 1 lemon

¾

teaspoon

kosher salt

¼

teaspoon

red-pepper flakes

⅓

cup

golden raisins

3

tablespoon

pine nuts

toasted
Instructions
Heat oven to 400ºF. Place each chicken breast between two sheets of plastic wrap and pound to an even ½-thickness. Prepare four 20-by-30-inch pieces of parchment: fold in half and cut into a half-heart shape. Unfold and place chicken on one side of each paper.

In a bowl combine parsley, garlic, zest, salt and red-pepper flakes. Divide mixture among chicken breasts, covering the surface of each piece. Sprinkle with raisins and nuts.

Fold parchment over chicken breasts and pleat in 1-inch increments, folding edges over tightly to seal packet. Fold the last pleat underneath the packet. Place packets on a baking sheet; bake until packets are puffed and chicken is cooked through, 15 min.

Carefully transfer packets to plates, cut the paper across the top and tear to open.
Notes
Be careful as you open packet. The steam is very hot.
Nutrition
Calories:
347
kcal
Carbohydrates:
11
g
Protein:
49
g
Fat:
11
g
Saturated Fat:
1
g
Cholesterol:
144
mg
Sodium:
704
mg
Potassium:
998
mg
Sugar:
7
g
Vitamin A:
525
IU
Vitamin C:
10
mg
Calcium:
25
mg
Iron:
1.8
mg
Main Dish Recipes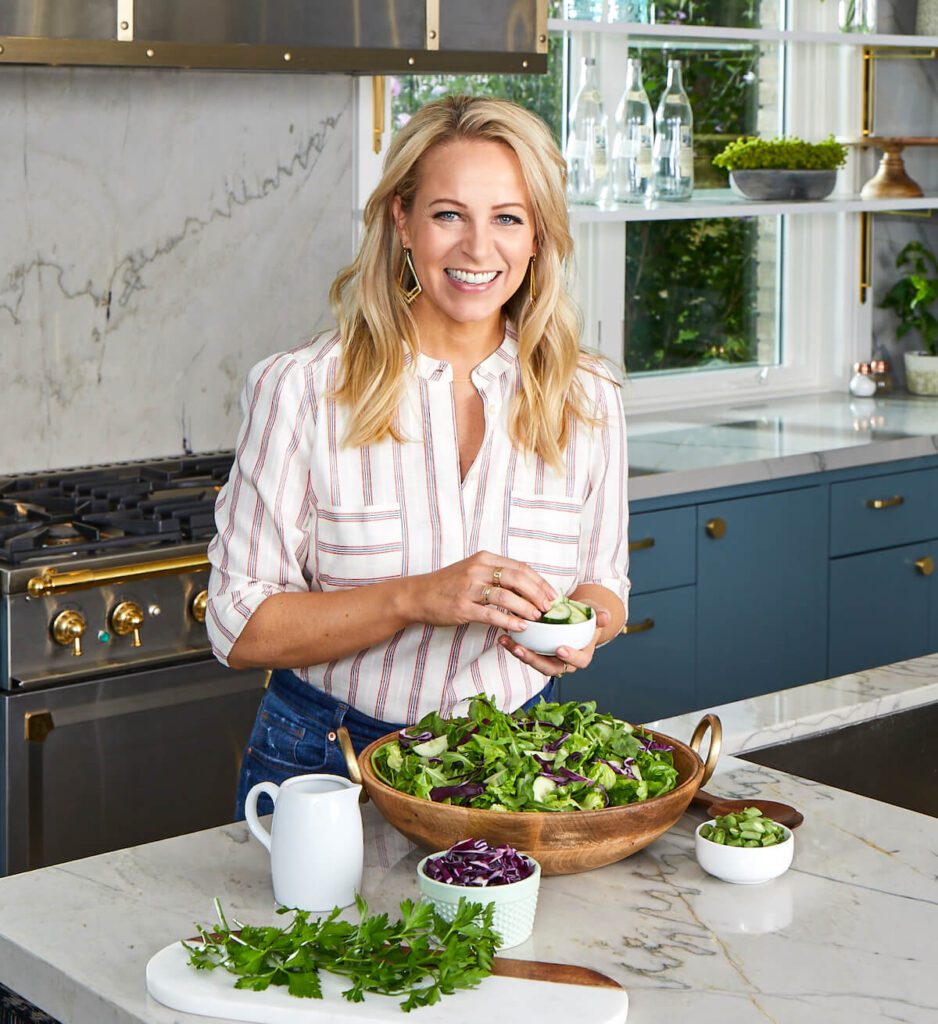 About Tara Teaspoon
I've been in the food publishing business for over 20 years, creating recipes & food-styling for magazines, books, television & advertising. Order my new cookbook & stick around for amazing things to eat.
Recipe by Tara Teaspoon, LHJ, Sept/10. Photo credit Hallie Burton. Food Stylist Anne Disrude. Prop Stylist Randi Brookman Harris