I'm no vegetarian, but I sure do like veggies. Any kind.
Even better is when they're roasted. Golden, tender, sometimes just a little charred!
(I'll be completely honest, I have to force down broccoli, but when it's roasted–delish!)
Here I've roasted an Italian medley of veggies and topped toast that has been smothered with kalamata olive tapenade (a pesto-like condiment with olives, capers and parsley).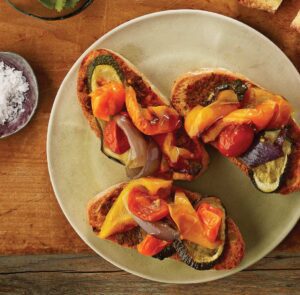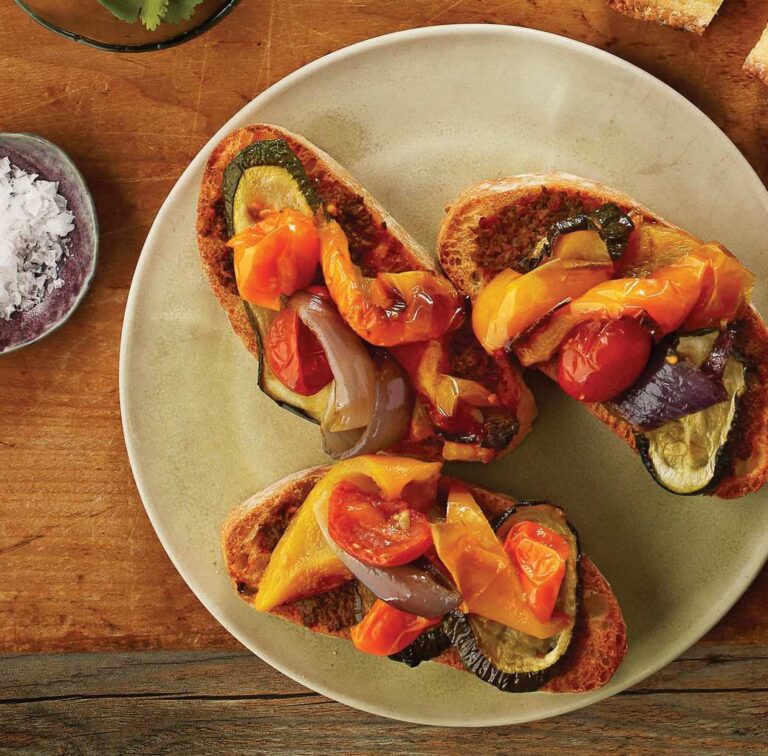 Prep Tip: When I roast veggies I go to all the trouble to clean, cut and cook so I always do extra while I have the mess out. I use the extra veg all week on different sandwiches, in my salads or pasta dishes. They are ready and keep well in the fridge.
Recipe:
Tapenade Toasts with Roasted Vegetables
Serves 4
1 zucchini, sliced
1 small onion, sliced
1 bell pepper, sliced
½ pint grape tomatoes
1 tbsp olive oil
½ tsp kosher salt
Olive Tapenade (store-bought)
•Heat oven to 425ºF. Toss zucchini, onion, bell pepper and tomatoes with olive oil and salt. Roast in oven, turning once, until vegetables are soft and golden, about 30 min. Spread 4 slices toasted ciabatta with prepared olive tapenade and top with roasted vegetables.