---
It's so easy to slice veggies for an Asian slaw and whisk up Sesame Ginger Dressing that dinner will be ready before you know it.

---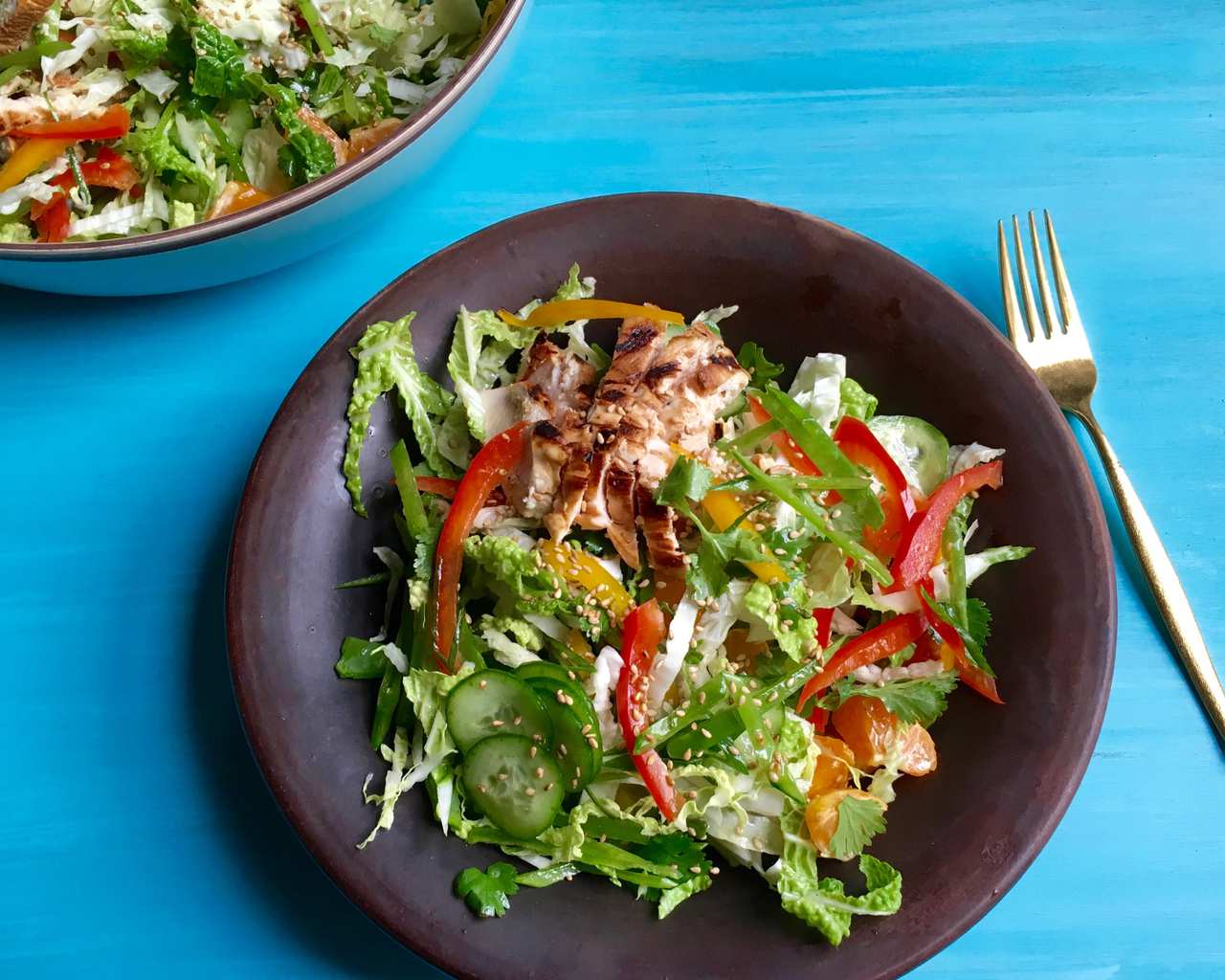 Sesame ginger vinaigrette tossed with colorful Asian slaw veggies like cabbage, snow peas and peppers, has got to be one of my favorite salads. This vinaigrette is easy, and so good, you'll want to drizzle it on everything in sight, if not drink it! But please don't ACTUALLY drink it, because drinking salad dressing is weird and probably off-putting to your loved ones. Save some for the rest of us!
I like to add chicken to my salad to make it a meal, but I regularly make this slaw without the chicken as a side dish; it's also one of the best salads to make for potlucks. No one will be complaining it's on the table!
This video I made for my post on KSL.com shows how I made this salad in three minutes. Okay, okay it may have taken me a bit longer than three minutes in real life, but not much more. For more fun cooking videos subscribe to my YouTube channel Tara Teaspoon Official, here.
I used rice wine vinegar as the base for this dressing because it's light and adds a tangy zing without overpowering the other flavors. As with all vinaigrettes, the trick is to get all of your flavorful ingredients together before adding the oil to them. The oil breaks into little teeny tiny parts when you whisk it. This separates the other ingredients and makes them float happily amidst the little oil parts. (Some people call that emulsification, but I prefer my more technical description.) The point being that your flavorful ingredients need to be nicely mixed and combined so they disperse evenly. Whisk together the honey, soy sauce, ginger and vinegar, and then taste the mixture. If you like it stronger, add a bit more soy sauce; sweeter, add more honey. When the flavor is just right, slowly whisk in the canola oil and let it break it into teeny tiny parts.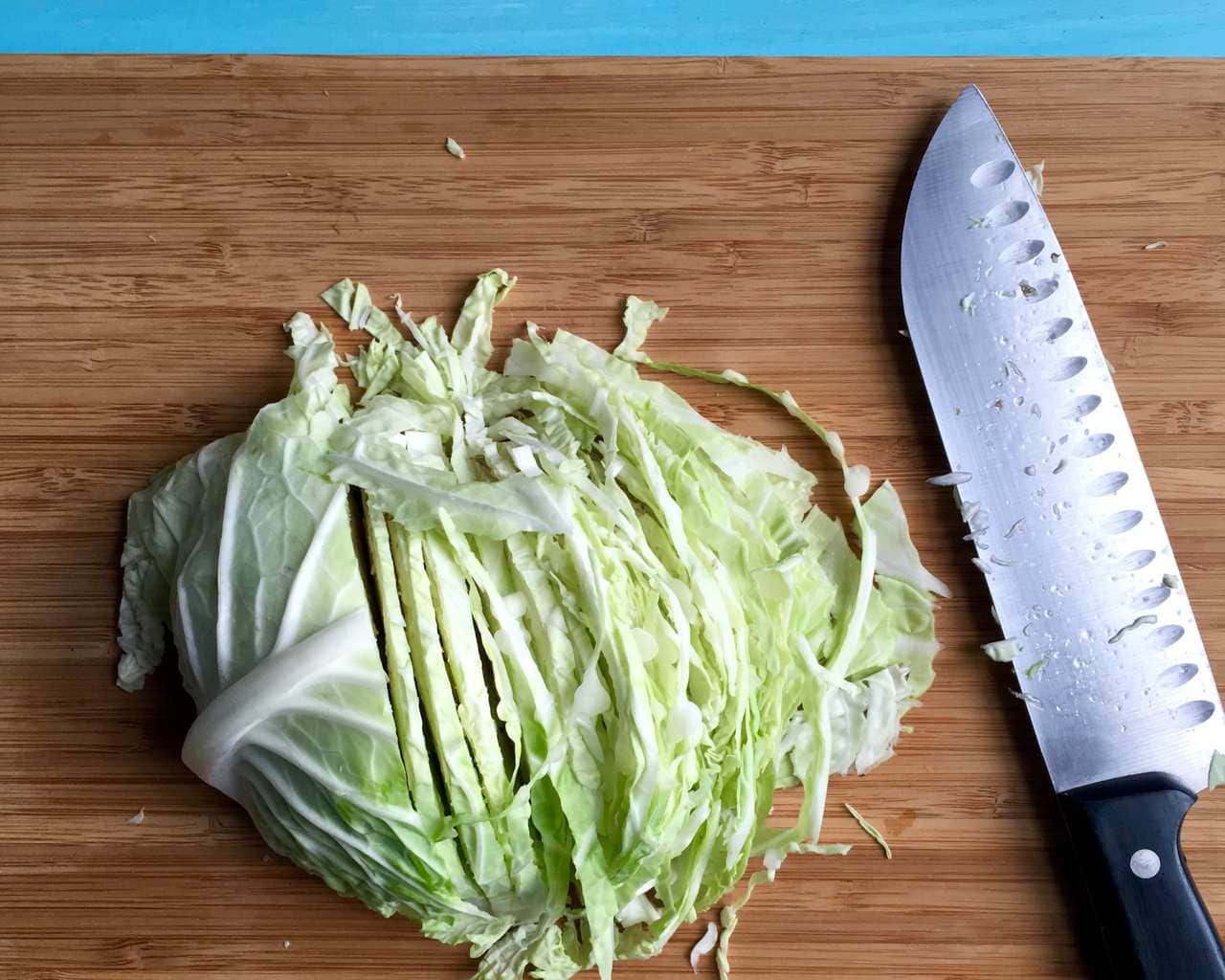 Savoy cabbage and Napa cabbage tend to have leaves that are a bit curly, even dark green. They can both be used in Asian slaw because of their tender bite and mild flavor. In a pinch, you can substitute standard cabbage, but it has a stronger taste and takes a bit more effort to chew.
It only takes a few simple chops and slices to work through your cabbage, peppers, snow peas and scallions. You can thinly slice your cucumber as well, but I love these little paddle slicers. They make quick work of veggies (use the guard for safety, and watch those fingers).
The mandarins add juicy sweetness, but if they aren't handy at your store, slice some orange segments into the salad instead.
In the cold winter months, I grill my chicken indoors on a grill pan, or electric grill like this one.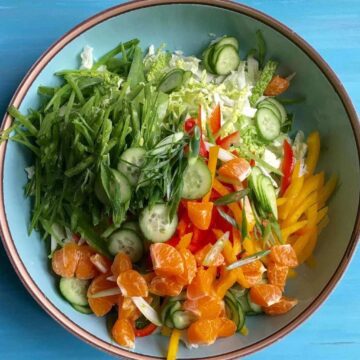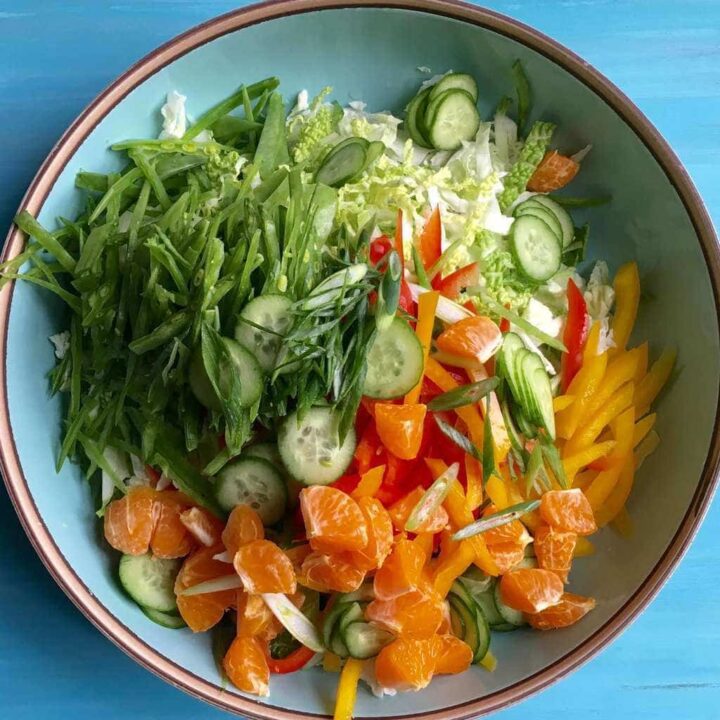 Asian Slaw with Sesame Ginger Dressing
Savor this seriously tasty salad with an authentic vinaigrette for a fresh, delicious dinner.
Ingredients
Dressing:
½

cup

rice wine vinegar

½

tablespoon

low-sodium soy sauce

2

tablespoons

honey

½

teaspoon

fresh grated ginger

½

teaspoon

sesame oil

2

teaspoons

toasted sesame seeds

⅔

cup

canola oil
Salad:
4

cups

Napa and

or Savoy cabbage, sliced

½

red bell pepper

sliced

½

yellow bell pepper

sliced

1

cup

snow peas

sliced

1

small cucumber

sliced

1

scallion

sliced

2

mandarins

segmented

⅓

cup

cilantro leaves

Grilled chicken

optional
Instructions
For the dressing, stir together all the ingredients except the canola oil until well combined. Slowly add the oil, whisking constantly. Set aside.

For the salad, toss everything in a large serving bowl, top with sliced chicken if desired. Whisk the dressing again just before drizzling on salad.
Veggies in the winter are so tasty and healthy. For a great dinner try my Roasted Vegetable Pizza, or serve my Vegetable Trio with Orange Thyme Dressing on the side of your main dish.
Awesome Side Dish Recipes!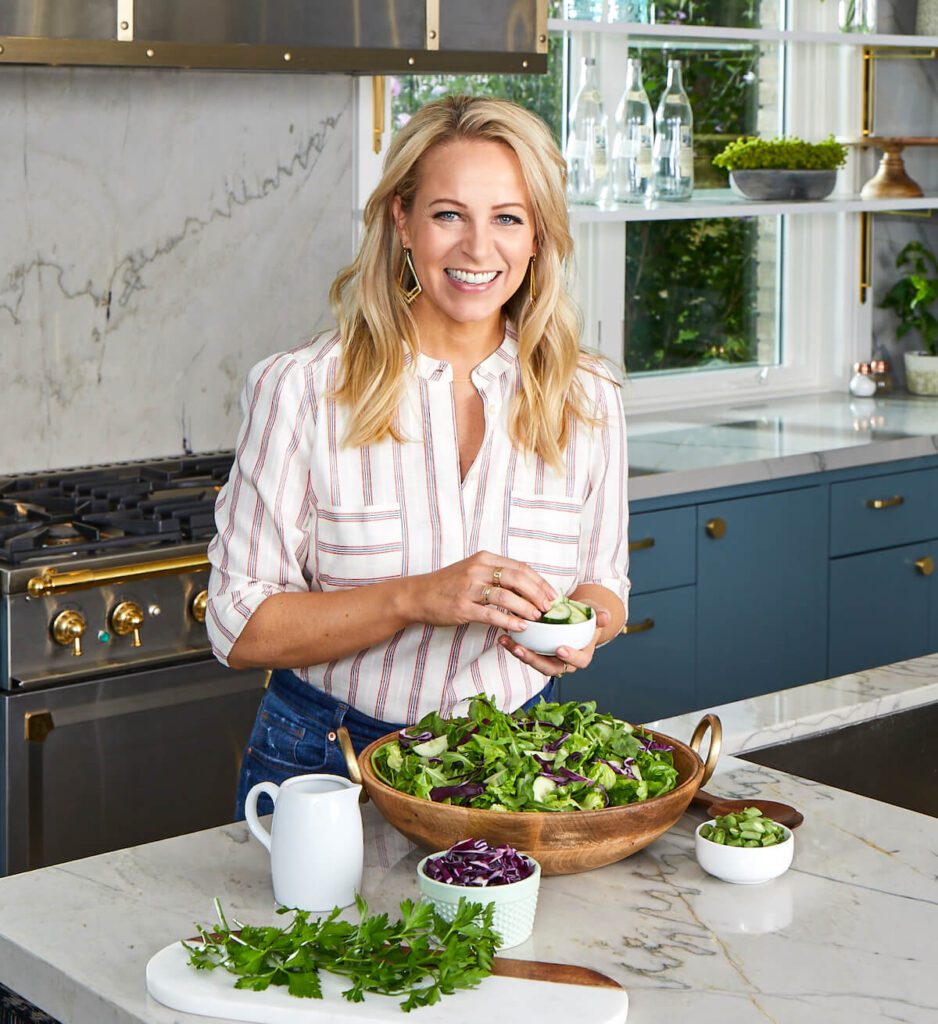 About Tara Teaspoon
I've been in the food publishing business for over 20 years, creating recipes & food-styling for magazines, books, television & advertising. Order my new cookbook & stick around for amazing things to eat.
Recipe and food styling Tara Bench. Photography Tara Bench. Video production Melanie Donahoo