Fluffy mashed potatoes melt in your mouth, and with just four ingredients, are as easy to make as they are delicious!

• • •
Like little clouds on your plate. That's what the perfect mashed potatoes taste like. Then drizzle them with gravy and oh-my-goodness it's heaven. These mashers are as simple to make as they are delicious, and basic enough that you can add amazing flavor variations.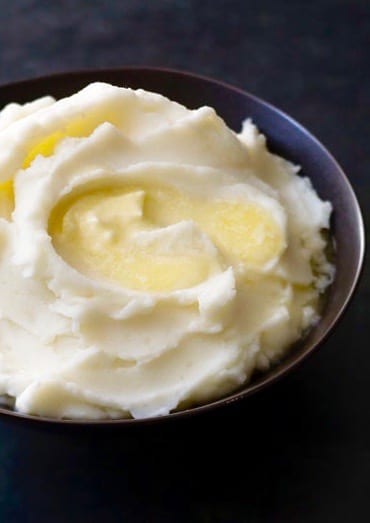 I love using russet potatoes for fluffy mashers. Waxy potatoes are delicious, but they don't have the same fluffy texture. They are smooth and rich, but a very different situation.
Thanksgiving turkey, or a pot roast pairs well with fluffy potatoes. This recipe is just that, and super easy.
For fluffy mashed potatoes I like to use russet potatoes.
After boiling the potatoes in salted water, drain them well. We'll add moisture back, but in the form of milk and butter! Oh and plenty of it. The potatoes will be hot, so you don't want to add cold milk and butter, because it will cool them right down. Heat the milk and melt the butter into it.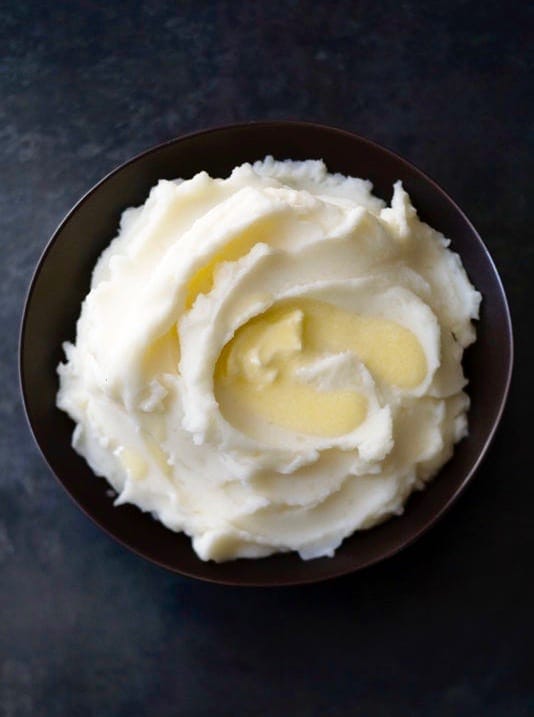 Use a potato ricer to smash the potatoes. You can also use a potato masher, or a hand mixer, but a potato ricer will give you the smoothest, fluffy mashed potatoes. Then whip in the warm milk and butter and you've got the best side dish ever!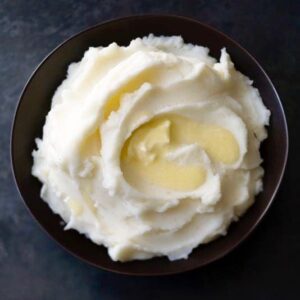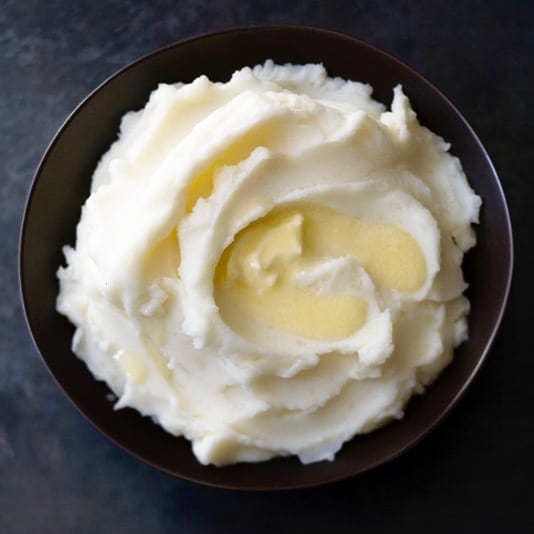 Fluffy Mashed Potatoes
This classic is delicious on its own, but you can also try four flavorful Mashed-Potato Variations.
Ingredients
5

lbs

russet potatoes

peeled and cut into 2-inch pieces

2

tsp

kosher salt

plus more for boiling potatoes

¾

cup

whole milk

heated, plus more as needed

5

tbsp

unsalted butter

softened
Instructions
Place potatoes in a large pot, cover with cold water by 2 inches and bring to a boil; add salt Simmer until fork-tender but not falling apart, about 30 min; drain

Transfer potatoes to a large mixer bowl and, using whisk attachment, beat on medium speed until finely crumbled. Add milk, butter and 2 tsp salt; beat until just smooth, adding more milk as need for a light, creamy texture.
Nutrition Facts
Fluffy Mashed Potatoes
Amount Per Serving
Calories 260
Calories from Fat 68
% Daily Value*
Total Fat 7.5g 12%
* Percent Daily Values are based on a 2000 calorie diet.
For more side dishes, browse my recipes.
Click here for the recipes to these amazing variations on Fluffy Mashed Potatoes. Try the Olive and Thyme with a delicious lamb roast. The Bacon and Smashed Carrot mix ins are delicious with pork chops. Smoked Gouda and Scallion Potatoes pair well with a beef roast, mmmm! And try the Chipotle and Cilantro mashers with grilled chicken or fish.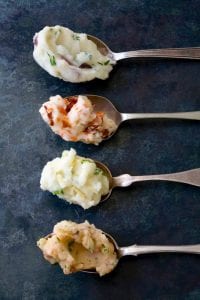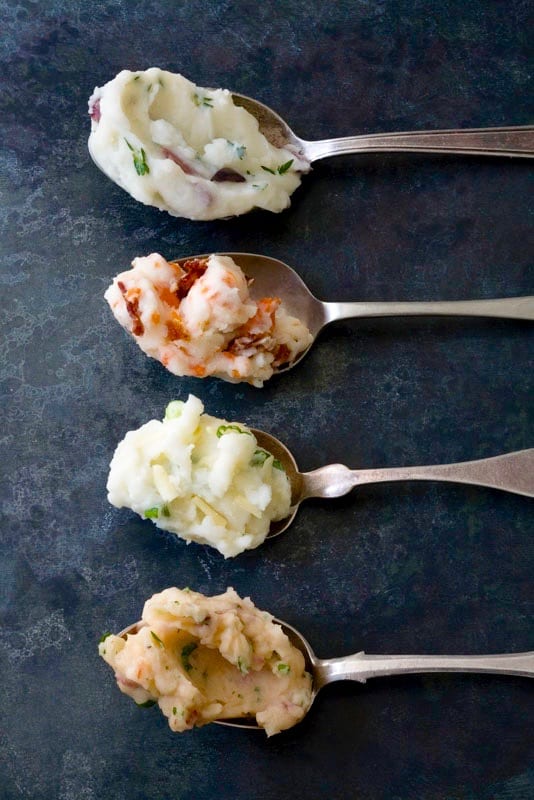 PIN THIS!

Recipes Tara Bench & Vanessa Seder
Photographs Quentin Bacon
Food Stylist Susan Vajaranant
Prop Stylist Pamela Duncan Silver
Originally published Ladies' Home Journal Nov 2008