4 Amazing mashed potato mix ins that will blow your mind! Start with the basic recipe and create flavorful side dishes with just a few ingredients.
A dish of smooth, fluffy mashed potatoes on the table usually means there is a feast to be had. It's one of those sides that hints to gravy or delicious pan sauces waiting to be drizzled. Why wait for turkey or roast feast to enjoy a flavorful side? These variations are so good, you might just forget the other dishes on the table!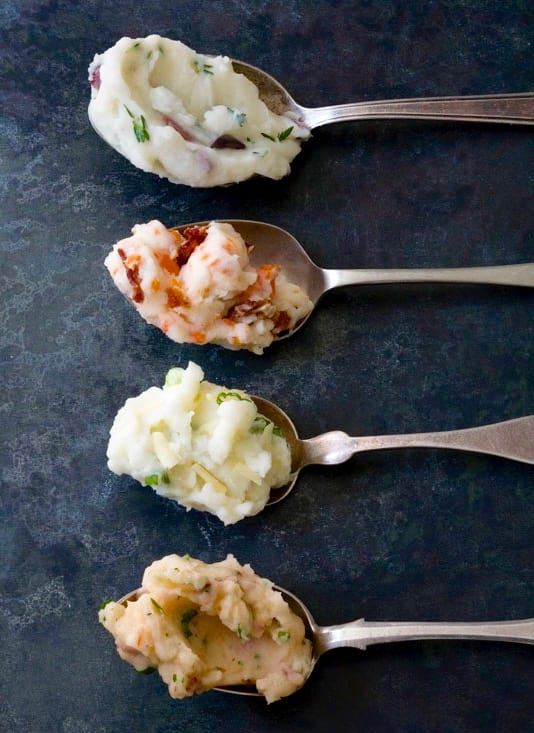 From top to bottom I've made these potato mix ins:
• Olive-Thyme Potatoes
• Bacon and Smashed Carrot Potatoes
• Smoked Gouda and Scallion Potatoes
• Chipotle and Cilantro Potatoes
I started with my basic Fluffy Mashed Potatoes recipe for each amazing variation. The olive and thyme version has the rich flavor of kalamata olives and herby goodness. It's tasty with beef roasts, lamb, and grilled or roasted chicken. Don't limit yourself to these ideas. Pair these variations with whatever sounds good to you; get creative!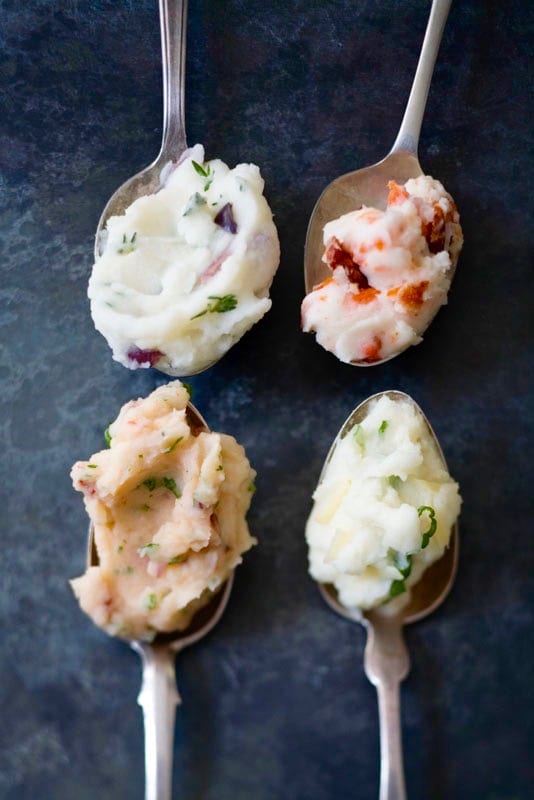 I just love bacon! Bacon and potatoes is a combination pretty stellar on it's own. I added sweetness with some cooked carrots. They smash up just perfectly with the potatoes, and the kick of salty bacon makes them great paired with chicken or pork chops.
Try the smoky goodness of the Gouda and scallion potatoes with roast turkey, or beef tenderloin. The combo tastes like your favorite stuffed, baked potato; so cheesy and flavorful. The chipotle-cilantro combination is a spicy, smoky mix that hits the mark served alongside grilled chicken, or even a fish fillet. Make any meal special with these potato mix ins!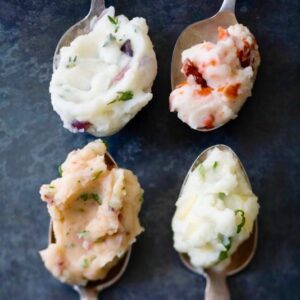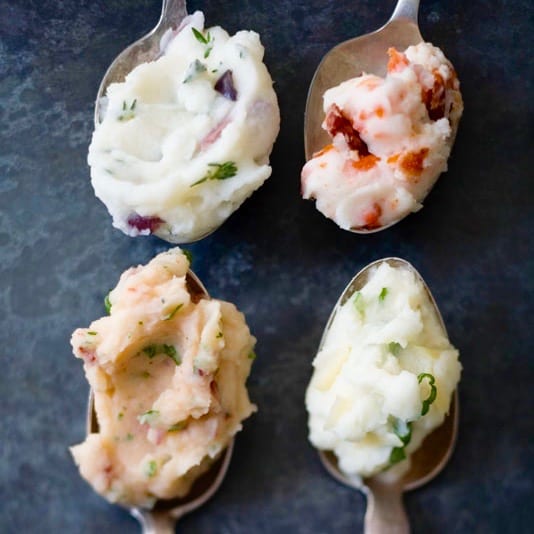 Mashed-Potato Variations
Ingredients
*1. OLIVE-THYME POTATOES*
4

tbsp

extra-virgin olive oil

¼

cup

chopped kalamata olives

1

tsp

chopped fresh thyme.
*2. BACON AND SMASHED CARROT POTATOES*
1

lb

carrots

6

slices

bacon

1

tsp

salt

4

tbsp

bacon fat
*3. SMOKED GOUDA AND SCALLION POTATOES*
2

tbsp

butter

¾

cup

3 oz grated smoked Gouda

2

scallions

thinly sliced
*4. CHIPOTLE AND CILANTRO POTATOES*
¼

cup

chopped fresh cilantro

2

chipotle chiles (canned in adobo sauce.

1

tsp

adobo sauce
Recipes Tara Bench & Vanessa Seder
Photographs Quentin Bacon
Food Stylist Susan Vajaranant
Prop Stylist Pamela Duncan Silver
Originally published Ladies' Home Journal Nov 2008