Easy Dinner Potato Salmon Bake is one of my favorite ways to make a meal in one dish. It's a tasty and simple way to get delicious veggies and fish in on a weeknight. 
I like a good one dish meal. Listen, I'm not pushing casseroles here. There are plenty of awesome one dish, one skillet, one pan meals out there that aren't casseroles per se. I count this as one of those. I call it a bake. You could also call it a gratin (since it's baked in a lovely gratin dish).
In this bake, there's no soupy base holding everything together, no layer of gooey cheese or sauce to create that classic casserole situation. Just delicious, simple ingredients baked together and ready to enjoy.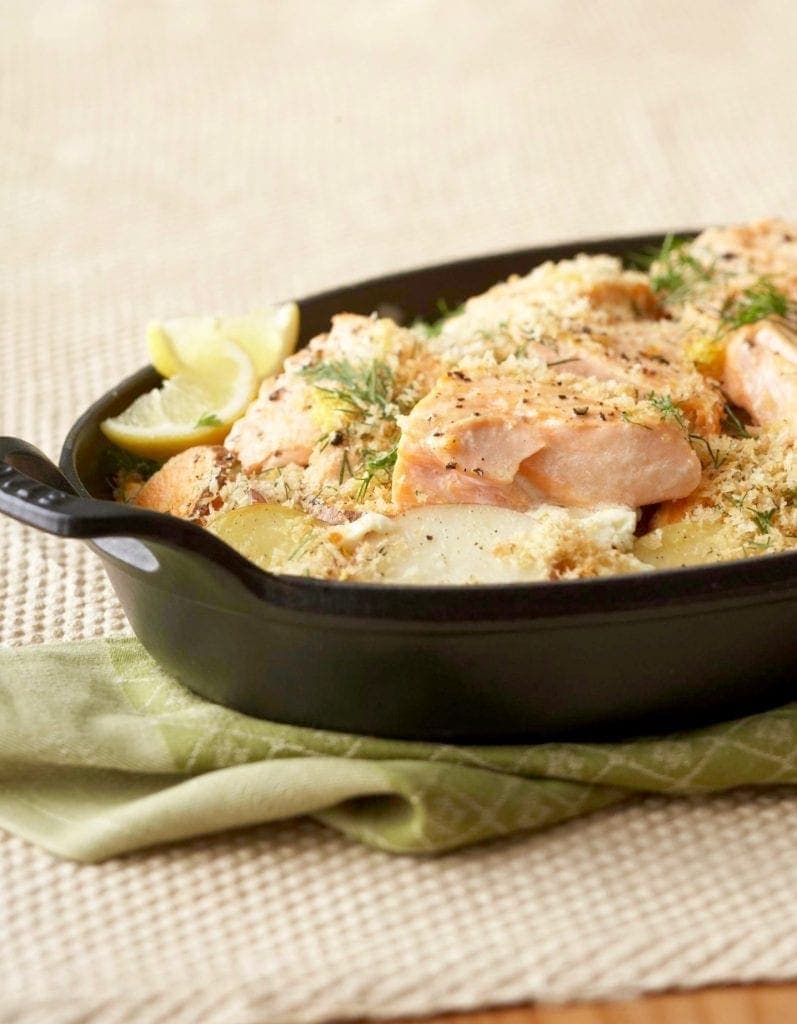 You'll see in the recipe it's simply fresh salmon, a mix of potatoes, some sharp and zesty feta cheese and dill that make this dish shine. I used a mix of potatoes for several reasons. First they all have different flavors and they also have different textures when baked.
The sweet potatoes are a no-brainer. Creamy, sweet and packed with vitamins, they are a go-to ingredient for me. But I didn't want to many in this bake, since they may be overpowering. The salty, sharp feta cheese goes with them well.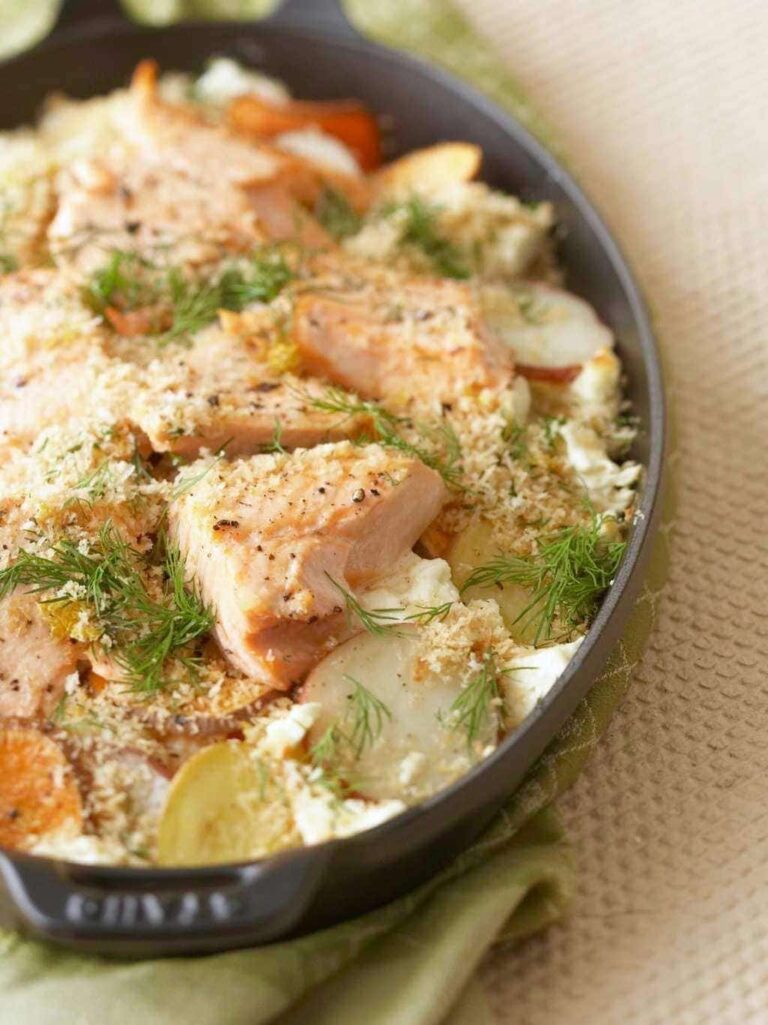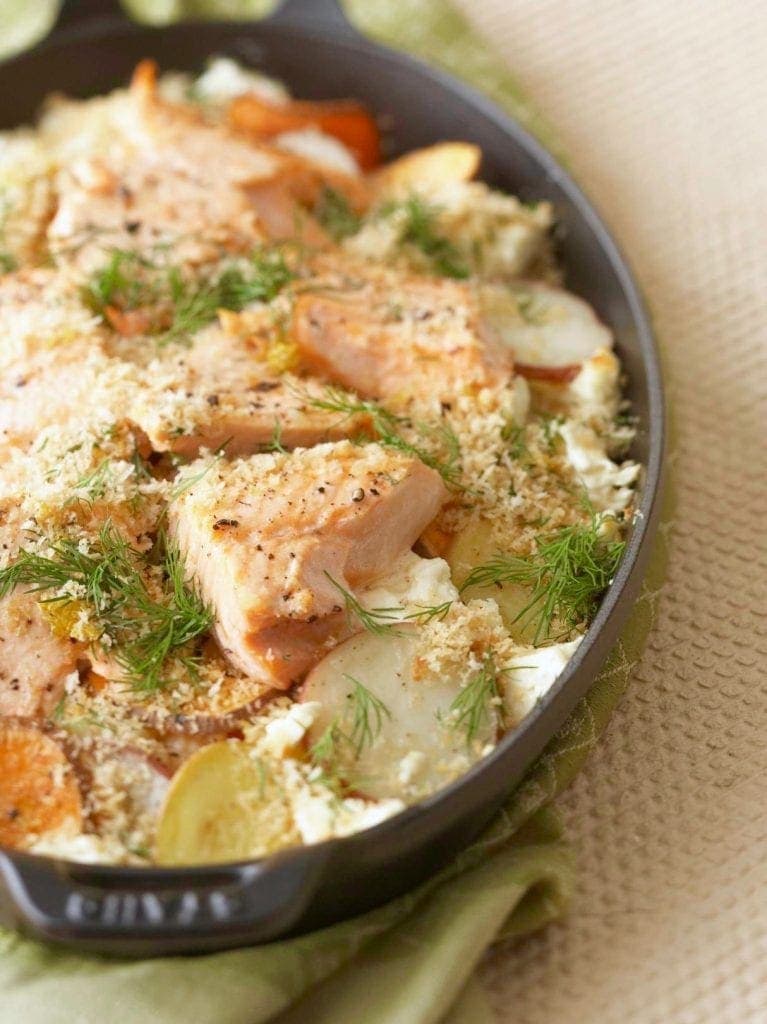 The Yukon Gold and baby red potatoes keep their shape when baked and add both a waxy soft and rich potato-y flavor. The mix is truly key to this fun recipe.
Easy Dinner Potato Salmon Bake gets your weeknight meal on the table with little effort. It's so good you'll see it disappears with just as little effort!
I wanted the dish to be healthy and not heavy, yet satisfying and flavorful. Sharp feta cheese helps give a balance and creaminess to the dish, while fresh dill helps the salmon shine and gives that boost of live green loveliness. A few crunchy breadcrumbs are perfect on each bite.
I baked this delightful meal in a traditional casserole, or gratin dish. They can be made of metal, ceramic or heatproof glass, and come in all different sizes. This recipe uses a 2-quart pan. Here are a few of my favorites along with the Staub cast-iron version in the pictures.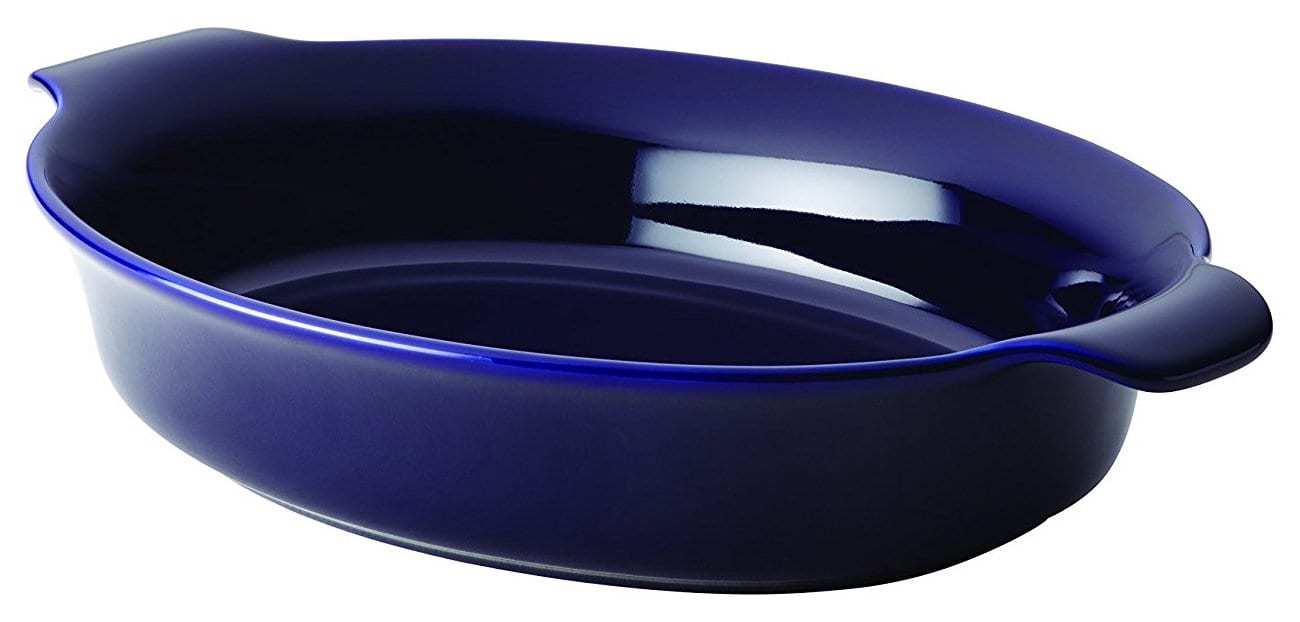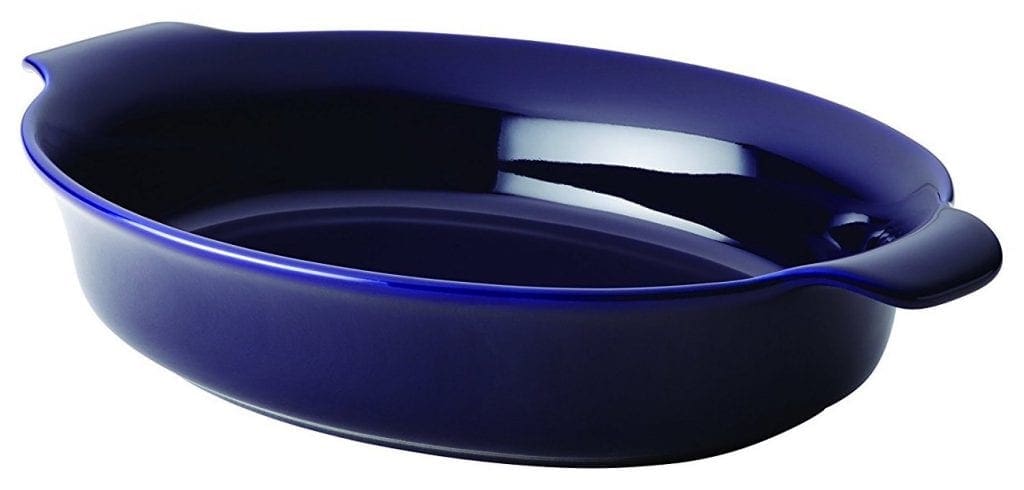 This Anolon Vesta 2-quart dish is gorgeous and bakes everything perfectly.

Of course I love this Le Creuset turquoise au gratin dish. It's so functional, yet so pretty I don't want to take it off my shelf.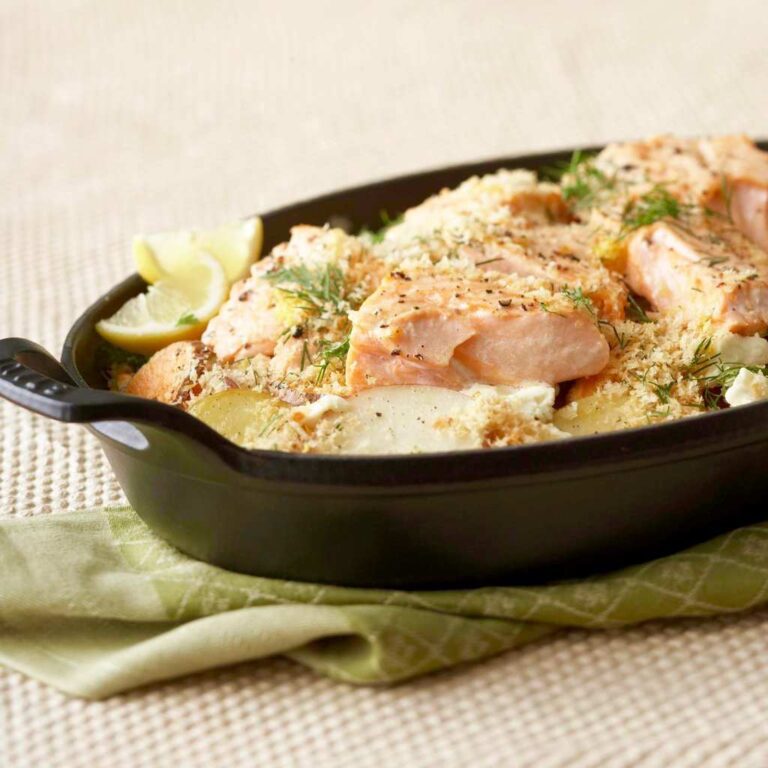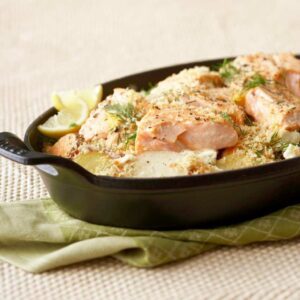 Potato-Salmon Bake
Potato-Salmon bake is simply fresh salmon, a mix of potatoes, some sharp and zesty feta cheese and dill that make this dish shine. Add a variety of beautiful potatoes and dinner is ready.
Keyword:
easy dinner, potato salmon bake
Ingredients
2

tbsp

unsalted butter

melted, plus more for dish

¾

cup

panko bread crumbs

1

lemon

zest and juice

3

tbsp

coarsely chopped fresh dill

2

lbs

assorted potatoes

sweet potatoes, small Yukon Golds and small red potatoes, sliced ⅔ inch thick

¾

tsp

kosher salt

½

tsp

ground black pepper

1¼

cups

(6 oz) crumbled feta

¾

cup

low-sodium chicken broth

1¼

lbs

skinless salmon filet
Instructions
Heat oven to 375°F. Stir together 1 tbsp melted butter, panko, zest from lemon and dill; set aside.

Butter the bottom of a 2-quart casserole dish. over the bottom of the pan with half the potatoes. Season with some of the salt and pepper; sprinkle with half the feta. Repeat, topping with remaining potatoes, feta and some salt and pepper. Combine 1 tbsp butter and the broth; pour over potatoes. Cover and bake until potatoes are just softened, about 45 min.
Meanwhile, cut salmon into 2- to 3-inch pieces and toss with lemon juice; sprinkle with ¼ tsp salt.
Remove potatoes from oven. Increase oven temperature to 425°F. Place salmon over potatoes and sprinkle with bread crumb mixture. Bake, uncovered, until salmon is cooked through and bread crumbs are golden brown,12 to 15 min. Garnish with dill springs.
Recipe Notes
Easy dinner Potato Salmon Bake gets your weeknight meal on the table with little effort.
Nutrition Facts
Potato-Salmon Bake
Amount Per Serving
Calories 396
Calories from Fat 153
% Daily Value*
Fat 17g26%
Cholesterol 89mg30%
Sodium 773mg34%
Potassium 1235mg35%
Carbohydrates 32g11%
Protein 27g54%
Vitamin A 315IU6%
Vitamin C 22.7mg28%
Calcium 199mg20%
Iron 2.6mg14%
* Percent Daily Values are based on a 2000 calorie diet.
Are one dish meals like this potato salmon bake your thing? Me too! Try some of my other favorites:
The Best Classic Pot Roast with Vegetables is an evergreen hit. Meaning it is a great dinner all year long, made in one pan, or the slow cooker!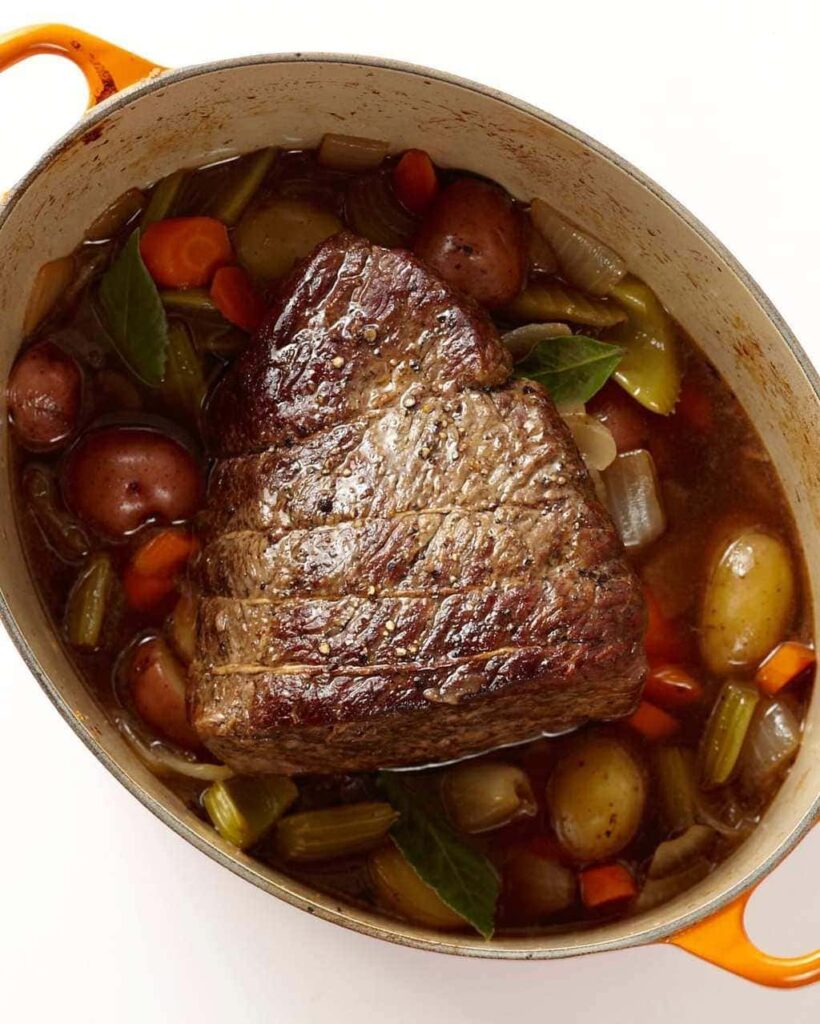 Slow Cooker Arroz Con Pollo makes my heart sing. It's a one dish wonder for sure.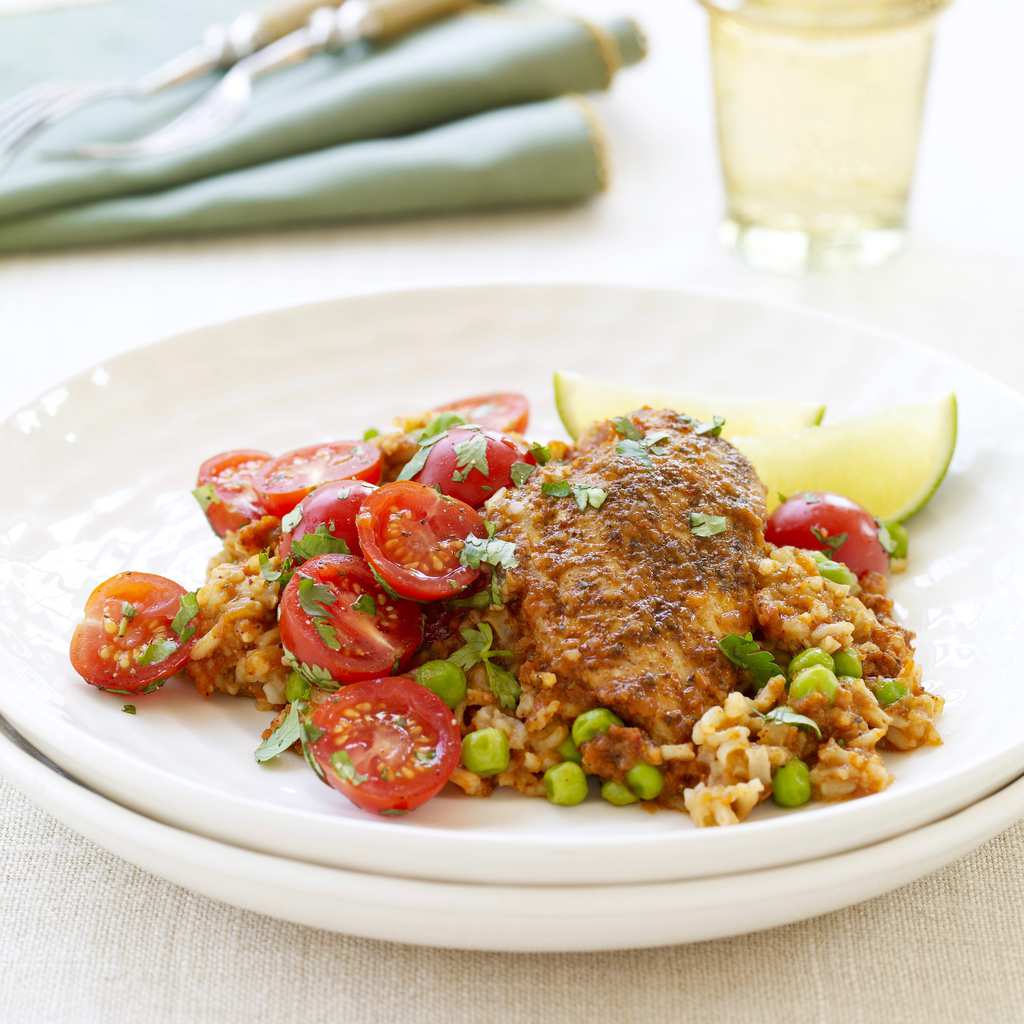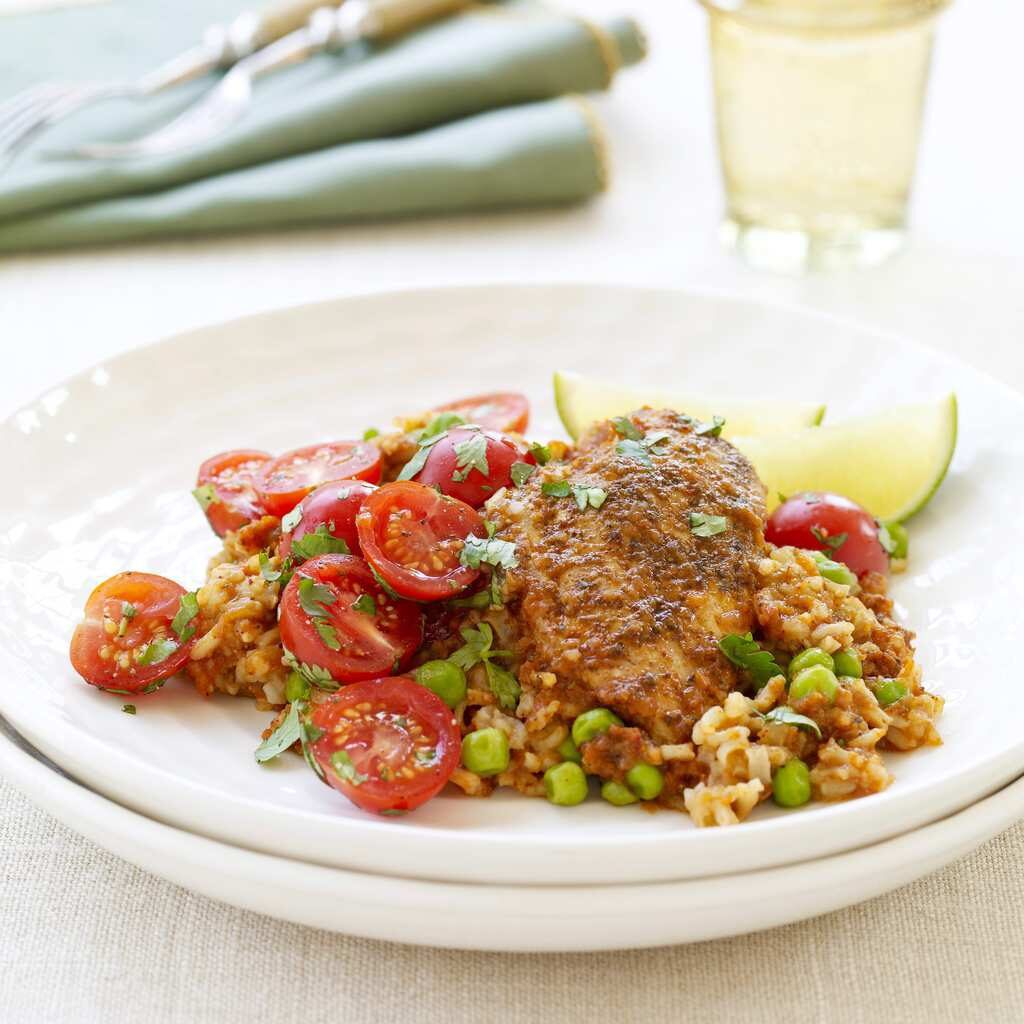 Recipe by Tara Bench. Photographs by Jason Donnelly. Originally published 01/09 in LHJ.