---
Lemons and fennel add color and fresh flavor to no-fuss Roast Leg of Lamb with Apple Mint Chutney.
---
A festive Easter dinner can be special and gorgeous, but doesn't need to be complicated. With a make-ahead tip for the accompanying chutney, you can focus on the main event, the savory roast leg of lamb.
I'm a sucker for keeping traditions alive. The classic Easter meal has for years included a roast leg of lamb or even a glazed ham. Now as I make Easter dinner, I love to focus the meal around the lamb, a tasty, earthy- flavored meat.
I like to serve my Roast Leg of Lamb with Apple Mint Chutney with roasted lemons and fennel, which add more lovely flavors. You can also roast any other cut-up vegetables such as parsnips, leeks or baby potatoes, alongside the lamb in their place.
Making Roast Leg of Lamb with Apple Mint Chutney is straightforward and uncomplicated, even for first-timers.
Roast leg of lamb, although seemingly intimidating, is actually quite simple to make. Once prepping the meat by rinsing and patting it dry, making 15 to 20 small incisions all around it, and then rubbing a lemon and spice mix into the small cuts, you stick the lamb in the oven and let the heat and spices do the work.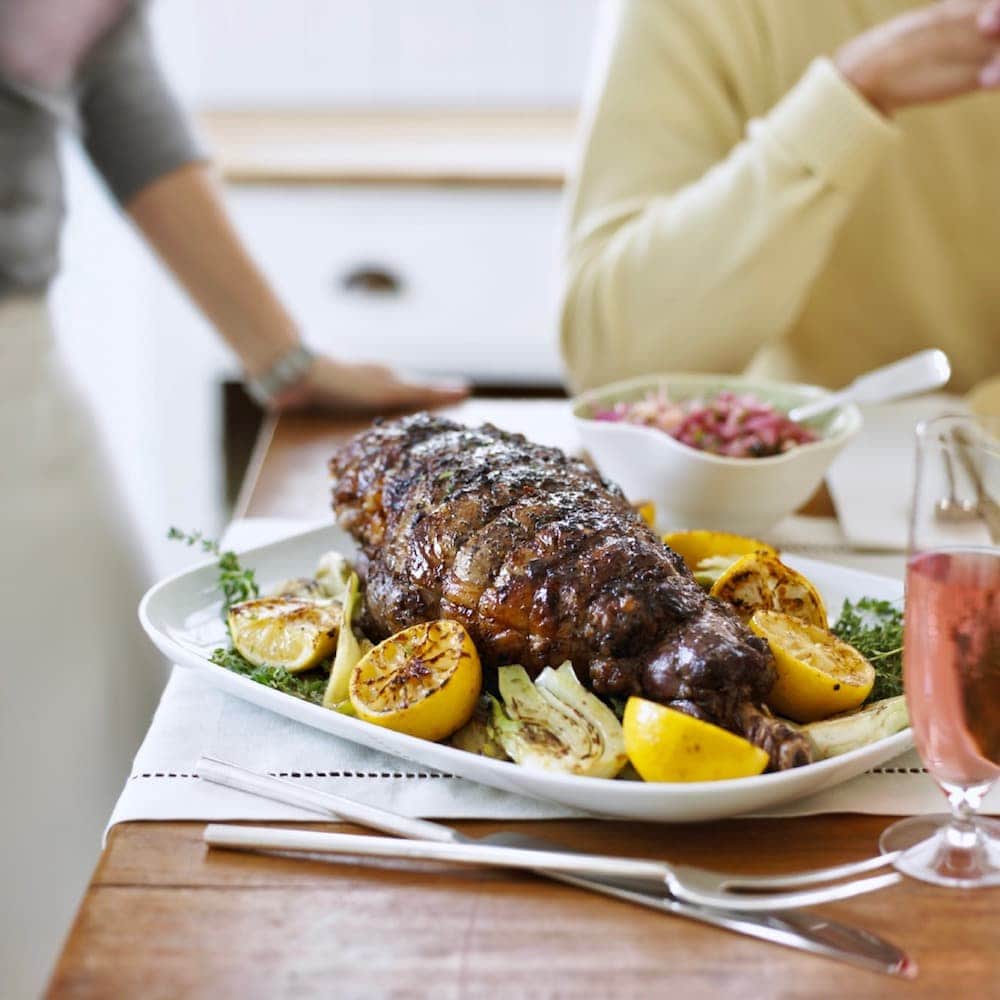 How to make a roast leg of lamb
You can roast a bone-in leg of lamb or boneless. I used a bone-in leg of lamb here. I think the presentation is so classic and pretty.
If you get a boneless leg, have the butcher tie it, or you can tie it at home for roasting.
Why do I need to tie a roast with cooking twine?
For any roast, even my classic pot roast, and Prime Rib, I tie it with kitchen twine. This helps create a uniform shape so that the meat cooks evenly. Without a bone, boneless cuts of meat are often flat or have thin portions that might get over cooked before the thick portions are done. After reshaping the boneless roasts and tying them into a uniform shape, you get a perfectly cooked roast every time.
Even if roasts have the bone, I often tie them to they hold the shape I want to serve them in!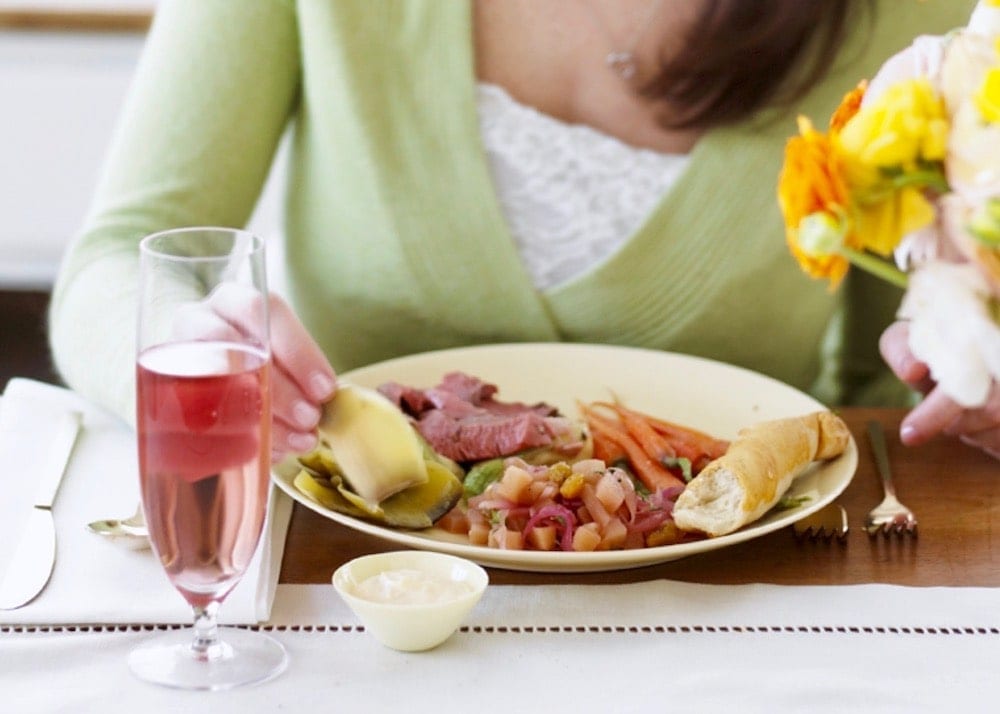 For the kitchen twine, I like simple cotton string. Something not too thin or thick. If cotton string is marketed as kitchen twine, it's usually a great thickness. Otherwise you can also just grab some at the hardware store.
Make a sauce to go with roast leg of lamb
While the lamb is roasting in the oven, I prepare my Apple Mint Chutney and other side dishes. However, if you want to save some energy on the day of your big meal, feel free to make your chutney up to two days before. The flavors and quality stay the same.
For all roasts, or any red meat for that matter, I love the accompaniment of a chutney. Not only does chutney add new flavors to the meal, it also breaks up the rich flavor of the meat. My Apple Mint Chutney has fun flavors that perfectly compliment the lamb.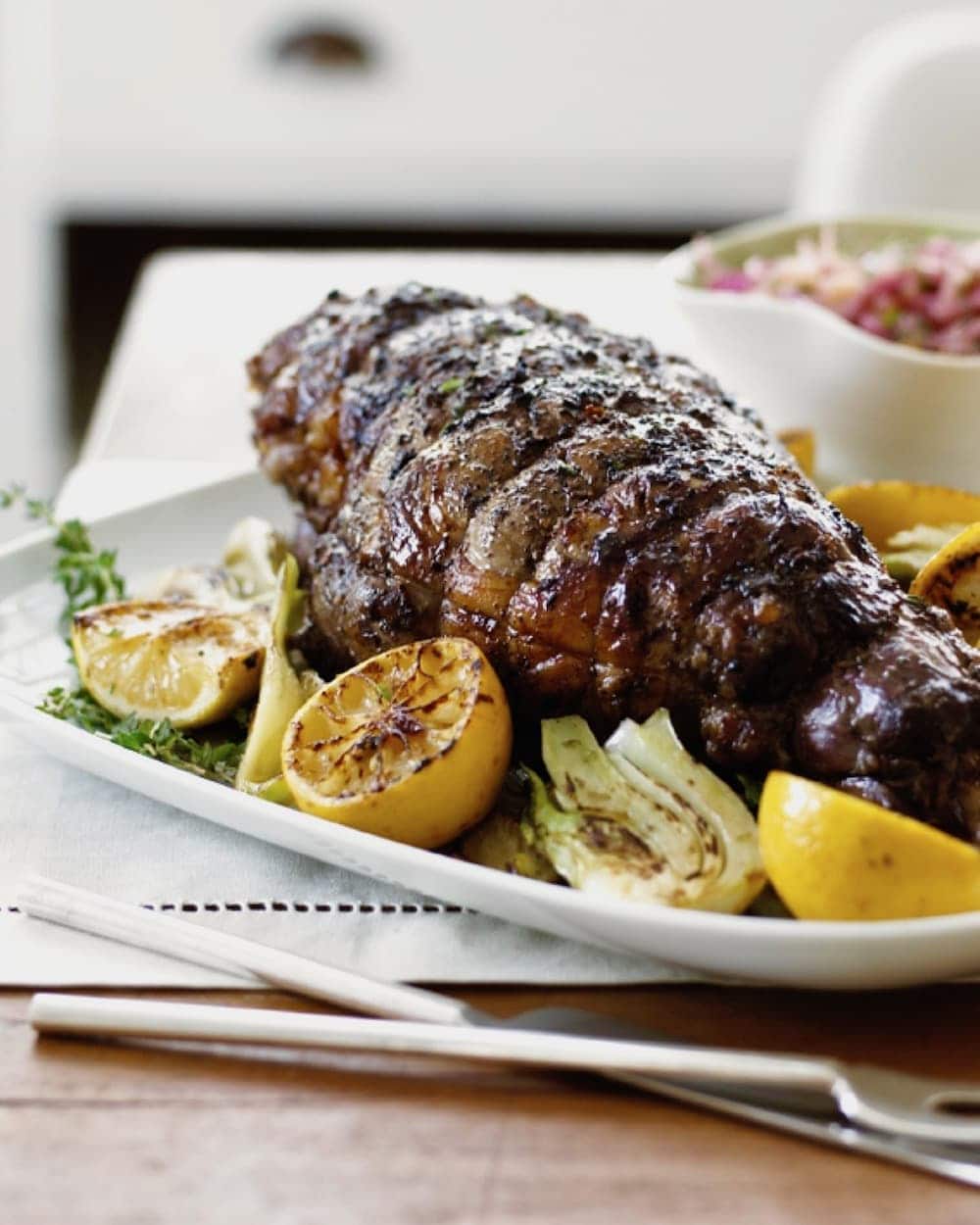 Make-ahead tip:
For the chutney, prepare, cool and store in an airtight container in the fridge up to 2 days. Serve warm or at room temperature.
Other recipes that go with roast leg of lamb for a gorgeous Easter dinner: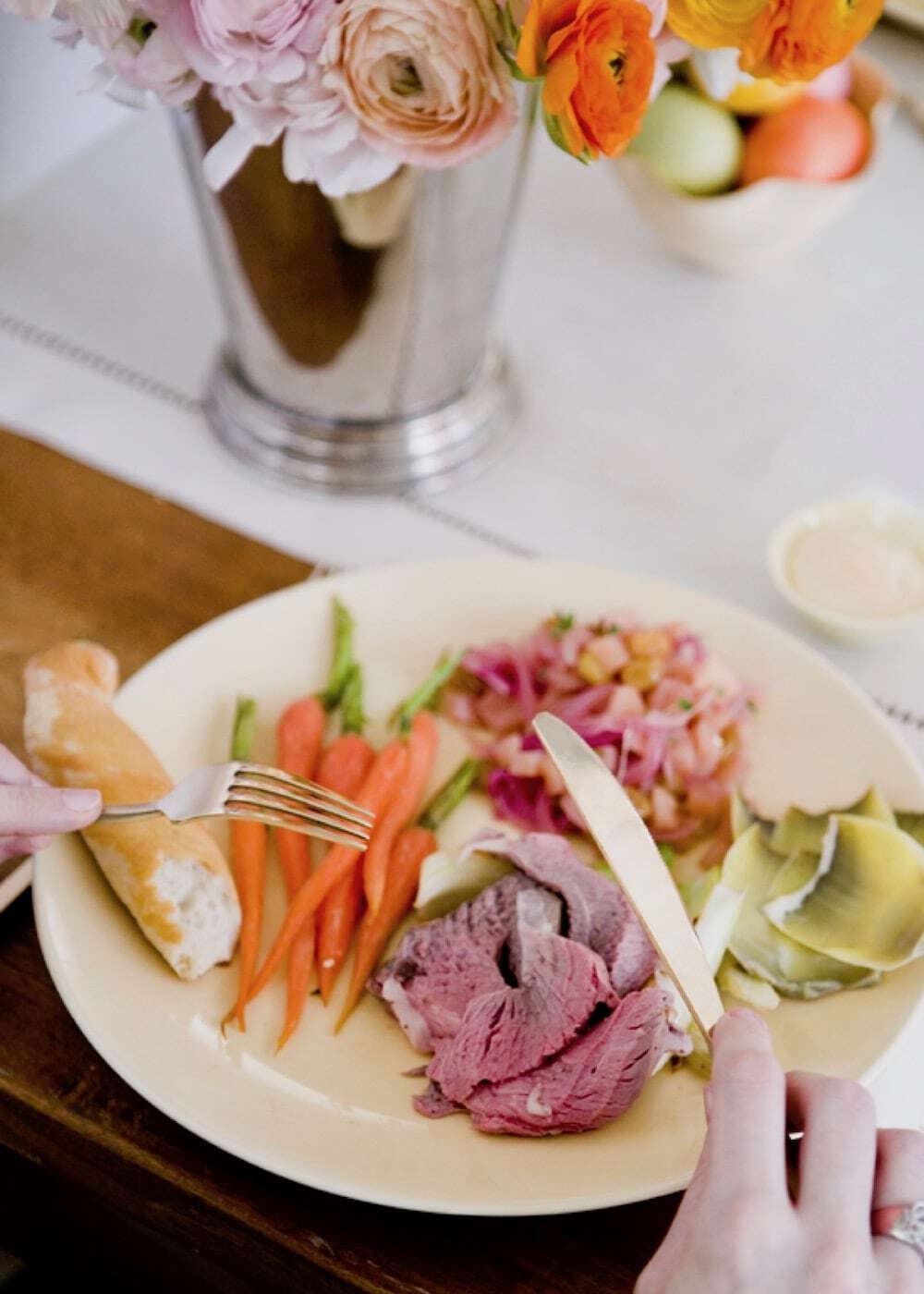 All of the recipe details are listed below, but click over to my Ask Tara tab and ask me any questions you may have. From how to make your roast leg of lamb more tender, to tips on making your Easter table spread beautiful and cohesive, I love answering your questions!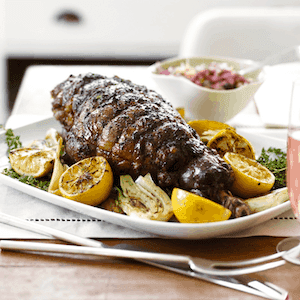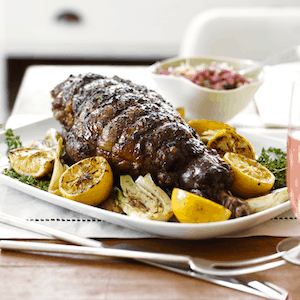 Roast Leg of Lamb With Apple Mint Chutney
A classically spiced leg of lamb served with a quick homemade apple mint sauce.
Ingredients
5

tablespoon

olive oil

1

tablespoon

lemon zest

finely grated

3

tablespoon

lemon juice - juice of one lemon

2

garlic cloves

minced

2½

tsp

kosher salt

1

teaspoon

mustard powder

¾

tsp

freshly ground pepper

¾

tsp

celery seed

½

teaspoon

ground nutmeg

¼

teaspoon

allspice

6- to 7-

lb

leg of lamb

trimmed

2

bulbs

(large) fennel

each cut into 6 wedges

2

lemons

halved crosswise
Apple-Mint Chutney
2

tablespoon

unsalted butter

1

small red onion

sliced

2

Granny Smith apples

peeled, cored and cut into ½-inch dice

⅓

cup

light brown sugar

firmly packed

¼

cup

golden raisins

3

tablespoon

apple-cider vinegar

¼

teaspoon

salt

Pinch

ground nutmeg

⅓

cup

fresh mint

chopped
Instructions
Make Lamb:
In a small bowl, combine 3 tablespoon oil, the zest, juice and garlic. In another bowl, combine 2 teaspoon salt, the mustard powder, pepper, celery seed, nutmeg and allspice.

Heat oven to 375°F. Place one rack in center and one rack on lowest level. Rinse lamb and pat dry. Place, fat side up, in a large roasting pan. Using a sharp paring knife, make 15 to 20 small slits around lamb. Generously rub lemon mixture over entire surface of lamb. Follow with dry spice mixture, pushing into slits.

Roast lamb in center of oven until an instant-read thermometer inserted into thickest part (without touching bone) registers 130°F for medium rare, about 1 hr 45 min.

Meanwhile, on a rimmed baking sheet, toss together fennel, lemons, remaining 2 tablespoon oil and ½ teaspoon salt. After 1 hr of roasting lamb, place fennel and lemons on sheet on lower rack. Roast, turning once, until fennel is golden and tender, about 40 min.

Loosely tent lamb with foil; let stand 15 min before carving. Transfer to a platter; arrange fennel and lemons around lamb.
Make Chutney:
Meanwhile, in a medium saucepan, melt butter over medium-high heat. Add onion and cook, stirring, until softened, about 4 min. Stir in apple, sugar, raisins, vinegar, salt, nutmeg and ⅓ cup water. Bring to a boil, reduce heat to medium and cook, stirring occasionally, until apple is tender and mixture has thickened slightly, about 8 min.

Remove from heat and stir in mint. Serve with lamb.
Notes
Kitchen cue: Roasted fennel and lemons add a lovely flavor to this lamb dish. But, if you like, roast any other cut-up vegetables - such as parsnips, leeks, or baby potatoes - alongside the lamb in their place. Make-ahead tip: For chutney, prepare, cool, and store in an airtight container in the refrigerator for up to 2 days. Serve warm or at room temperature.
Nutrition
Serving:
1
g
Calories:
471
kcal
Carbohydrates:
24
g
Protein:
45
g
Fat:
22
g
Saturated Fat:
7
g
Cholesterol:
145
mg
Sodium:
939
mg
Potassium:
790
mg
Fiber:
3
g
Sugar:
18
g
Vitamin A:
192
IU
Vitamin C:
22
mg
Calcium:
46
mg
Iron:
5
mg
Spring and Easter Recipes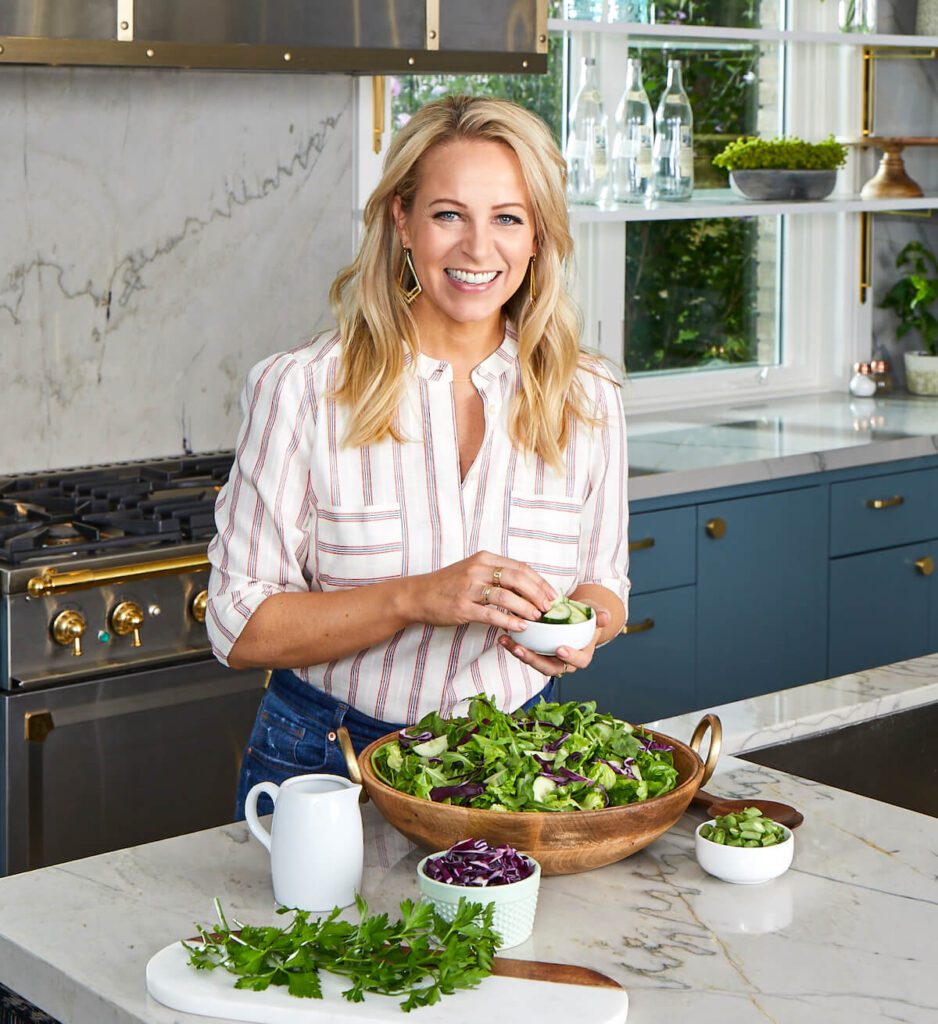 About Tara Teaspoon
I've been in the food publishing business for over 20 years, creating recipes & food-styling for magazines, books, television & advertising. Order my new cookbook & stick around for amazing things to eat.
Recipe Tara Bench, Photography Iain Bagwell, Food Stylist Sally Jo O'Brien. Originally published LHJ Mar 2008