---
Learn to blanch tender green Brussels sprouts then sauté them for some caramelized flavor. Top with sweet and tangy dried apricots and chopped pistachios for a delightful veggie side, any time of year.
---
This quick Brussels sprouts side dish can be prepped ahead if you need a make-ahead side dish for a holiday meal.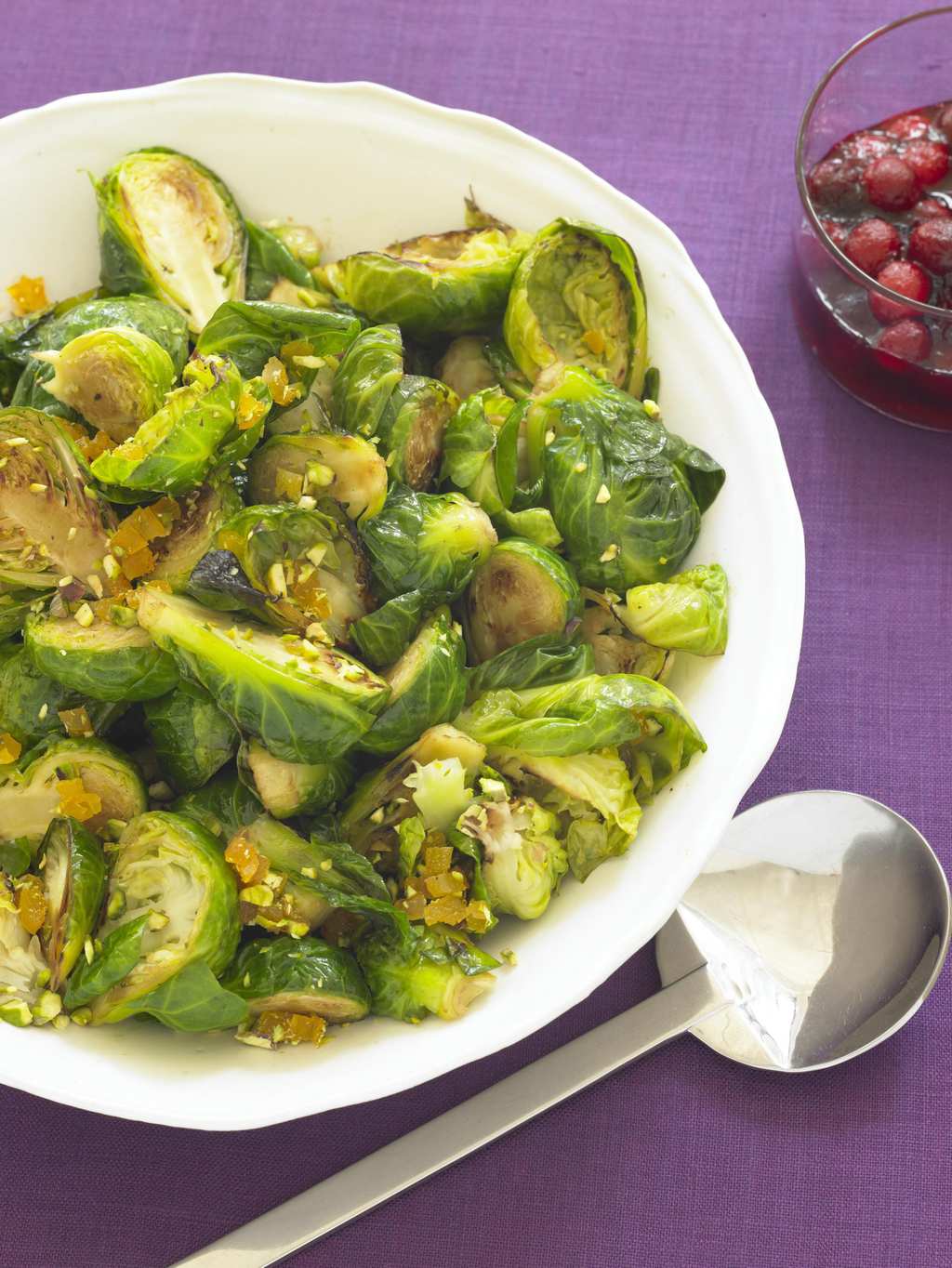 Jump to:
Brussels sprouts have been the cool kid in the veggie world for so long now. I'd say they are even more cool than kale.
At least they've stood the test of time (the last few years) and slid under the scrutiny radar, while kale has a bad rap as the overly-used health food.
That being said, they always make my Thanksgiving table in some form or another. I make them different every year, and find this little green vegetable to be the perfect accompaniment to pair with my other sides.
How to cook Brussels sprouts
Remember when Brussels sprouts were the overcooked, undesirable food your grandma made you eat?
Not anymore! Using two simple cooking techniques, I'll teach you how to make tender Brussels Sprouts that aren't overcooked, and caramelize them for delicious flavor.
First I blanch the Brussels sprouts in boiling salted water.
Drain them and sauté in a hot skillet with olive oil.
Top them with a flavorful topping like apricots and pistachios.
Blanching
Blanching sprouts gets dangerously close to the boiled, overcooked veggies of childhood. Blanching is not boiling though. Blanching is a quick-cooking method, when done right, results in lovely tender-crisp vegetables.
Brussels sprouts can be served immediately after blanching, with a generous amount of butter melted on top. Or, shocked in ice water and stored for later as a make-ahead side dish.
Ice water stops the cooking so the sprouts don't over cook and get bitter and soggy.
I prefer to blanch the sprouts, then drain and sauté them to caramelize the outside for flavor. This extra step and cooking method brings out the lovely veggie sweetness.
Here are quick step by step instructions on how to blanch Brussels sprouts.
Bring a large pot of salted water to a boil.
Remove any damaged leaves from the outside of the Brussels sprouts and trim the stems.
Cut sprouts in half through the stem.
Cook in boiling water until just bright green and barely tender, about 4 minutes.
Remove from water and eat, sauté, or shock in ice water.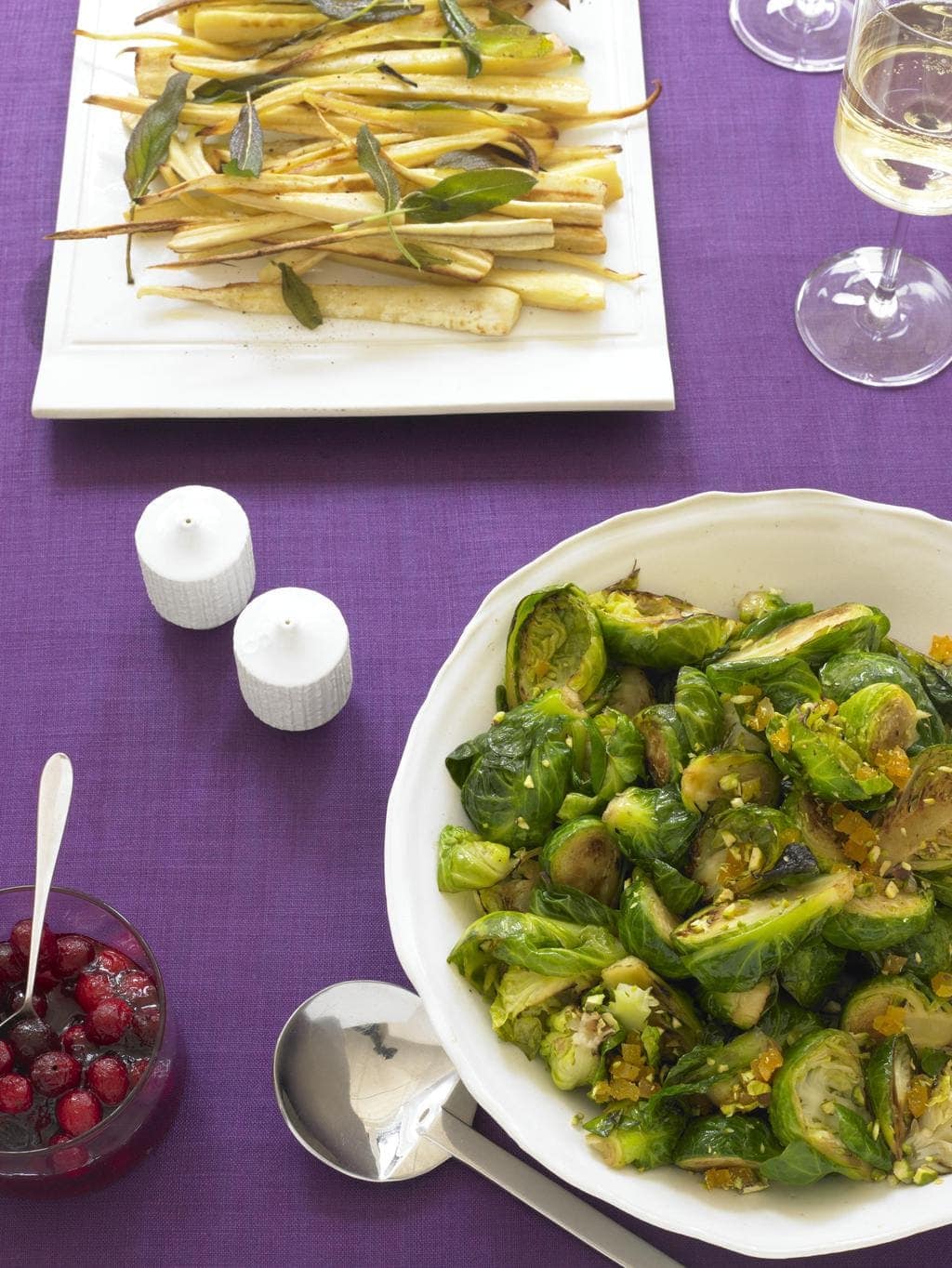 Flavorful side dish
Brussels sprouts as a side dish are a wonderful canvas for other flavors. Adding a delicious glaze, nuts and fruit, garlic, cheese, bacon or other amazing ingredients makes them even better.
For this recipe I used pantry staples to spruce up this lovely green veggie.
Dried apricots are always finding their way into a small bag or plastic container in the cupboard. They are both tangy and sweet and the concentrated fruit flavor plays well with almost any vegetable.
Pistachios, almonds, walnuts, hazelnuts and even pecans are amazing additions to tender veggies. Pistachios almost blend in with the light green Brussels sprouts, but add a genius crunch.
Make ahead
By transferring the blanched Brussels sprouts to a bowl of ice and water right when they are done cooking, you shock them into perfection. Shocking them in ice water stops the cooking and creates perfectly cooked veggies.
Once cool, drain the Brussels sprouts from the ice water and store in a zip top bag or container in the fridge.
Just before serving, sauté the Brussels sprouts to caramelize the edges and heat through.
Serve with toppings.
The second step will only take a few minutes on the stove so almost all of the work has been done ahead of time.
The blanched and cooled sprouts can stay in the fridge for up to 3 days before heating and serving.
Awesome Side Dish Recipes!
---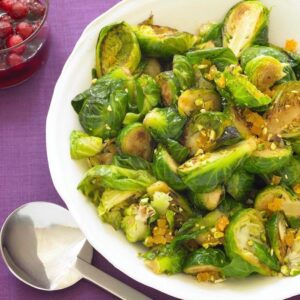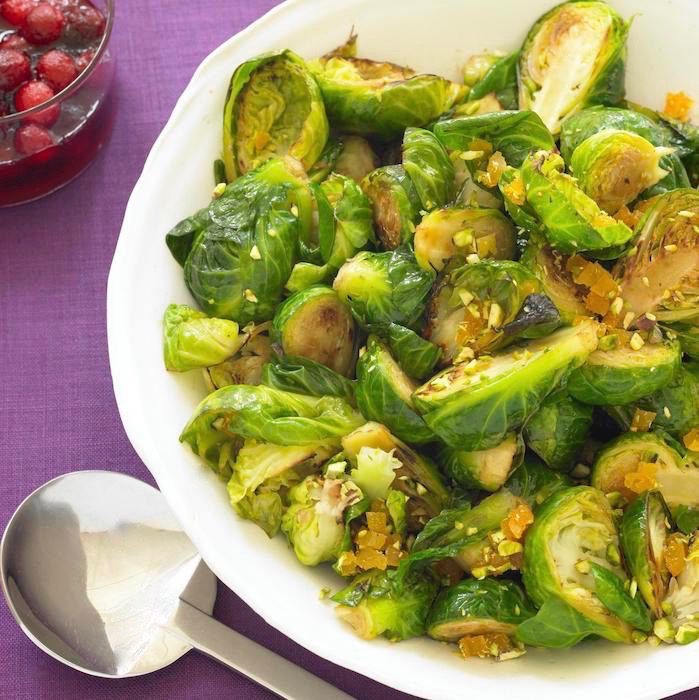 Brussels Sprouts Side Dish with Apricots And Pistachios
Save time at dinner by blanching Brussels sprouts up to three days before. Serve these tender veggies with apricots and crunchy pistachios.
Ingredients
1½

lbs

Brussels sprouts,

stems trimmed

2

tablespoon

olive oil

½

teaspoon

kosher salt

⅓

cup

shelled pistachios,

coarsely chopped

¼

cup

dried apricots,

finely diced
Instructions
Bring a large pot of lightly salted water to a boil. Remove any damaged outer leaves from Brussels sprouts and trim the stems. Slice sprouts in half through the stem. Add to boiling water and cook until just tender, 3 to 4 minutes; drain.

Heat olive oil in a large nonstick skillet over medium-high heat. Add sprouts and salt; cook, turning occasionally, until sprouts are golden around the edges and heated through, 5 to 6 min (7 min if you blanched the sprouts earlier). Transfer to a serving dish and garnish with apricots and pistachios.

•(If making ahead, cool blanched sprouts in ice and water, drain and store, wrapped, in the fridge until ready to use.)
Notes
Nutrition advice is for 6 servings.
• Blanched and cooled Brussels Sprouts can be stored in the fridge up to 3 days.
Nutrition
Calories:
141
kcal
Carbohydrates:
15
g
Protein:
5
g
Fat:
8
g
Saturated Fat:
1
g
Sodium:
223
mg
Potassium:
574
mg
Fiber:
5
g
Sugar:
6
g
Vitamin A:
1079
IU
Vitamin C:
97
mg
Calcium:
58
mg
Iron:
2
mg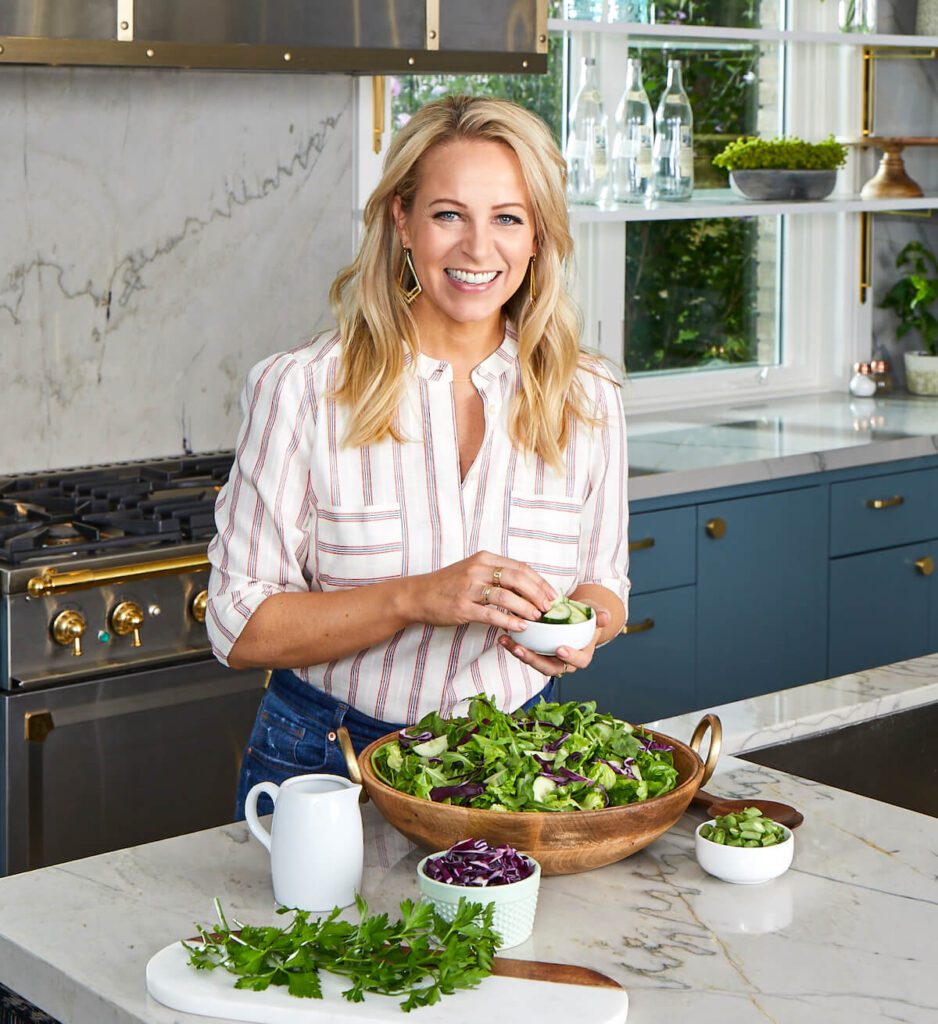 About Tara Teaspoon
I've been in the food publishing business for over 20 years, creating recipes & food-styling for magazines, books, television & advertising. Order my new cookbook & stick around for amazing things to eat.
Recipe by Tara Teaspoon. Original published in LHJ Nov 09. Photography Miki Duisterhof. Food Styling Jee Levin. Prop Styling Jen Everett