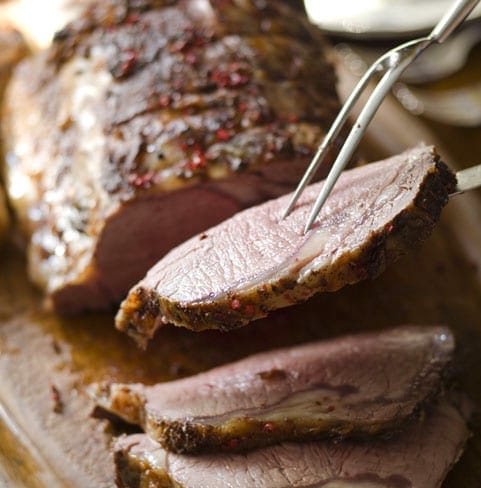 Prime Rib with Creamed Horseradish
Ingredients
1 9-

lb

beef rib roast

about 4 ribs, meat cut from bone, meat and bone tied together with kitchen twine

2½

tsp

kosher salt

2

tbsp

Dijon mustard

1

tbsp

minced garlic

⅓

cup

heavy cream

⅓

cup

prepared horseradish

¼

cup

cognac

1

can

14 oz low sodium beef broth

2

tsp

whole pink peppercorns

coarsely crushed, plus more for garnish
Instructions
Place rib roast, fat side up, in a roasting pan and let stand at room temperature 1 hr.

Heat oven to 450ºF and place rack in center. Sprinkle roast with 2 tsp salt. Combine mustard and garlic; evenly spread over top of roast and season with black pepper.

Roast 20 min, then reduce temperature to 325ºF. Roast until an instant read thermometer inserted in center by 2 inches (without touching bone) registers 125ºF to 130ºF for medium-rare (loosely tenting with foil if top browns too quickly), about 2½ hr. Transfer to a cutting board, tent with foil and let stand 15 min before carving (Internal temperature will rise 5 to 10 degrees.) Reserve pan and juices.

Meanwhile, for Creamed Horseradish, whisk cream until thickened but not yet holding soft peaks, 1 to 2 min. Gently fold in horseradish and remaining ½ tsp salt; season with black pepper. Transfer to a serving bowl; chill 30 min or up to 1 hr.

For pan sauce, pour pan juices into a fat separator; drain off fat. Add cognac and ½ cup broth to a roasting pan. Bring to a simmer over medium-high heat, scraping up any browned bits with a spoon. Simmer until liquid has almost evaporated, about 8 min. Add remaining broth, the pan juices and peppercorns; simmer 2 min more. Transfer to a gravy boat.

Cut twine from roast, remove bone and transfer meat to a cutting board; garnish with peppercorns, if desired. Serve sauce and Creamed Horseradish on the side.
The Big Easy (wink)
Prime rib has become our family favorite for "The Big Holiday Meal." To be honest, it's easy, and everyone loves…I mean loves it.
I say, simple? Prime rib seems intimidating, right?!
Nah! It takes less than 20 minutes of hands on time, and really all you need to make it a success is a meat thermometer (don't overcook that baby!).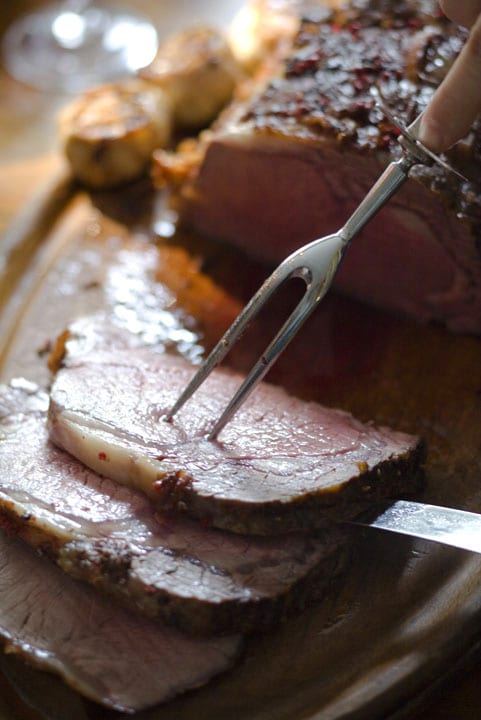 In the recipe below I have the butcher cut the meat from the bones – but don't throw them out! I tie them back on the roast to cook. The juices and drippings from the bones and those bits of meat are some of the most important parts of the recipe. The seasonings are simple, just a garlicky, salty rub. You'll like it!
Cook the roast to rare or medium-rare. A cut of this size has carry-over cooking, which means the temperature rises 5 to 10 degrees after it comes out of the oven. There will be plenty of well-done pieces (the caramelized ends) and you want the tender juicy center for the rest of us!
By the way: The recipe below might look long, but it's still simple. I've told you every move to make, a little wordy yes, but there is no way you can fail!
In place of the cognac, feel free to use more beef broth if you'd like.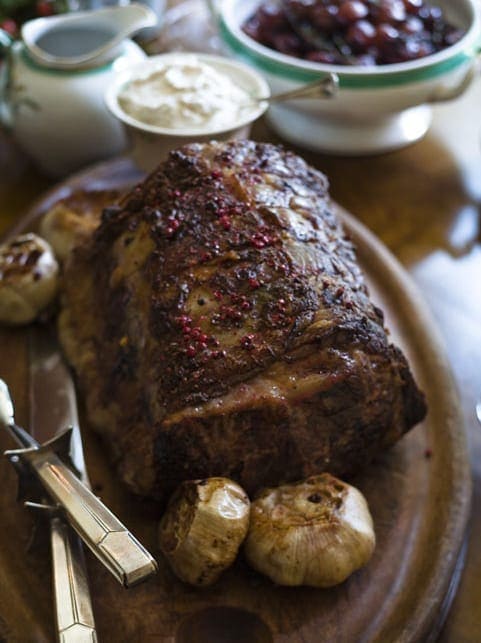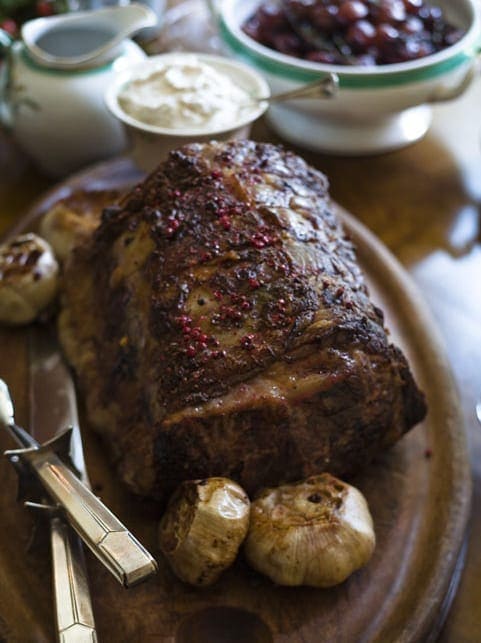 To save time, have the butcher cut and tie the roast.
Recipe by Tara Bench
Originally published in Ladies' Home Journal Dec 2007
Photography Quentin Bacon
Food Styling Tara Bench
Prop Styling Pamela Duncan Silver