Perfect Pie Crust is flaky, tender and most of all tastes great! You want it to taste so good, the filling is second thought! Follow this easy recipe to find out how to do just that.
Perfect pie crust can sometimes be intimidating. But it shouldn't be. It's as simple as getting some cold butter mixed into flour with a bit of cold water in the right proportions, in the right way. Piece of cake. I mean pie!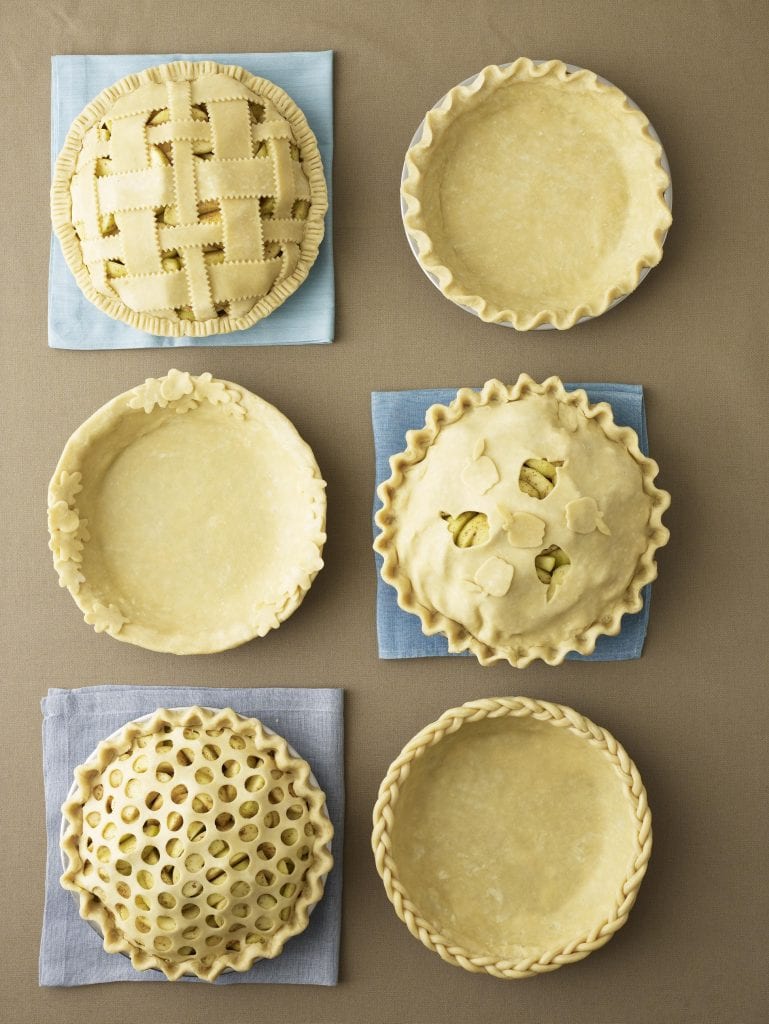 Below are 5 Crust Tips that will help you make perfect pie crust–and then take a look at this little video on how to make it in the food processor. You'll see I try to work quickly and not handle the dough much. Warm hands can melt the butter in the dough and make it tough. This one recipe makes 2 single crusts and you can see how I bring the dough together and divide it in half. It doesn't have to be rocket science.
These 5 tips for perfect pie crust might just change your life.
1  Start with chilled ingredients
Refrigerating everything—yes, even the flour—is key to creating tender, pliable dough. Warm ingredients make tough crust because they bind too quickly with the gluten in the flour.
2  Use shortening and butter
Shortening provides flakiness while butter adds flavor; combining the two gets you the best of both worlds.
3  Add water carefully
Too much water makes the crust tough. But don't try to play it safe and be stingy. The crust will crack and fall apart without enough liquid. Be sure to have a light hand so you don't over mix the dough.
4  Crumble-proof your crust
Do this by using a tenderizer such as salt, vinegar, vodka or lemon juice. Each provides a different hint of flavor.
5  Roll the right way
Lightly flour your work surface, then roll dough from the center outward to create a circle. Lift and move the dough frequently as you work so it doesn't stick to the surface. Avoid stretching it: stretched dough shrinks during baking.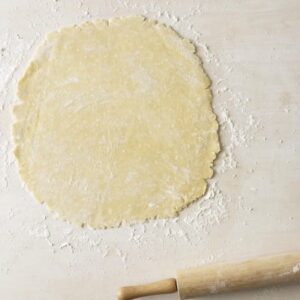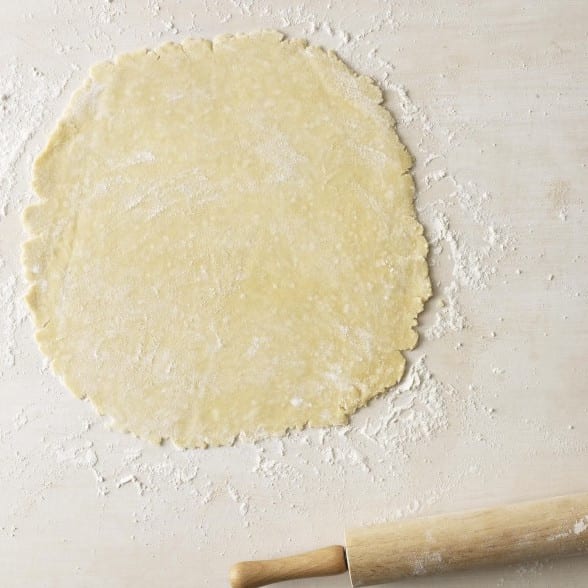 Perfect Piecrust + 5 Crust Tips
Ingredients
2½

cups

all-purpose flour

1

tsp

salt

1

tsp

sugar

12

tbsp

1½ sticks cold, unsalted butter, cut into pieces

¼

cup

chilled shortening

1

tbsp

white vinegar

½

cup

very cold water
Instructions
In a food processor, pulse together the flour, salt and sugar. Add the shortening and half the butter. Pulse 8 to 10 times or until mixture is coarse crumbs and some of the butter is pea-size. (Alternately, combine in a bowl using a pastry blender or a fork.)

In a measuring cup, combine vinegar with ½ cup cold water. Add the remaining butter to the food processor, and while pulsing processor, drizzle in just enough water mixture to form dough, 5 to 8 tbsp. (Dough may be slightly dry but will hold together when you pinch it.)

Transfer dough to a sheet of plastic wrap and use the wrap to bring the dough together in one ball. Halve dough, wrap each half in plastic wrap and press into disks. Chill 1 hr or until ready to use. May be kept refrigerated for 3 to 4 days or frozen for up to 4 months.

To pre-bake crust, roll into a 12- to 13-inch circle and gently transfer to pie plate. Trim edges (or decorate as desired) and chill or freeze until very cold. Line cold crust with a double thickness of foil or line with parchment. Fill with pie weights or dry beans and bake at 375ºF until edges are just golden, 12 min. Remove foil or parchment and weights; bake another 10 to 12 min until cooked through. Let cool before filling.
Click here to see all of my pie recipes!
Recipe by Tara Bench
Photography Kate Mathis
Food Styling Sara Neumeier
Prop Styling Megan Hedgepeth