---
If you love Key Lime Pie then these Coconut Key Lime Bars are just for you! A toasted coconut graham cracker crust is filled with a tangy and sweet lime filling and topped with whipped cream.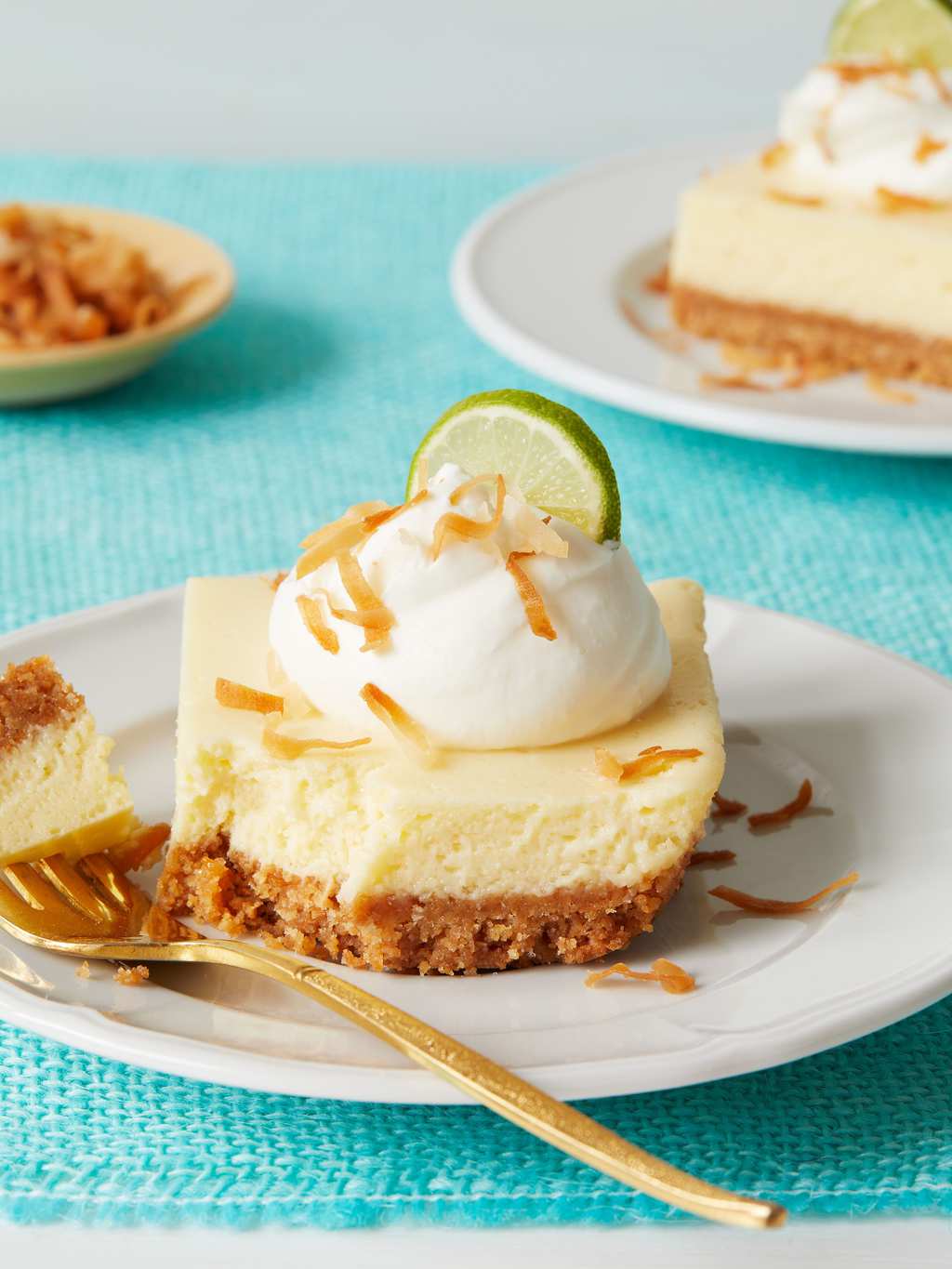 Jump to:
If you have an affinity for Key Lime Pie, you know what I'm talking about. That smooth, creamy and tangy curd filling baked into a graham cracker crust is close to heavenly. Have you ever had it as they do in the Florida Keys, dipped in chocolate?
I have had Key Lime Bars before and they make me just as happy as a pie, plus they're easy to hold! Essentially the exact same thing, made in a square pan, but easy to slice and serve.
Another one of my favorite recipes baked untraditionally in a square pan are these One Pan Sugar Cookie Bars!
Plus if you love a cookie crust, I took this key lime coconut bars recipe to the next level by adding toasted coconut to the graham cracker crust.
What Are Key Limes?
Key limes, also called Mexican, or West Indian limes, are smaller in size than regular, or the Persian variety you typically see in the store. They're prized for their flavor which is described as floral and sweet but tart and acidic.
Their aroma is much stronger and floral. It's a flowery lime aroma with that pungent sour taste–so fun to cook with! Since key limes have a floral note, they are often termed as being sweeter than regular limes.
Key lime skin is thinner and the flesh is more yellow and often full of seeds. It takes a lot more of these little limes to get enough juice for a pie, or for these pie bars.
Is juicing all those tiny limes worth it? Sure! If Key limes are available I say try them. Will your pie bars turn out delicious using regular Persian limes? Absolutely! You still get a lime flavor and tangy zing.
Key limes have a specific growing season of June through September to find them fresh in the grocery store. But if you can't find them, I also love this Key lime juice that you can buy any time of year.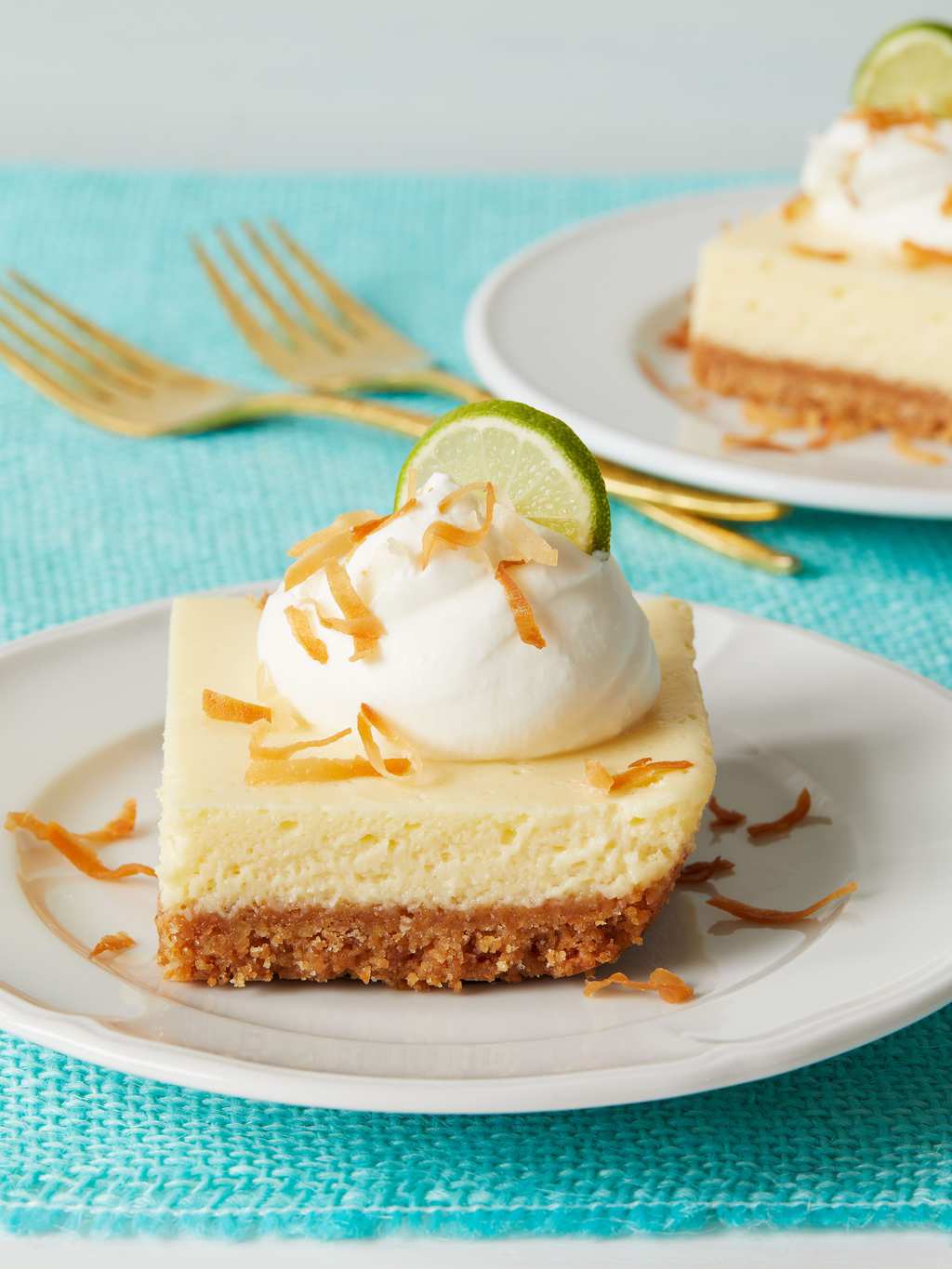 Ingredients In Key Lime Coconut Bars
The crust is a classic graham cracker situation made absolutely fabulous with toasted coconut! The more tropical, the better, I say. Plus the coconut gives the crust a lighter texture with the perfect crunch.
The filling is a delicious, creamy and rich custard made with egg yolks, sweetened condensed milk, and Key lime juice. Simple but just right, with a sweet and sour flavor.
Finish the bars by whipping heavy cream and confectioners' sugar to stiff peaks. A dollop of sweetened whipped cream balances the flavors. You'll thank me when you feel like you've been transported to the beach immediately.
How To Make Key Lime Coconut Bars
Prepare the square pan. Line the pan with two strips of parchment to make a cross and allow the edges to hang over the sides. This makes it easy to lift out the cooked bars.
Make the graham cracker crust. Pulse graham crackers in a food processor until very fine. Add toasted coconut, sugar, and butter and pulse until sand-like. Press into the pan.
Bake the crust. Bake the crust for 10 minutes until light brown. Allow to cool completely.
Make the filling. In an electric mixer with a whisk attachment, beat the egg yolks until thick and creamy, about 5 minutes. Reduce mixer speed to medium and add sweetened condensed milk. Beat again on high speed for 3 minutes. Reduce the speed to low and slowly add the key lime juice, mixing until just combined.
Bake the filling. Spread the filling over the cooled crust and bake for 10 minutes until set. Allow the bars to cool completely.
Refrigerate the filling. Place the bars into the refrigerator to chill and set for at least 4 hours or overnight.
Make whipped cream. Using a mixer with the whisk attachment, whip together heavy cream and confectioners' sugar on medium-high speed until stiff peaks form.
Slice and serve. Slice the bars into squares and serve with a dollop of whipped cream and toasted coconut.
Tips For Making Key Lime Coconut Bars
There are a few things to remember when making these Key Lime Coconut Bars:
This recipe calls for sweetened condensed milk, NOT evaporated milk. Sweetened condensed milk is much sweeter and thicker.
Feel free to juice a ton of key limes to make this recipe when they are in season. But I usually prefer to buy Key lime juice in the bottle to make it super easy.
Be sure to cool the crust completely before spreading and baking the filling, if the crust is still warm it will melt your filling and cause it not to set!
Refrigerating the bars prior to serving is required to allow the lime custard to set. I know it's tempting to serve them after they've cooled down out of the oven, but please resist!
Sweetened shredded coconut is the way to go here. It toasts so nicely to golden brown and adds a little extra sweetness to compliment the tangy lime.
Frequently Asked Questions
What's the difference between a Key lime and a regular lime?
Key limes are smaller in size than regular limes and are often called Mexican or West Indian Limes. They still have a tart flavor with floral, flowery notes as well.

Key limes have a thinner skin and more seeds than regular limes. Their flavor is tart and acidic with floral notes making them seem sweeter than regular limes.
Can I use regular limes in place of Key limes?
Yes, you can use regular, or Persian limes in place of Key limes. Note, the flavor won't have the traditional Key lime pie flavor with floral notes and very high acidity lime flavor.
Are Key limes sweeter than regular limes?
Sweeter is often a term used to describe the floral notes in Key limes when compared to regular, or Persian limes. The floral notes are a flavor unique to Key limes and as a result can make them seem sweeter.
For more out-of-this world desserts check out what's been cooking on other pages of Tara Teaspoon:
The Best Skillet Chocolate Chip Cookie - Take that! Traditional CCC's get made and baked in one skillet.
24 Exciting Ice Cream Flavors - So easy you can make them with store bought vanilla and chocolate!
Easy Cheesecake In A Jar - The best individual dessert you could possibly make.
Let me know how it went!
Scroll to the bottom of the page to rate ⭐⭐⭐⭐⭐ and comment on this recipe. Leaving comments helps other too!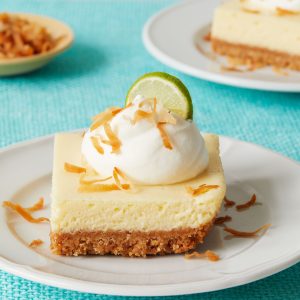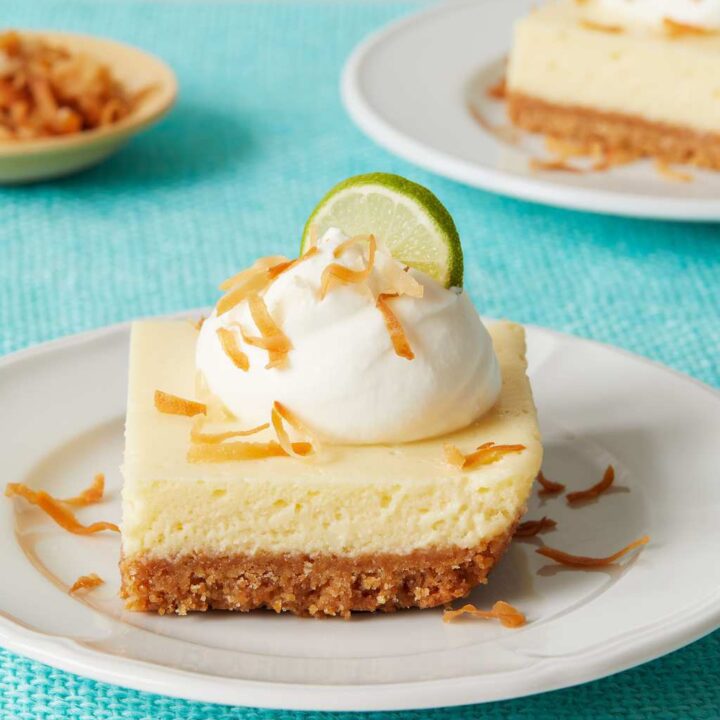 Coconut Key Lime Bars
Coconut Key Lime Bars take my favorite classic pie and twist it with toasty coconut. The bars are easy to make and serve.
Ingredients
1

package

graham crackers

9 to 10 sheets

1

cup

sweetened shredded coconut

toasted

3

tablespoons

granulated sugar

6

tablespoons

salted butter

melted

3

large egg yolks

1

can

(14 ounces) sweetened condensed milk

⅔

cup

fresh Key lime juice

25 to 30 Key limes

½

cup

heavy cream

2

tablespoons

confectioners' sugar

2

Key limes

thinly sliced for garnish

Toasted coconut

for garnish
Instructions
Heat oven to 350ºF. Line an 8-inch square pan or baking dish with parchment. I like to cut a long parchment strip to fit inside the edges of the pan and let it hang over two sides. That way I can pull the bars out to cut them.

In a food processor blend the graham crackers until they are very fine crumbs. Add the toasted coconut, sugar and butter and pulse until mixture resembles wet sand. Press the crust mixture evenly onto bottom of the prepared pan. Bake until dry and lightly brown, about 10 minutes. Let cool on a wire rack. (Leave oven on)

Make filling: Mix egg yolks in the bowl of an electric mixer fitted with the whisk attachment on high speed until very thick, about 5 minutes. Reduce speed to medium. Add condensed milk in a slow, steady stream, mixing constantly. Raise speed to high; mix until thick, about 3 minutes. Reduce speed to low. Add lime juice; mix until just combined.

Spread filling evenly over crust using a spatula. Bake, rotating dish halfway through, until filling is just set, about 10 minutes. Let cool completely on a wire rack. Refrigerate at least 4 hours (or overnight).

For topping: Put cream and confectioners' sugar in the clean bowl of an electric mixer fitted with the whisk attachment. Mix on medium-high speed until stiff peaks form.

Remove bars from pan using overhanging parchment and cut into squares. Garnish bars with whipped cream, a slice of lime and toasted coconut.
Notes
Swap Key limes for regular or Persian limes in this recipe.
Nutrition
Calories:
361
kcal
Carbohydrates:
39
g
Protein:
5
g
Fat:
21
g
Saturated Fat:
14
g
Cholesterol:
118
mg
Sodium:
167
mg
Potassium:
249
mg
Sugar:
34
g
Vitamin A:
650
IU
Vitamin C:
10.9
mg
Calcium:
154
mg
Iron:
0.6
mg
Delicious Pie and Tart Recipes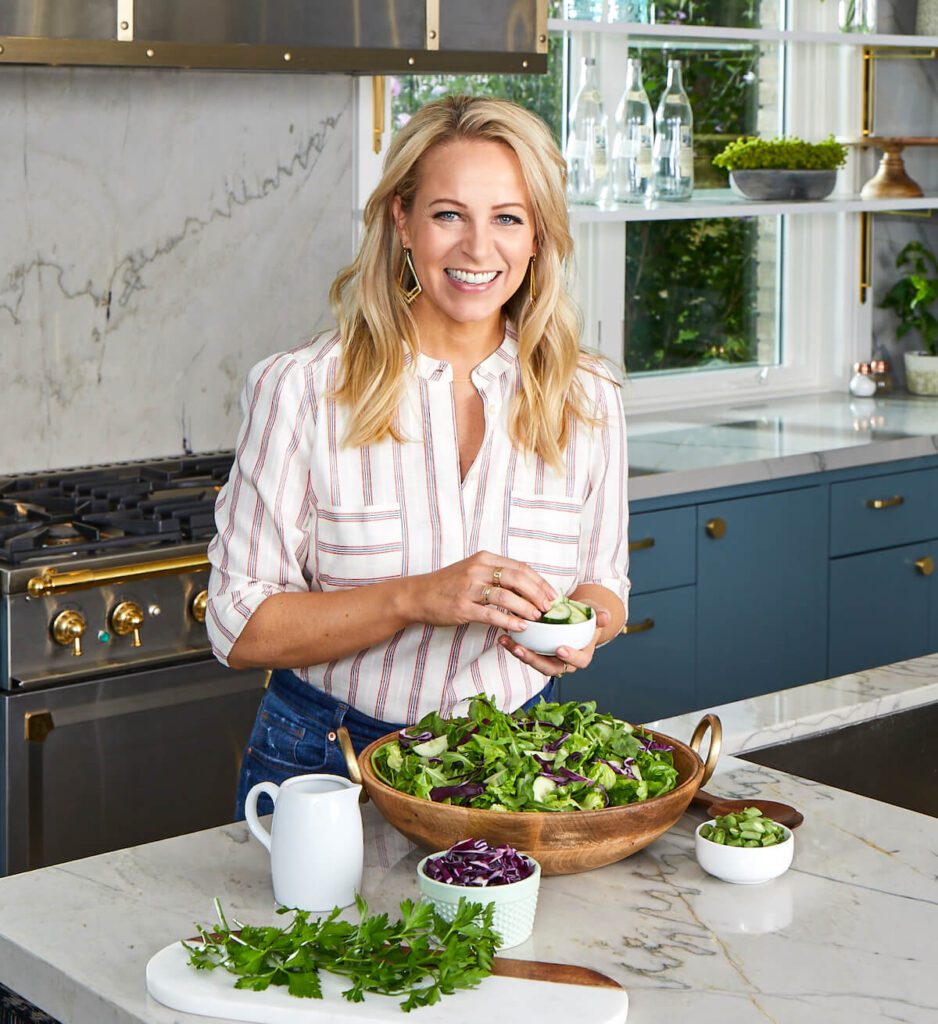 About Tara Teaspoon
I've been in the food publishing business for over 20 years, creating recipes & food-styling for magazines, books, television & advertising. Order my new cookbook & stick around for amazing things to eat.
Recipe and food styling Tara Teaspoon. Photography Ty Mecham. Prop styling Veronica Olson. Updated June 2023.