This chocolate chip skillet cookie recipe is baking made simple! An ingenious recipe (mixed right in the pan on the stove!) takes your favorite cookies and turns them into a one-pan spectacular, sharable dessert.
---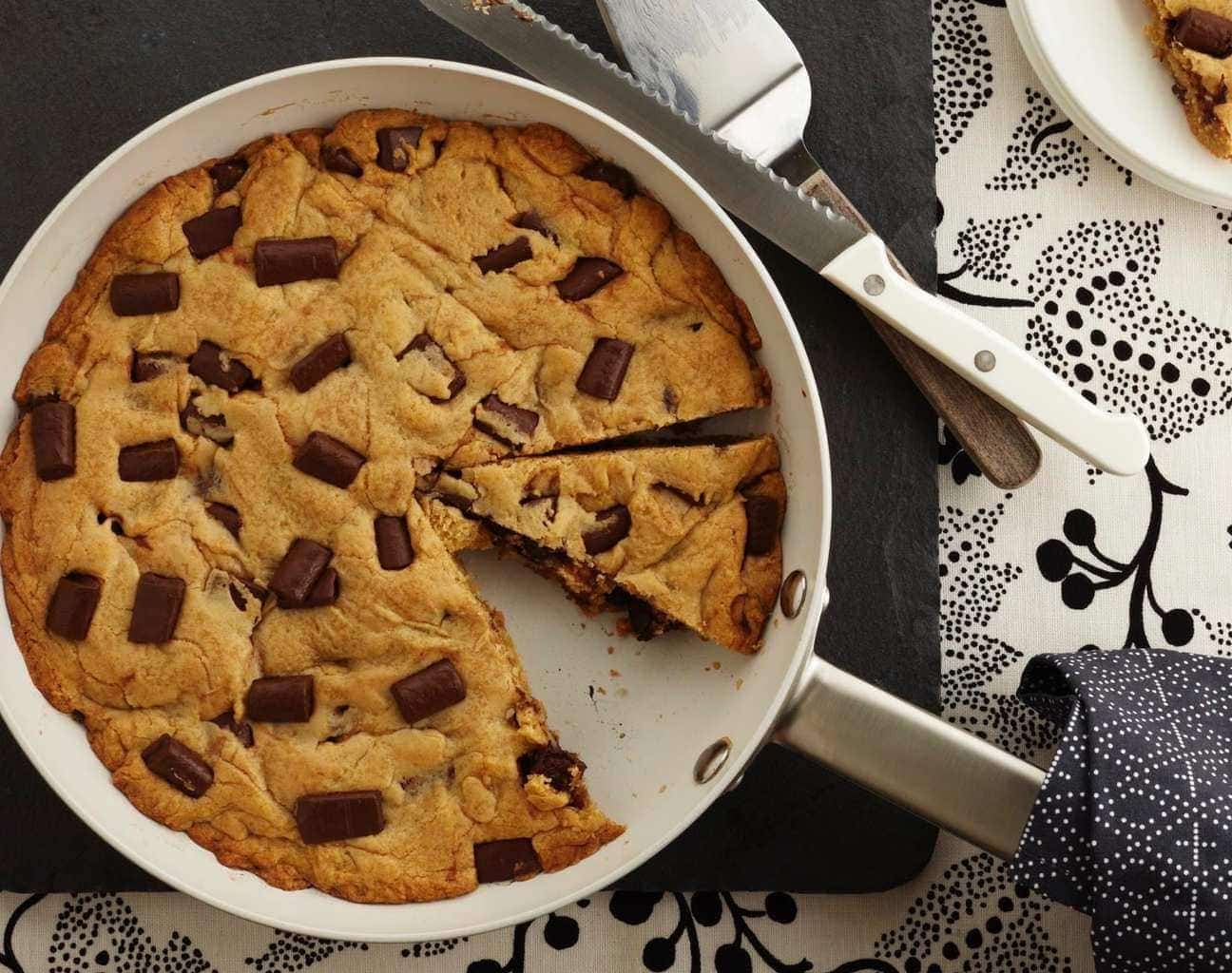 Jump to:
Creating this skillet chocolate chip cookie recipe
I turned my Best Chocolate Chip Cookies into a one-pan wonder. You've heard of the Pizookie, and seen skillet cookies, but you've never tasted one this good. The perfect balance of butter, caramely brown sugar, and chocolate.
Before the skillet cookie craze, many years ago, I found out about this wonder-of-a-dessert at a sports restaurant, of all places. Right on the south corner of Times Square in NY was ESPN Zone.
I'm telling you, there is no place I'd rather NOT be than a sports bar. But, they had skillet cookies! How could I stay away?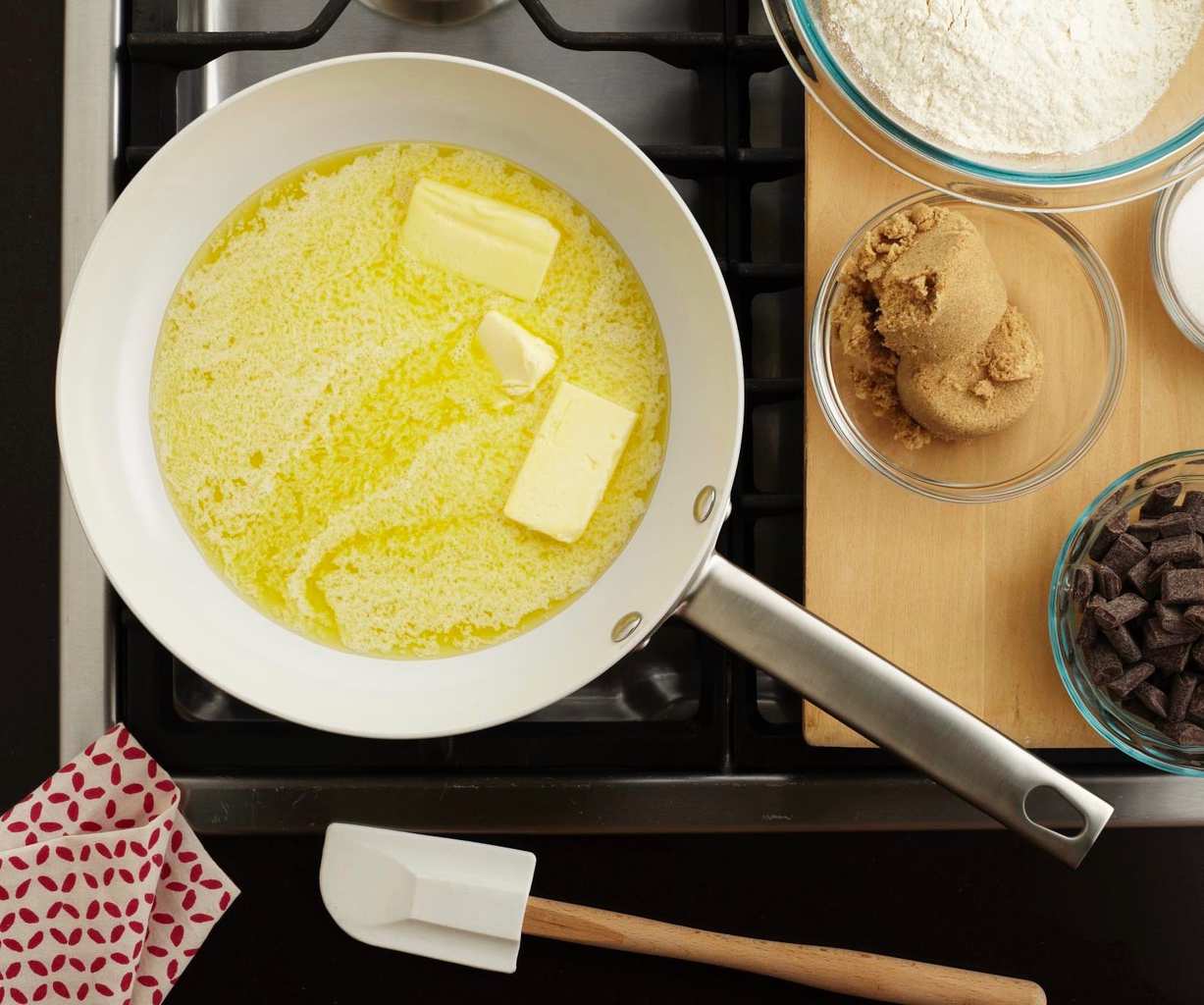 The skillet cookies were made in small cast iron skillets, piping hot when brought to the table and topped with vanilla ice cream, caramel sauce, hot fudge, and whipped cream. Pretty dreamy.
And digging in made all the noise and blasts of the games on screens fade away. Ah, a happy place.
The cookie dessert caused a craze with my friends. We wanted our own collections of mini cast iron skillets and spent hours searching flea markets.
Skillet chocolate chip cookies were our thing! And no more having to go to a sports bar!
Ingredients in the chocolate chip skillet cookie recipe
Although this pizookie recipe has a unique preparation method, the ingredients are super simple.
I used both granulated and light brown sugar in the cookie dough to add sweetness and caramel flavor. Vanilla extract and salt finish the job to bring out all of the flavors.
You'll need just over one stick of unsalted butter to make this recipe, but keep in mind that this recipe makes an entire 10-inch skillet's worth of cookie!
Beyond that, the cookie ingredients list uses what you'd expect: flour, egg, baking soda, and chocolate chunks.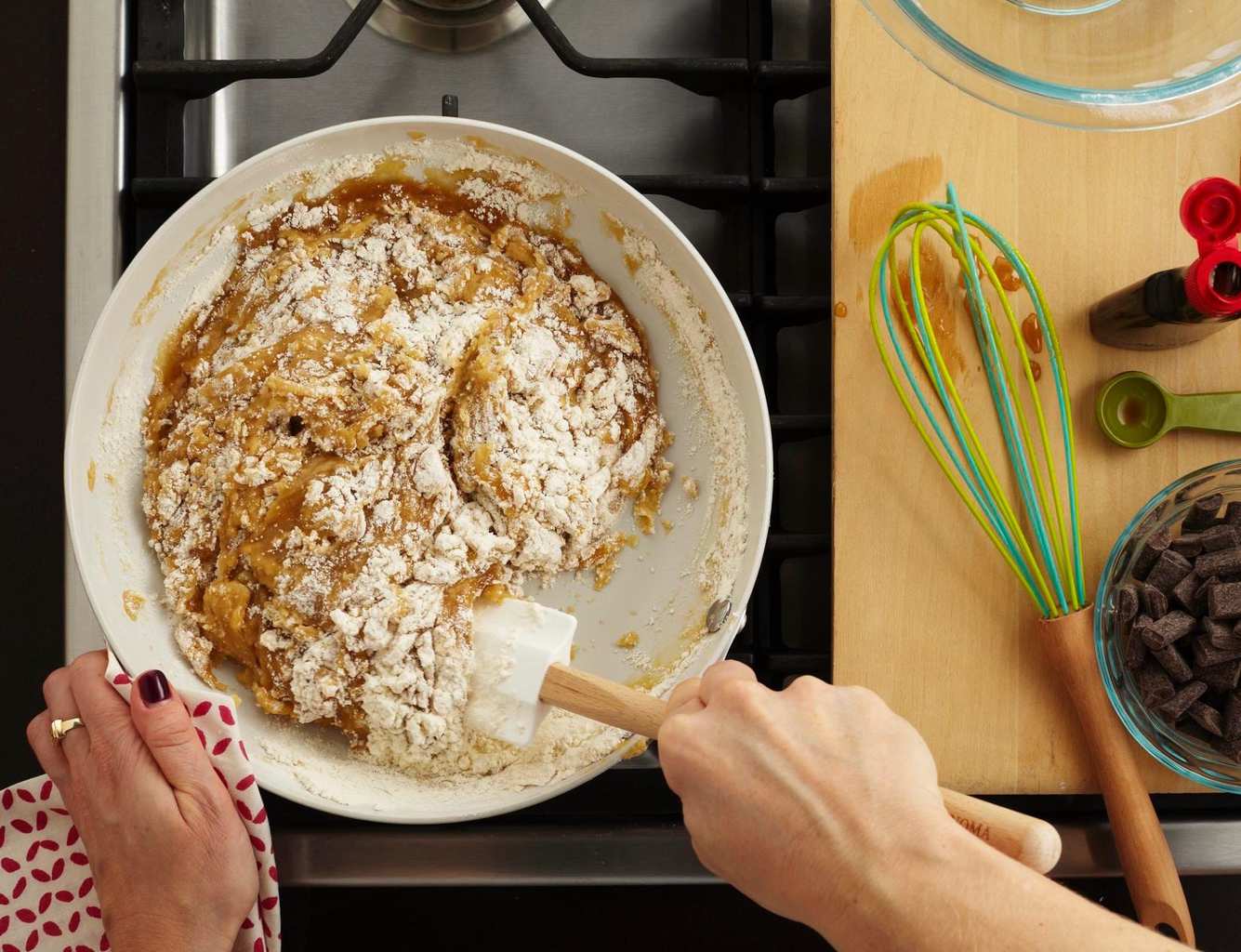 How to make a skillet cookie on the stove
This skillet chocolate chip cookie is made in a family-size 10-inch pan. Oven-proof of course, so it can bake right in the pan it's mixed in.
My technique calls for melting the butter in the skillet on the stove top. Unconventional for a chocolate chip cookie.
Usually you want to beat the butter and sugar in a bowl to create those lovely microscopic air bubbles that help with structure and leavening. I use this method in my Black Sesame Chocolate Chip Cookies and Pecan Crispies.
Melting the butter creates a denser cookie, but it's great for this one served hot, and scooped out of the pan with some ice cream.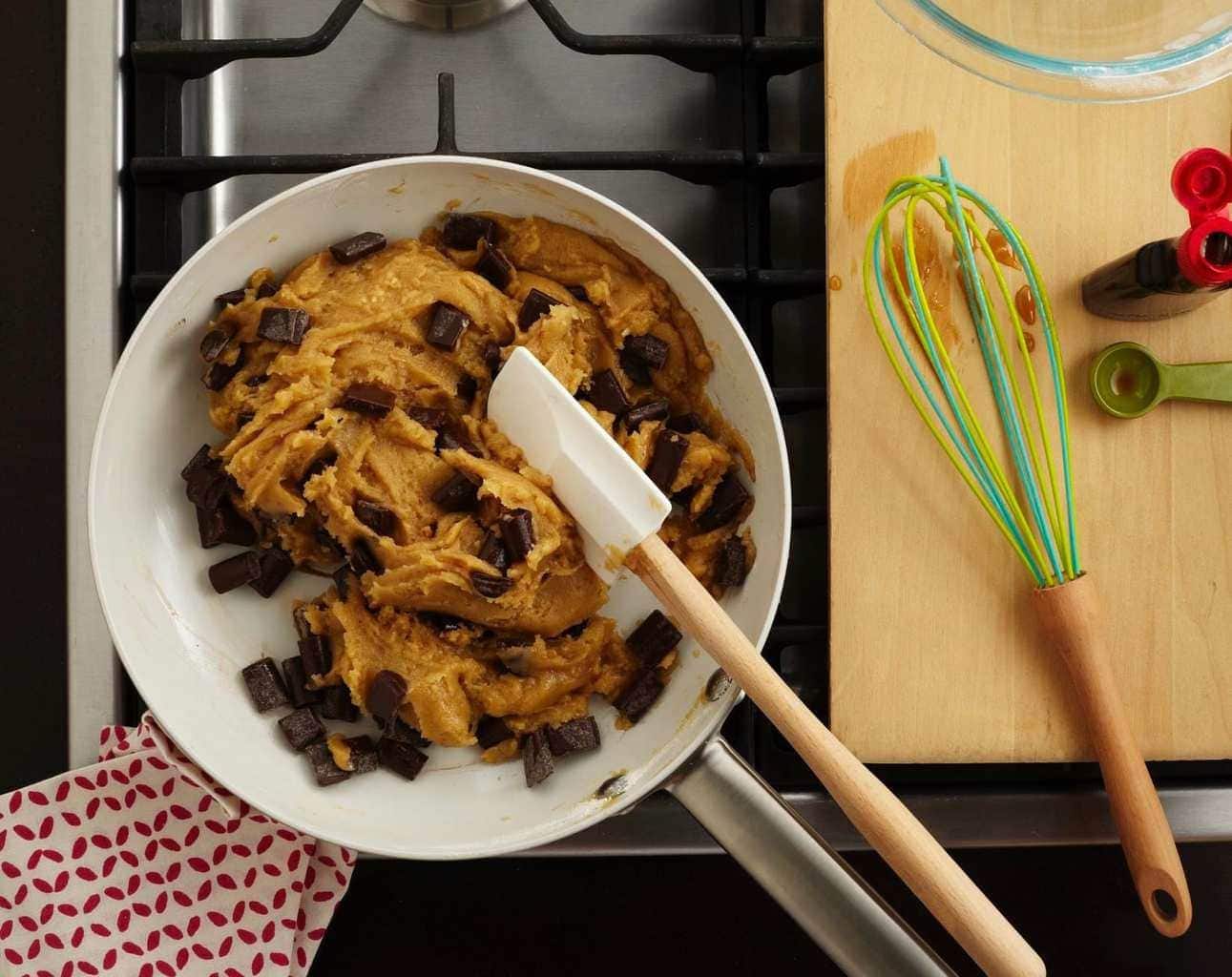 Once you mix in the sugars and vanilla, I suggest letting the mixture cool for just a minute so the egg doesn't get cooked, before it gets baked! In goes the egg, flour and other dry ingredients and finally those chocolate chunks.
Chocolate chips work well too, but I love a good bite of chocolate with every bite of this dessert so I use bigger pieces.
Tips for making cookies on the stove
Make sure to stir the chocolate in quickly and spread the batter into the pan evenly. Mixing the cookie dough too much will cause the chocolate to melt and you'll end up with chocolate marbled cookies!
Be sure not to over bake the large cookie in a pan, you want it slightly underdone in the center so it's melty and gooey.
The best skillet chocolate chip cookie is served warm, slightly gooey and with a dollop of ice cream. Let the whole crowd dig in.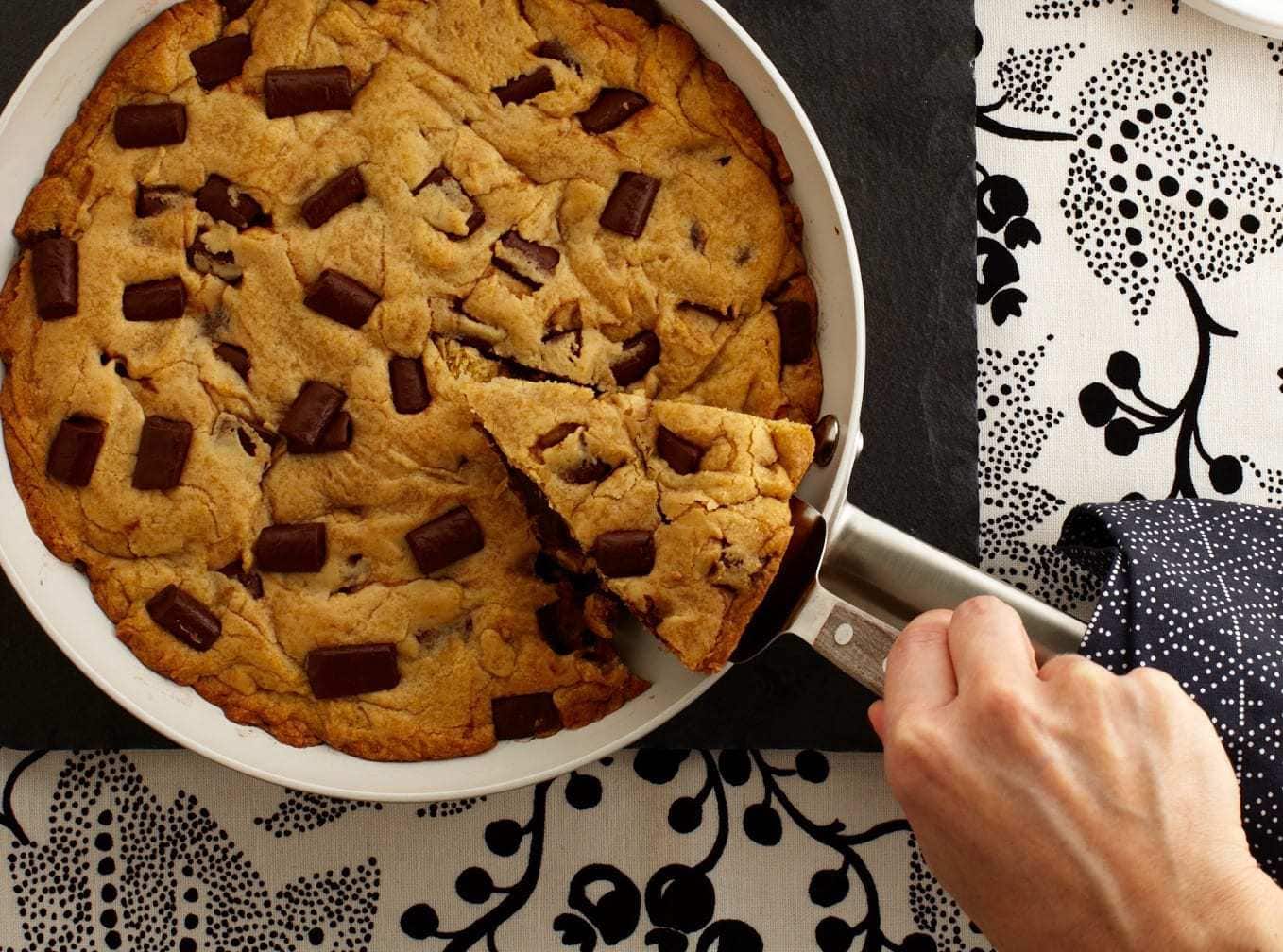 Skillet Cookie Frequently Asked Questions
Can other mix-ins be added to the cookie dough?
I don't see why not! I added ¾ cup chocolate chunks, so feel free to use up to that much of any mix-in you'd like.

I think chopped nuts, dried fruit, Mu0026M's, or chopped up candy bars would all work nicely. Just remember the batter is warm when you are stirring things in, so do it super quickly so they don't melt before they bake.
What type of skillet is best for this pizookie recipe?
I used a non-stick, oven-proof skillet for this recipe. If you'd like to make a cast iron chocolate chip cookie, a cast iron skillet like this one works perfectly as well.

Tips for making this giant cookie recipe
Let the melted butter mixture cool slightly before adding the egg. You don't want to scramble it by accident!
I made this skillet chocolate chip cookie recipe all in one pan. There's no need to dirty a separate mixing bowl for this recipe.
Leftovers will keep up to five days at room temperature, or you can freeze cookie slices for up to three months.
More cookie recipes you'll love:
Let me know how it went!
Scroll to the bottom of the page to rate ⭐⭐⭐⭐⭐ and comment on this recipe. Leaving comments helps other too!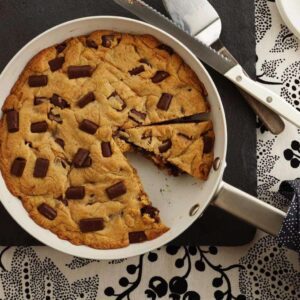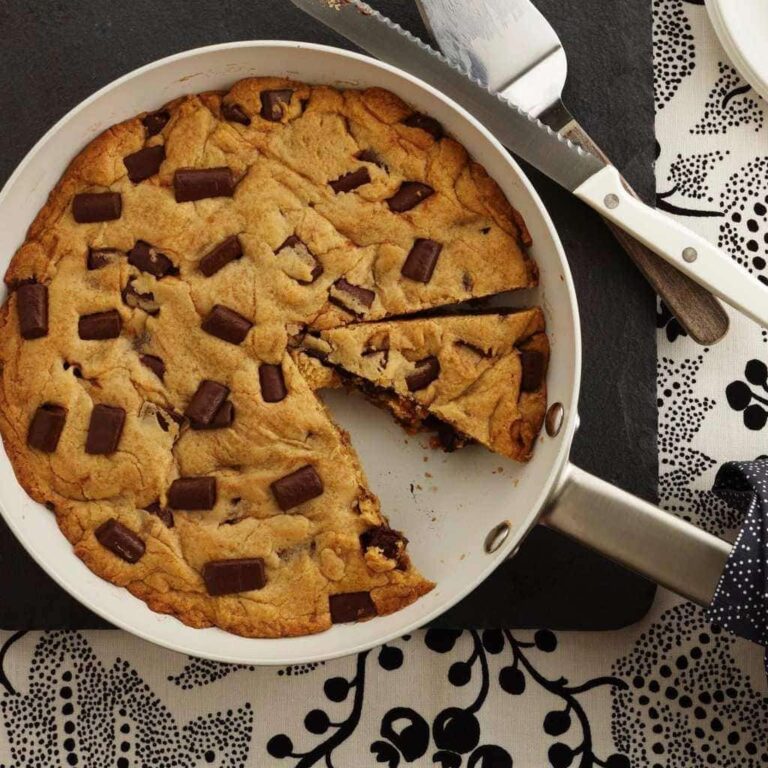 The Best Chocolate Chip Skillet Cookie
This chocolate chip skillet cookie recipe is baking made simple! This ingenious recipe takes your favorite cookies and makes one spectacular, sharable dessert.
Ingredients
10

tablespoons

unsalted butter

⅓

cup

granulated sugar

⅔

cup

light brown sugar

1

teaspoon

vanilla extract

1

large egg

1¾

cups

all-purpose flour

½

teaspoon

baking soda

¼

teaspoon

salt

¾

cup

chocolate chunks
Instructions
Heat oven to 350°F. In a 10-inch ovenproof skillet (you can also use a cast iron skillet), melt butter over medium-low heat and remove pan from stove. Stir in granulated sugar, brown sugar, and vanilla and cool about 5 minutes.

Whisk egg into pan until blended. Add flour, baking soda, and salt and stir until smooth. Quickly stir in chocolate chunks.

Press the dough into the skillet in an even layer. Bake until surface is golden but center is still soft, 18 to 22 minutes. Cool slightly before serving.
Notes
Serve this skillet cookie with Super Creamy Eggless Vanilla Ice Cream
Tips:
Let the melted butter mixture cool slightly before adding the eggs. You don't want to scramble them by accident!
I made this skillet chocolate chip cookie recipe all in one pan. There's no need to dirty a separate mixing bowl for this recipe.
Nutrition
Calories:
286
kcal
Carbohydrates:
37
g
Protein:
3
g
Fat:
14
g
Saturated Fat:
8
g
Polyunsaturated Fat:
1
g
Monounsaturated Fat:
4
g
Trans Fat:
0.4
g
Cholesterol:
39
mg
Sodium:
105
mg
Potassium:
104
mg
Fiber:
1
g
Sugar:
21
g
Vitamin A:
317
IU
Calcium:
24
mg
Iron:
2
mg
More Skillet Desserts
I love all things skillet! Here are a few other recipes to use with your oven-proof skillet, including some more cookies!
Newest recipes from Tara Teaspoon!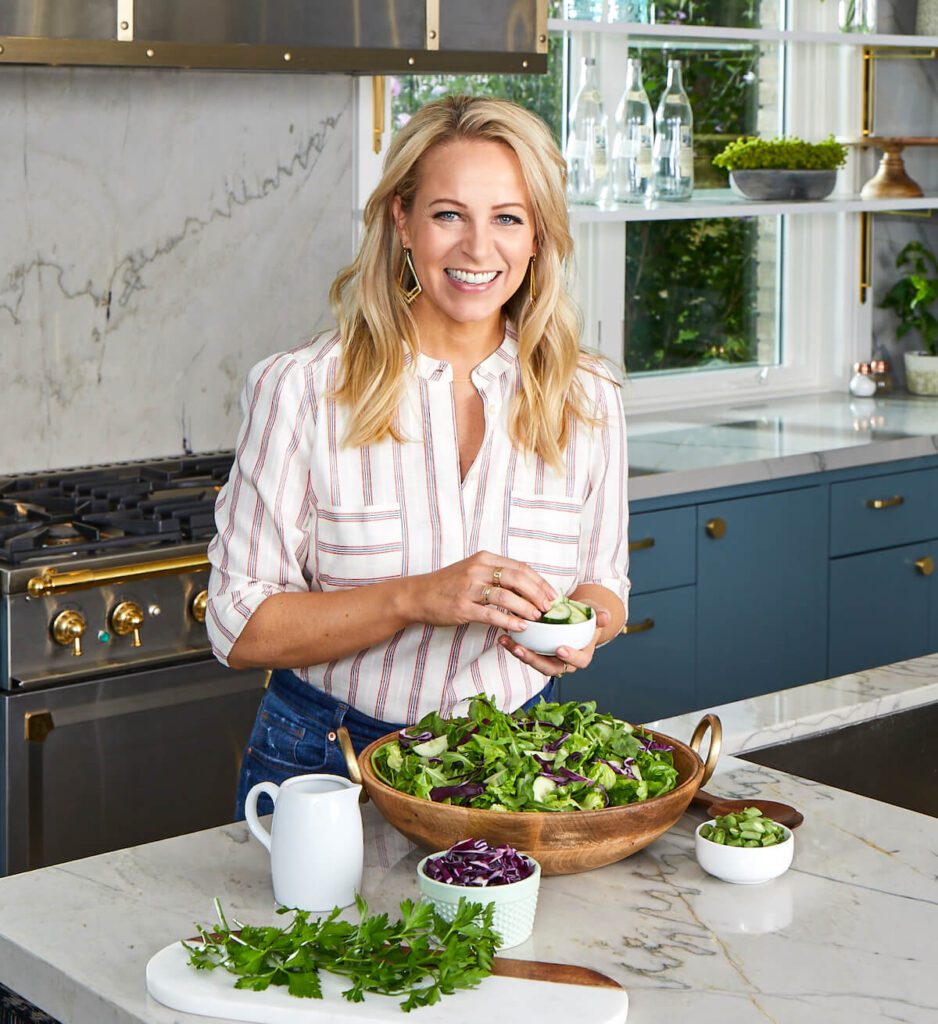 About Tara Teaspoon
I've been in the food publishing business for over 20 years, creating recipes & food-styling for magazines, books, television & advertising. Order my new cookbook & stick around for amazing things to eat.
Recipe Tara Teaspoon. Photography William Brinson. Props Penelope Bouklas. Originally published LHJ 03/14. Updated July 2023.