These are the best chocolate chip cookies in the world. I know this is a bold statement, but hey, I'm a professional.

I have shared this recipe for almost 20 years, to whomever wants it. It's the only recipe I know off the top of my head, and I have texted it, emailed it, shared in social situations (literally standing around at parties I get asked for it) and on phone calls, more times than I can count. Here it is for YOU!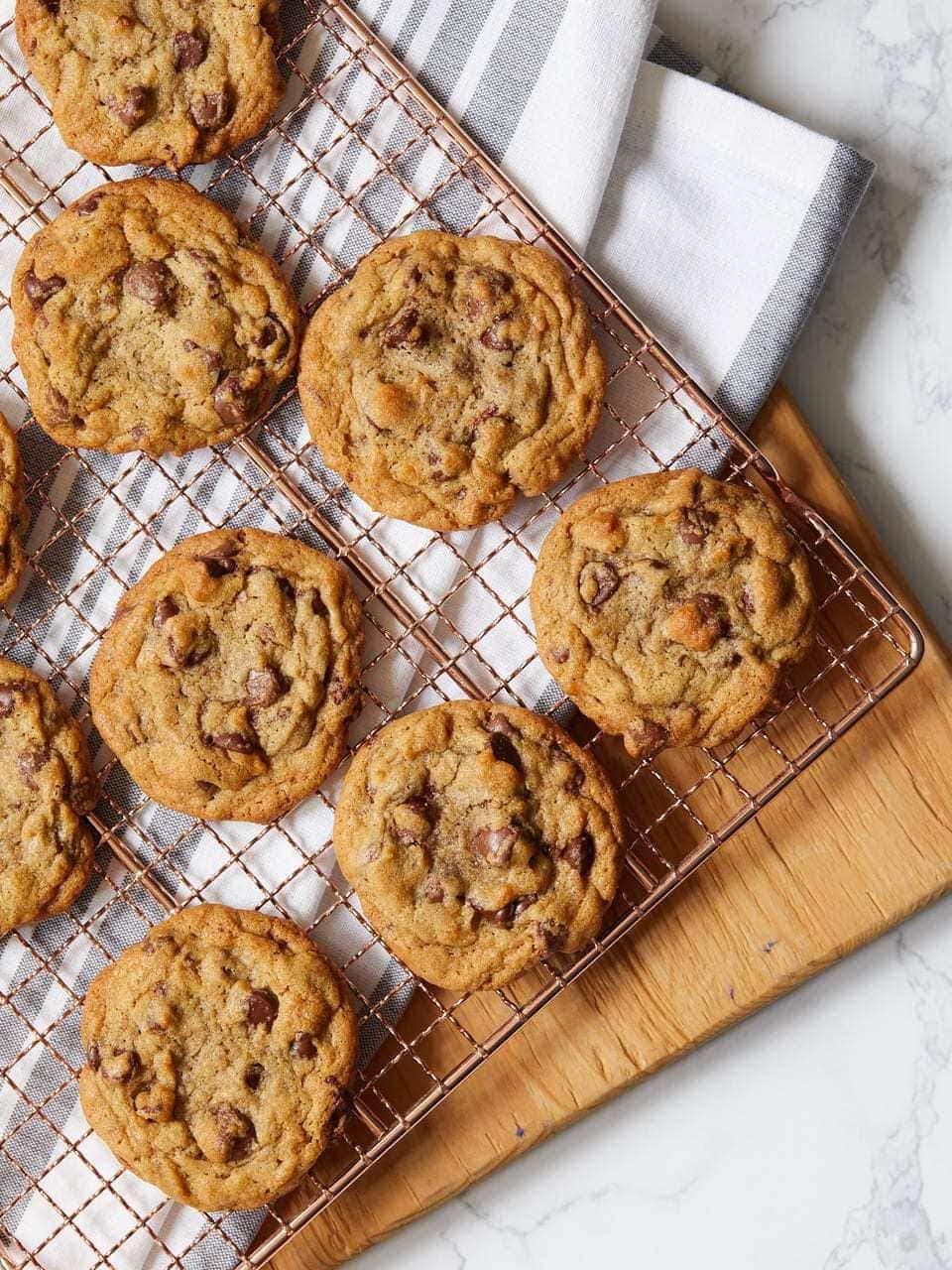 This post may include affiliate links. For more information please see my disclosure agreement.
Winning Chocolate Chip Cookies
I attended a chocolate chip cookie contest last year. There was a lot expected of me because I cook for a living. Since I always make these cookies for friends, I decided to create another, different recipe.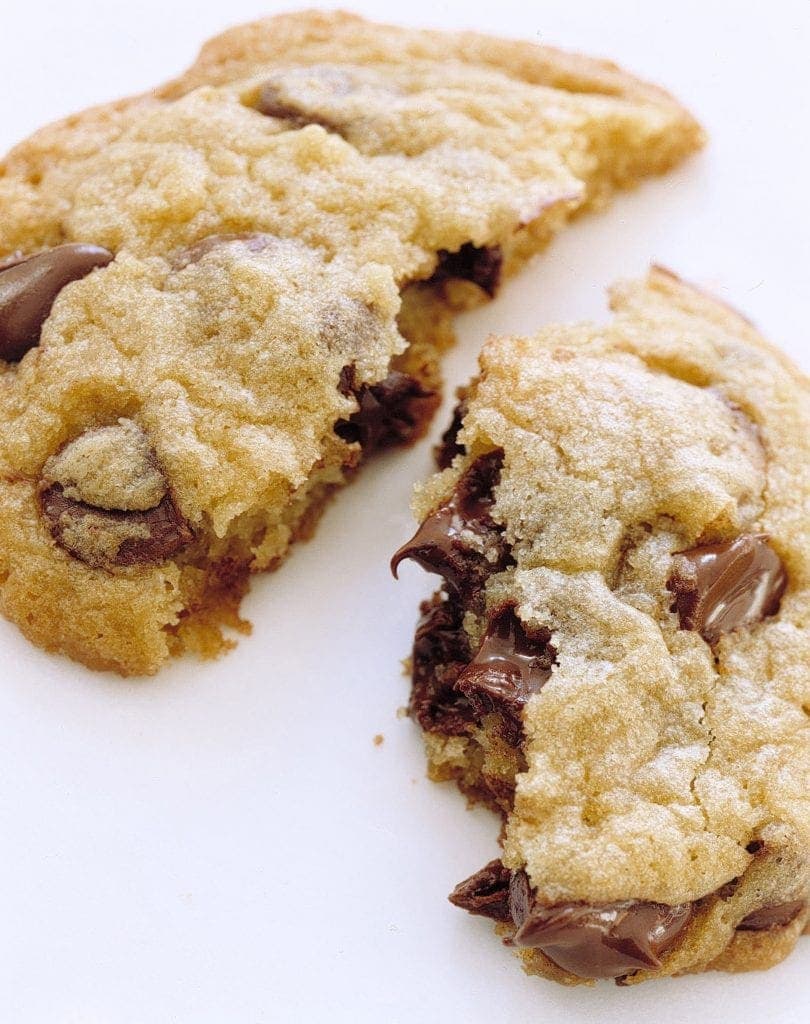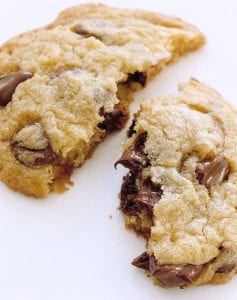 I laminated flaked chocolate into a rich dough enhanced with molasses. Chilled it overnight and baked each one perfectly. I loved it and thought it would win. It didn't!
You know who won? My friend Nikki. You know what recipe she used? THIS recipe. This very recipe you're looking at right now! I had given it to her years before. She made my recipe, and won the contest with it! (So can I say I won? By association maybe.)
Find out why the best chocolate chip cookies in the world are shared all over the globe, win contests, and are everyone's go-to cookie!
My favorite baking sheets for chocolate chip cookies: Calphalon Baking Sheet
My favorite measuring cups for baking: Stacking Measuring Cups
My favorite teaspoons because they fit in small jars! Spring Chef Measuring Spoons
The secret to perfect chocolate chip cookies
I created this recipe in college and have tweaked and perfected it over the years. To me it is the best chocolate chip cookie in the world. When done just right it is soft, with a tiny bit of chewy gooey in the middle and a little buttery, sugary crunch right around the edges.
I changed the ratio of brown sugar and white sugar to include more brown sugar. This gives the cookies a hint of dark sugar flavor and keeps them chewy and soft. In fact for a fun twist you can even swap in a little dark brown sugar for the light brown sugar!
I also mixed semi sweet and milk chocolate chips. Now I know there are going to be some naysayers here. Those of you who are committed to their mother's recipe--the cookies they grew up with, that had either just milk chocolate or semi sweet chocolate chips. But I'll argue a mix anytime. Bring it on! The mix, to me, is perfection. I love the sweetness and rich chocolate flavor the milk chips bring. But I need that punch of dark chocolate to balance it all out. Oh it's heaven!
Adding loads of vanilla extract also enhances these cookies to perfection. I don't use the typical 1 teaspoon. Up it to 1 tablespoon and you'll get a good, balanced flavor.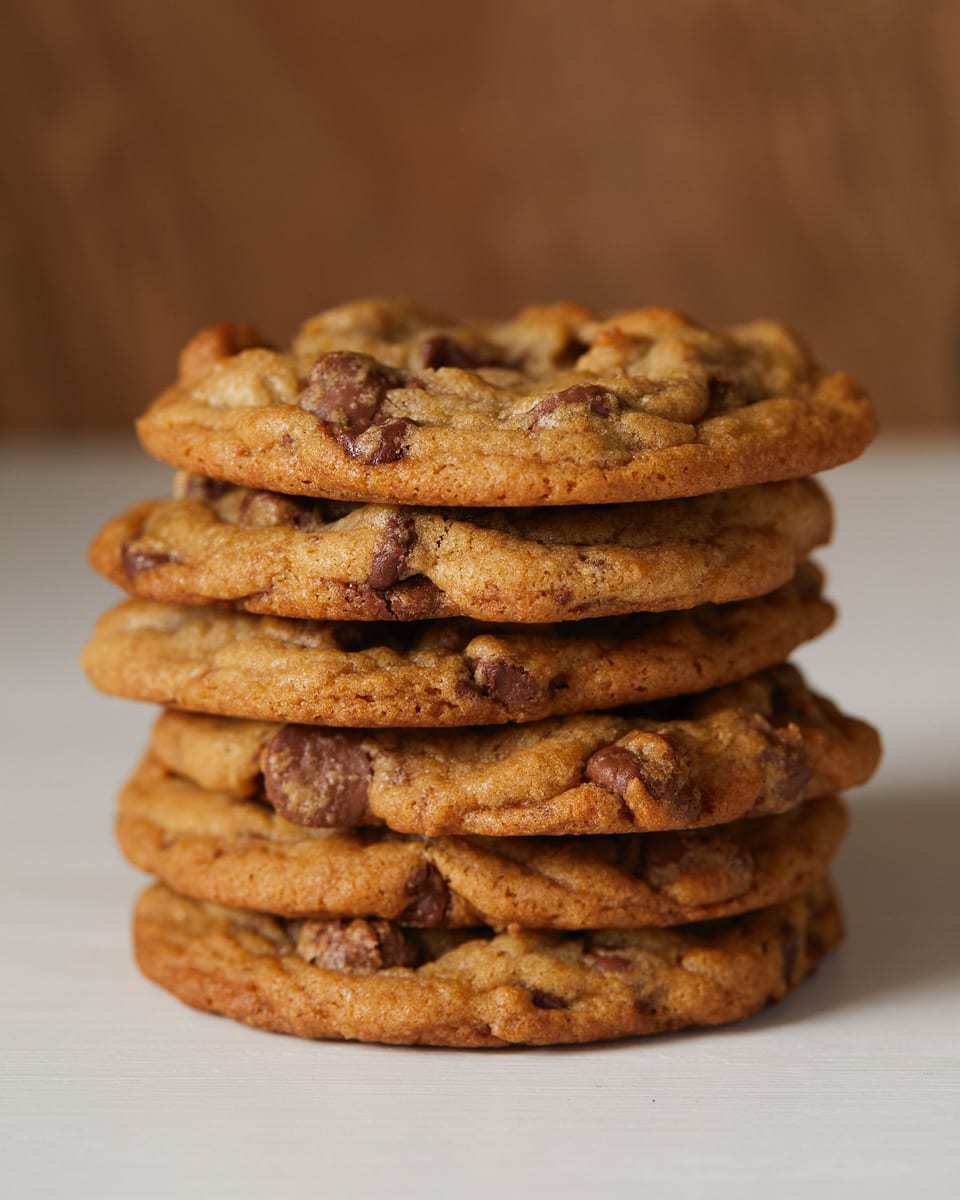 Chilling cookie dough
It's not needed, but if you let the dough sit in the fridge overnight (or keep a batch in there for a week like I do) it mellows and becomes like a chewy bakery cookie. Really delicious. Just increase your baking time when the dough is cold.
It's just fine if you bake these cookies right away, and eat plenty of dough as you go!
Make these Chocolate Chip Cookies Gluten-Free!
Make them gluten-free by simply swapping the all-purpose wheat flour for a fine, all-purpose gluten-free flour like Cup4Cup. I've had the best success with that brand!
Check out what's cooking on other pages of Tara Teaspoon:
Coconut Key Lime Pie Bars - This twist on a classic pie recipe is to die for.
Korean BBQ Chicken Skewers - Delish, easy and great for a family dinner.
Orange Nut Swirled Bread - Use frozen bread dough to make this easy!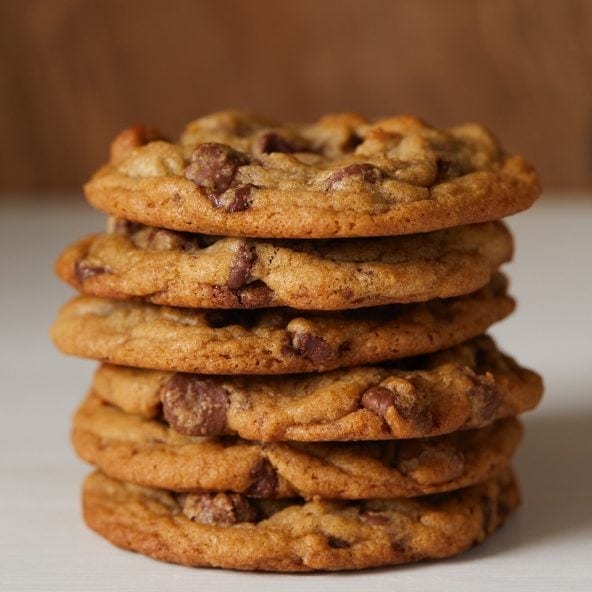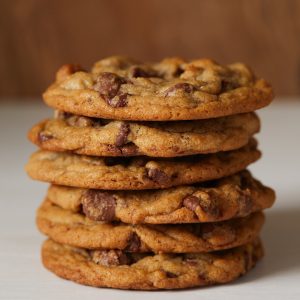 Tara's Chocolate Chip Cookies (a.k.a. The Best Chocolate Chip Cookies In The World)
Chewy, gooey, slightly crispy with a buttery brown sugar flavor. The mix of semi sweet and milk chocolate chips are just one of the secrets to perfect cookies! Make them gluten-free simply by swapping the wheat flour for a fine all-purpose gluten-free flour.
Keyword:
The Best Chocolate Chip Cookies In The World
Ingredients
4

cups

all-purpose flour

1

tsp

baking soda

1

tsp

salt

3

sticks (1 1/2 cups) unsalted butter

softened

1 ½

cups

light brown sugar

1

cup

granulated sugar

2

eggs

1

tbsp

vanilla extract

1

pkg

2 cups milk chocolate chips

1

pkg

2 cups semi-sweet chocolate chips
Instructions
Heat oven to 350ºF. Combine flour, baking soda, and salt in a bowl and set aside. In a separate mixing bowl, cream together the butter and sugars. Add eggs and vanilla and mix. Add the flour mixture, a little at a time, and mix. Stir in chocolate chips.

Bake at 350ºF. Medium and small cookies bake until golden around the edges and just set in the center, 10 to 12 min. Don't overcook! They continue cooking on the pan out of the oven. Let cool slightly (if you can wait) and remove from pan.
Recipe Notes
This recipe is large. If you don't bake all of it, the dough is great for freezing or can be stored in the fridge for up to a week.
I use Cup4Cup for gluten free cookies
Nutrition Facts
Tara's Chocolate Chip Cookies (a.k.a. The Best Chocolate Chip Cookies In The World)
Amount Per Serving
Calories 1009
Calories from Fat 36
% Daily Value*
Fat 4g6%
Cholesterol 84mg28%
Sodium 955mg42%
Potassium 273mg8%
Carbohydrates 226g75%
Protein 15g30%
Vitamin A 140IU3%
Calcium 100mg10%
Iron 6.8mg38%
* Percent Daily Values are based on a 2000 calorie diet.
I've had a few other good cookies lately. If you're in the baking mood try some out.
Black Sesame Chocolate Chip Cookies
Levain Bakery Dark Chocolate Peanut Butter Chip Cookies
NY Times Chocolate Chip Cookie
If you like these, you'll love my other baking recipes! Check out one of my most popular cakes: Pumpkin Cake Roll With Toffee Cream Cheese Filling
Recipe by Tara Bench. Photographs primarily by Ty Mecham. Chocolate Chips from Graphicstock.com. Reproductions should not be made without permission.