---
Don't knock it 'till you try it, or so the saying goes. These cookies are unique, and will knock your socks off. They are sweet yet sophisticated and slightly nutty from the sesame. Soy sauce, yes! Soy sauce, adds a subtle salty, umami flavor.
---
This is an all around blow-your-mind cookie! Gorgeous and sophisticated for an adult dessert, but the kids will gobble them if you turn your head.
There is soy sauce baked right into the cookies! Yes! The rich, black, salty sauce that you dip your sushi in is in some of the most delicious cookies you'll ever taste.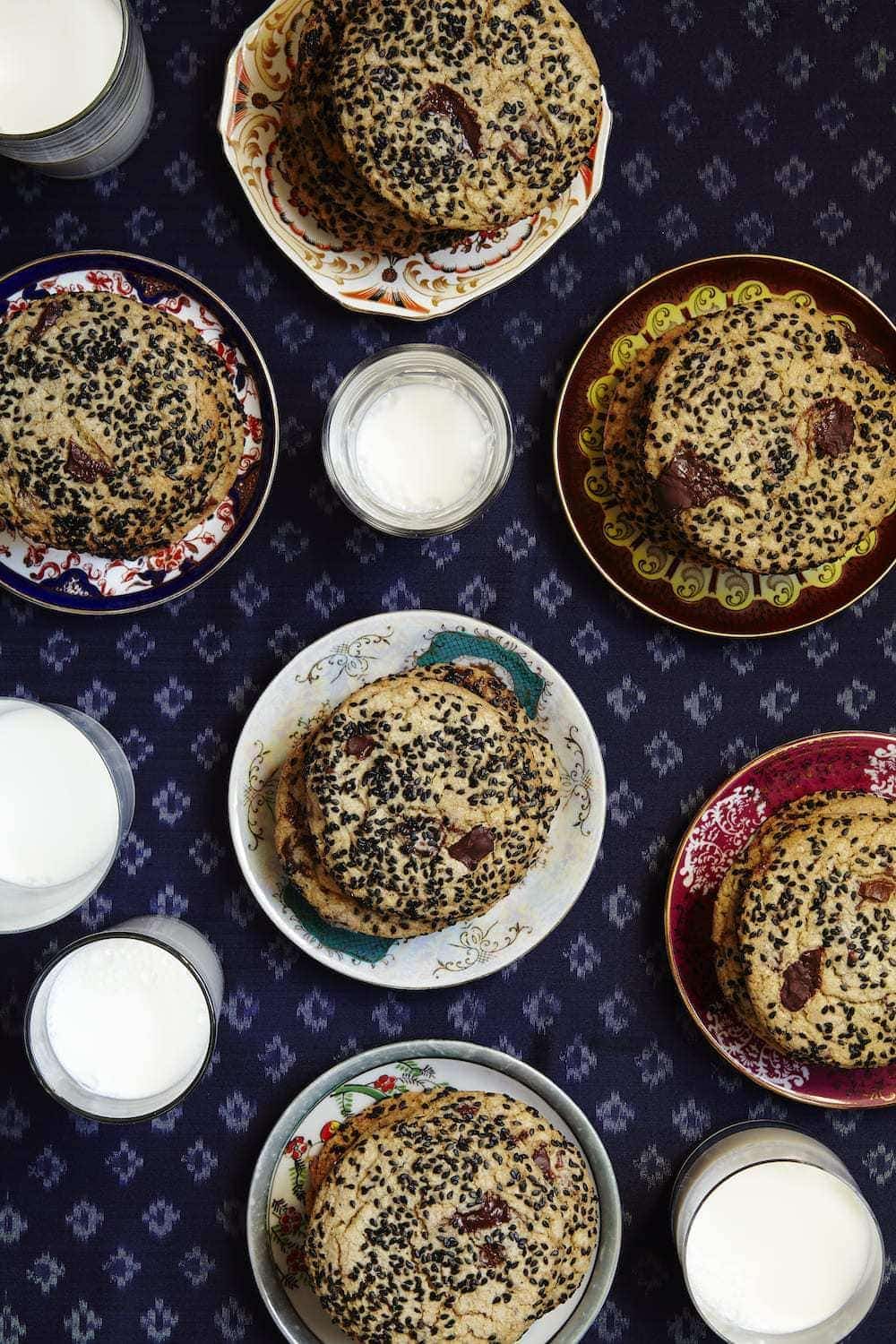 Jump to:
---
I love good chocolate chip cookies. It has to be a good one, with a soft center, golden and buttery edges and plenty of chocolate. I rarely stray from the classic because it's just so perfect. (Although my easy skillet chocolate chip cookie is pretty amazing).
So you know this must be a good variation to get me to depart from something so wonderful. These black sesame chocolate chip cookies are just that.
I didn't wander too far from my self-proclaimed "Best Chocolate Chip Cookies in the World" recipe. I stuck with a blend of white and caramel-brown sugar, eggs, lots of butter and a mix of semi sweet and milk chocolate.
The combination of chocolates is my signature touch to cookies. It gives the sophisticated, not-too-sweet flavor of dark chocolate, and the rich and creamy milk chocolate essence all in one bite.
The ultimate sesame cookies
These are like no other sesame cookies. I use toasted sesame oil to add a subtle nuttiness, but black sesame seeds inside and on the outside for the punch of flavor and crunch.
That and the addition of soy sauce makes this sesame cookies recipe very unique. The soy sauce simply adds salty flavor and gives a subtle aged molasses quality that is sophisticated without being overpowering.
In the chef-world that flavor combo is called umami. Umami is now considered a basic taste, along with sweetness, sourness, bitterness, and saltiness. It's described as a pleasant savory taste.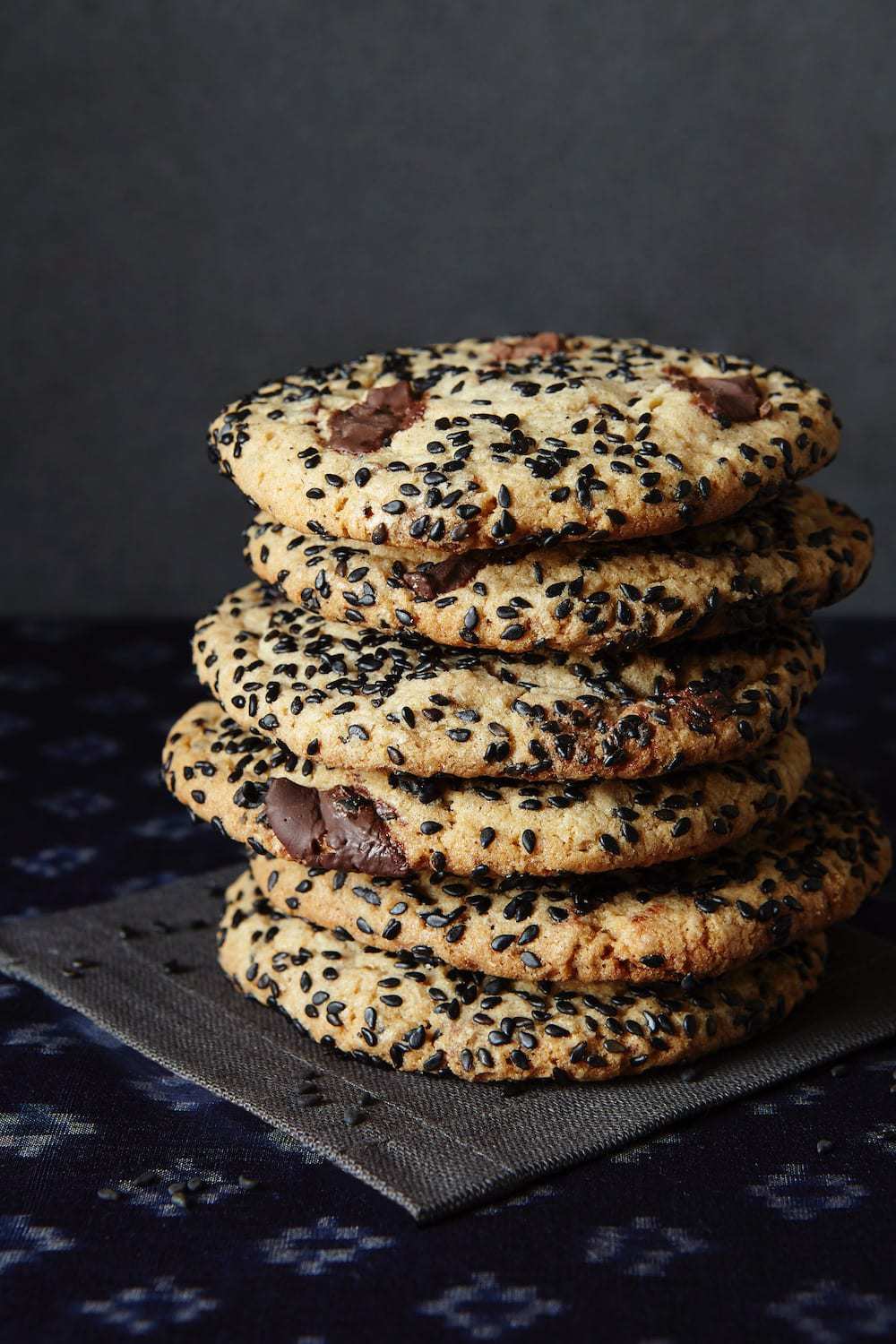 Making black sesame chocolate chip cookies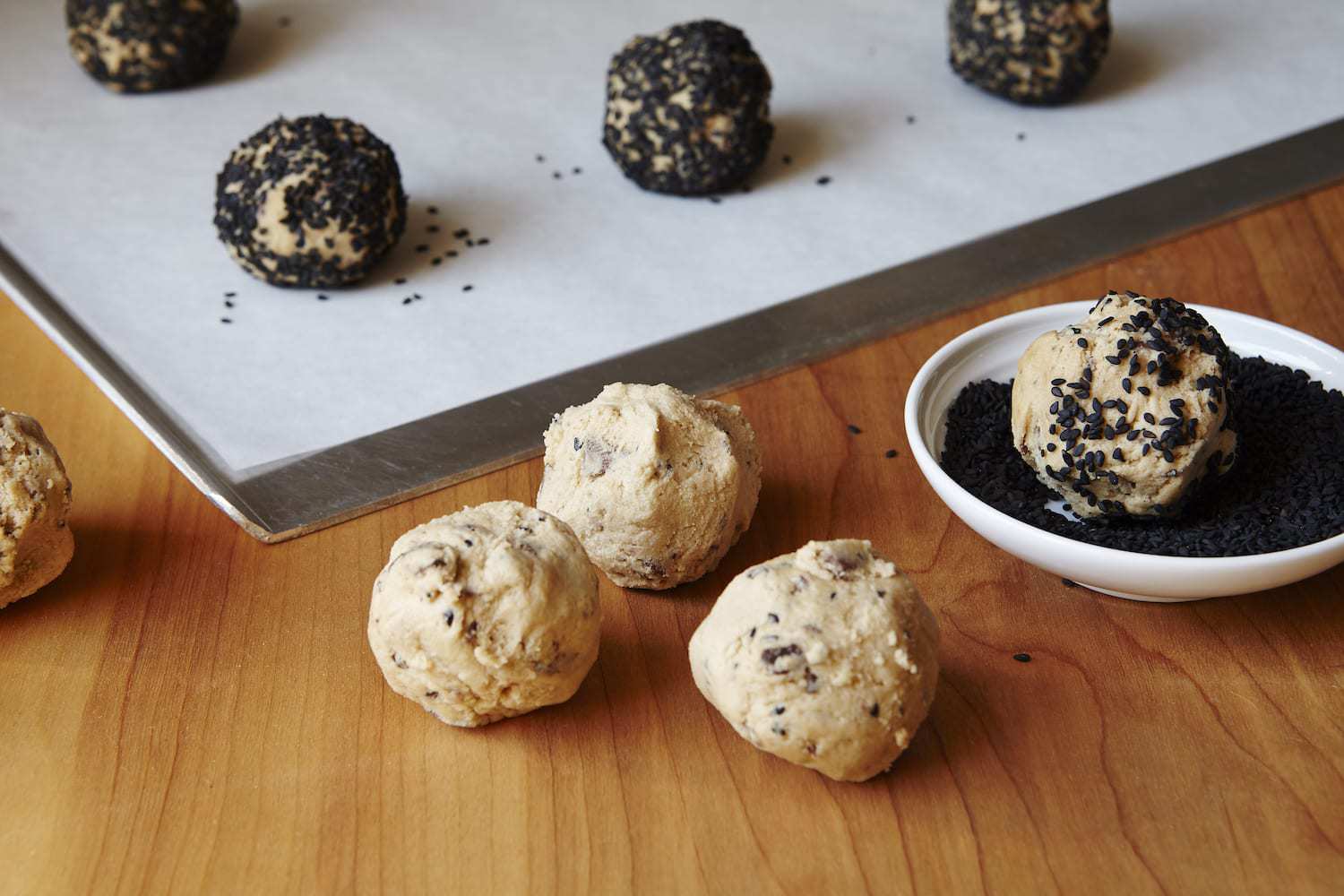 I adapted this recipe from Joy the Baker's version and kept the addition of black sesame seeds.
They make the cookies so festive and unique, and add a bit of crunch at the end. The seeds don't contribute a ton of flavor, so I added toasted sesame oil to the dough as an additional element.
I also like that the cookies aren't as cloyingly sweet as some desserts. They go perfectly with a cup of tea or cold glass of milk.
The method to make the black sesame cookies is straight forward, so no challenges there. You probably even have all of the ingredients in your kitchen, except for the black sesame seeds. Those are easy to find in the ethnic aisle of your supermarket.
What are black sesame seeds? How to use them:
In Japanese cuisine black sesame seeds are used in savory and sweet things. In Tokyo I had the most incredible black sesame soft serve ice cream. It was dreamy!
In Japan they are used for ice cream, like I had, and cakes, cookies, mochi, muffins and other baked goods.
Black sesame seeds are richer in flavor then the typical white sesame seeds. They impart a nutty aroma and pungent flavor when used in bulk, like in these cookies.
Black sesame paste is often used in Japan, but here it's harder to find and not a common ingredient. I'll just stick with pairing the seeds with chocolate and sugar and be perfectly happy!
Chilling dough tip:
The dough is chilled for at least an hour if not overnight.
This is magic for chocolate chip cookies. Technically, it allows the flour to absorb some of the butter and egg so it softens, and helps the ingredients mellow together.
In general, it just makes for a better texture. If you're in a rush, skip this step; just decrease the baking time since the dough won't be cold.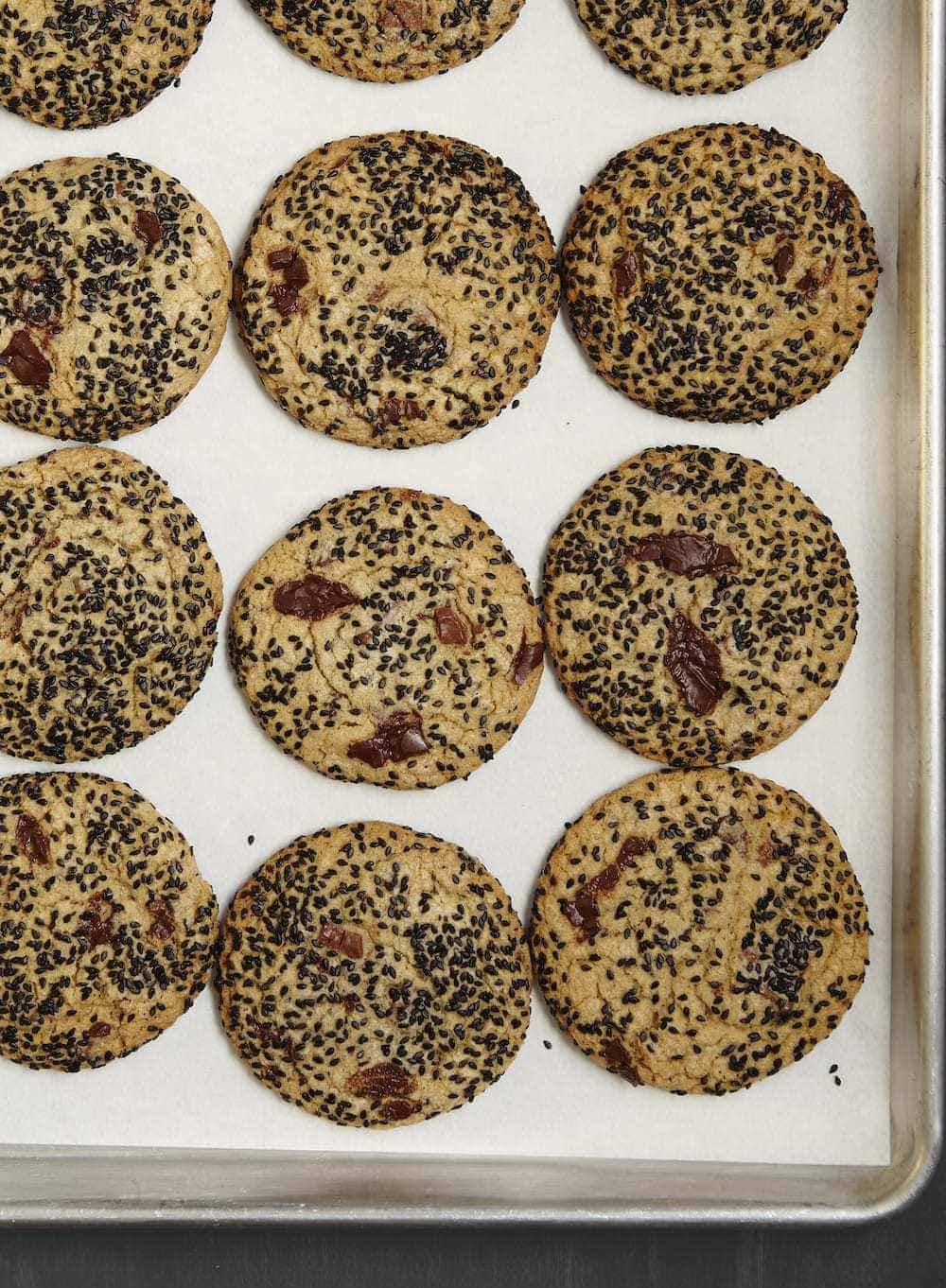 Salted or unsalted butter
I always use unsalted butter when I bake. You probably don't even think about the difference when you're at the store. You may even opt for the salted variety because, let's be honest, it tastes amazing on toast!
• Salt is a great flavor enhancer, as well as a preservative, and it's added to butter to give it a longer shelf life. That's all well and good, except when it comes to my baking.
• I use unsalted butter because it is genuinely fresher, as its shorter shelf life means the stock is rotated more frequently.
• I also like to be in control of how much salt I add to my baked goods. Sure, these cookies have plenty of salt and salty soy sauce, but I controlled those flavors to make sure they weren't overpowering.
• If you choose to use salted butter in these cookies, simply reduce the added salt to about a ½ teaspoon instead of 1½ teaspoons.
Soy sauce or Tamari?
Soy sauce is made from fermented soy beans and that fermented, salty flavor adds umami to the cookies.
Tamari is made in a similar way with soy beans, but is slightly thicker than soy sauce and has a more subtle flavor.
You can use them interchangeably in this cookie recipe. Whatever you have in your pantry will work.
What you need for these black sesame chocolate chip cookies:
Typical chocolate chip cookie ingredients, plus a few unique additions are needed for these cookies. You probably have all of it in your kitchen.
All-purpose flour
Baking soda
Salt (you can use fine sea salt as well)
Unsalted butter
Brown sugar
Granulated sugar
Eggs ( I use large eggs)
Vanilla extract
Sesame oil
Soy Sauce
Black sesame seeds
Dark and Milk chocolate chips or chunks
Cookie Classics To Try: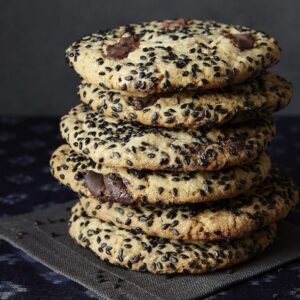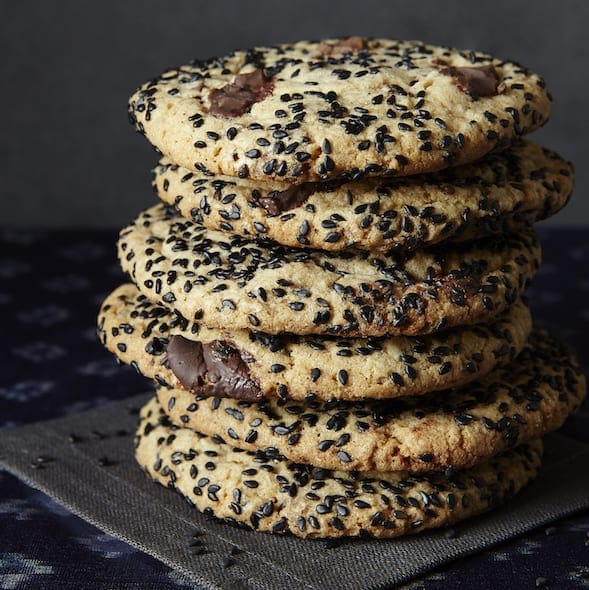 Black Sesame Chocolate Chip Cookies
A twist on chocolate chip cookies! I mashed up a classic with sesame cookies and added black sesame seeds and soy sauce. You'll love them!
Ingredients
4½

cups

all-purpose flour

2

teaspoons

baking soda

1½

teaspoons

salt

2

cups

(4 sticks) unsalted butter, softened

1½

cups

packed brown sugar

1½

cup

granulated sugar

2

large eggs

2

large egg yolks

2

teaspoons

vanilla extract

1

teaspoons

sesame oil

2

teaspoons

soy sauce

2

tablespoons

black sesame seeds,

plus ½ cup for rolling

1

cup

dark chocolate chips or chunks

1

cup

milk chocolate chips or chunks
Instructions
Whisk together the flour, baking soda and salt. Set aside. In the bowl of a mixer fitted with a paddle attachment, beat together the butter and sugars until light and fluffy, about 3 minutes. Add the egg and egg yolk, vanilla, sesame oil and soy sauce and beat until light, another 2 minutes.

Stir in the dry ingredients, mixing slowly until the flour is incorporated and then beat on low speed until completely mixed; scraping the bottom and sides of the bowl as needed. Add the 2 tablespoons sesame seeds and chocolate, and stir together until well combined.

Use a spoon or cookie scoop to form dough into ¼-cup-sized balls and roll in black sesame seeds. Place on a parchment-lined baking sheet and cover or place in a zip top bag and refrigerate cookies for 1 hour or overnight.

Heat the oven to 350ºF and line baking sheets with parchment. Place chilled cookies on prepared baking sheets and bake until just set in the center and lightly golden on the edges, 14 to 16 minutes. Allow to cool on the baking sheet for about 10 minutes, then remove to cool completely. Store cookies in an airtight container.
Notes
If you choose to use salted butter in these cookies, simply reduce the added salt to about a ½ teaspoon instead of 1½ teaspoons.
Nutrition
Calories:
357
kcal
Carbohydrates:
46
g
Protein:
4
g
Fat:
18
g
Saturated Fat:
11
g
Cholesterol:
62
mg
Sodium:
249
mg
Potassium:
90
mg
Fiber:
1
g
Sugar:
28
g
Vitamin A:
455
IU
Vitamin C:
1
mg
Calcium:
53
mg
Iron:
1
mg
Kitchen tools you may need for this recipe:
This recipe was originally posted on KSL.com. If you love to bake, try some of my other Tara Teaspoon cookie recipes like Brown Butter Cashew Cookies, and Soft Sugar Cookies.
Tasty cookie recipes!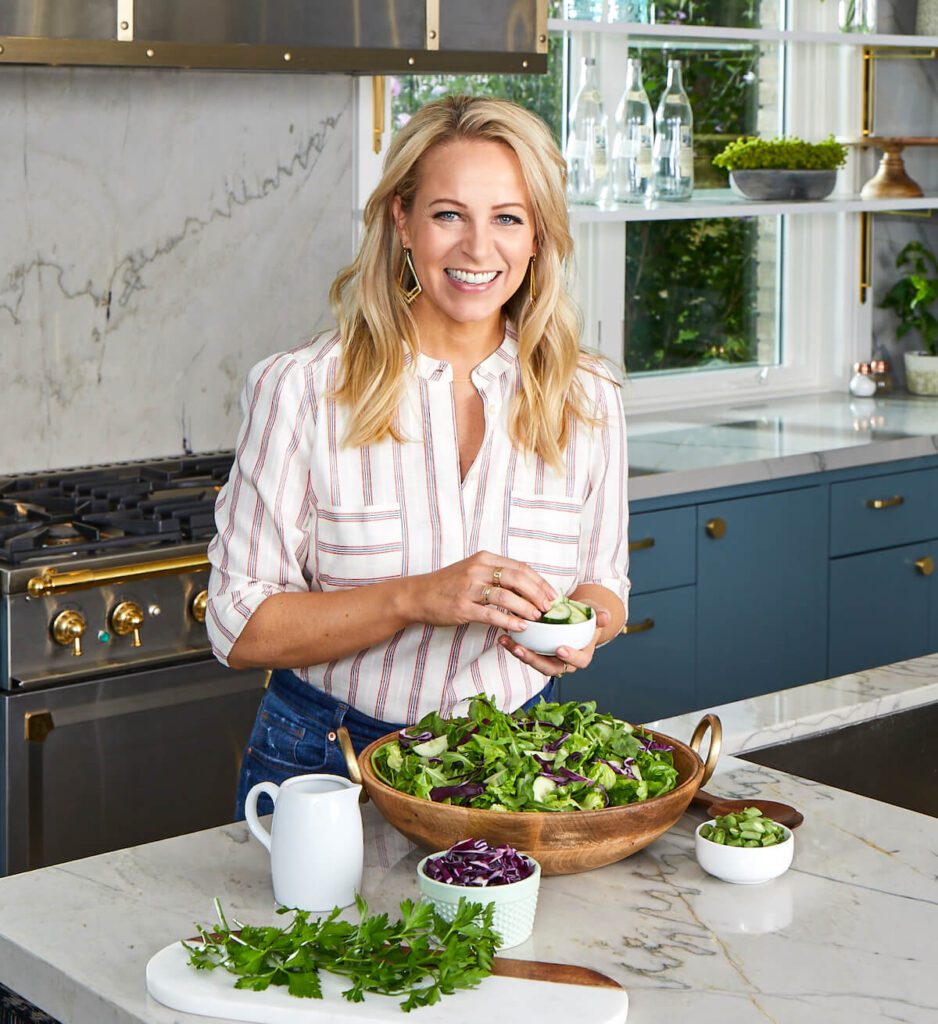 About Tara Teaspoon
I've been in the food publishing business for over 20 years, creating recipes & food-styling for magazines, books, television & advertising. Order my new cookbook & stick around for amazing things to eat.
Recipe Tara Teaspoon. Photographer Ty Mecham