---
Classic Iced Oatmeal Cookies are my take on those perfectly crunchy, slightly spicy and sweet grocery store treats from childhood. Make your own at home, they taste even better!
---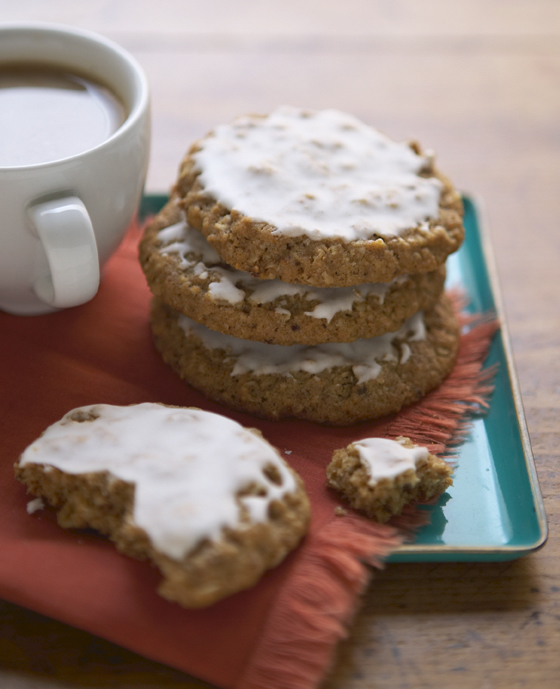 Jump to:
Creating This Iced Oatmeal Cookie Recipe
I loved store-bought packages of oatmeal cookies when I was a kid. My parents went for Oreos, and I went for the white-iced oatmeal classics. Equally good dipped in cold milk!
When I set out to make a homemade version (because who doesn't love a homemade cookie?), I was surprised to see raisins on the package ingredients. I didn't remember biting into a raisin or necessarily tasting a chewy, delicious raisin.
I quickly realized these processed little gems included hidden raisins. They must have been ground to smithereens because they were undetectable. That's just what I was going to do!
Bring in the trusty food processor! It's the best kitchen appliance for getting the raisins, and some of the oatmeal, to the right texture. I knew I needed to pulverize some of the oatmeal to get the fine, but textured cookie I wanted.
Tip: These cookies are perfect in my Oatmeal Raisin Cookie Ice Cream! Check out the recipe here.
Ingredients in Iced Oatmeal Cookies
As I explained above, these crispy oatmeal cookies are studded with (hidden!) raisins. They're first blitzed in a food processor with the old-fashioned oats to add flavor and texture.
The combo of butter and shortening is crucial to this recipe. A home cook always wants butter for the best flavor, and oftentimes texture.
But very rarely do you see a baked processed food with butter. Shortening is used to lengthen the shelf-life. It also bakes differently than butter, so I includes a little so the cookies didn't turn out too crumbly.
The remaining ingredients for the crunchy oatmeal cookies are fairly standard — vanilla, spices, flour, egg, and sugar. You know the drill!
The icing was the last step to perfecting this homemade goodness. The packaged cookie icing has a crack and snap to it. Royal icing it is, then! That was easy.
I included a mini-batch version of my royal icing below in the recipe.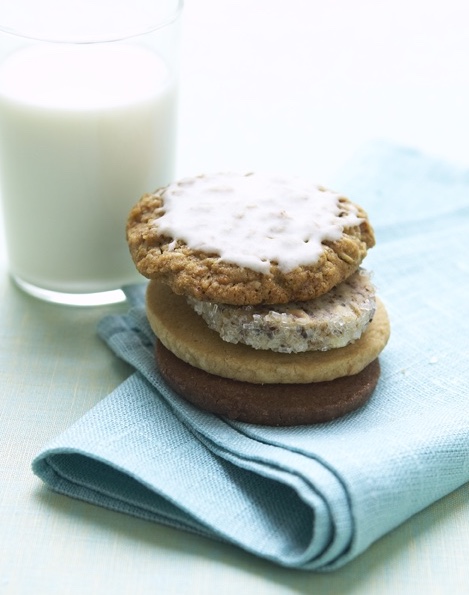 How to Make Iced Oatmeal Cookies
This iced oatmeal cookies recipe comes together a little differently than your average cookie. However, the process is still super simple:
In a food processor, process some of the oats and raisins until finely ground.
Transfer to a medium bowl, then stir in the remaining oats, as well as the flour, baking powder, salt, cinnamon, ginger and cloves.
In another bowl, beat together the granulated sugar, brown sugar, butter and shortening until light and fluffy.
To the butter mixture, add the egg, then vanilla extract.
Stir the oats mixture into the wet ingredients.
Roll the dough into 1 ½-inch balls, then bake until light golden brown around the edges.
Icing the Crispy Oatmeal Cookies
My very favorite thing about these iced oatmeal raisin cookies, second to the fact that I got the exact flavor I wanted, is brushing on the icing!
I really wanted that thin coating like the packaged versions, with bits of icing hitting on every little crag and crevice...but not too much!
Use a dry pastry brush dipped in the icing to BRUSH it on! No drizzling, no spreading with a spatula or a knife. Those don't work! Brushing is the key.
How to Store the Oatmeal Cookies
You'll want to store the frosted oatmeal cookies in an airtight container at room temperature. Store them in single layers separated by waxed paper. They'll last up to three days.
Can Instant Oats Be Used?
No, instant oats are more finely ground than old-fashioned oats and would result in a drier, more crumbly cookie.
Tips for the Best Oatmeal Cookies
If you don't have a food processor, you won't be able to make the crunchy oatmeal cookies. There's just no substitute for it!
Even if you don't like raisins, do not omit them. They get blended up into the cookie dough and you won't even know they're there, trust me.
Let the freshly iced oatmeal raisin cookies rest for 30 minutes to let the icing set before eating them.
Download my Christmas Cookie Tips booklet HERE for a limited time! Exclusive soft sugar cookie recipe, plus instruction on making the best royal icing, cookie plates and rolling dough.
More of the best cookies in the world
Try Chocolate Marshmallow Cookies
Tasty cookie recipes!