---
Pistachio Lace Cookies are a nutty take on a classic and surprisingly easy to make. Butter flavor melts in your mouth with every light, flaky bite. Crunchy pistachios add extra deliciousness.
---
Named for the lacey holes that form as they bake, most lace cookies call for cooking the batter before baking. Then spooning it onto a baking sheet, hoping they come out somewhat round. I've simplified the process, and my tip for freezing the dough lets you slice and bake perfect cookies every time.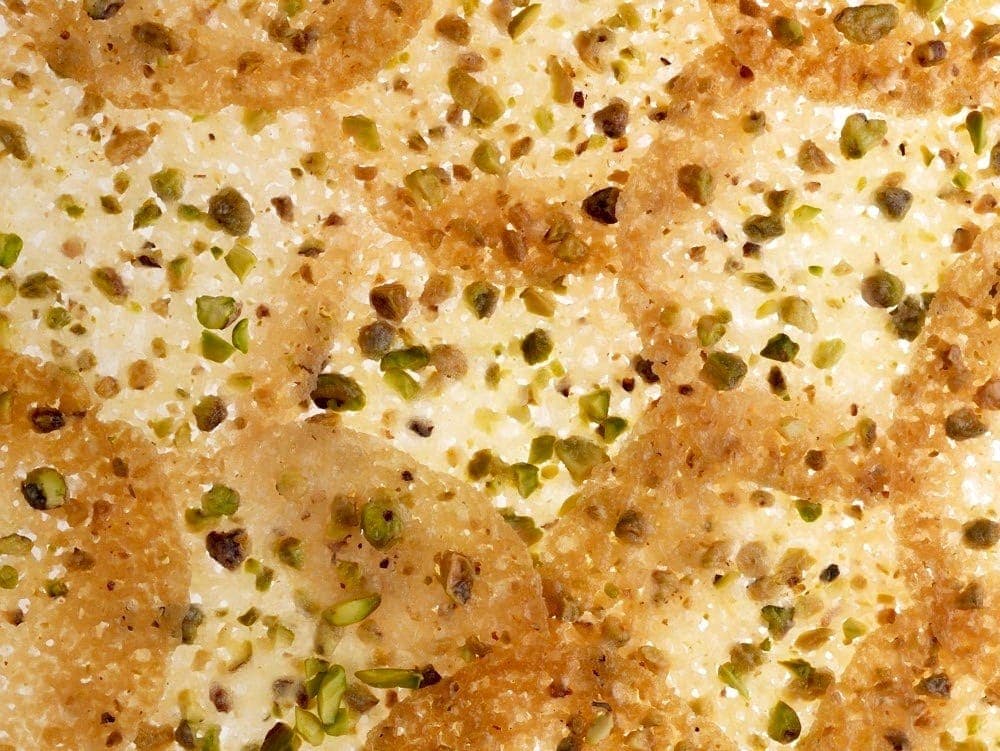 Simple, pantry ingredients go into making these little wonders. Five to be exact! The butter (plenty of it) gives the cookies great flavor, helps them get golden brown, and causes them to spread to that wonderful thinness. I use confectioners' sugar and corn syrup for sweeteners, but they also play a big role in the cookie's structure.
I swapped granulated sugar for confectioners' in my pistachio lace cookies to cut out the step of cooking the batter. Cooking a batter simply helps melt the sugar granules before baking since these cookies don't stay in the oven long enough to do it themselves! Confectioners' sugar is so finely processed, it blends and melts fast enough in the oven.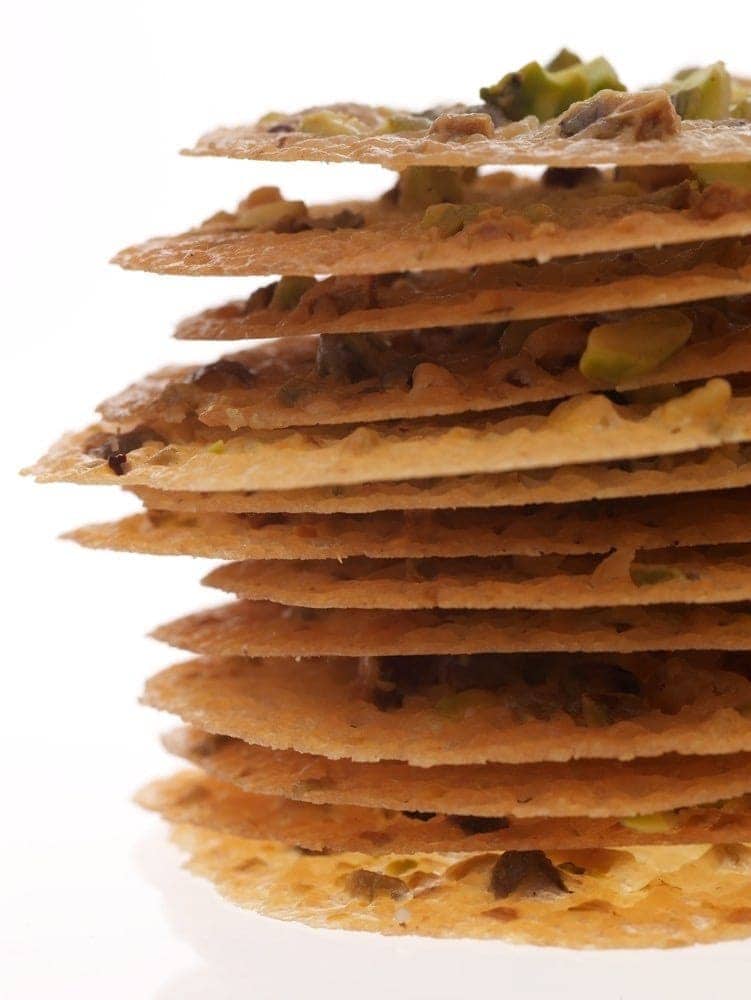 Corn syrup is an invert sugar. That means it prevents sugar crystals from forming. This all happens on a microscopic level, so you don't see that sugar granules have jagged little edges. They like to cling to each other and form bigger crystals. Corn syrup helps melt them properly when baked and stay nice and smooth. Even with confectioners' sugar the corn syrup acts as a interfering agent and "interfere's" with the crystallization process.
Corn syrup keeps the Pistachio Lace Cookies batter smooth and makes sure the cookies will caramelize perfectly in the oven.
A bit of flour as well as the nuts gives the pistachio lace cookies' batter substance. I choose bread flour because of its high protein content. By swapping it for all-purpose flour the batter is more likely to be thin and crispy and darker in color as it bakes. Not completely necessary with this recipe, but just a little help to make them the most perfect lacey cookies.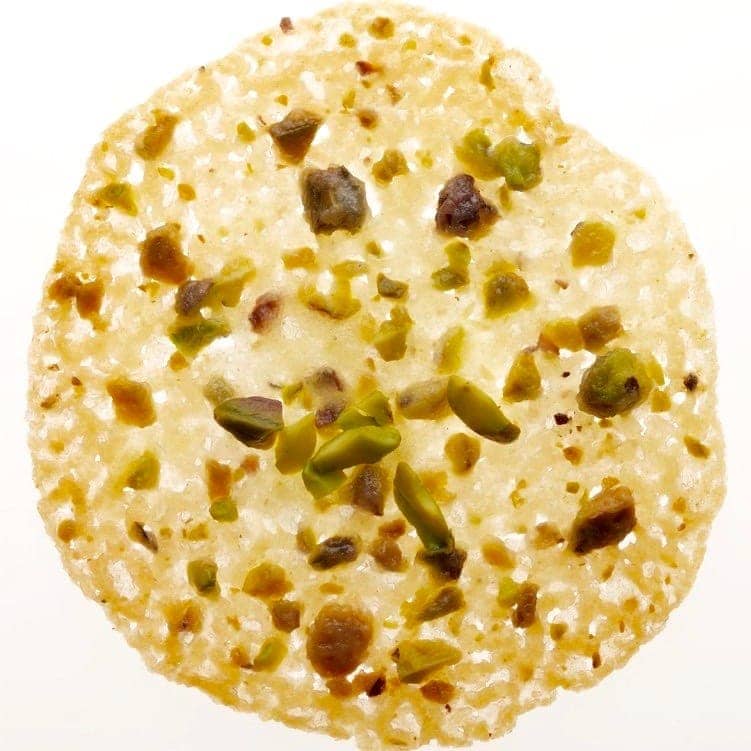 Of course you could use any nut, and most typically almonds are used in lace cookies. But I love the festive color and killer flavor pistachios have. They let everyone know you think they're special enough to spoil them with those delicious tiny green crunchy nuts.
Be sure to use parchment on your baking sheets. Or a silicone baking mat. Links to both of them here. I love pre-cut parchment sheets so much! I stock up on them every few months! Silicone baking mats are so great for avid bakers. They are reusable so wash them after use.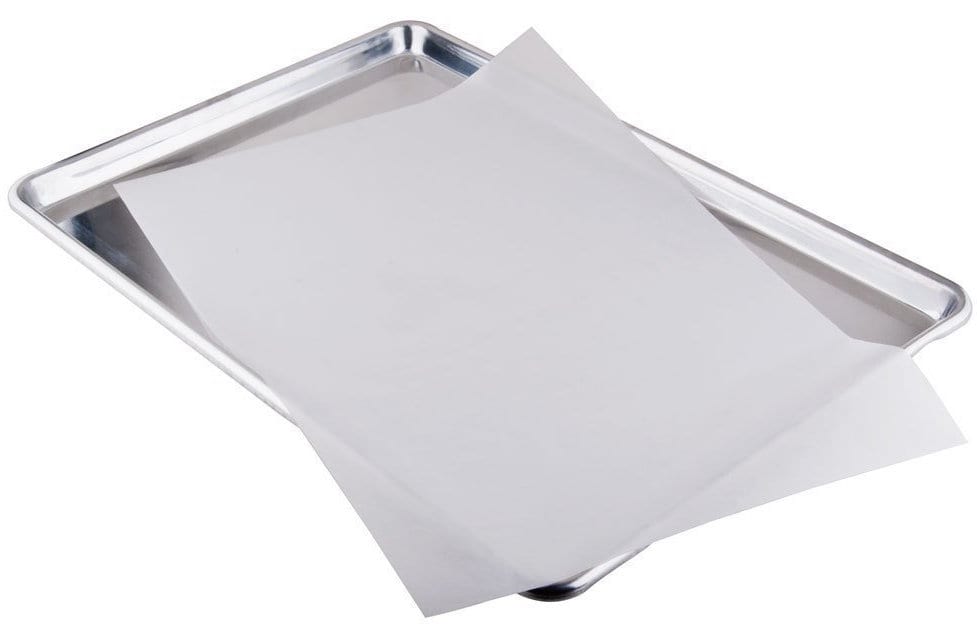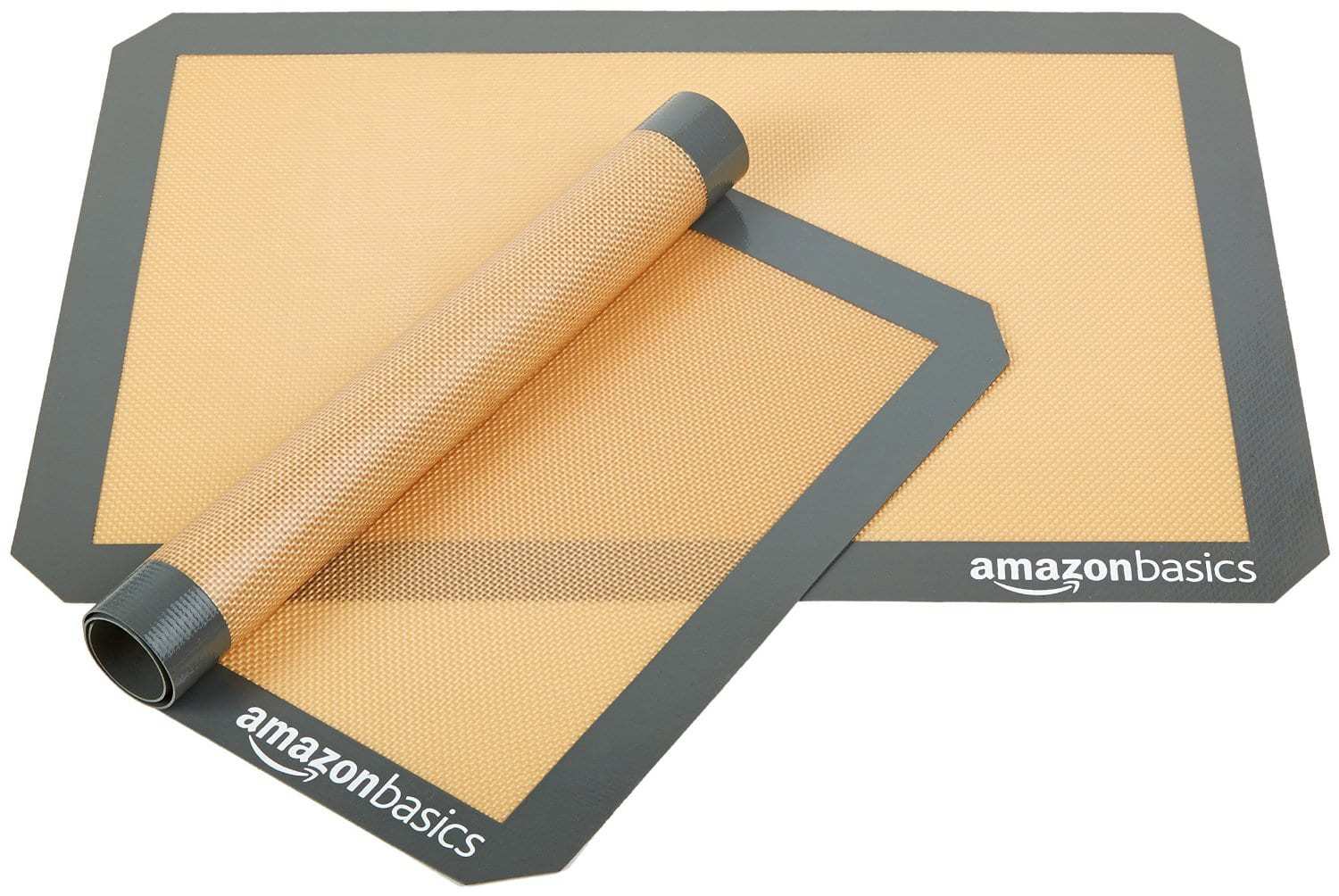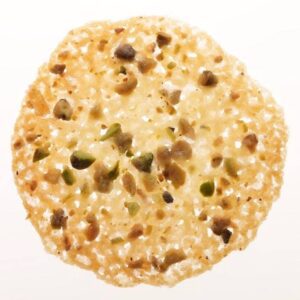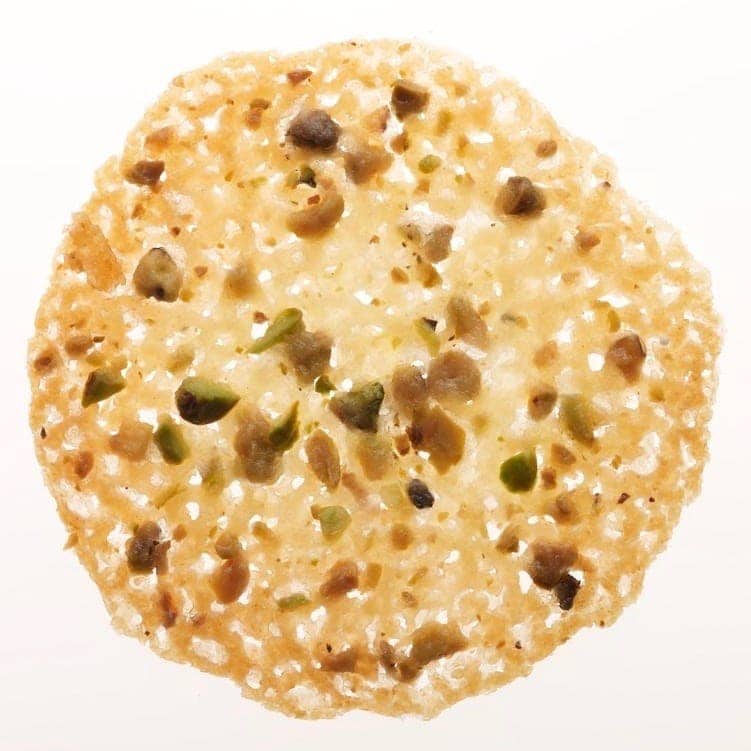 Pistachio Lace Cookies
These crunchy cookies make an elegant addition to any sweets platter.
Ingredients
10

tbsp

unsalted butter

softened

1

cup

confectioners' sugar

2

tbsp

light-colored corn syrup

⅔

cup

coarsely chopped pistachios

½

cup

bread flour
Instructions
In a bowl, beat together butter and confectioners' sugar until smooth and fluffy. Mix in corn syrup, then add nuts and flour; mix to combine.

Wrap dough in a sheet of plastic wrap, forming it into a log 1½ inches in diameter. Freeze until firm, 30 min.

Heat oven to 350°F and line baking sheets with parchment. Unwrap log and cut into ¼-inch-thick slices, rooting after each slice so log retains its shape. Place rounds about 3 inches apart on baking sheets. Bake until golden and lacy, 9 to 10 min. Slide cookies, still on parchment, onto countertop to cool; repeat with remaining dough. Store airtight up to 1 week.
Notes
Be sure to use parchment on your baking sheets. Or a silicone baking mat.
Nutrition
Calories:
95
kcal
Carbohydrates:
9
g
Protein:
1
g
Fat:
6
g
Saturated Fat:
3
g
Cholesterol:
13
mg
Sodium:
2
mg
Potassium:
38
mg
Fiber:
1
g
Sugar:
7
g
Vitamin A:
160
IU
Vitamin C:
1
mg
Calcium:
5
mg
Iron:
1
mg
Tasty cookie recipes!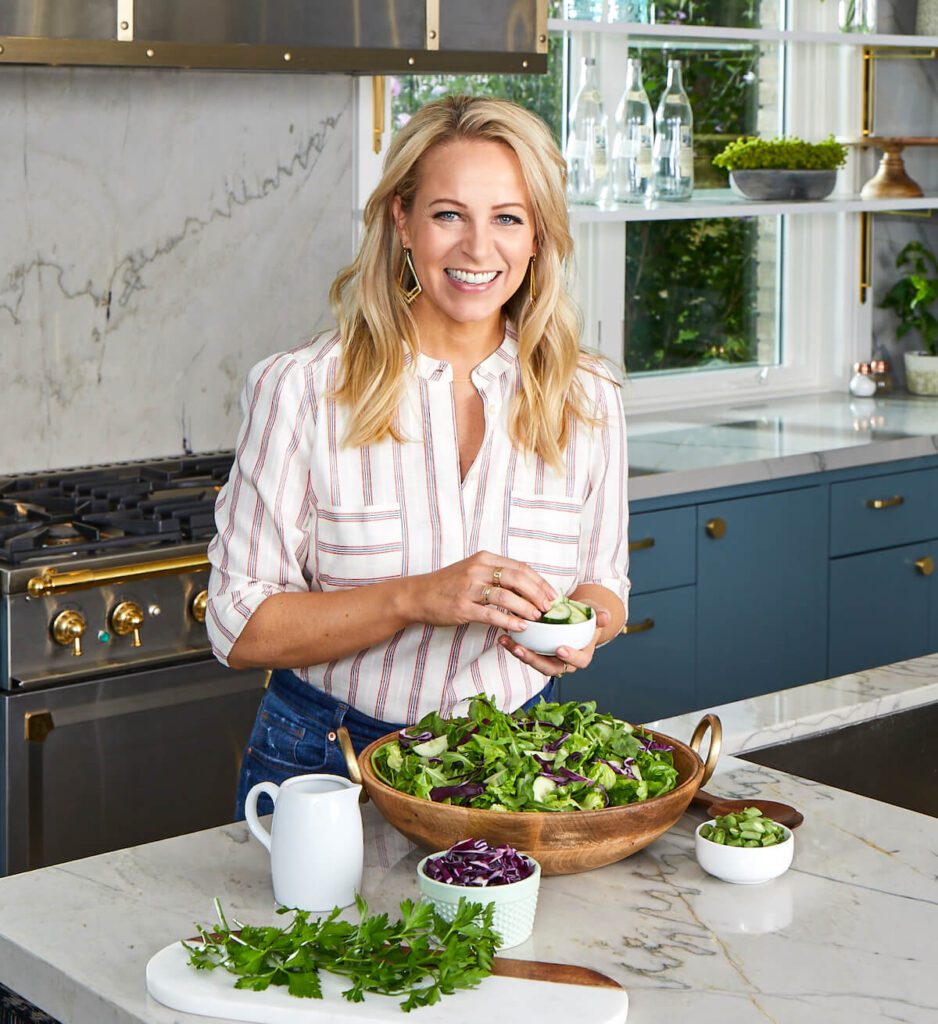 About Tara Teaspoon
I've been in the food publishing business for over 20 years, creating recipes & food-styling for magazines, books, television & advertising. Order my new cookbook & stick around for amazing things to eat.
Recipe by Tara Teaspoon, Susan Vajaranant and Sara Kaluzshner. Photographs by José Picayo. Food Styling by Sara Neumeier. Originally published Dec 09/Jan 10 in LHJ.