This small batch recipe is a downsized version of my award-winning chocolate chip cookies, and makes just one dozen classic cookies or 6 bakery-style cookies.
---
Make just one dozen classic chocolate chip cookies (or 6 bakery-size) with this small batch recipe. No chilling required for soft and chewy deliciousness!
You can have a batch of cookies in about 30 minutes because there is no need to chill this dough.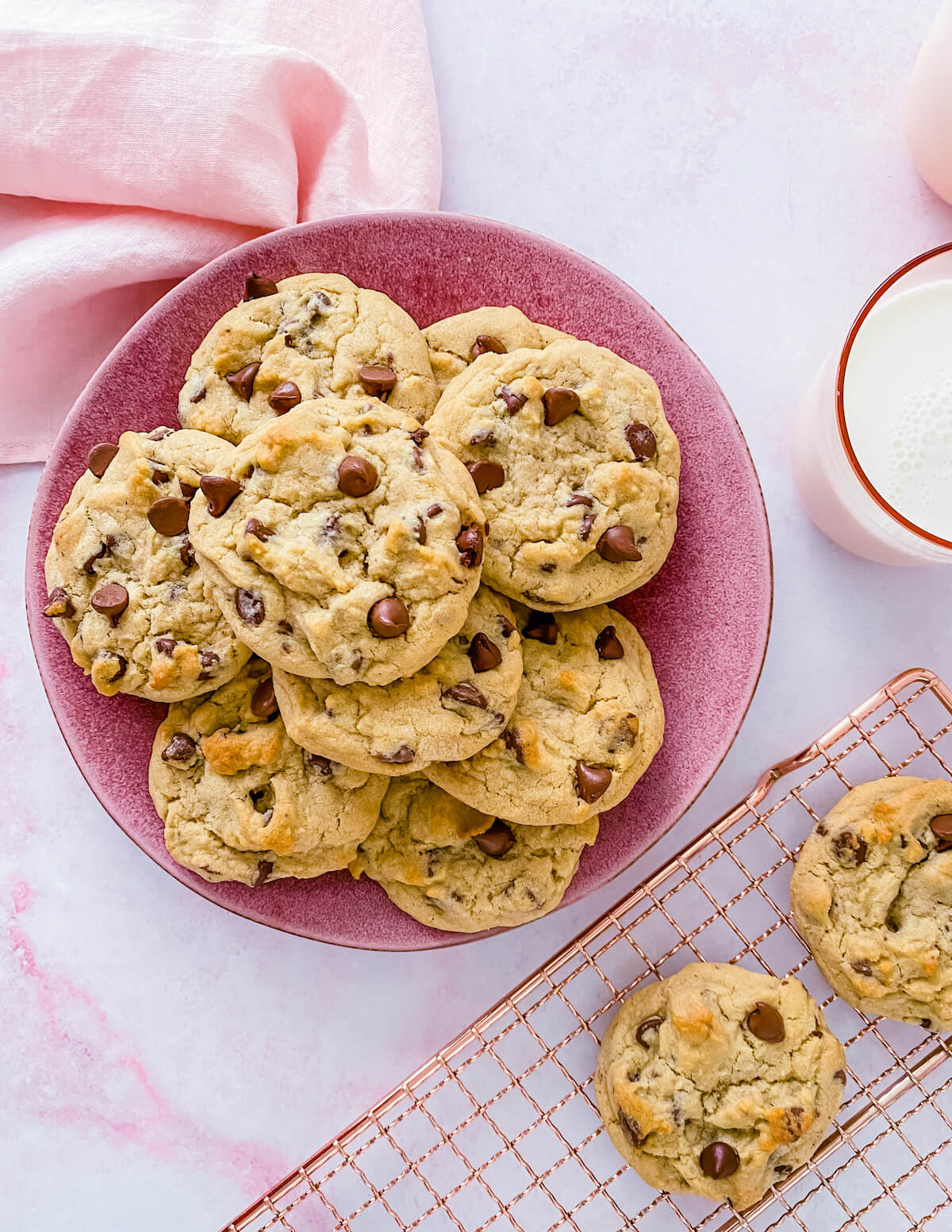 These are easy to make with basic baking ingredients, and taste just as delicious as my full batch of World's Best Chocolate Chip Cookies.
You may also like my skillet chocolate chip cookie that is made right in the pan, no mixing bowl required!
Jump to: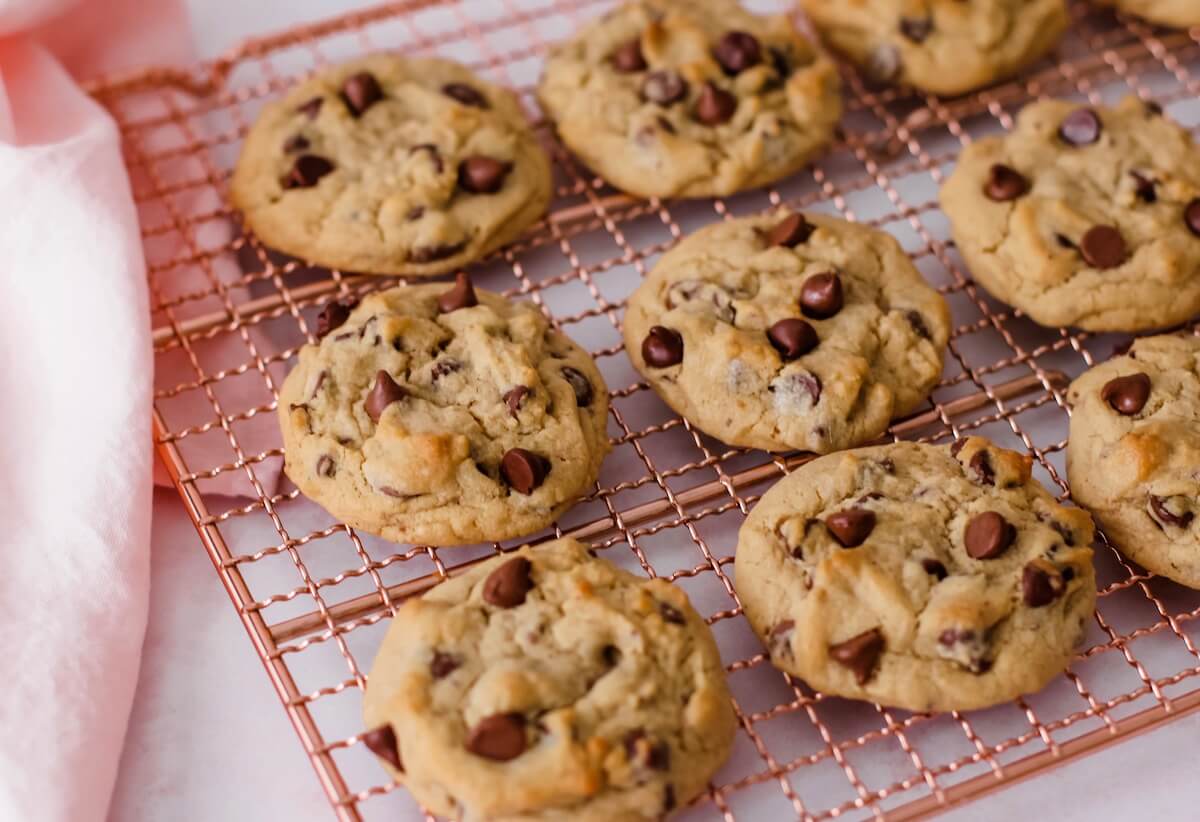 The best small batch cookie recipe
I'm not going to judge (as I eat one dozen chocolate chip cookies by myself!) why you might want just one dozen cookies! My original cookie recipe makes almost 4 dozen cookies, and it's a lot!
If you're not up for freezing (see my tips on freezing) or refrigerating extra dough, and don't want to do the math to cut my award-winning cookie recipe down, I've provided this stellar small batch recipe just for you!
12 Chocolate Chip Cookie Recipe
Make one dozen classic cookies with this simple chocolate chip cookie recipe.
So many small batch cookie recipes out there ask you to split an egg, or mix tiny amounts of butter and sugar together to get "cookies for two," or 6 little cookies. But, I'm giving you the best of both worlds: a recipe that makes 12 chocolate chip cookies that are classic, 3 or 4 bite treats, without the hassle of special ingredient preparation.
The beauty is, you can make 6 larger cookies with this recipe. Just adjust the baking time as noted in the recipe card below.
It's the perfect cookie recipe for small households.
Ingredients in One Dozen Cookies
In a small batch of chocolate chip cookies, every ingredient does a job. I've made this recipe easy by using one whole egg.
So, to get the science, texture, and flavor just right without having to split an egg, my recipe makes one dozen cookies instead of six like other recipes.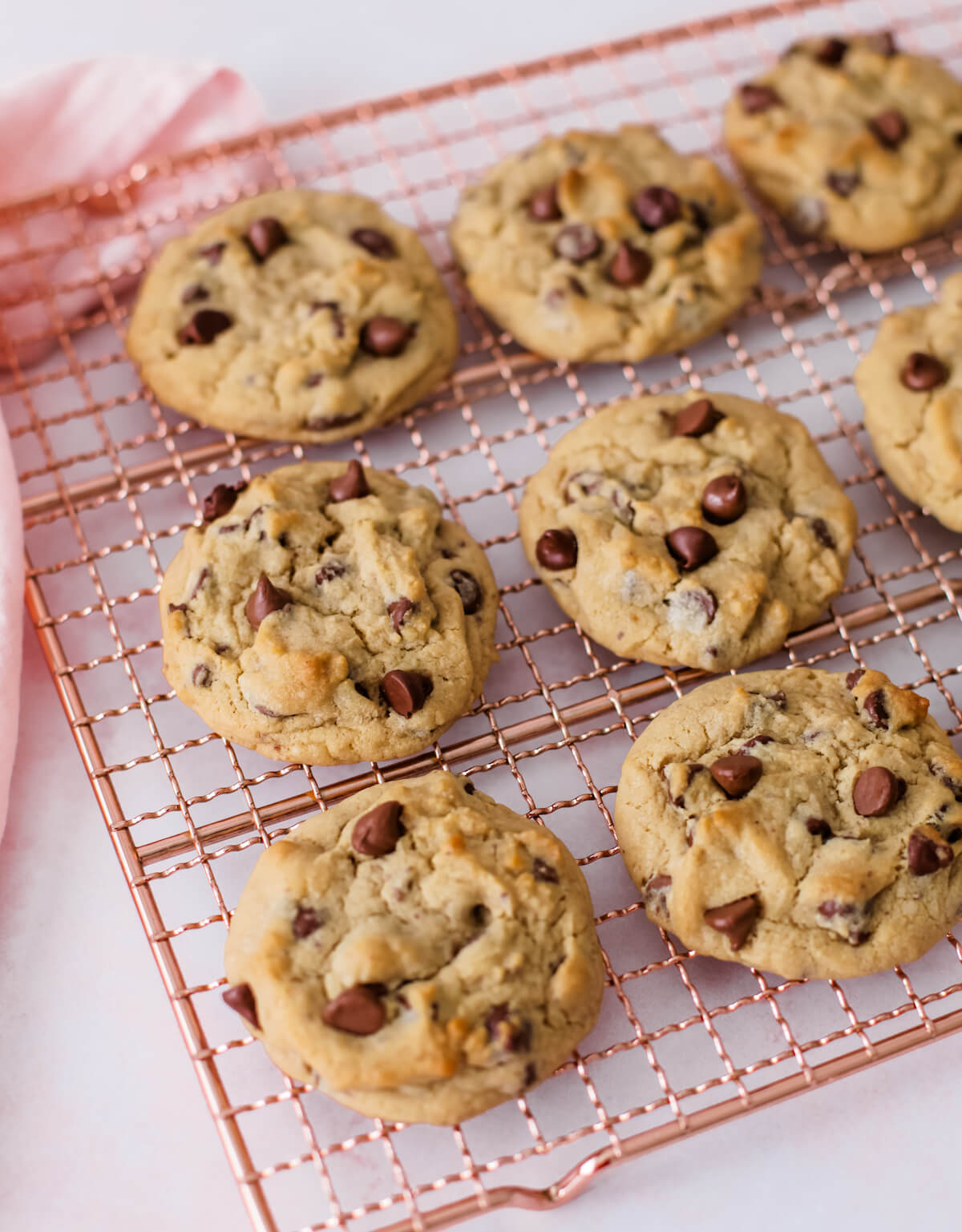 Egg science in cookies
The formula had to be just right so I could use one whole egg. No one wants to split an egg in half! And I like to have both the egg white and yolk in my cookies.
The egg yolk adds richness and helps with the chewy factor, while the egg white provides a bit of loft and leavening, and helps with the structure of the cookie.
What kind of flour to use
Use regular all-purpose flour. There's no need to be adding cornstarch or high protein bread flour to get the perfect texture for this cookie recipe.
I will suggest fluffing, or sifting your flour and measuring with a light hand so you don't have an overly floury cookie.
Sugar adds flavor
Brown sugar is super important in chocolate chip cookies. The molasses in brown sugar adds both flavor and softeness to the cookie. It helps create a soft, chewy cookie rather than a crumbly cookie.
You can use either light brown sugar or dark brown sugar. Both are delicious, it just depends on how caramely you want your cookies to taste. I often go for dark brown sugar just for a more intense flavor.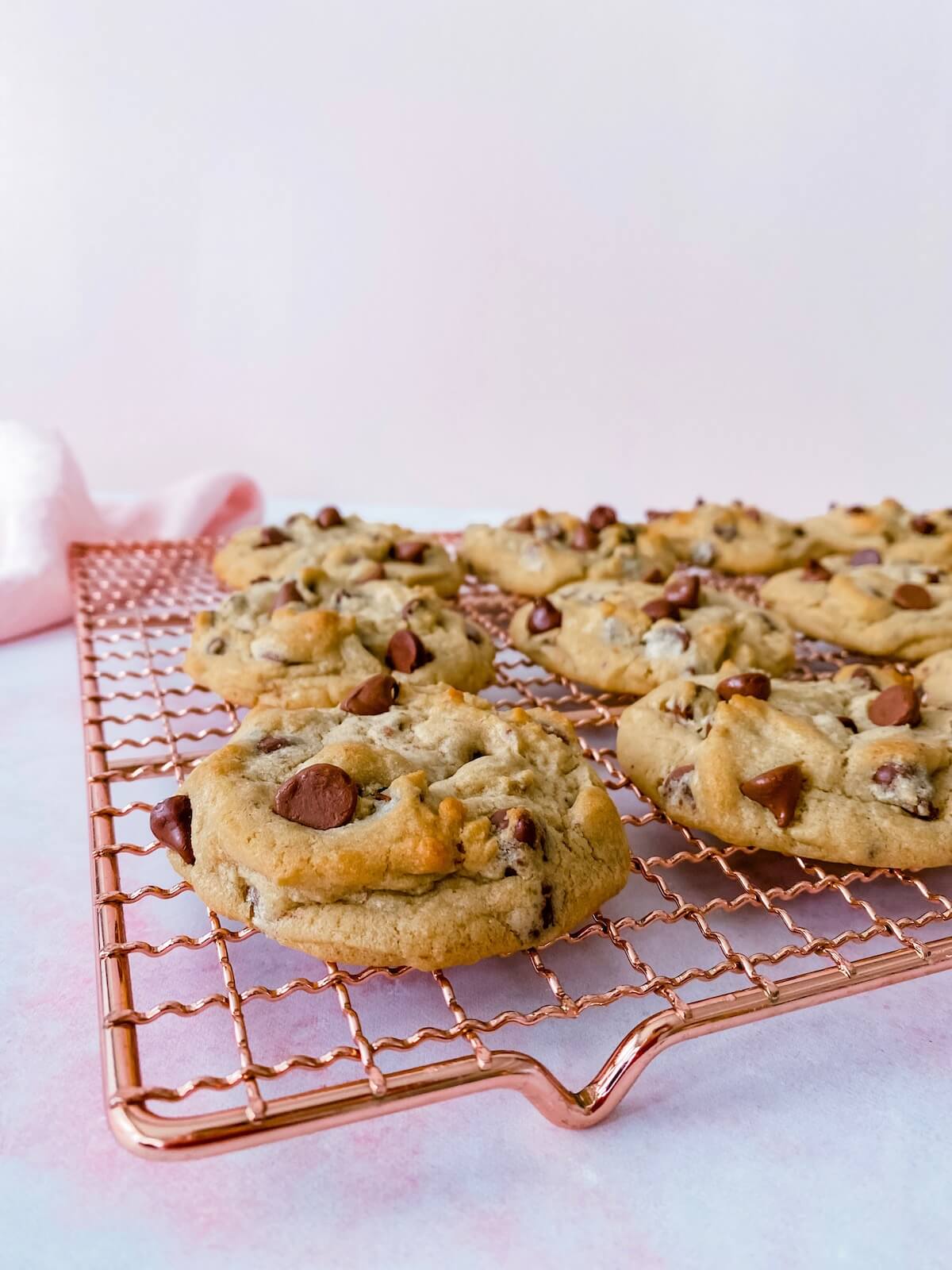 Chocolate Chip Secrets
It's not really a secret, but I've been using both milk chocolate and semi sweet chocolate in my chocolate chip cookies for years. Like 25 years!
That's how long my award-winning recipe has been in households!
In fact, the mix of both chocolates in cookies was my secret for a long time. Just recently Levain bakery in New York created a version of their cookie with both chips. Copycats!
The mix of chocolate in cookies makes our tastebuds so happy. The creamy sweetness of milk chocolate plus the stronger, tangy and slightly bitter taste of dark chocolate are the perfect party for your tongue. I highly recommend the mix.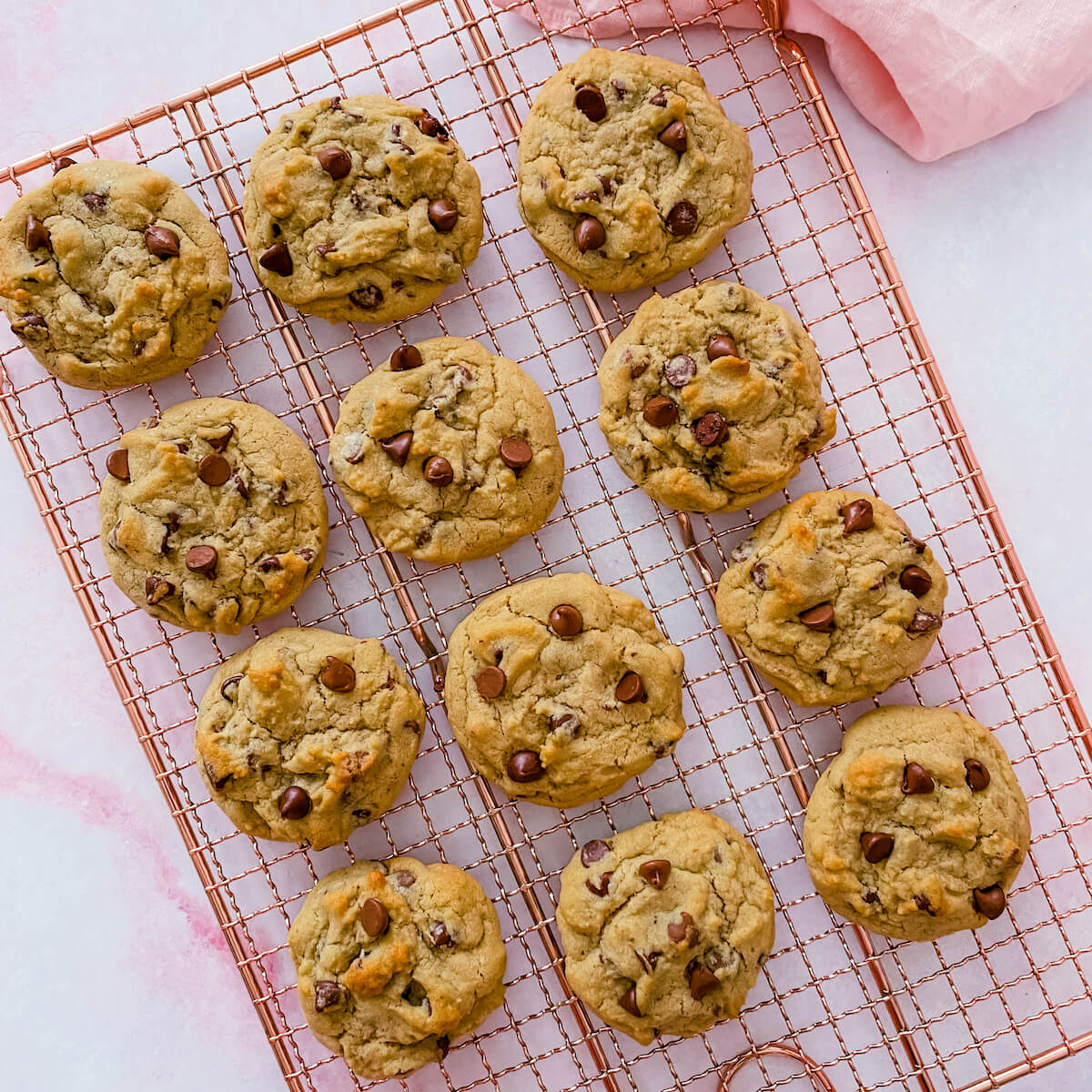 Tools to Bake Small Batch Chocolate Chip Cookies
I have some favorite tools for baking cookies and I think they are worth the investment. Even if you're not baking often, the right tools will ensure complete success when you do reach for that flour and sugar.
Vollrath Rimless Baking Sheet - Heavy gauge baking sheets that will last forever.
Stacking Measuring Cups - The shallow shape keeps flour and other ingredients from getting too packed.
Spring Chef Measuring Spoons - The perfect spoons because they fit in small jars!
Three Cookie Scoops - This set lets you choose your own size.
How to make 12 delicious cookies
Heat your oven ahead. Please make sure to use an oven thermometer so you know your temperature is correct.
Line cookie sheets with parchment or a silicone baking mat. This not only helps cleanup, but helps the bottom of your cookies bake perfectly.
Beat the butter and sugar together first, then add the eggs and mix that well. aerating the batter before adding the flour helps with leavening and lift.
Divide the dough into 6 or 12 equal balls and bake!
Let me know how it went!
Scroll to the bottom of the page to rate ⭐⭐⭐⭐⭐ and comment on this recipe. Leaving comments helps other too!
Gluten Free and Dairy Free
I use Cup4Cup brand flour for gluten free cookies. It is a one-to-one substitution. The cookies take a little longer to bake.
For chocolate chip cookies without butter, substitute Miyokos cultured, non-dairy butter.
More cookie recipes you'll love
Cookie Classics To Try: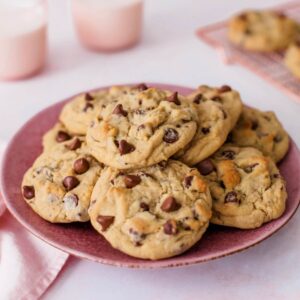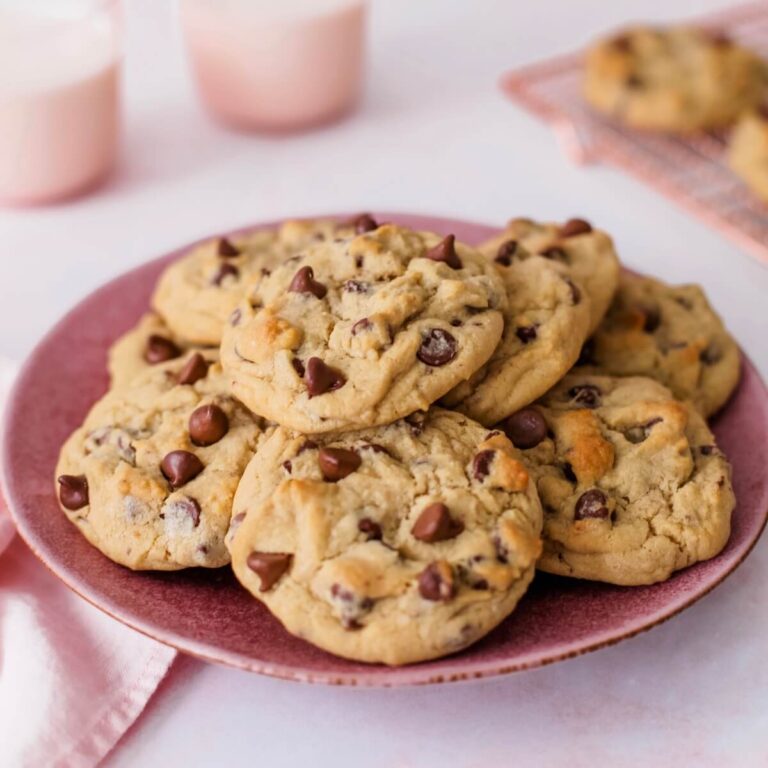 Small Batch Chocolate Chip Cookies
The tastiest chocolate chip cookies recipe from scratch, that only makes a small batch. You can make 6 large bakery-style cookies or one dozen classic cookies.
Ingredients
1½

cups

all-purpose flour

½

teaspoon

baking soda

¼

teaspoon

fine salt

1

stick

butter

(½ cup)

½

cup

packed brown sugar

¼

cup

granulated sugar

1

large

egg

½

teaspoon

vanilla extract

1

cup

chocolate chips
Instructions
Heat oven to 350ºF. Combine flour, baking soda, and salt in a bowl and set aside. In a separate mixing bowl, cream together the butter and sugars. Add eggs and vanilla and mix. Add the flour mixture, a little at a time, and mix. Stir in chocolate chips.

Bake on parchment-lined baking sheets until golden around the edges and just set in the center, 10 to 12 minutes. Don't overcook! They continue cooking on the pan out of the oven. Let cool slightly (if you can wait) and remove from pan.
Notes
FLOUR! Everyone measures flour differently. If you tend to have a heavy hand make sure to sift your flour prior to measuring.
CHOCOLATE CHIPS. There are a lot of chocolate chips in this recipe. Please feel free to use just ¾ cup if desired!
GLUTEN OR DAIRY FREE: I use Cup4Cup for gluten free cookies. For chocolate chip cookies without butter, substitute Miyokos cultured, non-dairy butter.
------------------------------------------
Make 6 Cookies:
You can make 6 larger "bakery-style" cookies by dividing the dough into 6 equal balls. Bake 13 to 15 minutes to desired texture.
Nutrition
Calories:
257
kcal
Carbohydrates:
35
g
Protein:
3
g
Fat:
12
g
Saturated Fat:
7
g
Polyunsaturated Fat:
0.4
g
Monounsaturated Fat:
2
g
Trans Fat:
0.3
g
Cholesterol:
38
mg
Sodium:
174
mg
Potassium:
37
mg
Fiber:
1
g
Sugar:
23
g
Vitamin A:
291
IU
Vitamin C:
0.1
mg
Calcium:
32
mg
Iron:
1
mg
Tasty cookie recipes!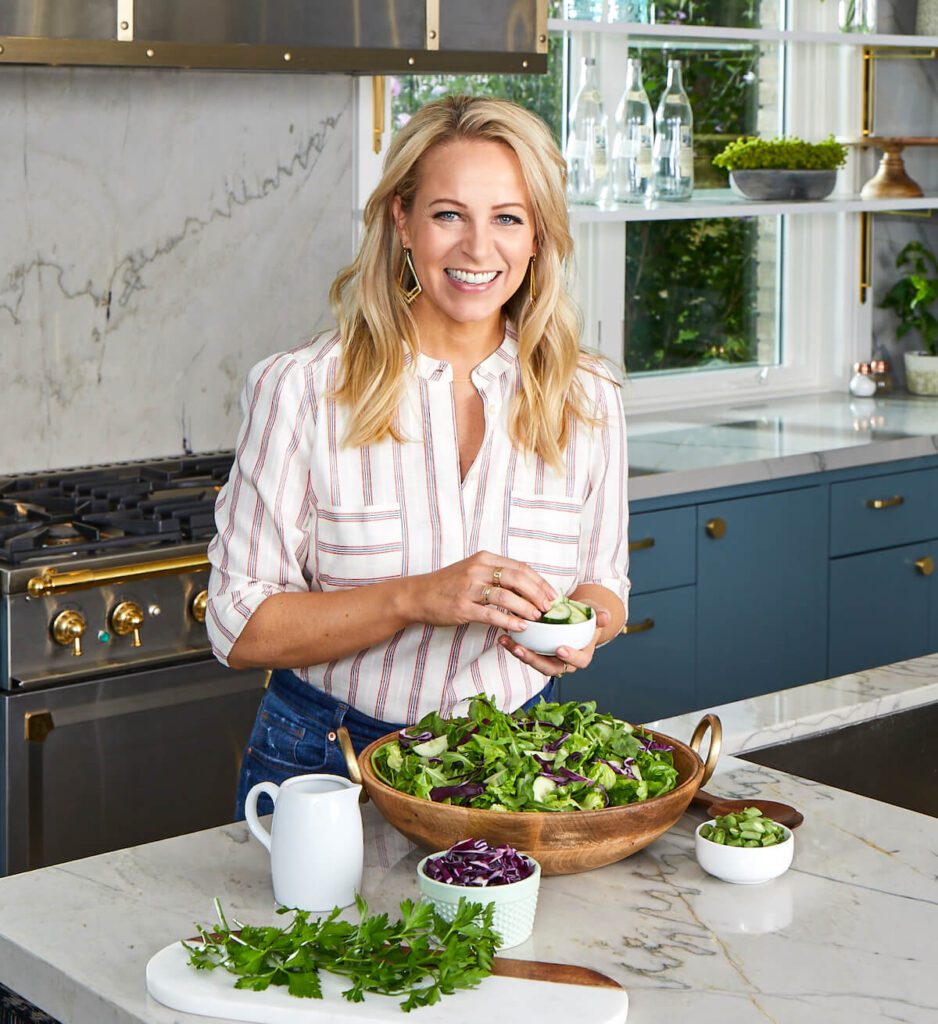 About Tara Teaspoon
I've been in the food publishing business for over 20 years, creating recipes & food-styling for magazines, books, television & advertising. Order my new cookbook & stick around for amazing things to eat.