All the flavors of fall without turning on the oven! Make these soft, chewy, chocolate-drizzled no bake pumpkin cookies. They have oats, and warming spices with just a hint of nut butter and crunchy pepitas.
Most no-bake cookies have loads of peanut butter and chocolate, but these no bake pumpkin cookies are packed with real spice flavor. With just a hint of nut butter, crunchy pepitas and a drizzle of chocolate, the pumpkin can really shine through.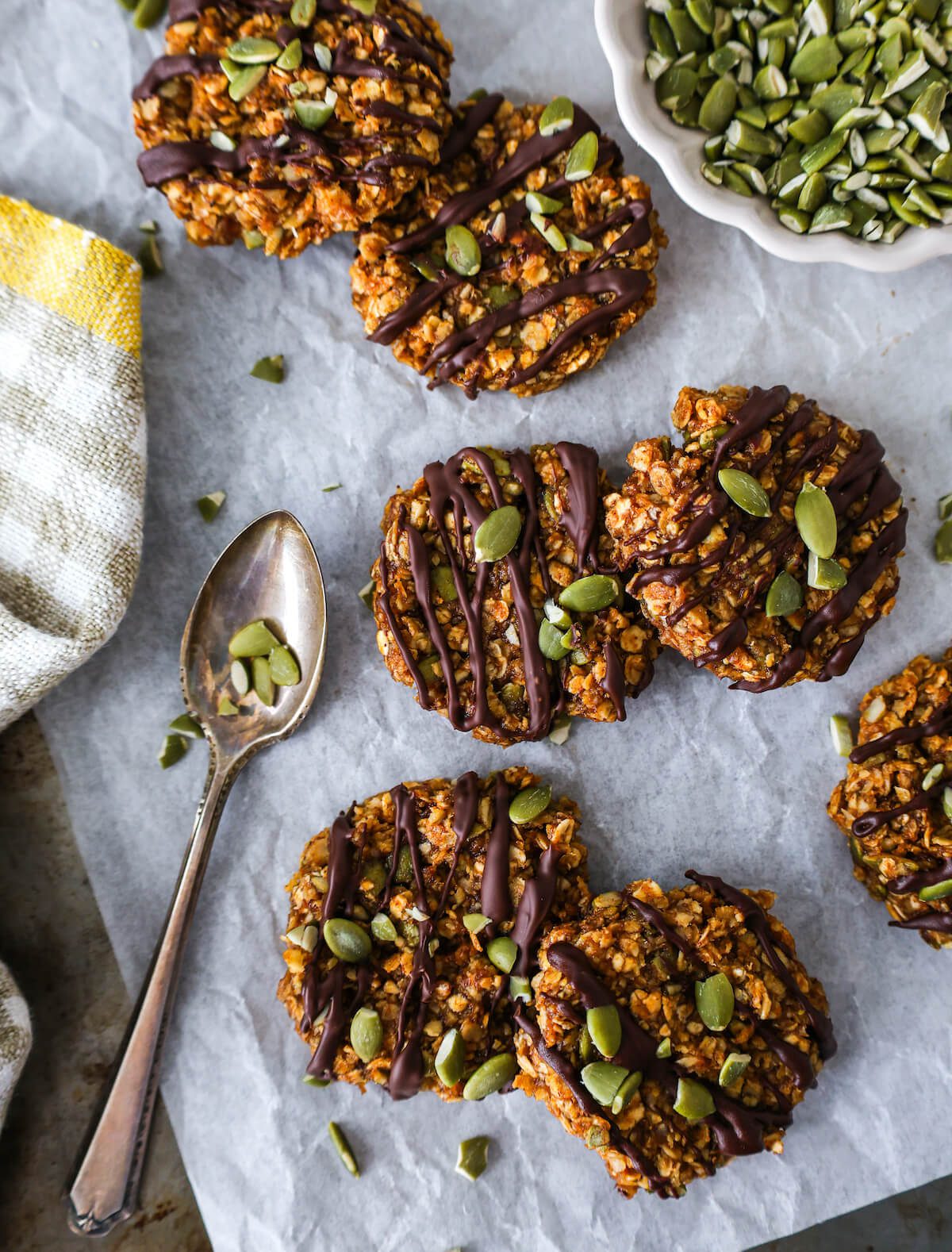 With just a little drizzle of chocolate over the top, and that hint of almond butter, the spiced pumpkin doesn't get overpowered.
Top with chopped pepitas for a festive look like I do on my pumpkin cupcakes with cream cheese frosting, or leave them plain.
The cookies can be made gluten-free and dairy-free just by swapping out the butter for a cultured nut butter or margarine.
Jump to: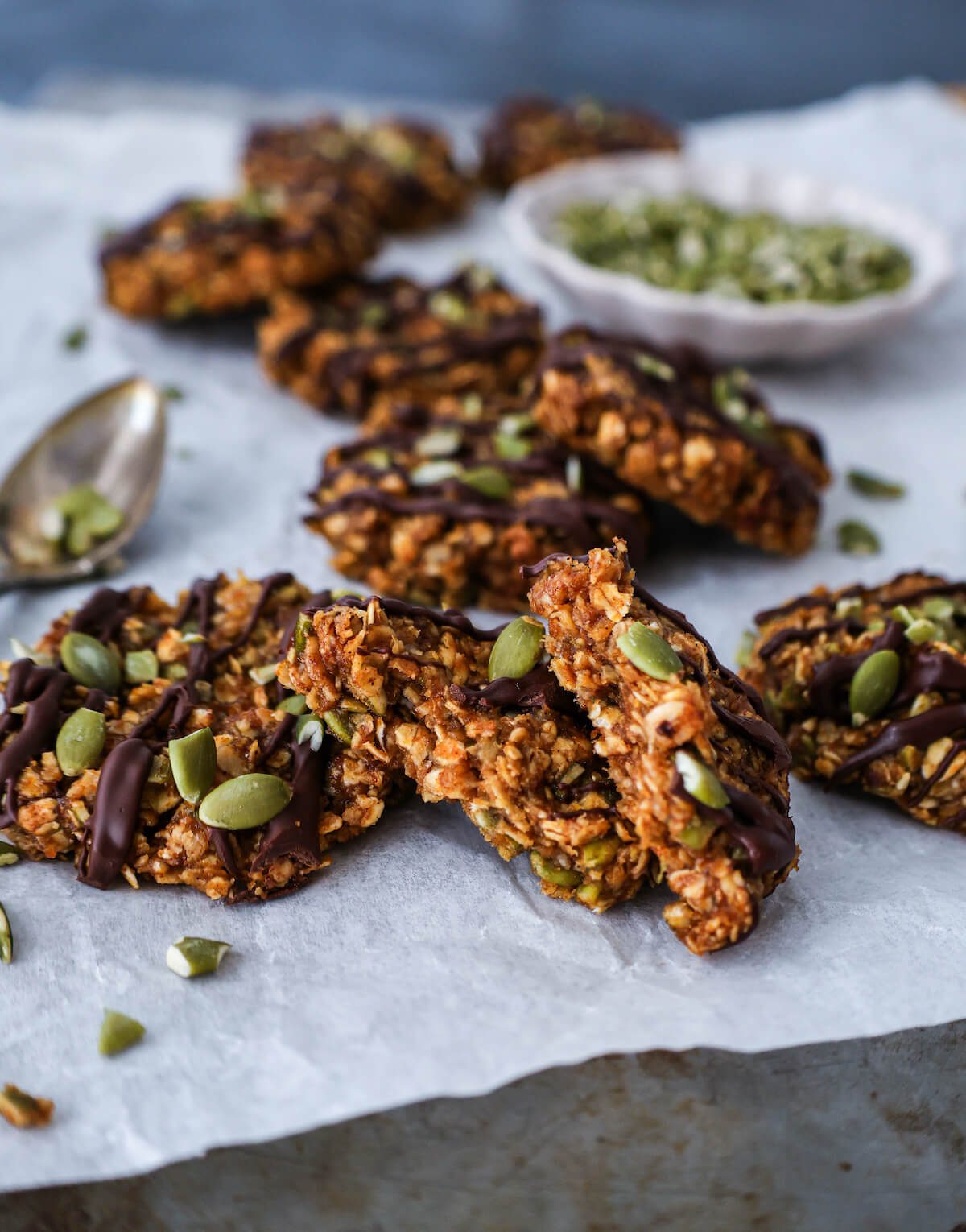 Ingredients for no bake pumpkin oatmeal cookies
Note that for no-bake cookies I prefer quick-cooking oats. They offer texture without being so hard to chew and digest.
Grab a can of pumpkin at the store and you've most likely have a pantry stocked with the other baking ingredients. See the full list of needs below.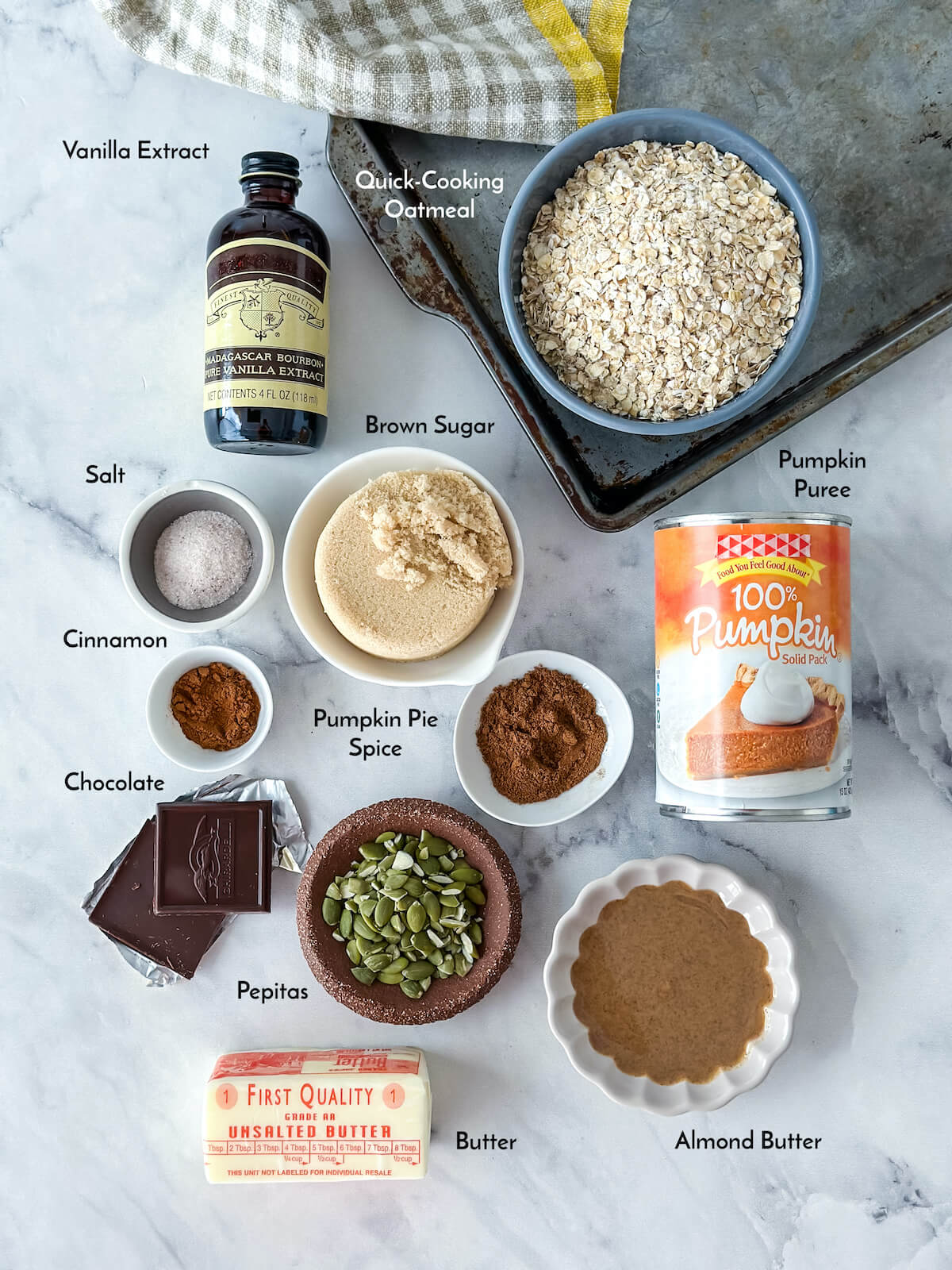 Quick Cooking Oats - The cookies will be dry and chewy if you use standard rolled oats.
Salt - Use a fine ground salt so there is even distribution in the dough.
Pumpkin Pie Spice - This quintessential blend of spices helps bring out the pumpkin flavor.
Ground Cinnamon - A little extra cinnamon balances the seasonal spice flavor.
Pumpkin Puree - Use 100% pumpkin instead of the seasoned canned pumpkin.
Almond Butter - You can swap in peanut butter, cashew butter, or your favorite seed butter here.
Butter - This adds richness and just enough fat for the flavor and texture of no-bake cookies.
Brown Sugar - Use light or dark brown sugar for a caramelized flavor that goes well with spice.
Vanilla Extract - Because the cookies aren't baked, the vanilla flavor can really shine.
Chocolate - You can use chocolate chips, but a nice quality chocolate bar will help the chocolate set on top instead of stay soft.
Pepitas - A variety of pumpkin seeds, these green crunchy bits add color and texture.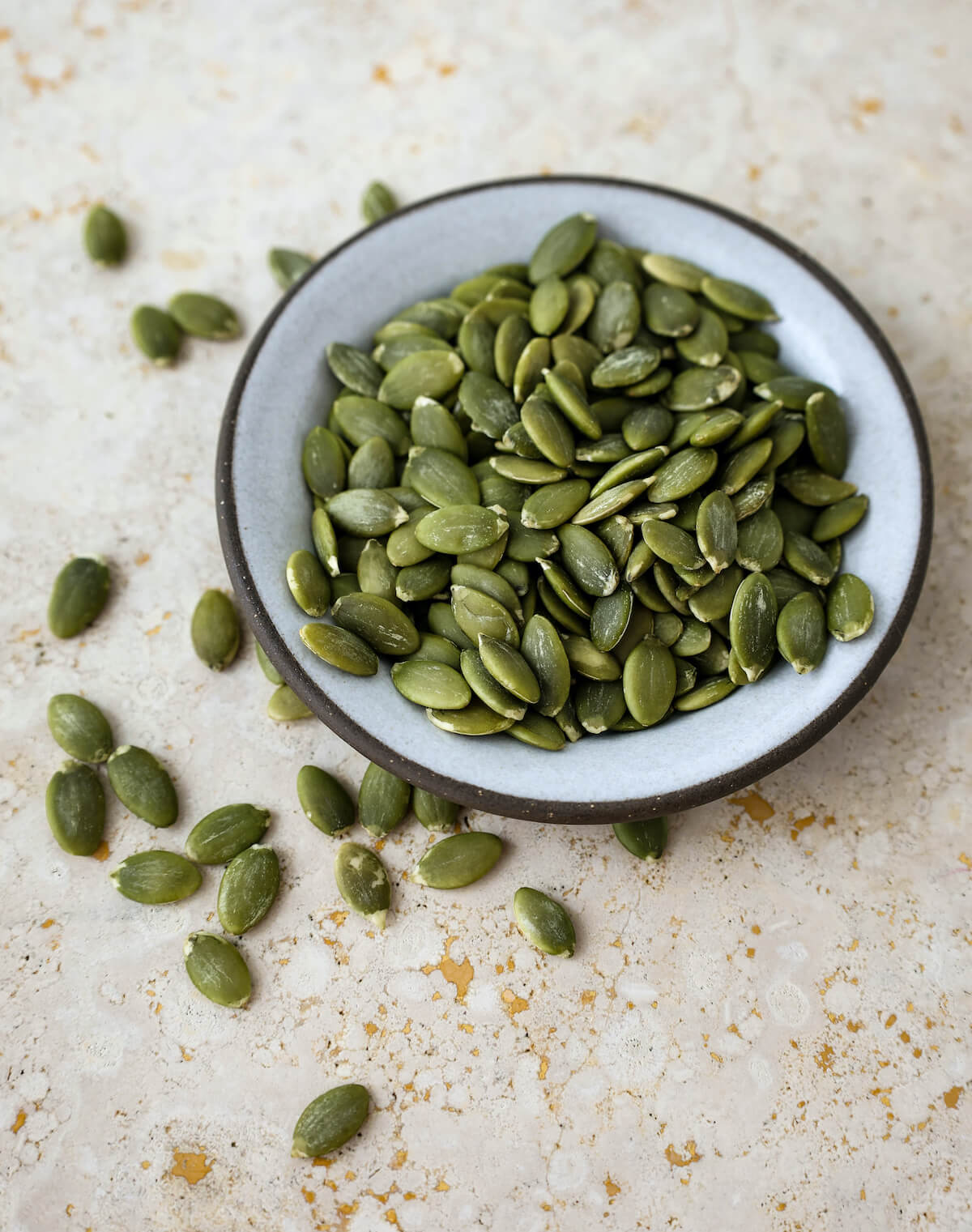 What are pepitas?
Pepitas are used in my recipes to add crunch, flavor and color. i like to add them to the top of no bake pumpkin cookies.
Pepitas originate from Central America and were highly regarded by the Aztecs and Mayans. They are the hulled seeds of only specific pumpkin varieties, such as Styrian or Oil Seed pumpkins.
These unique pumpkins (often called pepitas pumpkins themselves in garden markets) are recognized by their smooth rinds with a combination of dark green and yellow-to-gold striping. The absence of a shell on these pumpkin seeds is a key feature that distinguishes them, allowing their greenish hue and raw, nutty and slightly bitter-sweet taste to shine.
The word "pepitas" has its roots in the Spanish language, meaning "little seeds of squash." The name "pepita" is a Spanish term derived from "pepitoria," denoting a dish made with ground pumpkin seeds. Pronounced "puh-PEE-tuhz," these little green seeds are now grown and enjoyed worldwide.
Steps to make this recipe
You'll find all of the instructions and ingredient measurements in the recipe card below. Here are the basic steps for making these easy no bake cookies.
First, mix together the dry ingredients including the oats, spices, pepitas, and salt.
Next, heat the pumpkin puree, sugar, nut butter and butter over medium heat in a saucepan. You can also use a microwave.
Pour pumpkin mixture into the dry ingredients and mix.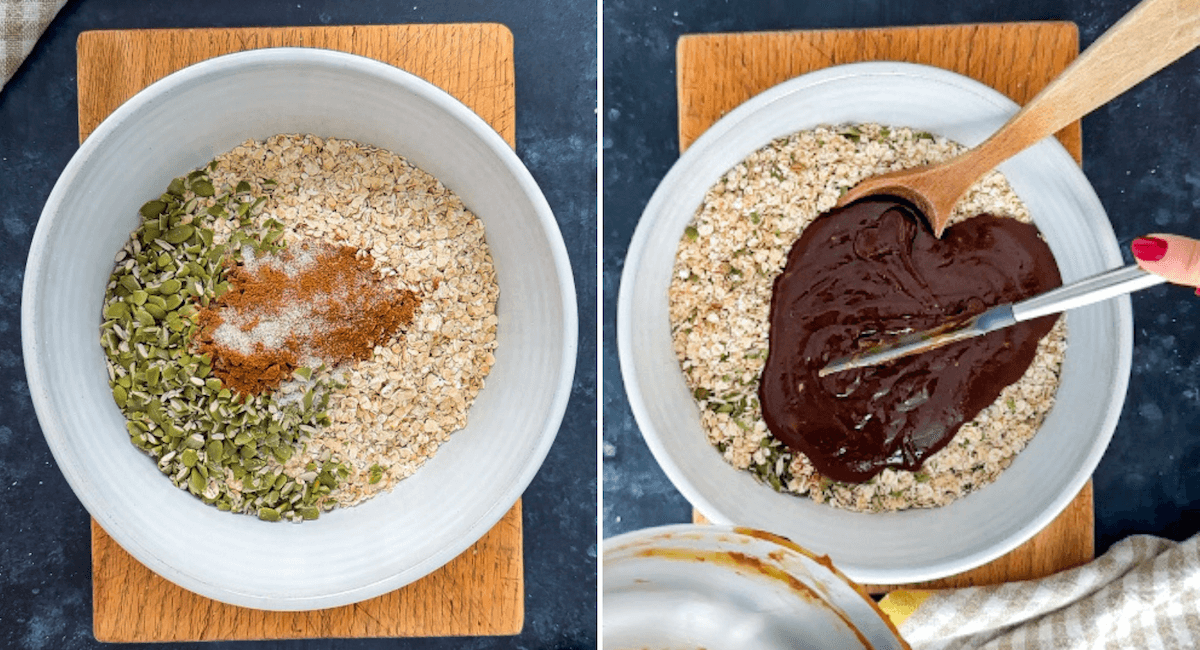 The next step is to completely blend the no bake pumpkin cookie batter and while warm, scoop onto parchment.
Line a baking sheet with parchment for easy transport and chilling. I use a #40 size cookie scoop which is about 2 tablespoons.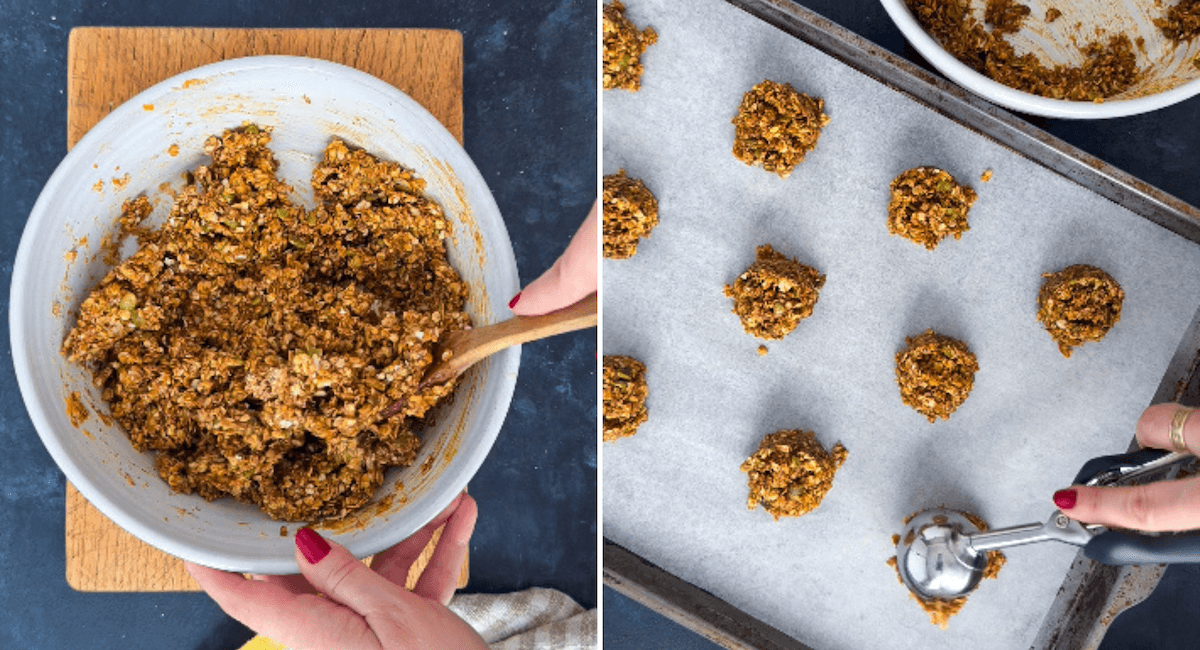 Press the cookies into disks about ½ inch thick with your fingers or a spoon.
Drizzle melted chocolate over the top and sprinkle with chopped pepitas if desired.
Chill the cookies until set, about 30 minutes. This will help them hold their shape and allow the chocolate to set.
Store the cookies in between layers of parchment in the fridge for up to a week if desired, or in a single layer at room temperature for up to a day.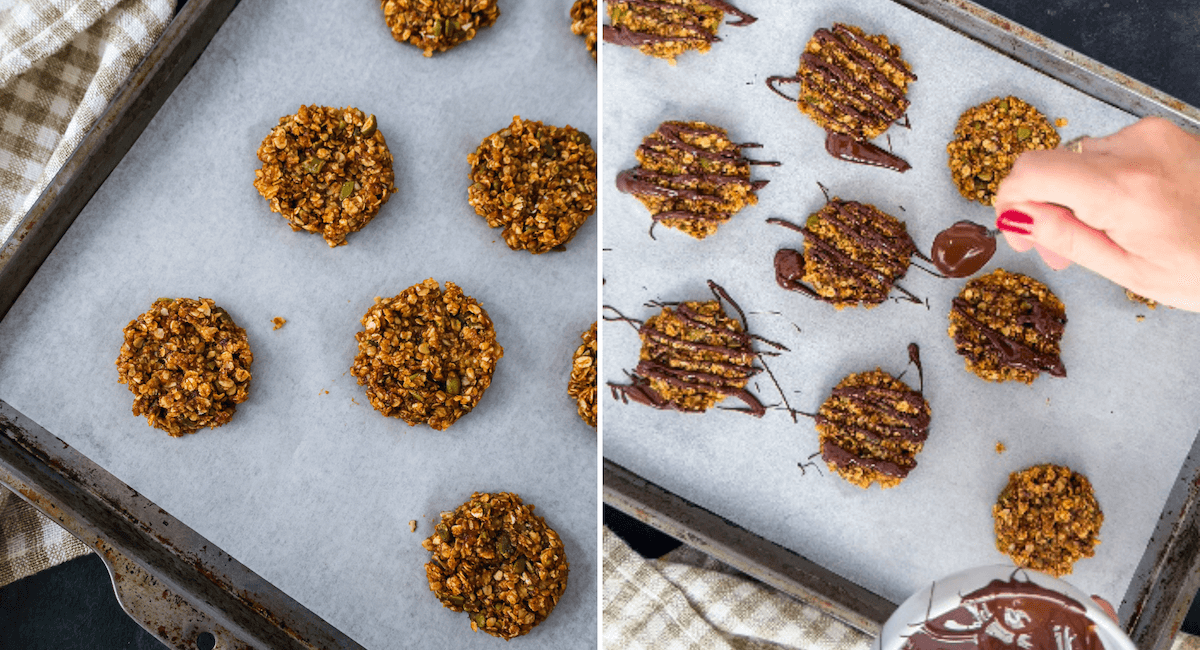 Why you'll love these cookies
These cookies have sugar and butter but also have loads of healthful ingredients! High fiber oats and pepitas, plus a bit of protein from almond butter. Enjoy them according to your own personal diet.
They are like mini granola bars and are great for snacking and dessert. Pack a few in kid or adult lunches on the go.
Pumpkin spice is a most popular seasonal flavor, and these cookies are packed with 100% pumpkin and festive spices.
These no bake pumpkin oatmeal cookies have your favorite seasonal combination like classic baked pumpkin cookies. Pumpkin and chocolate are so good together.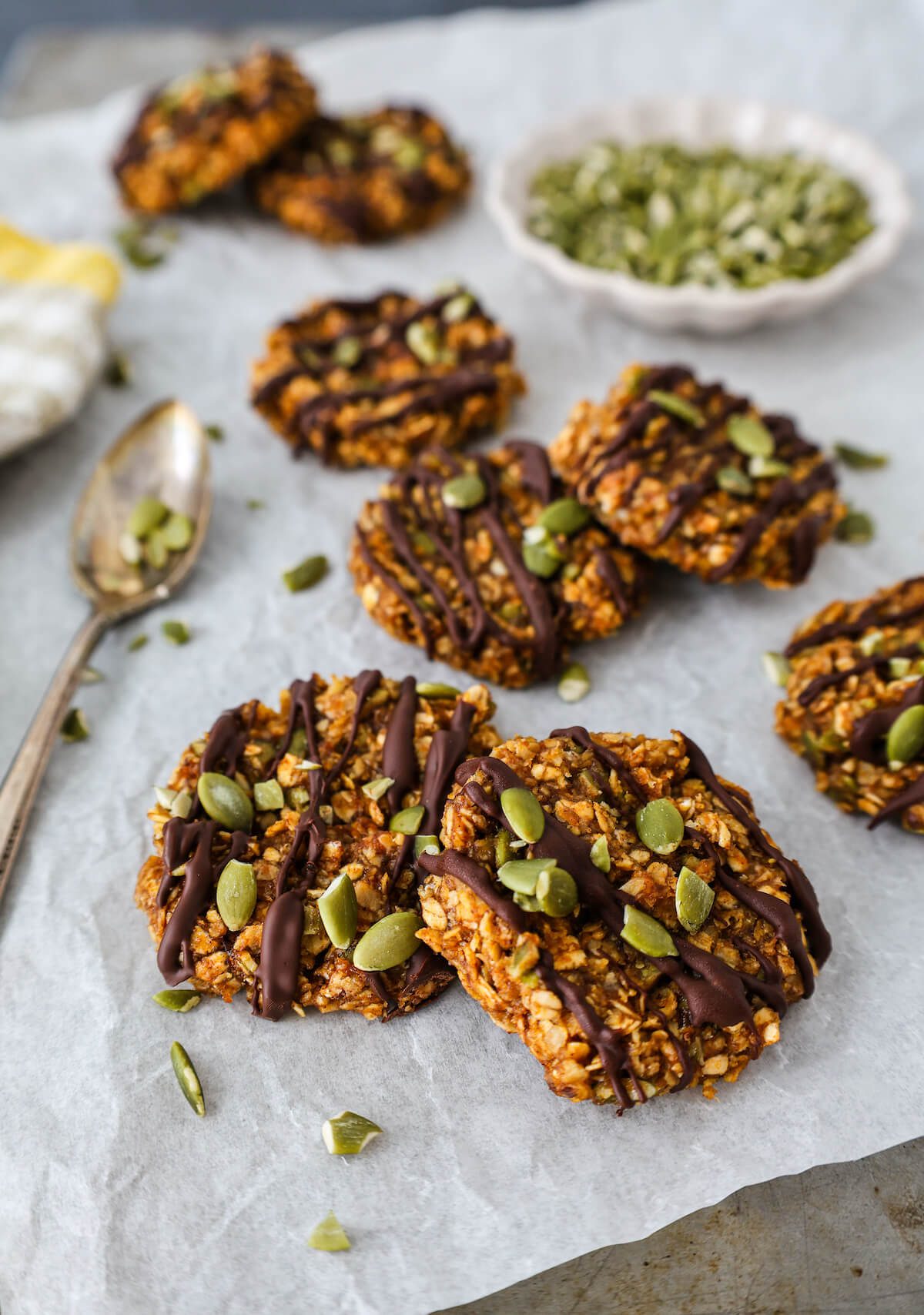 No bake cookies FAQs
How do I store pumpkin no bake cookies?
These cookies are soft and gooey so the best way to store them is in the fridge, layered between layers of parchment paper, for up to a week. You can also store them covered at room temperature for up to a day.
Are they gluten-free or dairy-free?
You can make these cookies gluten free by making sure the oats you use are certified GF. Swap the butter for margarine or cultured nut butter to make them dairy free or vegan. You will also want to choose a dairy-free chocolate for the drizzle.
Can these cookies be frozen?
These no bake pumpkin cookies can be frozen in an airtight container separated by layers of parchment paper. Freeze up to a month. To defrost, place entire container in the fridge until cookies are soft enough to enjoy. Freezing the cookies may make them more sticky, but they will still be delicious.
More pumpkin recipes
We all love a pumpkin spice recipe, and this one shines as much as my other seasonal pumpkin recipes.
Let me know how it went!
Scroll to the bottom of the page to rate ⭐⭐⭐⭐⭐ and comment on this recipe. Leaving comments helps other too!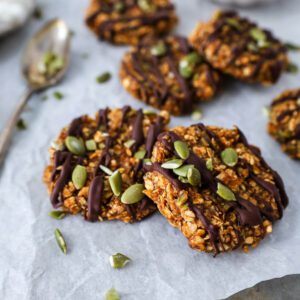 No Bake Pumpkin Cookies
No bake pumpkin oatmeal cookies are soft, chewy, and drizzled with chocolate. They have oats, pepitas, and warming spices with just a hint of nut butter.
Ingredients
2

cups

quick-cooking oats

⅓

cup

coarsely chopped pepitas

Plus more for topping

1

teaspoon

pumpkin pie spice

¼

teaspoon

salt

2

tablespoons

butter

⅓

cup

pumpkin puree

½

cup

light brown sugar, packed

3

tablespoons

almond butter

½

teaspoon

vanilla extract

3

ounces

semisweet chocolate

chopped
Instructions
In a mixing bowl combine oats, pepitas, pumpkin pie spice, cinnamon, and salt.

In a saucepan over medium-high heat, combine butter, pumpkin puree, brown sugar, and almond butter. Bring mixture to a boil, stirring, and let boil 1 minute. Remove from heat and stir in vanilla extract.

Pour cooked mixture over oats mixture and stir well to combine.

Use a 2-tablespoon scoop to scoop cookie dough onto a baking sheet lined with parchment. Press each cookie to a flat round about ½-inch thick using the back of a spoon, or your fingers.

In a microwave-safe bowl, melt chocolate and drizzle over the cookies. Top with chopped pepitas. Chill cookies until set, at least 30 minutes.

Cookies can be stored in the fridge up to a week. Layer them between sheets of parchment in an airtight container. They can be left at room temperature up to a day.
Nutrition
Calories:
105
kcal
Carbohydrates:
13
g
Protein:
2
g
Fat:
6
g
Saturated Fat:
2
g
Polyunsaturated Fat:
1
g
Monounsaturated Fat:
2
g
Trans Fat:
0.1
g
Cholesterol:
4
mg
Sodium:
58
mg
Potassium:
91
mg
Fiber:
1
g
Sugar:
8
g
Vitamin A:
860
IU
Vitamin C:
0.2
mg
Calcium:
41
mg
Iron:
2
mg
Recipes perfect for fall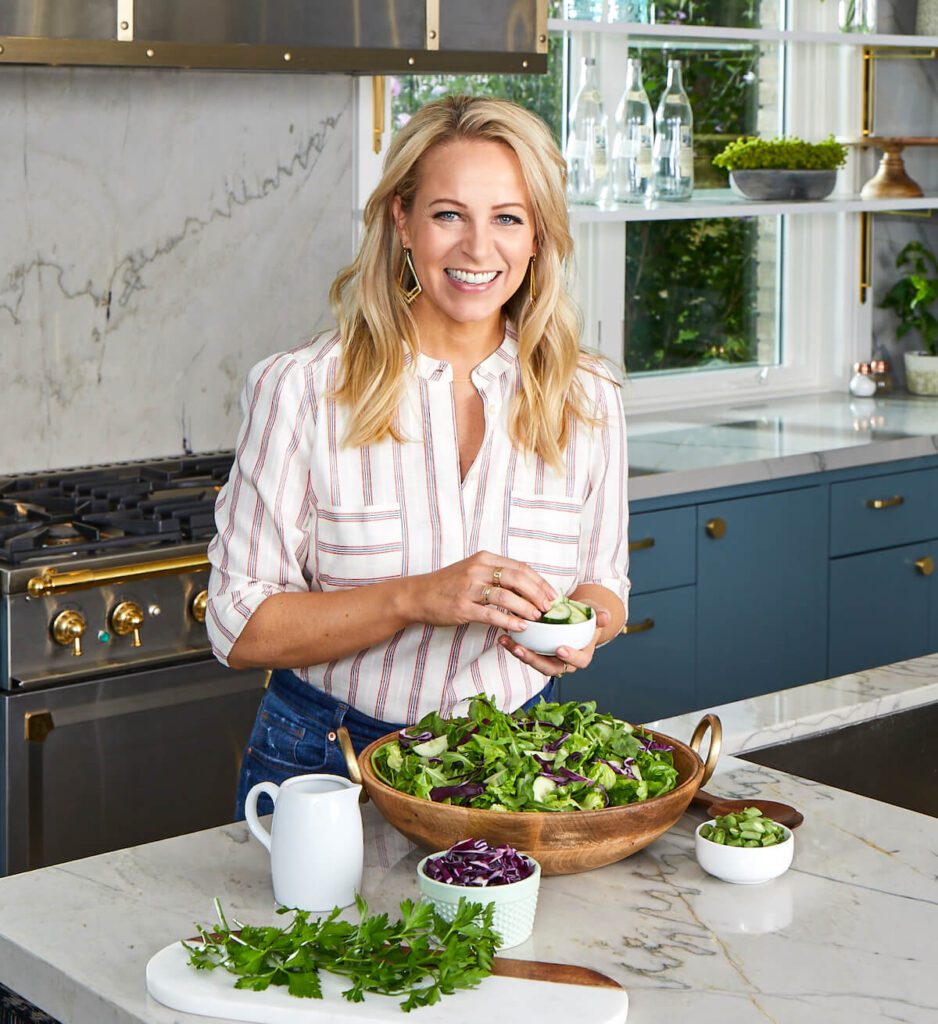 About Tara Teaspoon
I've been in the food publishing business for over 20 years, creating recipes & food-styling for magazines, books, television & advertising. Order my new cookbook & stick around for amazing things to eat.