---
This pumpkin cream pie is a delicious alternative to a classic pumpkin pie. It features rich pumpkin pudding, my favorite homemade pie crust, and shards of pepita brittle!
---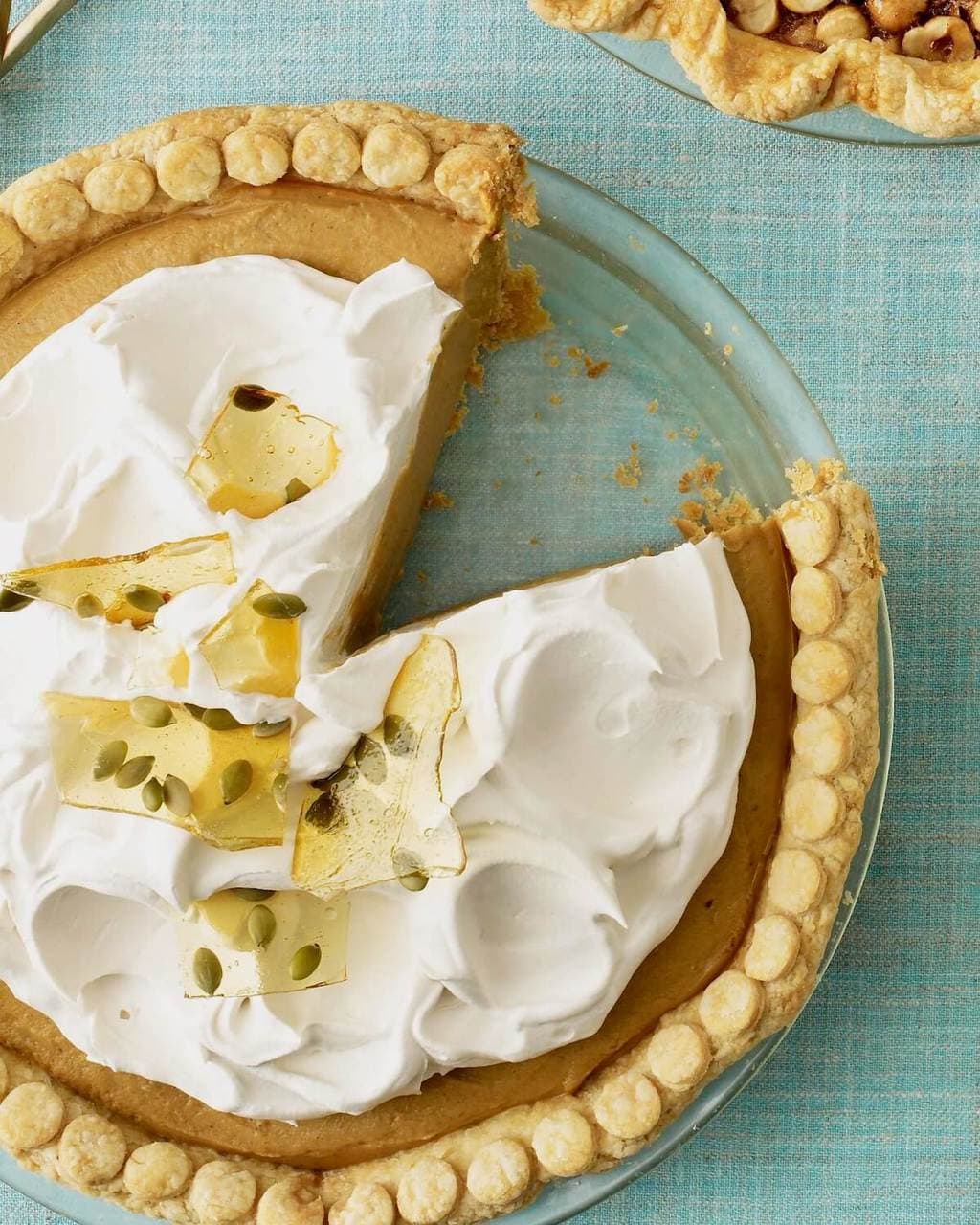 Classic pumpkin pie is a little too flan-like for me. I love cream pies though, and pumpkin treats.
Enter: what's very possibly the BEST pumpkin pie recipe from scratch.
This pumpkin cream recipe is essentially a rich pumpkin pudding in my favorite pie crust, classed up with shards of pepita (pumpkin seed) brittle. Gorgeous!
This isn't a pumpkin cream pie with cream cheese. No, I've made a pumpkin pudding as the filling.
It's truly a perfect Thanksgiving pumpkin pie. Plus, it's just as delicious as a day-after-Thanksgiving breakfast as the original pumpkin pie varieties!
Do you eat pie the morning after Thanksgiving? I do. Some of my faves are of course apple pie or crisp. Or Berry Pie with ice cream YES! An excuse to eat ice cream for breakfast!
Jump to:
Ingredients in Pumpkin Cream Pie
The filling of this delicious cream pie doesn't need to be baked. I make a pumpkin pudding. It's like a vanilla pastry cream with pumpkin puree and spice.
The filling is a simple mixture of brown sugar, cornstarch, half and half, and egg yolks.
I flavored the pumpkin pie filling with pumpkin pie spice. For added depth of flavor, I included a little molasses.
And, of course, I can't forget the pumpkin puree!
How to Make Pumpkin Cream Pie
The beauty of this pumpkin dessert is that it satisfies the cream pie fans and the classic pumpkin pie lovers alike.
Step 1: Pre-bake the pie crust
Sure you can buy a frozen pie crust and bake it, or use pre-made pie dough, but I have the most delicious pie crust recipe. Plus, I give you tips for absolute success.
Step 2: Make the pumpkin seed brittle
You'll want to make the pumpkin seed brittle ahead of time and set it aside to use as a garnish.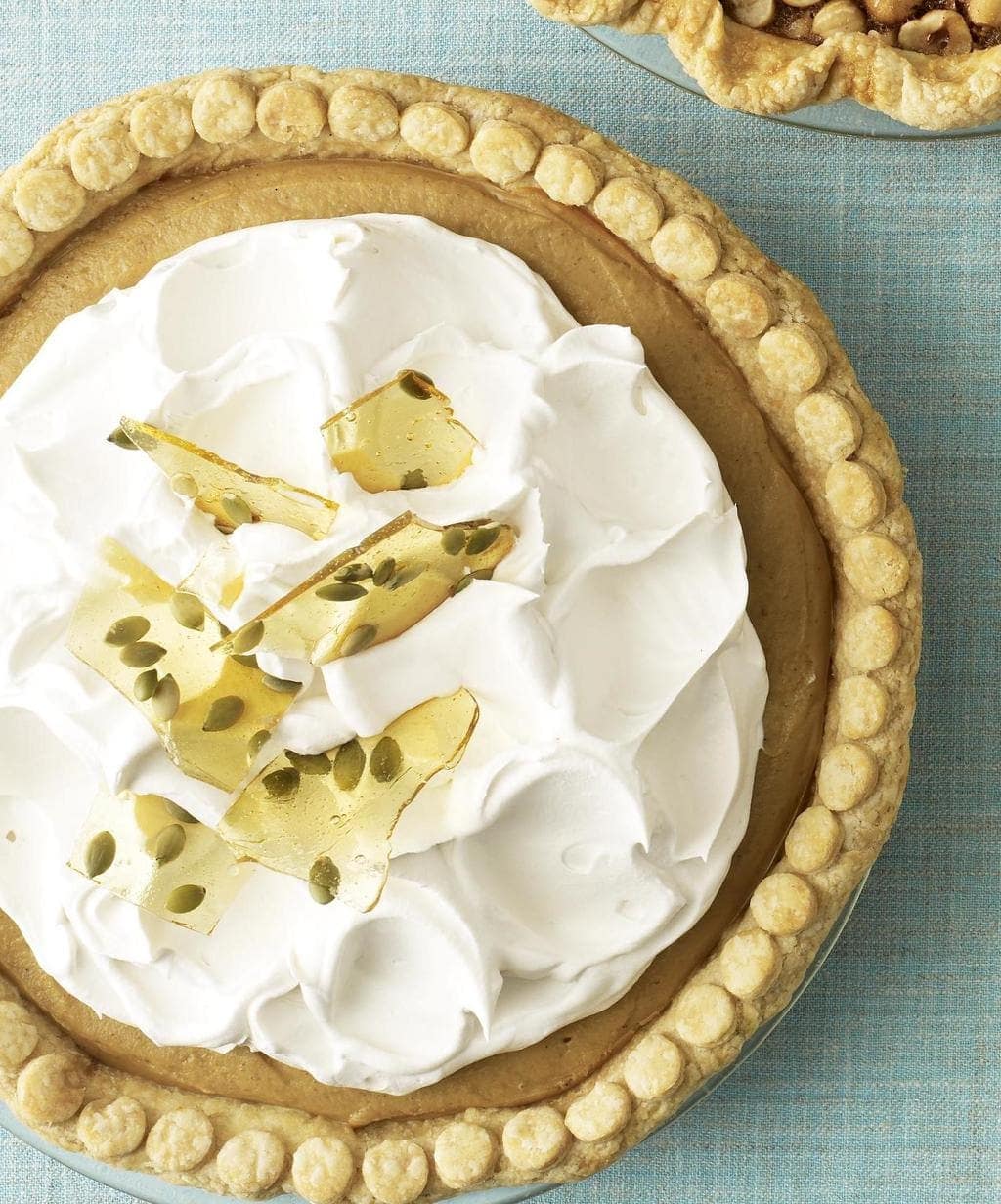 Step 3: Make the pumpkin custard
Just like pudding, you can mix the ingredients in a saucepan, whisk them together over heat, and simmer until thick.
Step 4: Fill the pie crust and chill
A pumpkin cream pie can be made ahead and chilled in the fridge. This helps it to set and hold its shape for slicing.
Step 5: Top the pie
Dollop on fluffy whipped cream and top with crunchy and sweet brittle.
This pie is delicious! It might win you the pie contest this year! Happy Thanksgiving!
How to Serve Pumpkin Cream Pie
Since this pie is a custard pie, it's delicious with whipped cream.
Like any pudding or custard pie, the fluffy, white topping is a must. Sure you can serve it with ice cream, but since it's already chilled, the whipped cream is my favorite option.
Even better, I've added a crunchy pepita brittle, made from caramelizing sugar and adding pumpkin seeds. The perfect accompaniment to a silky, creamy pie.
Should Pumpkin Pie Be Refrigerated?
Yes, because pumpkin pie has a custard-like filling, it must be refrigerated.
How Long Does Pumpkin Pie Last in the Fridge?
It will last up to five days. I recommend covering it with foil to prevent the crust from drying out.
Can Pumpkin Pie Be Frozen?
Because this is an egg custard pie, it is best not to freeze it. Freezing pudding causes it to expand and release liquid. Eat this pie right out of the fridge after you make it!
More Easy Thanksgiving Pie Recipes: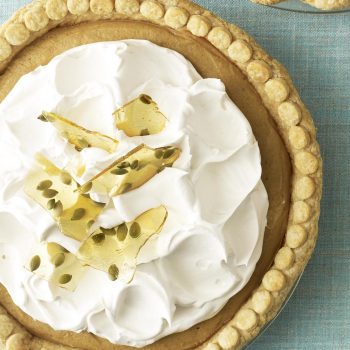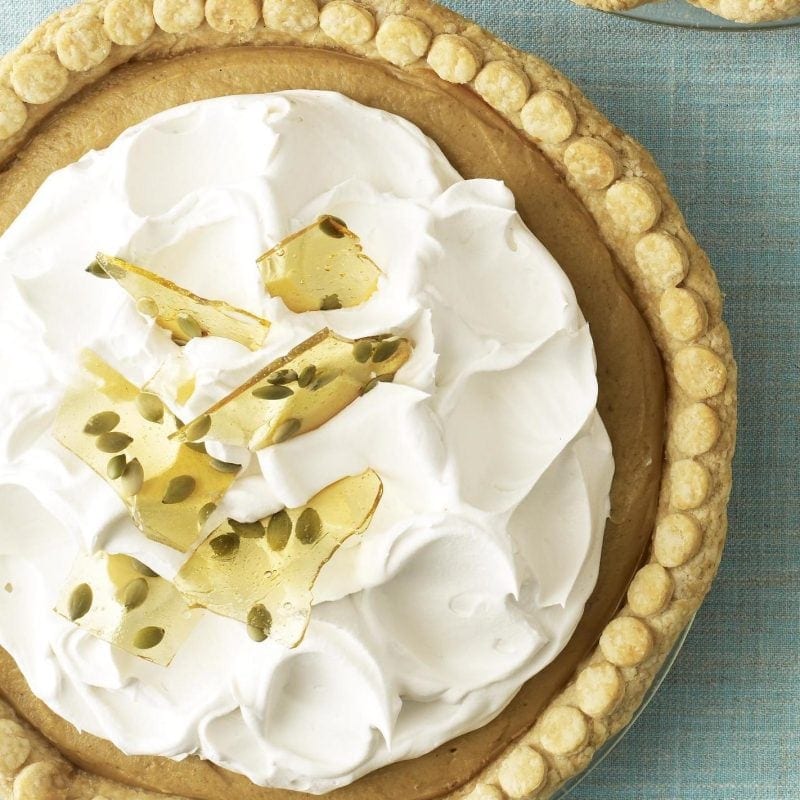 Pumpkin Cream Pie
This Pumpkin Cream Pie has a quick cooking pumpkin pudding filing in a store-bought or homemade pie crust. Topped with whipped cream and peptias, it's a no-bake dessert that's so easy to make!
Ingredients
Filling:
⅔

cup

dark brown sugar

5

tablespoon

cornstarch

2 ½

cups

half-and-half

6

egg yolks

beaten

½

teaspoon

pumpkin pie spice

¼

teaspoon

salt

2

tablespoon

unsulphered molasses

⅔

cup

pumpkin puree
Pepita bark:
¾

cup

granulated sugar

⅓

cup

hulled pumpkin seeds

(pepitas)
Whipped cream:
1 ¼

cups

heavy cream

3

tablespoon

confectioners' sugar
Instructions
Make the filling:
In a large, heavy saucepan, whisk together brown sugar, cornstarch and half-and-half. Place over medium-high heat and stir until sugar is just dissolved, about 2 minutes.

Whisk in egg yolks, pumpkin pie spice, salt, molasses and pumpkin puree. Reduce heat to medium and cook, stirring constantly to prevent clumping, until pudding thickens and just boils, 10 to 15 minutes.

Remove from heat. Place pan in a bowl of ice and water and stir occasionally until custard cools.

Remove from ice bath, dry pan bottom and transfer custard to prepared crust. Smooth surface and cover with plastic wrap, gently pressing wrap onto surface of pudding; refrigerate 3 hr or overnight.
Make the pepita bark:
In another heavy saucepan, stir together granulated sugar and ¼ cup water over medium-high heat until sugar is completely dissolved.

Remove spoon and brush inside edge of pan with a wet pastry brush to remove remaining sugar crystals, then swirl pan occasionally until sugar begins to caramelize.

When caramel is medium amber in color, pour onto parchment in a thin layer and sprinkle with pumpkin seeds.

Let cool completely and break into shards.
Make the whipped cream:
Whip cream and confectioners' sugar until firm peaks form and spread onto chilled pie. Garnish with pumpkin-seed brittle.
Notes
Refrigerate the pie to store for up to four days covered. Do not freeze the pie, the pudding texture will change.
Nutrition
Calories:
576
kcal
Carbohydrates:
65
g
Protein:
7
g
Fat:
32
g
Saturated Fat:
17
g
Cholesterol:
225
mg
Sodium:
220
mg
Potassium:
322
mg
Fiber:
1
g
Sugar:
44
g
Vitamin A:
4185
IU
Vitamin C:
1.7
mg
Calcium:
156
mg
Iron:
1.9
mg
Delicious Pie and Tart Recipes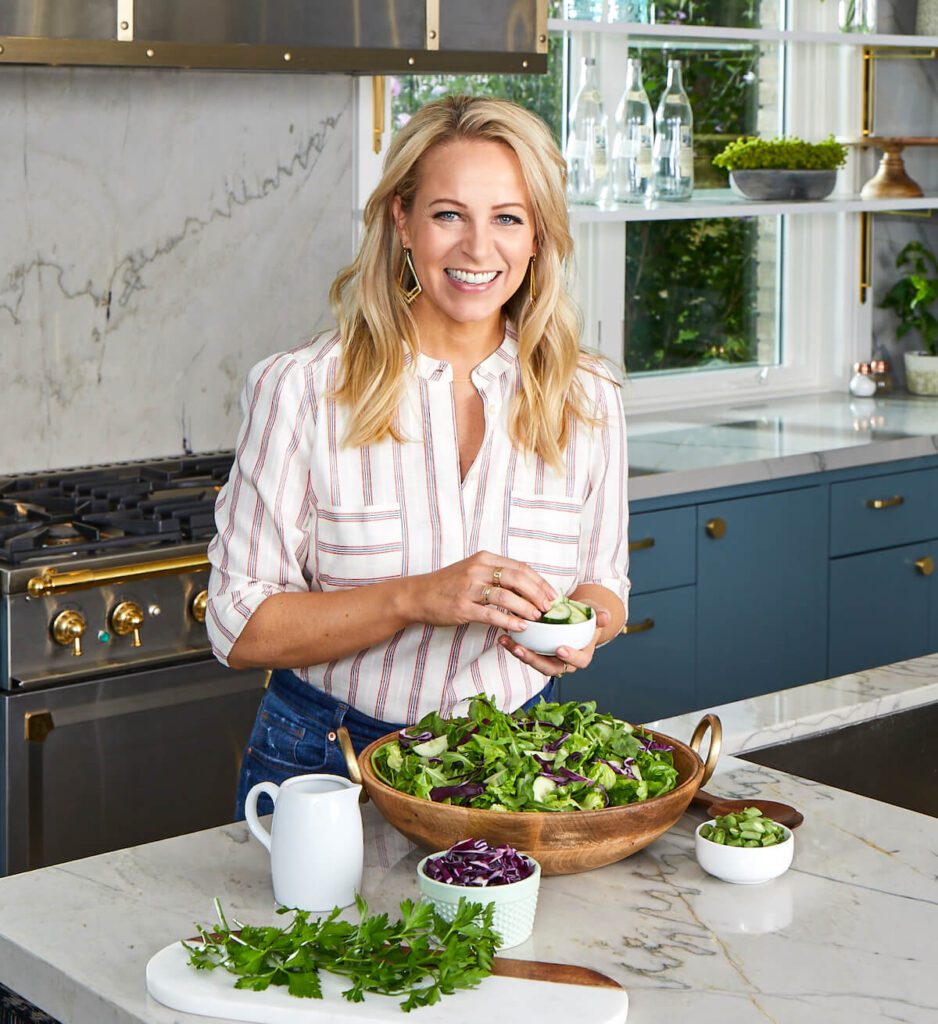 About Tara Teaspoon
I've been in the food publishing business for over 20 years, creating recipes & food-styling for magazines, books, television & advertising. Order my new cookbook & stick around for amazing things to eat.