---
Pecan Streusel Apple Pie makes a classic even better. With nuts and spices layered in between sliced apples, it's a fall dessert that will make everyone happy as, pie!
---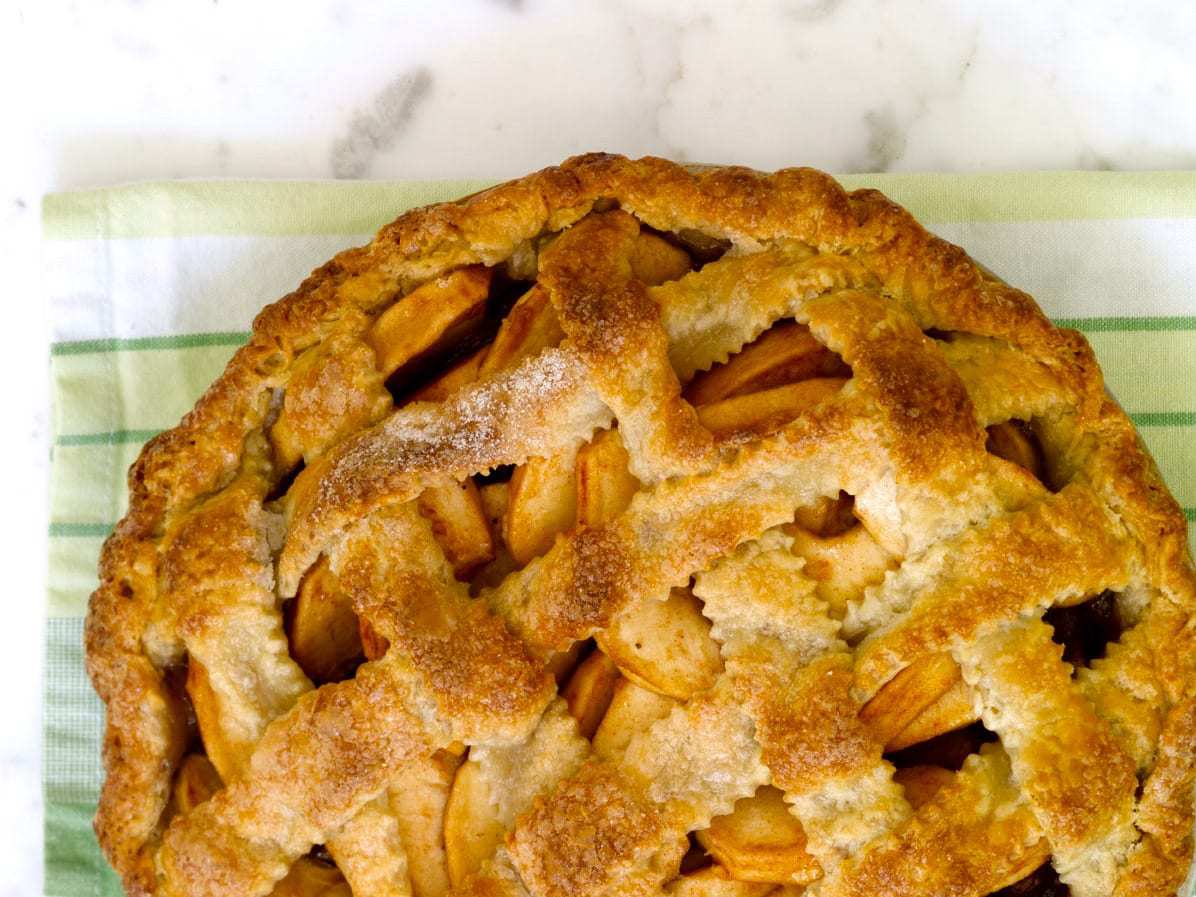 Pecan streusel apple pie takes a classic fall dessert to the next level. I nestled nuts, spices and apples into my perfect pie crust and baked it to perfection. You can make this delicious fall treat too.
What makes apple pie special?
Apple pie is a classic apple dessert. Not much is more quintessentially American as the saying goes. I've had some tasty French apple tarts, but they just don't compare to real, American apple pie. So what makes apple pie so special?
I think it's the combination of apples grown on our own soil, a flaky, buttery crust, delicious spices and sweet sugar. That's just my opinion though!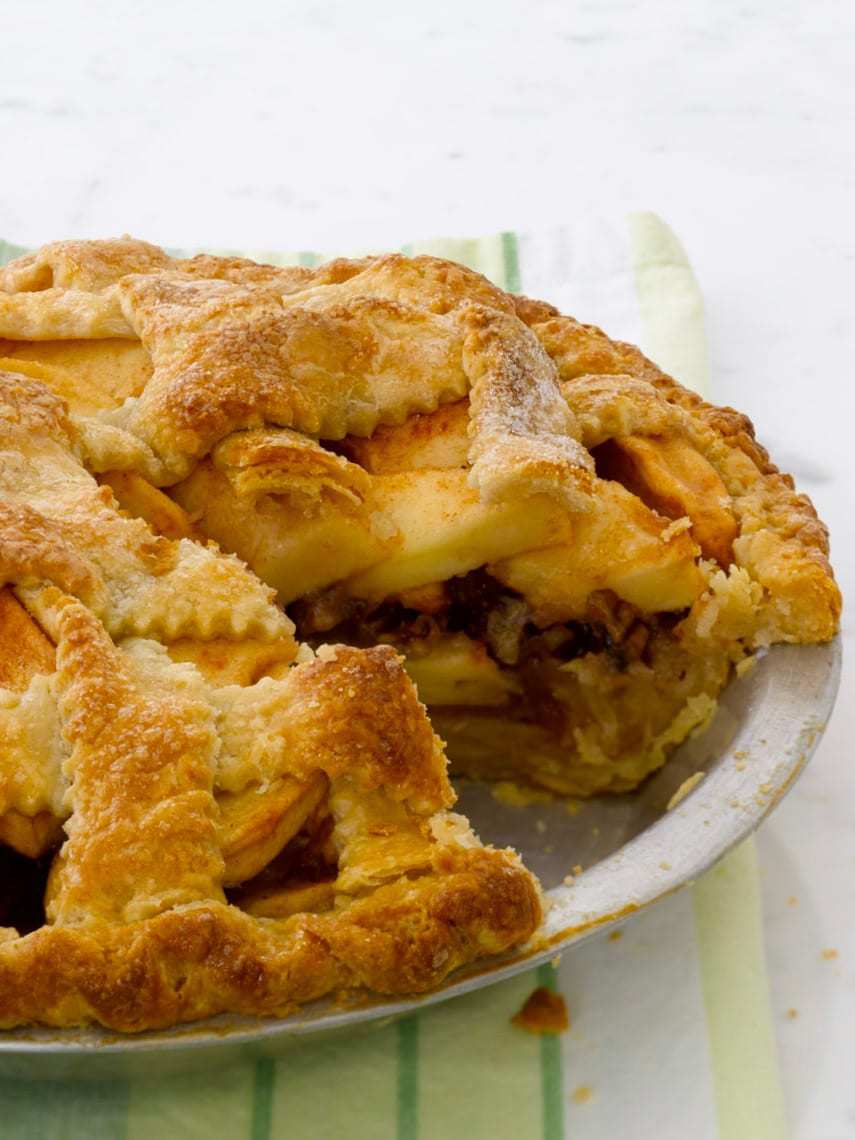 I have had apple crumble pies. They popped up a few years ago and are now a staple at Costco and other grocery store bakeries. I love a good crumble topping. Sometimes it's a streusel topping, and that's tasty as well. But I really like a traditional double crust apple pie!
What is streusel?
Traditionally streusel is a mixture of flour, sugar and butter. It creates a sugary dough that gets crumbled and baked on top of muffins, breads and desserts. It can often include nuts, which is what I did with my pecan streusel filling in this apple pie.
This double crust apple pie has a layer of pecan streusel right in the middle!
The word is from German origin and means to scatter or sprinkle. The perfect description for what a streusel topping is.
Back to this tasty Pecan Streusel Apple Pie. I wanted a double crust apple pie, with the tasty benefit of a nutty streusel, so I decided to layer that streusel in between the apples. Oh it's glorious!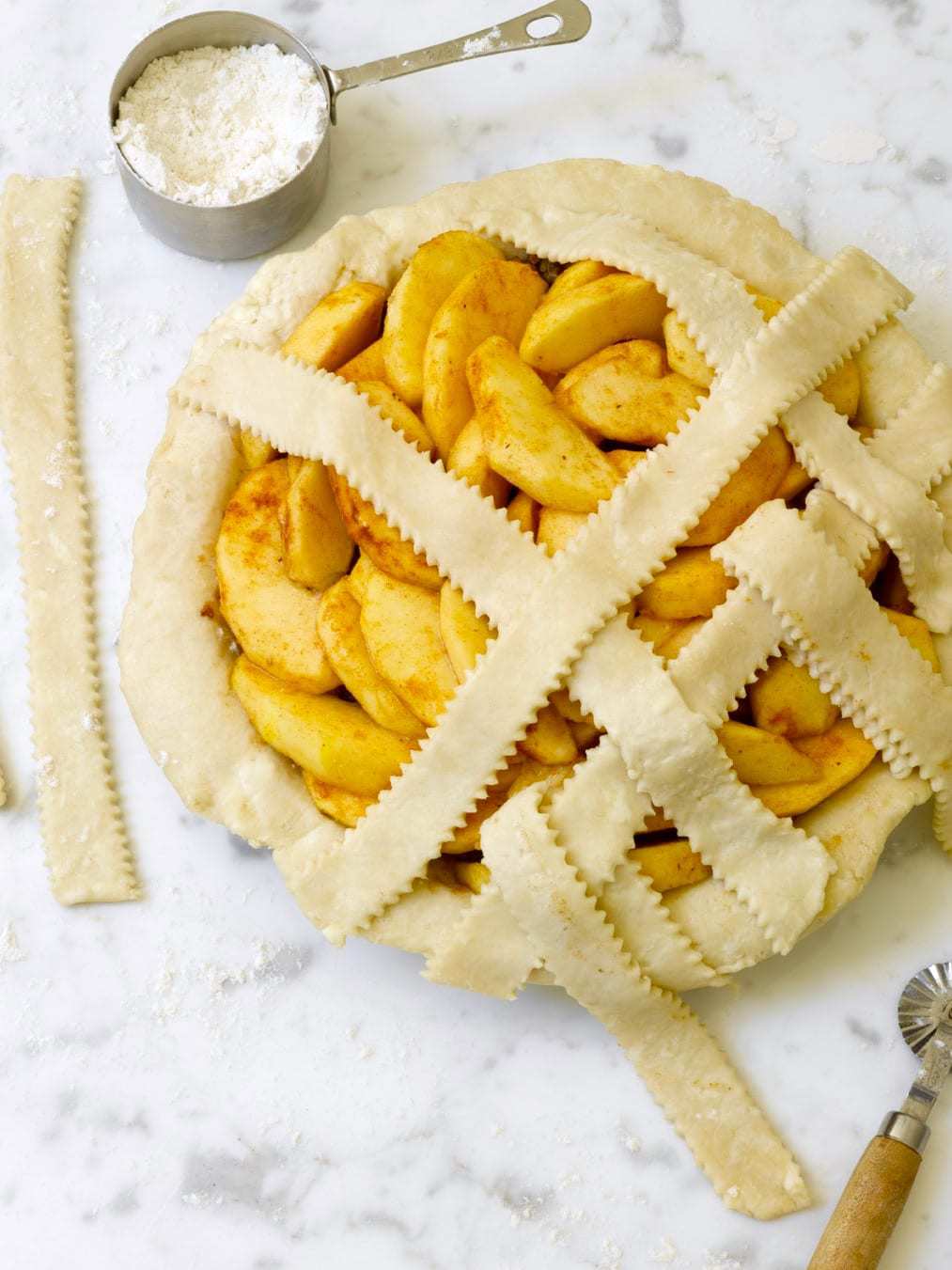 I used my Perfect Pie Crust for the butter and flakey pastry. Click over to that post and get extra tips on how to make and roll out pie crust. The recipe makes a double crust, just right for an apple pie, deep dish or regular.
Make the perfect pie crust to go with this pecan-layered apple pie.
I made a lattice top by cutting strips from the second piece of rolled-out pastry, and weaving them on top of the apples. You could do a full sheet of crust on top and just vent it with a few cuts in the top. That would be just as tasty and just as pretty. Take a look at my Beautiful Pie Crusts post for more ideas!
For rolling, I love the rolling pin I mention in my article about rolling pastry. I also like this J.K. Adams rolling pin, you can fine online!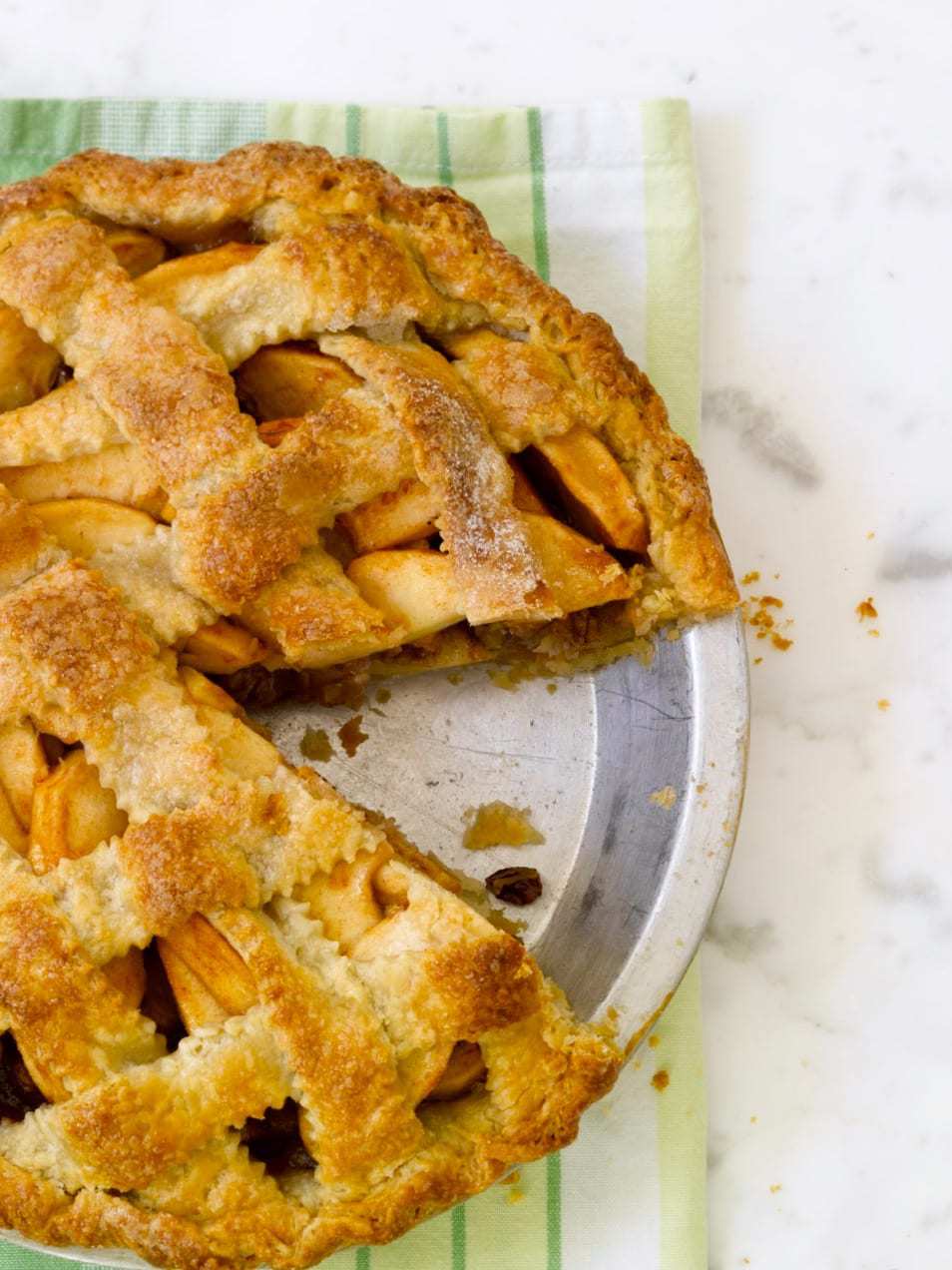 I'm so excited for you to try this pecan streusel apple pie. I think it will be a hit all fall and through the holidays. The perfect pie to enter into this year's family Pie Contest at Thanksgiving (wink).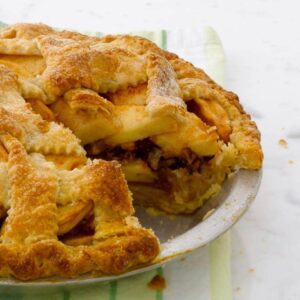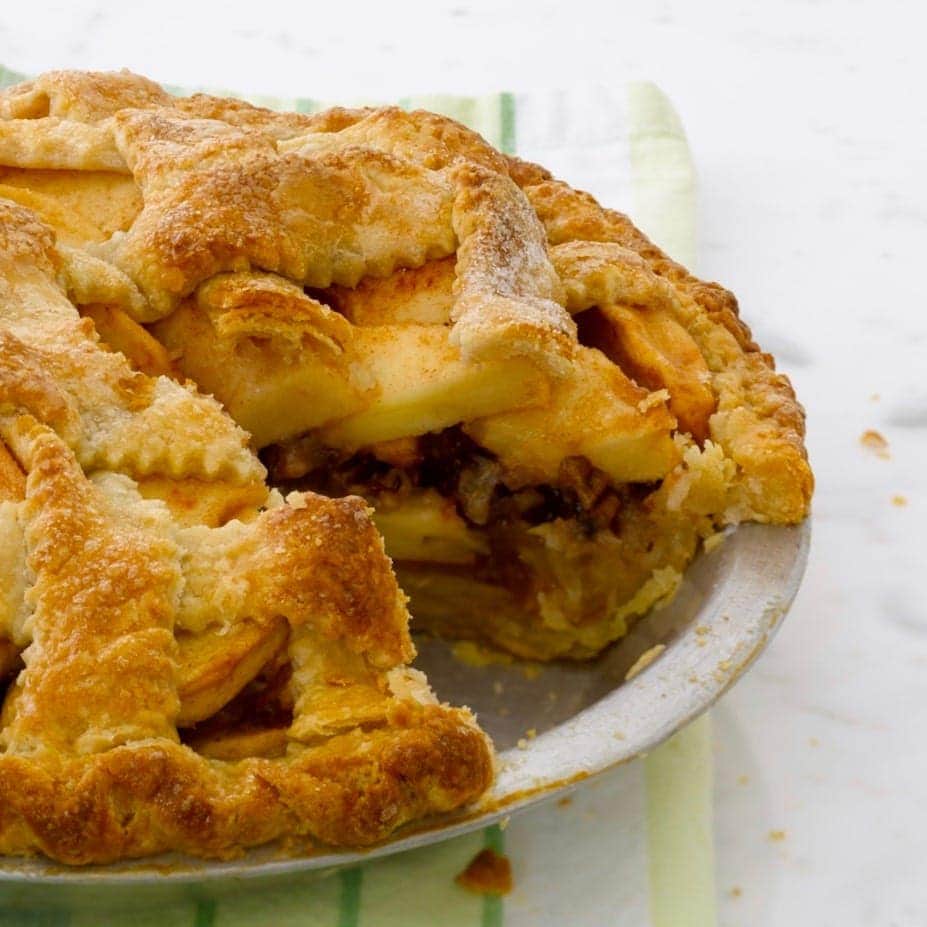 Pecan Streusel Apple Pie
Pecan Streusel Apple Pie makes a classic even better. With nuts and spices layered in between sliced apples, it's a fall dessert that will make everyone happy as, pie!

Ingredients
1

recipe

Perfect Pie Crust

2½-3

lbs

baking apples

½

cup

granulated sugar

plus more for top

¼

cup

cornstarch

¾

teaspoon

ground cinnamon

½

tsp

ground ginger

Pinch

nutmeg

¾

cup

pecans

coarsely chopped

3

tablespoon

unsalted butter

melted

2

tablespoon

light brown sugar

packed

1

egg, large
Instructions
On a lightly floured surface, roll out 1 pie-crust disk into a 14-inch round. Fold in half and transfer to a 9½-inch deep-dish pie plate. Unfold dough and gently lift into place. Trim edges to a ½-inch overhang and transfer to freezer.

For apple filling, peel, core and cut apples into ⅛- to ¼-inch-thick slices. In a large bowl, gently toss together apples, granulated sugar, cornstarch, ½ teaspoon cinnamon, the ginger and nutmeg.

In another bowl, combine nuts, butter, brown sugar and remaining ¼ teaspoon cinnamon. Fill crust with half of the apples, evenly sprinkle with nut mixture and top with remaining apples.

Heat oven to 425°F and place rack in lower third. On a lightly floured surface, roll out remaining disk into a 14-inch round. Using a fluted pastry wheel, cut into eight 1-inch-wide strips Vertically arrange half of strips over filling. Horizontally weave in remaining strips, gently lifting vertical strips. Adhere to bottom crust with some water; trim and crimp. Beat egg with 1 tablespoon water; brush over lattice. Generously sprinkle with granulated sugar.

Bake on a baking sheet 25 min. Reduce oven to 375°F and bake until apples are tender (test by piercing with a paring knife) and juices are bubbling, about 1 hr 15 min. If crust browns too quickly, cover with foil. Transfer pie to a wire rack and let cool at least 1½ hrs before serving. Serve warm or at room temperature.
Notes
I often cover my entire pie at the time I reduce the oven heat. This protects the crust from over-browning. Then I remove the foil the last 15 minutes or so to let the crust get golden.
Nutrition
Calories:
374
kcal
Carbohydrates:
52
g
Protein:
3
g
Fat:
18
g
Saturated Fat:
5
g
Cholesterol:
31
mg
Sodium:
113
mg
Potassium:
221
mg
Fiber:
5
g
Sugar:
30
g
Vitamin A:
240
IU
Vitamin C:
6.5
mg
Calcium:
29
mg
Iron:
1.2
mg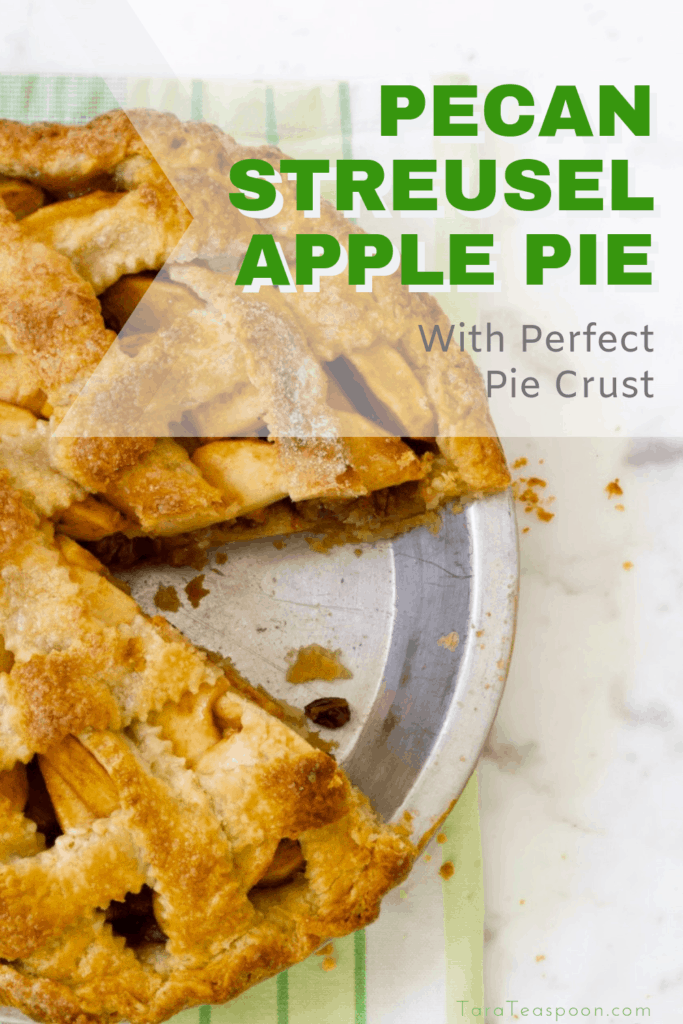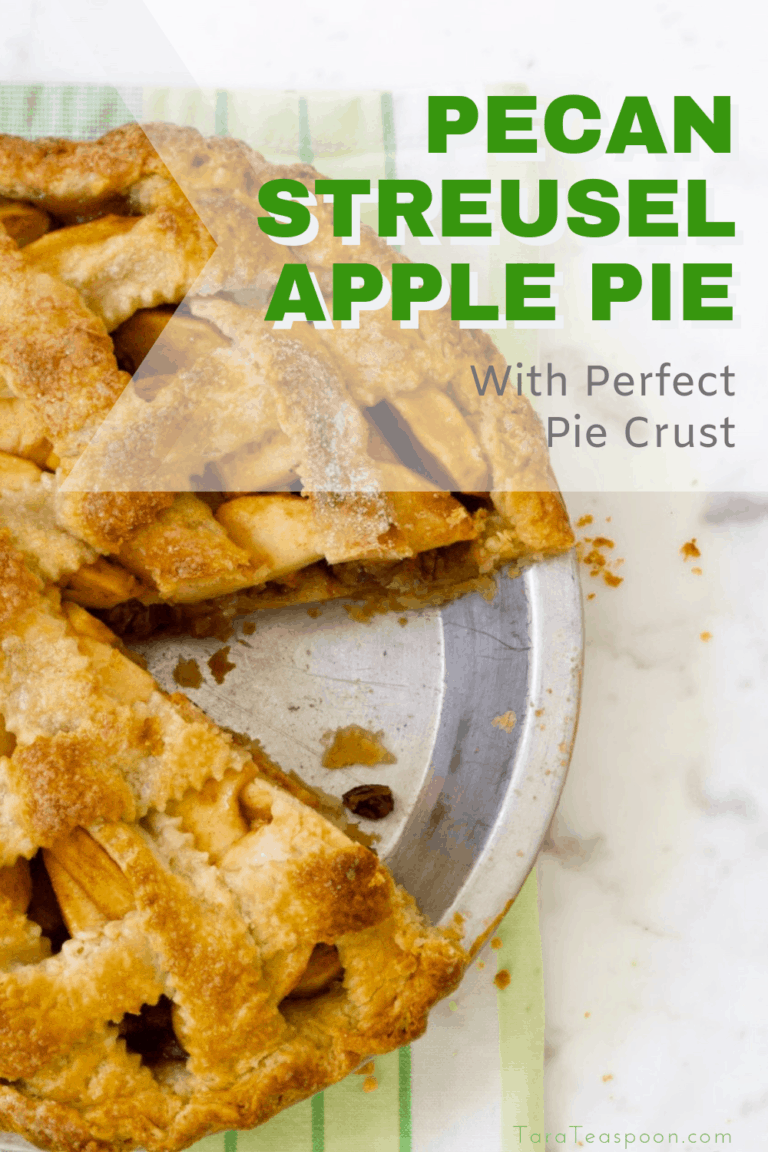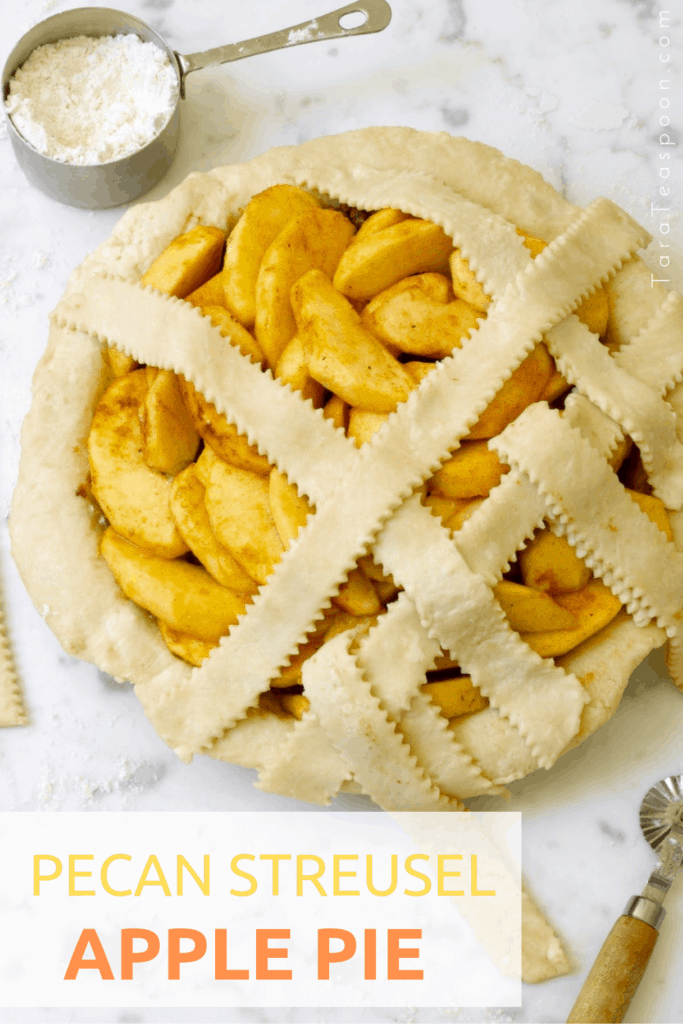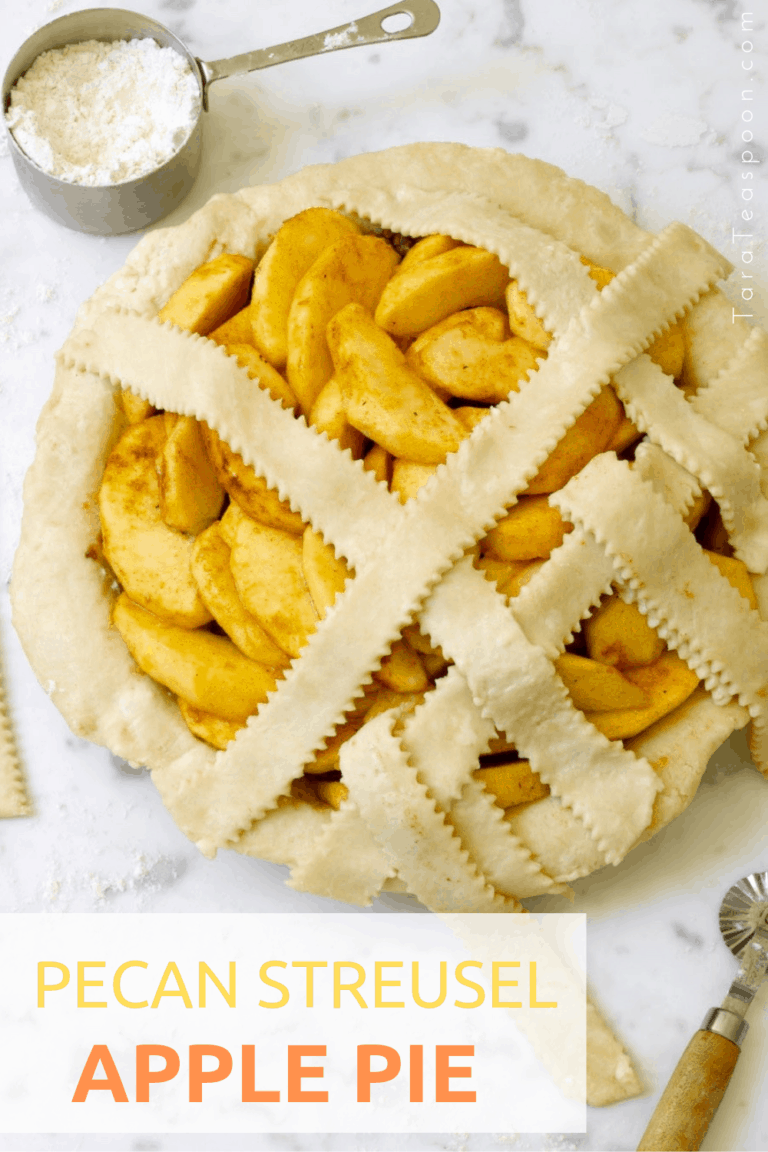 Delicious Pie and Tart Recipes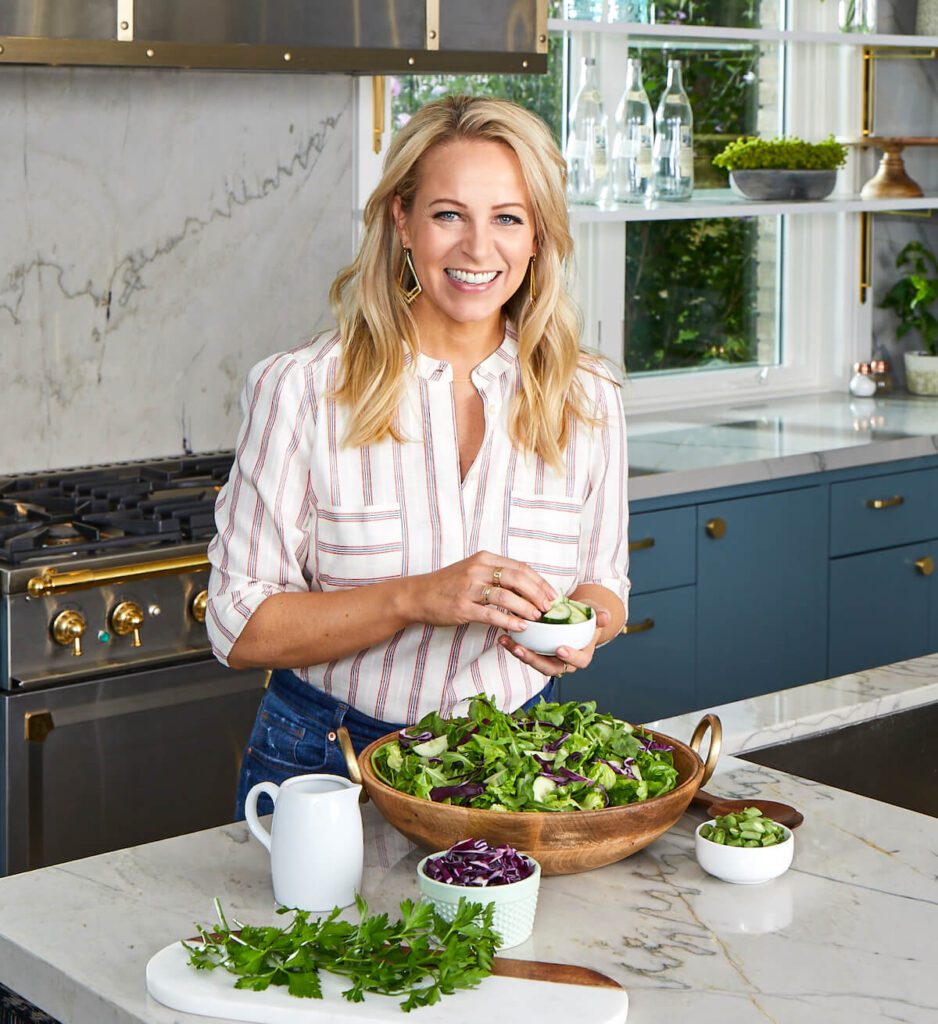 About Tara Teaspoon
I've been in the food publishing business for over 20 years, creating recipes & food-styling for magazines, books, television & advertising. Order my new cookbook & stick around for amazing things to eat.
Recipe and food styling by Tara Teaspoon. Photography Lisa Hubbard. Originally published in LHJ 9/08