---
One of the most popular rhubarb desserts! Truly the best rhubarb crisp recipe, with a transcendent sweet and crunchy oat topping. No strawberries! Just pure, vanilla-sweetened rhubarb, thickened with tapioca.
---
Of all the easy rhubarb recipes out there, this one is classic, unadulterated bliss. A simple, buttery oat topping bakes on top of sweetened and perfectly saucy rhubarb.
Find out how to prepare rhubarb in minutes, and then top with a sweet and crunchy topping (that goes magically with ice cream!).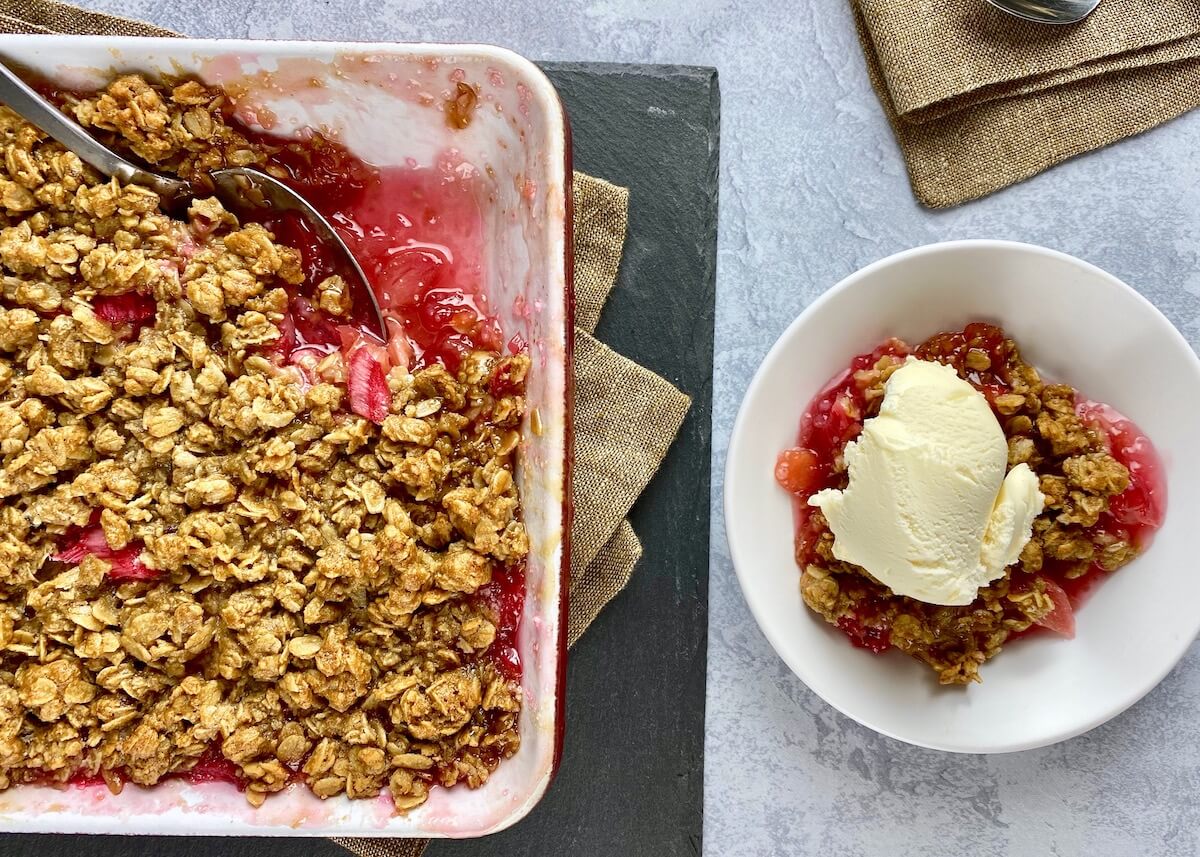 Jump to:
Start here! Do you use fresh or frozen rhubarb?
When it is in season I use fresh rhubarb for this crisp recipe. Harvested fresh rhubarb stores well in the fridge for up to 10 days, so you can make this recipe a few times! (At least that's how my brain works)
Frozen rhubarb actually works really well with this crisp. The tapioca thickens it perfectly as well as any extra liquid it might extract due to freezing.
Check out my article on freezing rhubarb.
---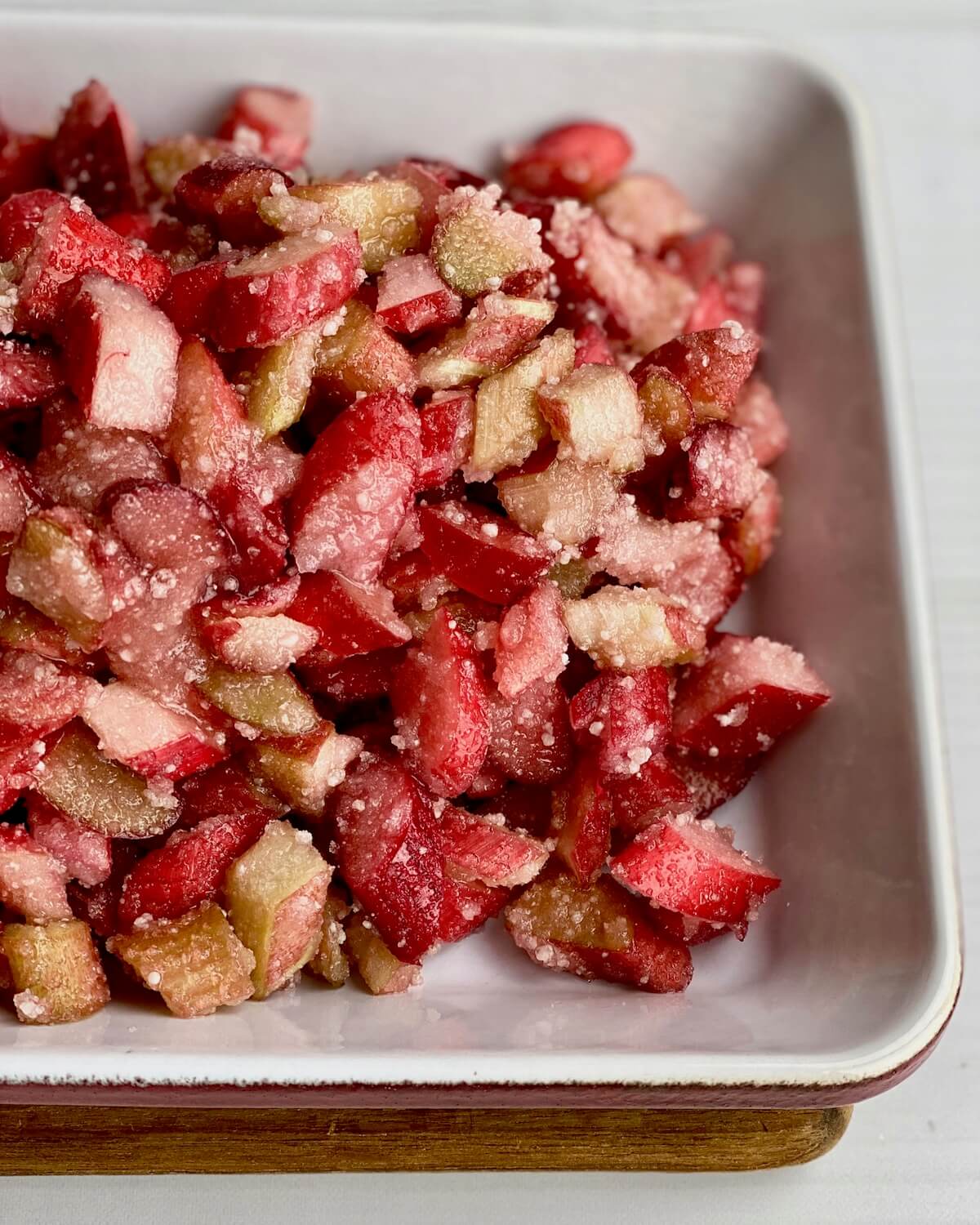 Make the best rhubarb crisp with just rhubarb! No strawberries.
I'm a purist! I like my rhubarb desserts with just rhubarb. Don't put strawberries with my delicious rhubarb!
There, I said it! The strawberry and rhubarb combination is sweet and quite classic. That being said, I personally prefer strawberry desserts and rhubarb desserts separate. Alone. By themselves!
In this just-rhubarb crisp, neither fruit competes for the crown, and I can really taste the tangy rhubarb.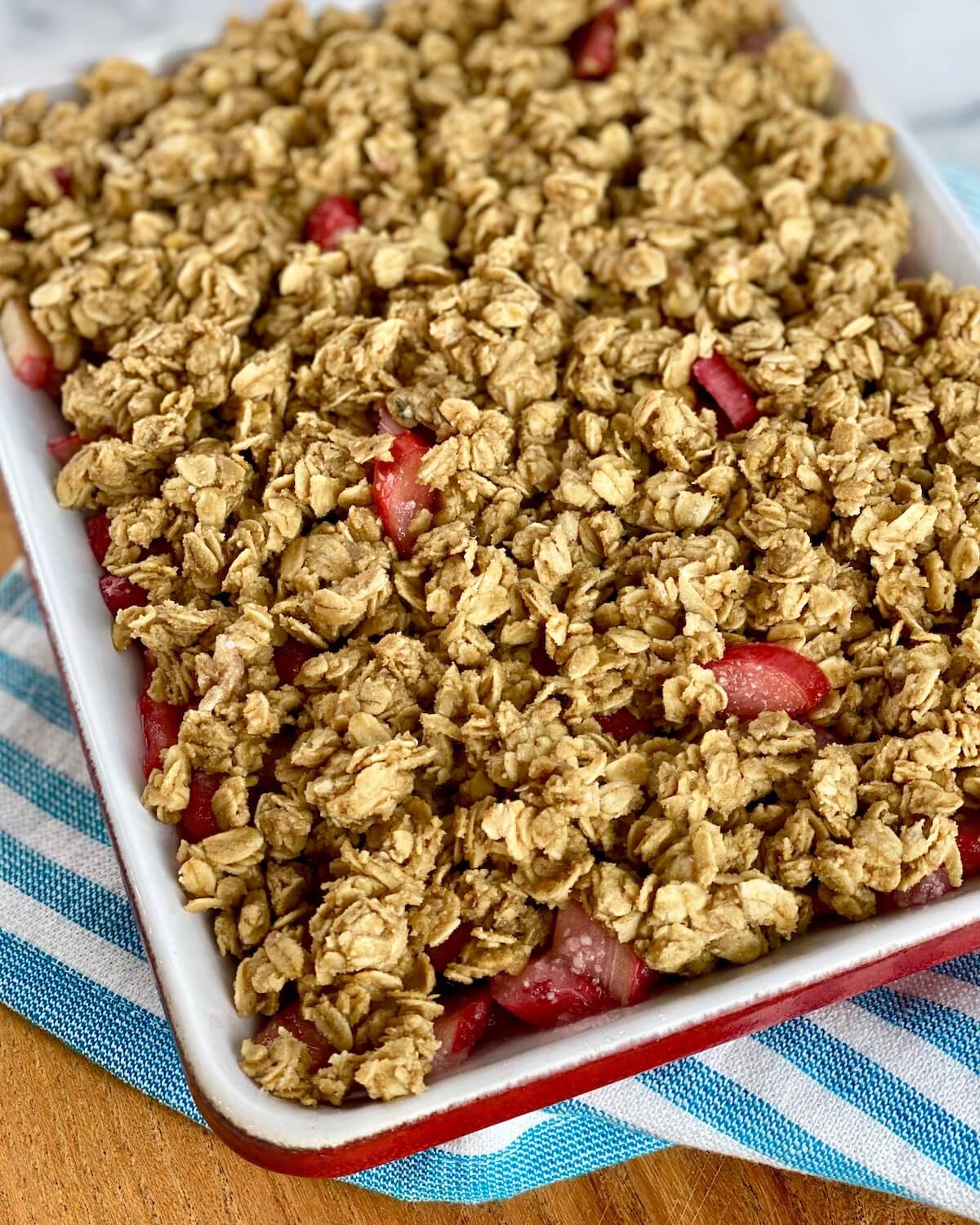 The best, buttery oatmeal topping
I keep my oat topping simple, sweet and crunchy. And a personal preference: plenty of crisp topping!
I always want an extra bite of crisp topping when I'm eating rhubarb crisp and so, just like my amazing apple crisp recipe, I load on the topping. And it tastes like your favorite oatmeal cookie!
No nuts, no seeds, just buttery, sweet oats!
Of course you can add nuts and spices to the topping!
If you'd like pecans or other nuts in your topping, just remove ¼ cup of the oats and add ½ cup chopped pecans.
To add spice, stir in ½ teaspoon ground cinnamon or ginger when mixing the topping together.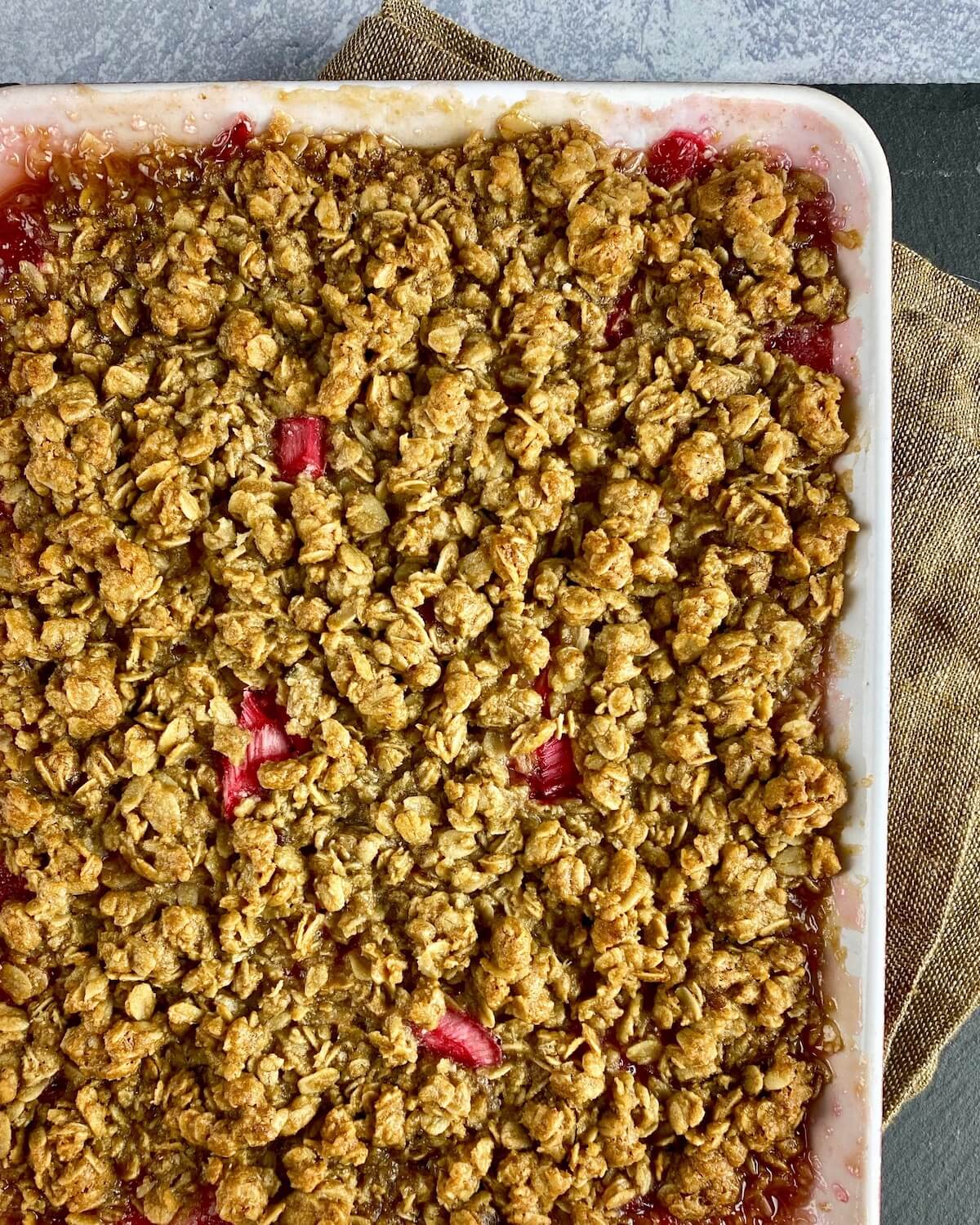 What makes this the best oat crisp topping?
I make my topping like an oatmeal cookie! (Try my classic oatmeal cookies with icing!) Add a little flour to help bind the oats and sugars together.
I use a little leavening to lighten the topping and keep it crisp. Without the baking soda, crisp topping can be hard and too crunchy for my taste.
Brown sugar helps with the rich caramelized flavor, and keeps the topping toothsome, without being like sugary rock candy.
Don't melt the butter! I know, I know, some recipes say melting the butter for crisp topping makes it better. I'm here to tell you it doesn't make mine better! I want the air in the butter while I mix all the ingredients together.
Don't melt the butter:
Mixing softened, but not melted butter into the oats, sugar and flour helps the topping bake up light and crisp.
When you melt the butter, it coats the ingredients like oil, weighing it down and making a dense topping.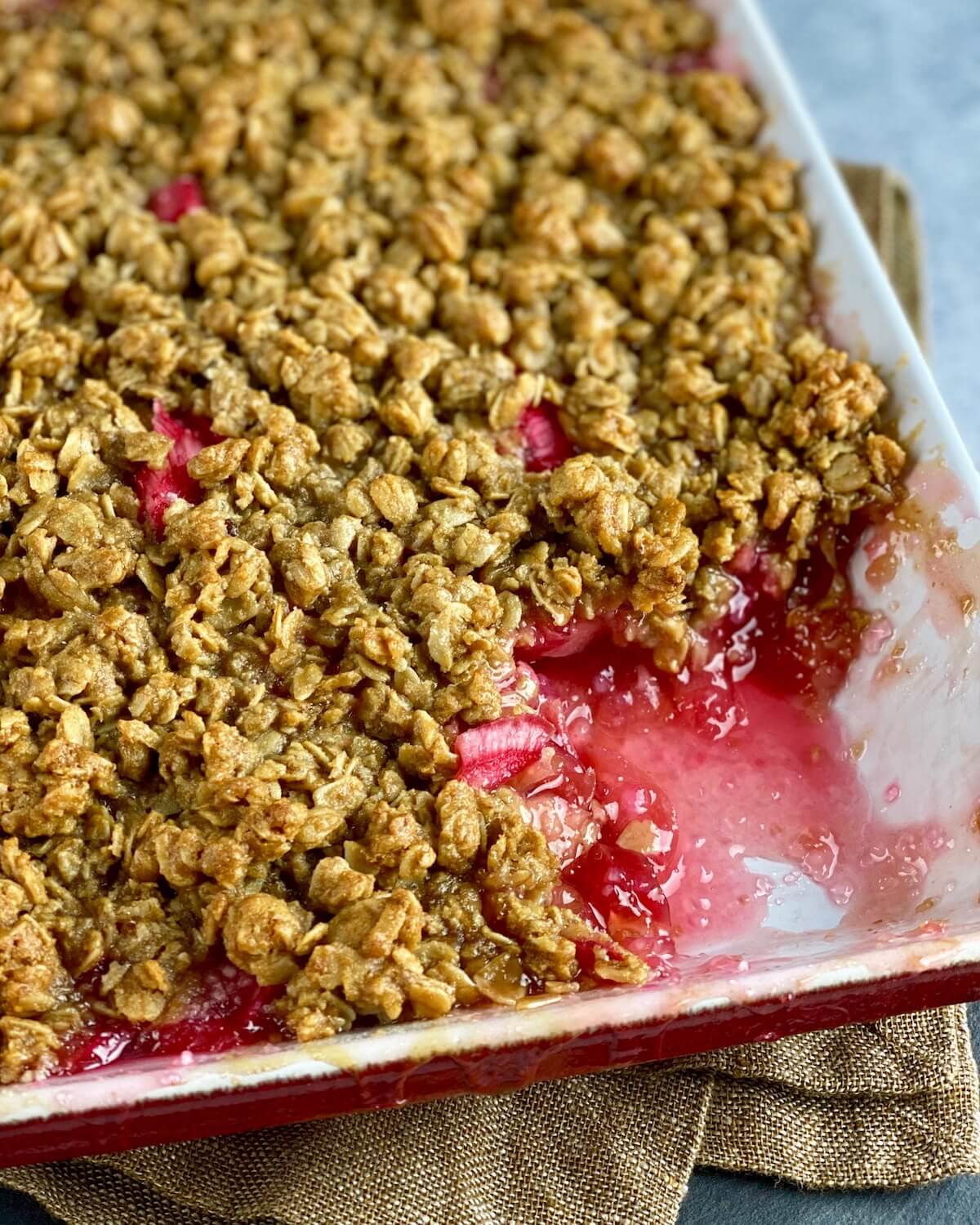 How to thicken rhubarb crisp:
There are several delicious ways to thicken the juices that cook out of the rhubarb as it bakes. I prefer instant tapioca. To me, it makes this the best rhubarb crisp.
Other thickeners are flour, cornstarch and even arrowroot. Instant tapioca, cornstarch and arrowroot are all gluten-free if you'd like to keep this a gluten-free rhubarb crisp.
The instant tapioca creates a clear, soft-jellylike sauce around the rhubarb. I've figured out the perfect amount so the juices don't run all over, but still taste flavorful and pleasant–and it doesn't make the crisp on top soggy.
Is this gluten-free rhubarb crisp?
You can make this recipe regular or gluten-free!
I call for a little bit of flour in the crisp topping to create a light, cookie-like texture. You can swap all-purpose wheat flour for gluten-free flour. I prefer, and use Cup4Cup brand GF flour.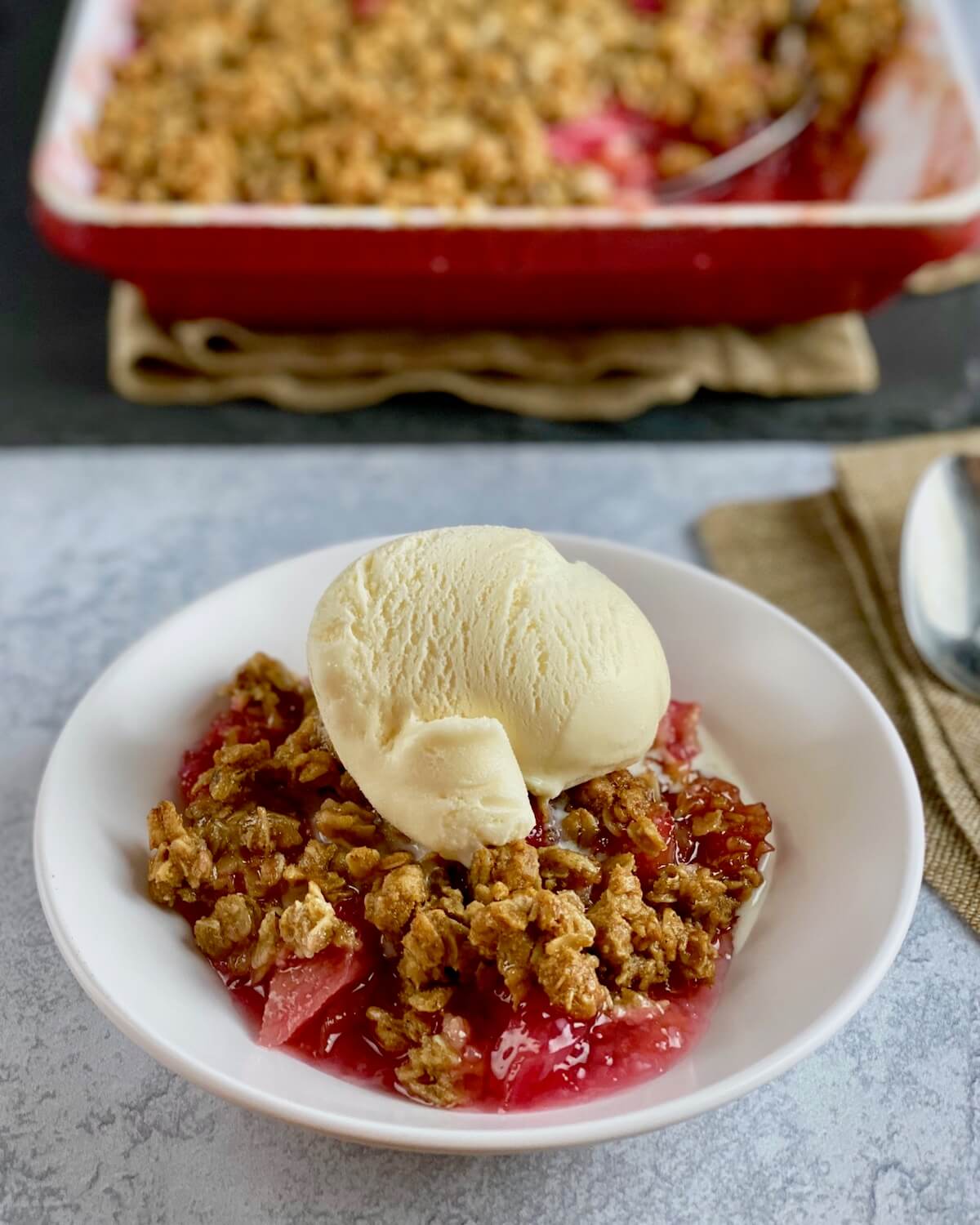 Serving rhubarb crisp
You can serve this crisp with a dollop of sweetened whipped cream or my homemade eggless Vanilla Ice Cream recipe.
It's also delicious simply drizzled with cold heavy cream.
More rhubarb desserts and tips: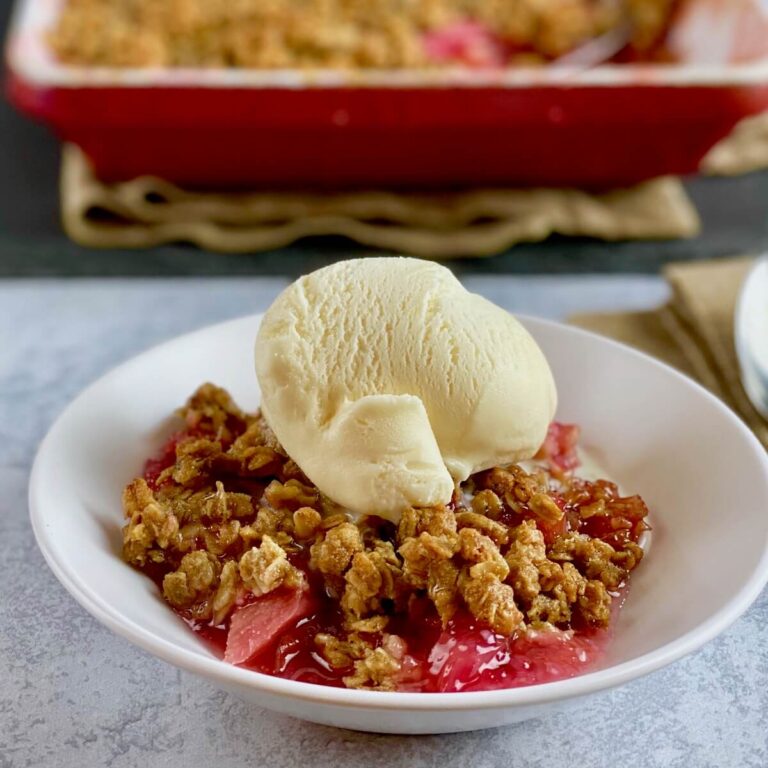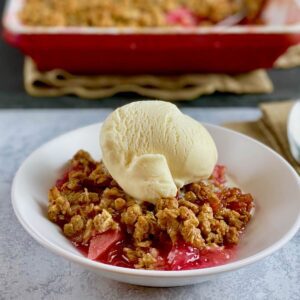 The Best Rhubarb Crisp Recipe
My family-favorite rhubarb crisp recipe with a transcendent sweet and crunchy oat topping. No strawberries! Just sweetened, vanilla-scented rhubarb, thickened with tapioca.
Ingredients
Crisp Topping
1¾

cups

rolled oats

2½

tablespoons

all-purpose flour

½

cup

light or dark brown sugar, packed

Pinch

salt

¼

teaspoon

baking soda

6

tablespoons

butter, softened
Rhubarb Filling
5¼

cups

(22 oz) diced rhubarb

1

tablespoon

lemon juice

2

teaspoons

vanilla extract

1¼

cups

granulated sugar

8

teaspoons

instant tapioca

Ice cream for serving
Instructions
For the Crisp
Heat oven to 350ºF.

In a medium bowl, combine the oats, flour, brown sugar, salt, and baking soda and stir to combine. Add the butter and use clean hands to mix the butter into the dry mixture. Mix, squeezing the butter into the oat mixture, until it is well blended and the texture is like cookie dough. Set aside.
For the Filling and Baking
In a large bowl toss together the rhubarb, lemon juice, vanilla, sugar and tapioca. Transfer to an 8-inch-square baking dish or pan, or a 1½ qt baking dish. Spread rhubarb into an even layer in the dish.

Crumble oat topping over the rhubarb in an even layer. Place dish on a foil-lined baking sheet and transfer to the oven.

Bake until juices are bubbling throughout, and crisp-topping is deep golden brown, 38 to 45 minutes. Remove from the oven and let cool 15 to 30 minutes. Serve warm with ice cream.
Notes
• Nutrition facts are without ice cream.
• I cut the rhubarb into ½-inch pieces.
• You can add nuts to the toppings: Reduce the oats by ¼ cup and add ½ cup chopped pecans.
Nutrition
Calories:
477
kcal
Carbohydrates:
88
g
Protein:
5
g
Fat:
13
g
Saturated Fat:
8
g
Cholesterol:
30
mg
Sodium:
157
mg
Potassium:
417
mg
Fiber:
4
g
Sugar:
61
g
Vitamin A:
459
IU
Vitamin C:
10
mg
Calcium:
123
mg
Iron:
2
mg
---
Delicious Pie and Tart Recipes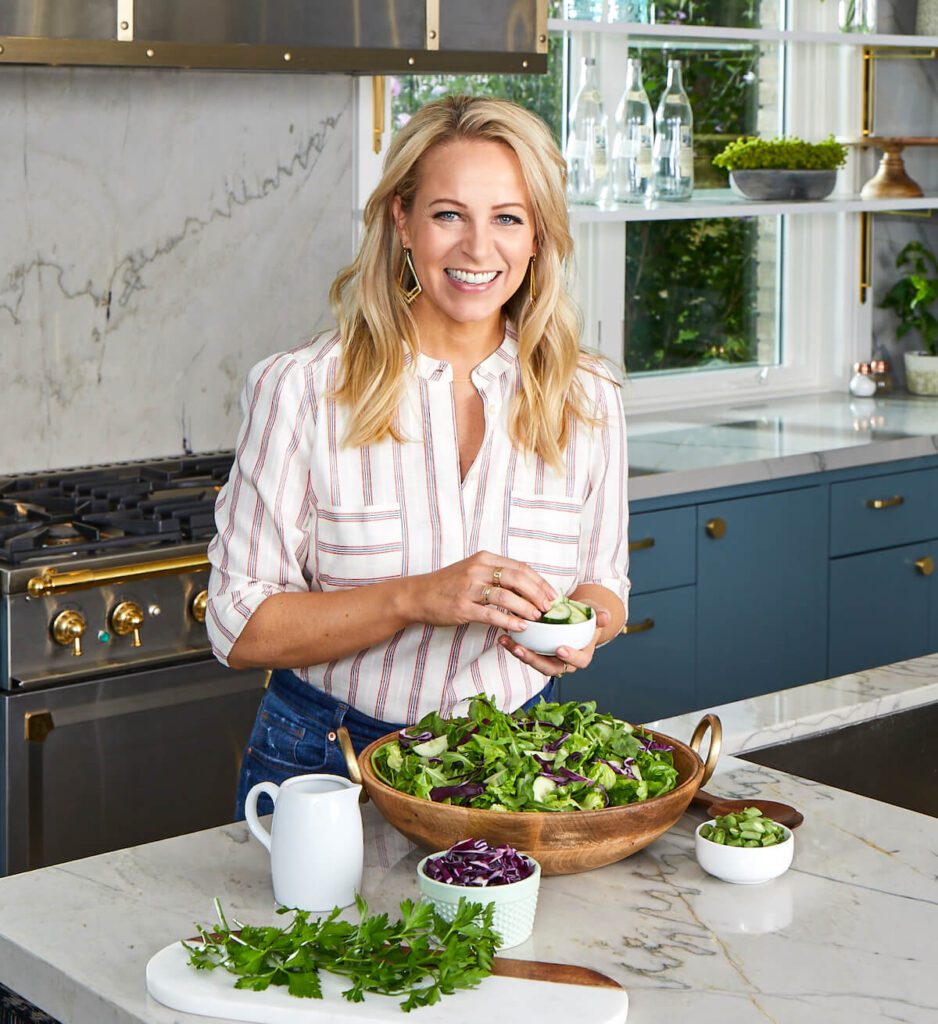 About Tara Teaspoon
I've been in the food publishing business for over 20 years, creating recipes & food-styling for magazines, books, television & advertising. Order my new cookbook & stick around for amazing things to eat.