---
A bite of these tender streusel-topped rhubarb muffins, slathered with butter, is transcendent! This rhubarb muffin recipes has the essence of orange zest and are loaded with fresh or frozen rhubarb.
---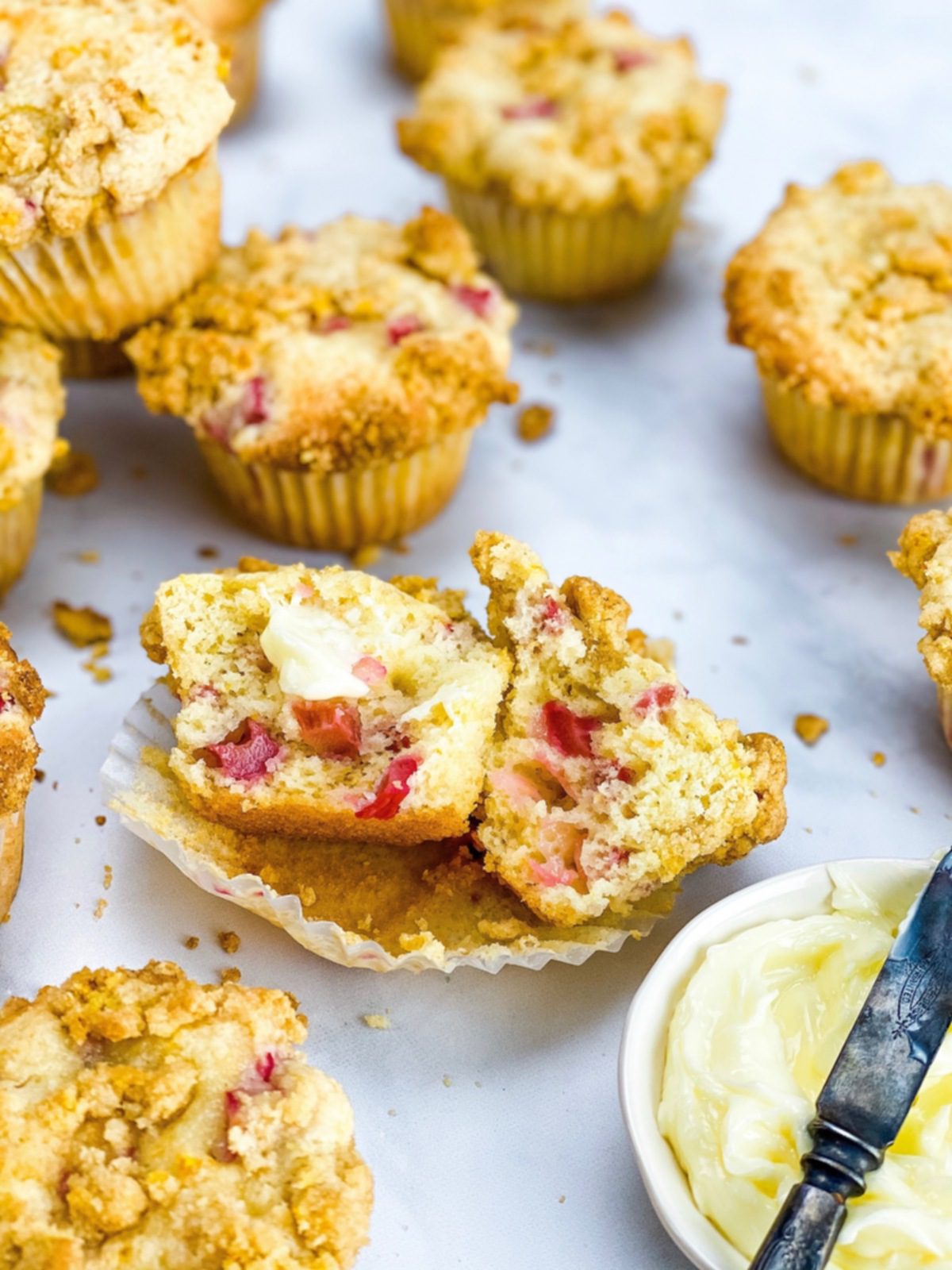 Rhubarb Muffin Recipe:
A welcome morning treat, or weekend nibble, these muffins are perfect in the spring when rhubarb is in season and you have that bumper crop (or your friendly neighbor keeps bringing you hers!). Plus these work well when you pull frozen rhubarb out of the freezer, anytime of year.
See my post on how to freeze rhubarb.
One of the great things about these muffins is that they stay tender and soft for days after baking! They are delicious warm out of the oven, but also tasty stored for later.
I've loaded them with orange and cinnamon streusel because everyone loves a butter streusel topping. I mean who wouldn't?
Click to any topic in this post:
Jump to:
Tender cake rhubarb muffins
These rhubarb muffins are made using standard cake ingredients like butter, sugar, eggs and milk. The mixing method is also a classic cake method where I cream the butter and sugar, add the eggs and vanilla, then alternately add the milk and dry ingredients.
This method creates a tender, cake-like muffin and holds the rhubarb bits and streusel perfectly.
I've added 2 egg yolks for richness, and orange zest for a boost of flavor.
There is no buttermilk in these rhubarb muffins. Instead I use baking powder and regular milk to create a tender crumb.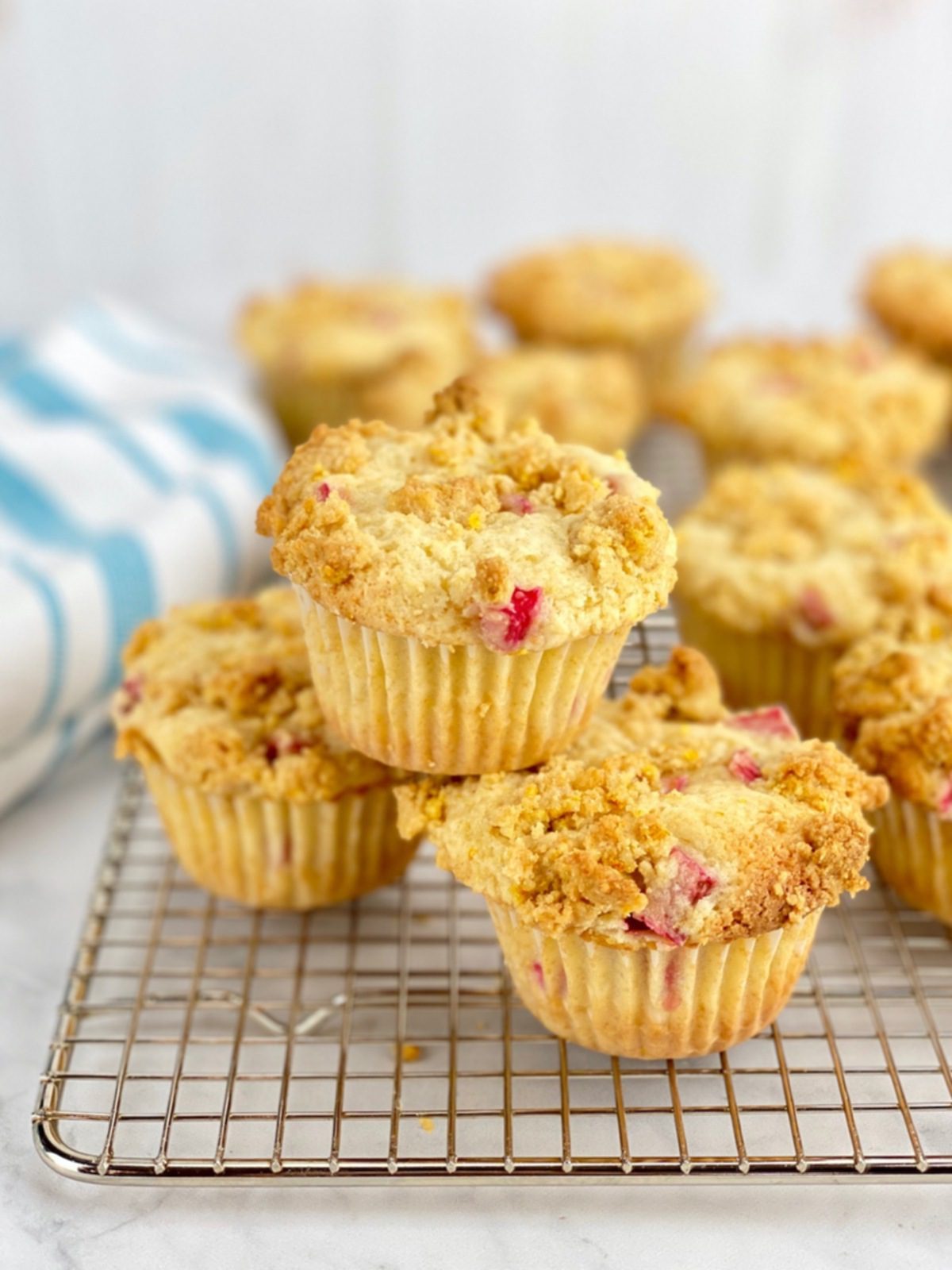 How to prepare rhubarb for a muffin recipe:
I use frozen rhubarb or fresh for these streusel muffins.
If you use frozen rhubarb, it can just go into the muffins cold, no need to thaw. Just add a few more minutes of cooking time to the muffins.
Using fresh rhubarb in season is easy. Simply trim it and cut it into small pieces.
I like to use diced rhubarb, about the size of blueberries, for these muffins. That's a little bigger than ¼-inch dice.
If you have larger chunks of rhubarb that are frozen, you can let them thaw a little and chop the pieces smaller. Rhubarb is tart so larger pieces aren't as delicious in these muffins.
How to make these muffins
Use a simple cake-making method to make the batter for rhubarb muffin recipe. Then add a simple streusel topping.
Here are the steps and some tips for making rhubarb muffins:
Make sure the butter is softened to room temperature, for both the streusel and the muffins.
Mix the streusel topping together until it is like a very crumbly dough; set aside.
Mix the butter and sugar together before adding the eggs.
Blend in the egg and egg yolks and allow the mixer to beat air into the egg and sugar mixture.
Add the vanilla and orange zest and mix. This helps activate the oils in the orange zest.
Alternately add the dry ingredients and the milk, starting and ending with flour. This helps mix the ingredients in evenly without over mixing and creating a tough muffin.
Gently stir the rhubarb in by hand and then portion into the muffin cups.
The standard muffin cups will be almost full, almost to the top. The streusel top will barely fit on!
Squeeze streusel in your fingers and break into bits over the muffins. Press streusel into the muffins gently.
Cover muffins with foil if they begin to get too brown during baking.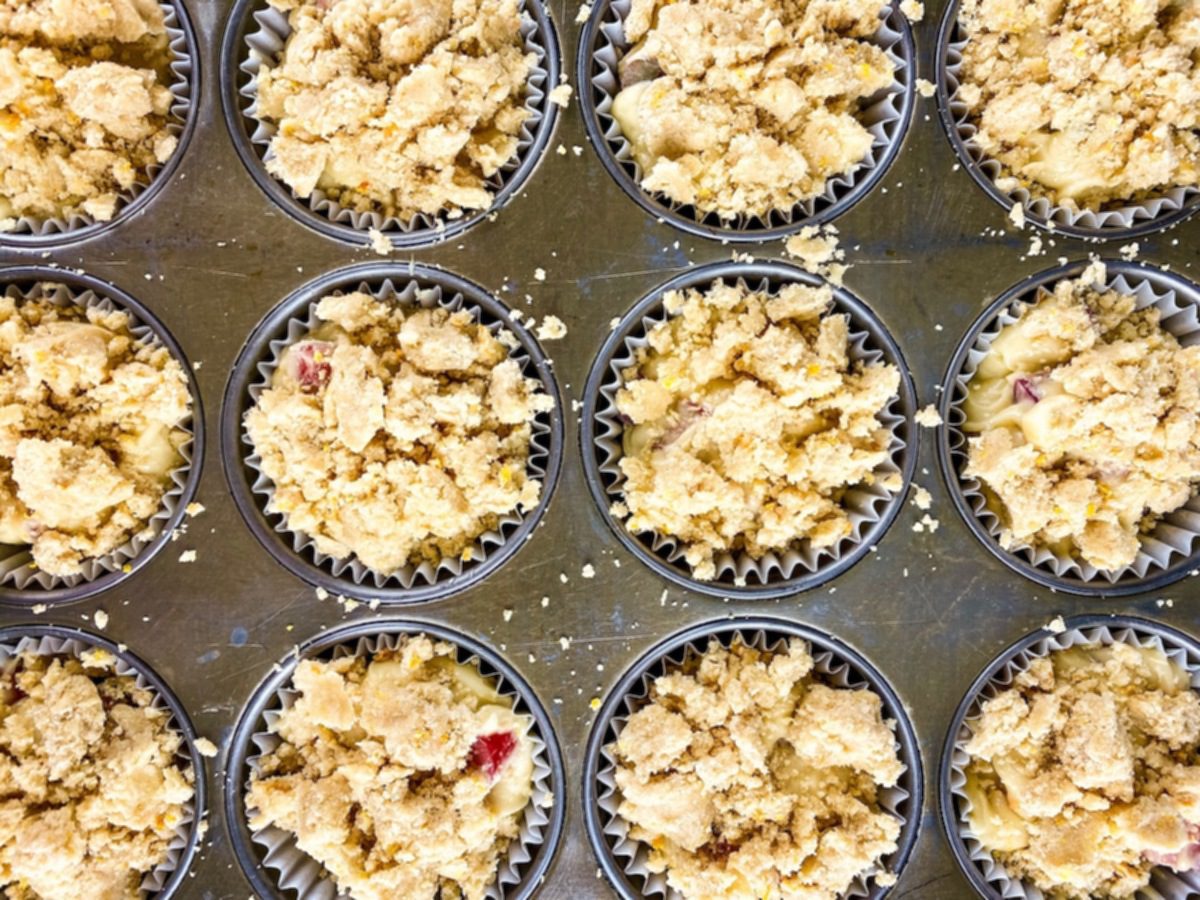 What makes the perfect streusel
The perfect streusel for muffins holds it's shape when baked, but is tender and soft, not crunchy.
To get this tender and delicious streusel, you need the right ratios of flour, sugar and butter.
Make sure your butter is softened, but not melted.
I use brown sugar instead of white because it creates a LESS crunchy bite. The brown sugar helps soften the streusel.
Blend the streusel with a fork, or my favorite: a pastry blender. Using a pastry blender is fast and evenly blends all of the ingredients.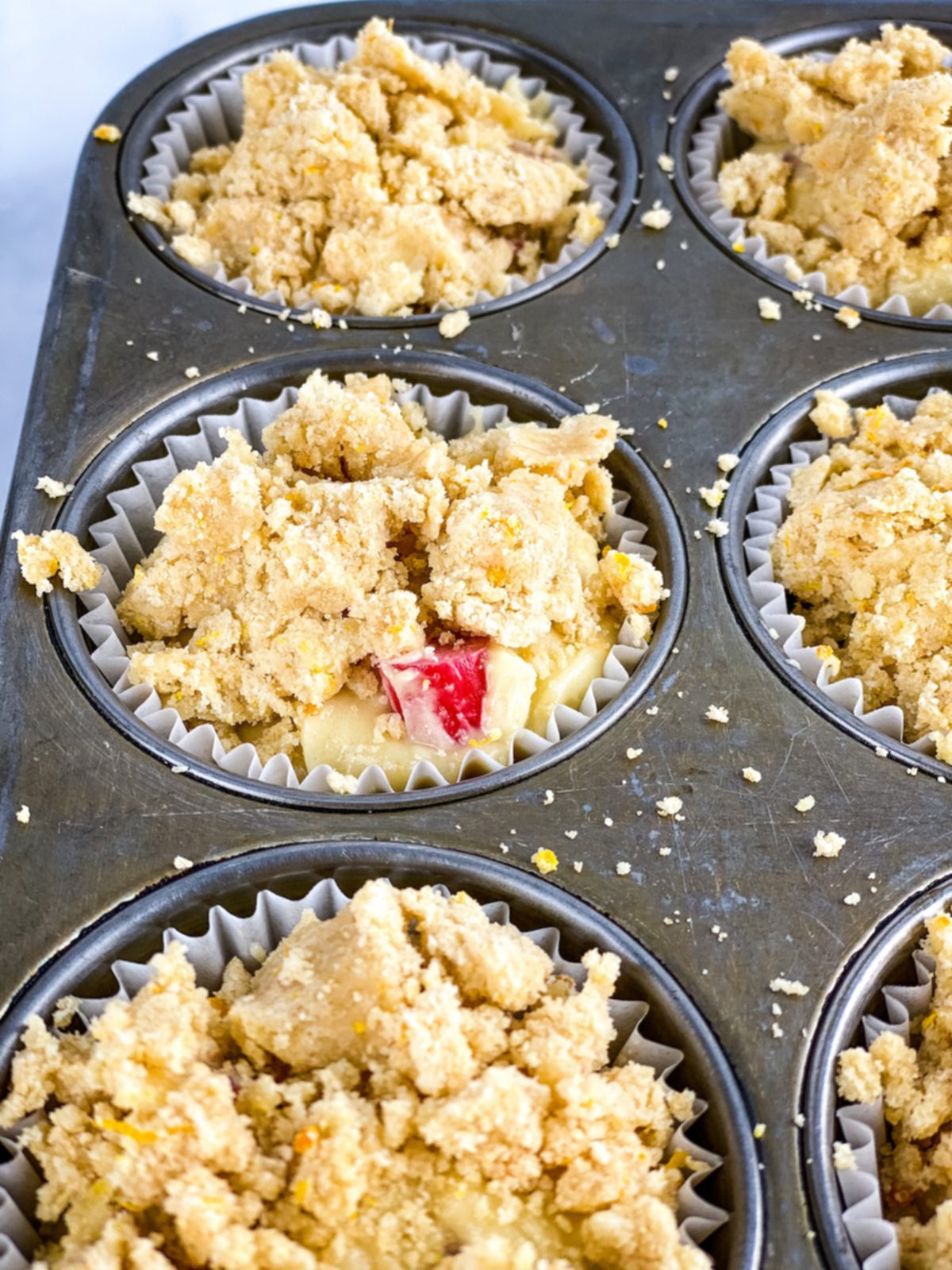 Can I use frozen rhubarb?
You can absolutely use frozen rhubarb for these muffins.
If I know I'm preserving rhubarb for muffins, I make sure to chop it into smaller pieces before I freeze it. (Typically I freeze rhubarb in larger pieces for pie or crisp).
If you have large pieces of frozen rhubarb, you can add them large (I don't love a muffin bite with a huge piece of fruit though) or let them thaw just a few minutes until they are tender enough to chop with a chef's knife.
---
You can also get more tips on how to prepare rhubarb and when to harvest it on my other tips post.
---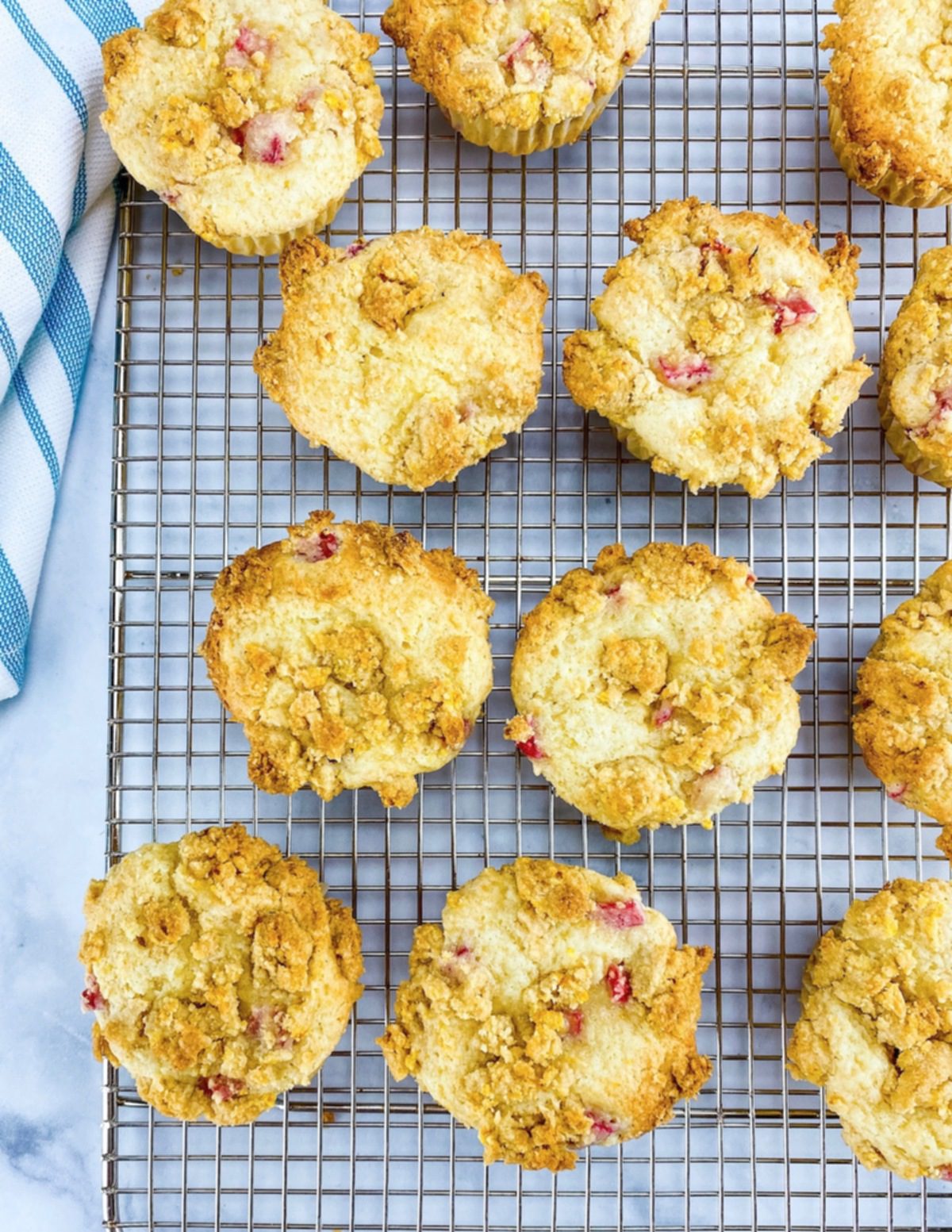 How long can I store muffins
These rhubarb muffins are cakey and rich from the butter and extra egg yolks. They stay tender and soft for several days after baking!
Before storing, make sure the muffins are completely cool to prevent the topping from getting soggy.
Store the muffins airtight: I store these muffins in a plastic container or plastic bag at room temperature for up to 4 days. I don't recommend keeping them in the fridge because chilled baked goods get stale faster.
They texture mellows and changes slightly, but stays soft and delicious. So great as a grab-and-go breakfast. (or midnight snack!)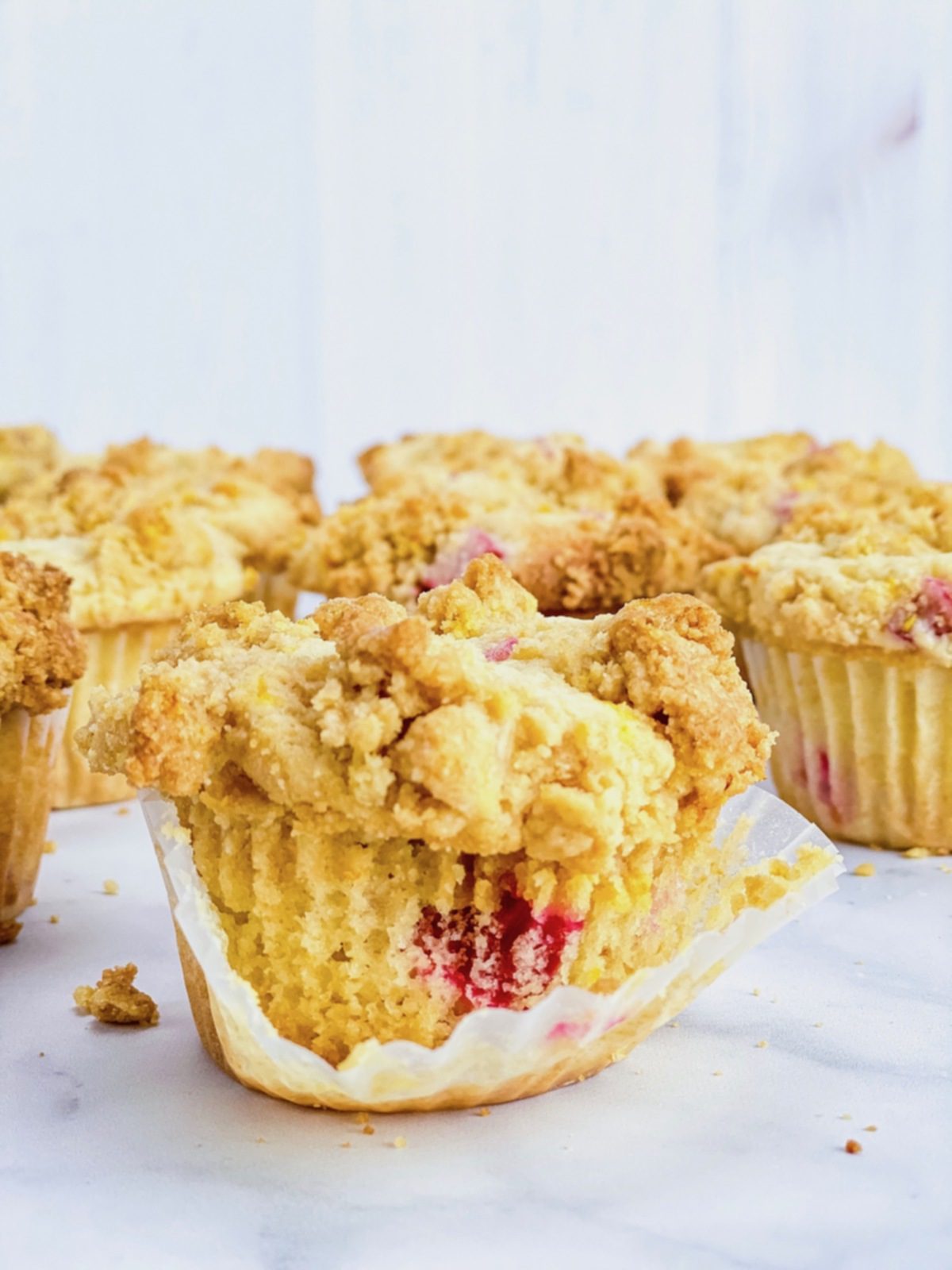 More delicious muffin recipes:
---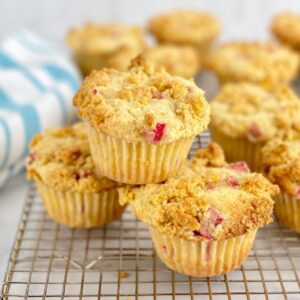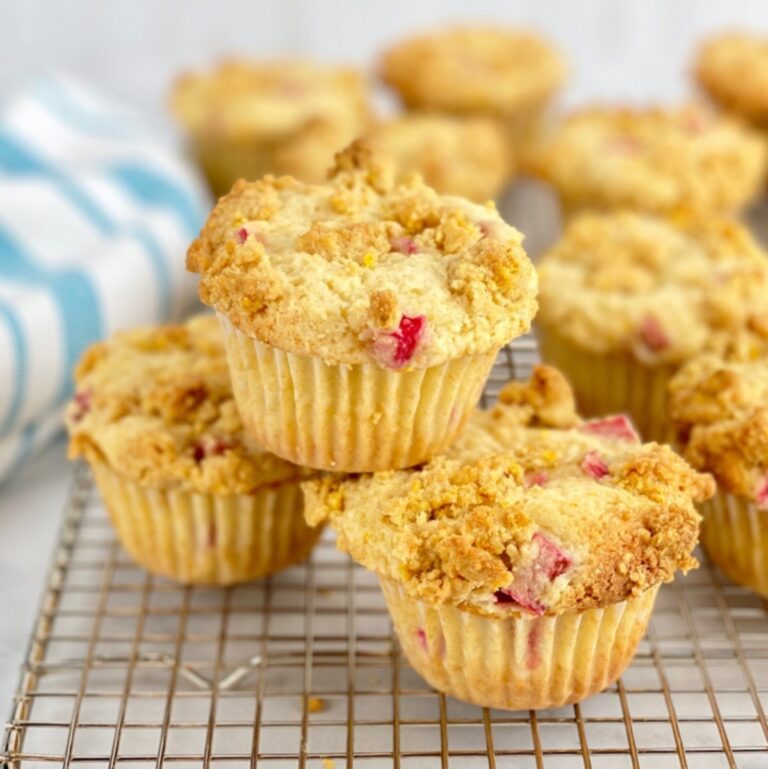 Rhubarb Streusel Muffins with Orange Zest
A tender and cake-like rhubarb muffin recipe with a burst of orange essence. The soft and sweet streusel on top makes them even more divine.
Ingredients
Streusel Topping
1¼

cups

sifted all-purpose flour

⅓

cup

packed light brown sugar

¾

teaspoon

ground cinnamon

¼

teaspoon

salt

1

teaspoon

orange zest

7

tablespoons

unsalted butter,

softened
Muffins
3

cups

Plus 2 Tablespoons sifted all-purpose flour

1

tablespoon

baking powder

1½

teaspoons

salt

6

tablespoons

unsalted butter,

softened

1¾

cups

granulated sugar

1

large

egg

2

large

egg yolks

2

teaspoons

orange zest

1

teaspoon

vanilla extract

1

cup

whole milk

3

cups

diced rhubarb,

cut to ¼-to ½-inch dice
Instructions
Streusel Topping
Make streusel topping: In a medium bowl, whisk together the flour, sugar, cinnamon, salt and orange zest. Cut in the butter using a pastry blender or fork, until fine crumbs form. Using your hands, squeeze together the mixture to form large clumps. Store, refrigerated, until ready to use.
Muffins
Make the muffins: Heat oven to 350ºF. Line two standard muffin tins with 22 muffin papers.

In a large bowl, whisk together the flour, baking powder, and salt; set aside. In the bowl of an electric mixer fitted with the paddle attachment, mix together the butter and sugar.

Add egg, egg yolks, vanilla and orange zest. Mix until well combined and lightened in color. On low speed, gradually add in flour mixture, alternating with the milk, and mixing between each addition, beginning and ending with flour.

Remove bowl from mixer and gently stir in rhubarb. Divide batter between muffin papers. The papers will be almost full. Distribute streusel topping over muffins evenly, gently pressing it into the muffin batter.

Bake, rotating pans half-way through baking, until light golden and cooked through, 30 to 32 minutes. Test muffins with a toothpick, inserting it and checking to see if it comes out clean or wet. If it comes out clean, or just with a little crumb on it, the muffins are done.

Let muffins cool in pan about 15 minutes and then remove to a cooling rack.

Cool completely before storing in an airtight container at room temperature, for up to 4 days.
Notes
Nutritional numbers are for one muffin.
• You can change the spice and add ground ginger in place of the ground cinnamon.
• You can swap the fruit and add diced peaches, blueberries or strawberries.
Nutrition
Calories:
238
kcal
Carbohydrates:
39
g
Protein:
3
g
Fat:
8
g
Saturated Fat:
5
g
Cholesterol:
44
mg
Sodium:
197
mg
Potassium:
105
mg
Fiber:
1
g
Sugar:
20
g
Vitamin A:
259
IU
Vitamin C:
1
mg
Calcium:
48
mg
Iron:
1
mg
Day-Starters: Breakfast & Brunch Recipes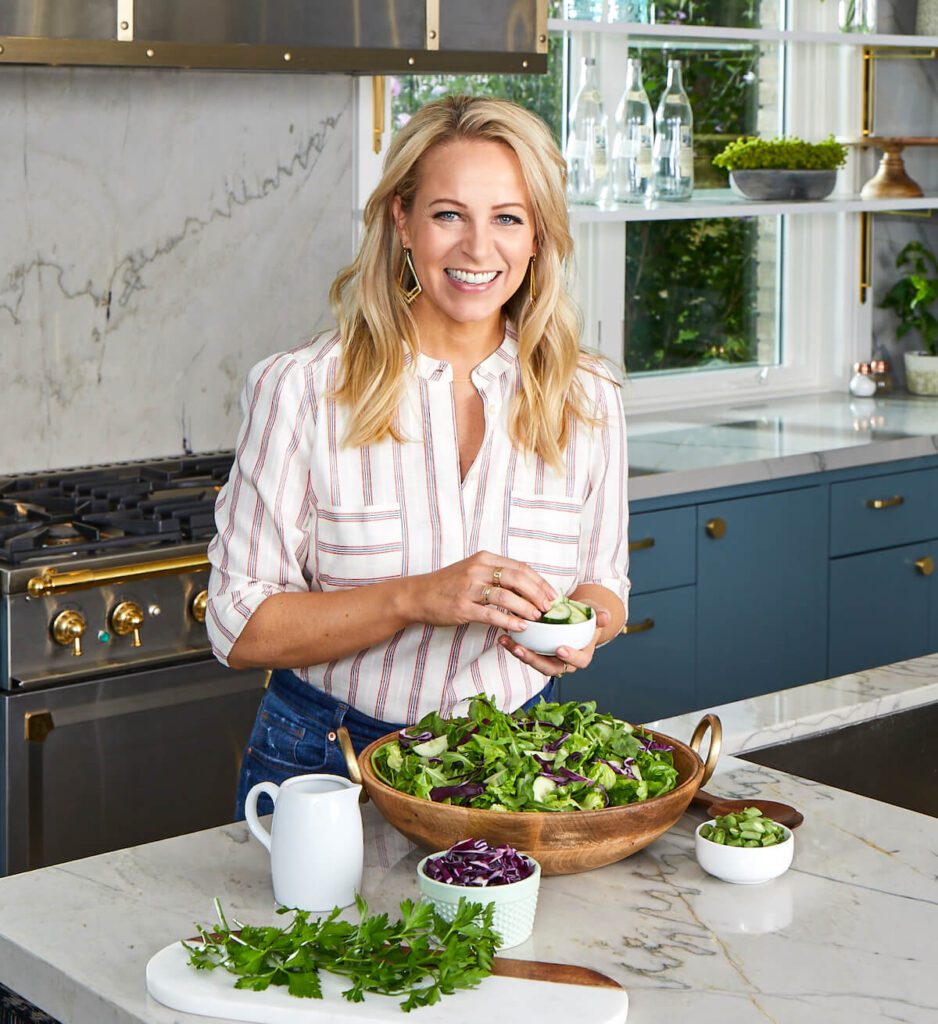 About Tara Teaspoon
I've been in the food publishing business for over 20 years, creating recipes & food-styling for magazines, books, television & advertising. Order my new cookbook & stick around for amazing things to eat.