---
No-Bake Lemon Icebox Pie is for lemon lovers and summer days. A puckery citrus mousse is chilled in a wafer crust and topped with mounds of sweet whipped cream.
---
Growing up Mom made this awesome summer dessert called Lemon Fluff. According to the wise world of Google its origins may have come from a 1951 issue of Better Homes and Gardens!
You can still find recipes similar to Mom's all over! They are ever so slightly different with the amounts, but the classic layers a fluffy mousse between vanilla wafer crumbs. That's it! But it was genius.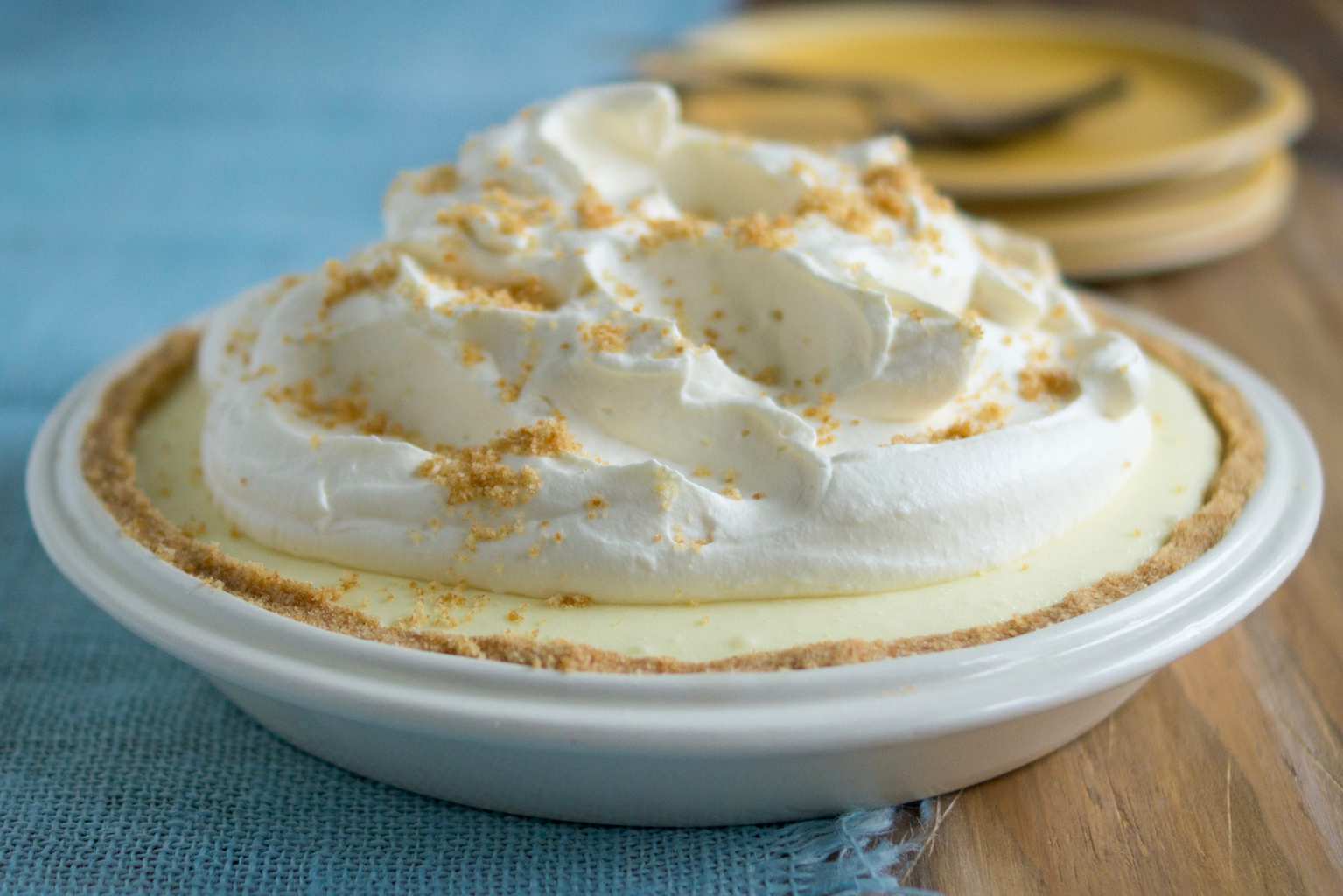 Quick-click Table of Contents:
Jump to:
Lemon Fluff
I loved Lemon Fluff as a kid. I'm pretty sure my little brother had named it as his favorite dessert, so for years it was "Taylor's favorite dessert," instead of Lemon Fluff.
The name alone says 50's dessert. The main ingredients and method say 50's as well. By then Jello had been around for quite some time. Convenience foods had a grand introduction in the decades before. By the 50s it was felt that using convenience food was cheating, and housewives were better than that!
I made a no-bake lemon icebox pie by creating a fluffy, tangy filling in a cookie crust. This will be your go-to summer mousse pie.
Housewives would use convenience foods within a more complicated recipe to feel like they were cooking from scratch. There was no just making jello and serving it. You had to add to it and create a process using the convenience food!
The women's magazines jumped on board and Lemon Fluff heralded from that exact philosophy. Take convenience foods like lemon jello, canned milk, and boxed cookies and make a more elaborate treat!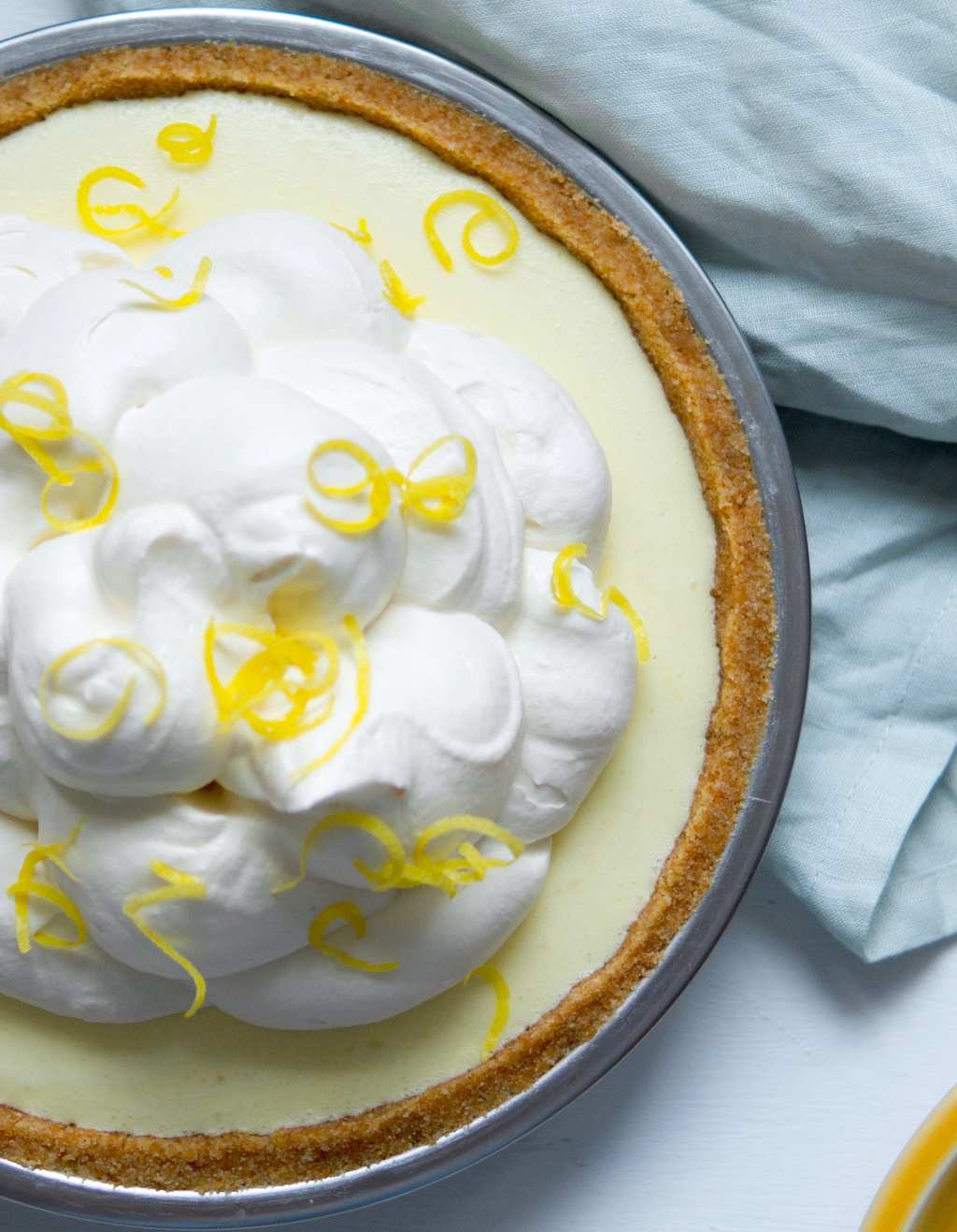 As summer approaches I knew I needed to up my game on the no-bake treat category. My Easy Cheesecake In A Jar ranks as one of my favorite no-bakes. As does Coconut Key Lime Bars and No Bake Cheesecake Tart (but both of those cheat a bit and the crust gets baked for about 10 minutes!).
Updating a classic dessert:
I took to re-creating the old 50s dessert into a mousse pie. No prepared jello for me, I wanted a brighter flavor rather than just citric acid and lemon flavoring. I swapped the jello for lemonade concentrate and plain gelatin. I swapped the canned milk for fresh heavy cream and added butter to the wafer crumbs so I could get a slightly sturdy pie crust without baking.
Oh you better believe I kept those Vanilla Wafers as the crust. That classic flavor couldn't be swapped out! You can garnish the top with lemon zest curls or extra crumbled cookies. The crumbled cookies are more reminiscent of the classic dessert, but the lemon curls are just so pretty!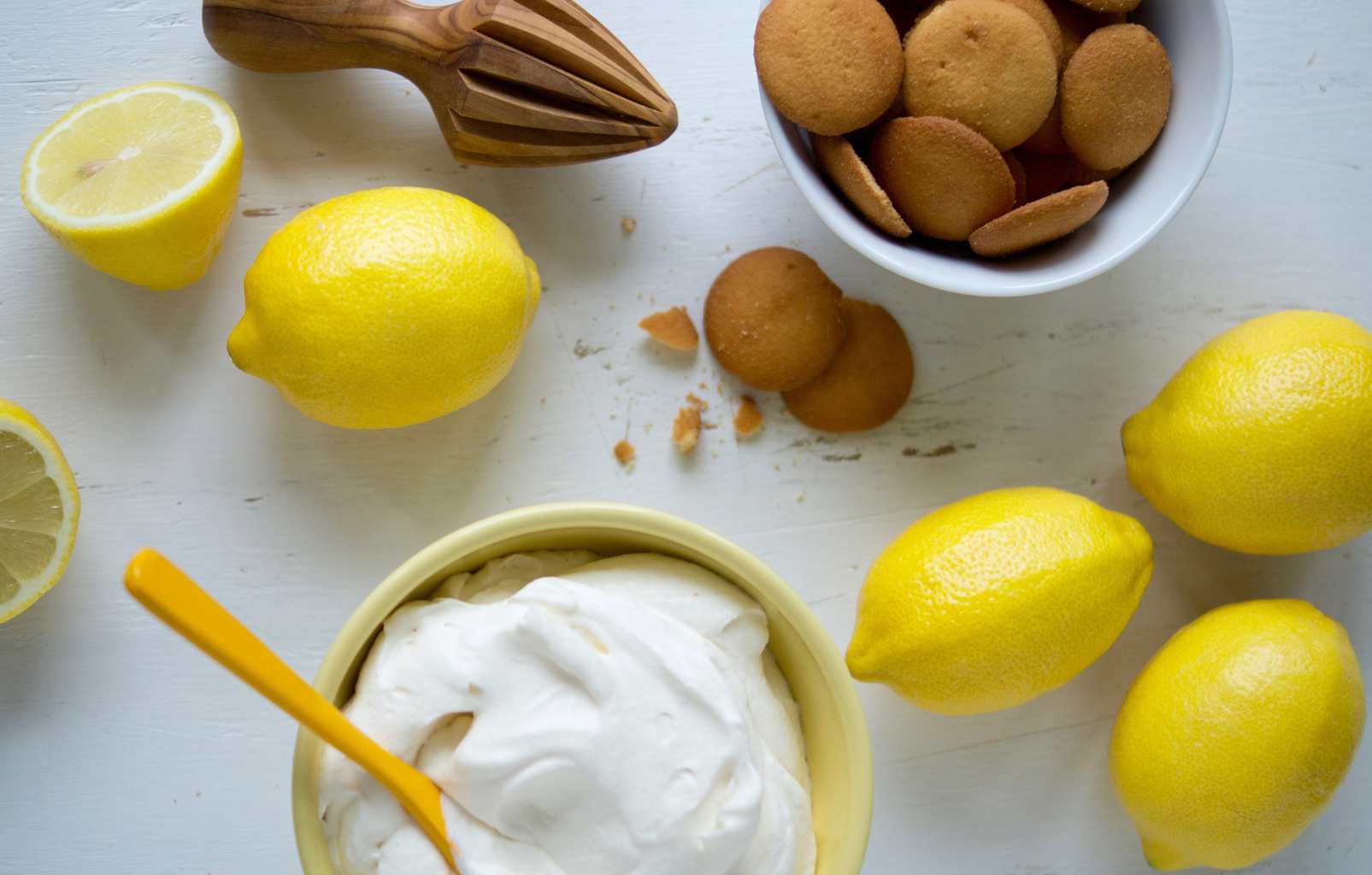 What is mousse pie?
A mousse pie filling has the texture of a lemon chiffon pie. Light, airy and still tangy and tart. A classic chiffon has egg whites folded into a curd or thickened filling to make it fluffy. A mousse is similar in texture and often made with chocolate. But mousse pie is what most of us think about when we make icebox pies in the summer. Whipped cream is folded into the thickened base instead of egg whites and the mixture thickens in the fridge.
I made this mousse pie with a lemonade gelatin as the thick base, and folded pillows of whipped cream in to make it have a chiffon texture. It's seriously dreamy in your mouth.
Give yourself some time to make and chill the homemade jello. The secret to perfection is making sure the plain gelatin is completely dissolved in the lemonade before chilling in the fridge. This ensures the gelatin activates all of the lemonade evenly and you get a sturdy base for the mousse.
Mousse Pie Tips
I took to re-creating the old 50s dessert into a mousse pie. This no-bake lemon icebox pie is what memories are made of!
You want to set the lemonade gelatin only partially, so keep checking. It should just be starting to jiggle and solidify. Blend it until it's fluffed quite a bit (incorporating air is key for this dessert), and then fold in your whipped cream.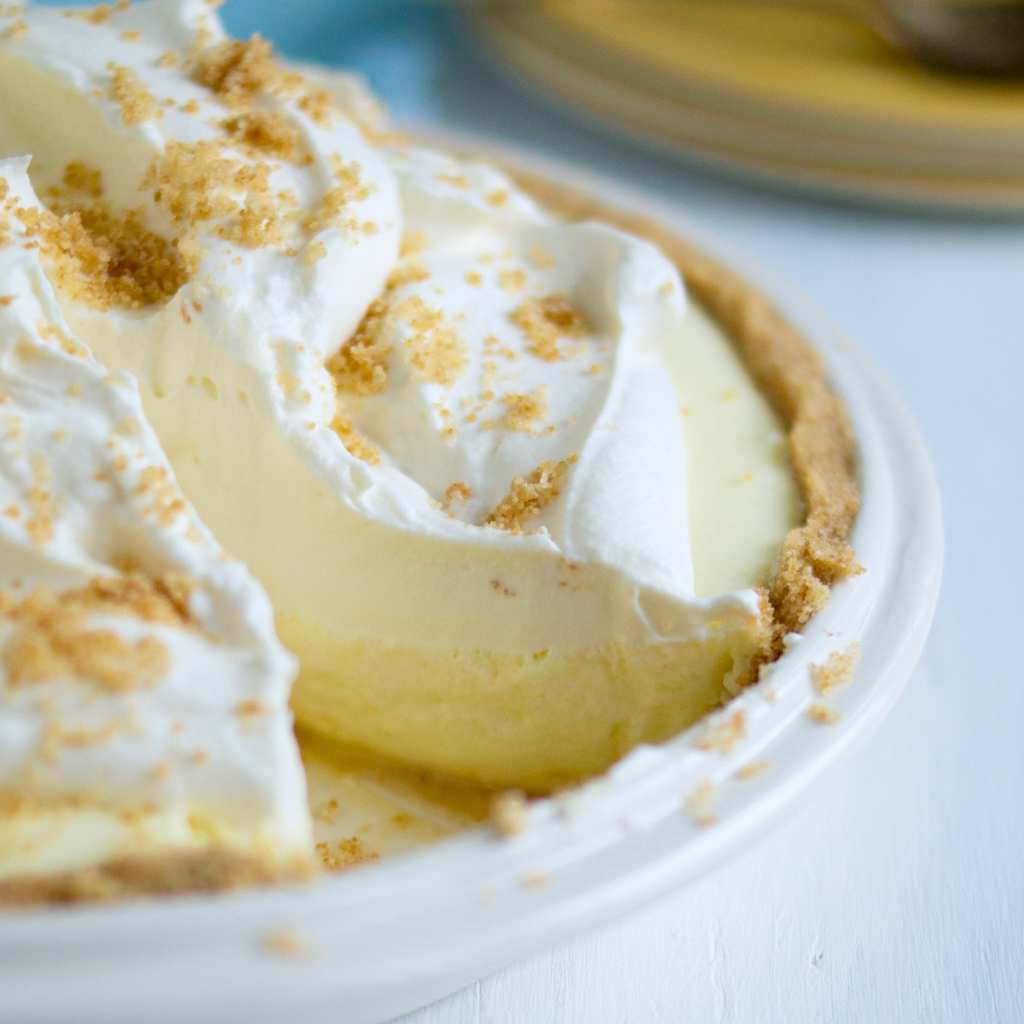 I've never promised this dessert is a one-bowl creation! You'll use quite a few of your mixing bowls! But really, how hard is it to wash a few bowls? Not hard at all. There is lemonade gelatin to make, cream to whip and butter to melt! You won't regret it.
Your cookie crust will have been chilling in the fridge or freezer while your jello sets, so it's ready for the filling. That crust isn't baked, so it's pretty fragile. It's not your typical sturdy, cookie pie crust. But that's one of my favorite parts of this no-bake lemon icebox pie, it is completely reminiscent of it's origin dessert, Lemon Fluff. Crumbly cookie crumbs holding up a light, airy, tangy filling. Enjoy!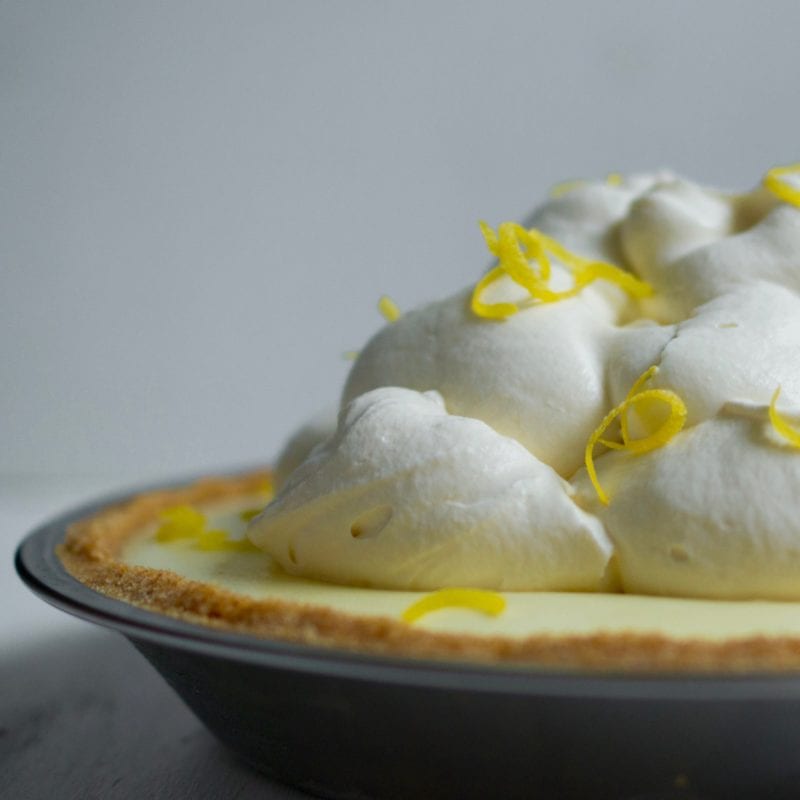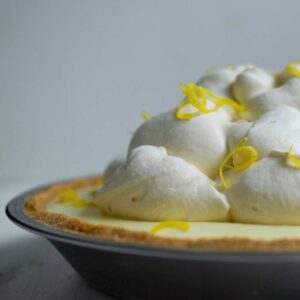 No-Bake Lemon Icebox Pie
I made a no-bake lemon icebox pie by creating a fluffy, tangy filling in a cookie crust. This will be your go-to summer mousse pie.
Ingredients
1½

cups

vanilla wafer cookie crumbs

about 50 cookies

5

tbsp

unsalted butter

melted

¾

cup

frozen lemonade concentrate

thawed, but cold

½

cup

sugar

1

cup

water (DIVIDED)

1

envelope

Knox gelatin

(almost 2¼ teaspoons)

1⅔

cups

heavy cream (DIVIDED)

yellow food coloring

(4 to 5 drops liquid color)

3

tbsp

confectioners' sugar

¼

tsp

vanilla extract
Instructions
In a food processor blend cookie crumbs with butter. Evenly press into a 9-or 10-inch pie plate and chill or freeze while preparing the filling.

In a medium bowl sprinkle gelatin over ½ cup of the room-temperature water. Let the gelatin bloom (or soften), so there are no dry bits visible. Boil the remaining ½ cup water in the microwave or on the stovetop and stir into gelatin mixture. Stir until gelatin is dissolved.

Stir in cold lemonade concentrate, sugar, and food coloring. Stir until sugar is dissolved and then refrigerate until mixture is the consistency of loose jelly, about 2 hours. Mixture will jiggle like just-setting jello.

In a separate bowl whip 1 cup heavy cream to firm peaks; set aside. Whip barely-set lemonade gelatin until frothy, about 1 minute on high speed. Add whipped cream and mix just to combine.

Pour filling into chilled crust and chill until set, 4 hours or more.

To serve, whip remaining ⅔ cup cream with confectioners' sugar to soft peaks. Top pie with whipped cream and garnish with extra cookie crumbs or lemon zest. Serve immediately.
Notes
Recipe has been re-tested and improved (June 2020)
Nutrition
Calories:
437
kcal
Carbohydrates:
43
g
Protein:
3
g
Fat:
29
g
Saturated Fat:
17
g
Cholesterol:
87
mg
Sodium:
108
mg
Potassium:
70
mg
Fiber:
1
g
Sugar:
32
g
Vitamin A:
951
IU
Vitamin C:
3
mg
Calcium:
36
mg
• • •
I know a talented group of cooks and love to share their creations. Try some no-bake pies from my foodie friends! Plus a pin to remember them all.
Cap'n Crunch No Bake Peanut Butter Pie
No Bake Sour Cream Lemon Pie
Coconut Cream Pie
Pistachio Pudding Pie
Easy No Bake Strawberry Pie
No Bake Mango Pie Recipe
S'mores Coconut Cream Pie
No Bake Pina Colada Pie
No Bake S'mores Pie
Oreo Cannoli Cream Pie
Strawberry Fluff Pie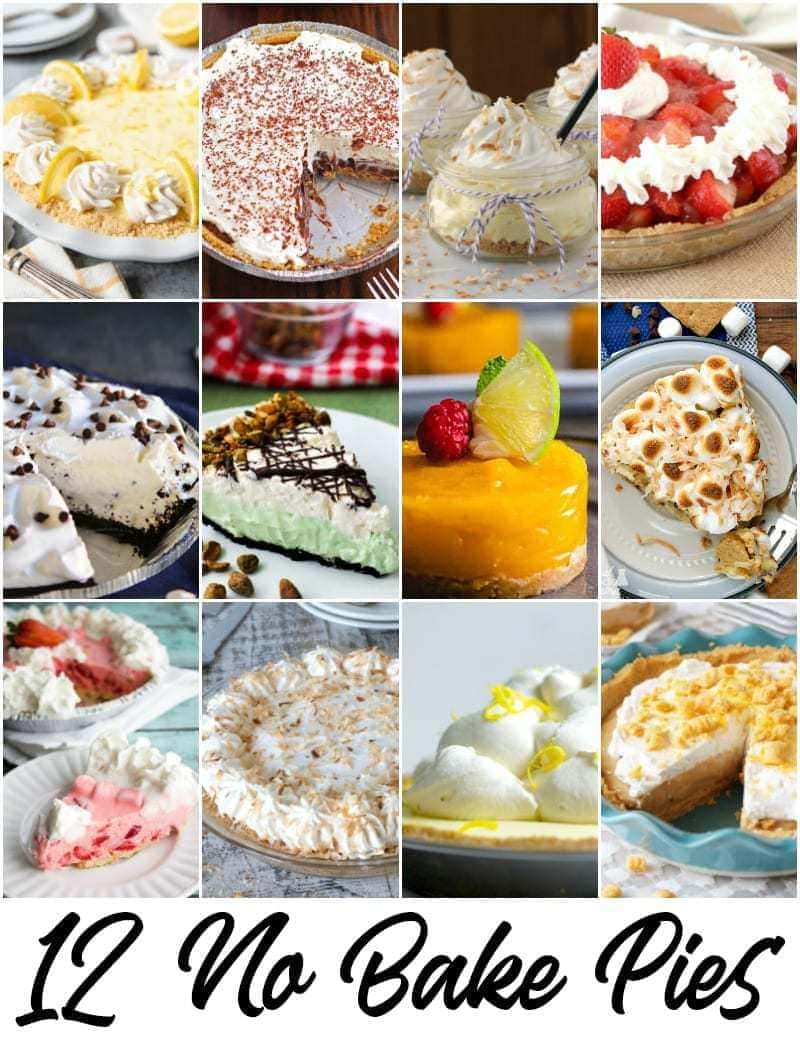 Delicious Pie and Tart Recipes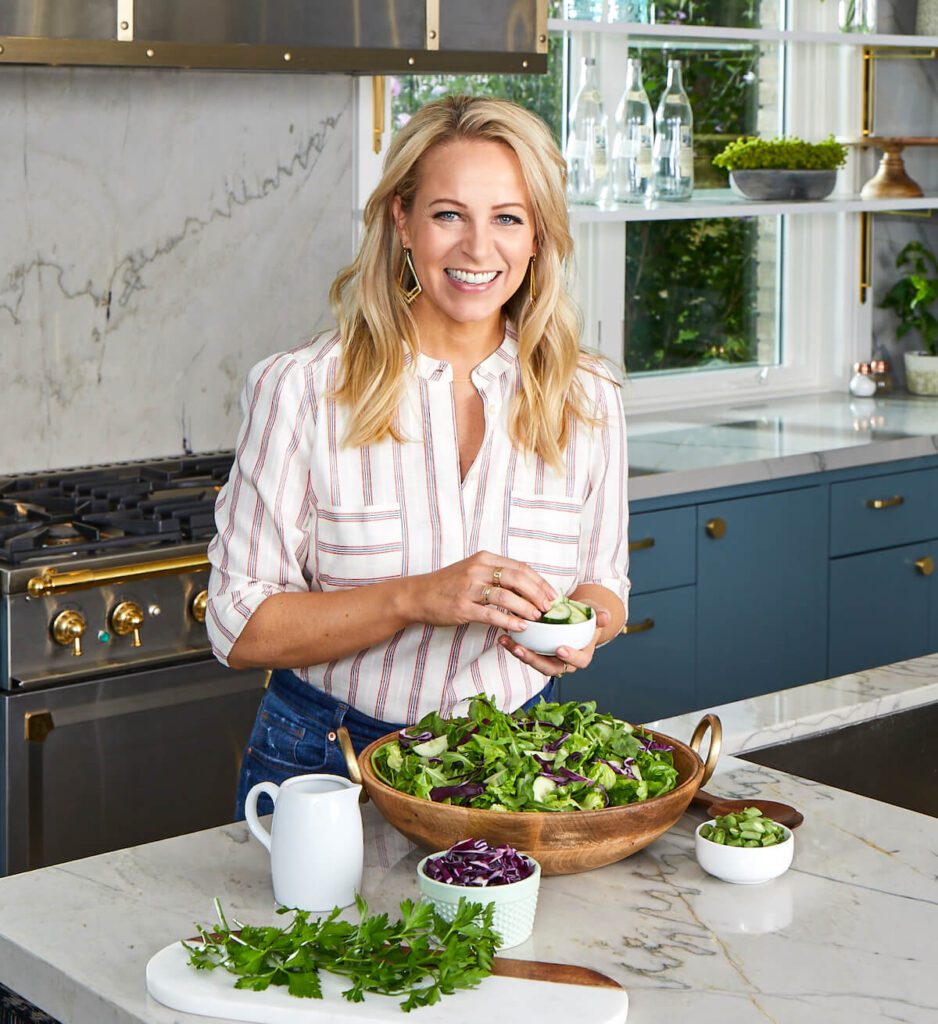 About Tara Teaspoon
I've been in the food publishing business for over 20 years, creating recipes & food-styling for magazines, books, television & advertising. Order my new cookbook & stick around for amazing things to eat.
Recipe by Tara Teaspoon. Photography courtesy of Ashlin Almquist.