---
Make a fresh watermelon cake that will be the centerpiece of your summer party. Chic, tasty, and easy, this cake is made completely of fruit!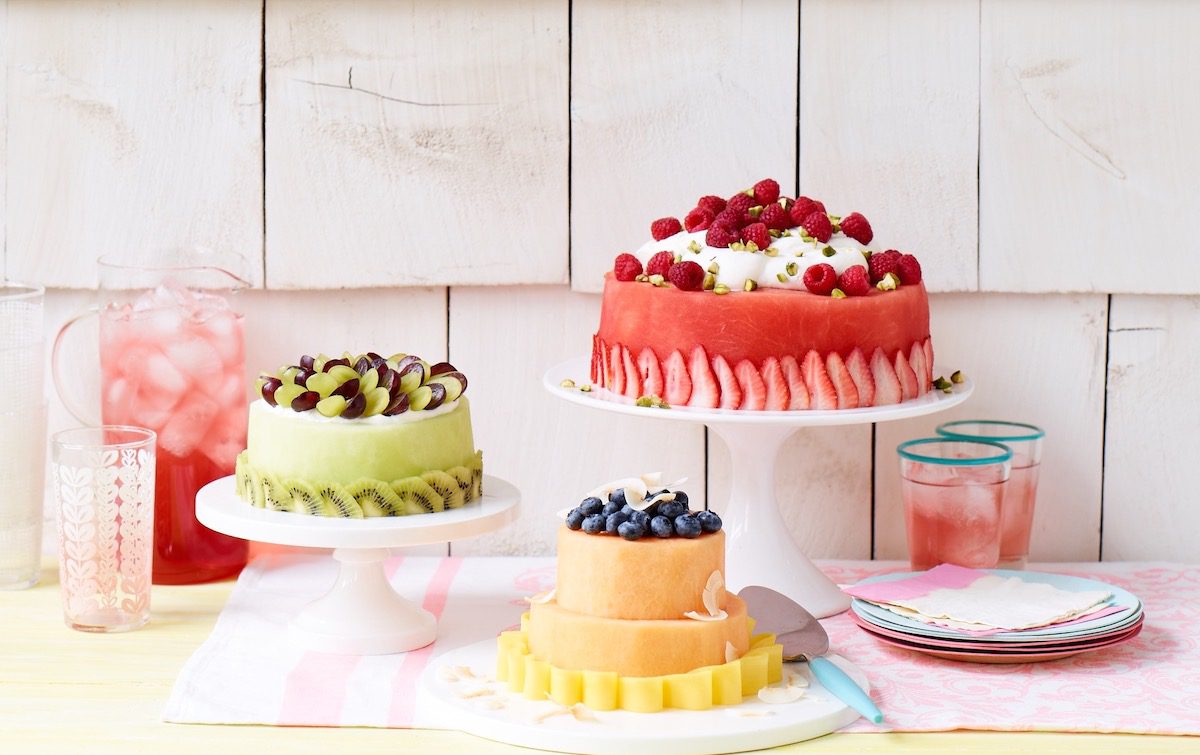 Jump to:
Making A Fresh Fruit Cake
I wanted to create my own, unique, chic and appetizing watermelon cake. You've seen all kinds of fresh fruit cakes around the last few years, I'm sure. Mine is simple, tasty and so beautiful it can be a summer centerpiece or the perfect fruit birthday cake.
I don't cover my cakes made of fruit with whipped cream.
There's no need to slather a beautiful slice of watermelon all over with whipped cream. I wanted my fresh fruit to shine, and be the star of this summer cake.
Made of nothing but fresh fruit and topped with some cream, nuts and coconut, a towering watermelon fruit cake is a healthy but impressive treat at any summer event.
Follow the recipe to make a cake made of fruit! You can make cakes from watermelon, cantaloupe and honeydew.
Click HERE to see my Today Show segment on Watermelon Hacks for more summer fun! It's on my YouTube channel.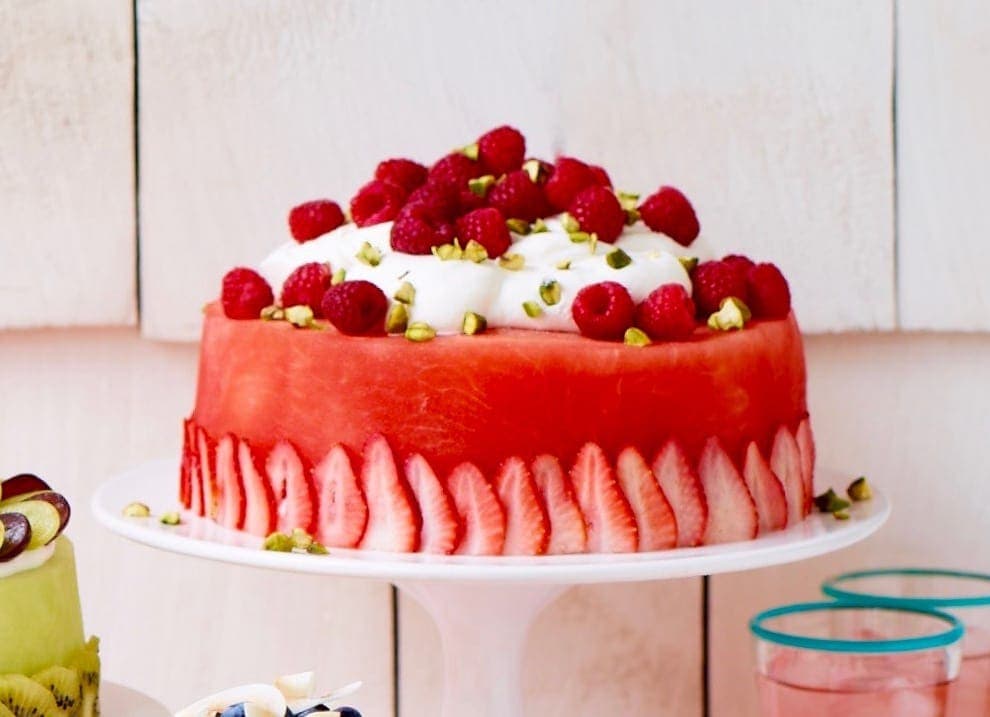 What Goes Into A Cake Made of Fruit?
The name says it all! This watermelon cake really is a cake made from fruit.
In this case, the watermelon acts as the base of the cake. I decorated the cake with fresh berries and a quick homemade whipped cream.
This recipe would be wonderful as an all fruit birthday cake, or for any spring or summer get together.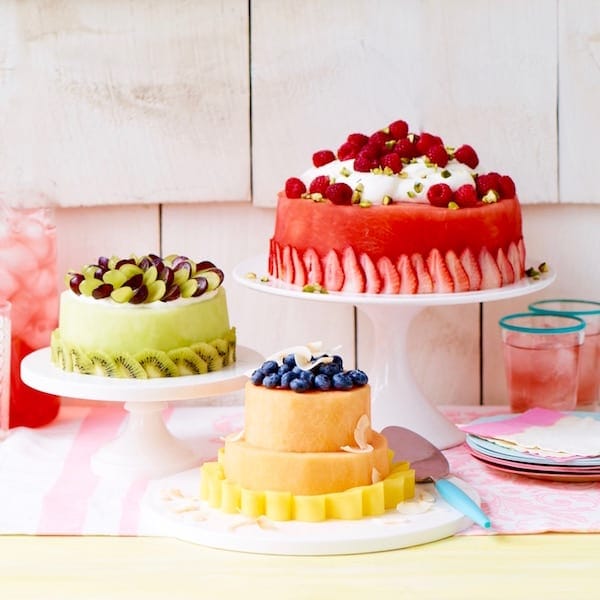 How To Make A Watermelon Cake
For my watermelon cake recipe, I sliced a thick piece out of the center of a seedless watermelon and trimmed the rind off. Make sure to shape it into a perfect round by removing all the white rind.
Sliced strawberries make the perfect decor for the bottom of the cake. Lined up in a row, they compliment the color perfectly.
There's no need to do anything more! It's pure watermelon, ready to slice once topped with cream, some fresh raspberries and chopped pistachios for a little crunch.
I sweetened the cream with a bit of sugar. I always use fresh heavy cream and confectioners' sugar to make my whipped cream. It tastes so glorious.
Check out my Today Show segment on Watermelon Hacks!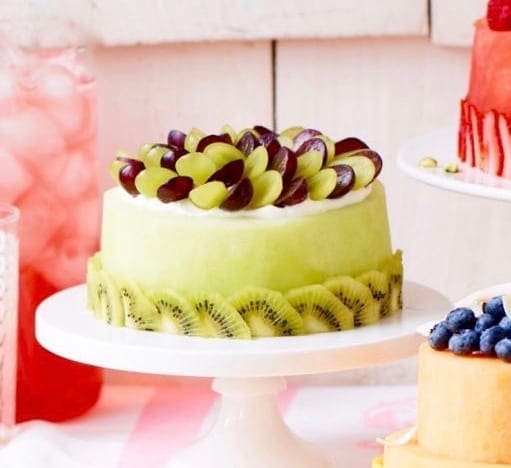 Melon Cake Frequently Asked Questions
Can I prepare this cake made of fruit in advance?
Definitely! Make the watermelon fruit cake ahead of time, then top with cream just before serving. Simply assemble and wrap in plastic wrap until ready.
Can I Make This a Fruit Layer Cake?
Yes, you can easily add layers to your melon cake. This would make it look even more like a watermelon birthday cake, or another special occasion cake.
Nothing says finesse like a tiered cake. Simply adding a tier instantly transforms a fine cake into a sophisticated one.
Cut a thick slice from the middle of the watermelon first and then use the end for the top layer.
Make a layered cantaloupe cake by following the recipe below.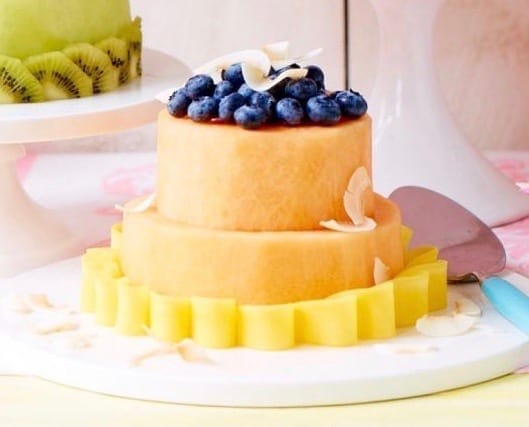 Tips For Making This Watermelon Cake Recipe
I decorated my watermelon fruit cake with fresh berries and whipped cream. You're welcome to decorate it with other fresh fruits, if desired. Think: sliced grapes, mango, and so on.
For an extra fun cake, use a yellow watermelon instead of a red one. The flavor is slightly different, but still supremely sweet and juicy.
Because the cake is topped with whipped cream, I don't recommend letting it sit out for too long. The cream will deflate over time.
More Watermelon Recipes And Hacks:
---
Let me know how it went!
Scroll to the bottom of the page to rate ⭐⭐⭐⭐⭐ and comment on this recipe. Leaving comments helps other too!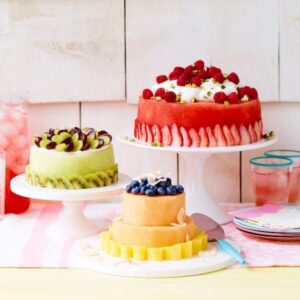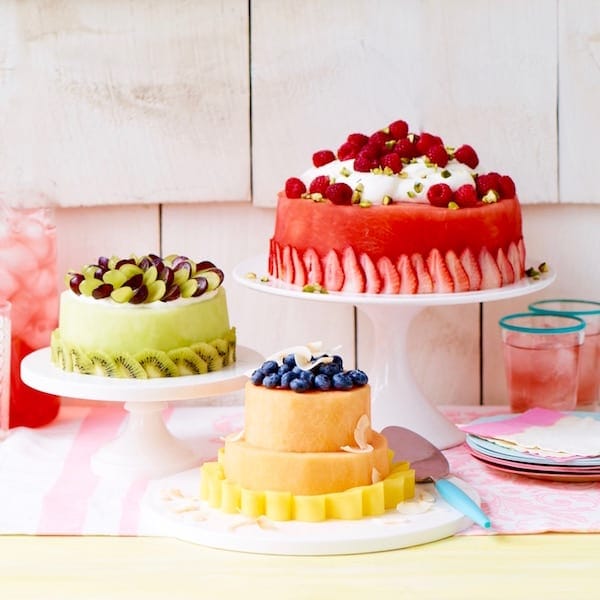 Fresh Fruit Cake With Watermelon, Honeydew or Cantaloupe
Forget covering your fruit in cream. Let those beautiful melons steal the show with simple decorations. Fruit cake has never been easier or more glamorous!
Ingredients
Watermelon Cake:
1

seedless watermelon

½

pint

strawberries

⅔

cup

heavy cream

2

tablespoons

sugar

1

pint

raspberries

¼

cup

chopped pistachios
Honeydew Cake:
1

honeydew melon

1

kiwi

½

cup

heavy cream

1

tablespoon

sugar

1

cup

red grapes

1

cup

green grapes
Canteloupe Cake:
1

large cantaloupe

or 2 small

1

mango

½

cup

heavy cream

1

tablespoon

sugar

½

pint

blueberries

Toasted shaved coconut
Instructions
Watermelon Cake:
Cut a thick 3-inch slice from the center of the melon (to look like a big cake layer). Trim the rind from the slice. Place on a platter. Remove strawberry greens, then thinly slice the fruit. Overlap slices around the base of the watermelon. Whip the cream and sugar to stiff peaks. Spoon cream on top and sprinkle with raspberries and pistachios.
Honeydew Cake:
Cut a 2½- to 3-inch-thick slice from the center of the melon. Discard seeds and trim rind, making the edges straight. Place piece on a platter. Peel kiwi, slice in half lengthwise and slice into thin half-moons. Layer kiwi along the bottom edge of the melon. Whip the cream and sugar to stiff peaks. Fill center of the melon with extra fruit and cream. Spread a thin layer of cream on the top. Slice grapes in half lengthwise and decorate the top in concentric circles.
Canteloupe Cake:
If using a large melon, cut a 2½-inch slice from the center and use one of the ends for the smaller top piece. If using 2 small melons, cut thick slices from each melon for the cake. Discard seeds and trim rind, making the edges straight. Stack pieces on a platter. Peel mango and cut one side off the pit. Cut mango cheek into very thin slices and bend in half, layering them along the bottom edge of the cantaloupe. Whip cream and sugar to stiff peaks. Fill the center of the cantaloupe with extra diced fruit and cream. Pile blueberries on top and sprinkle with coconut.
Notes
•• The NUTRITION FACTS here are for one serving of EACH cake. Divide by three to get the nutrition for one serving of one cake, roughly.
• These "cakes" are actually made from pretty summer fruit. Just slice and serve.
Nutrition
Calories:
568
kcal
Carbohydrates:
96
g
Protein:
8
g
Fat:
22
g
Saturated Fat:
12
g
Cholesterol:
68
mg
Sodium:
67
mg
Potassium:
1555
mg
Fiber:
11
g
Sugar:
76
g
Vitamin A:
6650
IU
Vitamin C:
155
mg
Calcium:
123
mg
Iron:
2.7
mg
Cake recipes for any occasion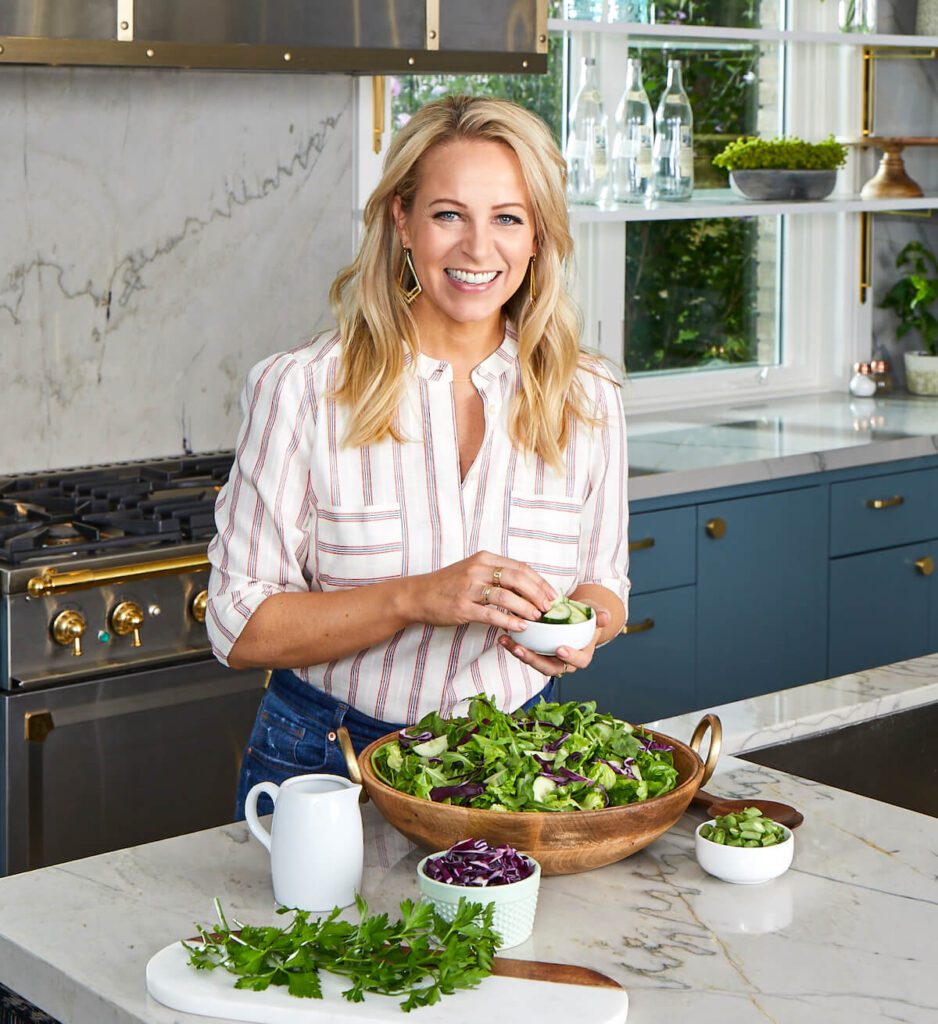 About Tara Teaspoon
I've been in the food publishing business for over 20 years, creating recipes & food-styling for magazines, books, television & advertising. Order my new cookbook & stick around for amazing things to eat.
Recipe Tara Teaspoon. Photography Johnny Miller. Food Styling Christine Albano. Prop styling Elizabeth MacClennan. Originally published LHJ 06/14. Post updated 2023.