Floating ghost cupcakes will make all the ghouls come out to the Halloween party. These cute fondant treats are easy to make, even the little witches and storm troopers can help.
• • •
These darling ghost cupcakes have a storied history, but we'll get to that later! First off I just have to talk about how cute these are all lined up on a party table. I love the 3-dimensional guys floating right on top of the cupcakes. It kind of makes you want to lift their skirts and see how they float!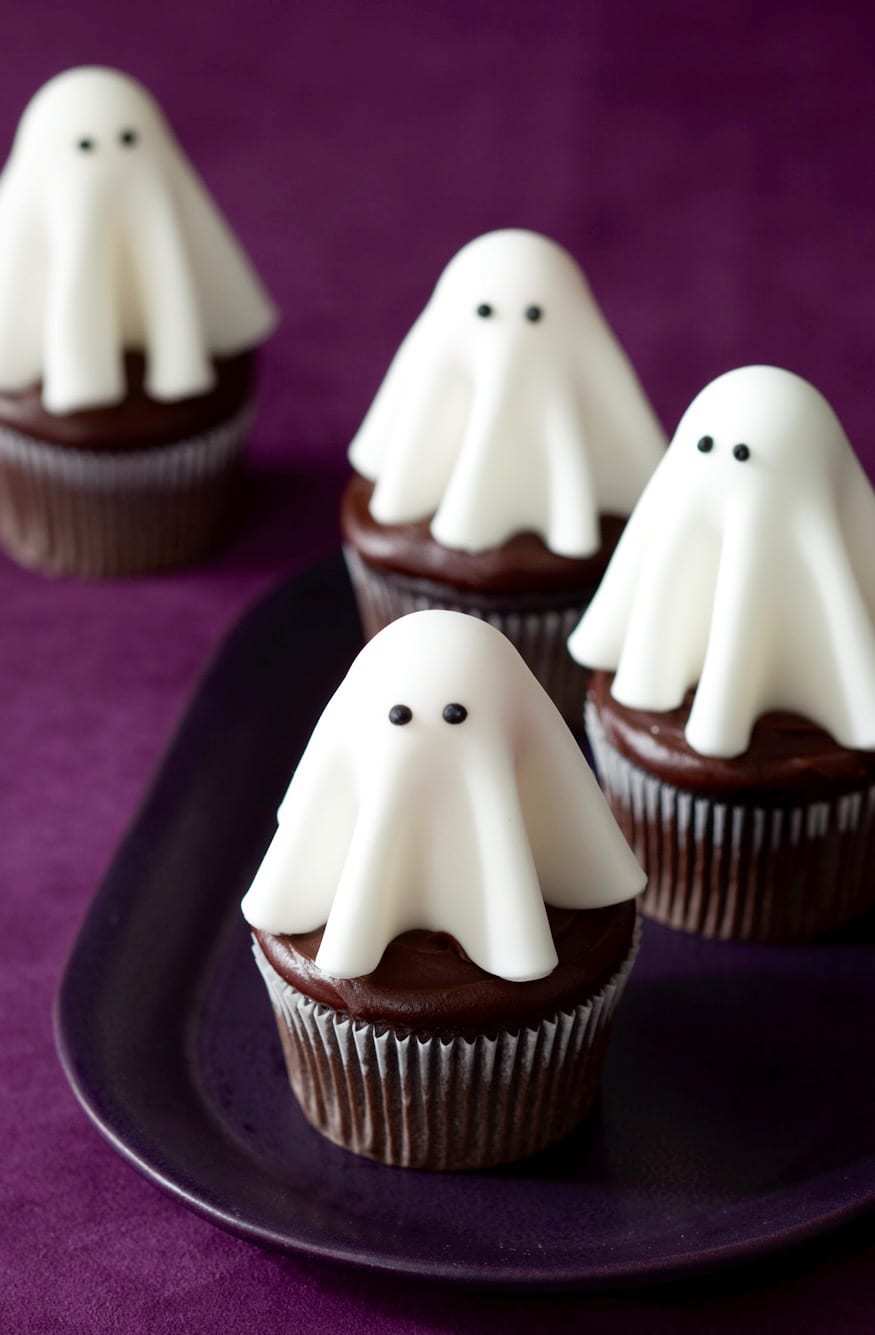 Well let me lift the skirt for you! The little ghost cupcakes are made by laying a circle of white fondant on top of a Dum Dum lollipop. The lollipops have just the right shape to make a ghost head, and the sticks go into the cupcakes to hold them on top. A little store-bought black decorating icing is used for the eyes and voila! You're done.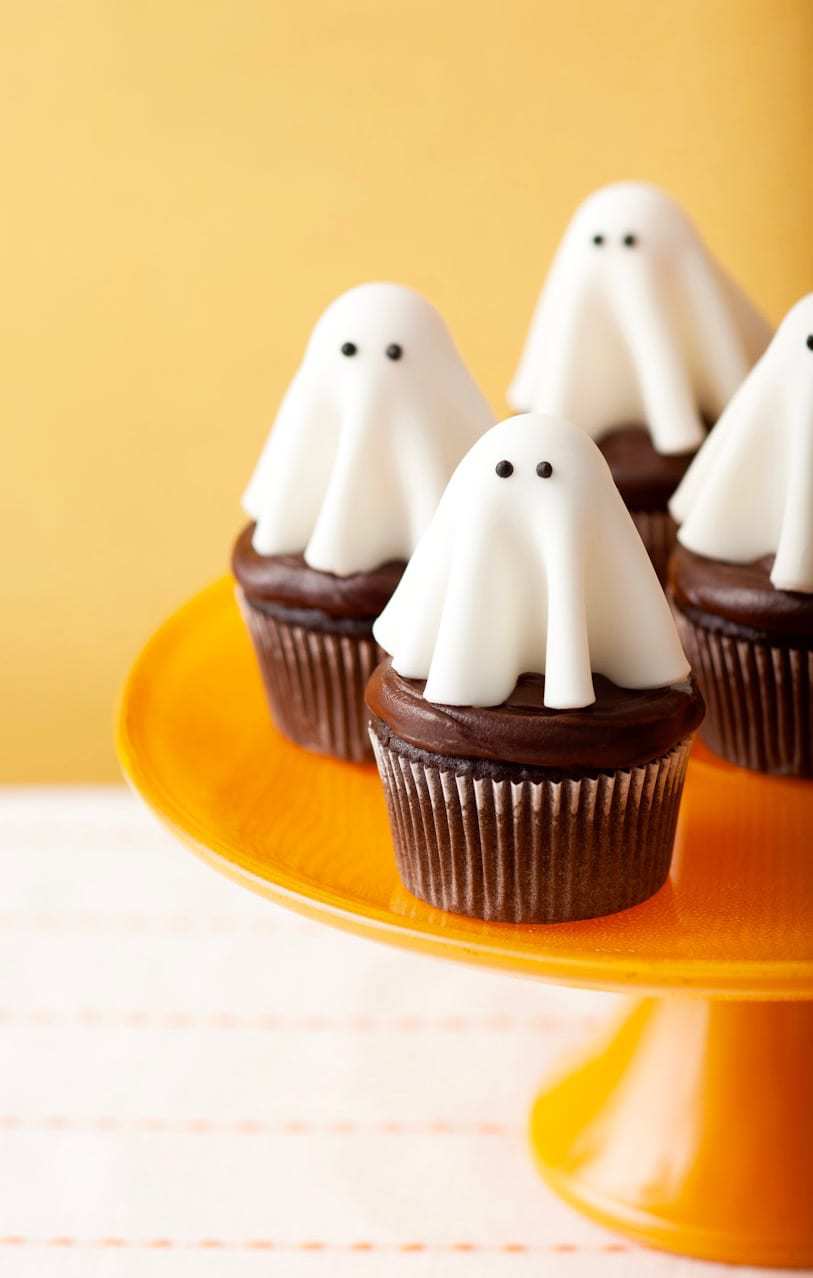 I really like making these on chocolate cupcakes, only because it seems a bit more dark and spooky (plus the white ghosts pop off the cupcakes). However, you could ice your cupcakes with a colored frosting, like green or orange. That would be darling!
To throw the BEST Halloween party, just include these cute floating ghost cupcakes
I mentioned a storied history…Well, here's the scoop. Khalil (my coworker at Ladies' Home Journal) and I developed this idea and recipe to feature in the magazine. It was a hit. Everyone loved it. Well, the folks over at Food Network Magazine loved it more than most people. The next year, we were flipping through their October issue and there was a complete copy of our Ghost Cupcakes! Even down to the chocolate cupcake and dark background.
We weren't happy. It was flattering I suppose. We tweeted them that imitation was the sincerest form of flattery and included images of their picture and ours from the year before right next to it. No response. Of course.
So as it goes, there's absolutely nothing you can do about something like that. So we didn't. But now I want to share this cute idea with YOU, so we both have it in our collections for when we throw the BEST Halloween party!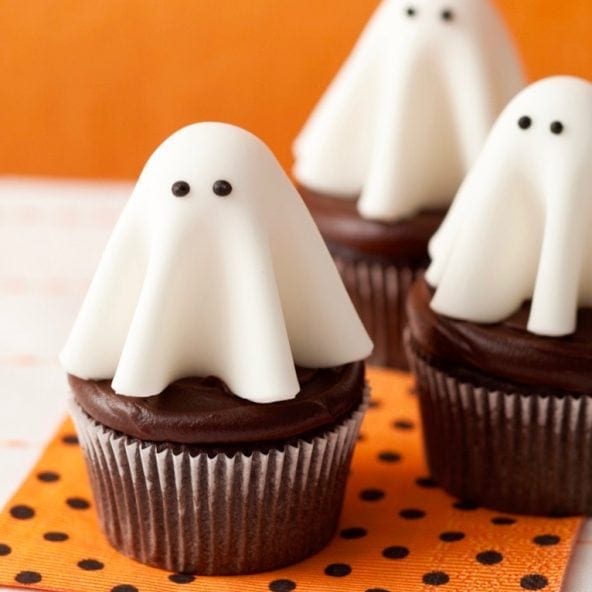 Floating Ghost Cupcakes
Floating ghost cupcakes will make all the ghouls come out to the Halloween party. These cute fondant treats are easy to make, even the little witches and storm troopers can help.
Keyword:
cupcakes, ghosts, halloween
Ingredients
18

standard-size cupcakes

1

container

chocolate frosting (16 oz)

or homemade chocolate frosting (

Cornstarch

1

pkg

white fondant (l lb 8 oz)

18

sphere lollipops

such as Dum Dums

1

tube black decorating icing
Instructions
Frost cupcakes and set aside. Lightly dust work surface with cornstarch and roll fondant a little thinner than ⅛ inch. Cut 18 1½-inch rounds and 18 4-inch rounds with cookie cutters. Knead scraps together and reroll, as necessary.

Insert the stick of a lollipop into a block of Styrofoam (or half a potato or apple) to hold it steady. Place one 1½-inch fondant round over lollipop and pinch to close. Then place larger fondant round over the smaller one, pleating to make a ghost shape. Repeat for all lollipops. Place a ghost in the center of each cupcake by inserting the stick into the cake. Pipe black eyes on each.
Recipe Notes
Fondant scraps can be re-rolled.  Imagine the fun your little ghosts can have!
Nutrition Facts
Floating Ghost Cupcakes
Amount Per Serving
Calories 253
Calories from Fat 81
% Daily Value*
Total Fat 9g 14%
Sodium 186mg 8%
Potassium 90mg 3%
Total Carbohydrates 40g 13%
Protein 2g 4%
* Percent Daily Values are based on a 2000 calorie diet.
I love cute Halloween treats! And if you do too, try a few more Tara Teaspoon recipes like Skeleton Cookies,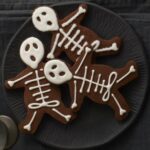 Or use up that Halloween candy by making Almond Joy Parfaits!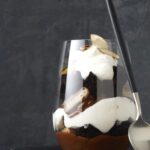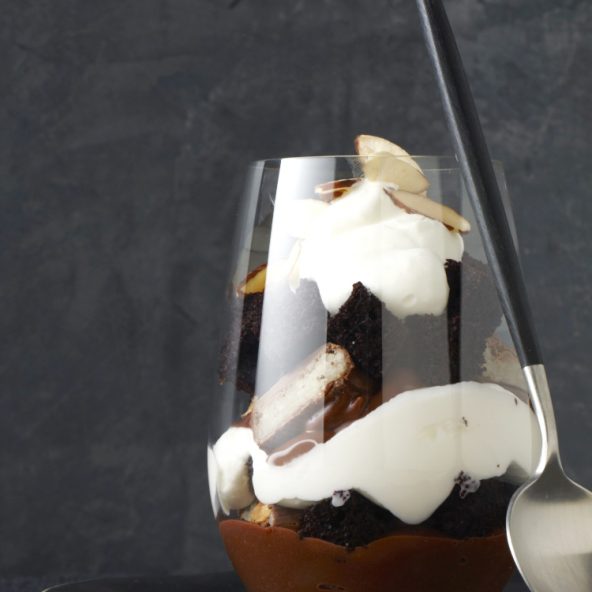 Recipe Tara Bench & Khalil Hymore
Photographs Kate Sears
Prop Stylist Gerri Williams
Originally published Ladies' Home Journal Oct 2010