---
Halloween ghost cupcakes will make all the ghouls come out to the Halloween party. This cute fondant ghost topper is an easy decoration for any cupcake. These floating ghosts are the perfect edible craft using all store-bought ingredients.
The ghost cupcake toppers are made using all store-bought ingredients. Fondant and icing, plus a hidden lollipop underneath. Those three simple ingredients are used to make these Halloween cupcakes.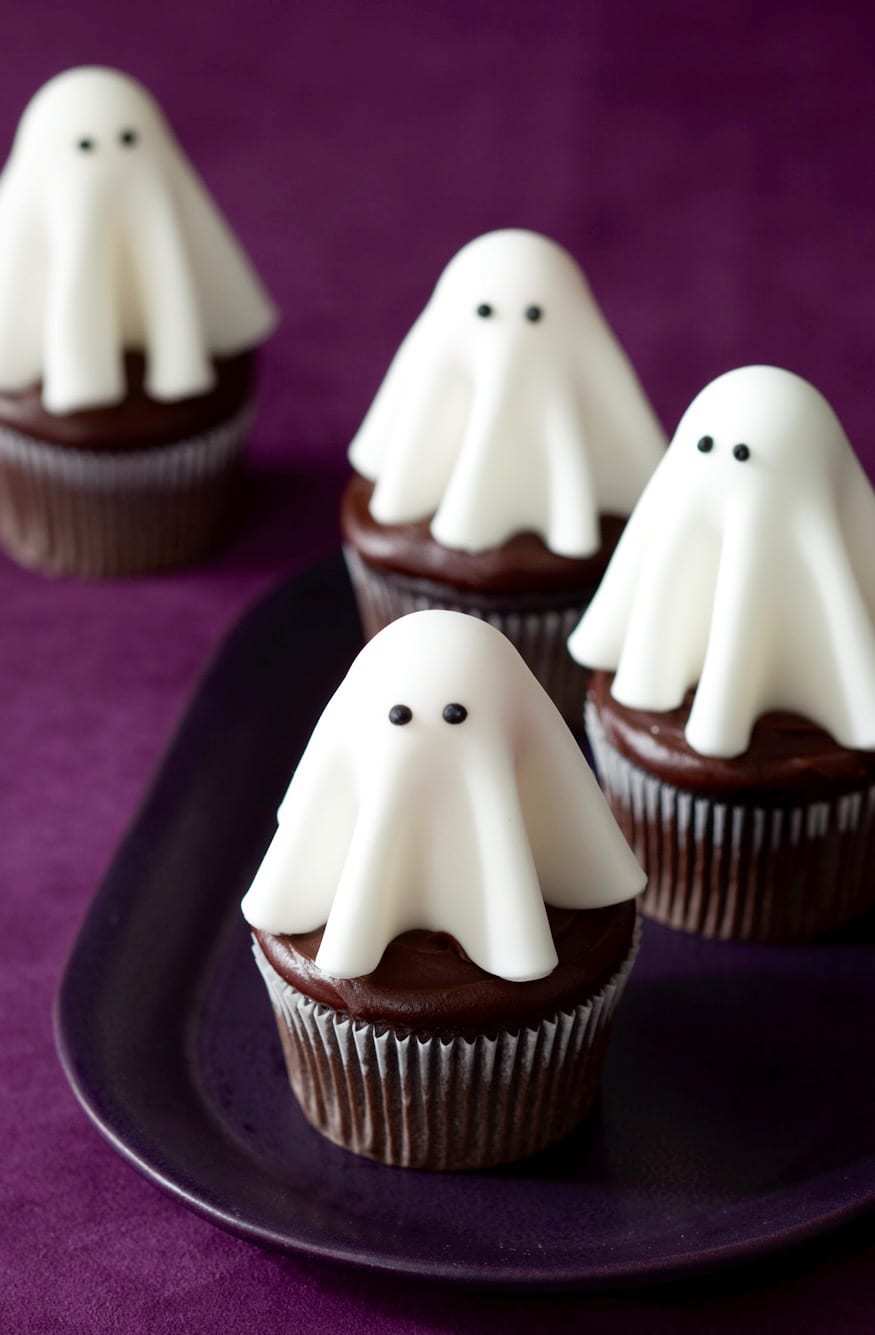 This Halloween cupcake recipe is just one of so many Halloween treat recipes. I love celebrating this spooky holiday and making both sweet and savory Halloween recipes.
Some of my favorites are my Monster Chicken Sliders, Ogre Halloween Pizza and Mummy Mozzarella Sticks.
Jump to:
Halloween ghost cupcakes are just as spooky as they are cute! The fondant ghost toppers really steal the show. They are the perfect party treat on a large Halloween table spread.
You can make homemade cupcakes or even use store-bought to make it easy.
Ingredients in Halloween ghost cupcakes
Ghost cupcakes with fondant ghost toppers only take a few ingredients. Find them at the grocery store and your local craft or baking supply.
Cupcakes - Make or buy 18 standard sized cupcakes. You can use your favorite recipe or a cake mix. I think chocolate cupcakes look great with chocolate frosting, but you can use any flavor you like.
Chocolate Frosting - Use a rich frosting like Whipped Chocolate Ganache, or a store-bought chocolate frosting.
Cornstarch - This is for dusting your work surface when rolling fondant.
White Fondant - Store-bought white fondant is perfect for making ghost toppers for cupcakes.
Lollipops - I think the Dum Dums brand are perfect. They are a great small size for forming the ghost cupcake toppers.
Black Decorating Icing - Instead of using multiple jars of black food coloring with your frosting, I like to purchase a little tube of black decorating icing.
How to make ghost cupcakes
You will be surprised how easy these ghosts cupcake toppers are to make! With just a few simple steps, you will look like a professional cake decorator. The little ghost cupcakes are made by laying a circle of white fondant on top of a Dum Dums lollipop.
The lollipops have just the right shape to make a ghost head, and the sticks go into the cupcakes to hold them on top.
A little store-bought black decorating icing is used for the eyes and voila! You're done.
Once you finish the ghost, place them onto cupcakes. Make the cupcakes homemade or use store-bought for a quick tip! This truly is one of of the easiest but most impressive cute Halloween cupcakes.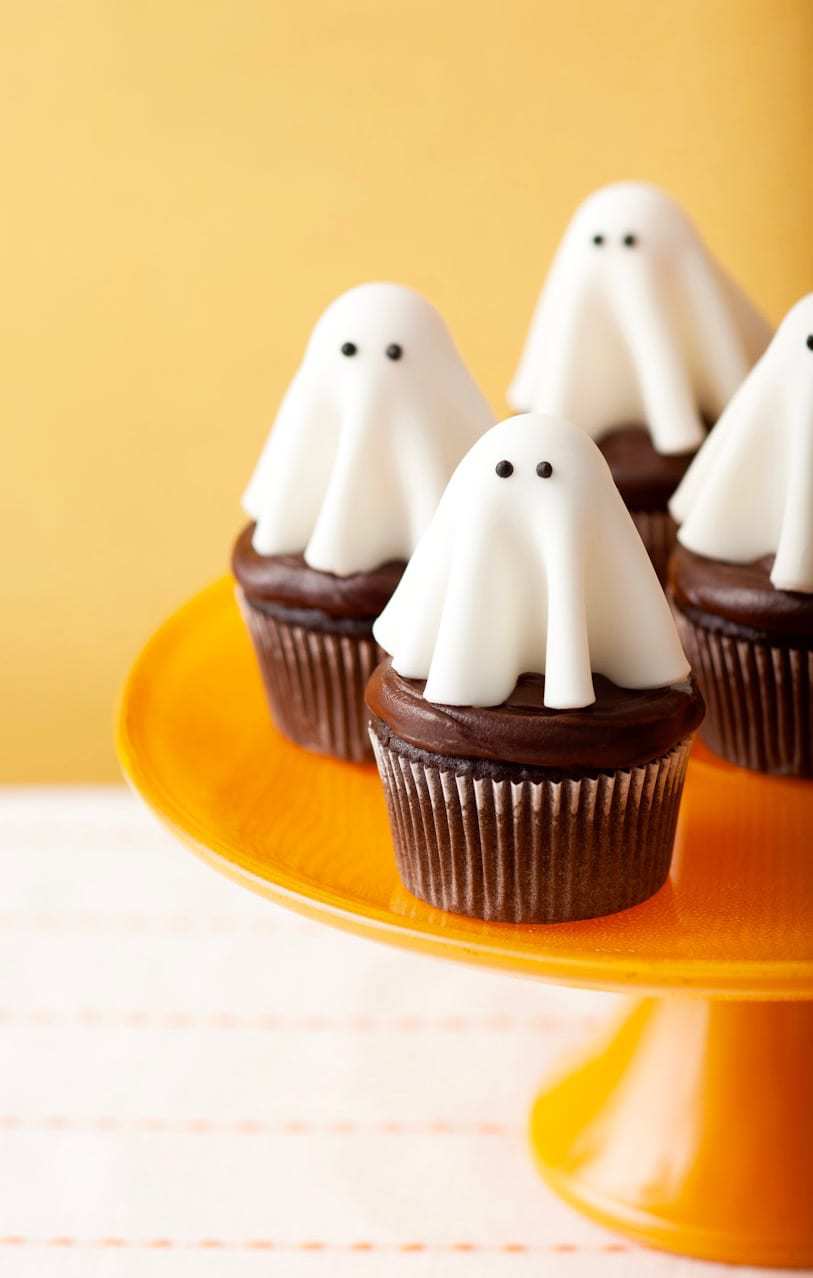 I really like making these on chocolate cupcakes, only because it seems a bit more dark and spooky (plus the white ghosts pop off the cupcakes). However, you could ice your cupcakes with a colored frosting, like green or orange. That would be darling!
If you love these Halloween cupcakes, you must try my other Halloween cupcakes as well. Orange and Black Cupcakes, Pumpkin Decorated Cupcakes, and Candy Cupcakes are my other favorites!
Tips to make fondant ghost cupcake toppers
When rolling out fondant make sure to use cornstarch as your dusting powder, not flour. Cornstarch keeps the fondant from getting sticky and brushes right off if there's excess. Don't use too much or it will dry the fondant out.
I use a round cookie cutter set to cut 1 ½-inch and 4-inch round of fondant for each ghost.
If you don't have one you can cut a 4-inch circle from cardstock or a bowl and use it as a template. It's easiest to cut the fondant with a paring knife.
Gently mold each fondant circle over the lollipops and use your fingers to pleat the bottom skirt. I like to have a piece of styrofoam or a floral block to stick the ghosts in as I work.
You can also place them right on the frosted cupcakes if you have them ready! (if you use styrofoam or oasis just make sure to clean off the lollipop stick before adding it to the cupcake!)
Floating Ghost Cupcakes are a cinch to make. You can even put them on store bought cupcakes!
Original ghost cupcake toppers
I developed this idea and recipe to feature in Ladies' Home Journal magazine when I was the Food Director. It was a hit. Everyone loved it.
The folks over at Food Network Magazine loved it too. The next year, they featured a complete copy of the Ghost Cupcakes! Even down to the chocolate cupcake and dark background in the image.
It was flattering I suppose. Call it the sincerest form of flattery. Now you see versions of this treat all over the internet.
More Halloween recipes to try
Let me know how it went!
Scroll to the bottom of the page to rate ⭐⭐⭐⭐⭐ and comment on this recipe. Leaving comments helps other too!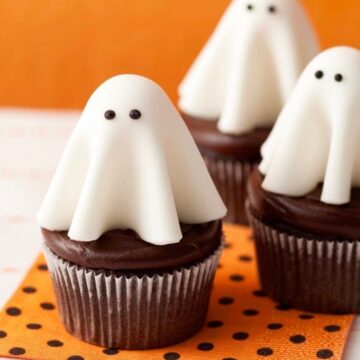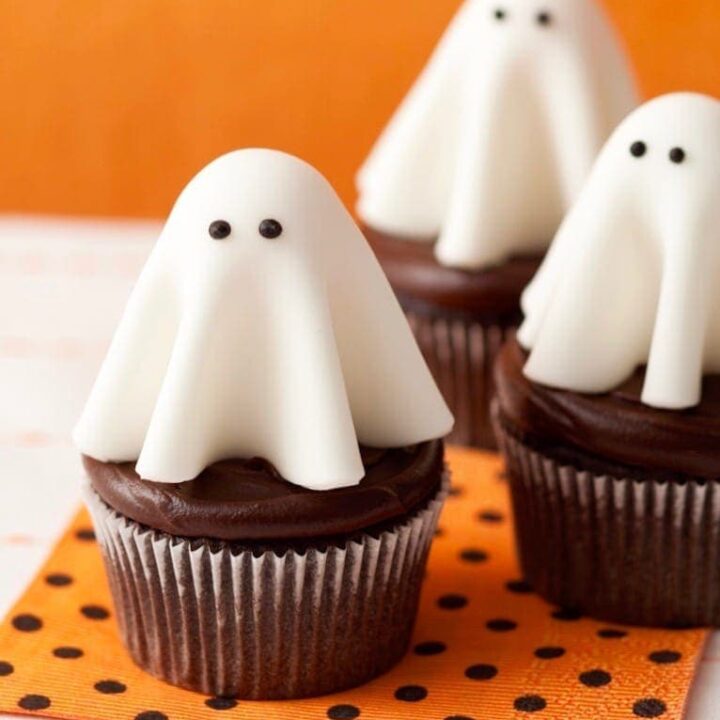 Floating Ghost Cupcakes
Halloween Ghost Cupcakes have cute fondant ghost toppers. They are an easy decoration for any cupcake. These floating ghosts are the perfect edible craft using all store-bought ingredients.
Equipment
1 (4-inch) round cookie cutter
Ingredients
18

standard-size cupcakes

1

container

chocolate frosting (16 ounces)

or homemade chocolate frosting

Cornstarch

1

package

white fondant (24 ounces)

18

sphere lollipops

such as Dum Dums

1

tube black decorating icing
Instructions
Frost cupcakes and set aside.

Lightly dust work surface with cornstarch and roll fondant a little thinner than ⅛ inch. Cut 18 1½-inch rounds and 18 4-inch rounds with cookie cutters. Knead scraps together and reroll, as necessary.

Insert the stick of a lollipop into a block of Styrofoam (or half a potato or apple) to hold it steady. Place one 1½-inch fondant round over lollipop and pinch to close. This will smooth the lollipop and help the 4-inch round stick.

Then place larger fondant round over the smaller one, pleating to make a ghost shape. Repeat for all lollipops. Place a ghost in the center of each cupcake by inserting the stick into the cake.

Pipe black icing eyes on each. You can fill a piping bag fitted with a #3 plain tip for the black icing if desired.
Notes
Fondant scraps can be re-rolled.
Feel free to use store-bought cupcakes.
Be sure not to use too much cornstarch on the table surface to roll since it can dry fondant out.
Wrap any fondant you aren't using in plastic wrap to prevent it from drying out.
Nutrition
Calories:
254
kcal
Carbohydrates:
41
g
Protein:
3
g
Fat:
10
g
Saturated Fat:
3
g
Polyunsaturated Fat:
2
g
Monounsaturated Fat:
5
g
Cholesterol:
1
mg
Sodium:
187
mg
Potassium:
90
mg
Fiber:
1
g
Sugar:
30
g
Vitamin A:
23
IU
Vitamin C:
0.1
mg
Calcium:
58
mg
Iron:
1
mg
Spooky & Fun Halloween Recipes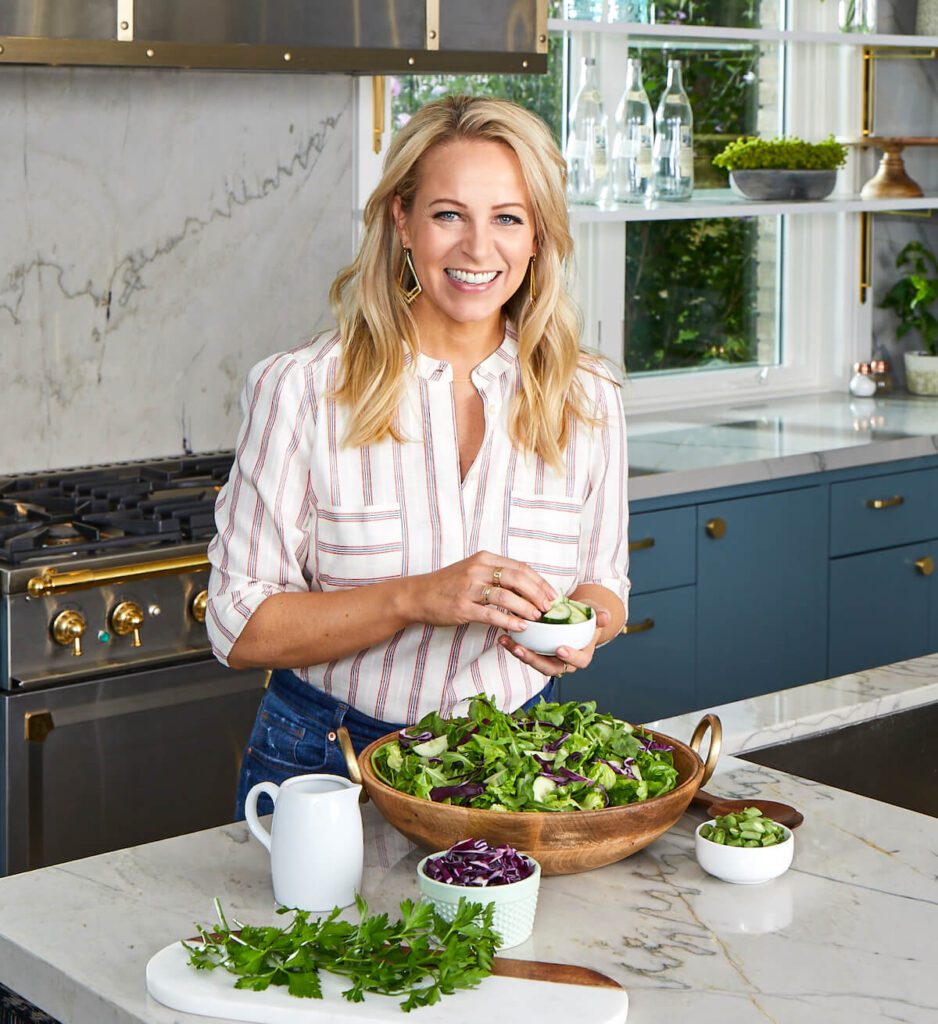 About Tara Teaspoon
I've been in the food publishing business for over 20 years, creating recipes & food-styling for magazines, books, television & advertising. Order my new cookbook & stick around for amazing things to eat.
Recipe Tara Teaspoon. Photographs Kate Sears. Prop Stylist Gerri Williams. Originally published LHJ 9/10. Update September 2023.