Spiderweb Halloween Caramel Apples are a classic fall treat, with chocolatey, sweet little spiders. They are easy to make using store-bought caramels and the perfect Halloween candy apples for a spooky party.
Caramel apples with chocolate are a spooky-sweet Halloween treat! You'll impress everyone with the one extra step of adding a cute spiderweb right onto the caramel.
A classic candy apple is a fall staple, whether you cover those apples in a caramel coating and chocolate, or simply dip your slices in my Spiced Caramel Sauce.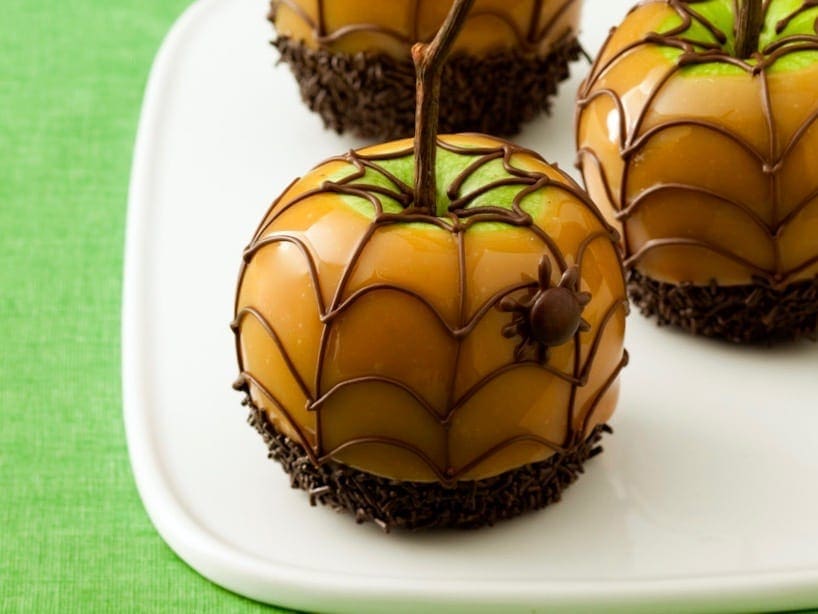 Caramel and apples just go together, especially at Halloween. They taste even sweeter when there's a creepy chocolate spider on the side!
I love a good caramel apple in the fall, like the big ones you get at fancy candy shops! I wanted to recreate this treat with a fun Halloween theme.
Spiderweb caramel apples, with a little chocolate spider on the side were just the ticket, and they look amazing on a Halloween table.
You can make it a whole spider theme with my friend Melissa's Oreo Spider Halloween Snacks! She blogs at Bless This Mess and we're sharing our favorite Halloween recipes with each other. Check her site to add to your holiday arsenal!
Jump to:
Assembling Halloween candy apples
To make these Halloween apples, first buy or find sturdy, dry twigs to use as the apple sticks, and wash them of course!
You can also use little caramel apple dowels made just for this purpose, but why stick to convention? Find the biggest Granny Smith apples you can, remove the stems and add your twigs or dowels. You're ready to go.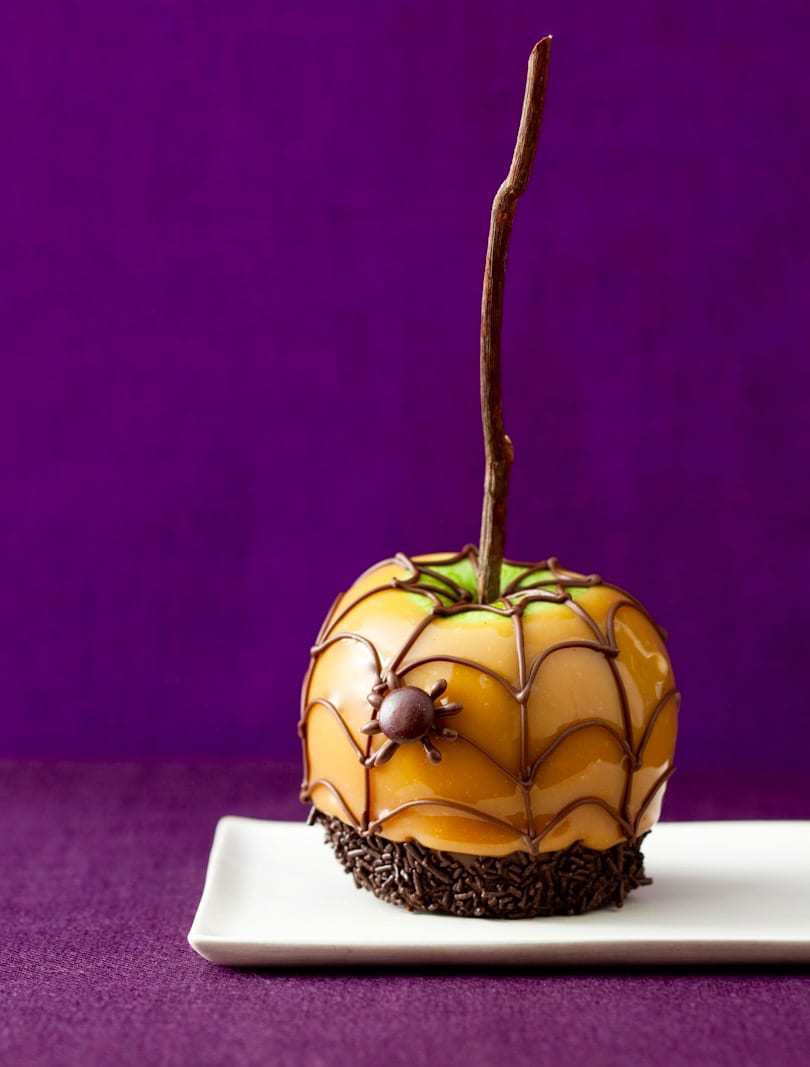 How to make Halloween spiderweb caramel apples:
These Halloween apples are easy to make since they are made with store-bought soft caramels and chocolate candy melts. They are truly foolproof and even simple enough for kids to help make!
Get all of your ingredients ready and placed into bowls. This caramel apple process moves quickly once the apples are dipped and chilled.
First, line a baking sheet that fits into the fridge, with parchment paper.
Insert a twig or dowel into the apple for the handle.
Melt caramel squares with water in a saucepan and coat the apples in caramel. Place the apples onto the parchment paper.
Chill the apples for 20 minutes, then trim any excess caramel from the base with kitchen shears.
Melt the chocolate in the microwave in intervals. Dip the bottom of the apples in melted chocolate and sprinkles. Place back onto the parchment and chill again until the chocolate candy melts have set, about 15 minutes.
Decorate the apples as desired with the spiderweb pattern shown below and chill until ready to serve.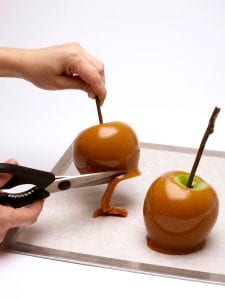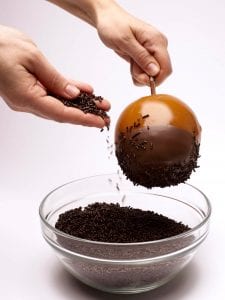 ---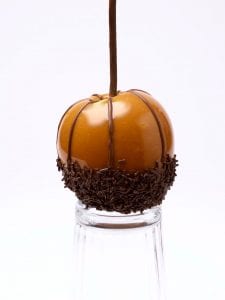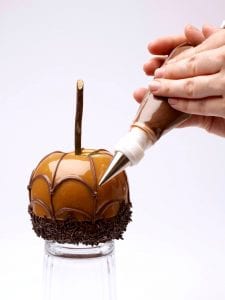 ---
Tips to make Halloween caramel apples
Be sure to wash the apples first to remove the excess wax. Sometimes the wax on the outside of the apples can cause the caramel to not stick.
Cut off any excess caramel that pools at the bottom of the apple. This ensures you have a smooth, round base for the chocolate and sprinkles! Plus this leaves you with extra caramel to eat!
If your apples are cold to begin with, the caramel may get very thick quickly. Simply reheat the pan to loosen the caramel and continue dipping. Spoon the caramel onto the last few apples when you get to the bottom of the pan.
Dip each apple in melted chocolate candy melts, just about 1 inch up from the base. You want to leave enough room for the chocolate spiderweb on top.
Work with one apple at a time, dip in the chocolate and then immediately sprinkle with the chocolate sprinkles. Your apples are cold so the chocolate will set quickly and then your sprinkles won't stick.
Prepare ahead
It's always good to prepare ahead and have the sprinkles in a bowl ready and waiting. This is also a fun process for kids or friends to help with, and always nice to have an extra set of hands!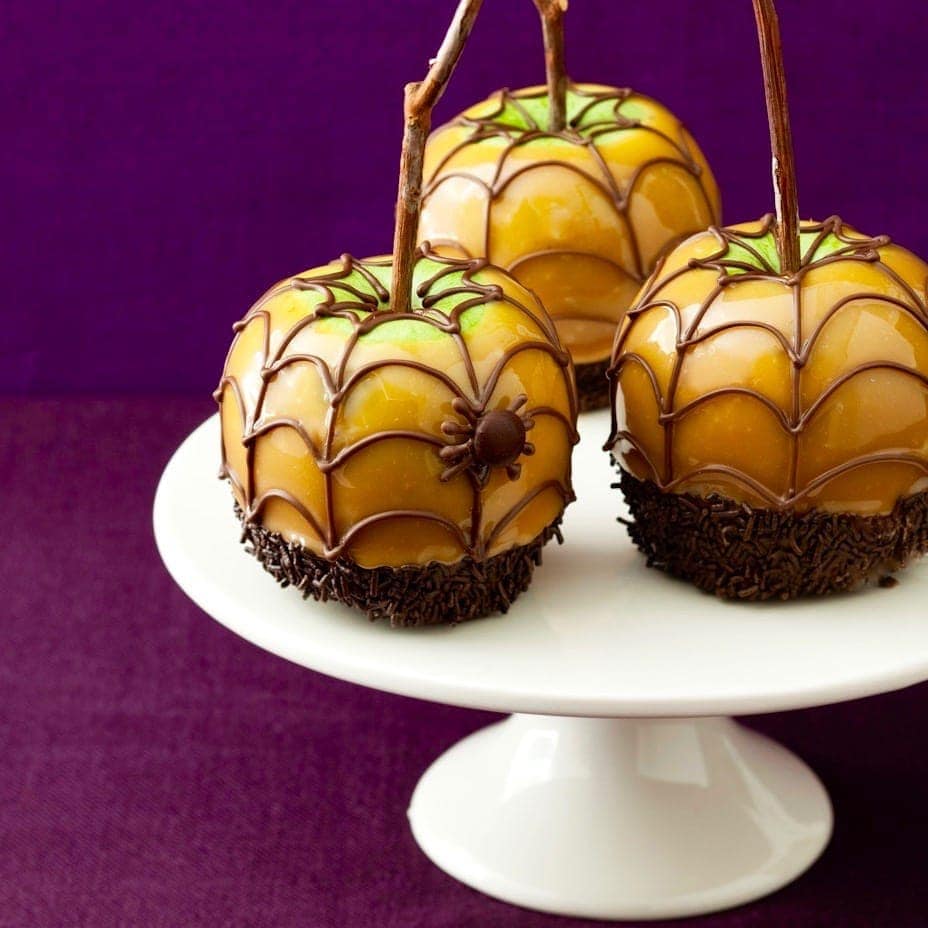 Tips for piping the spiderweb design
Once your Halloween candy apple has been coated in chocolate, you are ready to pipe the spiderweb. I like to invert a glass to use as a stand so the apples are closer to me for piping.
Place the rest of the melted chocolate candy melts into a piping bag fitted with a small circular tip. I like #2 plain tip. It's part of this writing tip set.
Pipe 7 or 8 vertical lines down the sides of each apple from the top, to the chocolate sprinkle base.
Pipe curved lines in between the straight lines to form a web. These spiderweb caramel apples are almost complete!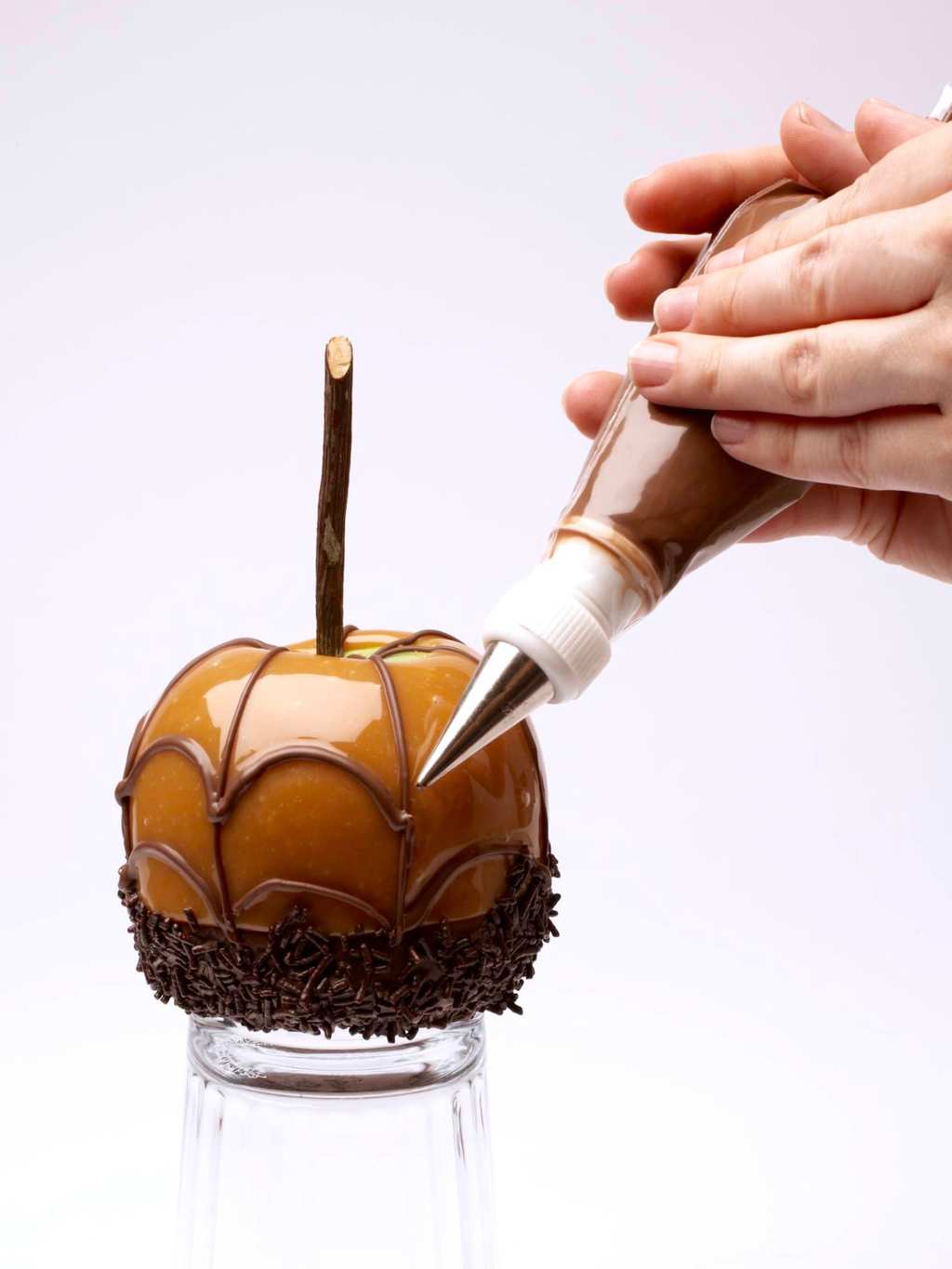 If your chocolate cools in the piping bag, wrap a hot, damp towel around it to heat it up again. You can also remove the tip and toss it in the microwave for a minute, but I find the hot towel gently and evenly reheats the chocolate.
Leave them as is of course, and decorate the table with plastic spiders, but you'll miss out on the creepy chocolate crawlers!
I like to pipe 8 little legs on each apple and then adhere a chocolate M&M for the spider body. Now, how do you like them apples?
More fun Halloween treats
Let me know how it went!
Scroll to the bottom of the page to rate ⭐⭐⭐⭐⭐ and comment on this recipe. Leaving comments helps other too!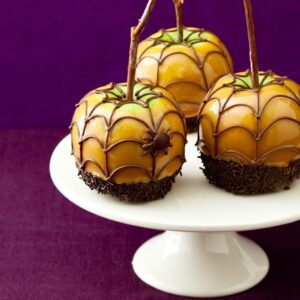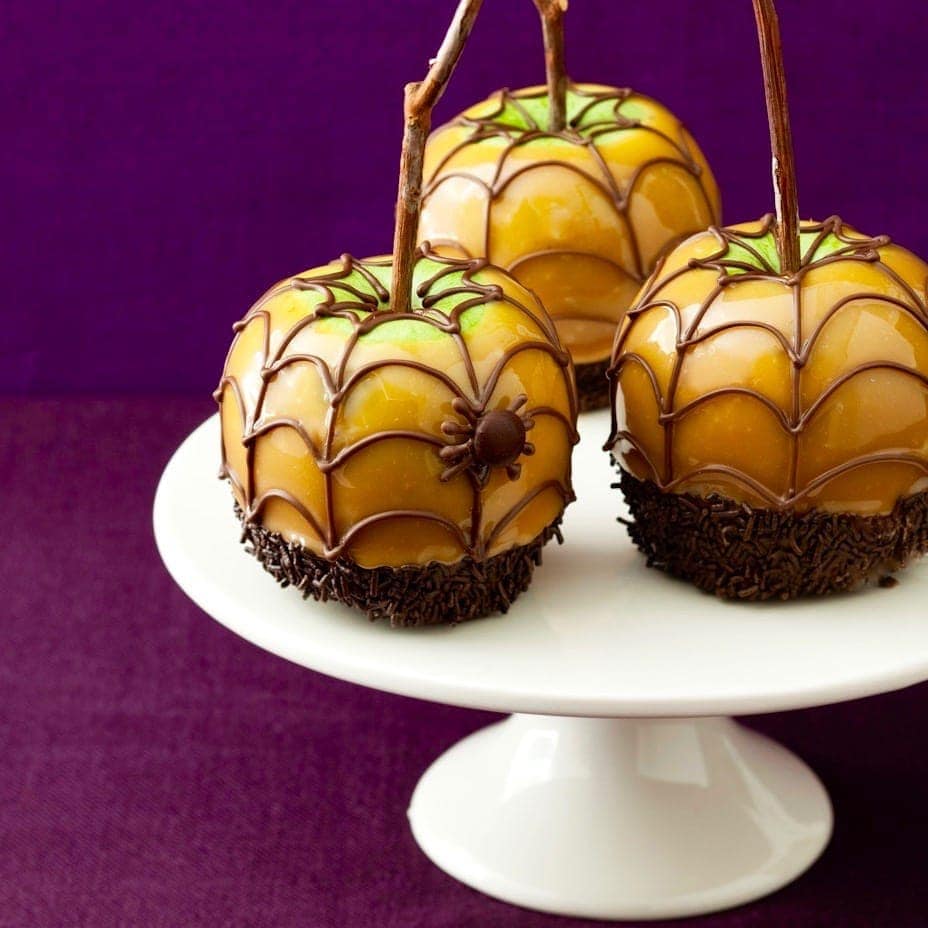 Halloween Spiderweb Caramel Apples
Halloween Spiderweb Caramel Apples are a classic fall treat using store-bought chewy caramels and chocolate candy melts. The spookiest Halloween candy apple!
Ingredients
8

Granny Smith Apples

8

caramel apple dowels or twigs

75

Kraft caramels

unwrapped

1 ½

cups

(9 ounces) chocolate candy melts

Chocolate Sprinkles

Chocolate candies (M&Ms)
Instructions
Remove stems from apples and insert dowels or twigs; set aside. Line a baking sheet with parchment and spray with cooking spray.

In a large saucepan over medium heat combine unwrapped caramels and 2 tablespoons water. Sir occasionally until just melted. Dip apples one at a time into caramel, using a spoon to help coat sides and top. Hold over pan, allowing excess caramel to drip off and scraping excess of bottom of apple. Place on prepared baking sheet.

Chill apples until set, about 20 minutes. Trim excess caramel from the base with kitchen shears.

Melt candy melts and dip base of each apple in chocolate. Let excess drip off, then cover with chocolate sprinkles. Return to baking sheet and chill until set.

Fit a piping bag with a #2 plain tip, then fill with about ½ cup leftover melted chocolate. Pipe 7 or 8 lines from the top of the apple to chocolate base. Pipe curved lines in between to form a web pattern. To make spiders, pipe 8 little legs and place a chocolate candy in the center. Keep chilled until ready to serve, up to 8 hours.
Notes
These apples are delicious and each one can serve 2 people, making 16 servings from this recipe.
• If the chocolate cools in the piping bag, wrap a hot, damp towel around it to reheat.
• Cover the base with sprinkles right after dipping in chocolate so the chocolate doesn't set before the sprinkles stick!
Nutrition
Calories:
273
kcal
Carbohydrates:
54
g
Protein:
2
g
Fat:
6
g
Saturated Fat:
4
g
Polyunsaturated Fat:
2
g
Monounsaturated Fat:
1
g
Cholesterol:
3
mg
Sodium:
125
mg
Potassium:
198
mg
Fiber:
2
g
Sugar:
46
g
Vitamin A:
69
IU
Vitamin C:
4
mg
Calcium:
70
mg
Iron:
0.2
mg
Spooky & Fun Halloween Recipes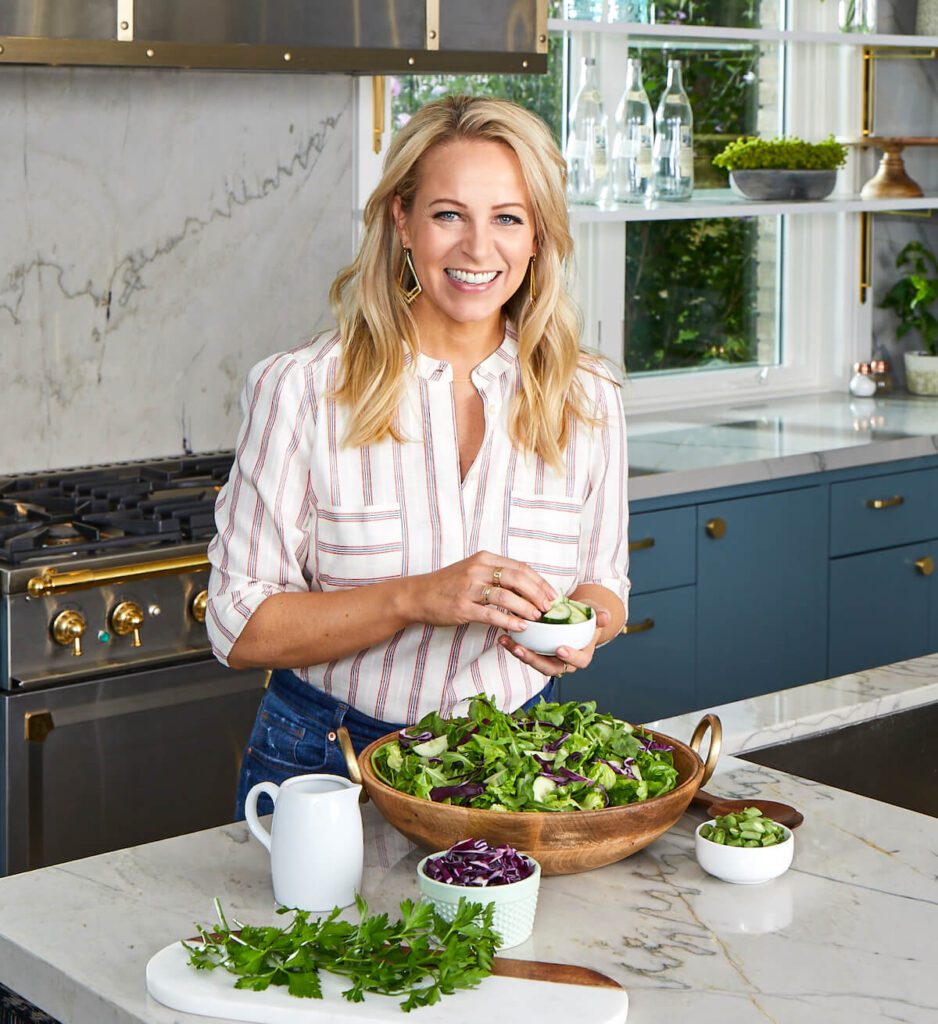 About Tara Teaspoon
I've been in the food publishing business for over 20 years, creating recipes & food-styling for magazines, books, television & advertising. Order my new cookbook & stick around for amazing things to eat.
Recipe and food styling by Tara Teaspoon. Photography Kate Sears. Propping Deborah Williams. Originally published in LHJ 10/11. Updated September 2023.