---
Halloween cupcakes get topped with chocolate candy polka dots for tasty cuteness. Easy to make with pantry ingredients, you'll be the hit of the costume party!
---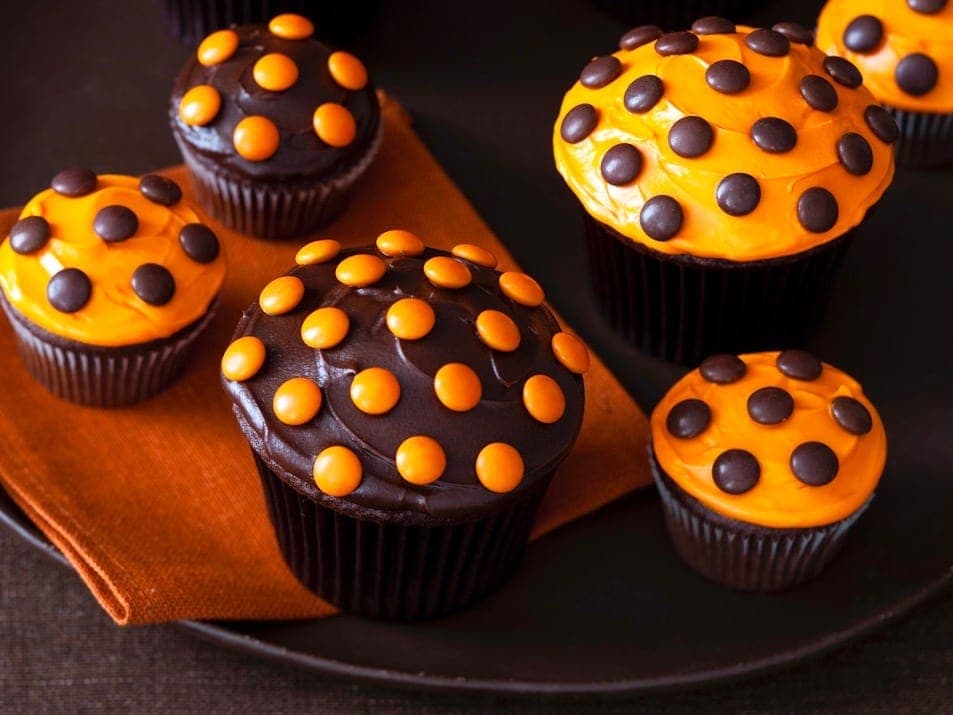 These Halloween cupcakes can be your October go-to party dessert. They are a cinch when you use cake mix and one of my easy frosting recipes. Play around with fun designs or stick to the punchy polka dots. They are delicious no matter what.
Make Halloween cupcakes:
Start out with a batch of your favorite flavor of cupcakes! You can use a cake mix, chocolate, yellow, spice cake or other. Or use my Vanilla Cupcake Recipe that is easy and never fail. You just need basic sugar, flour, and butter ingredients!
Bake the cupcakes in cute papers too. I like using dark colors because the cute designs stay true after being baked. Try this assortment of Halloween cupcake papers.
Keep it simple but fun with these polka dot Halloween cupcakes. Great for the kids to help with.
I have used canned frosting here as well just to make it speedy. However, if you've got some time, homemade frosting is my favorite, and you could use my popular fluffy frosting or this rich milk chocolate frosting. For a special treat, my Meringue Buttercream is a silky, not-too-sweet frosting that melts in your mouth.
Use mini M&Ms:
Before you frost your cupcakes, sort the chocolate candy M&Ms. You'll want mini orange and chocolate brown M&Ms. You can order them online or often find them in the candy aisle or in bags in the baking isle. Here is the bag of mini M&Ms you'd find near the chocolate chips! You will need to sort out the orange and brown colors. It just takes a minute or two.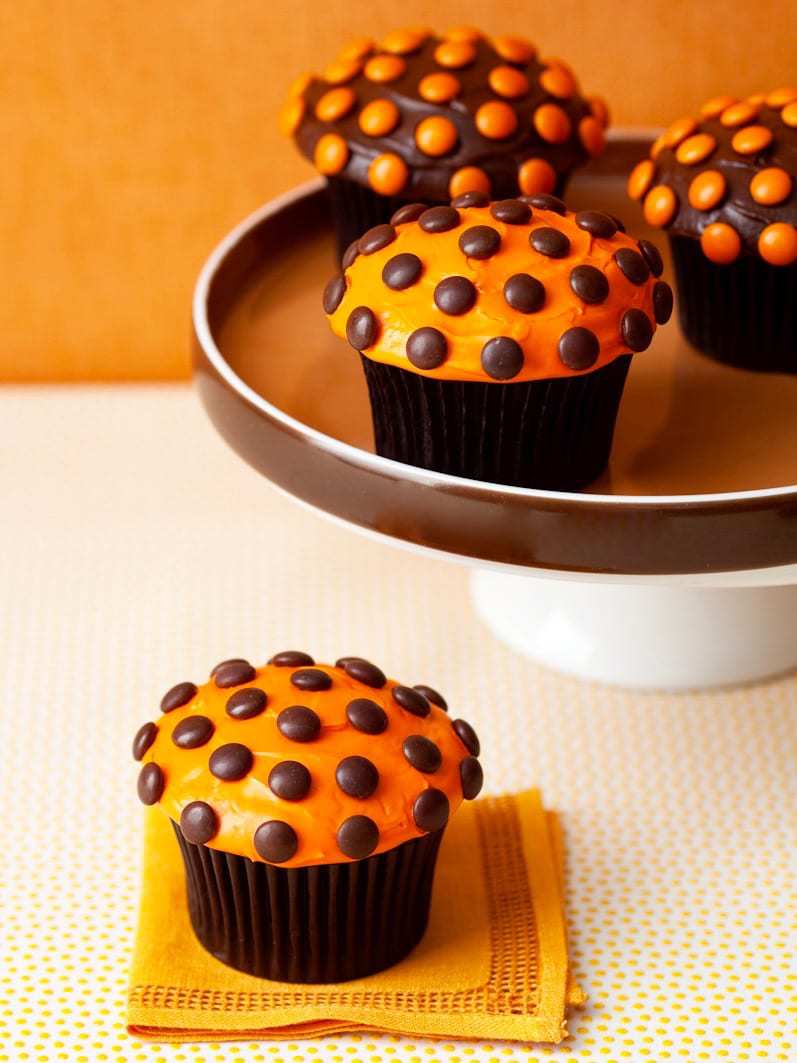 Tint white frosting orange with orange gel paste food coloring and use chocolate frosting for the other flavor. Frost half the cupcakes orange and half in chocolate. Immediately decorate with the orange and brown M&Ms.
You can make these ahead and store them in an cupcake carrier or on a tray with a lid.
What to serve at a Halloween party:
If you're throwing a Halloween party, I've got some more great treats for you. But before all the good stuff, how do you like to decorate for Halloween? My favorite decoration is the string webs that you can stretch over everything! I don't know why, I just love them. I put them on walls, in corners, over tables and more!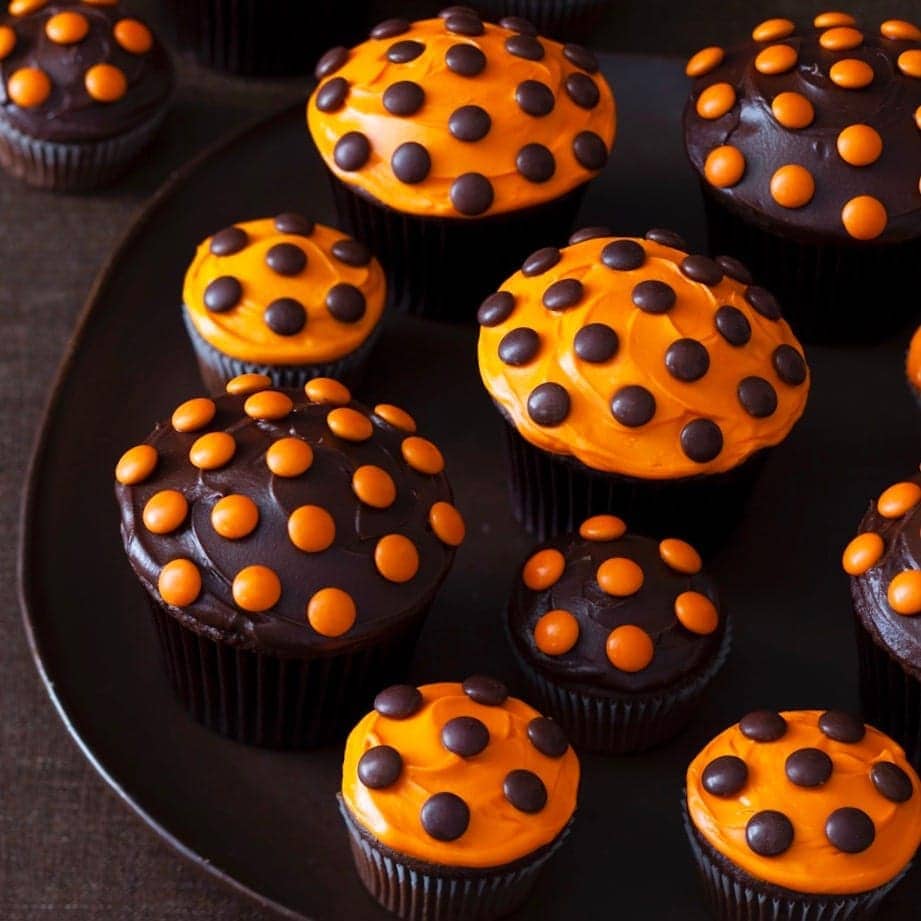 But I digress on the world of cute decorations! On to fun treats. Scroll below the recipe to find a list of my friends' fun Halloween recipes. You'll find everything from dips to donuts and popcorn and cheesecake.
Savory Halloween treats are good too!
I love something savory as well as sweet. My Pizza Roll Ups Mummies are some of the cutest savory snacks. You can keep the pizza train going with Shriveled Ogre Nose Pizza as well.
Click over to my 15 Spooky Treats that your kids can have fun helping with to round out the party. You can also search my Halloween page for more. Simply create a buffet of assorted treats and you have a party that can't be missed!
I love this time of year and the playful food we get to eat. Have fun creating, and be sure to scroll down and check out my friends' Halloween treats too!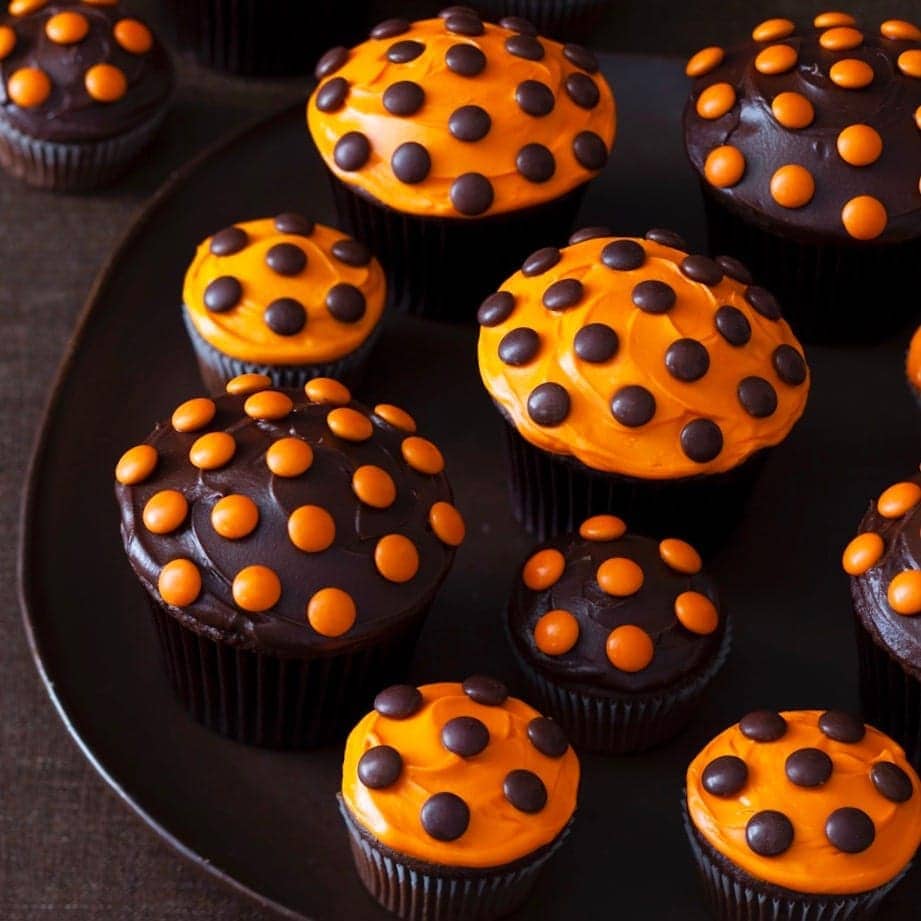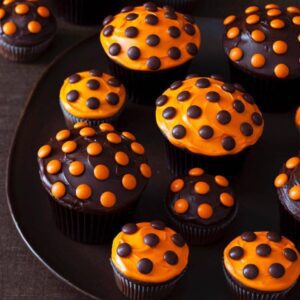 Polka Dot Halloween Cupcakes
Chocolate candy polka dots top these Halloween cupcakes with tasty cuteness. Easy to make with pantry ingredients, you'll be the hit of the costume party!
Ingredients
1

pkg cake mix

Gel-paste food coloring

orange

1

Extra Rich Milk Chocolate Frosting

Mini M&M's

orange and brown
Instructions
Prepare cake mix according to pkg directions making 19 standard-size and 24 mini cupcakes.

Tint vanilla frosting orange.

Frost half the cupcakes with orange frosting and half of them with chocolate frosting. Arrange orange and brown M&M's on top of frosting.

Can be made up to 5 hr ahead.
Notes
A cake mix plus your creativity will rock the Halloween party this year!
Nutrition
Serving:
1
g
Calories:
134
kcal
Carbohydrates:
24
g
Fat:
4
g
Saturated Fat:
1
g
Sodium:
129
mg
Potassium:
30
mg
Sugar:
18
g
Calcium:
27
mg
Iron:
0.4
mg
Halloween Chocolate Cherry Hand Pies
Halloween Cinder Cake
Halloween Treats
Spooky Spider Chocolate Cheese Ball
Puking Pumpkin Dessert Dip
Donut Spiders
Halloween Popcorn Bars
Chocolate Peanut Covered Caramel Apples
Candy Corn Truffle Bark
Mini Frankenstein Cheesecakes
Ghost Munch
Halloween Cake Pops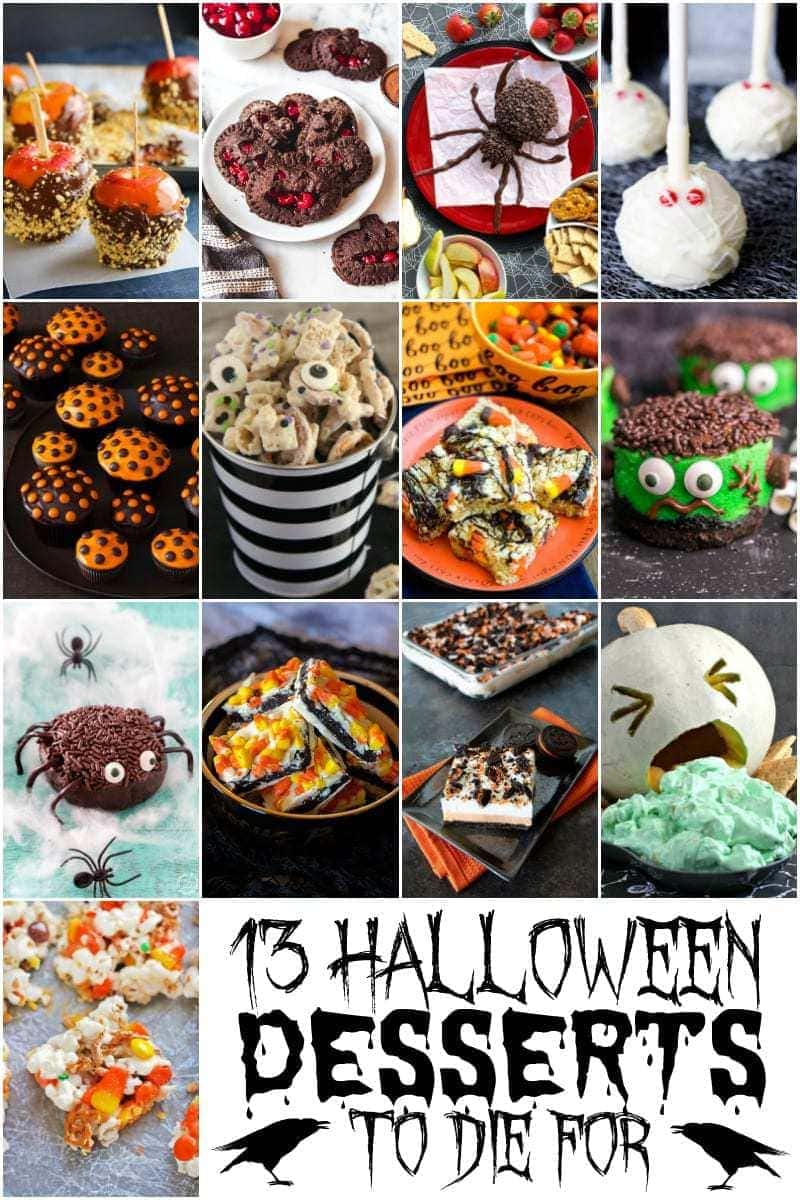 Spooky & Fun Halloween Recipes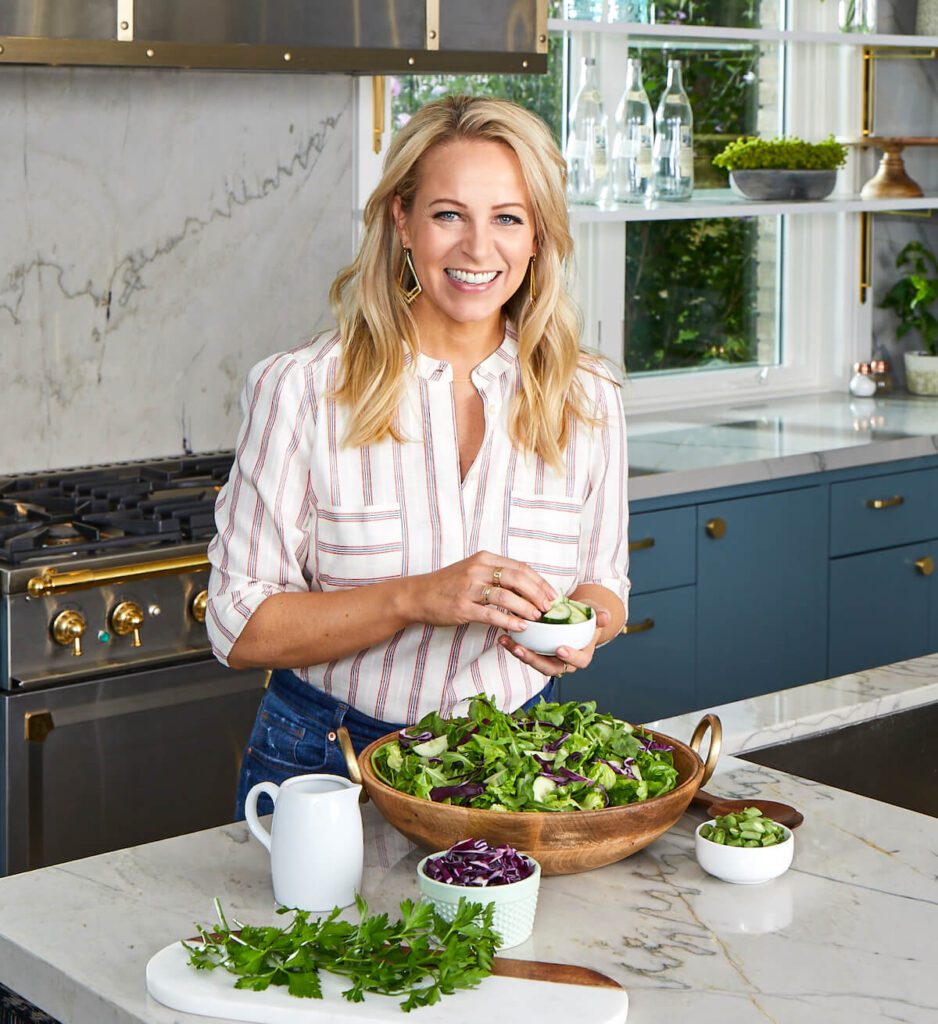 About Tara Teaspoon
I've been in the food publishing business for over 20 years, creating recipes & food-styling for magazines, books, television & advertising. Order my new cookbook & stick around for amazing things to eat.
Recipe by Tara Teaspoon and Khalil Hymore. Photograph by Kate Sears. Prop Stylist Gerri Williams. Originally published LHJ Oct 10.