---
A lemon lovers dream. Layer cake that really tastes like outrageous lemon, looks like a vision from heaven and makes everyone's taste buds very happy. Find out what the secret is!
---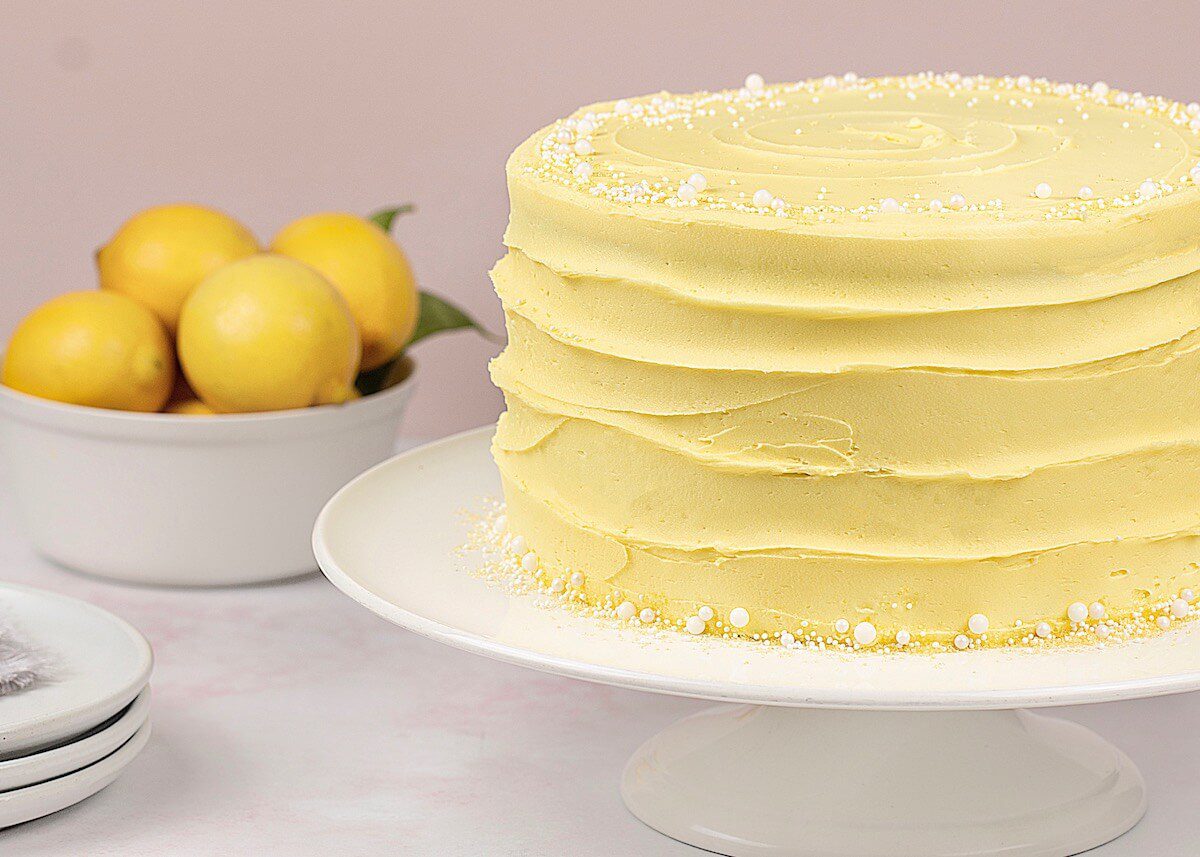 Let me know how it went!
Scroll to the bottom of the page to rate ⭐⭐⭐⭐⭐ and comment on this recipe. Leaving comments helps other too!
Jump to: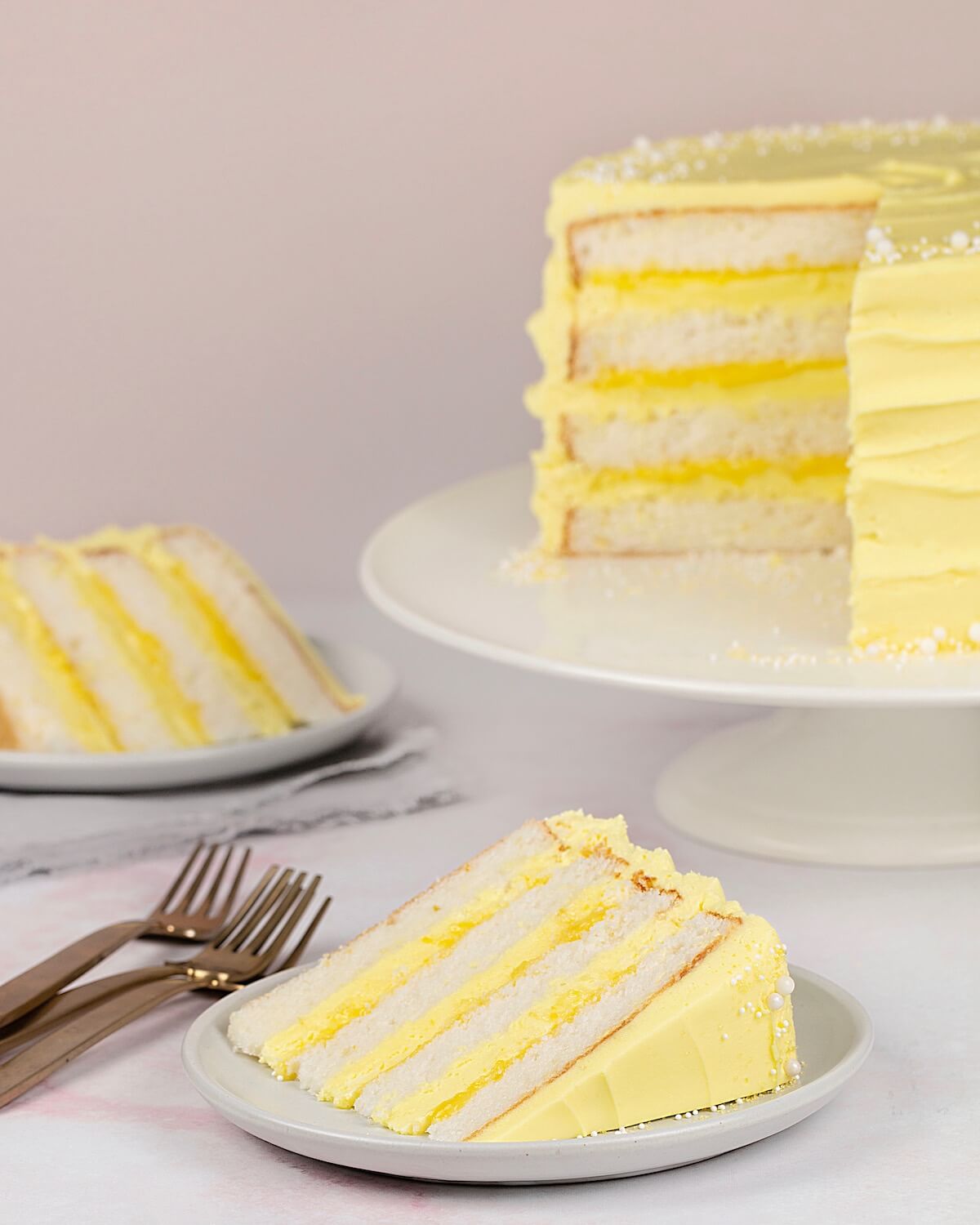 The perfect lemon cake for lemon lovers
Loving everything lemon is a career my mom ventured into before I was alive. She takes it very seriously. Lemon pie, lemon bars, lemon curd, lemon drops, lemonade, lemon slices, lemon wedges, lemon cake, lemon cookies, lemon icing, you name it, she loves it.
Loving this citrus is her business.
So when I told my mom I could make a cake layered with lemon curd and frosted with the most lemony, buttery frosting she could imagine, she was intrigued.
The secret to lemon cake
My secret? I have a few!
One: I use lemon curd in between the layers.
This gives an intense citrus zing in every bite. I spread a little lemon curd and lemon frosting on each layer. You can use store-bought or homemade. I have the best lemon curd recipe!
Two: A lemon juice reduction in the frosting.
Made in a matter of minutes, this fresh lemon juice reduction is a super concentrated lemon bonanza that is added to my frosting. The genius here is that, because it's concentrated and reduced, it doesn't add a lot of liquid to my frosting. I still end up with fluffy frosting instead of a runny glaze.
Cake from scratch or cake mix?
I used cake mix, but you can make whatever cake you like. I opted for a simple white cake mix. Add a little lemon zest as you mix it up and it's perfect.
What size are the lemon cake layers?
I really like to bake layer cakes in 7-inch pans (get them here or check out my post about baking in saucepans–yes, saucepans.
Here's why I like 7-inch pans: the inch difference from your standard 8-inch pan gives the cakes more height. So each layer is about one, big-inch tall.
That's plenty of cake to slice into four layers. (Two layers each cake)
And a four layer cake is just so impressive. A tall cake is even more impressive!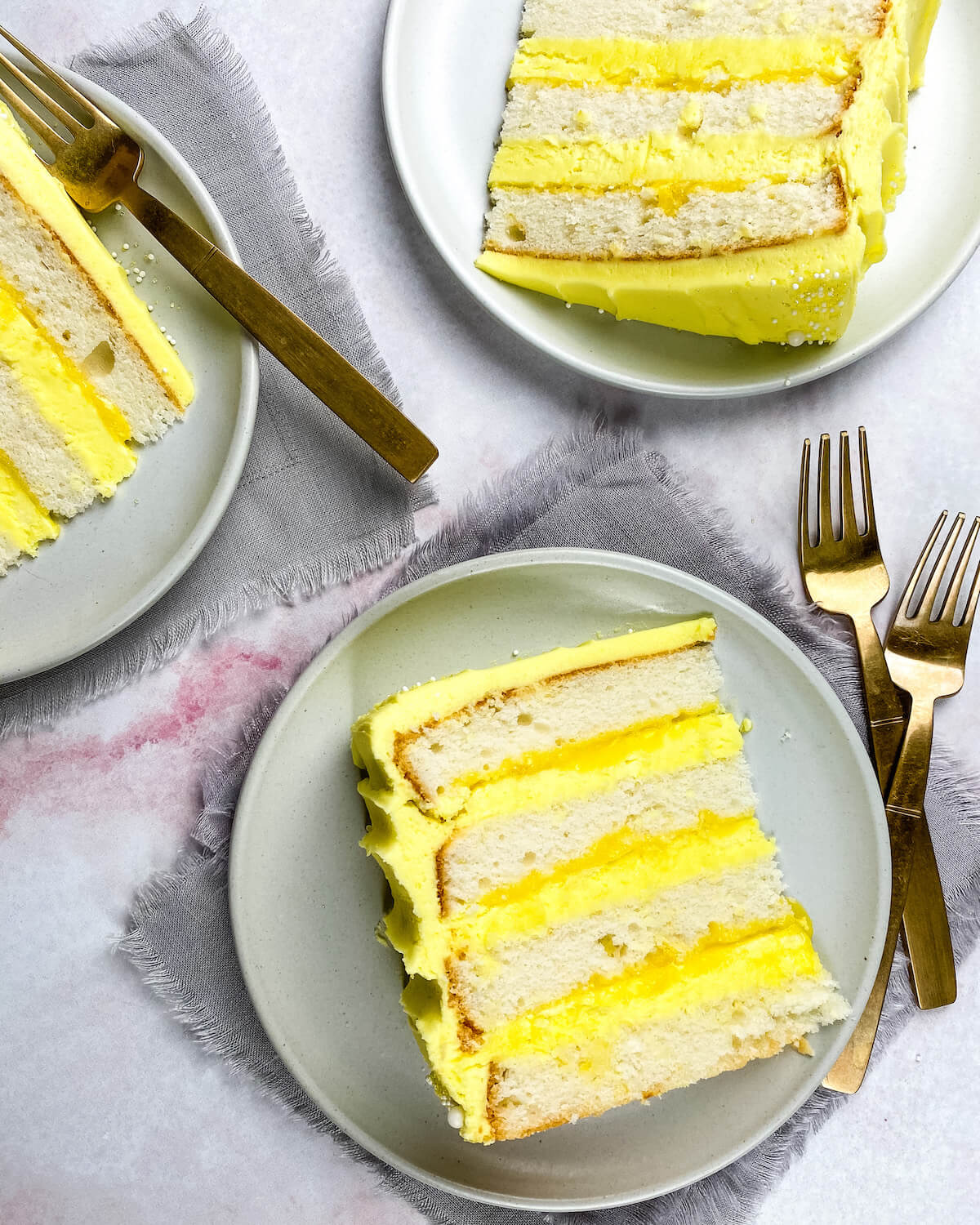 Intense lemon flavored frosting
The frosting is a lemon version of my standby Fluffy Vanilla Frosting.
To make it an intense lemon flavor, I take about a ½ cup of fresh lemon juice, simmer it in a saucepan until it has evaporated, and reduced to about 2 ½ to 3 tablespoons.
I let that cool and add it to the butter as you start to make the frosting. I added a bit of extra confectioners' sugar because of the extra citrusy liquid.
Color the frosting with yellow food coloring if desired. Easy easy. Oh you're going to love it!
See the VIDEO: This lemon cake featured on TV.
More delicious dessert recipes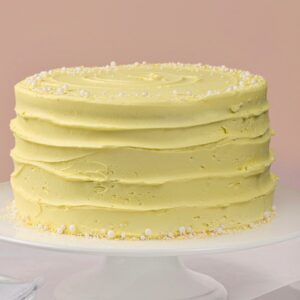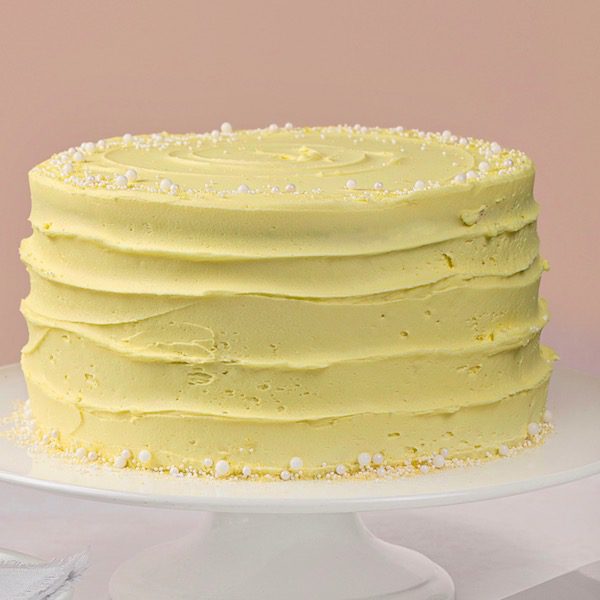 Easy Lemon Layer Cake
I use a cake mix with an intense lemony frosting. Bake a white cake mix in two 7- or 8-inch pans, depending on how tall you want it! Easy, easy. Use store-bought or homemade lemon curd.
Instructions
For the Cake
Prepare the cake mix as directed, stirring in lemon zest. Bake in two 7- or 8-inch round pans. Cool completely.
For the Frosting
Reduce the ½ cup lemon juice to 3 tablespoons by simmering it in a small saucepan and letting it evaporate. This will concentrate the flavor. Cool the reduction to room temperature.

Make Fluffy Vanilla Frosting but mix the lemon reduction into the butter before adding the confectioners sugar. Add the extra ¾ cup confectioners sugar at the end. Tint yellow, with food coloring, if desired. Use immediately or store airtight at room temperature for one day, chilled for a week.

Slice each cooled cake layer in half to make 4 cake layers. Place 1 layer on your cake plate or platter and top with ¼ cup lemon curd, spread evenly. Top with a spoonful of Lemon Frosting and spread over the curd; top with second cake layer. Spread that layer with lemon curd and frosting and repeat one more time with the third layer. Top with the last layer.

Frost the entire cake with Lemon Frosting. Sprinkle with decorative sprinkles or pipe on designs: With desired piping tip, decorate the top and bottom edges of the cake to finish it.

Cake can be stored at room temperature for a day and refrigerated up to a week.
Notes
My secret? A lemon juice reduction. Made in a matter of minutes, this fresh juice reduction is a super concentrated lemon bonanza, that is added to my frosting. The genius here is that because it's concentrated and reduced, it doesn't add a lot of liquid to my frosting. I still end up with fluffy frosting instead of a runny glaze, or frosting that loses it's flavor because you had to add too much confectioners' sugar.
• Lemon Curd: Get lemon curd at the store in a jar or make homemade lemon curd with my easy recipe.
Nutrition
Calories:
287
kcal
Carbohydrates:
62
g
Protein:
3
g
Fat:
4
g
Saturated Fat:
2
g
Sodium:
410
mg
Potassium:
45
mg
Fiber:
1
g
Sugar:
41
g
Vitamin C:
5
mg
Calcium:
113
mg
Iron:
1
mg
Cake recipes for any occasion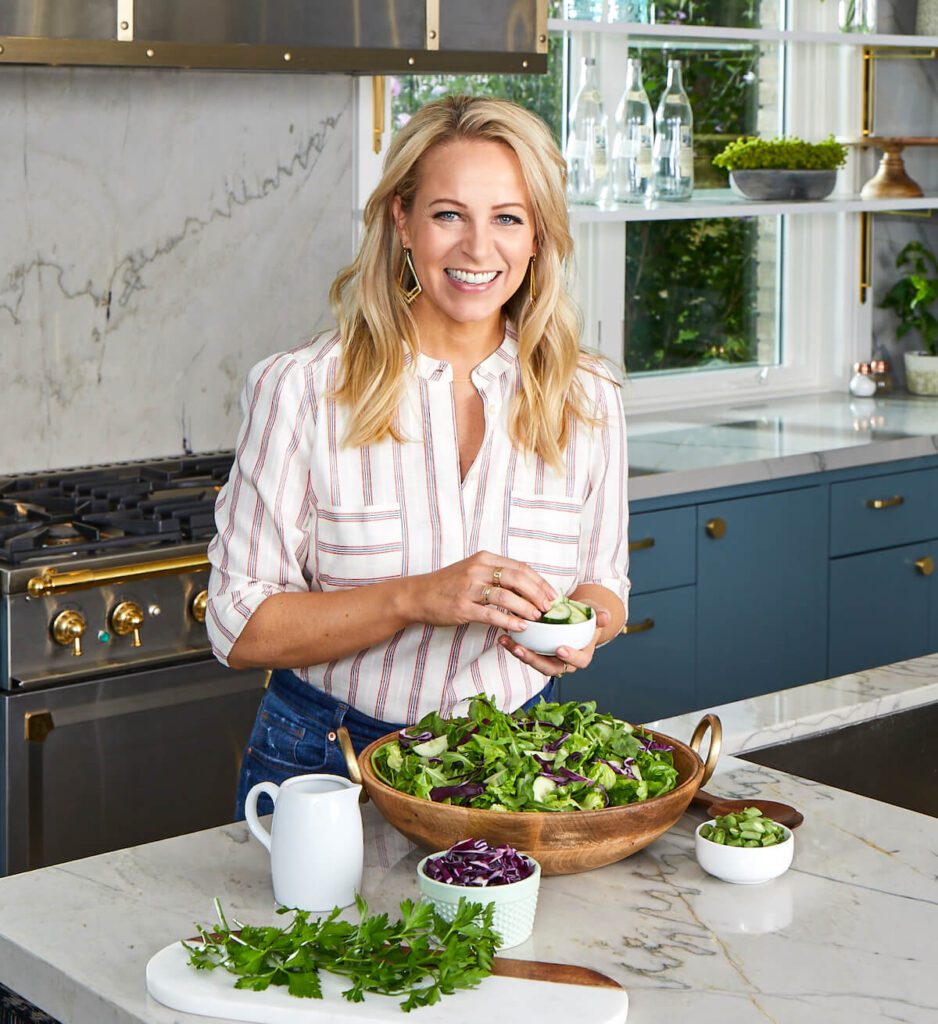 About Tara Teaspoon
I've been in the food publishing business for over 20 years, creating recipes & food-styling for magazines, books, television & advertising. Order my new cookbook & stick around for amazing things to eat.
Recipe by Tara Teaspoon. Photography Darianne Edwards