---
The only apple crisp recipe with oats you'll ever need! The buttery oatmeal topping is baked on top of juicy apples in the perfect proportion. Top with ice cream for an oatmeal apple crisp that is truly restaurant quality.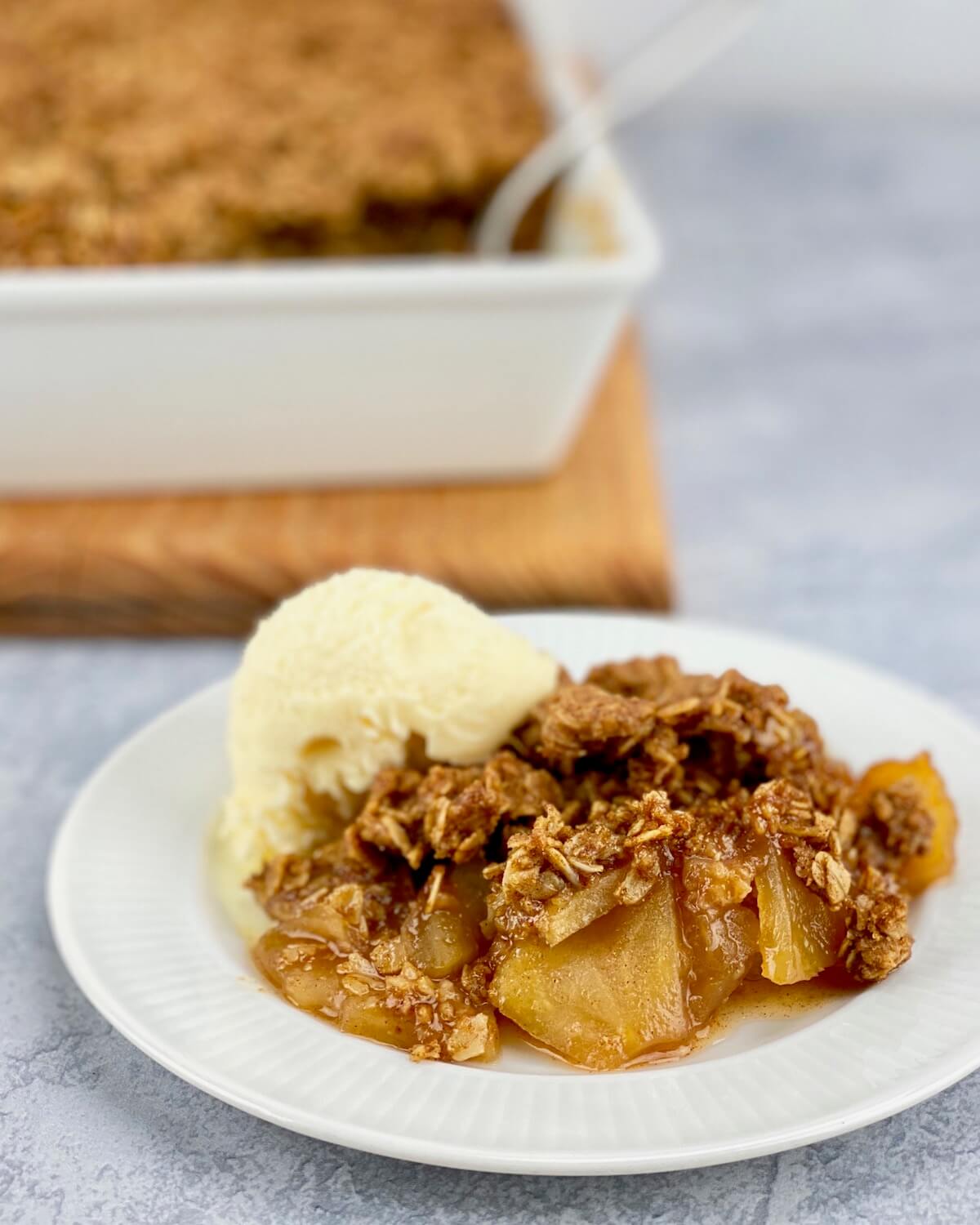 Jump to:
Creating this apple crisp with oatmeal recipe
When I'm at home visiting family, Mom always requests that I make my apple crisp. I never measure the ingredients.
I just assemble the recipe by taste and feel. She watches and writes down approximations, but the notes get lost and she requests it again.
I have finally written it down for the record! You may just want to keep this bookmarked too! It's truly the best apple crisp with oats recipe. If you close your eyes, you can smell the deliciousness wafting through your house!
This healthy crisp recipe has the same crispy and sweet oat topping that my rhubarb crisp recipe has. I simply left out the cinnamon to pair it with the rhubarb.
Developed and improved on over the years, this recipe touts my favorite balance between soft apple filling and oat crisp topping.
You know you love that bite of apple crisp that includes everything: soft, warm apple filling, still cold melting ice cream, and crispy, cinnamon oats.
I mean, who wants a bite of just apples, after you've devoured all the cookie-like topping? This apple crisp recipe has the perfect ratio of topping to apples. Plus the crispy oats on top are my secret weapon!!
This sweet oatmeal apple crisp recipe is perfect, with a buttery topping, a touch of cinnamon, and soft-cooked apples. It's classic topped with my vanilla ice cream.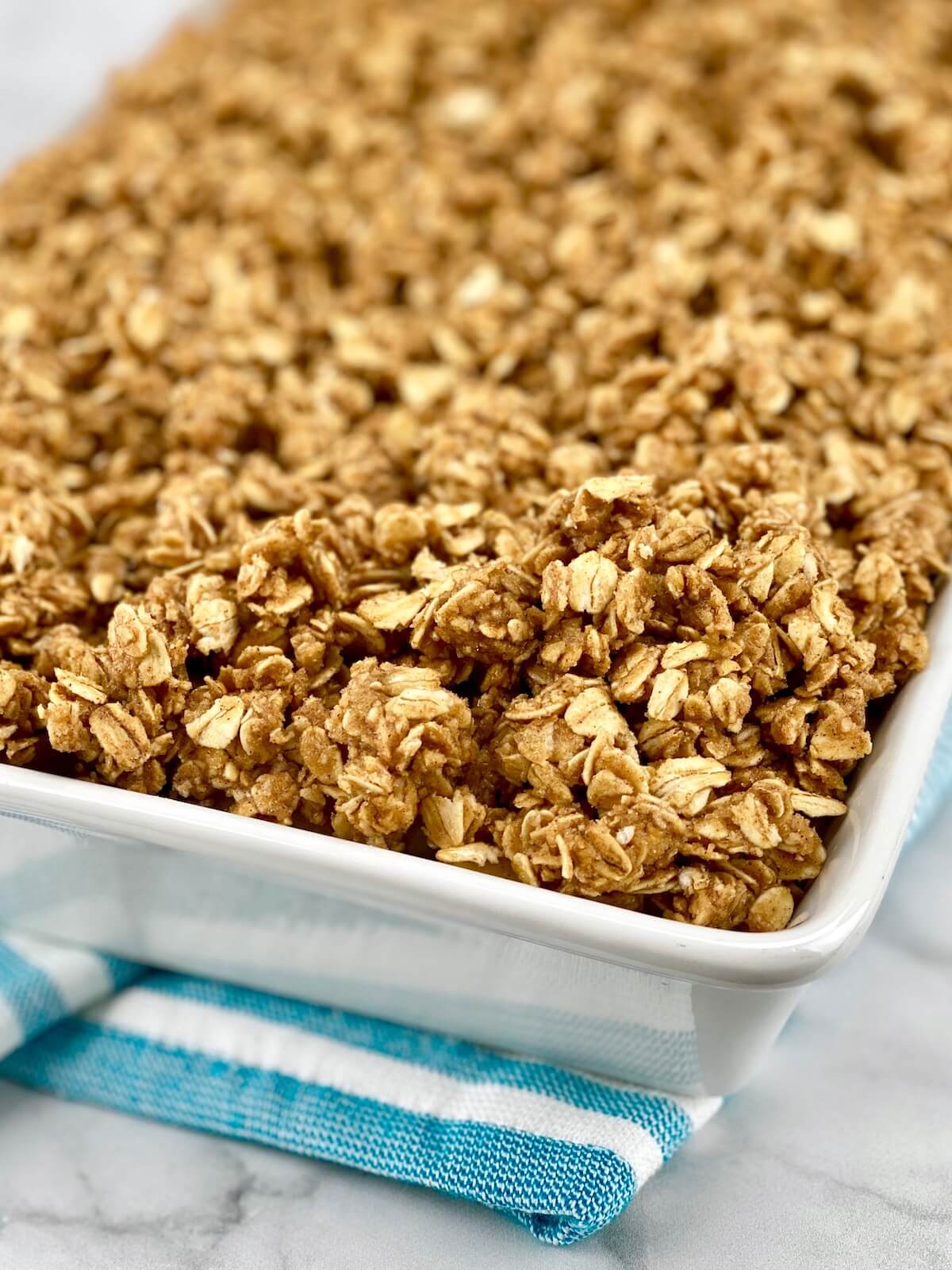 What makes this the best apple crisp with oats?
I have a list of tasty reasons why this is the best apple crisp. Sure, you can just mix oats, sugar, cinnamon, and butter and get a fruit crisp topping. However, for perfection, I think there should be a little more to it!
I like my apple crisp topping with oats to be a treat in and of itself! That means making it a little more like those oatmeal cookies I love, while still keeping the simplicity of a crisp topping.
The perfect apple crisp oatmeal topping should be:
Loaded with rolled oats.
Have plenty of butter. I use salted here!
Use brown sugar for a caramel sweetness.
Be cookie-like with a loftiness.
Bite well, and be crisp but not too dry.
Lightly spiced with cinnamon or ginger.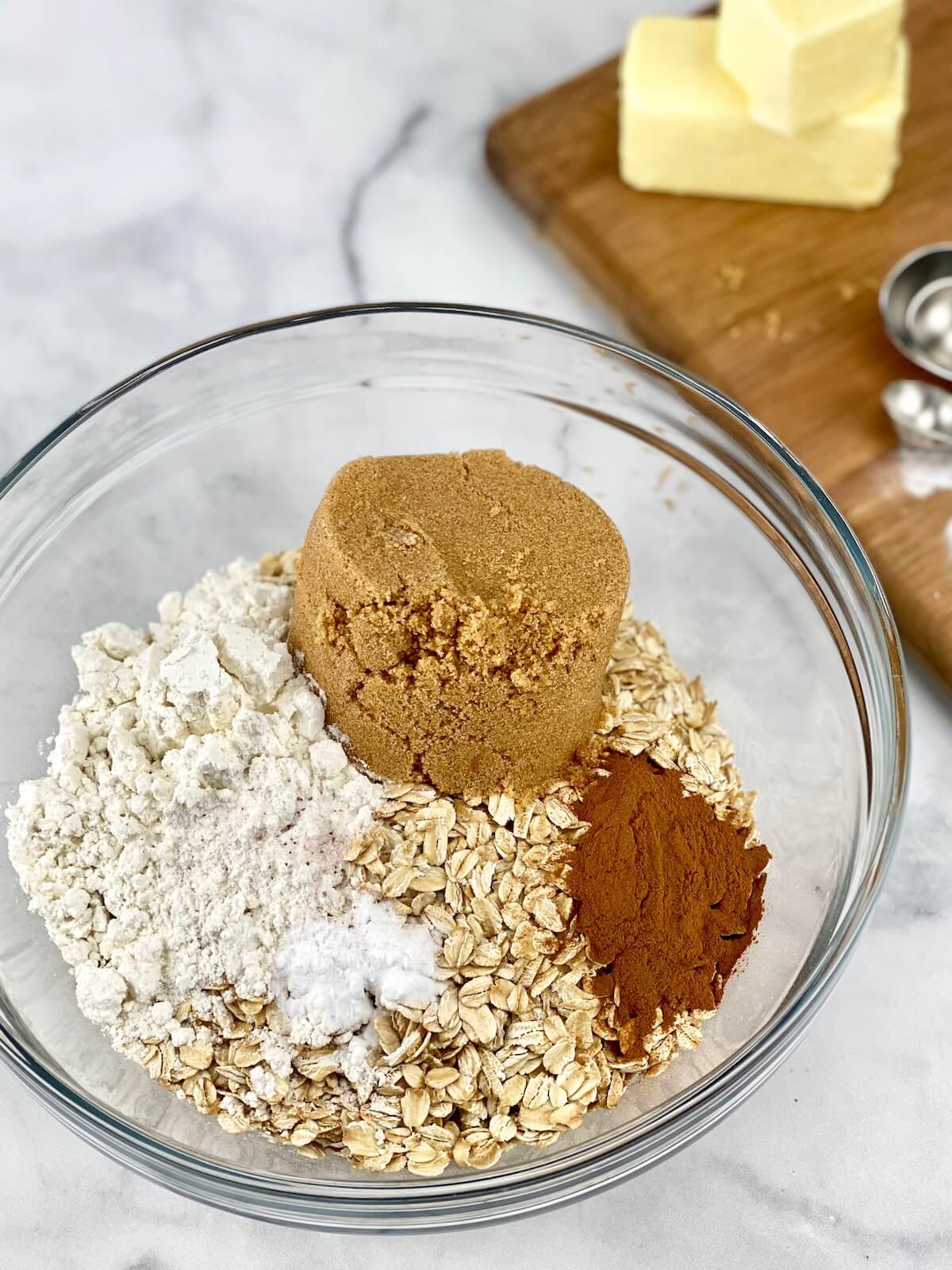 Ingredients in easy apple crisp
I don't use store-bought apple pie filling for this dessert. Instead, I mix my apples with cornstarch, lemon, and spices to make my own, quick-cooking apple filling. It bakes perfectly under the oatmeal topping and the crumble doesn't get soggy.
The oat crisp topping is like your favorite oatmeal cookie and is super easy to make. If you can believe it, some apple crisp recipes don't use oats. The recipe simply has a sugary cookie crumble on top. No thanks!
I achieved what I think is perfection by making my apple crisp topping recipe as I would oatmeal cookies. I don't add eggs and it's more oats than flour, so it remains a true crisp, with cookie attributes.
Rolled oats are the base and brown sugar and cinnamon are added as classic flavors. I add a little flour. I also add a bit of baking soda to help create a cookie-crisp bite. That little bit of leavening is just what the crisp needs to not be super dense.
The butter is generous. I use 1 ½ sticks in the topping. Along with 2 tablespoons of milk, it's the moisture for the mix.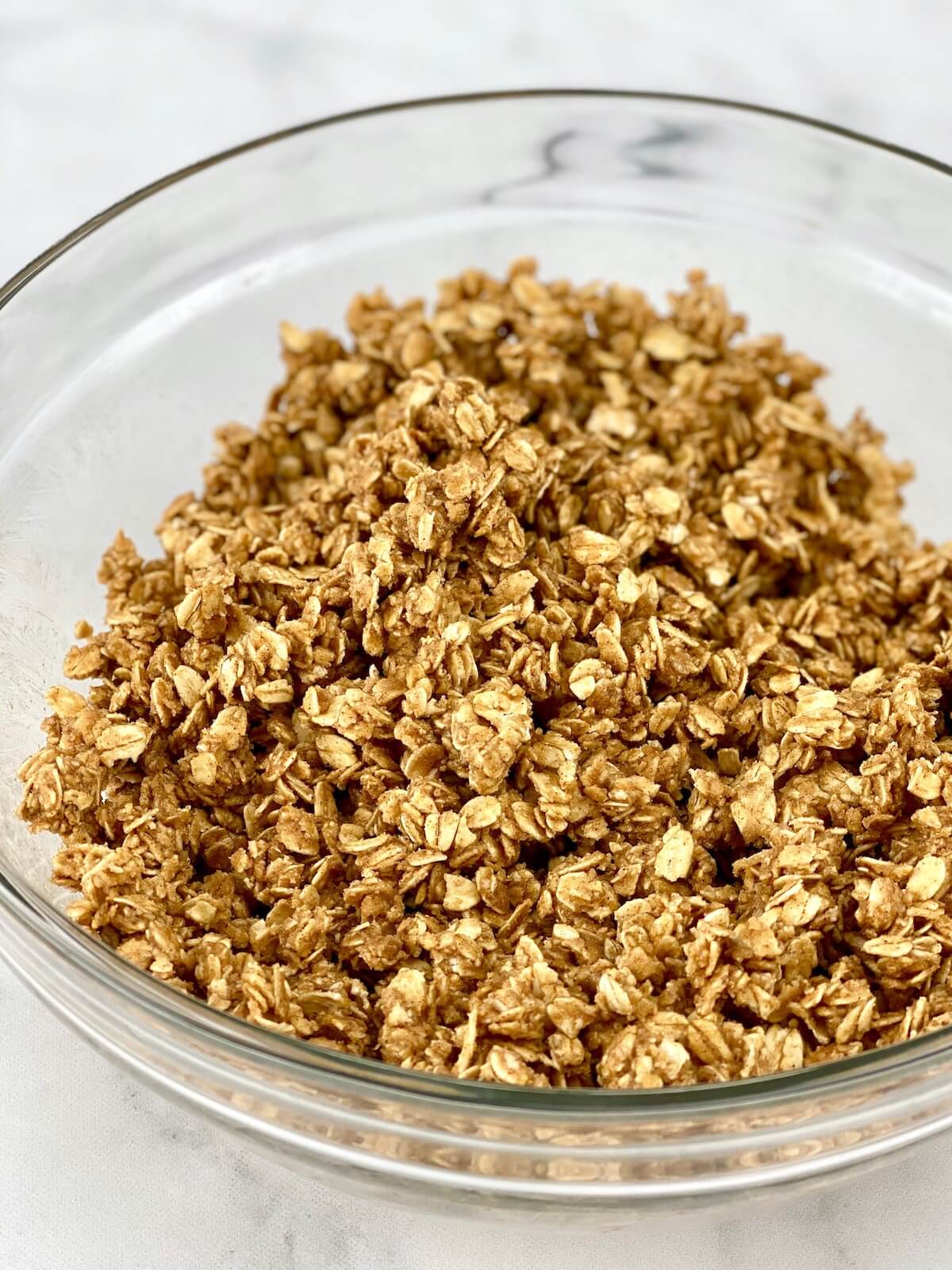 How to make oatmeal apple crisp
Making the apple crisp with oatmeal topping is so simple! The topping gets mixed together first. You'll need to use your hands to incorporate the butter fully.
For the apple filling, toss together the apple slices, lemon juice, cinnamon, brown sugar, and cornstarch. Transfer to a 9x13-inch baking dish and sprinkle with the oat topping.
Bake the apple oatmeal crisp until the top is browned and the apples are tender and bubbling.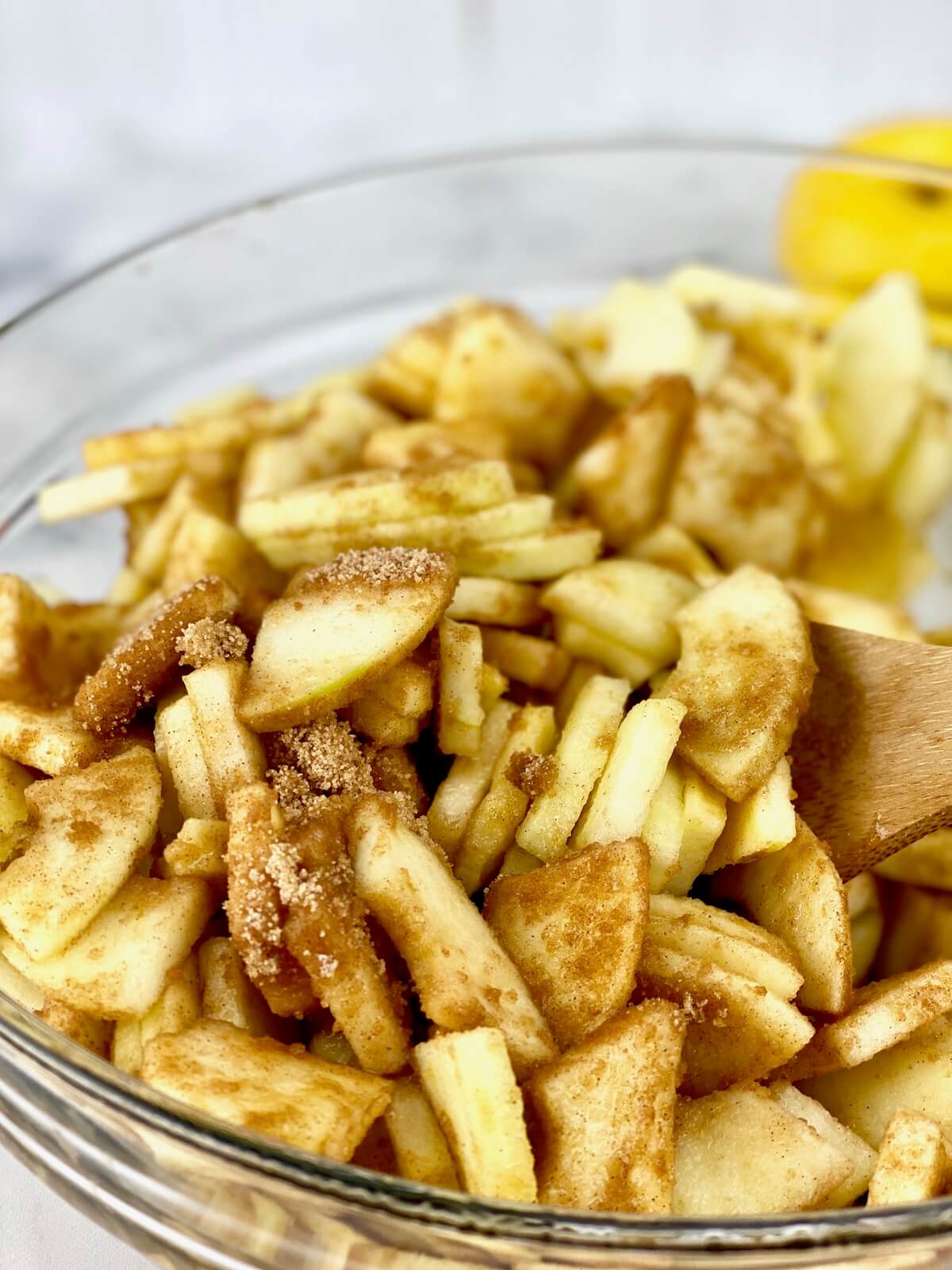 Recipe variations to try
This cookie-like fruit crisp topping is divine on top of baked apple filling. It's also delicious on other fruit crisps.
I use this on my rhubarb crisp and leave out the cinnamon. It's delicious.
Try it on a peach crisp. Swap the cinnamon for ground ginger in the filling.
Make a mixed berry crisp with this topping. You can try the filling I use for my Razzleberry Pie.
In the fall, it's great on top of a pear and cranberry filling.
Get creative and use the apple crisp topping however you'd like!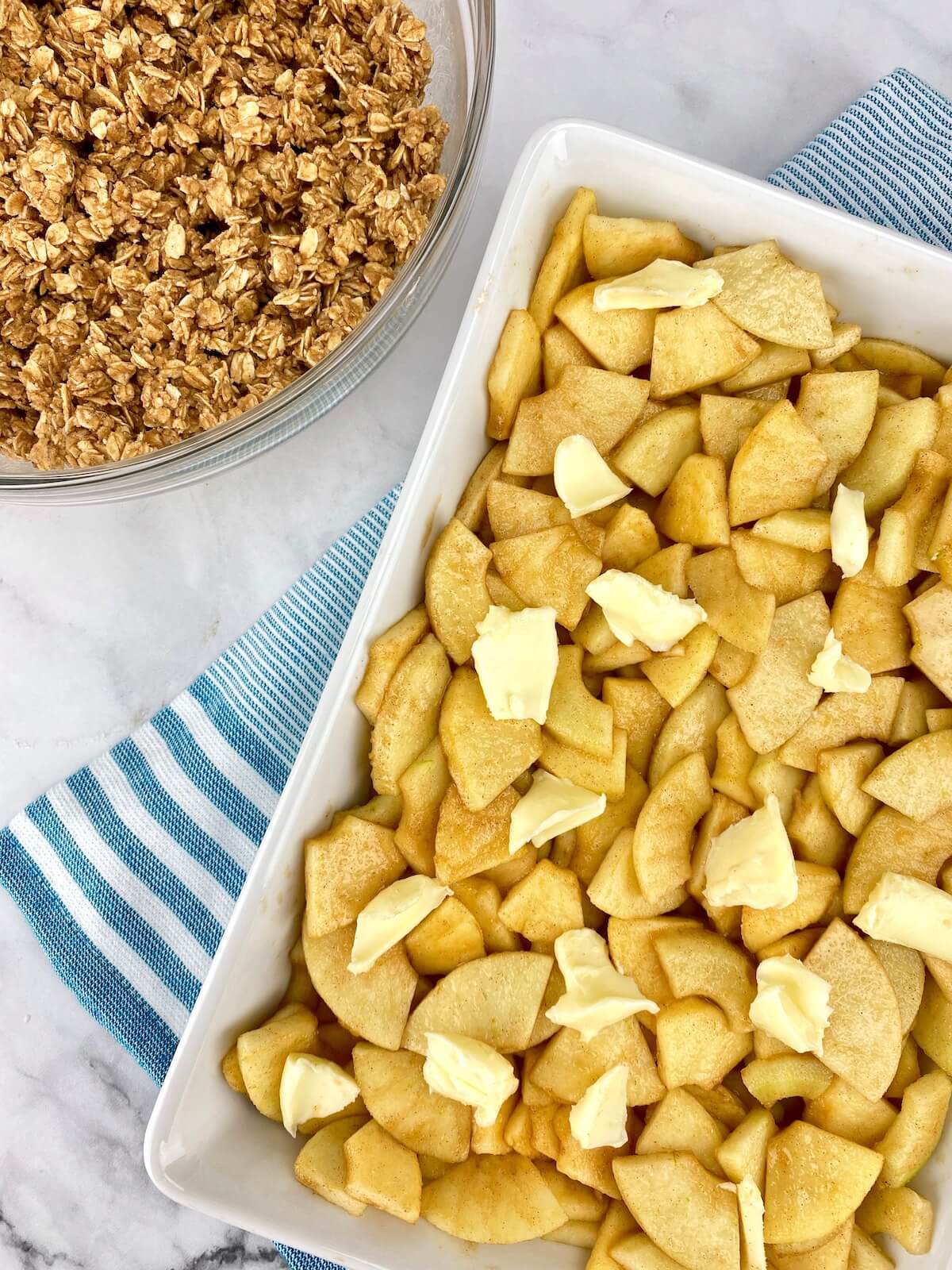 Types of apples for the best apple crisp
The apples to choose for apple crisp is really up to you. I'll tell you that apples have different textures and flavors, so you'll want to decide what you like.
When I make my Salted Caramel Apple Pie, I use a mix of apples. Macintosh and Empire are geniuses for baked desserts. They are sweet and break down into soft bites when cooked. Almost melting in your mouth.
I like to use a mix of apple in this apple crisp to make the texture and flavor perfect.
Other apples like Golden Delicious, Pink Lady, and even Granny Smith are great in the mix for sturdy texture and tartness. They stand up to cooking, holding their shape and toothsome juiciness.
Play around with your own mix. You can't go wrong with a variety. Then, you'll have all the tastes and textures in every bite.
Tips for making this recipe
You can peel the apples like I do, or leave the skins on if that's your preference.
I've only made this recipe with regular butter, but I imagine you could substitute margarine or another dairy-free butter option if desired.
Make the apple crisp with oats a la mode by topping it with my luscious Eggless Vanilla Ice Cream recipe.
Tools for making apple crisp
You may want to peel your apples as I do, so you can use a vegetable peeler or my favorite apple peeler.
You'll want a large mixing bowl for both the crisp topping and the apples.
I love these measuring spoons because they fit in spice jars with ease.
A white ceramic baking dish is also lovely for classic crisp recipes.
FAQs
Can apple crisp with oats be made gluten-free?
This is the perfect gluten-free apple crisp recipe! The GF version tastes exactly like the original. So, if you are baking for a mixed-diet crowd, this is the dessert to make!

I always use Cup4Cup in my gluten-free baking and cooking. You can swap the regular all-purpose flour for equal parts Cup4Cup GF all-purpose flour, and follow the method for the recipe as is.

Please make sure you use GF oats if you are feeding someone with celiac.
What type of apple is best in apple crisp?
Use a mix of apples for varied flavor. Golden delicious, Empire, Macintosh, Granny Smith, and Pink Lady are all great choices. You can use just one or mix them together.
What's the difference between apple crisp, apple crumble and apple cobbler?
Apple cobbler has a biscuit-like topping without any oats. Apple crisp and apple crumble are similar. Usually apple crumble doesn't have oats, just a streusel topping sometimes with nuts.

Apple crisp has oats in the topping, making a bit more crunchy in texture than a crumble or cobbler.
More Fall apple desserts:
Let me know how it went!
Scroll to the bottom of the page to rate ⭐⭐⭐⭐⭐ and comment on this recipe. Leaving comments helps other too!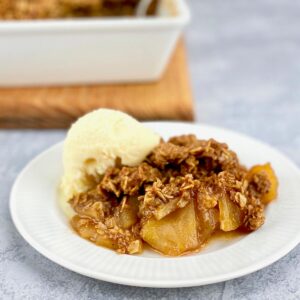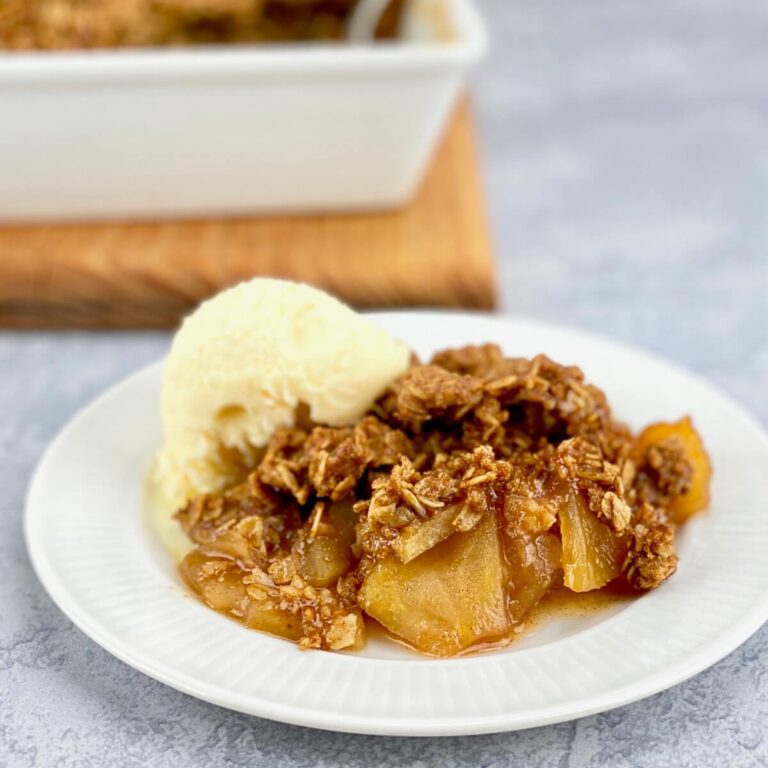 Favorite Apple Crisp Recipe with Oatmeal
A buttery crisp topping that's like a delicious oatmeal cookie, bakes on top of juicy apples, in perfect proportion. Top this with ice cream and you'll have everything you've dreamed of in a baked apple dessert.
Ingredients
Oat Crisp Topping
3½

cups

rolled oats

⅓

cup

all-purpose flour

1

cup

lightly packed brown sugar

⅛

teaspoon

salt

½

teaspoon

baking soda

2

teaspoons

cinnamon

12

tablespoons

(1½ sticks) butter, softened

2

tablespoons

milk
Apple Filling
7

apples (about 2½ pounds)

3

tablespoons

lemon juice

⅔

cup

lightly packed brown sugar

½

teaspoon

cinnamon

3

tablespoons

cornstarch

Ice Cream for serving
Instructions
Make the topping: In a medium mixing bowl combine the oats, flour, brown sugar, salt, baking soda, and cinnamon.

Using your hands or a hand mixer, mix in the butter until completely combined. Drizzle in milk and mix until a soft oatmeal cookie dough texture forms. Set aside.

Heat the oven to 350ºF with rack in the middle.

Make apple filling: Peel and core apples. Cut into thin slices or small dice. In a bowl toss the apples with the lemon juice, brown sugar, cinnamon and cornstarch.

Transfer apples to a 9-by-13-inch baking dish. Spread into an even layer.

Top with the oat topping then bake for 40 minutes. Cover with foil if the topping is getting too brown. Bake another 20 minutes covered, until apples are tender and juices are bubbling.

Let cool 15 or 20 minutes to allow the juices to thicken a bit. Serve warm or room temperature with ice cream.
Notes
You can peel the apples like I do, or leave the skins on if that's your preference.
Make a mixed berry crisp with this topping. You can try the filling I use for my Razzleberry Pie.
Make a rhubarb crisp with a similar topping!
Nutrition
Calories:
577
kcal
Carbohydrates:
99
g
Protein:
6
g
Fat:
20
g
Saturated Fat:
11
g
Polyunsaturated Fat:
2
g
Monounsaturated Fat:
5
g
Trans Fat:
1
g
Cholesterol:
46
mg
Sodium:
258
mg
Potassium:
385
mg
Fiber:
8
g
Sugar:
62
g
Vitamin A:
619
IU
Vitamin C:
10
mg
Calcium:
83
mg
Iron:
2
mg
Other fruit crisps from around the web that I like:
Delicious Pie and Tart Recipes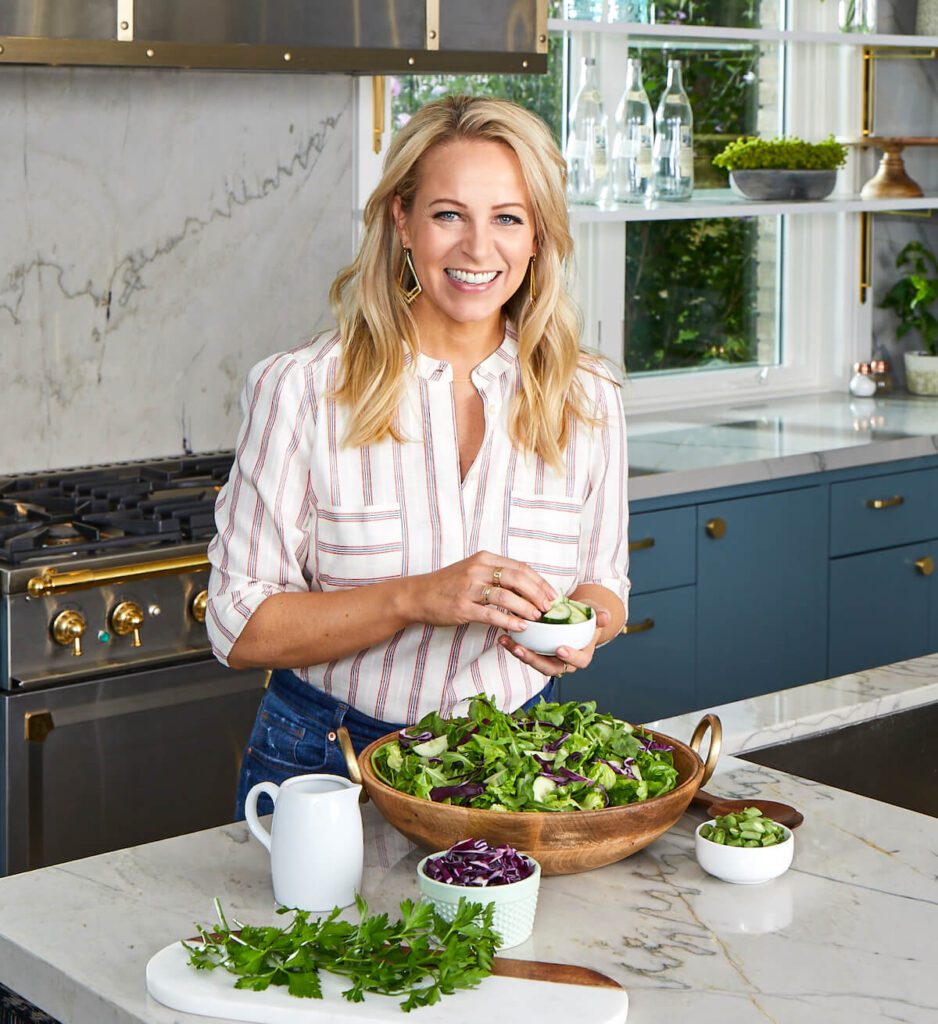 About Tara Teaspoon
I've been in the food publishing business for over 20 years, creating recipes & food-styling for magazines, books, television & advertising. Order my new cookbook & stick around for amazing things to eat.
Recipe and photography by Tara Teaspoon. Updated August 2023.