This Razzleberry Pie is one of the best fruit pie recipes you'll ever make. The combination of raspberries and blackberries, with a hint of ginger nestled in buttery pastry, is heavenly.
---
Razzleberries aren't a real berry. Let's just get that out of the way first thing! I mean, I know a lot of you just Googled "is a razzleberry a real fruit" so I'm here to explain!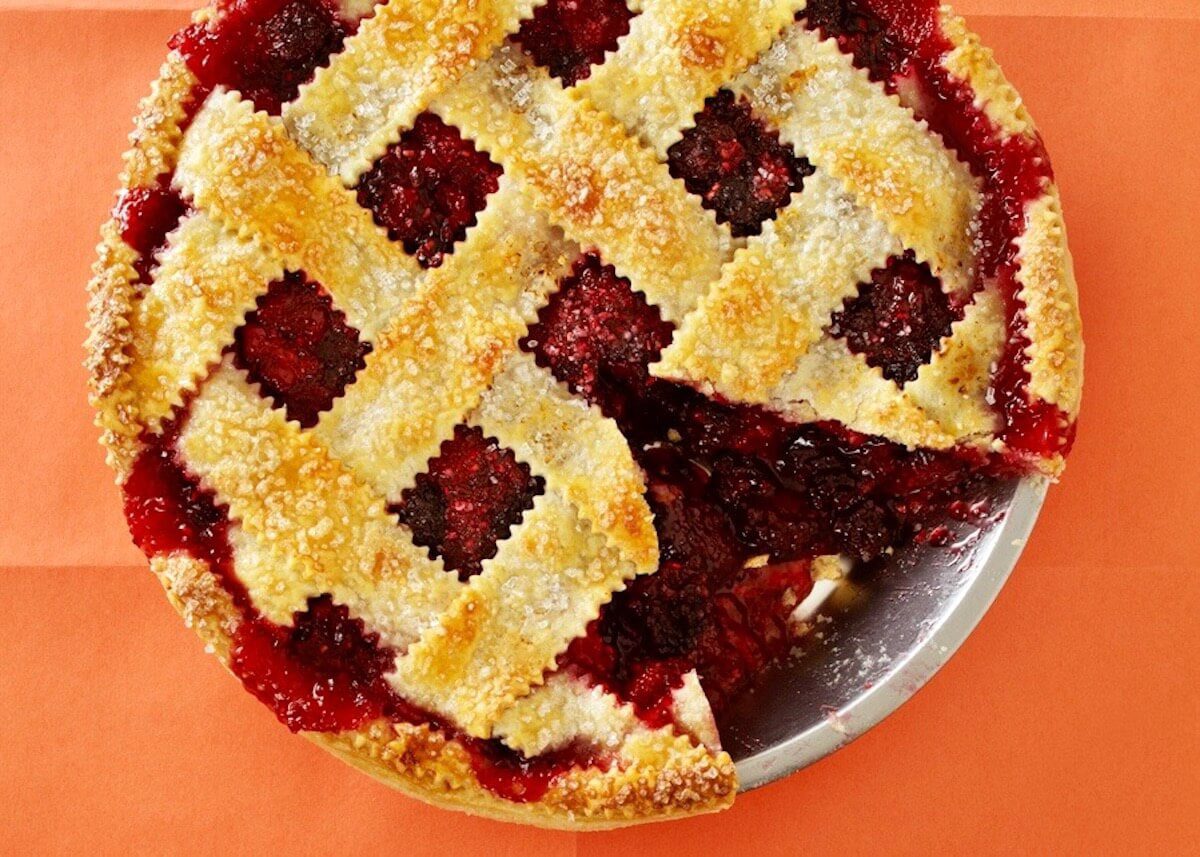 Jump to:
What Is Razzleberry?
Razzleberry is a term for the mixture of raspberries and blackberries. A delicious combo that is both sweet and tart, and juicy but not too juicy! Some people out there (I won't name names!) add other berries to the mix and still call it Razzleberry.
It's okay, you can too! The combination of berries creates flavor depth with different kinds of tart and sweet tastes.
I used the combination in this pie because I think raspberries and blackberries both go extremely well with ginger. This is simply the best mixed-berry pie recipe you'll ever make!
And top it off with my homemade Eggless Vanilla Ice Cream recipe, and you have the perfect pie a la mode.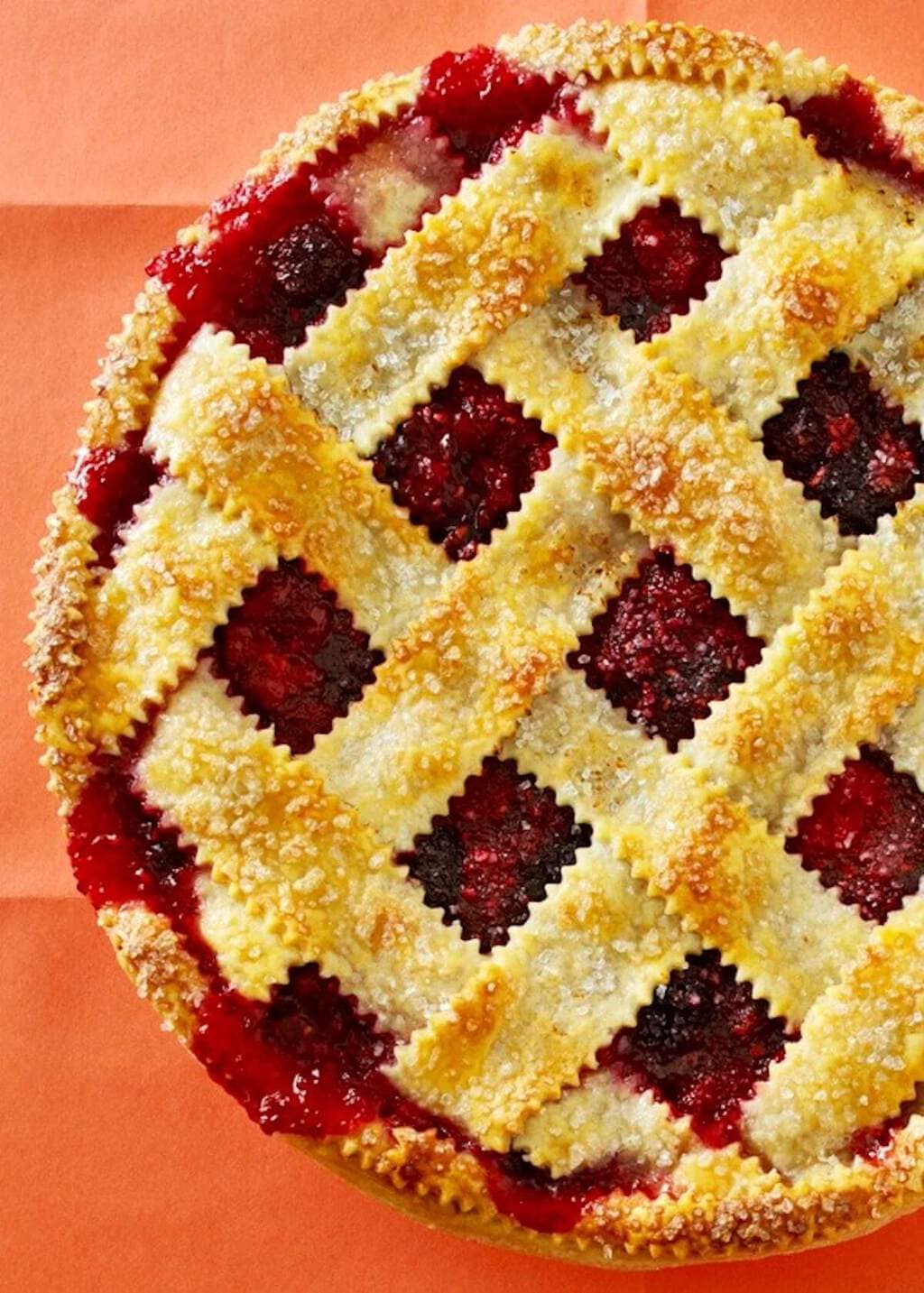 How to Make a Razzleberry Pie
This is such an easy fruit pie recipe to make. You can make your own pie crust, or you can go the store-bought route. Just note that this is a double crust pie.
You'll need to line a 9-inch pie plate with the bottom crust, then pop it into the freezer for about 20 minutes while you make the pie filling.
The filling is a simple mixture of raspberries, blackberries, instant tapioca (more on that in a moment!), lemon juice, fresh ginger, and sugar.
Pour the filling into the pie plate and top with the second crust. I recommend making your razzleberry pie beautiful with a lattice crust.
From there, it's a simple matter of baking the pie. The pie goes in at 425ºF and the temperature is lowered about 20 minutes into baking.
Tip: If lattice crusts aren't your thing, check out my other double crust ideas as well as my tips for making the perfect pie crust.
How to Thicken a Fruit Pie Filling
There are several ways to thicken a berry pie filling. You can use cornstarch, flour, tapioca, arrowroot and even cook the filling down with sugar until it almost candies.
I make fruit pies with all the different methods and simply chose one I thought would be lovely for the razzleberry pie recipe. With berries, I don't worry about having the texture of tapioca mixed in. It's a lovely thickener and leaves the juices clear and pretty.
I used tapioca and I get the instant variety so the pieces are crushed and small. It works like a charm.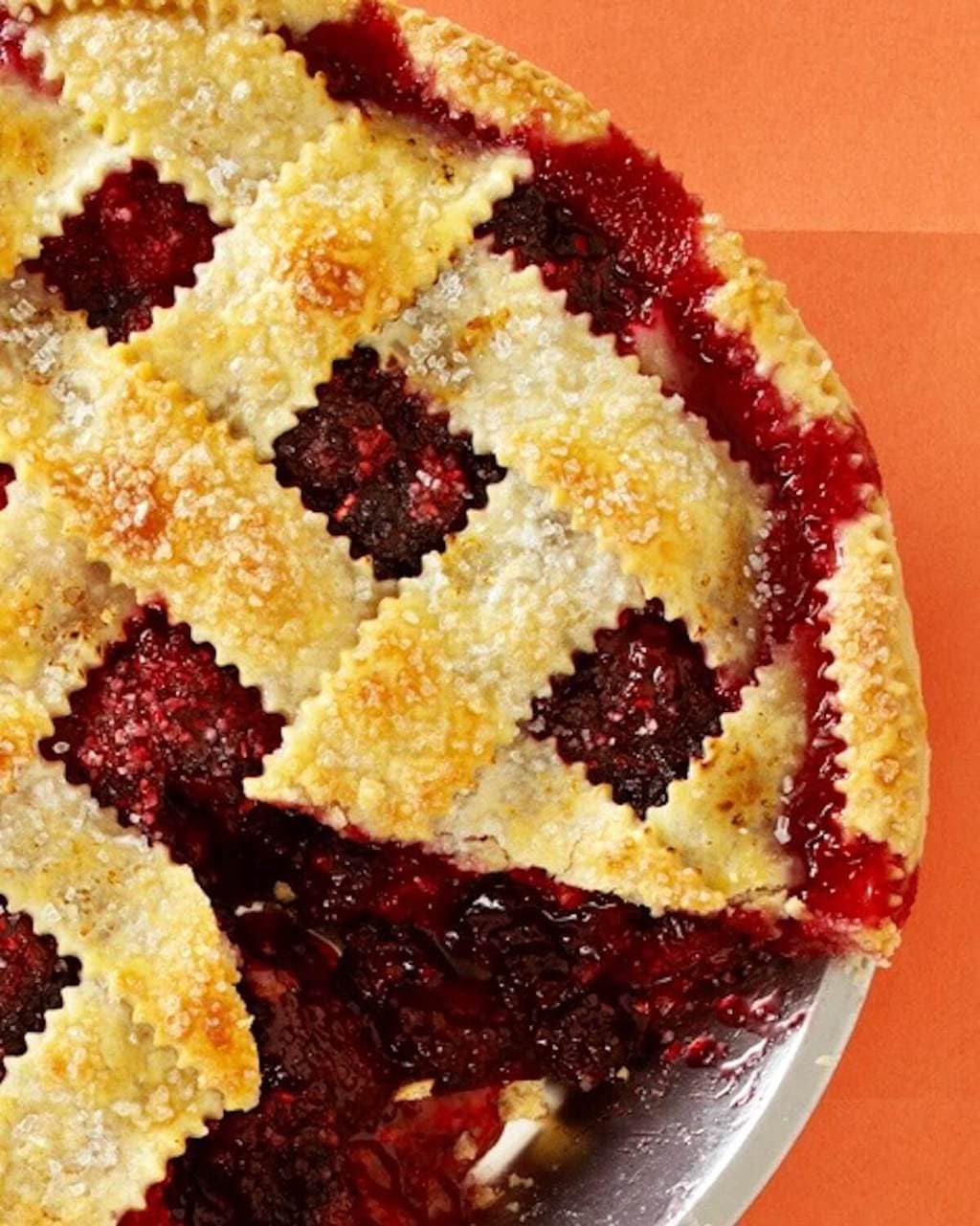 Can I use Marionberries in a Razzleberry pie?
Have you heard of Marionberries? If you're far away from Oregon or the west coast, there's a good chance you haven't.
The Marionberry is an Oregon native and a hybrid, created from two different blackberries. Some think it is a mix of raspberries and blackberries, but it may just taste that way.
Food and Wine explains all the history and plant origin, but I'll move on to more important matters like whether or not you can make pie from Marionberries.
So, yes! If you can get your hands on some, they are lovely in this pie with the ginger.
Can frozen berries be used?
You can certainly make this blackberry raspberry pie with frozen berries. I would suggest adding an extra tablespoon of tapioca to help thicken the pie because frozen berries will let off more juice.
Using frozen berries means you can make this pie year round and still get great flavor!
How to Store Razzleberry Pie
Cooked fruit pies are safe to keep on your counter for up to two days. The whole pie or individual slices can also be frozen for up to three months.
Tools Needed to Make This Pie
Some of the tools I used to make this homemade razzleberry pie included: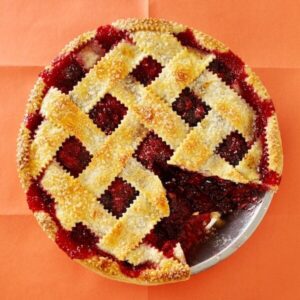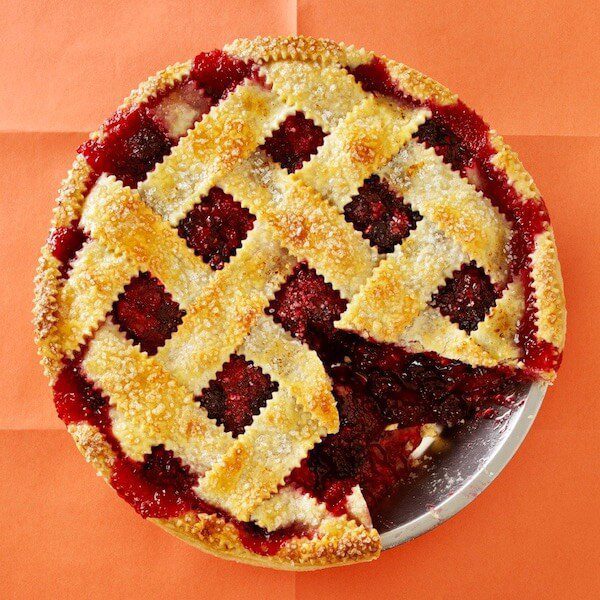 Razzleberry Pie
This Razzleberry Pie is one of the best fruit pie recipes you'll ever make. The combination of raspberries and blackberries, with a hint of ginger nestled in buttery pastry, is heavenly.
Ingredients
1

recipe

Perfect Pie Crust

30

oz

mixed raspberries and blackberries

(5 cups)

3

tablespoon

instant tapioca

Zest and juice from 1 lemon

1

tablespoon

grated fresh ginger

1

cup

granulated sugar

1

tablespoon

unsalted butter

, cut into pieces
Instructions
Line a 9-inch pie pan with 1 rolled-out crust and trim edges, leaving a ¼-inch overhang. Freeze until ready to fill, or at least 20 minutes.

Gently toss together berries, tapioca, zest and juice, ginger and sugar. Pour mixture into chilled crust and dot filling with butter.

Roll remaining crust to a 12-inch circle. Cut 1-inch-wide strips and weave over berries to create lattice top. Brush rim of bottom crust with egg wash to adhere lattice. Decorate edges as desired and fold bottom crust edge up and over lattice edges and crimp. Brush crust with extra egg wash and sprinkle with crystal sugar.

Freeze until crust is cold, about 20 minutes.

Bake pie on a foil-lined baking sheet for 20 minutes.

Reduce heat to 350°F and bake until crust is golden and juices bubble, 60 to 65 minutes more. (If pie browns too quickly, tent with foil.)

Cool completely before serving.
Notes
If you use frozen berries, increase the tapioca by 1 tablespoon because the frozen berries will let off more juice.
Nutrition
Calories:
295
kcal
Carbohydrates:
54
g
Protein:
3
g
Fat:
9
g
Saturated Fat:
3
g
Cholesterol:
4
mg
Sodium:
104
mg
Potassium:
185
mg
Fiber:
8
g
Sugar:
30
g
Vitamin A:
79
IU
Vitamin C:
28
mg
Calcium:
31
mg
Iron:
1
mg
Delicious Pie and Tart Recipes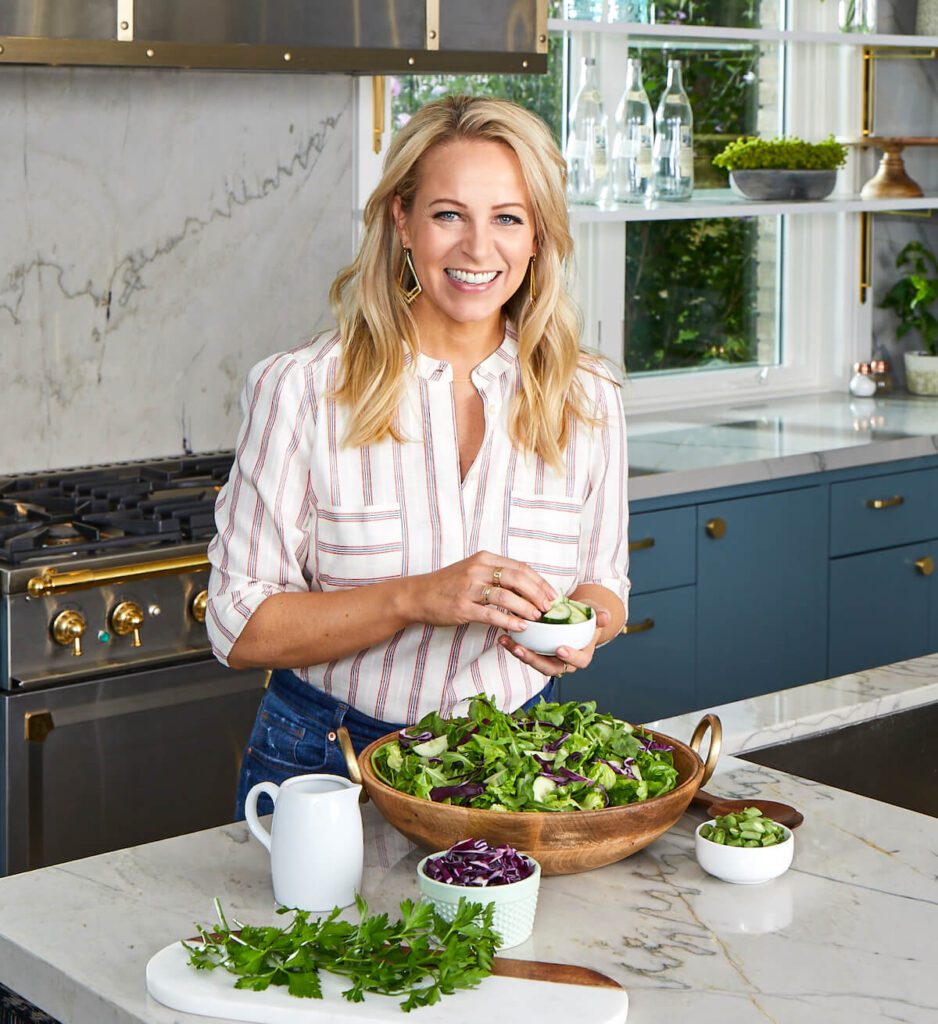 About Tara Teaspoon
I've been in the food publishing business for over 20 years, creating recipes & food-styling for magazines, books, television & advertising. Order my new cookbook & stick around for amazing things to eat.
Recipe Tara Teaspoon, Photography Maura McEvoy. LHJ 10/11