---
Apple popovers are the best popover recipe made with bits of juicy apple. The batter is made in the blender for easy no-fail preparation. Serve your warm popovers with maple butter for a delicious Fall side dish or treat.
Apple popovers are a crispy and custardy baked treat made even better with the addition of fall apples and maple butter. With just six ingredients, you have a gourmet, chef-approved recipe that is perfect as a side dish or dessert.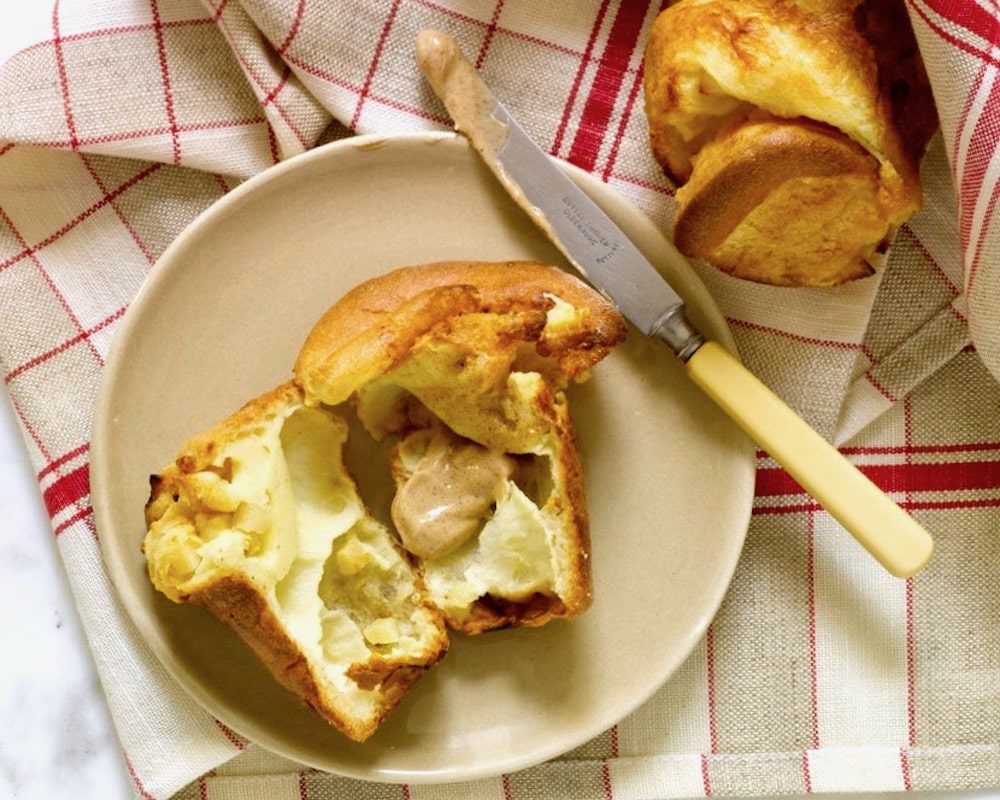 I love to serve these popovers as a starter to a dinner party or as a snack after a day of apple picking. Apple dessert recipes are some of my favorites, Apple Crisp with Oats, Rustic Apple Tart, and Easy Apple Dumplings.
Jump to:
Treat yourself! Popovers only take a few minutes to make and are usually raved about. I mean, your friends and family will think you performed a real magic trick!
Popovers rise to miraculous heights from a simple batter. A special popover pan, that looks like a tall muffin tin, helps them achieve greatness. The narrow, tall sides of the popover tins help the batter shoot out the top.
Don't worry if you don't have a popover pan, you can make these in a muffin tin as well. They will just look more like muffins!
Make these popovers with apple for a fun twist. Serve them with maple butter spiced with pumpkin pie spice (who doesn't love that?), and you'll be happy.
Popovers vs. Yorkshire Pudding
Now that you know a little about popovers I can tell you the difference between popovers and Yorkshire Pudding.
The two are made with a similar batter. Technically the same batter, with eggs, a bit of flour and milk.
Yorkshire Pudding is a savory side and uses beef fat or lard in place of the butter in the hot popover pan. You'll even find beef drippings added to the batter of the pudding as well.
Popovers can be savory or sweet, and are often served with jams or sweet condiments even if they don't have something sweet in them.
Popovers are cooked in individual cups, while Yorkshire Pudding is traditionally cooked in a square or round baking pan. Served almost like a Dutch Baby or German Pancake!
You'll see Yorkshire Pudding baked in a popover pan so it can be served individually too. A savory popover!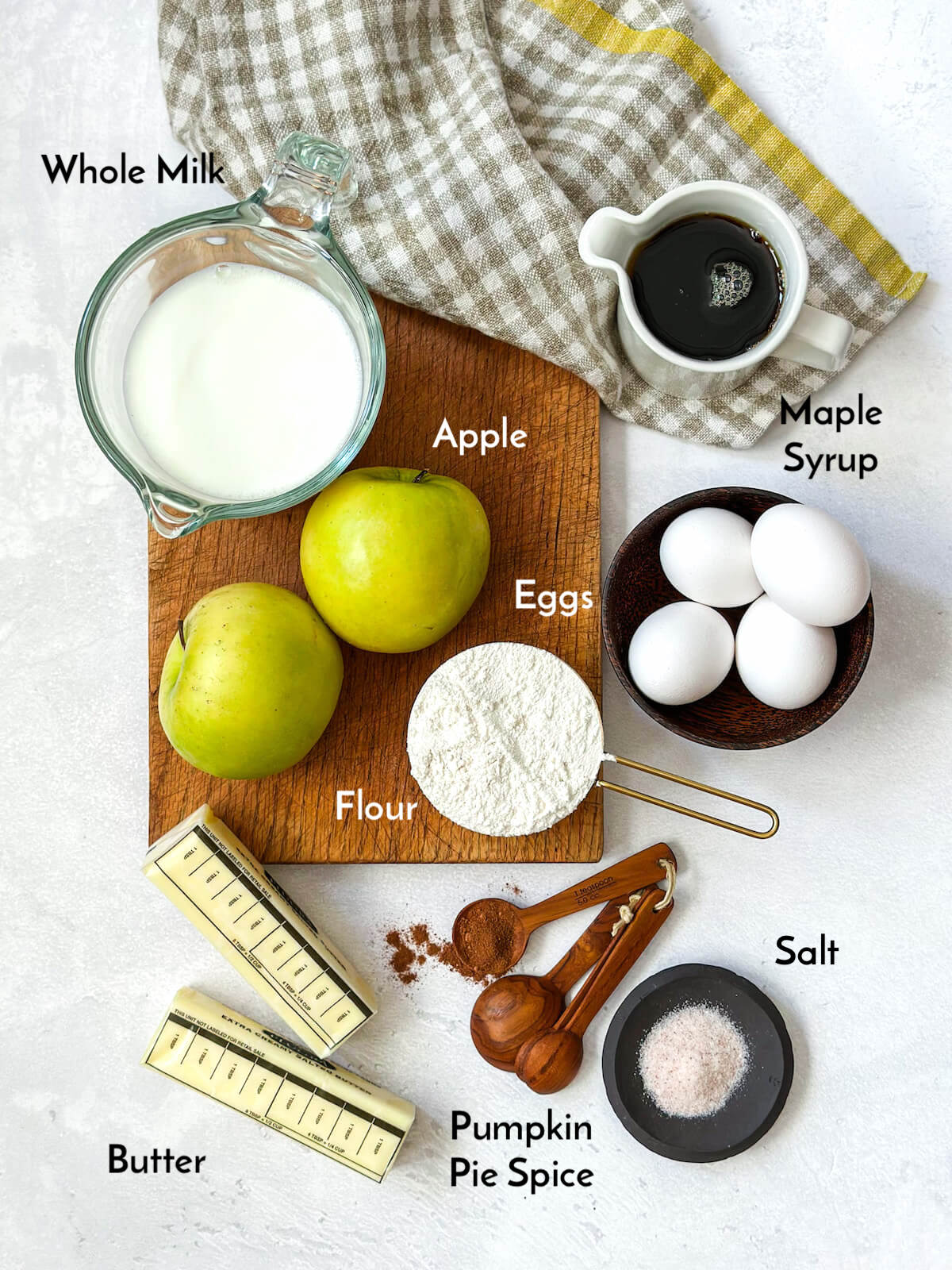 Ingredients in apple popovers
Use simple pantry ingredients for apple popovers. The sweetener is maple syrup, and the rest you most likely have in your kitchen!
Butter - Use butter to cook and soften the apples, as well as in the popovers and pan.
Maple Syrup - Just a few tablespoons of pure maple syrup sweetens the delicious maple butter.
Pumpkin Pie Spice - This combo spice is packed with flavor that goes well with apples.
All-Purpose Flour - You won't be able to swap this for gluten-free. Popovers need gluten to hold their structure as they puff quickly in the oven.
Salt - Use fine table salt or a fine sea salt for best results.
Whole Milk - Popovers love fat, so use whole milk here if you have it.
Eggs - These are the main leavening in the popovers, and help them puff!
Apple - Use a tart apple for the most flavor. Try Granny Smith or Honeycrisp.
How to make the best popovers recipe
This recipe for popovers is as simple as mixing the batter, correctly adding the batter to a hot, buttered popover pan, and baking.
I like to make my popovers in a blender. That's right, instead of building my whisking muscles, I let the blender do the work. It creates amazing amounts of air from beating the eggs and that helps the popovers rise.
After mixing the batter in the blender, it's essential to let the popover batter rest for 30 minutes. This allows the flour to absorb the liquid and everything to meld together. If you use this batter immediately, the texture won't be as soft and custardy.
The easy steps to making apple popovers include:
Mix together the flour and salt.
In the blender, blend the eggs, milk and butter.
Add the flour mixture into the egg mixture and blend for 10 seconds. Let the batter rest 30 minutes.
Heat oven to 450ºF and place butter in each popover cup, along with diced apple.
Melt butter in the pan by placing the pan into the preheated oven for a few minutes.
Add batter to hot pan and bake. Don't open the oven, you don't want the popovers to sink!
Eat immediately with maple butter!
The Best Popover Pan
Most popover pans have 6 cups. Those make huge popovers. Delicious, but you end up waiting for another 6 to bake if you have a crowd.
I love using a mini popover pan with 12 cups. To me, this is a great standard size.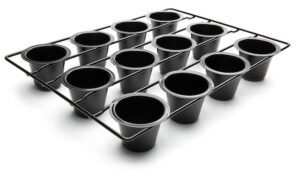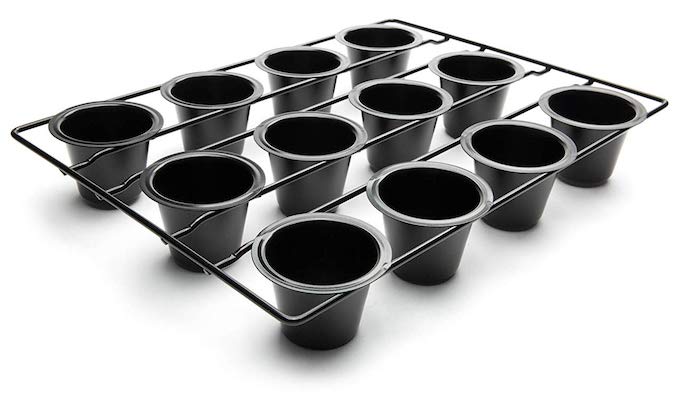 How popovers rise
Popovers are leavened by eggs. There are no other leavening agents used in the batter like baking powder or baking soda. This means if cooked on a high heat, the eggs will create pockets of air in the milky batter that will create a huge rise.
If you feel like there's not much to your popover, you've made them right! Popovers are meant to be hollow, or almost hollow. If the rise happens correctly in the oven, the result is a crisp, light shell with custardy soft edges on the inside. Maybe some more substance here and there, but that's about it.
The shape of a popover pan helps the popovers rise and explode on the top to create that classic look.
They are the perfect vehicle for sweet butters and jam.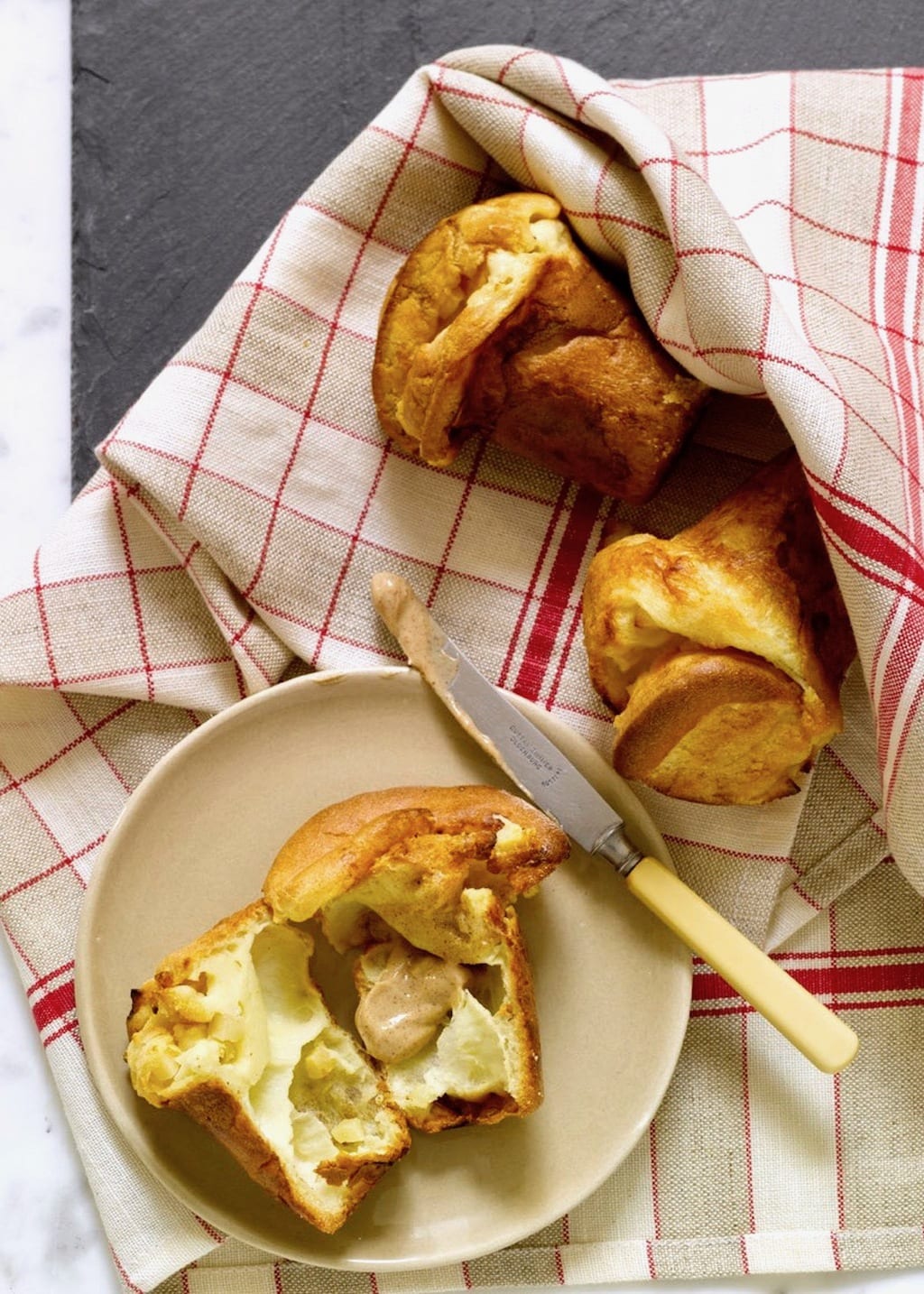 Serve apple popovers with maple butter
Popovers go with just about anything. A savory salad and salted butter, breakfast, a pot roast dinner, you name it!
I love making these apple popovers and serving them with sweet maple butter. It's easy to make, and an excuse to use my apples in the Fall.
The maple butter is easy. Just mix together softened butter, a little pumpkin pie spice or cinnamon, and a few tablespoons pure maple syrup. If you like whipped maple butter, just mix the butter with a hand mixer until light and fluffy.
Might I suggest doubling the butter? You'll find it delicious on just about everything!
FAQs
What is the secret to good popovers?
Make sure you follow the directions carefully. Be sure you let your batter rest, preheat your popover pan before pouring the batter in, and not opening the oven while the popovers bake!
What makes popovers dense?
Be sure not to add any extra flour and don't over blend the batter. Be diligent and allow the batter to rest for 30 minutes to make sure the popovers are the right texture.
Does the batter for popovers need to rest?
Yes, after blending in the blender a lot of air has been whipped into the batter. Allow the batter to rest for 30 minutes to let the gluten relax and create a light and airy popover batter.
Can I use a muffin tin rather than a popover pan?
Yes! You can use a muffin tin, your popovers will just be more in the shape of a muffin than a cone.
More Apple Recipes to Try:
Let me know how it went!
Scroll to the bottom of the page to rate ⭐⭐⭐⭐⭐ and comment on this recipe. Leaving comments helps other too!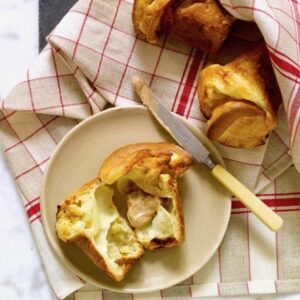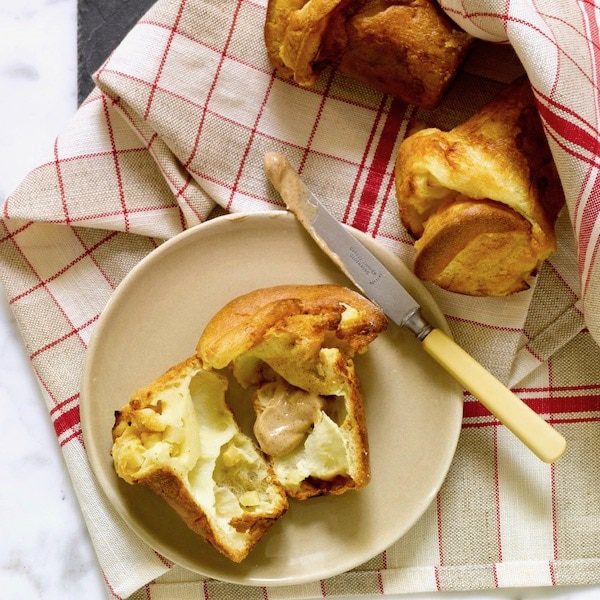 Apple Popovers With Maple Butter
Apple popovers are made easy in the blender with bits of juicy apple. Serve popovers with maple butter for a delicious side dish or treat.
Ingredients
For Maple Butter
8

tablespoons

unsalted butter

softened

2

tablespoons

maple syrup

1

teaspoon

pumpkin pie spice
For Apple Popovers
1¼

cups

all-purpose flour

½

teaspoon

salt

1⅓

cups

whole milk

4

large eggs

7

tablespoons

unsalted butter

(5 tablespoons melted)

1

small tart apple, such as Granny Smith or Honeycrisp

cored and cut into ⅛-to ¼-inch dice
Instructions
Make Maple Butter
In a small bowl, stir together the 8 tablespoons softened butter, maple syrup and pumpkin pie spice until smooth; set aside.
Make Apple Popovers
In a medium bowl, whisk together flour and salt. In a blender combine milk, eggs and 5 tablespoons melted butter. Blend on medium-high speed 20 seconds. Whisk into flour mixture until just combined. Let stand at room temperature 30 minutes.

Meanwhile, heat oven to 450°F and place rack in lower third. Cut remaining 2 tablespoons butter into 12 pieces and divide among cups of a 12-cup mini popover pan. Place 1 tablespoon apple into each cup. Just before baking, transfer pan to oven and heat until butter is melted and pan is hot, 1 to 2 minutes.

Carefully remove hot pan from oven and evenly pour batter over apples. Immediately return pan to oven. Bake 15 minutes (do not open oven). Reduce oven to 375°F and bake until popovers are crisp and browned, 18 to 20 minutes more.

Turn out popovers onto a wire rack and let cool 2 to 3 minutes. Serve hot with Maple Butter
Notes
Nutritional facts based per popover served with 1 tablespoon Maple Butter.
Use a popover pan with 12 cups, often called a mini popover pan. You can use a muffin tin as well if you don't have a popover pan.
Nutrition
Calories:
228
kcal
Carbohydrates:
16
g
Protein:
4
g
Fat:
17
g
Saturated Fat:
10
g
Polyunsaturated Fat:
1
g
Monounsaturated Fat:
4
g
Trans Fat:
1
g
Cholesterol:
95
mg
Sodium:
131
mg
Potassium:
104
mg
Fiber:
1
g
Sugar:
5
g
Vitamin A:
569
IU
Vitamin C:
1
mg
Calcium:
53
mg
Iron:
1
mg
Delicious bread and quick-bread recipes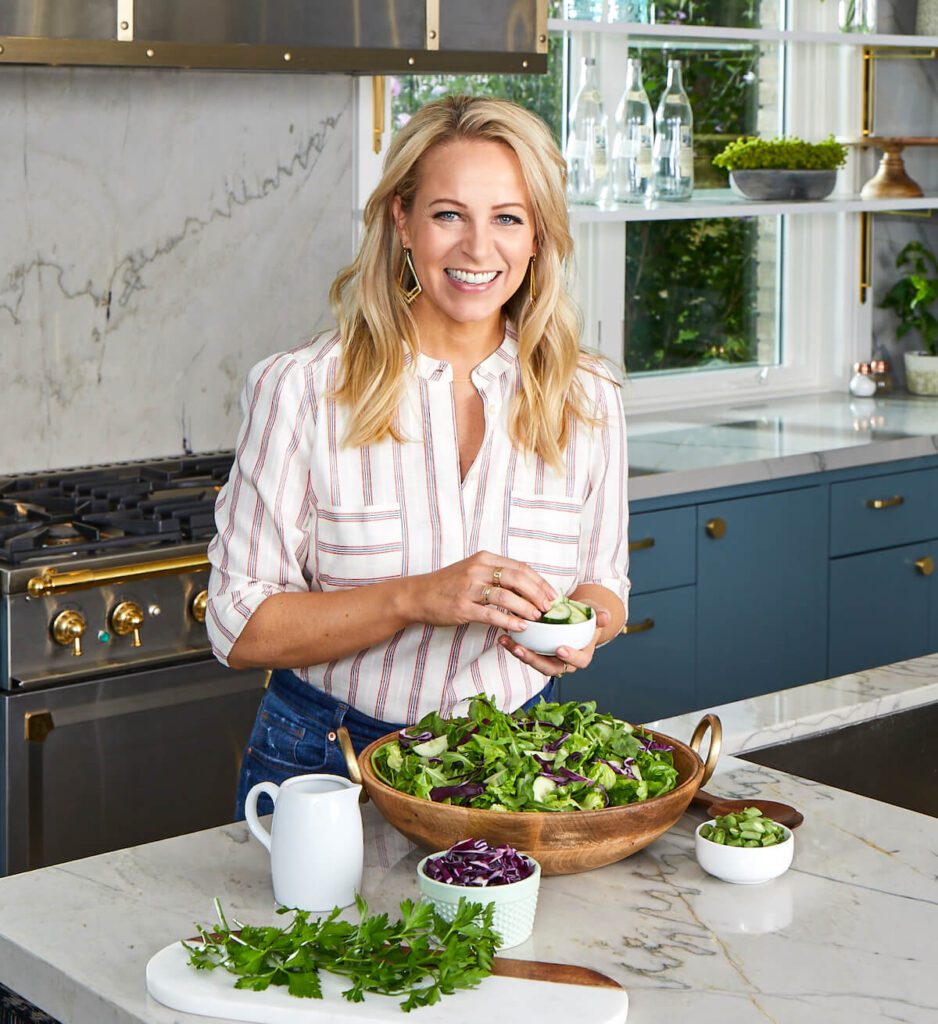 About Tara Teaspoon
I've been in the food publishing business for over 20 years, creating recipes & food-styling for magazines, books, television & advertising. Order my new cookbook & stick around for amazing things to eat.
Recipe Tara Teaspoon, Photography Lisa Hubbard, Food stylist Roscoe Betsill, Prop Stylist Anna Beckman. LHJ 9/08. Updated September 2023.