---
Simmered Apple Dumplings with Cider Sauce and a dollop of cream is a Fall dessert you won't want to skip. The juice the dumplings cook in becomes a tangy and sweet sauce.
---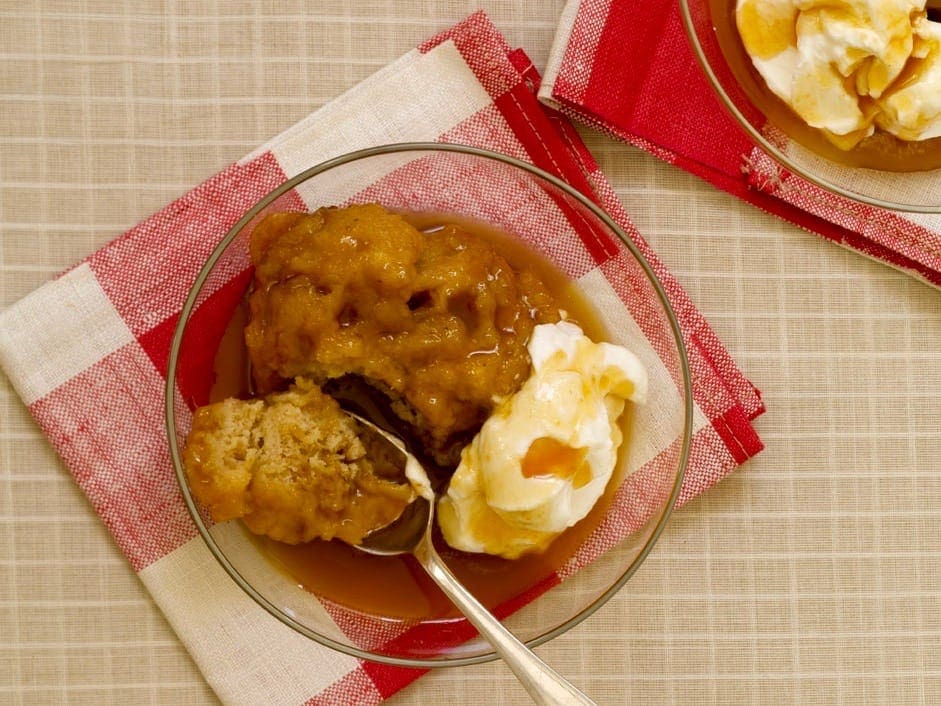 These apple dumplings are simmered in the season's best treat, fresh apple cider. They are sticky and sweet on the outside with an apple biscuit filling. Even better, a dollop of cream, or crème fraîche takes this apple dessert to another level.
What are apple dumplings?
A dumpling is technically a ball of dough, boiled, fried or baked. You've had Chinese dumplings, Italian dumplings (gnocchi), even Jewish dumplings! Those are matzo balls if you didn't know. There are quite a few other types of dumplings, and as you can see some are stuffed, others could be rolled, and other still could be fruit wrapped in dough.
Apple dumplings simmered in cider are delicious but also easy. As easy as apple pie!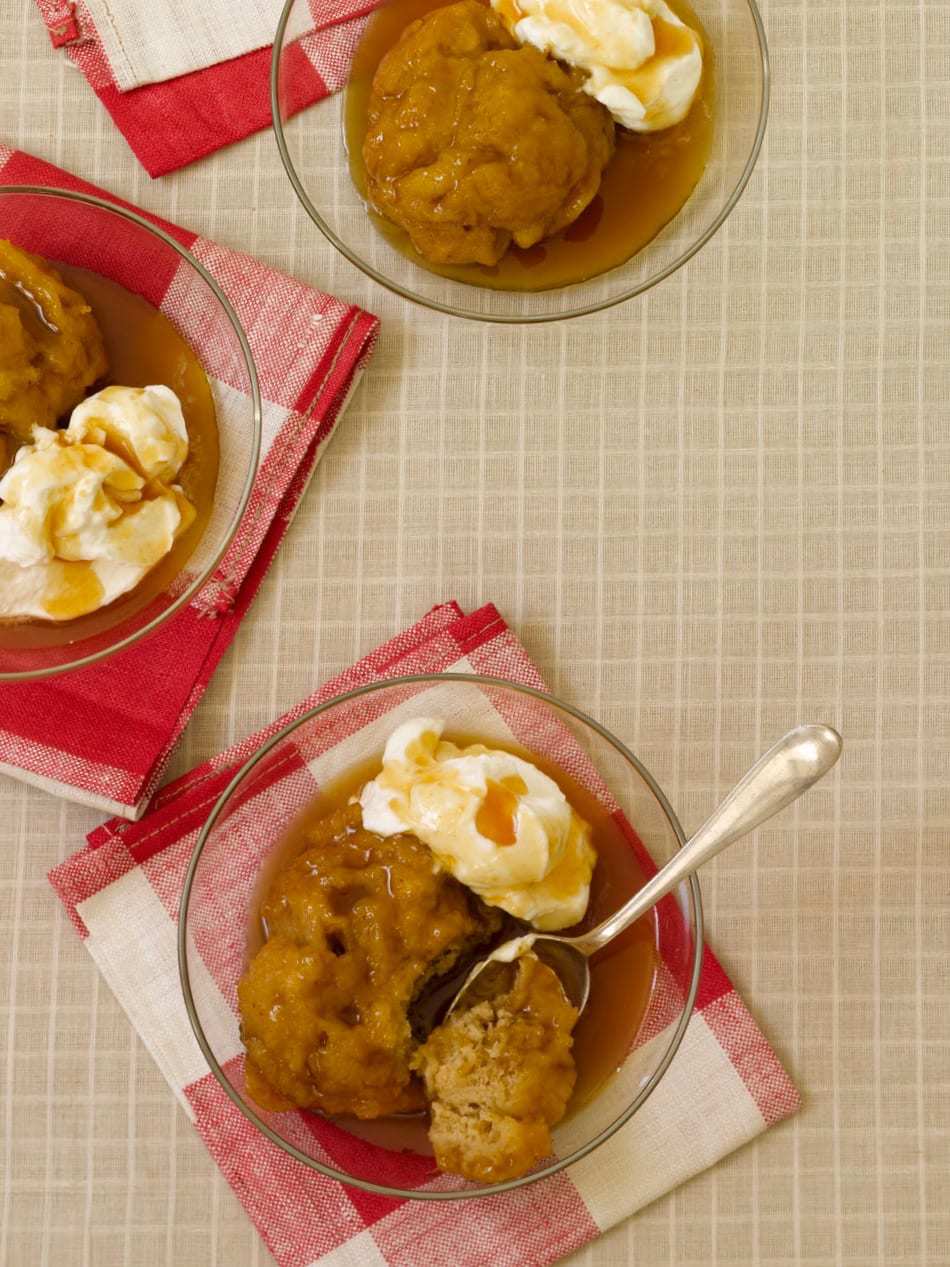 The fruit wrapped in dough part is where apple dumplings come in. Many traditional apple dumplings are whole apples, sometimes stuffed with good things like sugar and raisins and baked inside a flakey dough cocoon. My mom's apple dumplings have shredded apples rolled like cinnamon rolls between dough. The list could go on.
My apple dumplings with cider sauce are more on the technical side of dumplings. I get the dough part in with a sweet and buttery biscuit dough. The apple part comes in with shredded apples mixed into the biscuit dough, and, that lovely apple cider.
These dumplings are not only delicious, but they are easy. As easy as apple pie!
How to make apple dumplings:
First let's start with our cooking liquid. These dumplings are boiled, not fried or baked. I wanted to pack a flavor punch, but also use the simmering sauce as a sauce for serving. In comes the season's best beverage, next to the pumpkin latte you might have just picked up from Starbucks!
Apple cider mixed with a little sugar is the perfect simmering sauce for this apple dessert. Once the biscuit dumplings cook in the juice, it reduced down to a thick syrup. Perfection.
The apple cider not only cooks the sweet dumplings, but turns into the sauce for serving. Yum!
Next you will make the apple biscuit dough, which will become the dumplings. The dough is made with a traditional biscuit method. You will cut some cold butter into the dry ingredients until the butter bits are the size of small peas.
I love to use this pastry cutter to blend the butter into the flour.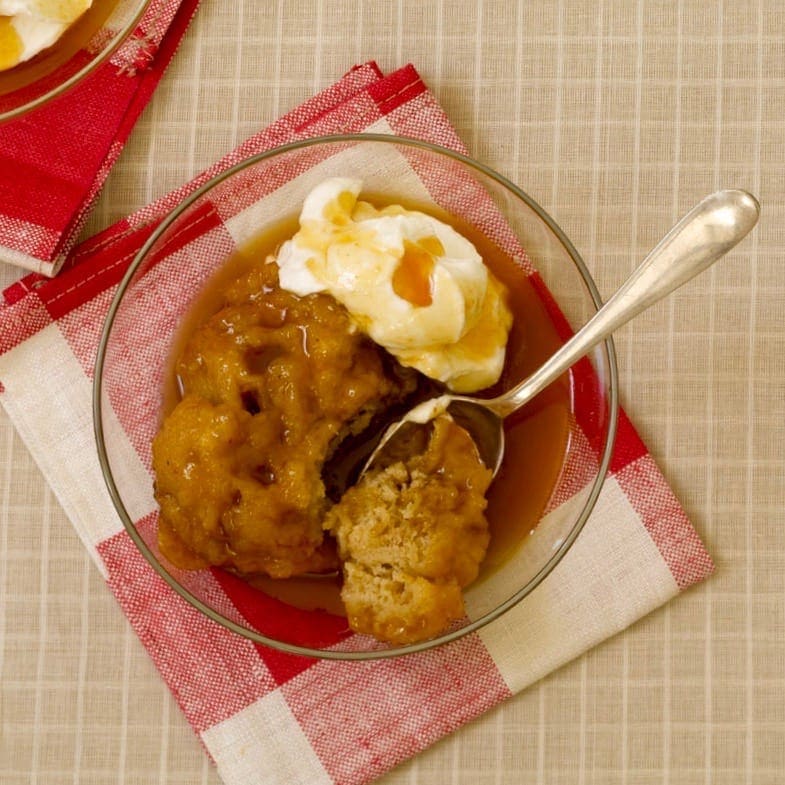 I added shredded apple, egg and milk as my liquid for the dumplings. Don't over mix the dough or the dumplings will be tough. Just mix the dough enough to incorporate all the ingredients.
Finally, the dough is formed into balls and simmered in the cider sauce. This takes about ten minutes. Reduce the sauce until it is thick like syrup and serve it all together!
I like to serve the warm dumplings with a dollop of crème fraîche (a slightly tangy, rich cream). However, you can whip some fresh cream and sweeten it just a bit instead. Or, as my dad suggests, a nice scoop of ice cream. He's got the right idea!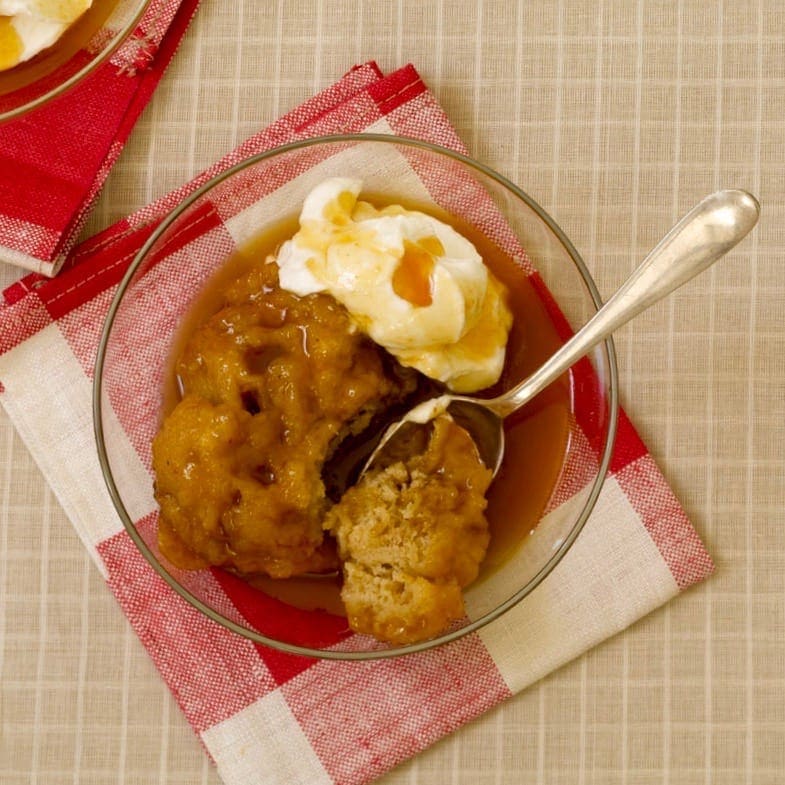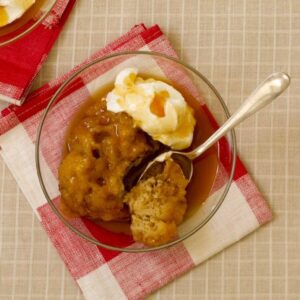 Apple Dumplings with Cider Sauce
Simmered Apple Dumplings with Cider Sauce and a dollop of cream is a Fall dessert you won't want to skip. The juice the dumplings cook in becomes a tangy and sweet sauce.

Ingredients
1¼

cups

all-purpose flour

Pinch

nutmeg

4

tablespoon

unsalted butter

⅓

cup

shredded, peeled apple

1

large egg

1

tablespoon

milk

4

cups

apple cider

1

cup

light brown sugar

firmly packed

Sweetened crème fraîche or whipped cream

(optional)
Instructions
In a medium bowl, whisk together flour, baking powder, cinnamon, salt and nutmeg. Using a pastry blender or fingers, cut butter into flour mixture until it resembles fine crumbs. In another bowl, whisk together apple, egg and milk. Add apple mixture to flour mixture and stir until combined (mixture will be dry). Turn out dough onto work surface and knead a few times until it just holds together. Do not over-knead. Divide into 8 pieces; roll into balls.

In a 4-qt saucepan, combine cider and sugar. Bring to a boil over medium-high heat. Reduce to a simmer and add 4 dough balls. Cook, turning occasionally, until dumplings are almost tripled in size and golden brown, 10 to 12 min. Using a slotted spoon, transfer to a plate and cover loosely with foil. Repeat with remaining 4 dough balls.

Bring cider to a boil and cook until reduced to the consistency of maple syrup, about 5 min.

Serve dumplings warm, drizzled with cider and crème fraîche, if desired.
Notes
Simmer these dumplings slowly so the center gets done but they don't fall apart. No rolling boils here!
Nutrition
Calories:
292
kcal
Carbohydrates:
56
g
Protein:
2
g
Fat:
6
g
Saturated Fat:
3
g
Cholesterol:
35
mg
Sodium:
22
mg
Potassium:
189
mg
Sugar:
38
g
Vitamin A:
205
IU
Vitamin C:
1.3
mg
Calcium:
42
mg
Iron:
1.3
mg
Delicious Pie and Tart Recipes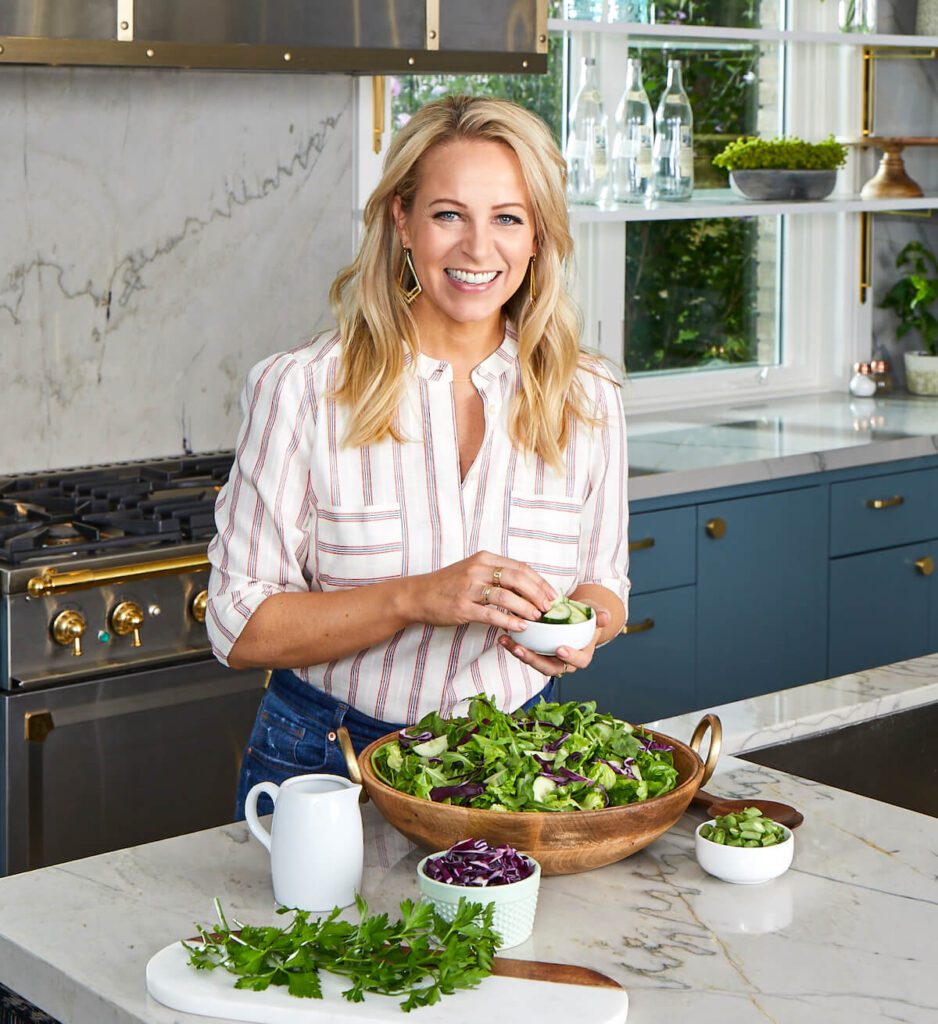 About Tara Teaspoon
I've been in the food publishing business for over 20 years, creating recipes & food-styling for magazines, books, television & advertising. Order my new cookbook & stick around for amazing things to eat.
Recipe and food styling by Tara Teaspoon. Photos Lisa Hubbard. Originally published in LHJ 9/08.