---
Apple Cream Cheese-Stuffed French Toast could be this weekend's highlight!
---
Here on the East Coast we are preparing for a Nor'easter. One of those big storms that bring snow or rain and wind, and ocean waves crashing onto the coast, Philly and DC.
I've been part of some doozies!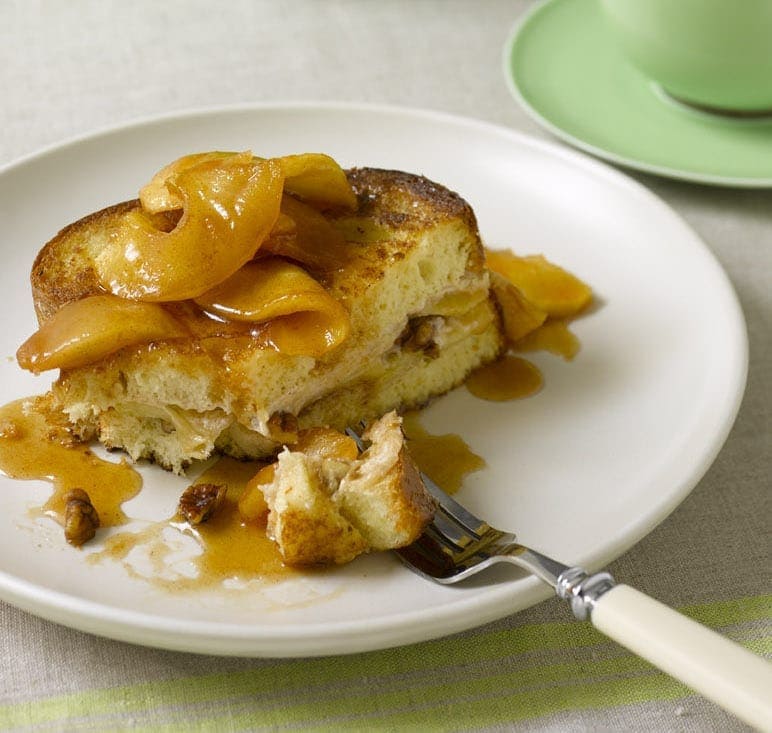 One of my favorite things to do when the snow hits is to strap on my boots and wander the middle of the streets of New York City. You can walk down the middle of the snow-covered streets that are usually crammed with cars and buses. For a few hours the city is quiet and peaceful.
Needless to say, the impending moment of peace is preceded by mass hysteria. Seriously. New Yorkers know how to panic (and then thankfully they know how to cope). The store shelves are already empty. I doubt there's a water bottle or loaf of bread to be had. But I'm going to go find one, and some apples, and some cream cheese. This French toast is perfect for staying in and waiting out the storm.
This recipe is inspired by fancy New York brunches, like the ones you eat at Norma's or Sarabeth's. (Wait...why are some of the most delicious brunch places named after ladies? Ladies rock!) The French toast, pancakes and omelets are always over the top delicious.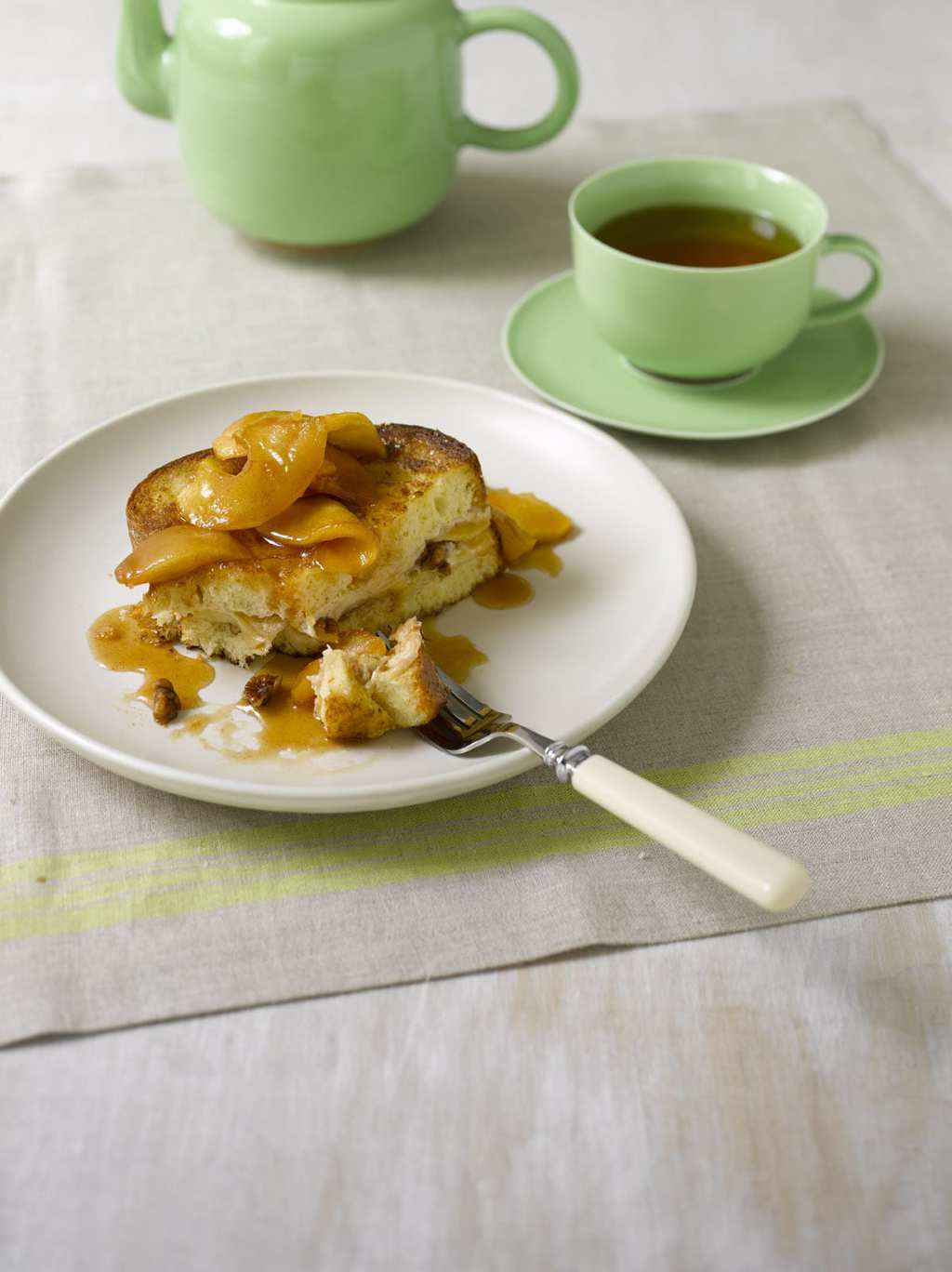 I've made it simple enough to make at home. Some stewed, sliced apples, spiced cream cheese and maple syrup. Brioche bread makes it extra indulgent but you can use your favorite bread, no problem. Even better, the fresh-squeezed orange juice won't cost you $9. Nine dollars!!! New York is sometimes crazy. Sometimes.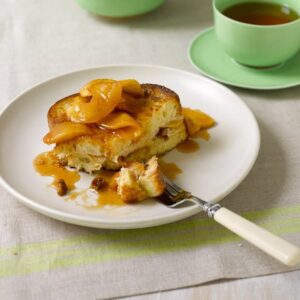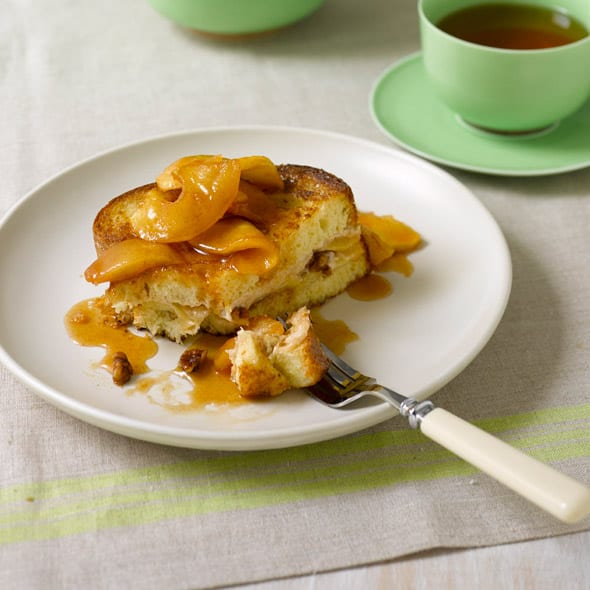 Apple Cream Cheese-Stuffed French Toast
Besides being a delicious dessert, this scrumptious dish makes a great weekend breakfast.
Ingredients
1

(8 oz) cream cheese,

softened

4

tablespoon

confectioners' sugar

2

teaspoon

ground cinnamon

½

teaspoon

ground ginger

5

baking apples

about 2¼ lb, peeled, cored and cut into ⅛- to ¼-inch thick slices

¾

cup

granulated sugar

6

tablespoon

unsalted butter

1

cup

whole milk

4

large eggs

1

loaf

(1 lb-loaf) brioche or soft French bread

cut into eight ¾ -inch-thick slices

½

cup

chopped toasted pecans

plus more for garnish

½

cup

maple syrup

2

tablespoon

vegetable oil
Instructions
In a medium bowl, stir together cream cheese, confectioners' sugar, ½ teaspoon cinnamon and the ginger until combined well. Set aside.

In a large bowl, toss together apples, granulated sugar and 1 teaspoon cinnamon. In a large nonstick skillet, melt 4 tablespoon butter over high heat. Add apple mixture and cook stirring occasionally until just softened, about 8 min. Remove from heat.

In a 13- by 9-inch shallow dish, whisk together milk, eggs and remaining ½ teaspoon cinnamon, set aside.

Spread a heaping ¼ cup cream cheese mixture onto each of 4 bread slices. Top each with 1 tablespoon nuts and 6 to 8 apple slices. Cover with remaining 4 bread slices to make sandwiches.

Soak 2 sandwiches at a time in the milk-egg mixture 5 min per side.

Add maple syrup to remaining apples in skillet and stir to combine.

Heat a griddle or large nonstick skillet over medium-high heat. Add 1 tablespoon oil and 1 tablespoon butter to pan. Add 2 sandwiches and cook, turning once, until golden brown. 6 to 8 min. Repeat with remaining 1 tablespoon oil, 1 tablespoon butter and the sandwiches.

Cut sandwiches in half and serve immediately topped with apples in syrup. Garnish with toasted nuts, if desired.
Notes
The key is to soak the "sandwiches" in the egg mixture.
Nutrition
Calories:
4676
kcal
Carbohydrates:
596
g
Protein:
76
g
Fat:
236
g
Saturated Fat:
123
g
Cholesterol:
1444
mg
Sodium:
1947
mg
Potassium:
2103
mg
Fiber:
29
g
Sugar:
387
g
Vitamin A:
6880
IU
Vitamin C:
41.8
mg
Calcium:
906
mg
Iron:
9.3
mg
Check out these other storm-worthy breakfast and brunch ideas from Tara Teaspoon: Double Chocolate Muffins and Whole Wheat Blueberry Pancakes with a ginger butter syrup!
Day-Starters: Breakfast & Brunch Recipes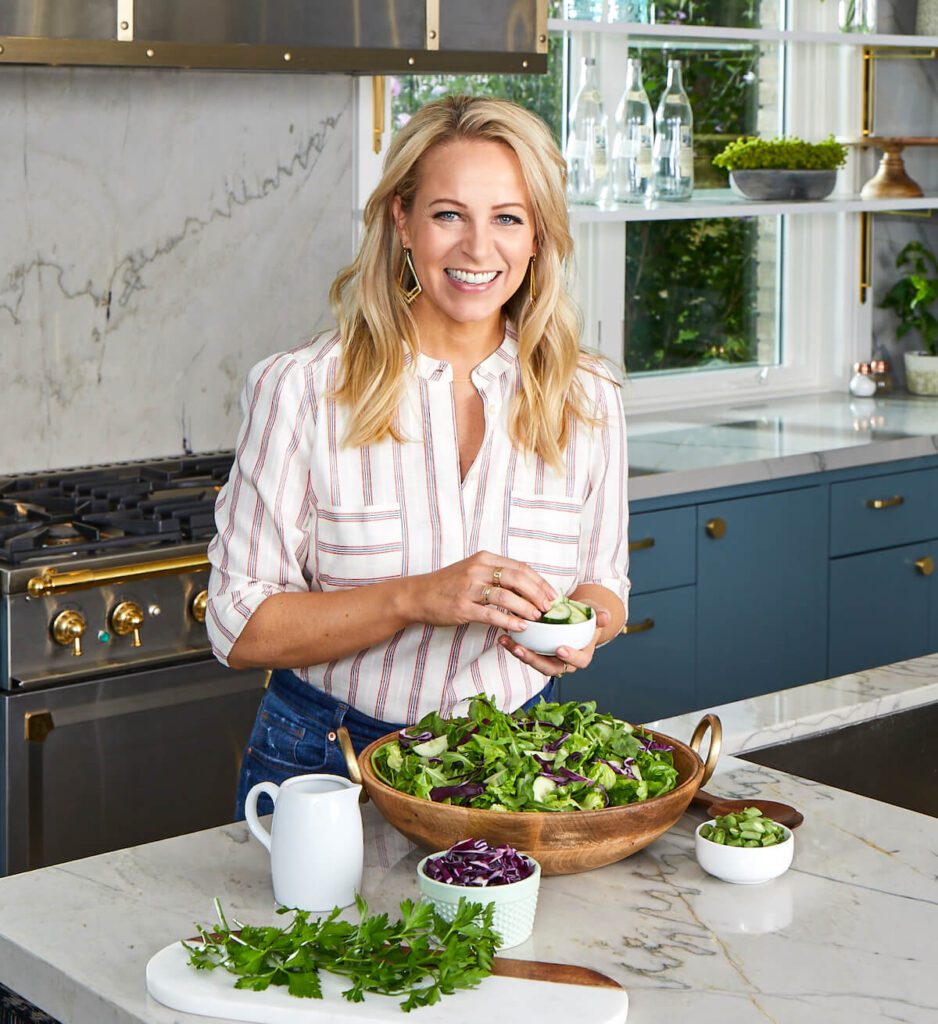 About Tara Teaspoon
I've been in the food publishing business for over 20 years, creating recipes & food-styling for magazines, books, television & advertising. Order my new cookbook & stick around for amazing things to eat.
Recipe Tara Bench. Photography Kate Sears. Food Styling Sally Jo O'Brien. Prop Styling Anna Beckman. Originally published in LHJ 9/2008