---
This spectacular puffy breakfast pancake comes to the table as soon as it is out of the oven. It's perfect with some fruit and drizzle of jam.
---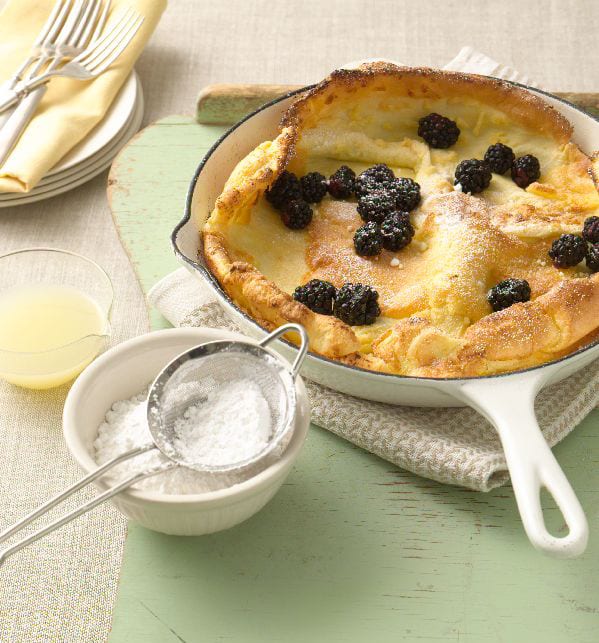 Scrumptious! I'm starting off Brunch Month on TaraTeaspoon.com with this spectacular German Pancake (Dutch Baby). This pancake is one of the simplest dishes to prepare and one of the most impressive to serve.
What is a Dutch Baby Pancake?
Sometimes called a German Pancake, Dutch Baby Pancakes are a cross between a soufflé and an omelet - it is a light, airy, family-style pancake with sides. It is derived from the German Pfannkuchen.
It also gets puffed (this egg mixture billows up to unbelievable heights) and crispy around the edges while retaining a pancake-like tenderness in the middle.
The sides of the pancake rise high above edges of the pan, creating that light, puffy crust with a tender, custard-like middle. It's also know as Bismarck Pancake, Dutch Puff Pancake, and also David Eyre's Pancake.
A good dish for a breakfast crowd
A Dutch baby pancake is normally served for breakfast. Since the center is just a bit custardy, you can serve it with some fresh berries, lemon juice and confectioners' sugar and be set. I like to drizzle a little jam or syrup on top as well. That's just my style.
What do I need to make a Dutch Baby Pancake?
First, you'll need a 12-inch ovenproof skillet. The secret to getting the puff, crispy edges and custardy middle is to heat the skillet in the oven while you make the batter. The batter goes into a hot pan and works magic.
You can use a cast iron pan (I love this one with a silicone handle), an enameled skillet, or just a standard skillet that has an oven proof handle.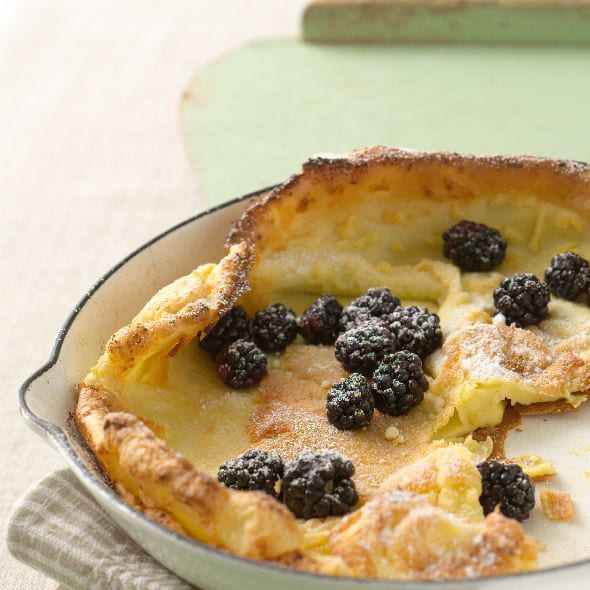 You won't need any specialty ingredients on hand. The ingredients are just
You can top it with whatever you have on hand. If you want, you can also saute some chopped apple in butter until just soft and add it to the batter just before cooking to make an apple pancake.
If you have frozen fruit on hand, let it thaw a bit with some sugar sprinkled on top and you'll have a chunky berry syrup for the German Pancake. Let me know what you try it with!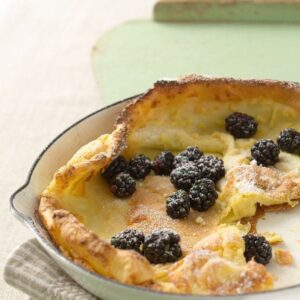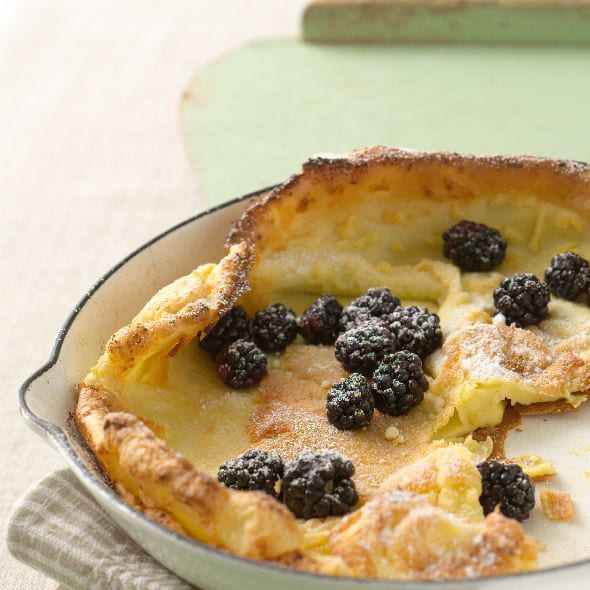 Danish Puffcake
This dramatic pancake puffs up and then flattens out after you remove it from the oven.
Ingredients
4

tablespoon

unsalted butter

melted

4

large eggs

½

cup

all-purpose flour

Pinch

salt

½

cup

whole milk

3

tablespoon

fresh lemon juice

¼

cup

confectioners' sugar

1

cup

(6 oz) blackberries
Instructions
Heat oven to 425°F. Place a 12-inch ovenproof skillet with 4 tablespoon butter in oven (you can also use a 10-inch skillet, but bake pancake for 20 to 22 min).

In a blender, combine eggs, flour, salt and milk until a thin batter forms, about 30 sec.

Remove pan with butter from oven and pour in batter. Return to oven and bake until pancake is puffy, golden and set, 18 to 20 min.

Serve from skillet or transfer pancake to a plate. Drizzle with more melted butter, if desired, and lemon juice; dust with sugar. Serve immediately with fruit.
Notes
Easy to assemble, fun to watch it bake, delicious to eat!
Nutrition
Calories:
287
kcal
Carbohydrates:
25
g
Protein:
8
g
Fat:
17
g
Saturated Fat:
9
g
Cholesterol:
197
mg
Sodium:
78
mg
Potassium:
187
mg
Fiber:
2
g
Sugar:
11
g
Vitamin A:
720
IU
Vitamin C:
11.9
mg
Calcium:
73
mg
Iron:
1.7
mg
I'm excited for Brunch Month! While you wait for more tasty breakfast recipes, here is one of my favorites: Whole Wheat Blueberry Pancakes
Day-Starters: Breakfast & Brunch Recipes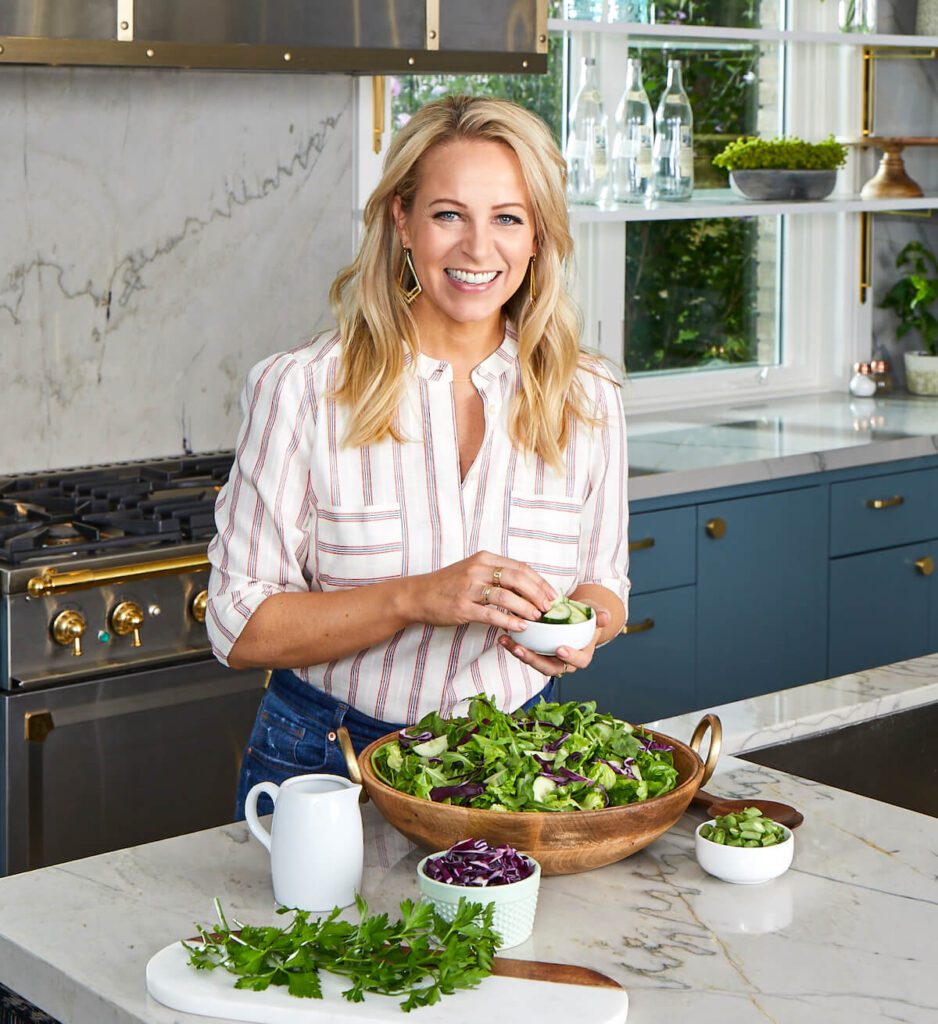 About Tara Teaspoon
I've been in the food publishing business for over 20 years, creating recipes & food-styling for magazines, books, television & advertising. Order my new cookbook & stick around for amazing things to eat.
Recipe Tara Bench.Photographer Yankee Kim. Food Stylist Anne Disrude. Prop Stylist Megan Hedgepeth. Originally published LHJ 3/09