Shredded carrot salad with apple and lime has a touch of honey, and parsley to make for a fresh, healthy salad. It's the perfect make-ahead vegetable side dish using raw carrots.
---
I was introduced to grated carrot salad when I worked at Martha Stewart. Most days in the test kitchen, everyone would just pull out any extra ingredients they weren't using for recipe testing, and make something for lunch.
We would all share what we made in a potluck sort of way, and this raw grated carrots salad was born. (Truth be told there was always opportunity for constant eating in the test kitchen, so we didn't go hungry!).
Jump to:
Carrot and apple salad without greens
One day, with a lack of greens in the fridges for a fresh salad, my coworker pulled out some carrots and whipped up a quick carrot apple salad with a splash of lime and olive oil. She added some golden raisins for sweetness and a handful of chopped parsley.
I loved it! It was sweet, acidic, healthy, and crunchy. It became my go-to fresh bite when there wasn't much in the kitchen (or at home in my own fridge). I always seem to have half a bag of carrots in the drawer!
I feel like that bag or box of salad greens is always wilting before I finish it. Can you relate? So this salad is the perfect solution.
Ingredients in carrot apple salad
Start with carrots. Grate them or use a julienne peeler, and add diced apple. Then the variations are quite endless! My basic recipe is simple:
Carrots
Tart apple
Parsley
Lime juice
Honey
Salt
Olive oil
I've made it with a lemon dressing, or lime. Whatever I have around. I add raisins, currents, or other dried fruit for a little chew and sweetness.
For this standard version I wanted a less sweet pop and some added crunch so I used fresh apple. I love the flavor combo.
A little honey and salt balance out the dressing and bring the flavors out. Parsley adds a salad-y punch of green, but I've also tried it with cilantro or chopped arugula and it works.
Your dinner will be happier with a side of shredded carrot salad with crunchy apple and fresh lime!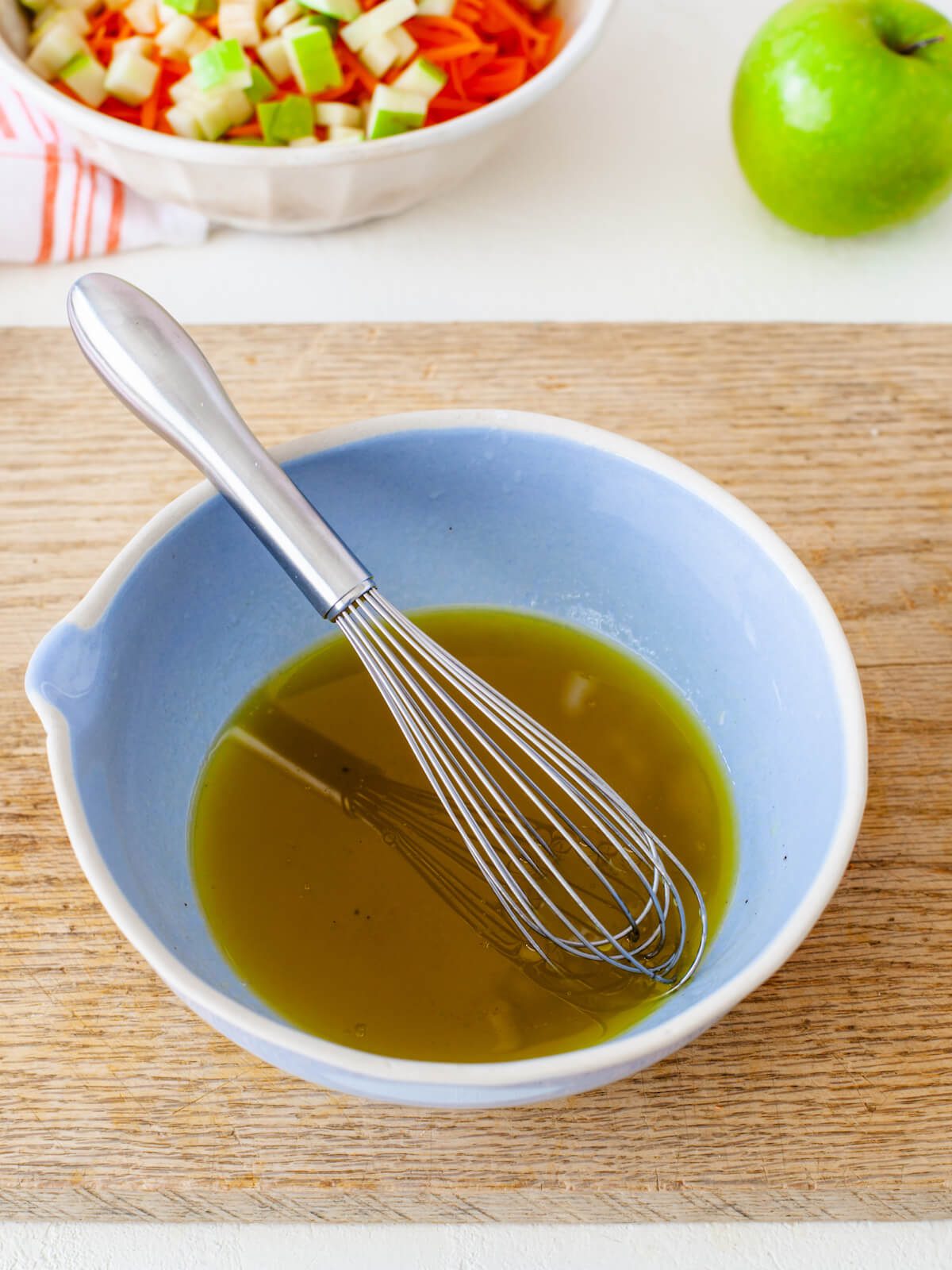 Citrus dressing for a raw carrot salad
The thin pieces in a shredded carrot salad hold onto a light dressing well. I love just a simple honey-sweetened lime dressing with olive oil.
Lime and apple are so complimentary so the two taste great together with the sweet carrots and fresh herbs.
You can also use lemon if you don't have limes on hand. The honey is a great sweetener but feel free to use maple syrup, agave or even a stevia or monk fruit sweetener as a sugar-free alternative.
I like to use an extra-virgin olive oil for flavor. It's a great opportunity to use a nutty, even spicy olive oil if you have it. A milder olive oil is just fine, even avocado oil if you'd rather. The oil is part of the flavor of the salad here if you want it to come into play.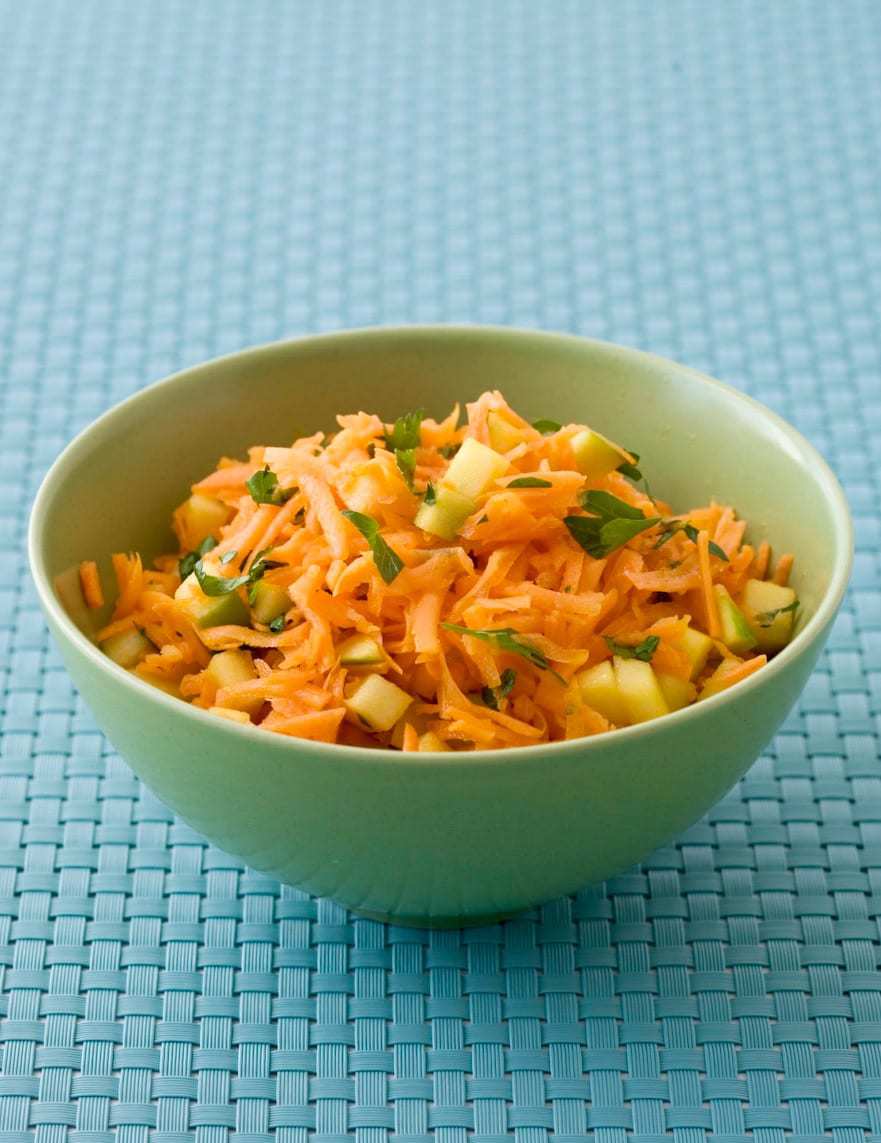 How to shred carrots for a salad
For shredding these grand carrots, you can see in some of the images I simply use a box grater. I like this one from Oxo. I like that the grating holes are close together (and the little catch-all box is a good bonus)
If you're making a larger batch you can also whirl them up on a food processor with the grating attachment.
If you'd like a stronger shred, and something with more texture, use a julienne peeler. It will give you longer strips of carrot. This makes for a crunchier salad, and even looks pretty if you are wanting to dress up this side dish.
This shredded carrot recipe pairs well with most dinners! Try it with my grilled pork tenderloin, pistachio grilled chicken, or any protein. A sandwich, like my chicken and gouda melt, or even soup are happier with a side of shredded carrot salad. I've even thrown a big spoonful into a green salad and tossed it all together. Delish!
More salads you'll love:
Let me know how it went!
Scroll to the bottom of the page to rate ⭐⭐⭐⭐⭐ and comment on this recipe. Leaving comments helps other too!
Awesome Side Dish Recipes!
Recipe Tara Teaspoon. Some Photographs Kate Sears, others Tara Teaspoon. Food Stylists Sally Jo O'Brien and Tara Teaspoon, Prop Stylist Anna Beckman, Originally published LHJ 09/08. Post updated July 2023.