---
Made with just six basic ingredients, brown sugar carrots take less than 30 minutes to make. This recipe is made on the stovetop, which is great for when your oven is already full!
---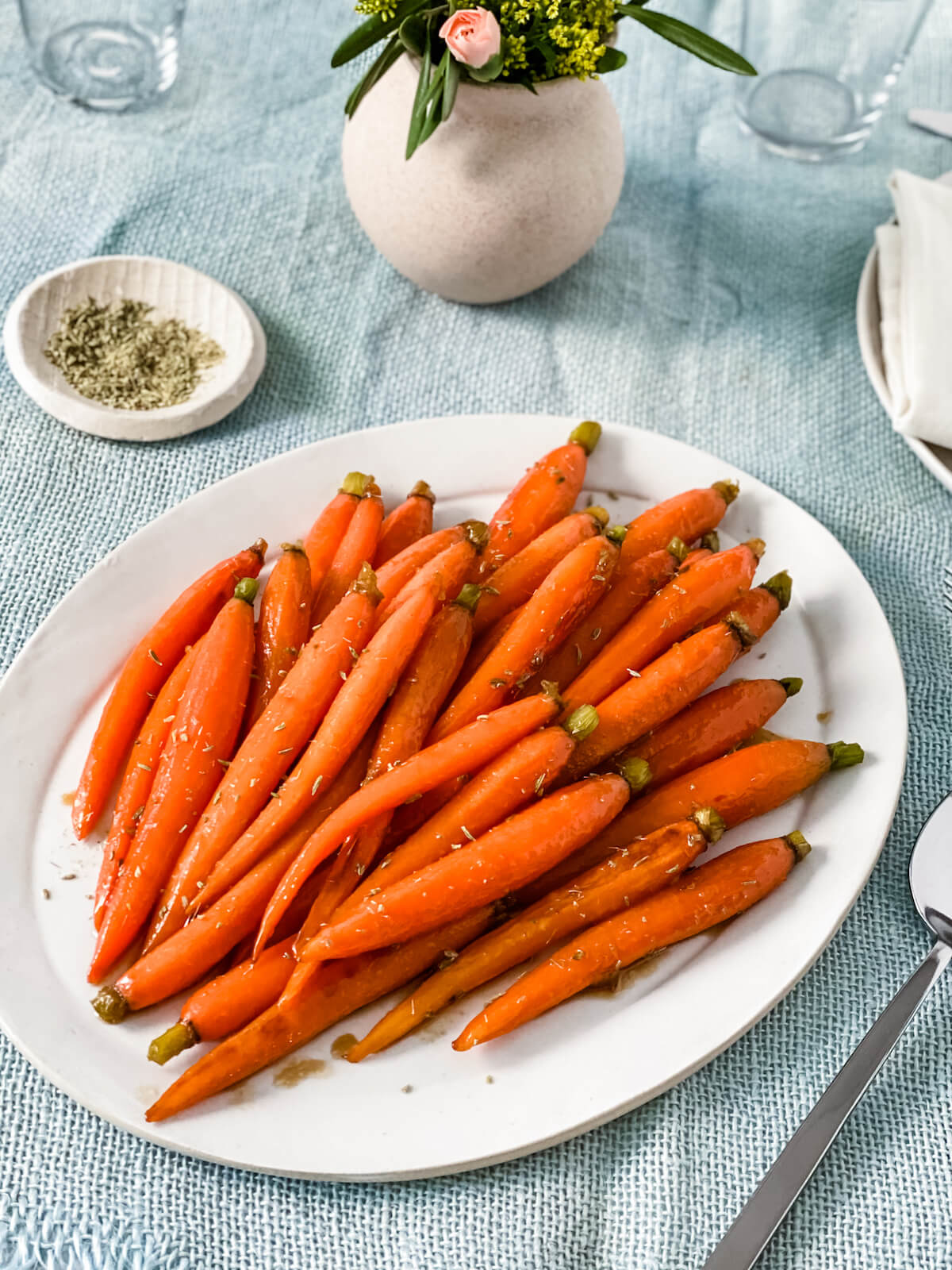 Brown sugar glazed carrots are one of my favorite spring, Easter, and holiday side dishes. They take less than 30 minutes to make and they are always a crowd pleaser.
The carrots look beautiful, and their sweet aroma will draw all of your guests into the kitchen.
Jump to: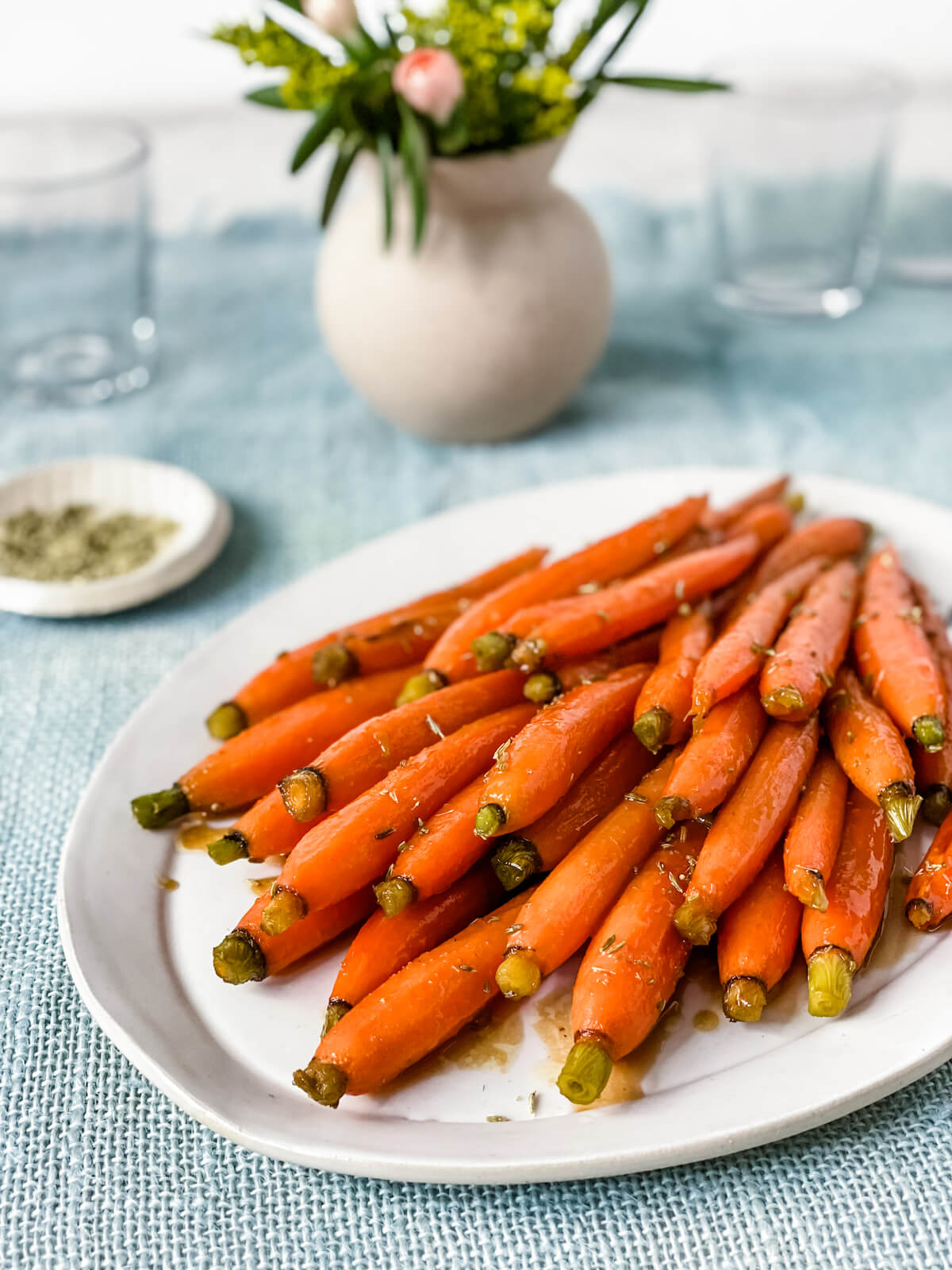 I have childhood memories of glazed carrots. Mom would simmer them in orange juice and sugar. They were divine.
This recipe is my take on Mom's brown sugar butter carrots. They're just as delicious, but I made a few tweaks to the classic recipe.
What carrots to use
For brown sugar carrots you can use any shape of carrot. Grab a bag of baby carrots, cut standard carrots or use French style baby carrots with the green tops.
If you cut standard carrots, peel, then chop into even-sized pieces so they cook at the same time. I like to do 1 to 1 ½ inch rounds or half moons.
For carrots with green tops, use a clean kitchen sponge or brush to scrub any dirt from the green tips. Then, once cooked they can be eaten along with the orange portion of the carrot.
As I mention below, you can use rainbow carrots as well. The colors are fun for a holiday meal like Thanksgiving or Christmas.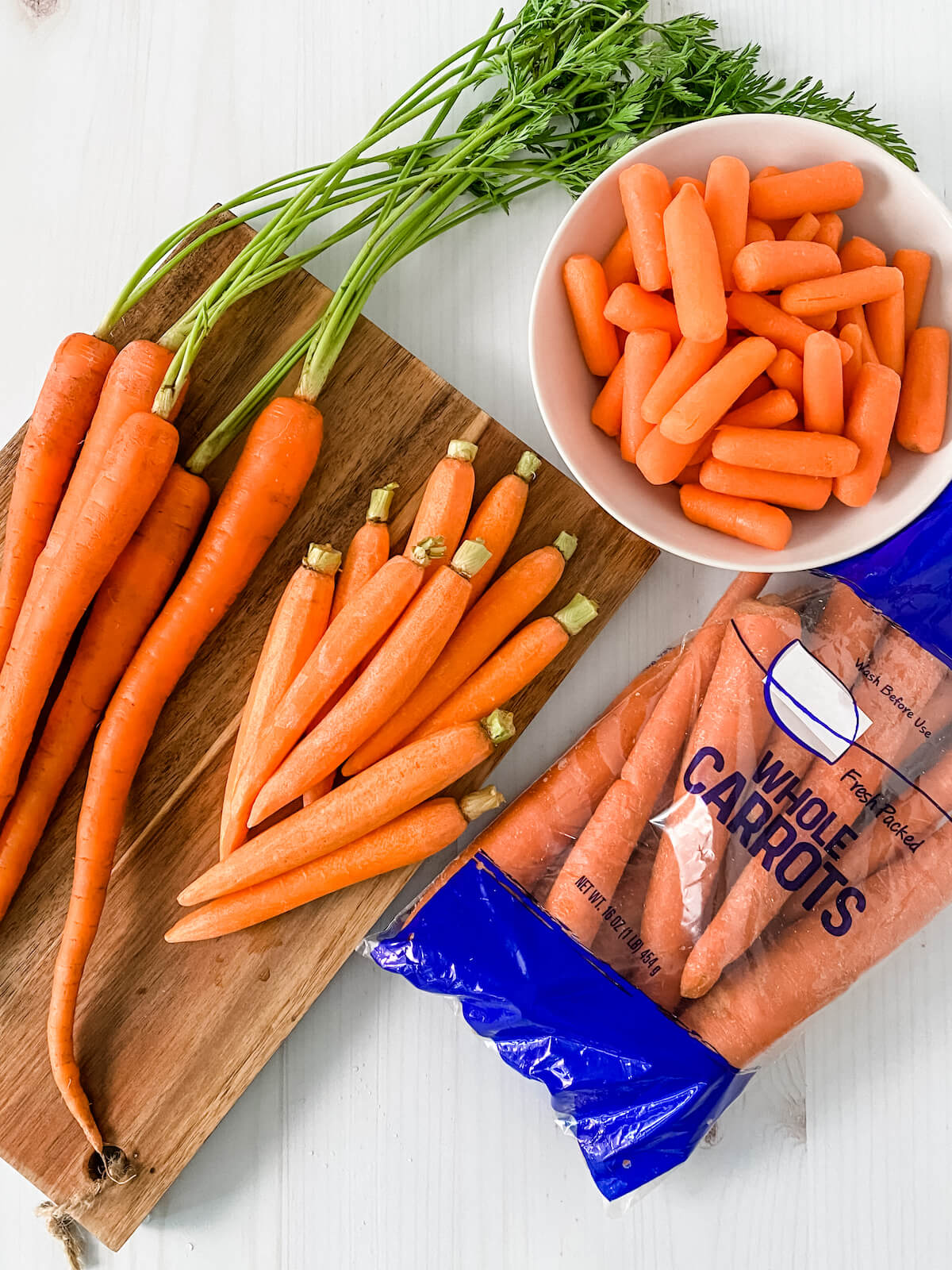 Recipe Ingredients
I opted for something without the zing of orange. I made these brown sugar butter carrots sophisticated by just adding a bit of white wine.
I add fennel seeds for an extra bit of sophistication.
I love using baby French carrots for this recipe, but you can also use rainbow carrots or baby carrots from the bag! Or just regular sweet carrots, peeled and cut.
Rainbow carrots have a similar taste to all other carrots, but have beautiful red, yellow and purple colors. Not to mention, each differently colored carrot has its own health benefits! Think: betacarotene, lutein, lycopene and antioxidants.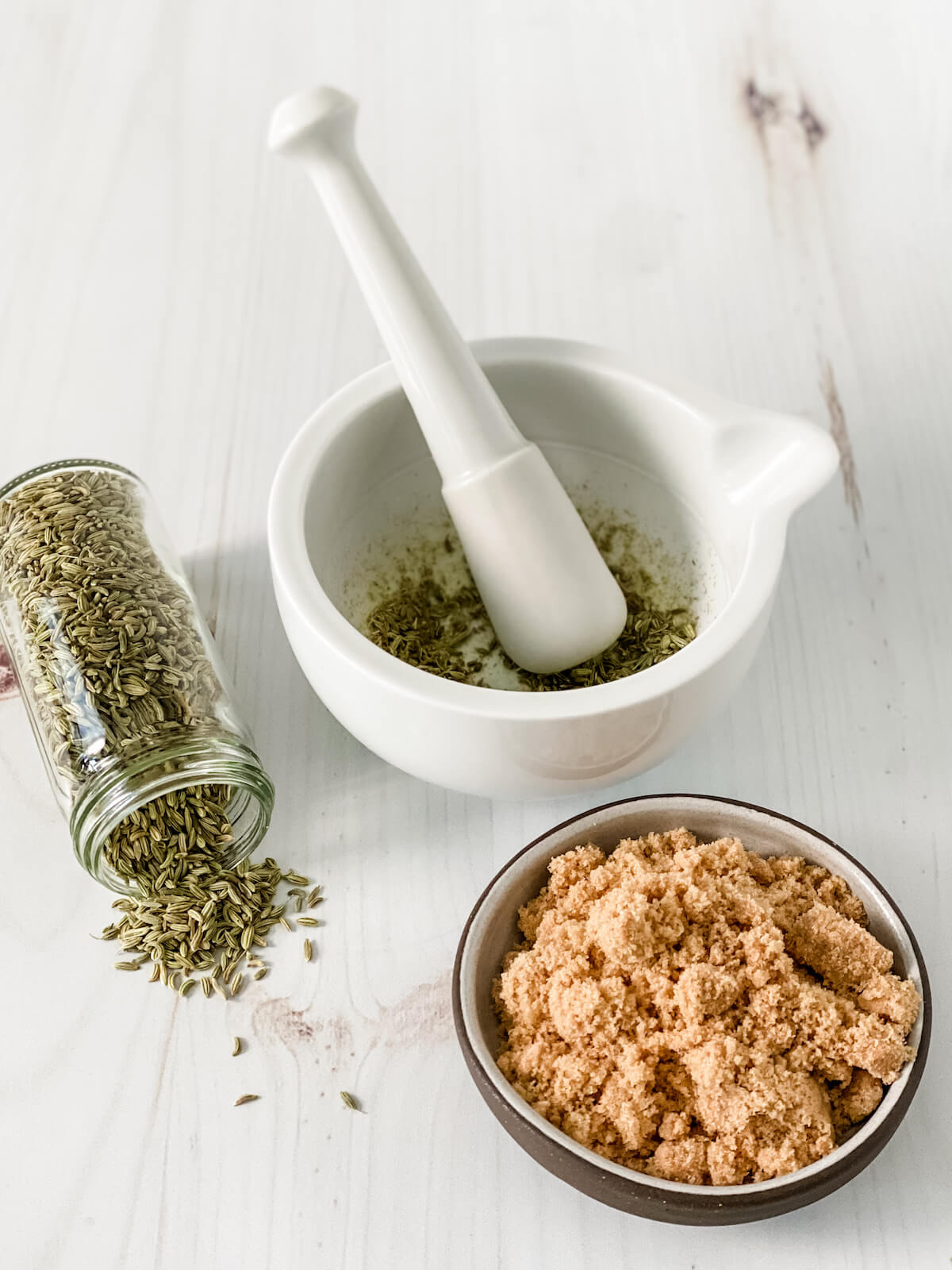 Can the Wine Be Substituted?
Yes, you can swap the white wine for water or chicken broth if you'd like. You can even use vegetable broth if you'd like to make these vegetarian.
Can Regular Sugar Be Used?
I think you need to use brown sugar for this recipe. Brown sugar imparts a caramel flavor to the carrots, whereas regular granulated sugar would just add sweetness.
How to Make Glazed Carrots
To make brown sugar carrots, all you have to do is melt your ingredients on medium-high heat, add the carrots to your skillet, cover for 20 minutes, then uncover to let the veggies caramelize.
That's it. The recipe really is that easy. I like using a covered skillet like this one, so you don't have to search for a little that fits your fry pan.
I like to whip out this recipe for family dinners or spring parties with my friends. No matter where I bring these brown sugar carrots, they are always the first dish to be devoured.
My guests are thrilled, and I am pleased with how easy they were to make!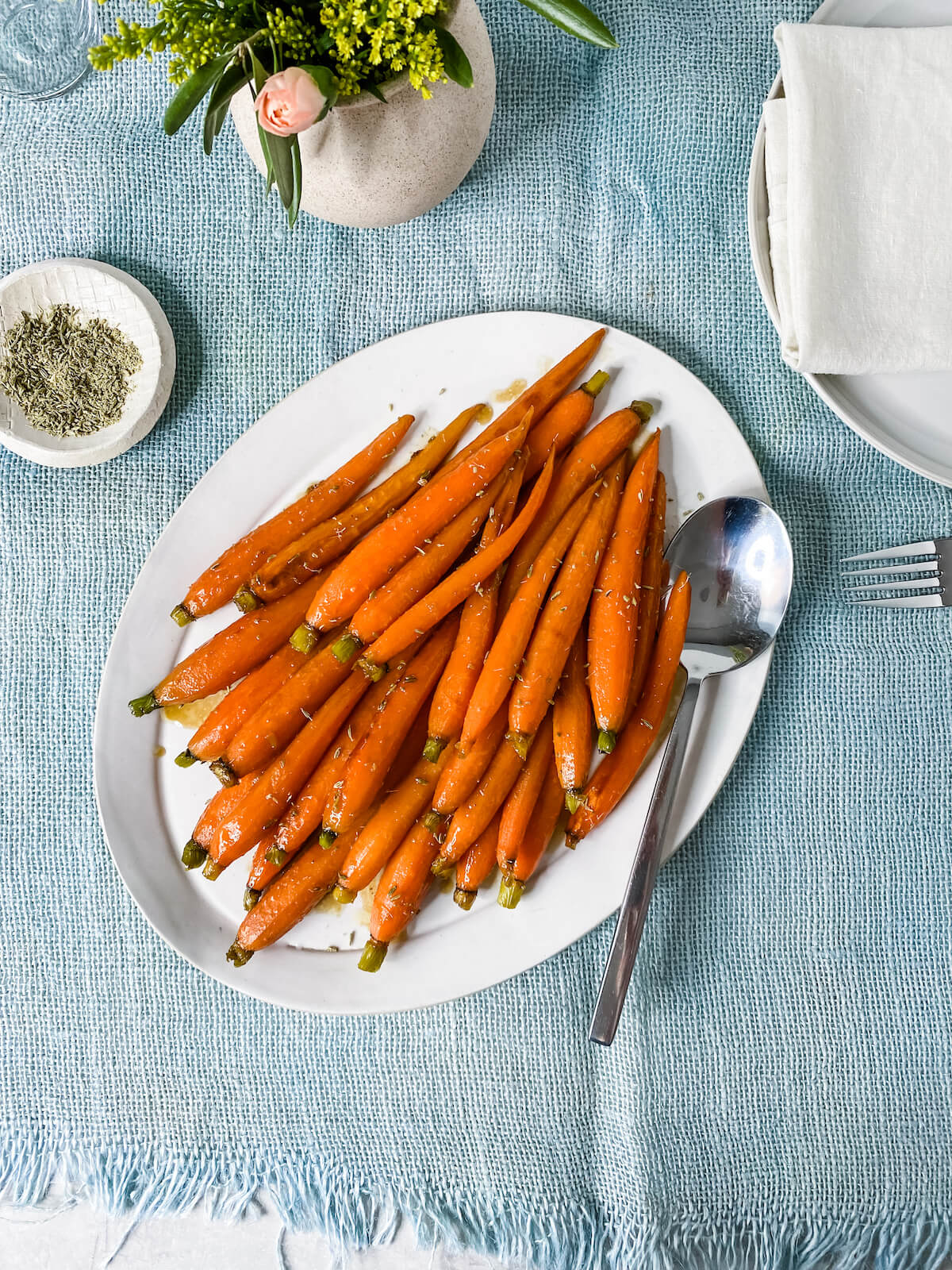 Tips for Making Carrots with Brown Sugar and Butter
I like to crush my fennel seeds on a cutting board with the bottom of a heavy pan. You can also use a mortar and pestle.
Crushed fennel is also sold at the grocery store, but I find that it has more flavor when I grind it myself.
Use rainbow carrots to add color to your dinner spread.
What Goes With Brown Sugar Carrots?
These carrots with brown sugar and butter pair perfectly with your favorite holiday entrees!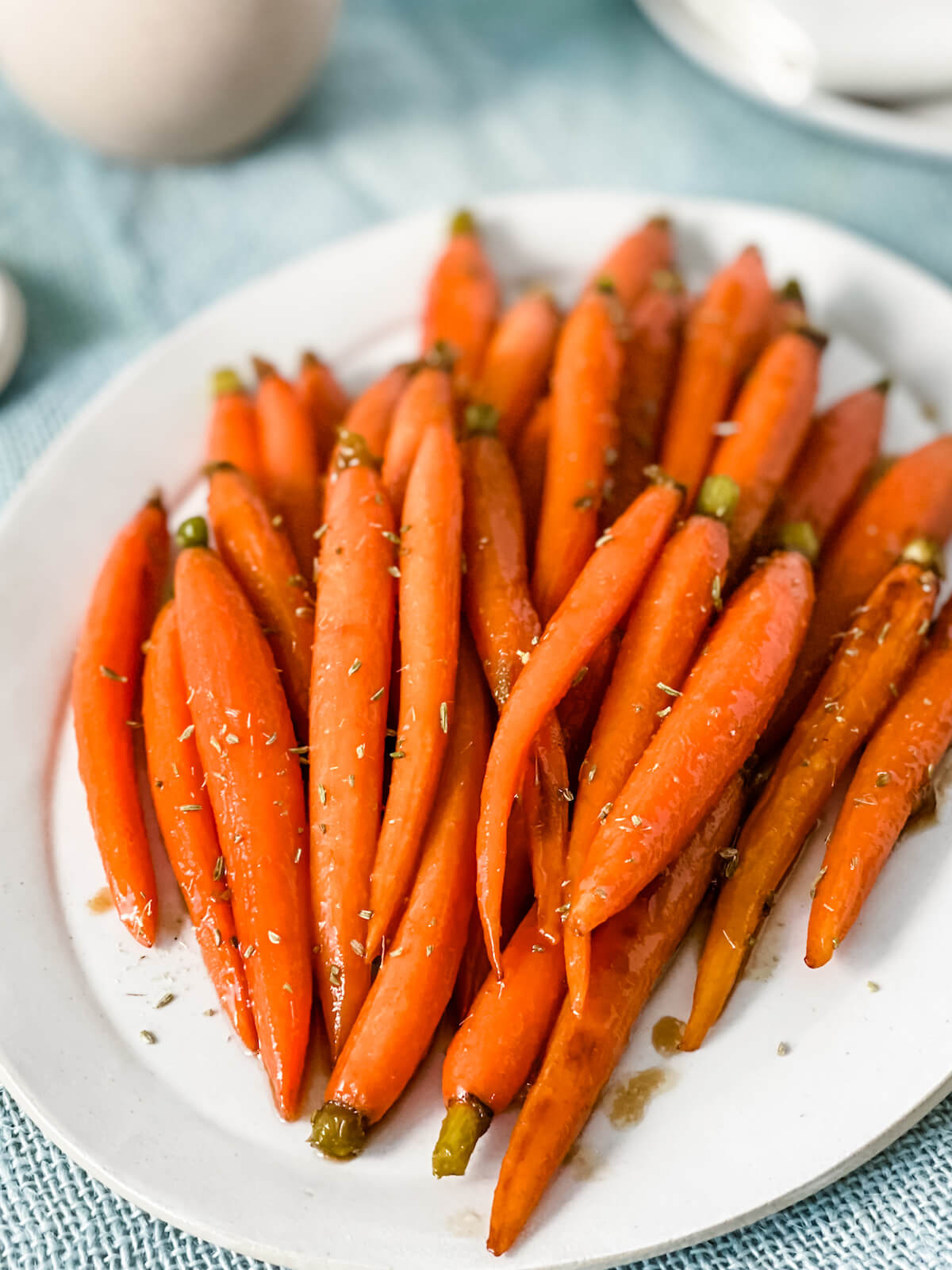 More Carrot Side Dishes:
Let me know how it went!
Scroll to the bottom of the page to rate ⭐⭐⭐⭐⭐ and comment on this recipe. Leaving comments helps other too!
Awesome Side Dish Recipes!
Post updated 4/2022 Recipe Tara Teaspoon, Photography Iain Bagwell, and Tara Teaspoon. Food Stylist Sally Jo O'Brien and Tara Teaspoon. Originally LHJ 03/08.