---
This delicious glazed baked ham is great for a crowd. The simple spice rub and honey glaze is all it takes to make a perfect roast ham recipe for holidays or a family dinner.
---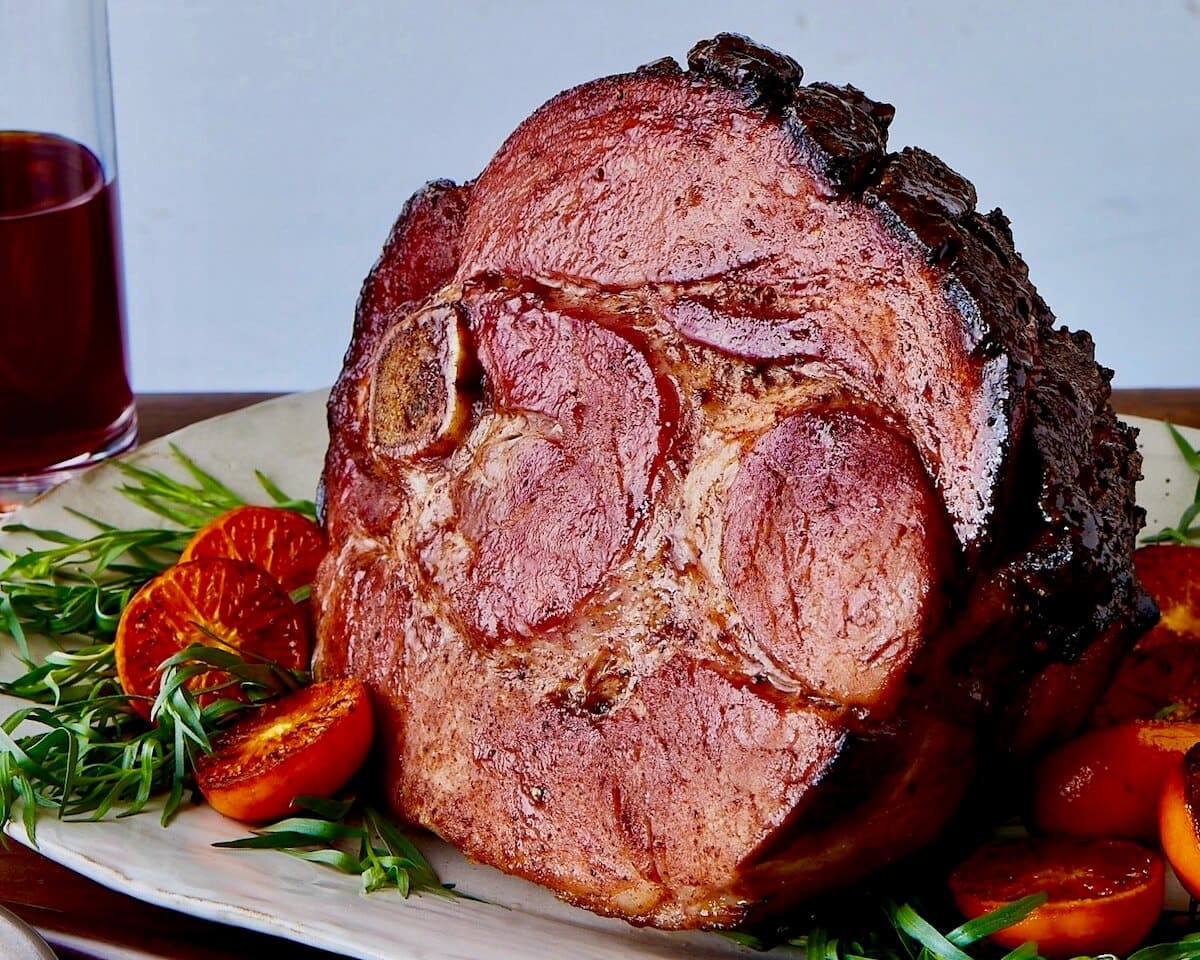 ---
Quick-click Table of Contents:
Jump to:
Classic roast ham
I'm here to say I love a big family dinner with a roast ham as the main dish. It's salty and juicy, goes with just about any side dish and makes for some of my favorite leftovers.
Also try Pomegranate and Brown Sugar Glazed Ham
Roast ham is super economical and a 7 to 10 lb cooked ham can feed 12 to 18, with plenty of those tasty leftovers.
A honey-glazed ham is usually the most familiar and maybe what you had as a kid. The honey is sweet to the ham's salty flavor. Pure bliss.
I've added some spice, just pepper, mustard powder and some cinnamon and clove at the end, to give depth to the classic oven roasted ham.
My Brown Sugar Glazed Ham with Pomegranates is so delicious and has a little fruity tang. If you love brown sugar glazed ham you'll love that one.
Buying tips
Depending on your location and what your store stocks, you may find a variety of hams.
Look for ham to go on sale around the holidays. You can get an extra ham and keep it in the freezer as well. Here are some tips for buying ham:
• Fully cooked, partially cooked or uncooked/fresh.
This is not a fresh ham recipe. I like to use cooked ham. I find it easier and they are much more accessible.
Whether you're using a fresh ham recipe or this one, you'll get a great result with this spice rub and honey glaze.
The honey glaze and rub will work on any ham, just follow the package or butcher's directions if it is different than the recipe below.
• Bone-In, boneless, shank end or spiral cut.
Use a bone-in, shank end cooked ham for a beautiful and classic presentation.
A spiral-cut, bone in ham is also a great option. Some think an un-cut shank end ham stays more moist, but I find both the spiral cut and whole do well. You just forgo the criss cross scoring look on the outside edge if you go with a sliced ham.
---
---
Cooking tips
• How to cook a ham roast with a honey glaze.
With this ham roast recipe I use a fully cooked ham, so you are just heating the ham. You'll want to cook the ham to an internal temperature of 115ºF to 120ºF on an instant read thermometer.
Reheating a cooked ham will take about 1 to 1 ½ hours in a 325ºF oven. It will need less time if you bring it to room temperature before cooking. Otherwise give it the full 1 ½ hours.
I also add an extra 30 minutes to cook it uncovered so I get the glaze caramelized. So my total time for a 7 to 9 pound ham is about 2 hours in the oven.
I cook the ham covered with foil the first hour to hour and a half. Then uncover, glaze and cook another 30 minutes.
You will want to add broth or water to the bottom of the pan so any juices don't scorch as the ham cooks. I add at least 1 cup of water, and more can be added as the pan dries up.
Any leftover juices can be served with the ham, or even made into a gravy if you'd like.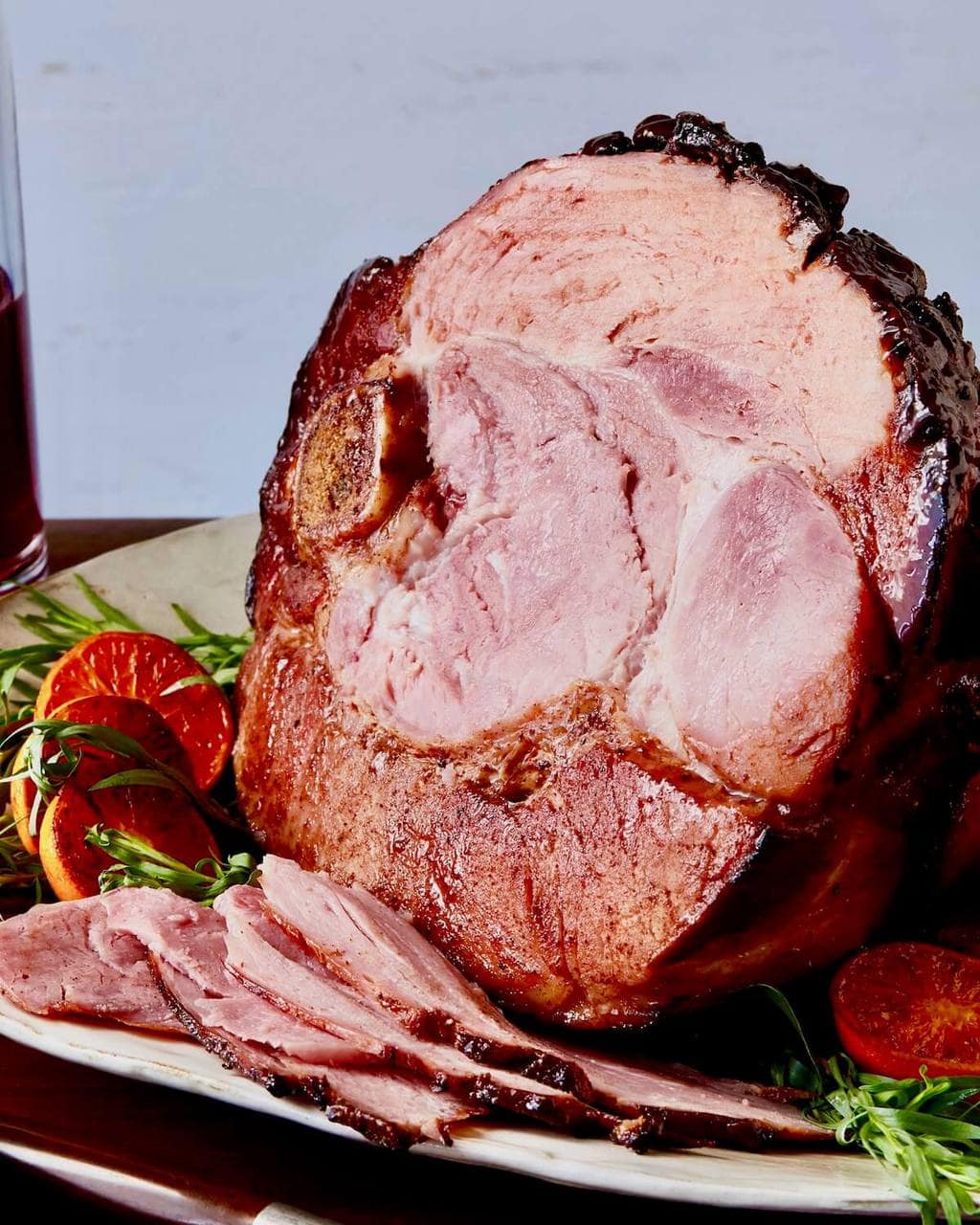 Storing and Freezing
Like I mentioned, you can freeze ham if you buy extra on sale at the store. Simply thaw it in the fridge for several days before using.
I like to bring my ham almost to room temperature before roasting it so it only takes an hour or hour and a half to roast and heat through.
You can store leftover cooked and reheated ham in the fridge for up to a week.
Leftover roasted ham can be frozen for up to 4 months. I suggest slicing the ham before freezing it so it is easy to thaw and use.
Using leftovers
Love oven roasted ham? Here are some great ways to use the leftovers.
---
---
What to serve alongside
Oh there are so many delicious things to serve on the side of honey glazed baked ham. Depending on the time of year, you can choose seasonal favorites from my list of side dishes.
---
📖 Recipe
---
Find more main dish recipes for entertaining here:
Main Dish Recipes
Tools you'll need for this recipe: