Roasted Vegetable Trio with Orange-Thyme Dressing is a classy, delicious side dish for any holiday meal.
As far as vegetables go, I think my favorite way to eat them is roasted. Name a veggie…it's probably delicious roasted! And this roasted dish is divinely gorgeous for a holiday table.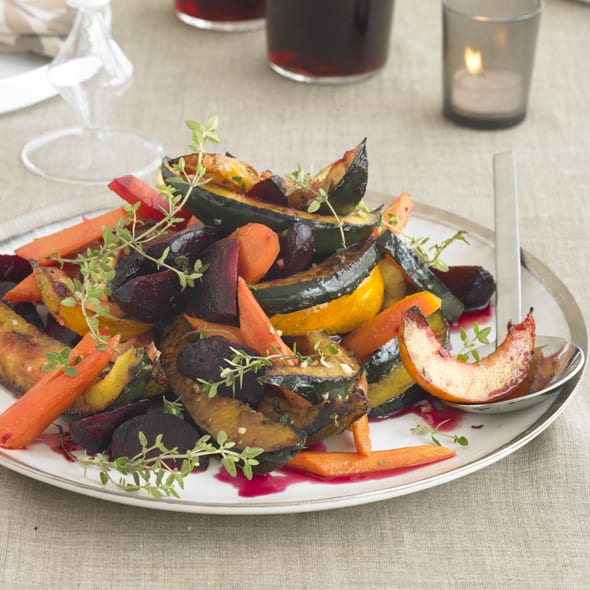 It's really easy, just some simple chopping and slicing and whisking to mix up the dressing. When vegetables are hot, whether out of the oven or off of a grill, they absorb the flavors of a dressing or vinaigrette immediately. The sweetness of the caramelized vegetables pair so well with this tangy, herby dressing.
When vegetables are hot, just out of the oven, they absorb flavors of a dressing immediately.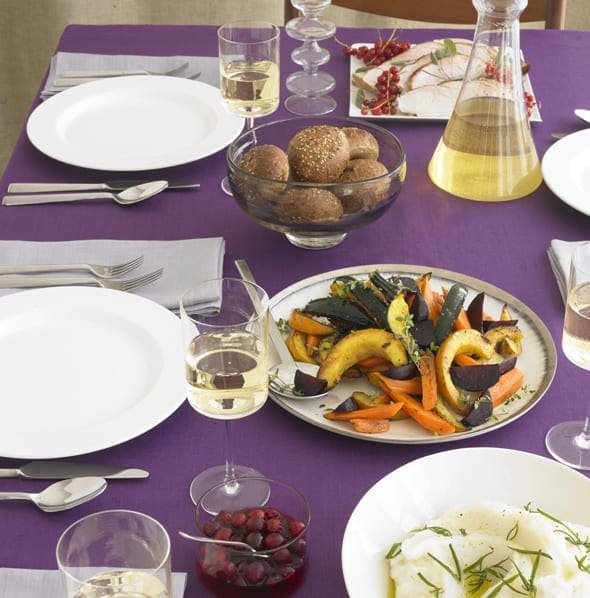 Make sure to wash your acorn squash. When roasted the skin is tender enough to eat! No need to peal it. And the dark green, sometimes striated skin looks beautiful in the festive, colored mix.
Food Styling Tip:
As you'll see in the recipe, I've roasted the beets separately from the other vegetables. Not only do I really like roasting beets this way (wrapping in foil), it keeps them from "bleeding" or staining the other vegetables while cooking. The dish would not look quite as stunning on the plate if the beet juice had stained all of the other veggies. So you instantly become a talented food stylist by adding them just before serving!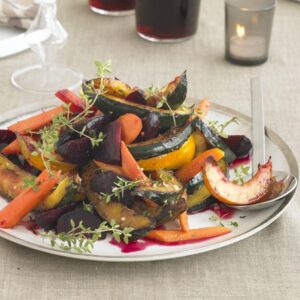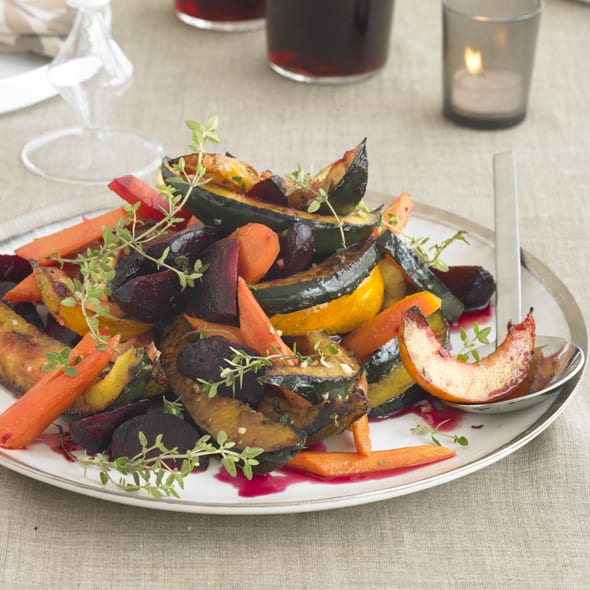 Vegetable Trio With Orange-Thyme Dressing
The combination of garlic, herbs and citrus gives major flavor to this colorful dish.
Ingredients
3

medium beets

greens removed

1

lb

carrots

peeled, cut into 2-inch lengths

1 2-

lb

acorn squash

cut into 1-inch slices

1

clove

garlic

minced

4

tbsp

olive oil

1

tsp

thyme leaves plus sprigs

¾

tsp

kosher salt

½

tsp

ground black pepper

Zest and juice of 1 orange

2 to 4

tbsp

white wine vinegar
Instructions
Heat oven to 375° F. Wrap beets in a double layer of aluminum foil, seal and then bake until soft, about 75 min.

In a bowl, toss together carrots, squash, garlic, 2 tbsp olive oil, several thyme sprigs and ½ tsp each salt and pepper. Transfer to a rimmed baking sheet. Roast alongside the beets until just tender and golden, 35 to 40 min. Peel skin from cooked beets by rubbing with a paper towel, then cut beets into 1-inch pieces. Set aside.

Measure orange juice, then add enough vinegar to equal ⅔ cup. Whisk together juice, vinegar and ¼ tsp salt and drizzle in 2 tbsp olive oil, whisking constantly. Add thyme leaves and zest. Place vegetables on a serving dish and add orange vinaigrette. Garnish with thyme.
Nutrition Facts
Vegetable Trio With Orange-Thyme Dressing
Amount Per Serving
Calories 118
Calories from Fat 63
% Daily Value*
Total Fat 7g 11%
* Percent Daily Values are based on a 2000 calorie diet.
Pair this side dish with a stunning and delicious entree. A tasty roast or classic turkey will make any holiday dinner perfect.
Classic Prime Rib is actually simple to prepare. Served with a creamy horseradish, it's a special holiday main dish.
My favorite roasted turkey is simple yet flavorful. I use basic herbs and aromatics to make it delicious and the drippings make perfect gravy.
Recipe by Tara Bench
Food Stylist Jee Levin
Prop stylist Jen Everett
Originally Published in Ladies' Home Journal November 2009