Favorite Roasted Turkey is the most classic, go-to recipe for making the best Thanksgiving dinner. It will become a family tradition.
• • •
As a food editor at magazines, the challenge was to come up with a new, unique Thanksgiving dinner recipes every year. What new flavor could I come up with for the turkey? Do I fry it, grill it, marinate it in seasonings or brine? Serve it with bacon, a balsamic glaze, rub it with spices or brush it with sriracha?
The pressure was on, to make it different from what you thought other magazines would be printing, and still make it work with all the delicious side dishes.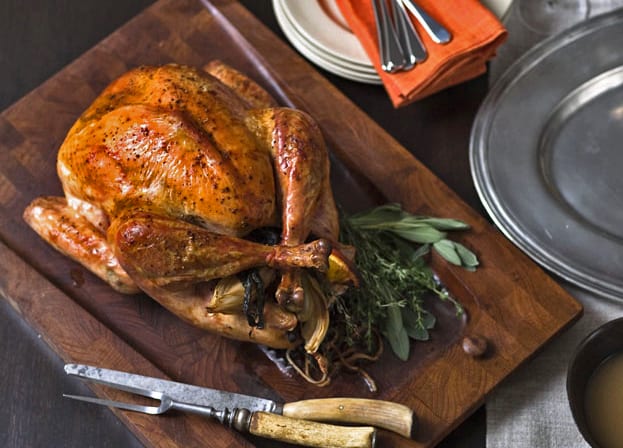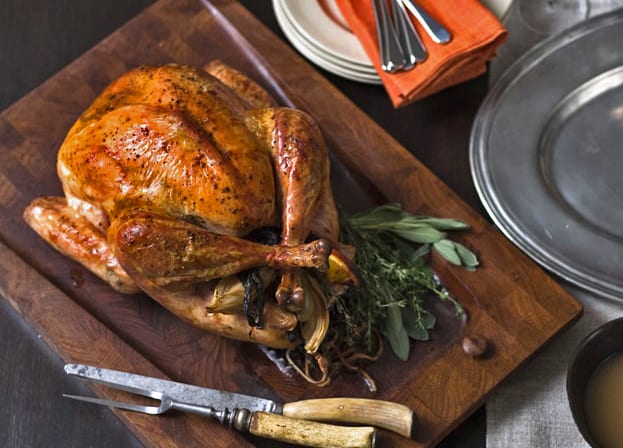 Over the years I realized my friends, family and the many readers of the magazines, just like their standard turkey! No bells and whistles and no strong flavors that seep into the drippings then the gravy.
I am all for keeping the turkey classic. This recipe can be your go-to, your family tradition, your FAVORITE! It's literally a perfect turkey, with perfect gravy. Cooking it covered for the first hour evenly heats the bird so the meat stays juicy. The seasonings are simple, so the flavors aren't overpowering.
Tips: If you purchase a frozen bird, thaw it in the refrigerator. This will take 3 to 4 days, so plan ahead!
When cooking your favorite roasted turkey, if spots start to brown too much, just cover those places with pieces of foil until the turkey is done.
If you like to make your own gravy from the drippings of the turkey, you have to be careful what you stuff the bird with. And when you add unique flavors or a sugary glaze you have to know your gravy will then have that flavor. Not always the best thing for those mashed potatoes!
I stuff my bird with simple and aromatic herbs and onions. That's all it needs and your gravy will turn out perfect.
Now—off you go to experiment with new side dishes and pie!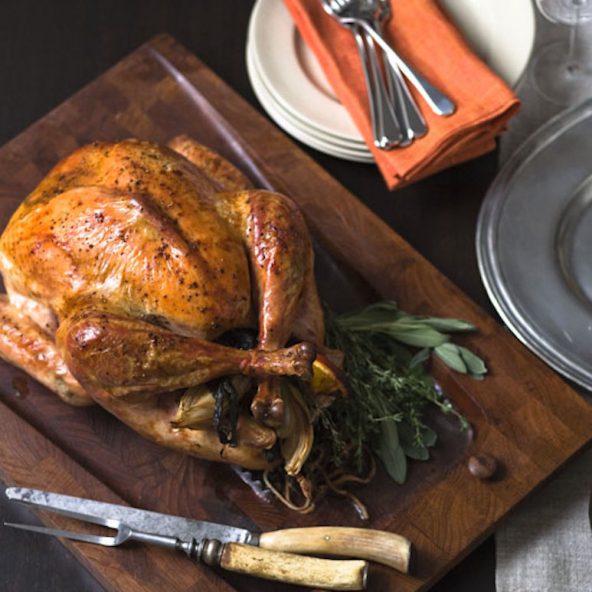 Favorite Roasted Turkey and Gravy + Tips
A classic turkey and gravy recipe that is simple, straight-forward and really delicious.
Ingredients
4½

cups

low-sodium chicken broth

3

tbsp

unsalted butter

1 12-

lb

turkey

thawed if frozen

2

tsp

kosher salt

1

tsp

ground pepper

3

medium onions

cut into quarters

3

medium carrots

cut into 2-inch pieces

1

orange

cut into 8 wedges

4

thyme sprigs

3

sage sprigs

1/3

cup

dry white wine

or chicken broth

3

tbsp

cornstarch
Instructions
Heat oven to 375ºF and place rack in lower third. In a small saucepan, heat 1 cup broth and 2 tbsp butter until butter is melted; set aside.

Remove giblets from turkey and reserve neck bone. Rinse turkey if desired and pat dry. Place in a roasting pan with a rack and tuck back wings. Sprinkle body cavity with ½ tsp salt and ½ tsp pepper; fill with onion, carrot, orange and herb sprigs. Fill neck cavity with onion and orange, if desired; secure skin flap under turkey. Place any remaining vegetables in bottom of pan with neck bone and ¼ cup broth. Rub turkey with remaining 1 tbsp butter, 1½ tsp salt and ½ tsp pepper. Tie legs together.

Cover pan with heavy-duty foil and seal around edges. Roast 1 hr. Reduce oven to 325ºF and roast 1 hr more. Remove foil and roast, basting with broth-butter mixture every 30 to 40 min, until an instant-read thermometer inserted 2 inches into inner thigh (without touching bone) registers 170ºF, 2 to 2½ hrs. Remove turkey from oven, tent with foil and let stand 15 to 45 min before carving. Transfer turkey to a serving platter and remove rack from pan.

For gravy, remove vegetables and neck bone from pan, then strain drippings into a fat separator; pour off fat. Place roasting pan over 2 burners, add wine and heat over medium-high heat to deglaze, scraping up any brown bits in a pan. Stir in pan drippings and transfer to a medium saucepan. Add 2 cups broth and bring to a boil. Stir together remaining 1 cup broth and the cornstarch; whisk into saucepan. Simmer, whisking constantly, until thickened, about 2 min. Transfer to a bowl and serve with turkey.
Nutrition Facts
Favorite Roasted Turkey and Gravy + Tips
Amount Per Serving
Calories 285
Calories from Fat 72
% Daily Value*
Total Fat 8g 12%
* Percent Daily Values are based on a 2000 calorie diet.
All kinds of sides go with this delicious turkey. Try some of my favorites.
This roasted Vegetable Trio is caramelized in the oven then dressed with an Orange and Thyme dressing just before serving.
Stuffing is one of my favorite sides of Thanksgiving. I've added Roasted Grapes and Pecans to this stuffing.
PIN THIS

Recipe by Tara Bench
Originally printed in
Ladies' Home Journal Nov 2008
Photography Quentin Bacon
Food Styling Susan Vajaranant
Prop Styling Pamela Duncan Silver