These stovetop carrots with orange glaze are the perfect side dish for a weeknight dinner or holiday meal. Carrots, orange juice and a touch of sugar make them irresistible.
---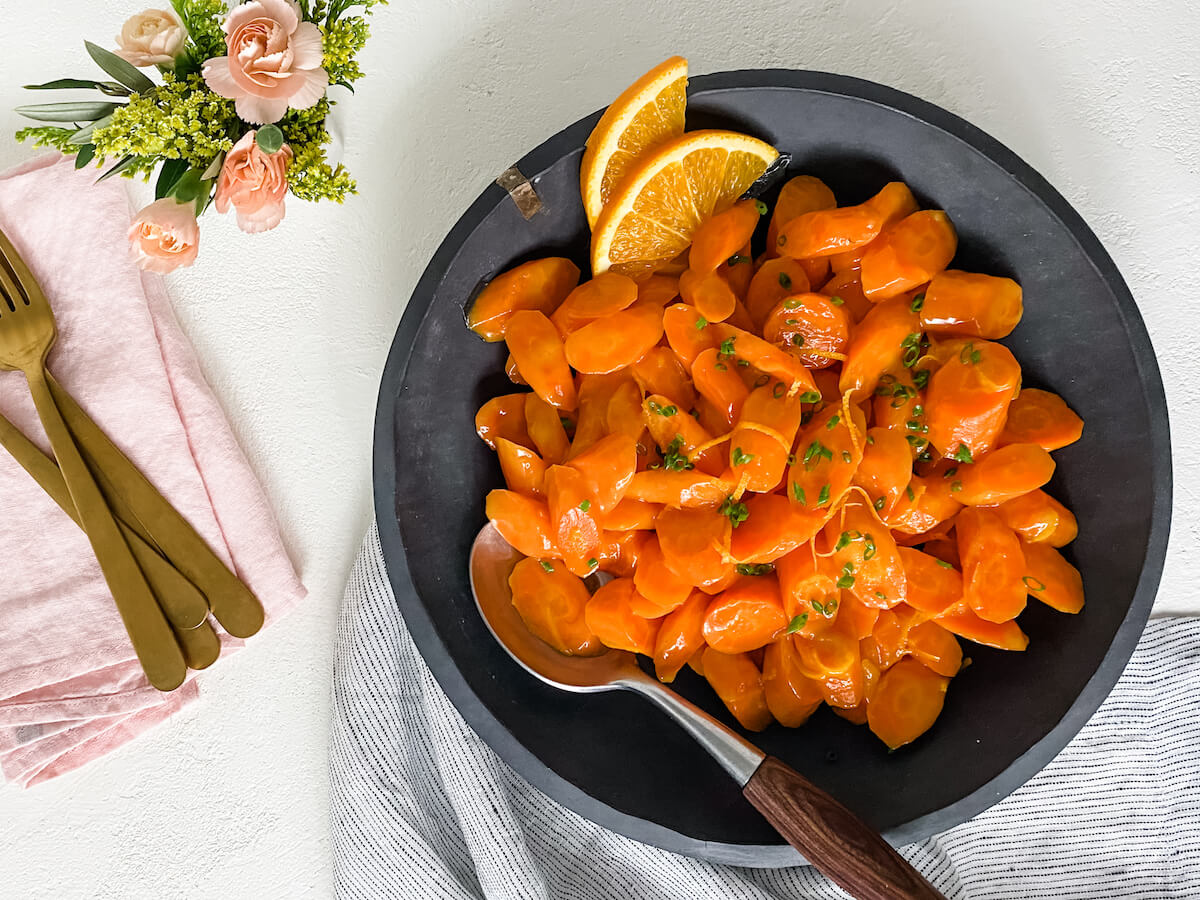 This recipe has been a favorite since childhood. Mom would make orange glazed carrots for special occasions. An Easter dinner, at Thanksgiving, or a great Sunday supper with roast beef.
I've added zest to the recipe to really bring out the orange flavor, and made it easy to get this dish right every time you make it.
Jump to:
Glazed Carrots with Orange Juice
This classic combination seems to be in every Junior League and Society cookbook from the 60s, 70s and 80s. And no wonder, it's a crowd pleaser.
Some glazed carrots in orange juice use granulated sugar, others brown sugar. Some call for fresh orange juice, and others orange juice from concentrate or bottled.
You can add cinnamon or ginger, and I've even seen pineapple chunks added to an orange glazed carrots recipe!
I kept it simple and straight forward with no extra flavors. I used prepared orange juice. The bottled or carton juice works well, but you could also make it from concentrate. It lends more flavor to the dish than freshly squeezed orange juice.
The zest is also a fun addition and brings out the orange flavor of the entire dish.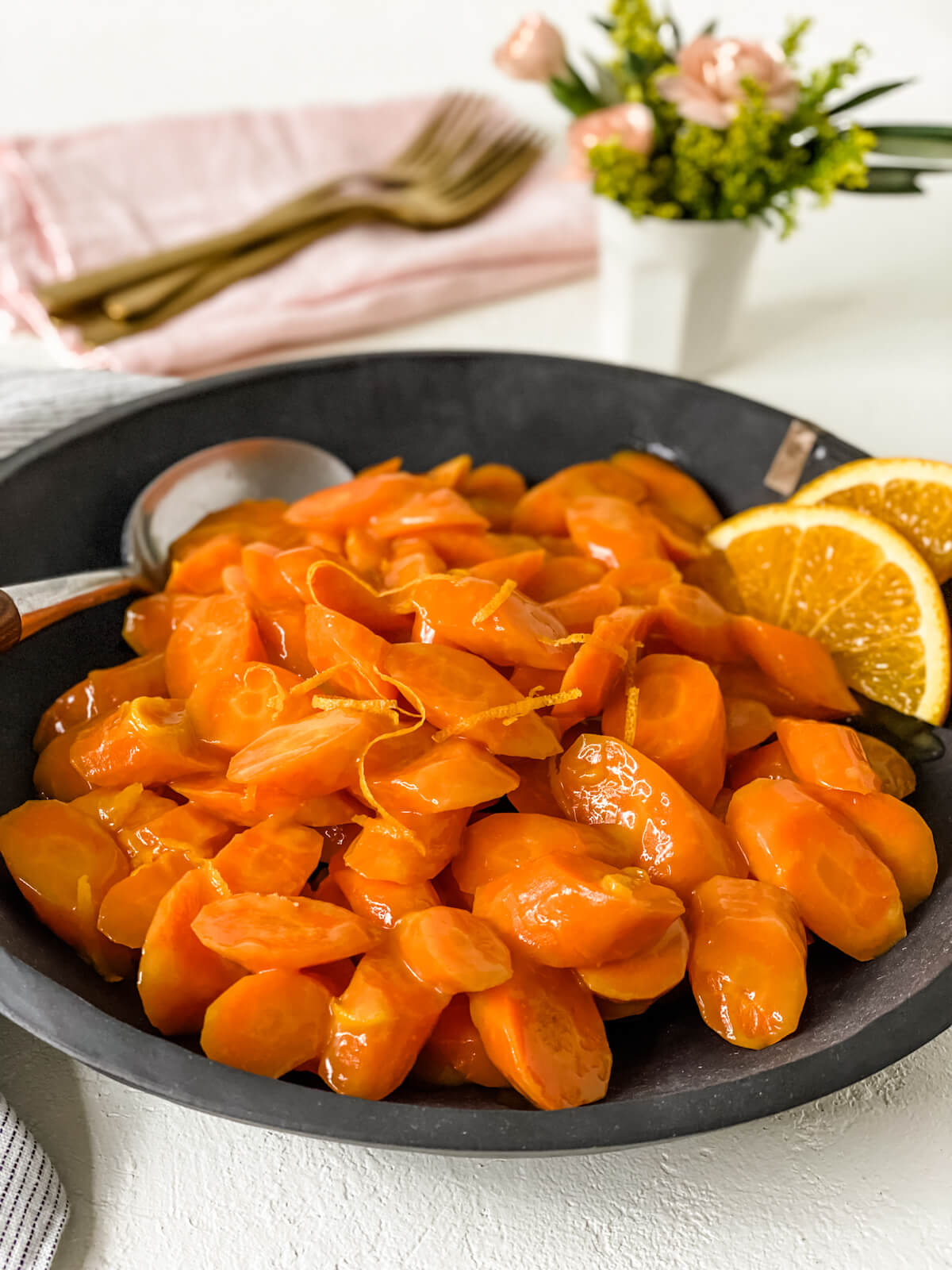 Stovetop Orange Glazed Carrots Recipe
You'll love that you can make these glazed carrots on the stovetop. A side dish that keeps the oven free for dinner rolls, Thanksgiving turkey, or roasted ham.
It's also a simple enough recipe for a weeknight dinner to go with you BBQ dinner, rotisserie chicken, or roast beef.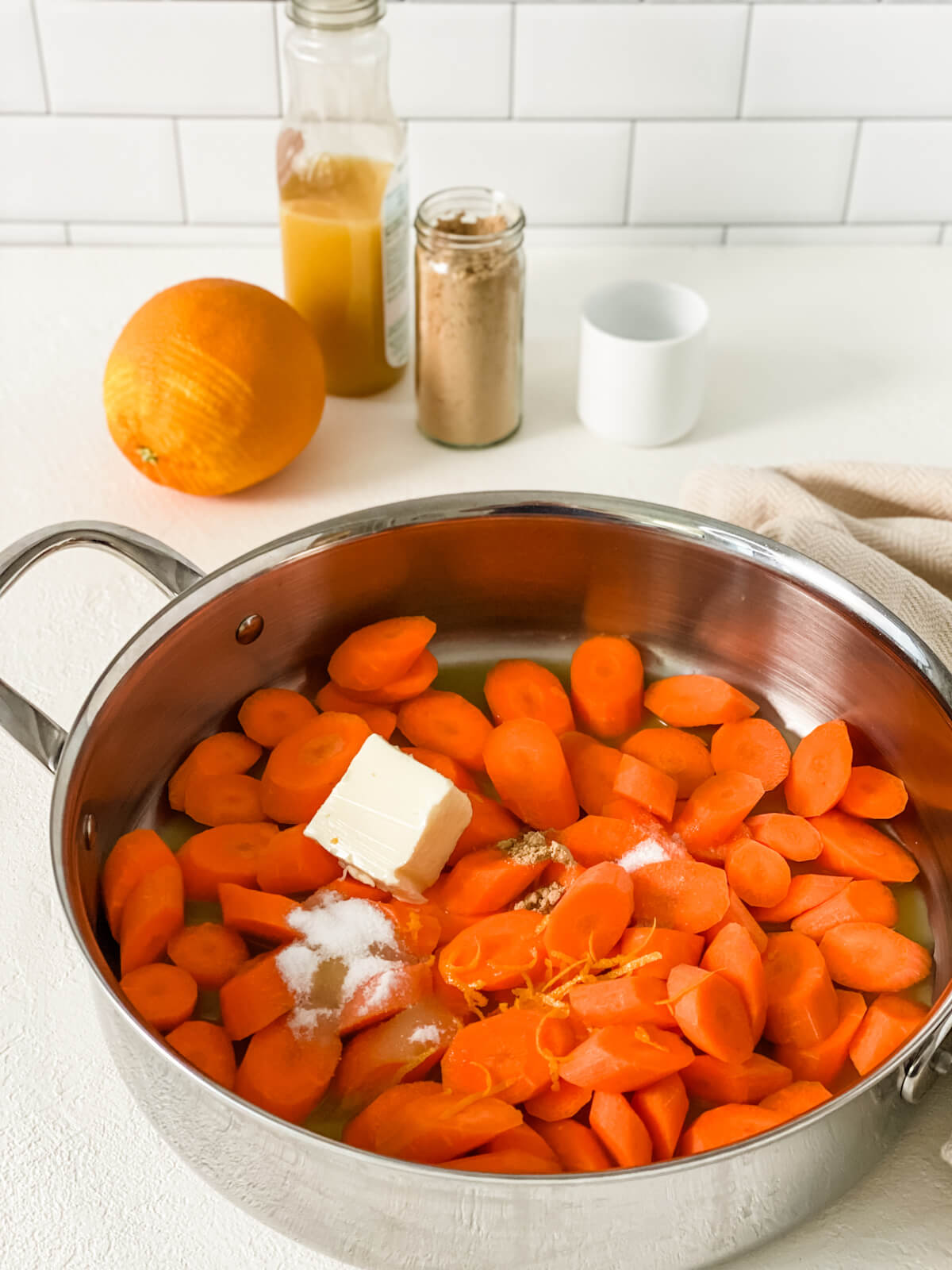 For the best results make this stovetop dish in a high sided skillet with a lid. Any skillet with a lid will do, or even a Dutch Oven or stove-top worthy braiser.
All the ingredients go in the skillet except some orange juice and cornstarch. That will be added at the end.
The carrots simmer right in the orange juice and butter so the flavor is absorbed. The sugar and a pinch of ginger add sweetness.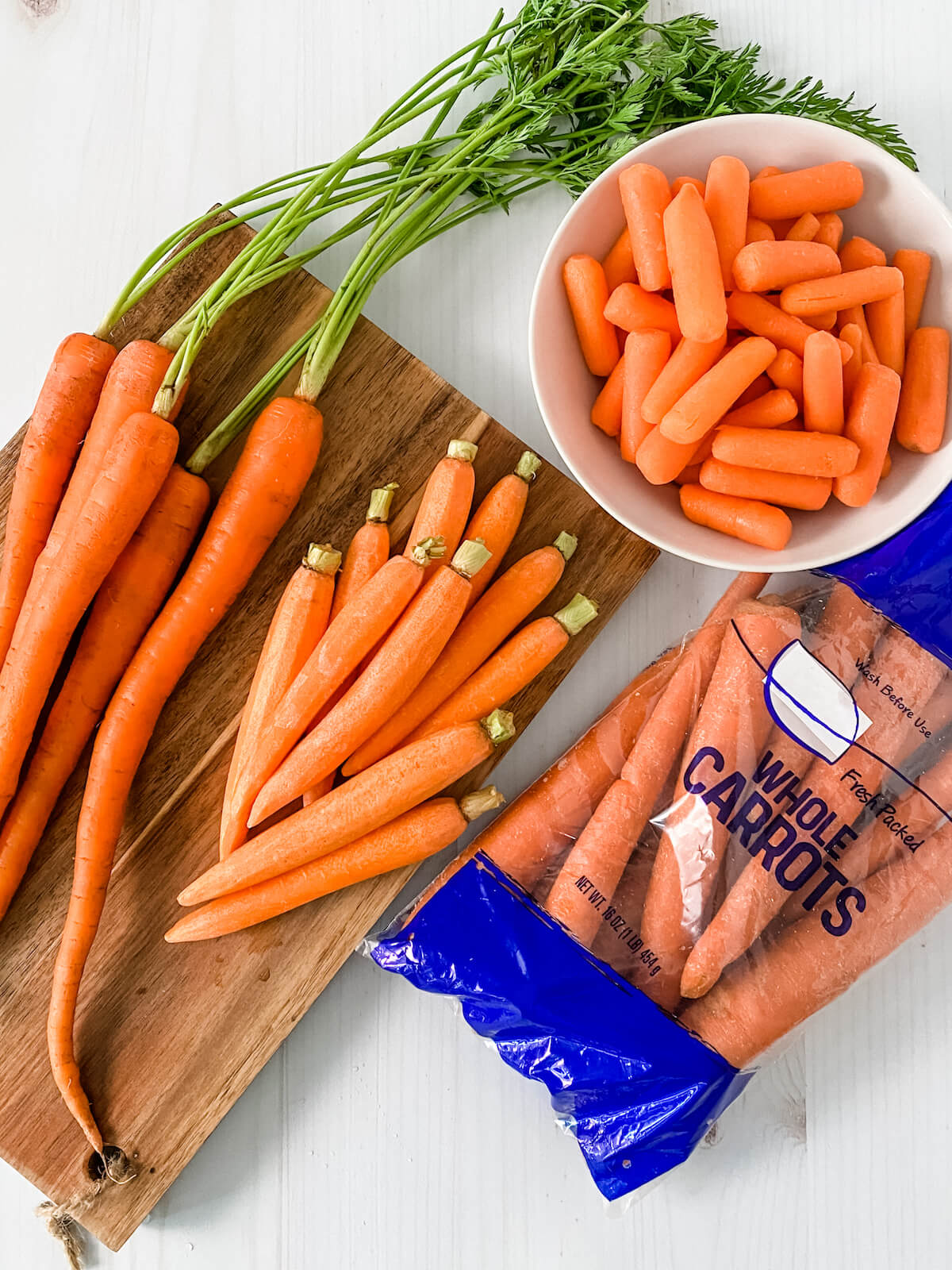 Carrot tips for side dishes
You may wonder what shape and size of veggie to use for carrot side dishes. It can actually be made with any shape or size of carrot! You can also use tri-color carrots for a pretty visual look.
I share glazed carrot recipes like Brown Sugar Glazed Carrots and Rosemary Honey Glazed Carrots using different shapes and sizes of the veggie.
Try baby carrots from a bag, French baby carrots that have the little bit of green stem on the top, standard bagged carrots or carrots from a fresh bunch.
Baby carrots and French baby carrots don't need to be cut. Just use them as is and cook them with the flavorful ingredients.
I used standard bagged carrots and cut them on the bias in medallions.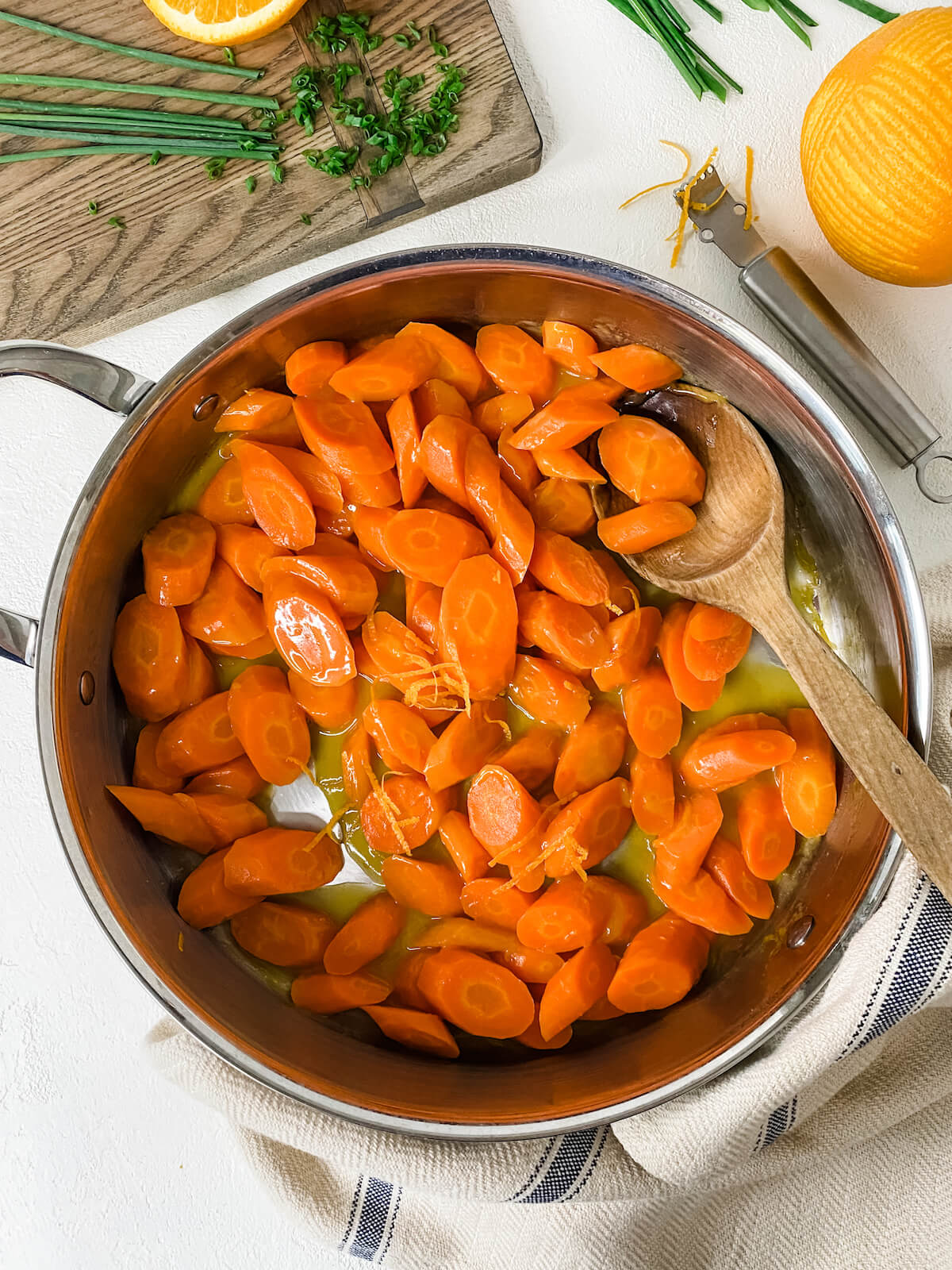 Make a carrot glaze with orange juice
The glaze for these carrots is made with orange juice, butter, orange zest, a bit of sugar, ginger and salt. I added cornstarch to make a silky thickened sauce.
The carrot glaze recipe is simple and really comes together at the end when you add the cornstarch and remaining juice. This creates a sweet, almost gravy-like glaze that coats each bite.
Carrot Glaze Recipe:
Cook 1 ½ pounds carrots in some orange juice, orange zest, ginger, salt, sugar and butter.
When the carrots are tender, uncover and add a mixture of cornstarch and orange juice.
Stir gently while sauce simmers. It will thicken as the sauce cooks.
Serve immediately garnished with extra orange zest or chopped chives.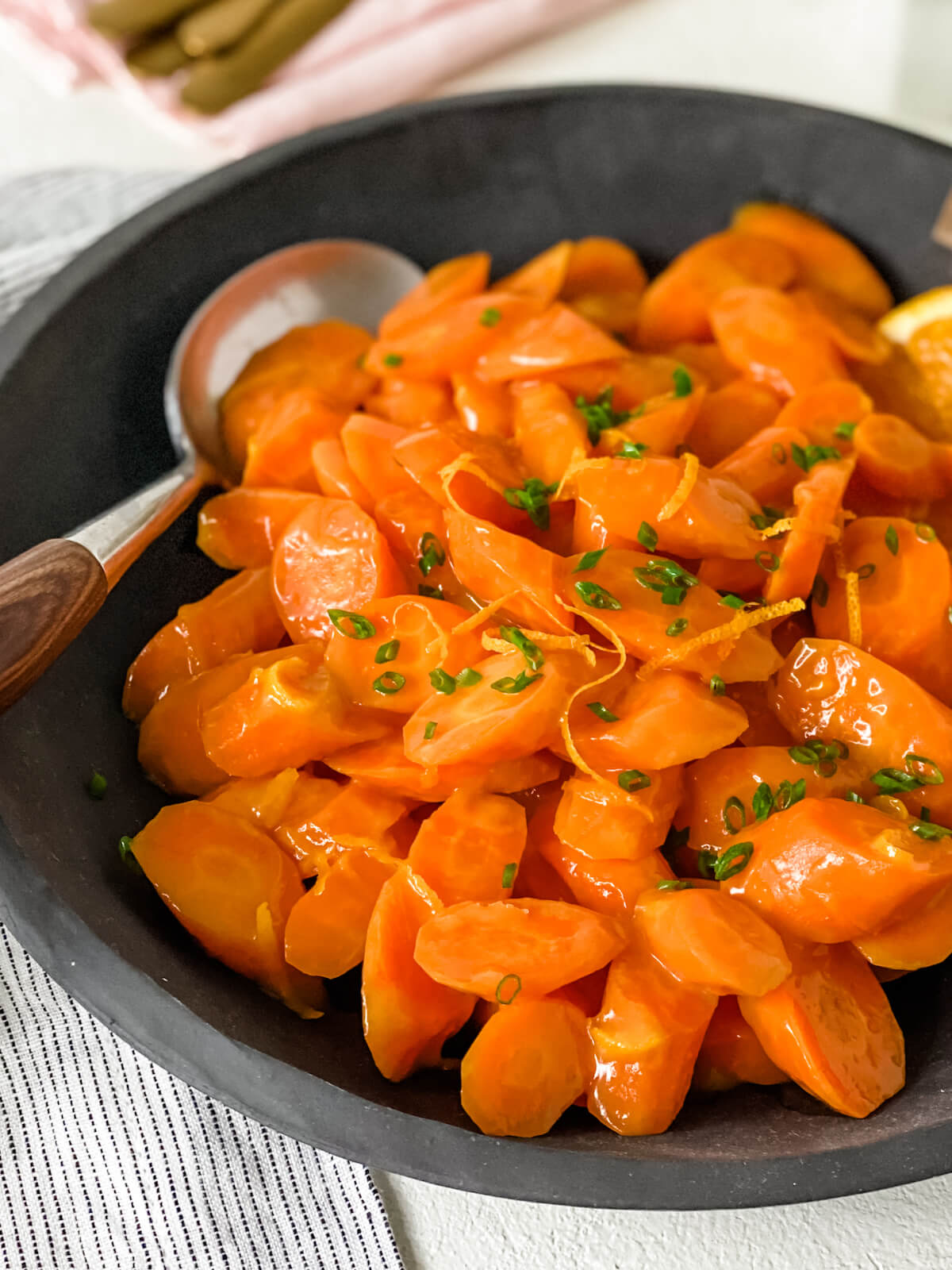 Can Glazed Carrots In Orange Juice Be Made In Advance?
You can make these glazed carrots up to a day in advance. Gently reheat in a covered skillet with a few tablespoons of water to help the sauce liquify.
What are glazed carrots made of?
Glazed carrots usually have a sweet sauce. I made this recipe with orange juice, sugar and butter. You can also glaze carrots with maple syrup or brown sugar.
Are these carrots soft?
Yes! You soften carrots on the stove by simmering them in liquid, or steaming them. I used a combination of both methods and simmered the carrots in a little orange juice while covered to allow the steam to tenderize the carrots. It takes around 20 minutes.
More carrot side dishes
Let me know how it went!
Scroll to the bottom of the page to rate ⭐⭐⭐⭐⭐ and comment on this recipe. Leaving comments helps other too!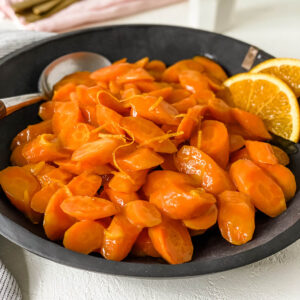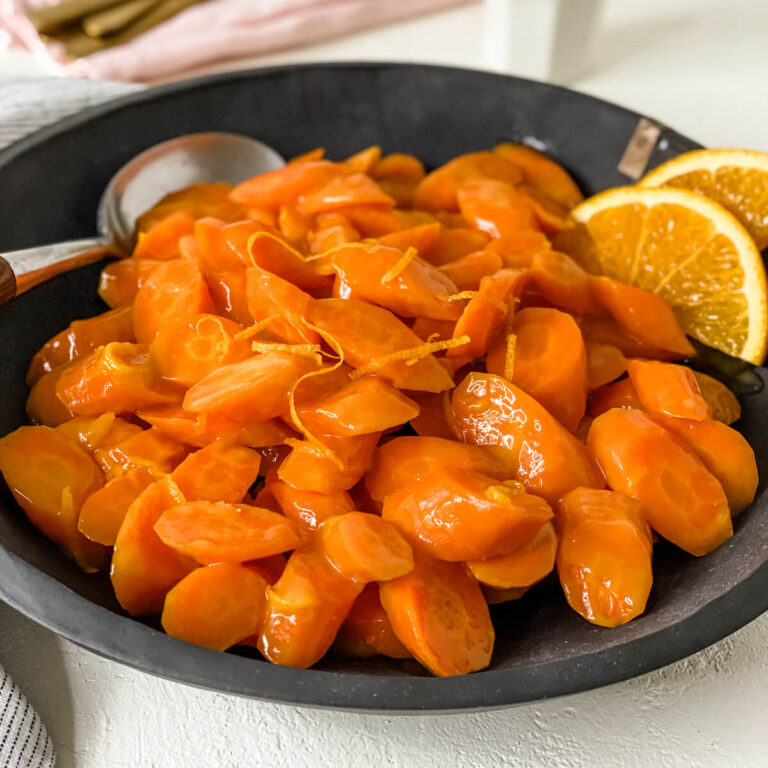 Orange Glazed Carrots
Classic glazed carrots with a citrus burst of sweet orange and a hint of ginger make for a delicious side dish to a weeknight meal or holiday menu.
Ingredients
1½

pounds

carrots

(7 to 8 medium)

¾

cup

orange juice

DIVIDED

½

teaspoon

orange zest

plus extra for garnish

2

tablespoons

butter

¼

teaspoon

ground ginger

½

teaspoon

kosher salt

2

tablespoons

granulated sugar

1

teaspoon

corn starch

chives

garnish
Instructions
Cut carrots into 1 inch rounds. Cut on the bias if a different shape is desired.

In a medium saucepan, or large skillet with a lid, over medium-low heat, combine the carrots, ½ cup of the orange juice, orange zest, butter, ginger, salt, and sugar. Bring to a simmer and cover. Reduce heat to low and simmer until carrots are tender, about 25 minutes.

Stir together the remaining ¼ cup orange juice and cornstarch and add to the carrots. Increase heat to medium and stir until the juice has thickened to a glaze, about 2 minutes.

Serve carrots with chopped chives and extra zest on top for garnish if desired.
Notes
Carrots:
You can also use baby carrots, or French style baby carrots for this recipe. Just adjust cooking time and check a few minutes earlier for tenderness.
Nutrition
Calories:
465
kcal
Carbohydrates:
111
g
Protein:
8
g
Fat:
2
g
Saturated Fat:
1
g
Polyunsaturated Fat:
1
g
Monounsaturated Fat:
1
g
Sodium:
1635
mg
Potassium:
2559
mg
Fiber:
20
g
Sugar:
72
g
Vitamin A:
114042
IU
Vitamin C:
135
mg
Calcium:
248
mg
Iron:
3
mg
More Vegetarian Recipes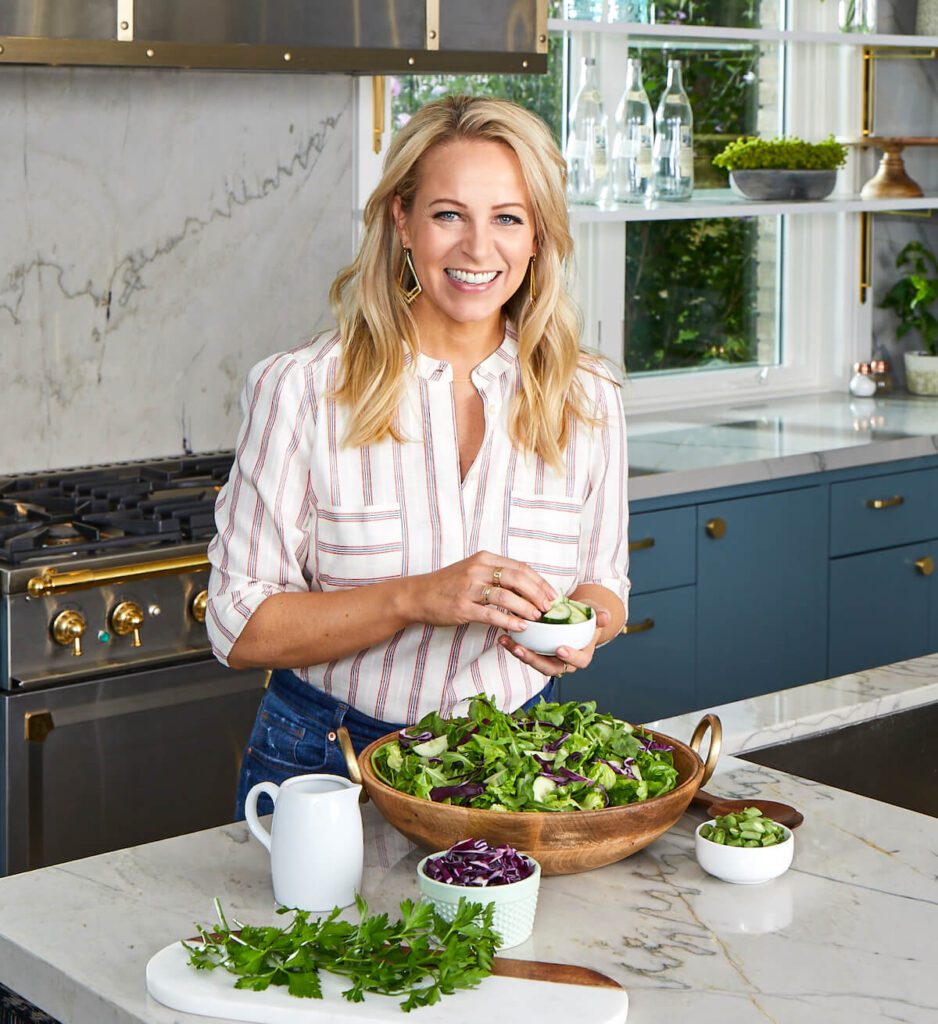 About Tara Teaspoon
I've been in the food publishing business for over 20 years, creating recipes & food-styling for magazines, books, television & advertising. Order my new cookbook & stick around for amazing things to eat.