---
Grilled flank steak with herb salsa verde is an easy dinner right from the BBQ. With a flavorful, fresh and tangy sauce, it's the perfect main dish.
If you're burned out on the same old burgers and chicken, grilled flank steak with an herb-loaded, tangy sauce is genius!
The best meals are from the grill. Can I say that? I'm not sure I can claim that when there are delicious meals from the oven, made on the stovetop and fresh from a salad bowl. But this one is a winner!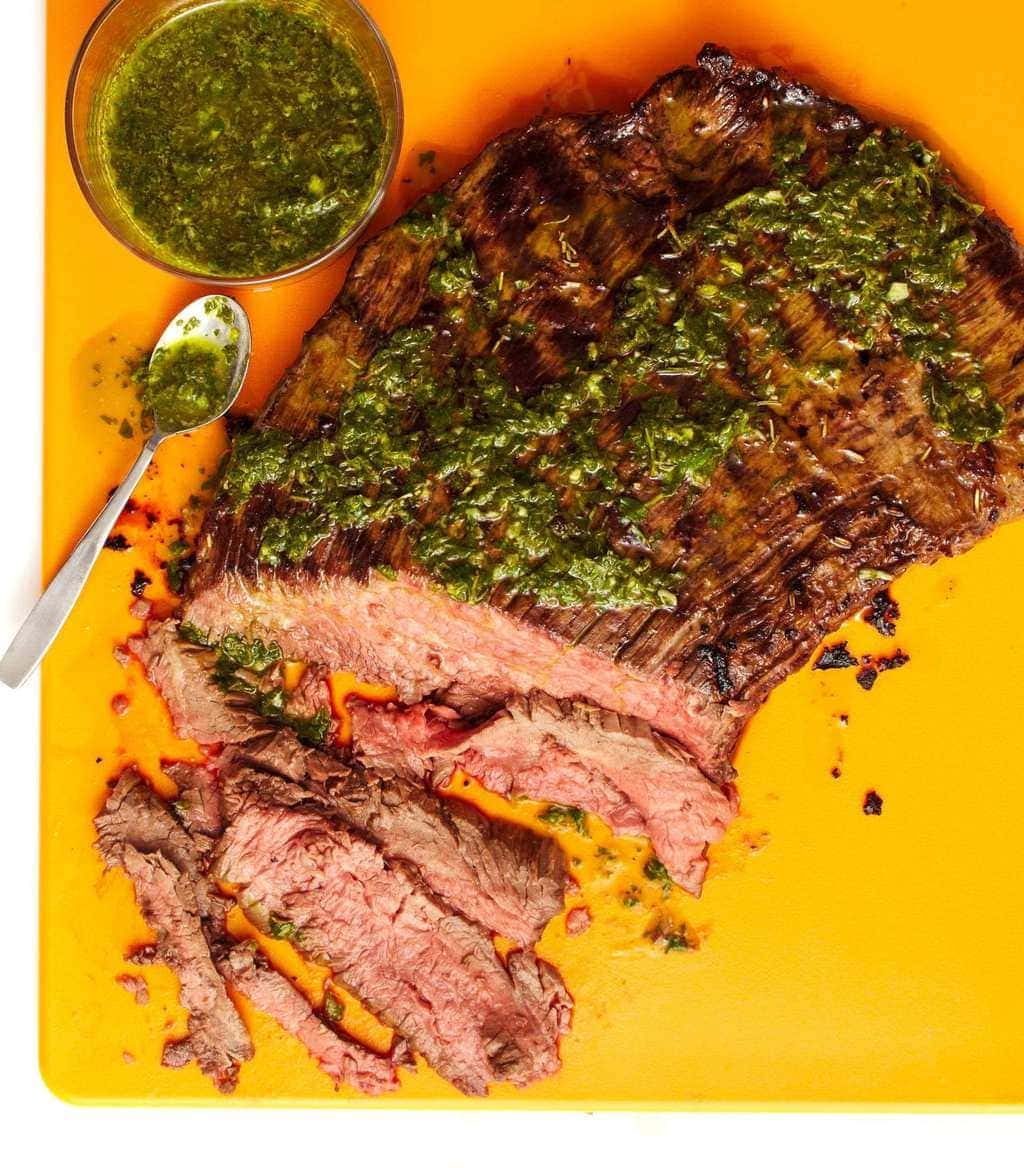 Jump to:
The best steak marinade:
If you're burned out on the same old burgers and chicken from the grill, this marinated and grilled flank steak will take dinner to a new level!
One of the secrets to cooking flank steak is a great marinade. I packed this marinade with tangy acidic ingredients, aromatic seasonings and herbs.
A great marinade will impart flavor to your meat, but not overpower the natural beef flavors.
Flank steak is a lean and flavorful cut of beef, so it benefits from acidic ingredients to help tenderize the muscles. I included lemon juice and vinegar and flavorful acids to make a delicious and effective marinade.
I added garlic and shallots to the marinade to pump up the flavor. Flank steak benefits from stronger flavors that won't cook off, because it cooks for a short amount of time on the grill.
Dried herbs add an earthy flavor to a marinade. I chose hearty ones like oregano and rosemary.
What is the best steak to grill?
Really any steak is great for grilling. Marbled, tender steaks like T-bone, NY Strip steak, and Ribeye are all fantastic on the grill because you want them to cook and caramelize quickly on the outside and stay juicy on the inside. The flames of a grill are perfect for that.
Lean cuts of beef like flank steak are great cooked on low heat slowly or quickly over an open flame. If it gets cooked low and slow it will shred into strips and be a great taco, burrito filling, or Ropa Vieja!
When quick-cooking flank steak quickly like this recipe, you want to make sure to not overcook it so it doesn't become tough. And slice it across the muscle grain to get tender pieces of meat like in my pictures.
I love the Certified Angus Beef website for details on the right temperature to cook each cut to. Make sure to have a meat thermometer handy near the grill for the best way to check for doneness.
Swap skirt steak for flank steak
You can use skirt steak in place of flank steak in this recipe.
Skirt steak loves to be cooked to medium or medium-rare, no more. Flank steak is a little thicker and a tiny bit less tough, so it can be cooked to almost well done, if you must.
Flank steak is from the bottom abdominal area of the cow. Skirt steak is from the diaphragm, so both are hard working muscles! Both take to marinades well.
If using skirt steak in this recipe, reduce the cooking time and check it frequently so you don't overcook it.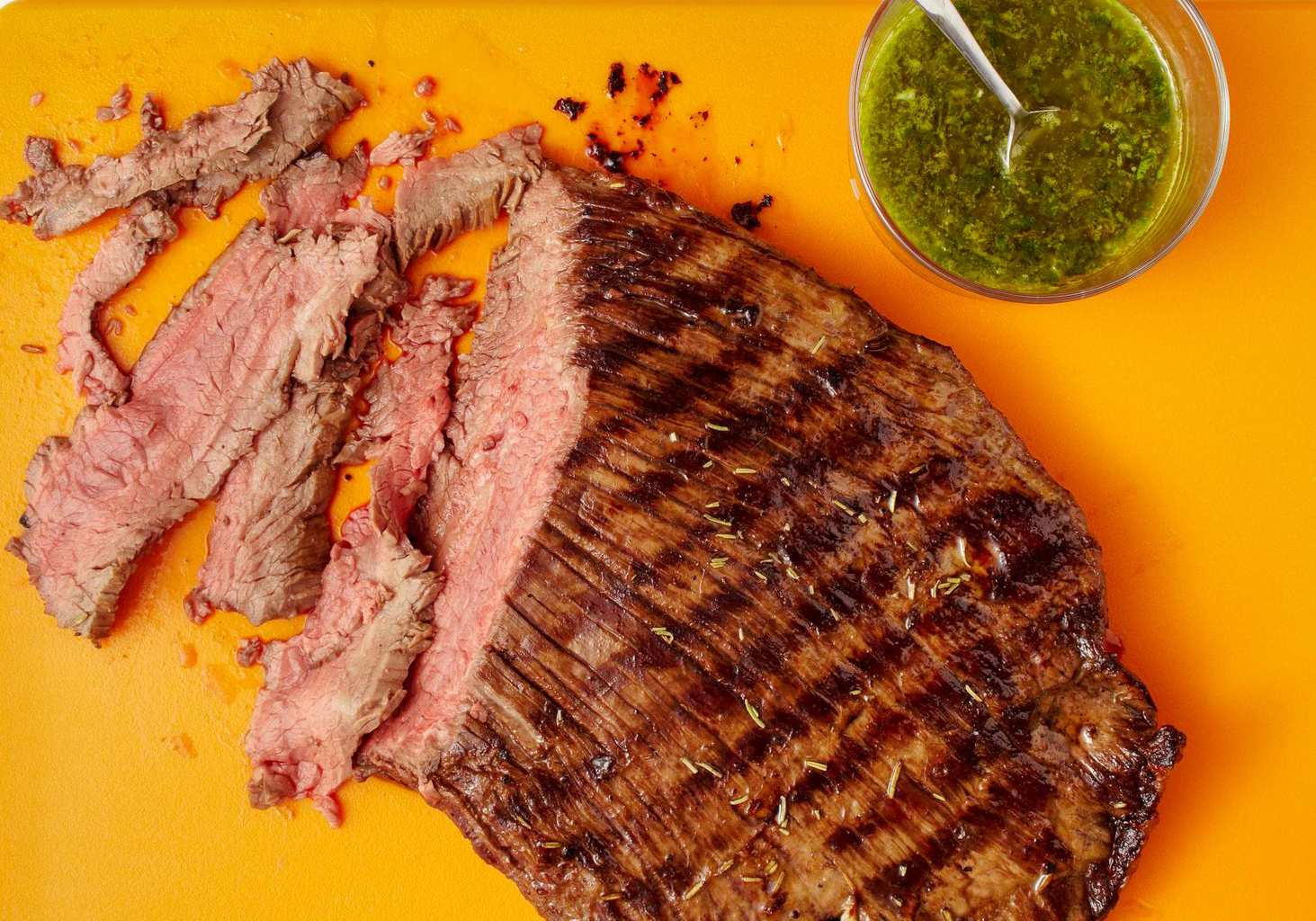 What is salsa verde?
There is not much better than a steak with salsa verde. I mean, move over A-1 Sauce!
Salsa verde is a fresh, simple sauce with bright, bracing flavors that creates a great contrast to the luxurious buttery steak.
This herby salsa verde isn't to be confused with Mexican Salsa Verde, a tomatillo-based sauce. It's origins can be Italian or French, and it most closely resembles Argentina's chimichurri sauce. It's a delicious spread for bread too.
Adding a salsa verde (green salsa!) to the meat takes this simple marinated flank steak meal to the next level. Again I packed in the flavor with lemon juice and vinegar and even added anchovies.
I've included classic herbs like parley and thyme with the other ingredients.
Anchovy fillet (or anchovy paste)
Garlic
Kosher salt
Lemon zest
Lemon juice
Red wine vinegar
Flat-leaf parsley leaves
Thyme leaves
Olive oil
You can't taste the anchovies themselves, but they add an umami (a category of taste in food, yumminess!) that balances out the entire sauce.
Grilled flank steak is perfect with this herb-loaded, flavorful condiment. You'll want to eat the salsa verde on the steak, slathered on grilled bread, over veggies and even on rice. Yum! Enjoy.
Serve this steak with these great recipes: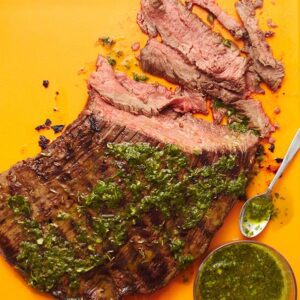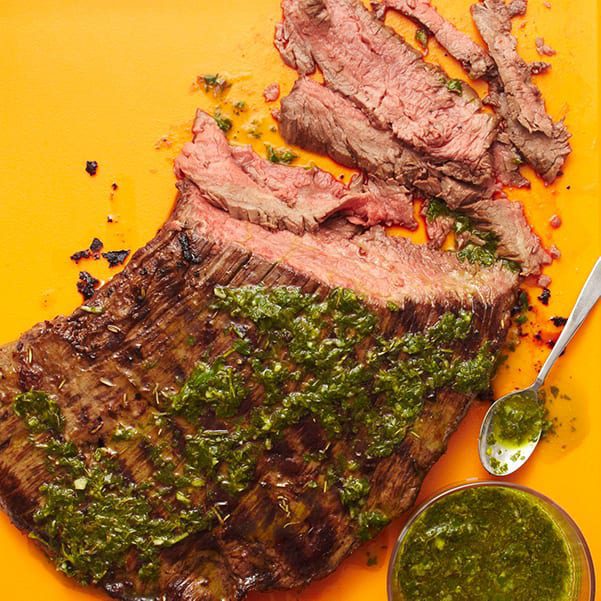 Grilled Flank Steak with Herb Salsa Verde
Grilled flank steak with herb salsa verde is an easy dinner right from the BBQ. With a flavorful, fresh and tangy sauce, it's the perfect main dish.

Ingredients
Steak Marinade
⅓

cup

lemon juice

3

tablespoon

white wine vinegar

¼

cup

finely chopped shallots

3

cloves

chopped garlic

½

cup

olive oil

1 ½

teaspoon

dried oregano

1 ½

teaspoon

dried rosemary

½

teaspoon

black pepper

½

teaspoon

kosher salt

2

lb

flank steak
Herb Salsa Verde
1

anchovy fillet (or ¼ teaspoon anchovy paste)

2

cloves

garlic

½

teaspoon

kosher salt

1

tablespoon

lemon zest

2

tablespoon

lemon juice

2

tablespoon

red wine vinegar

2

cups

packed flat-leaf parsley leaves

4

teaspoon

chopped thyme leaves

½

cup

olive oil
Instructions
In a zip-top bag, combine lemon juice, white wine vinegar, shallots, garlic, olive oil, dried oregano, dried rosemary, black pepper and kosher salt. Add flank steak, seal bag and marinate in the fridge for 2 to 3 hr.

Remove steak from marinade (discard marinade) and grill over direct high heat for 5 to 6 minutes on each side for medium rare. Let steak rest about 10 min before slicing.

In a blender or small food processor, blend anchovy fillet, garlic, kosher salt, lemon zest, lemon juice and red wine vinegar. Scrape down sides of blender and add packed parsley leaves, chopped thyme and olive oil; blend until just smooth and drizzle over flank steak.
Notes
• For the most tender steak, cook to no more than medium (better: medium rare) and cut across the grain into thin slices.
Nutrition
Calories:
547
kcal
Carbohydrates:
4
g
Protein:
33
g
Fat:
43
g
Saturated Fat:
8
g
Cholesterol:
91
mg
Sodium:
482
mg
Potassium:
646
mg
Fiber:
1
g
Vitamin A:
1720
IU
Vitamin C:
36.9
mg
Calcium:
74
mg
Iron:
4.1
mg
Try these finger-licking-good BBQ recipes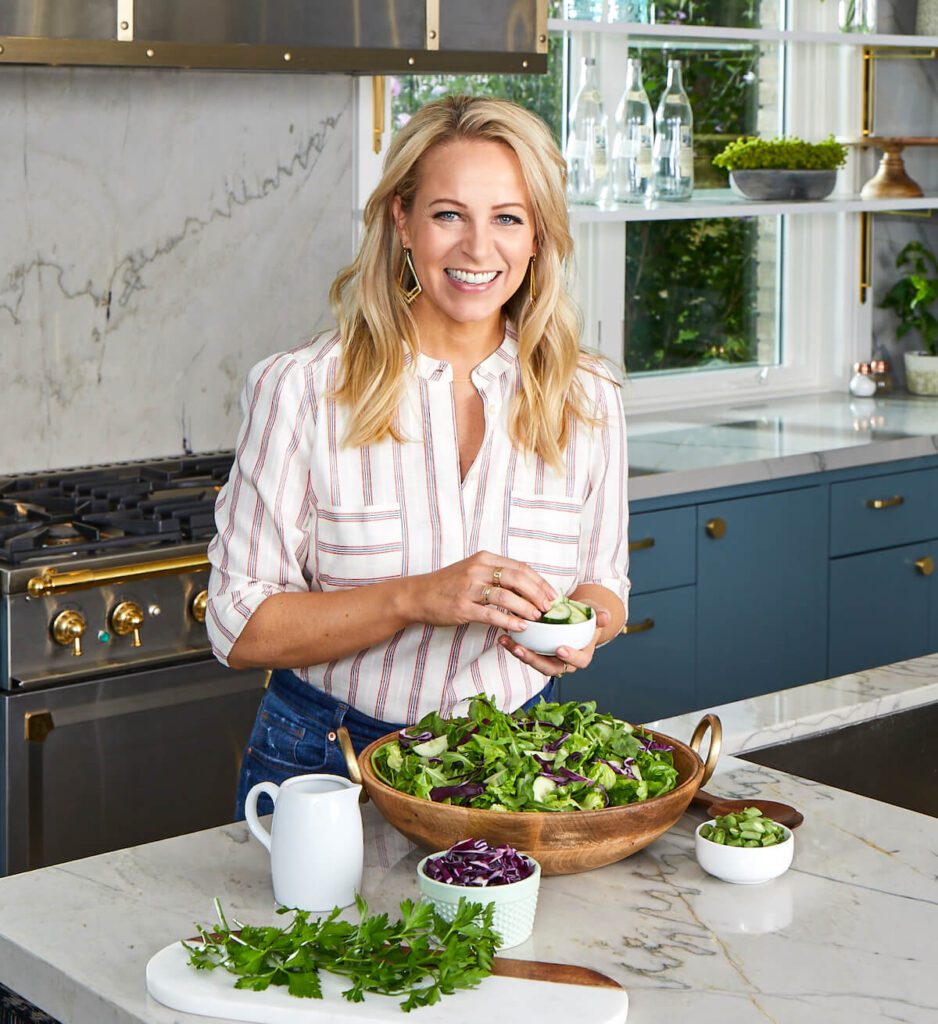 About Tara Teaspoon
I've been in the food publishing business for over 20 years, creating recipes & food-styling for magazines, books, television & advertising. Order my new cookbook & stick around for amazing things to eat.
Recipe Tara Teaspoon. Food styling Cyd Raftus McDowell. Prop styling Paige Hicks. Photography Peter Ardito. Originally published in LHJ 06/10.