---
This is the best smoked pulled pork recipe you'll ever make. Traditionally made, in North Carolina style, I use tangy mop sauce for basting and wood chips for smoking on the grill.
---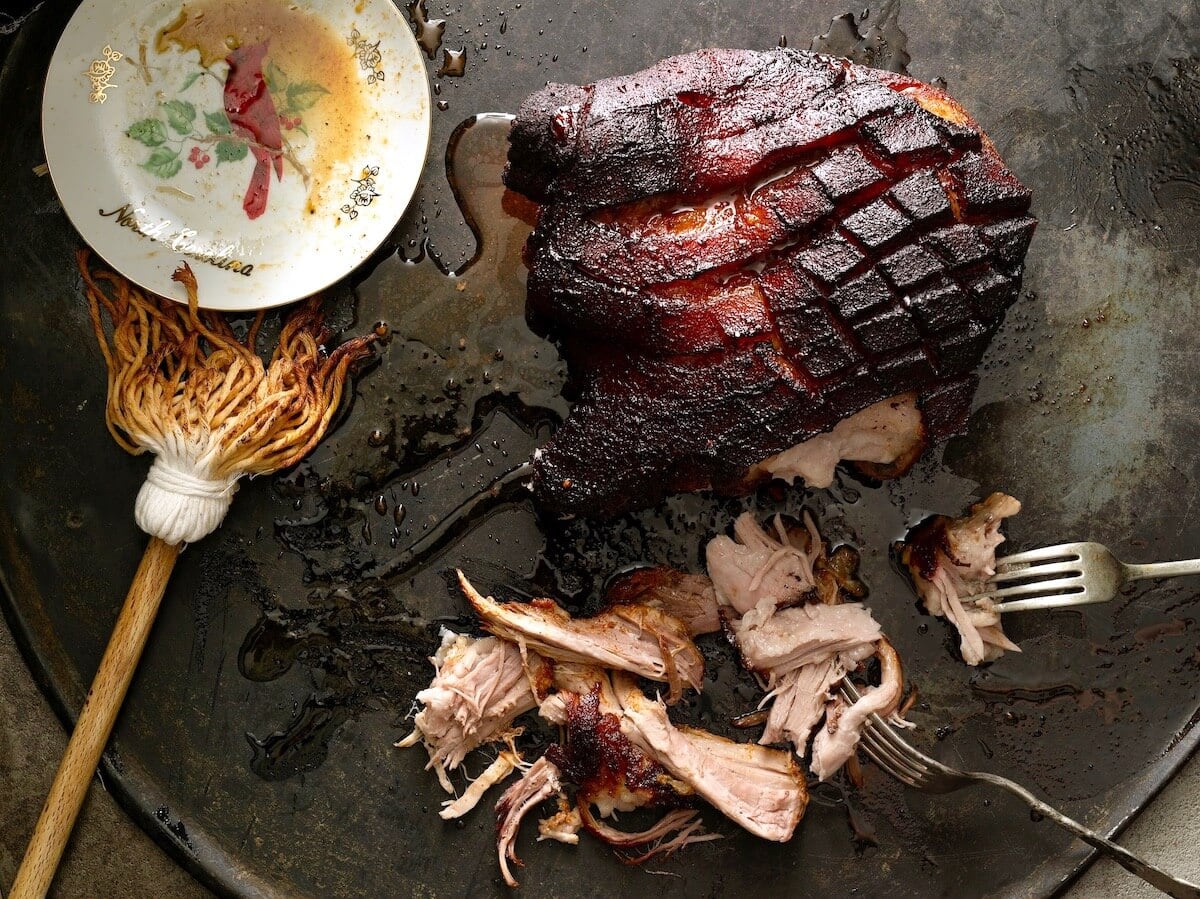 You can't get better than slow cooked, smoked pulled pork. Savory, tender and versatile, this BBQ smoked pulled pork recipe with a traditional North Carolina Mop Sauce will be on rotation for the grill. Perfect for a crowd.
Jump to: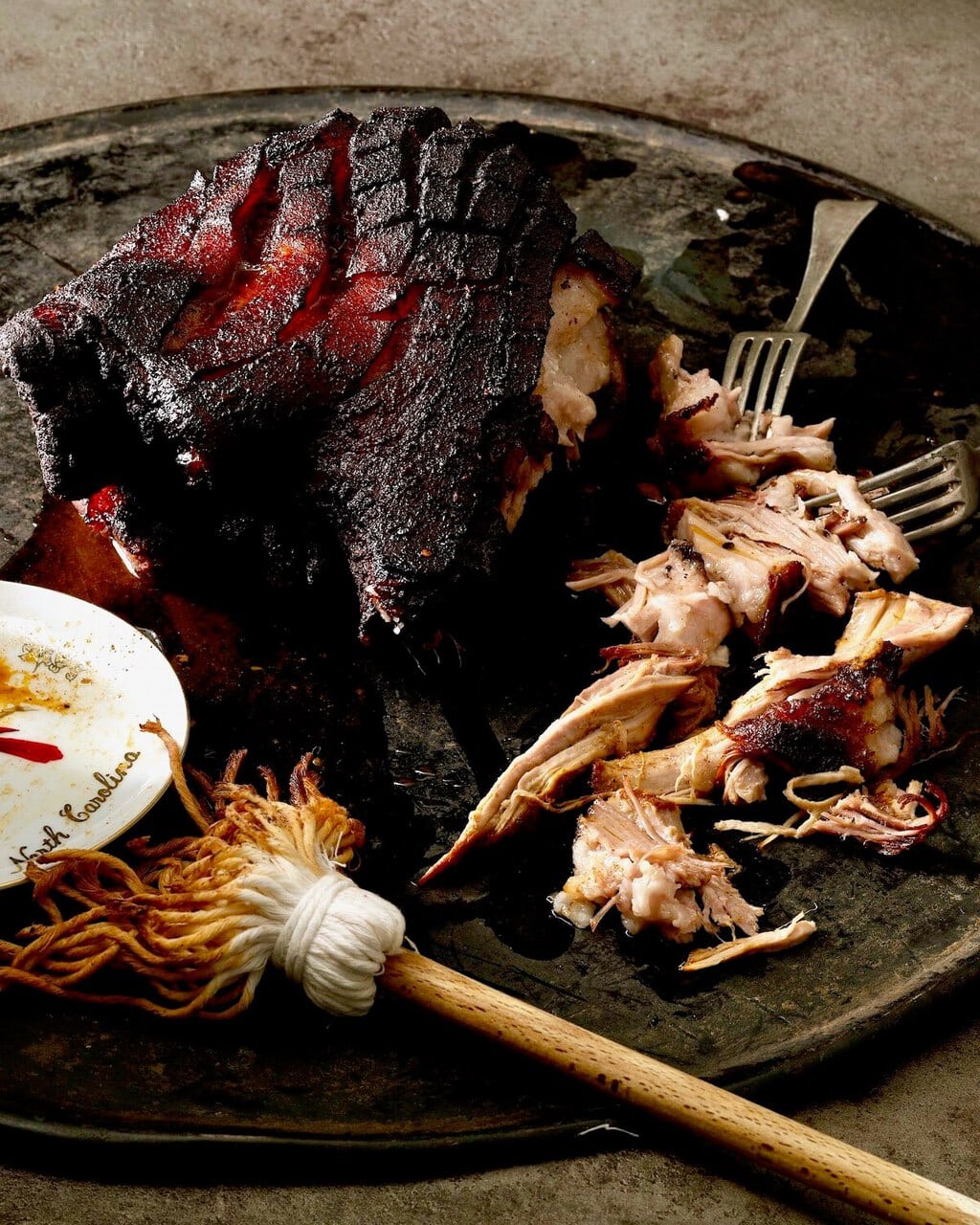 North Carolina BBQ
Heat up the grill (but not too hot!) for this traditional North Carolina pulled pork recipe. North Carolina BBQ has a few distinct qualities. A tangy mop sauce, low and slow heat, and smoky flavor.
A pork butt, or shoulder, cooked on a low-heat grill with wood chips, creates a smoker at home, this is called indirect heat grilling. It's easy to do if you don't have a traditional smoker, but only a grill.
Cooking the pork butt, or shoulder, at a low heat for a long time (also called low and slow), while basting with a thin pepper and vinegar sauce, called Mop Sauce, is key to making an authentic North Carolina smoked pulled pork.
Carolina mop sauce is a very thin, vinegar-based sauce that has an almost water-like consistency. You use it to cook meat on low, for longer periods of time, or for smoking meats.
Other liquids used in place of, or with vinegar, for mop sauce are beer, Worcestershire sauce, or fruit juice to help enhance the flavor.
To apply the mop sauce, a mini mop made for barbecue recipes is used. Find my favorite BBQ mop here.
Regional United States BBQ
If you love to barbecue then try my other regional BBQ recipes like Kansas City Style Ribs, Memphis Smoked Bologna Sandwiches, and Texas Beef Brisket all use the same slow grilling cooking method with wood chips for smoking.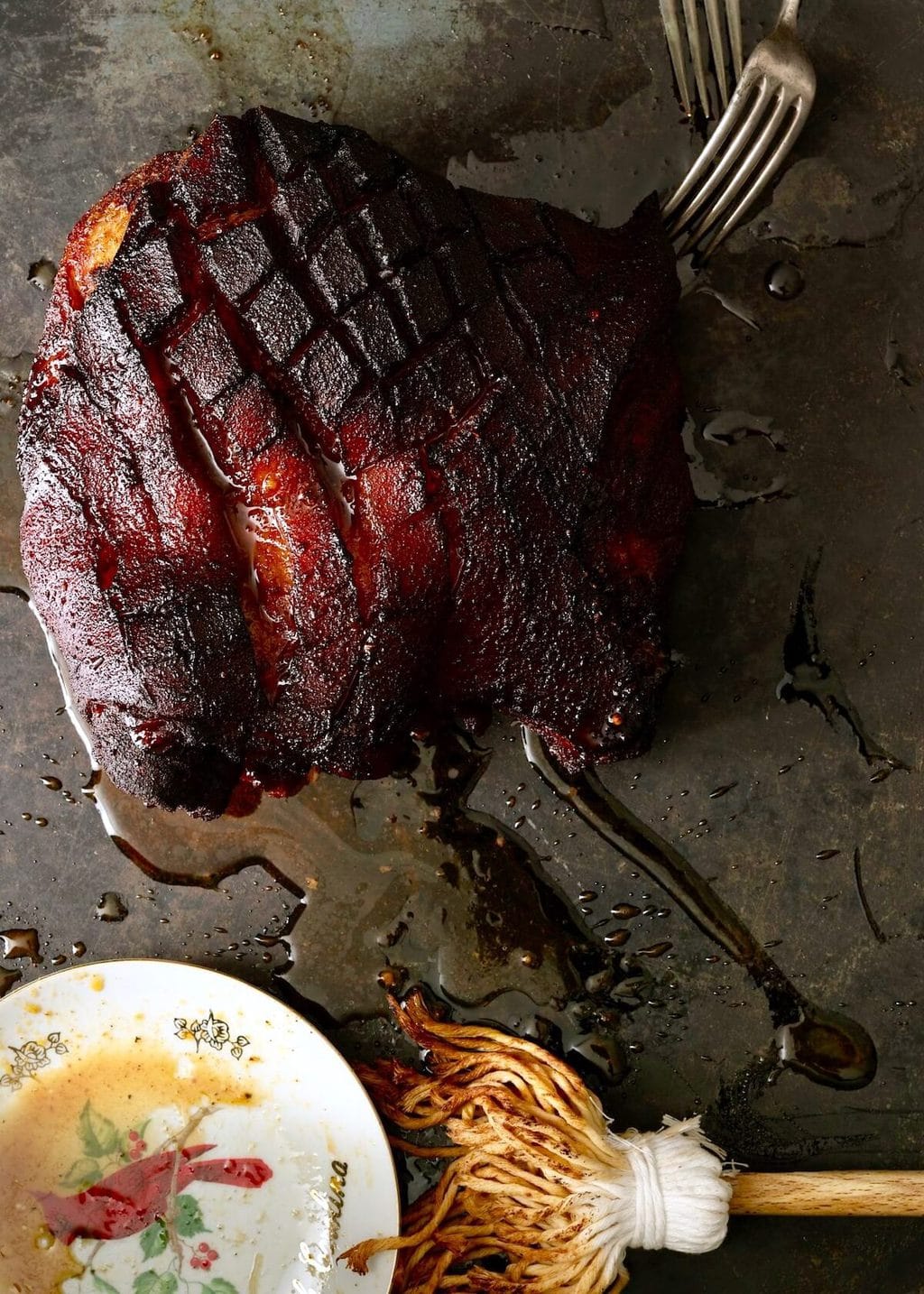 Smoking on the grill:
You know I love BBQ! It could be low and slow smoking, quick kabobs and steak, or even delicate fish. I love a meal from the grill.
If you don't have a smoker, or grill smoker like a Traeger, I've got an infographic below that will help you smoke on your grill.
The way to create the pro-smoker effect at home on a regular grill is by using indirect heat grilling. With this type of grilling you preheat the whole grill, then when it's time to add the meat, you turn off half of the burners to continue heating only one side of the grill (internal grill temperature is 275°F).
Place the meat on the side of the grill that is turned off. The lower temperature heat on the inside of the grill will cook the pork slowly, just what we want!
Placing the meat on the "cold" side of the grill cooks the meat at a slower temperature, perfect for enhancing barbecue flavor and making things tender.
For even more flavor, add soaked wood chips to a to a foil catering tray or smoker box, and place over the hot side of the grill. This will add the great smoky flavor to your pork.
Don't have a smoker at home? No worries! Check out this tip on how to cook with indirect heat using your regular gas or charcoal grill.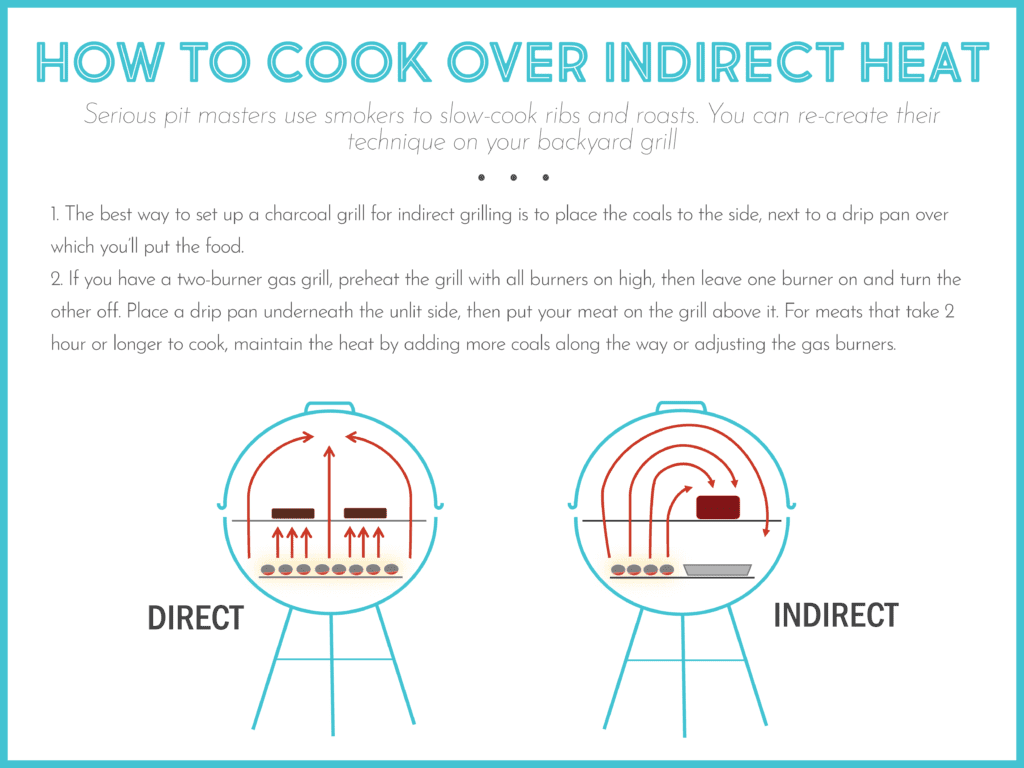 How to make smoked pulled pork:
To make authentic, perfect pulled pork on the grill, follow these steps.
Gather your ingredients: Pork shoulder, spice rub, mop sauce, and wood chips.
Prepare pork shoulder by scoring the skin and seasoning with spice rub.
Heat grill and arrange smoking chips.
Roast pork, basting with mop sauce every 30 minutes, until the internal temperature is 190ºF to 200ºF, 6 to 7 hours.
Let cool slightly then shred pork, discarding large pieces of fat.
Serve with reserved mop sauce or BBQ sauce.
To know just how long to cook pulled pork, follow the guidelines in the recipe for grill temperature, and check the internal temperature of the meat with a thermometer.
You want to cook the tough cut of meat on low heat for a long time to let the cut tenderize. It will fall apart easily and shred when it is done. This will take 6 to 7 hours.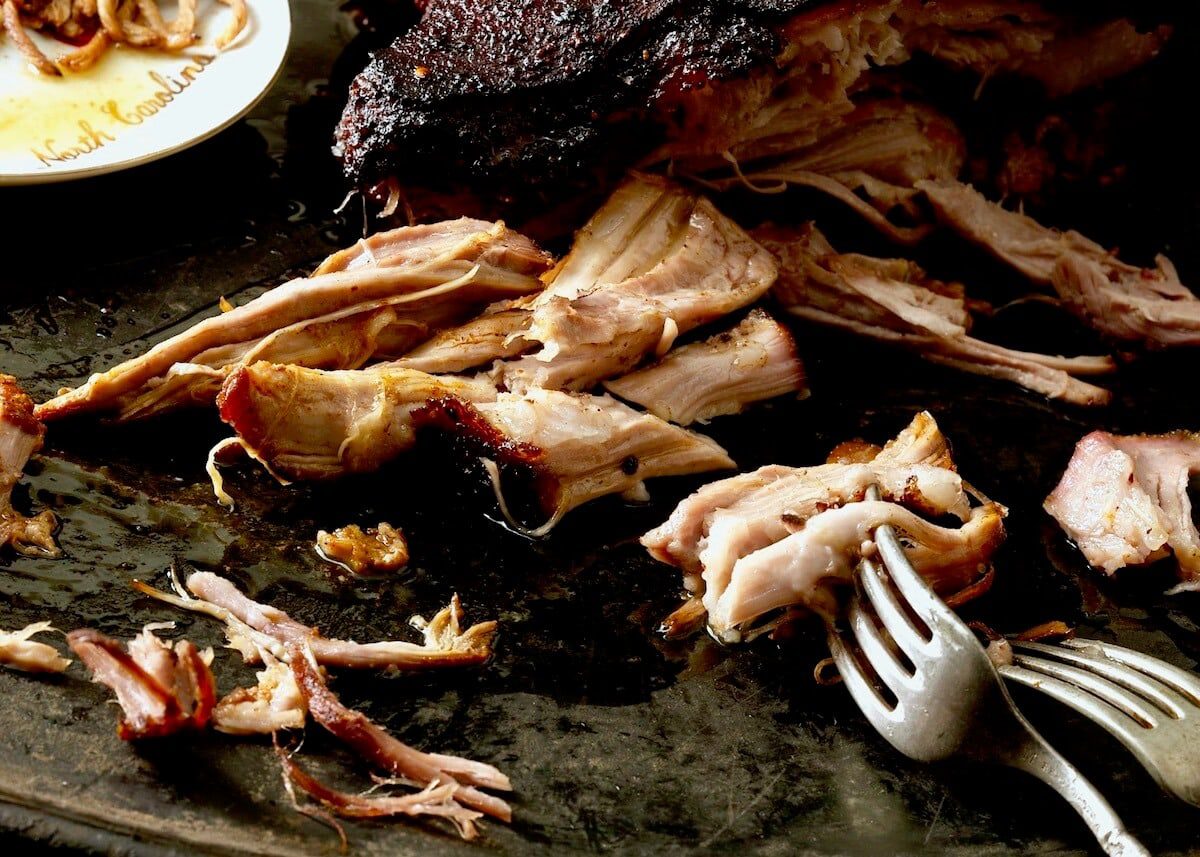 What meat to use for pulled pork:
What cut of pork do you used for the best pulled pork?
The pork shoulder is the cut to use. This is often called the pork butt. No, it's not from the pig's tooshie! The pork butt is actually the shoulder.
Why is pork shoulder called pork butt?
Despite the name, pork butt, Boston butt, and pork shoulder are all the same cut. It is located on the top shoulder area of the pig and includes parts of the neck, upper arm and shoulder blade.
The name derives from an old New England practice of storing cuts of pork, like the shoulder, in barrels or casks, called butts. Popular in Boston, that name stuck as well.
Let me know how it went!
Scroll to the bottom of the page to rate ⭐⭐⭐⭐⭐ and comment on this recipe. Leaving comments helps other too!
I love this Carolina pulled pork because you can serve it with or without barbecue sauce. The flavor from the smoke and the mop sauce is enough to make it delicious. But I know some of you out there NEED your sauce!
This is an excellent meal for a crowd. Serve it with your favorite sides, or on a roll with coleslaw.
Try these sides:
Do I need to mop pulled pork?
It's not essential, but it makes for an even better flavor in the pork. The vinegar sauce for basting the pork adds a nice crust and intensifies the flavor of the meat. It also helps keep the pork from drying out on the smoker.
What is the difference between pulled pork and North Carolina pulled pork?
The main difference is North Carolina pulled pork uses the vinegar mop sauce for basting and the bbq sauce is also vinegar based. Different areas of North Carolina have different varieties of the vinegar-based sauce and some areas do add a bit of tomato to it.

Often, in North Carolina they also smoke the whole hog! But we are using the pork butt here for an easy pulled pork recipe at home.
Pulled pork in the slow cooker or multi cooker:
In the depths of winter you'll find me making pulled pork in my slow cooker or multi cooker.
You can make this recipe in the slow cooker too. You won't get the smoke flavor, but it is still delicious and tender.
Adjust this recipe for the slow cooker:
Season pork with Terrific 10 Rub.
Place in slow cooker and add 1 cup Mop Sauce.
Cook on low for 7 to 8 hours. (Or cook on high pressure for 1 hour 30 minutes in an Instant Pot)
Remove pork, let cool slightly and shred.
Pour juices into a fat separator and discard fat.
Serve pork with slow cooker juices and extra Mop Sauce.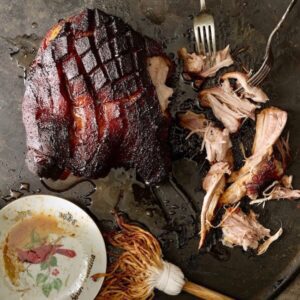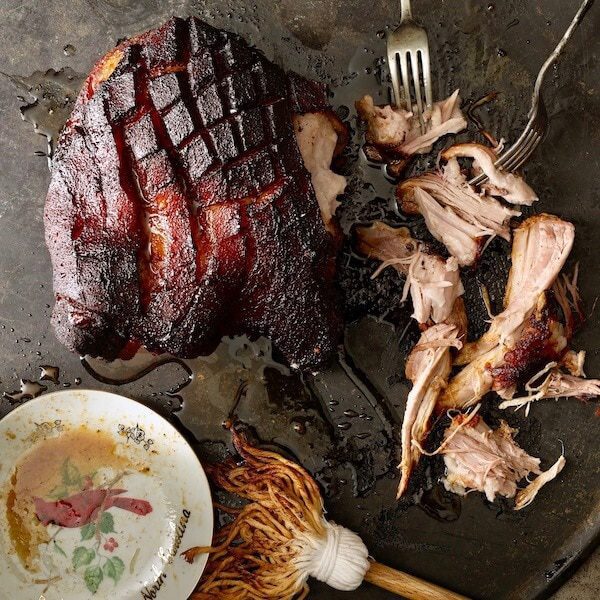 North Carolina Smoked Pulled Pork
The most delectable, melt in your mouth pulled pork recipe you'll ever try! You won't want to cook pork any other way. Cook it with my favorite Mop Sauce and you're in heaven.
Instructions
Let your 5 to 7 pound pork shoulder stand at room temperature 1 hour. Score the skin in a crosshatch pattern (forming 1-inch diamonds); avoid cutting into meat. Rub all over with 4 tablespoons Terrific 10 Rub. Place, skin-side up, in an aluminum pan, or a foil lined baking pan.

Set aside a few cups of Mop Sauce for serving. Heat grill to medium low (275°F) for indirect cooking and arrange smoker box or wood chips in grill. Place pork in the pan away from the heat. Cook with the grill covered, basting meat with Mop Sauce every 30 minutes, until fork-tender and an instant-read thermometer registers 190°F, 5 to 6 hours total.

Let pork rest 15 minutes, then shred with a fork or gloved hands, discarding large pieces of fat. Serve drizzled with some reserved Mop Sauce.

You can also serve the meat with Memphis BBQ Sauce, or on rolls with coleslaw.
Notes
Nutritional information for a 5 pound pork shoulder.
Serves ten people about ¾ cup pulled pork per person.
Like a slightly thicker sauce for serving? Stir ½ cup ketchup and a few splashes hot sauce into 2 cups fresh Mop Sauce.
Nutrition
Calories:
288
kcal
Protein:
51
g
Fat:
8
g
Saturated Fat:
2
g
Cholesterol:
136
mg
Sodium:
122
mg
Potassium:
857
mg
Calcium:
16
mg
Iron:
2
mg
Main Dish Recipes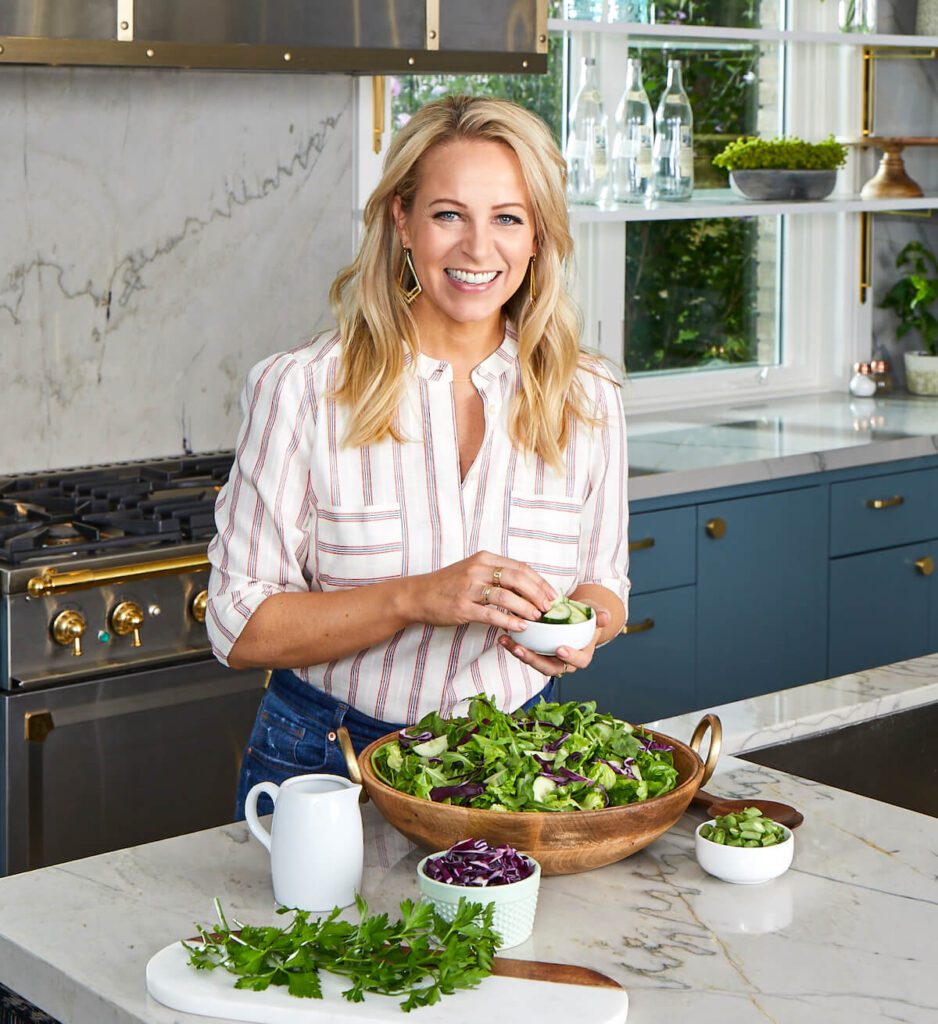 About Tara Teaspoon
I've been in the food publishing business for over 20 years, creating recipes & food-styling for magazines, books, television & advertising. Order my new cookbook & stick around for amazing things to eat.
Recipe Tara Teaspoon Photograph Romulo Yanes , Food Stylist Victoria Granof, Prop Stylist Cindy Diprima, Originally published LHJ 7/11. Updated May 2023.