---
This terrific 10-ingredient BBQ rub uses spices you probably already have in your pantry. Mix this homemade BBQ rub up in minutes and have a flavorful seasoning all summer long.
---
I don't make promises very often. You have to make sure you can keep them. One promise I can make you, is that after trying this homemade BBQ rub, you won't ever want to use another!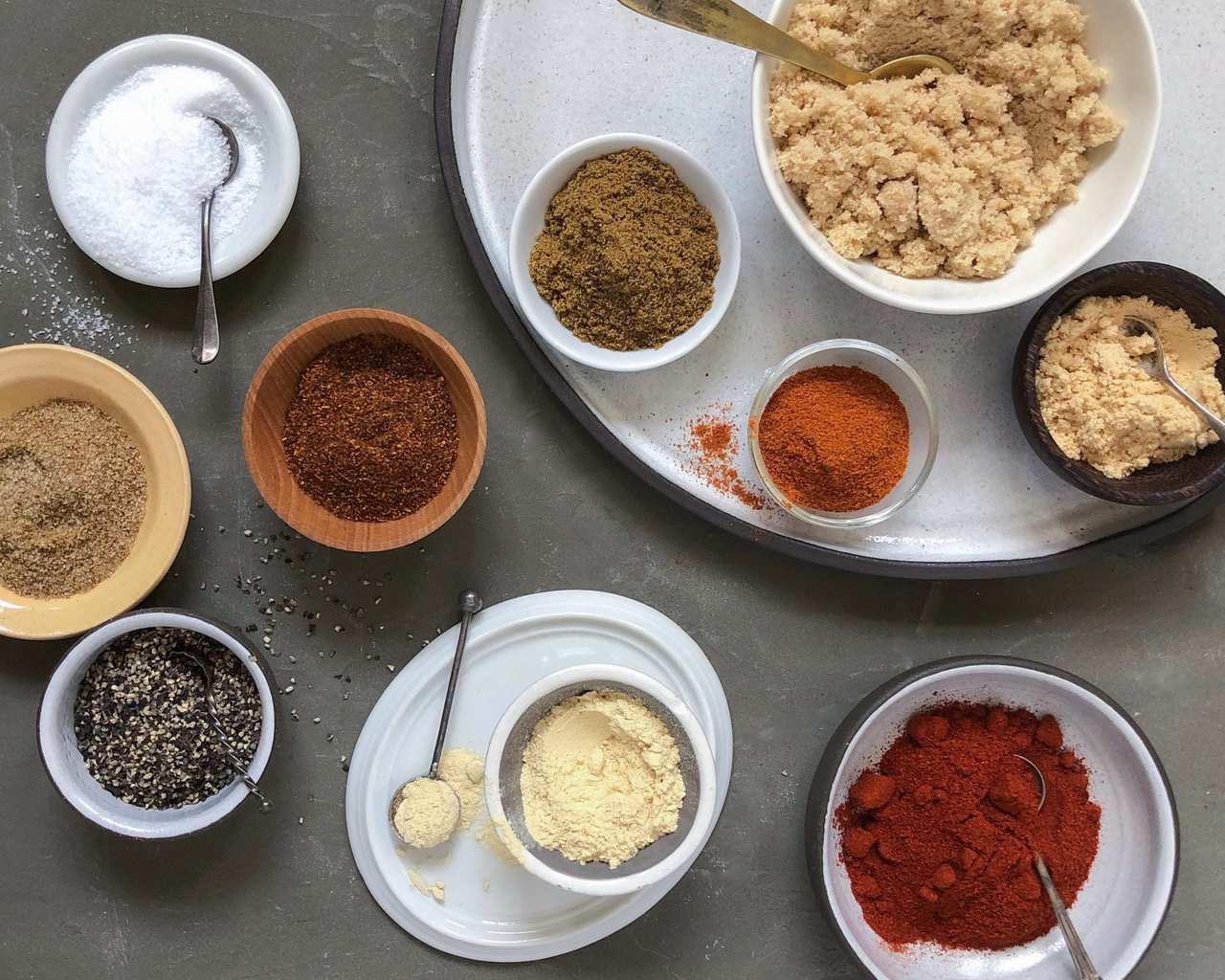 This is the best homemade BBQ rub, ever. It's versatile, easy to make, and truly enhances the flavor of all of your smoking and grilling. Never used a rub before? No problem! Keep reading to learn all about the basics of rubs.
What is a dry rub?
Rubs are like magic dust for barbecued meat! They are a mix of herbs and seasonings. A dry rub differs from a wet rub in that it does not have any added moisture from a liquid ingredient. So with a dry rub, moisture comes from the meat you are choosing, or a mop sauce if you use one. Dry rubs don't penetrate skin or silverskin, so trim that off, or if you're grilling skin-on chicken, make sure to put the rub underneath the skin to help its seasoning power.
Even though a rub is like magic dust, make sure you work it (or rub it) onto your meat so that the seasoning mixes with the moisture of the meat and adds flavor to your meal.
When should I use a homemade BBQ rub?
Whenever you are barbecuing at a low and slow pace! Don't reach for it when you are quick-grilling.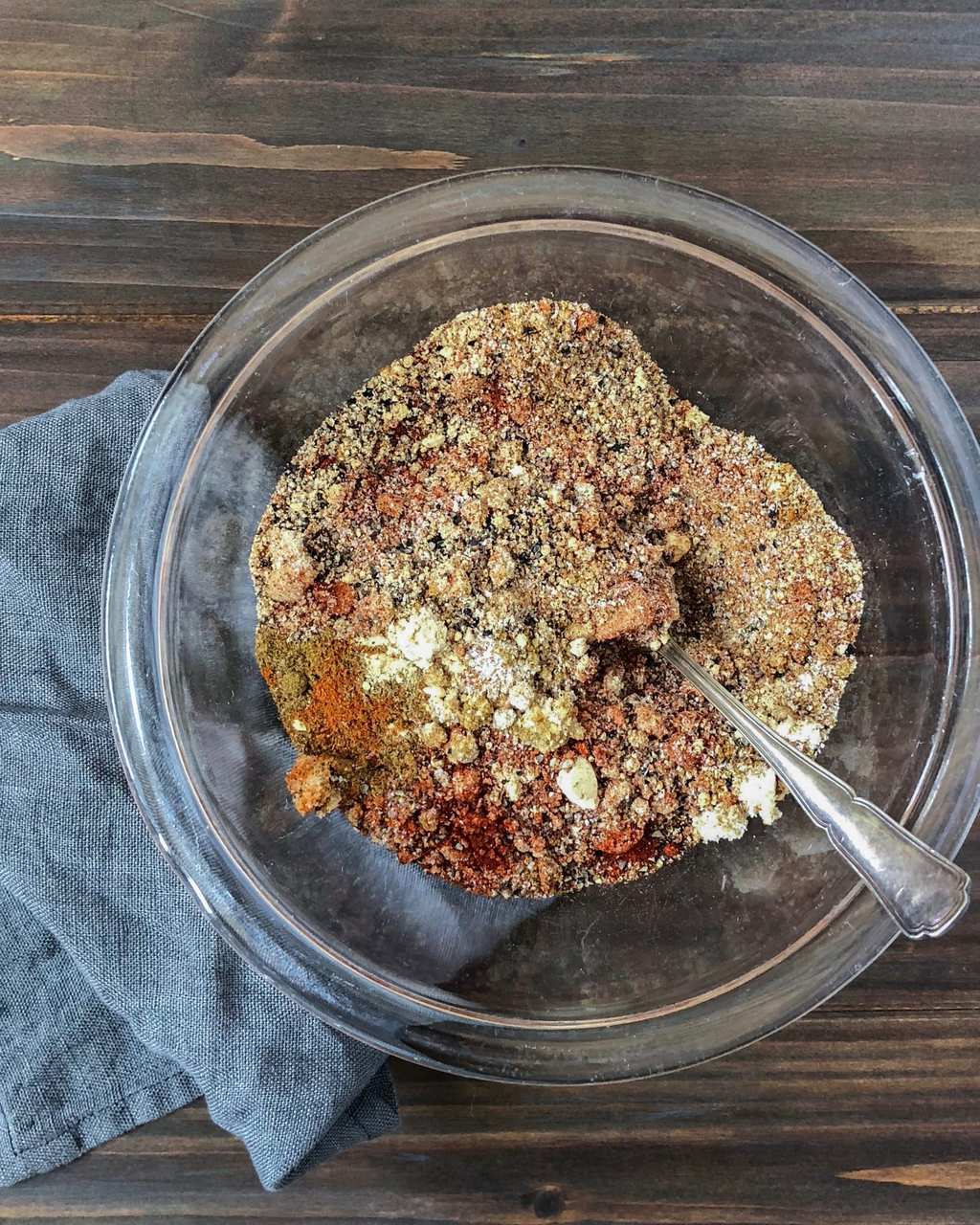 Rubs consist of two components, salty and sweet. You can build on those components with other flavors and spices, but those are the building blocks to properly season meat. Most rubs have sugar, and some spices, that will burn when grilled at high heat (the way you cook steaks, burgers and chicken breasts). Reach for the BBQ rub when you are going to cook ribs, pulled pork, or a brisket. These types of larger barbecued meats are cooked at lower heat temperatures for longer periods of time so the sugars get a chance to caramelize and the spices don't char.
Here's a summer BBQ recipe you can make at home. It will make your ribs and brisket taste just like the Texas pitmasters' do!
For high-heat grilling stick to a simple seasoning of kosher salt and pepper and finish with a great BBQ sauce when ready to eat.
Apply your dry rub about an hour before you add your meat to the barbecue. Large roasts, whole poultry and big cuts of meat like brisket can benefit from being rubbed the night before. The salt and sugar will draw out the moisture from the meat and all the flavors of the spices can mellow and marinate on the surface.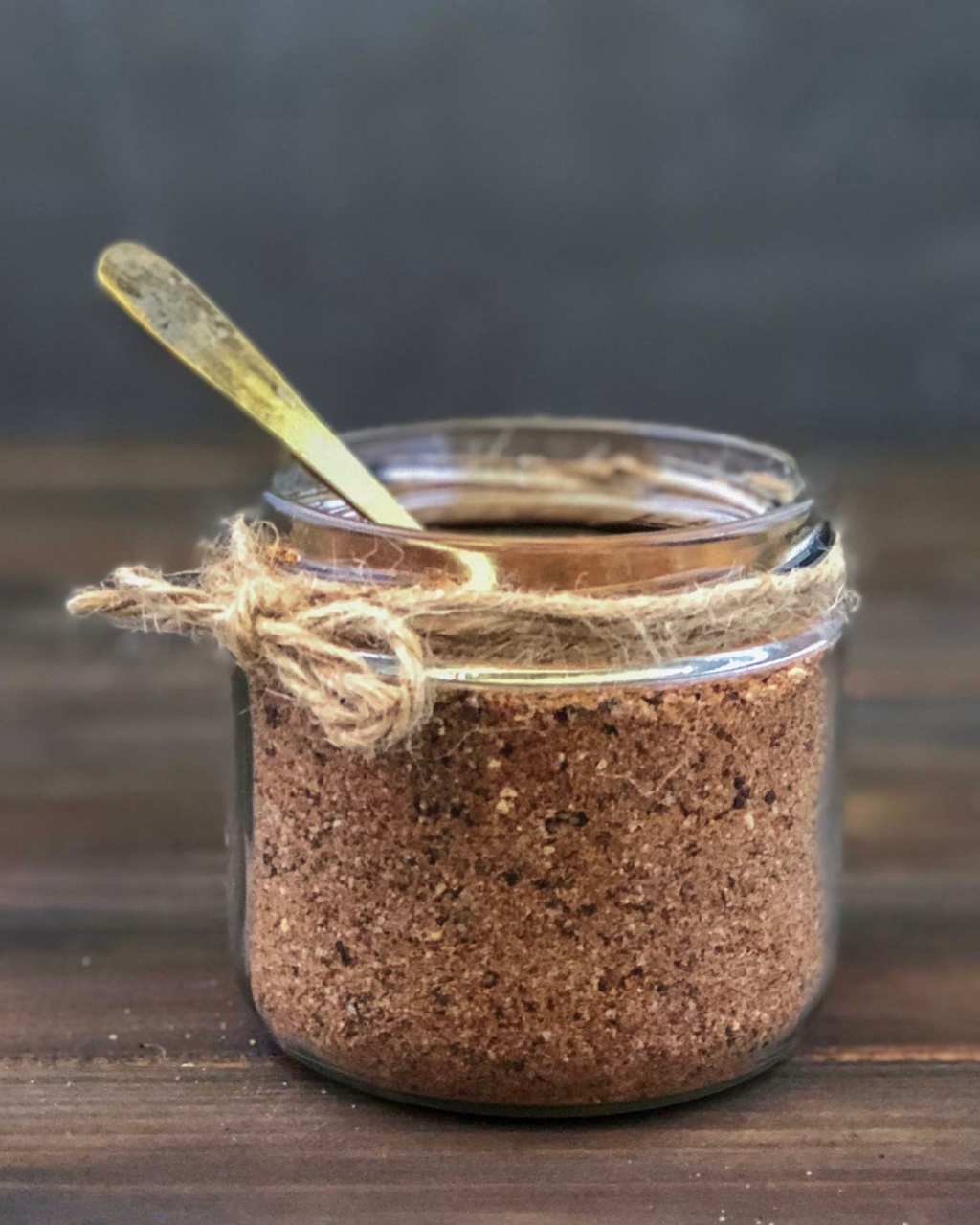 What else can I use homemade BBQ rub for?
When used as a seasoning, rubs can be quite versatile. I just warned you about using them in high-heat grilling. If you dust your chicken or steak with dry rub before grilling you'll end up with sticky grill grates and burned spices. Rubs don't love high heat.
Use your rub as a finishing seasoning or stir a bit into your ground beef mixture for burgers as a seasoning component. Sprinkle (just a little) on shrimp or pork chops right when they come off the grill and let the sugars melt as it cools enough to eat. Use a dry rub mixture to season homemade BBQ sauce as well.
The nice thing about dry rubs is that if stored well, they can last for up to six months. That means you can put it on your pork shoulder, ribs, or brisket, all summer long.
Top BBQ Rub Ingredients:
While choosing spices for your rub can be up to personal taste, you want to pick spices that are full of flavor but won't overpower the meat. It's usually a good idea to pick a savory seasoning like salt (I add celery salt as well) and balance it with a sweet ingredient such as sugar. I like to make sure to add a little heat as well, whether that's cayenne, chili powder or both.
Homemade BBQ rub is like magic dust for grilled meats! You probably already have the ingredients in your pantry.
Overall you just want to be choosing complimentary spices, like garlic powder and paprika, so that the blend is well rounded and no single flavor is overpowering. Which is why this homemade BBQ rub is so perfect. The combination is balanced and so tasty!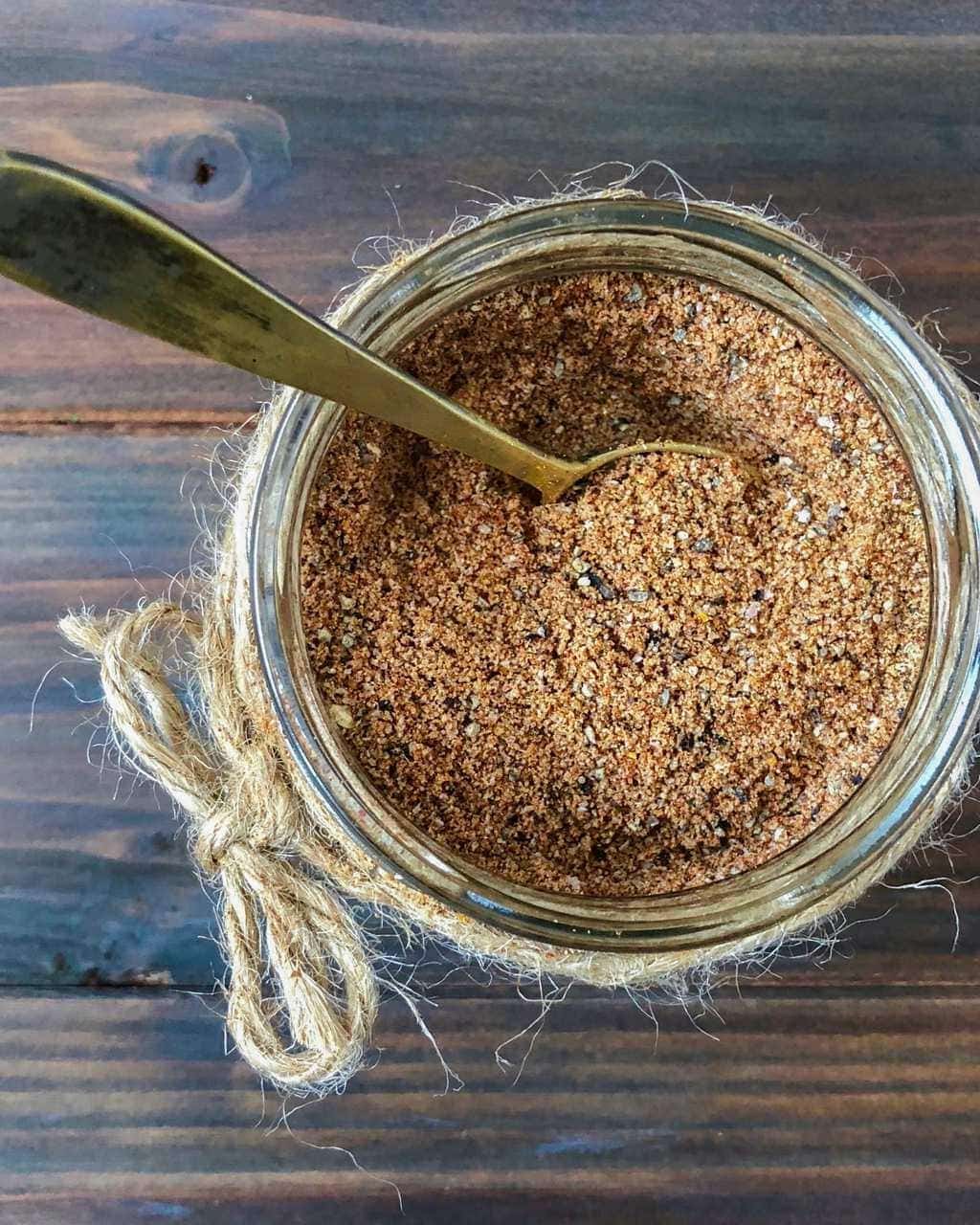 Make plenty of this homemade BBQ rub and give it as gifts in cute jars.
The ribs I often make have just a rub of salt because I add BBQ sauce for a punch of flavor. Dry-rubbed ribs will have delicious flavor already baked on.
For more mouthwatering BBQ recipes, go to tarateaspoon.com/BBQ.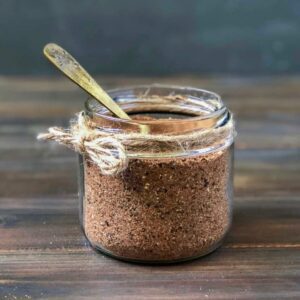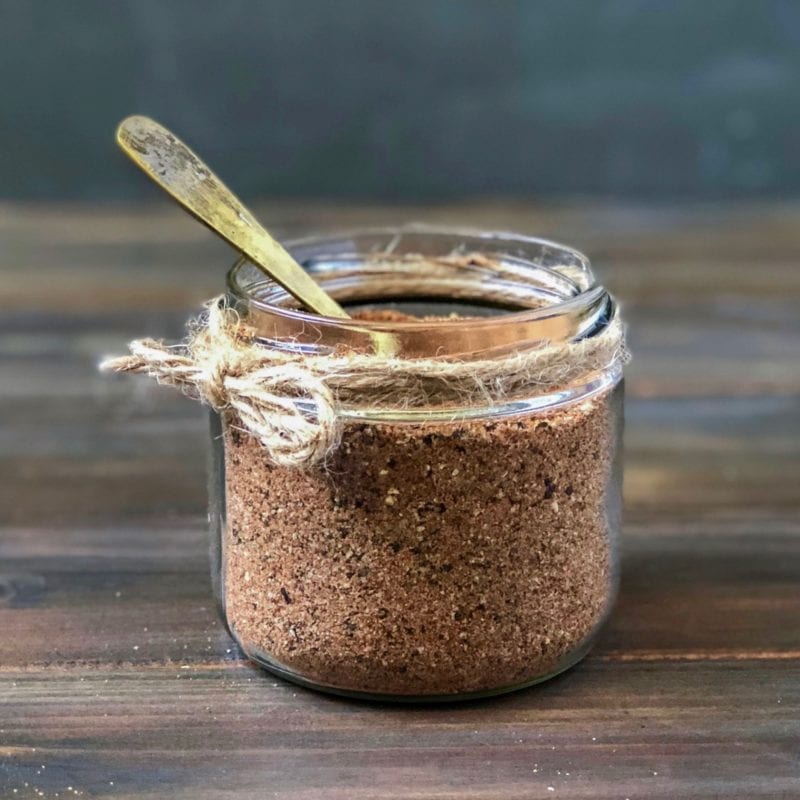 Terrific 10 Ingredient BBQ Rub From Your Pantry
This 10-ingredient recipe makes enough BBQ rub to last you all summer long. Transfer a few tablespoons to a separate bowl each time you use it.
Makes 1 ¼ cups
Ingredients
2 ½

tablespoon

paprika

2 ½

teaspoon

ground black pepper

7

tablespoon

packed light brown sugar

2 ½

tablespoon

kosher salt

1 ¼

teaspoon

celery salt

2 ½

teaspoon

garlic powder

5

teaspoon

dry mustard

5

teaspoon

ground cumin

5

teaspoon

chili powder

1 ¼

teaspoon

cayenne pepper
Instructions
Combine all ingredients, making sure brown sugar is evenly distributed. Store in an airtight container for up to 6 months.
Notes
Keep your rub in a plastic container or glass jar in the cupboard or pantry.
To avoid cross-contamination remove a few tablespoons of the rub to another bowl to use on your meat so you're not going in and out of the supply container!
This rub makes a great summer gift! Tie a string and tag around the top of a glass jar with instructions and give it away.
Use this rub for ribs, pork shoulder, brisket, even sprinkle a little in or on top of hamburgers or turkey burgers.
Nutrition
Calories:
427
kcal
Carbohydrates:
100
g
Protein:
5
g
Fat:
4
g
Sodium:
20615
mg
Potassium:
691
mg
Fiber:
7
g
Sugar:
83
g
Vitamin A:
5065
IU
Vitamin C:
1.7
mg
Calcium:
218
mg
Iron:
10
mg
Try these finger-licking-good BBQ recipes
Other BBQ recipes you will love:
Italian Burgers
Brisket Sandwiches
3-Ingredient Classic Ribs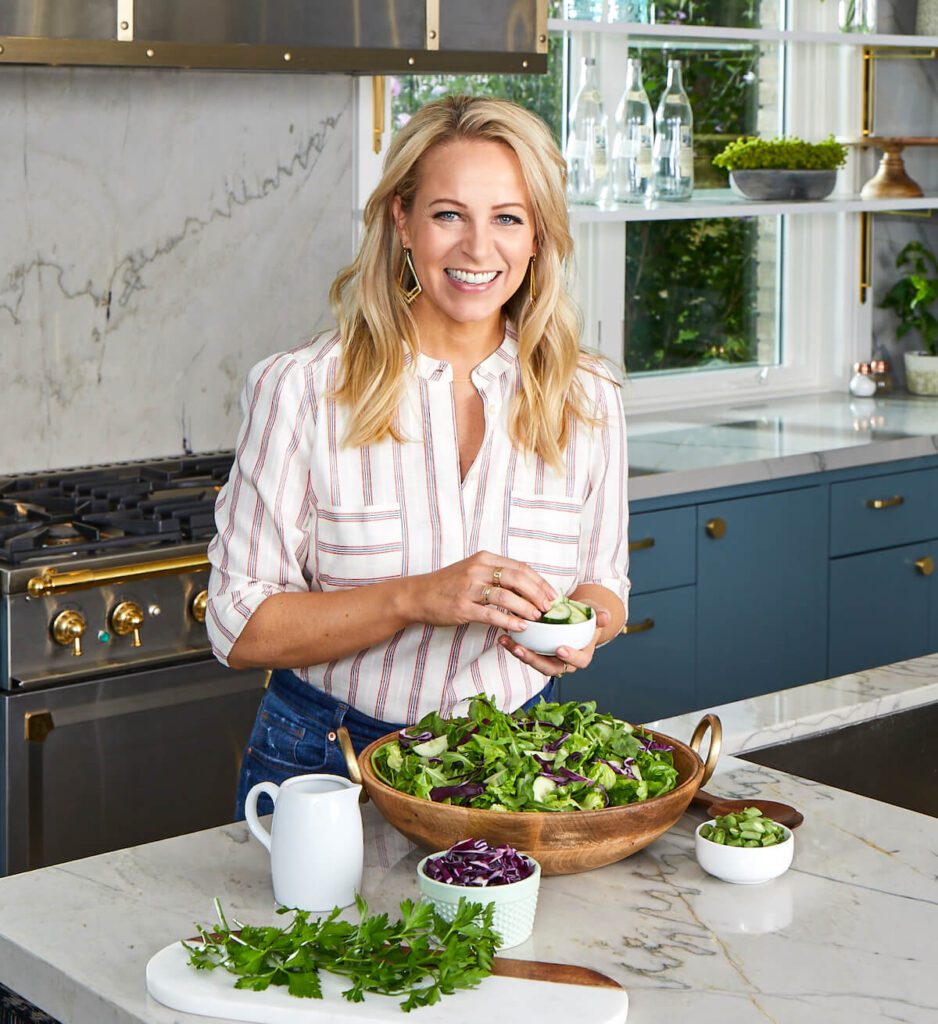 About Tara Teaspoon
I've been in the food publishing business for over 20 years, creating recipes & food-styling for magazines, books, television & advertising. Order my new cookbook & stick around for amazing things to eat.
Recipe and Images Tara Teaspoon. Photo editing Max Atwood. Written by Tara teaspoon and Brittany Smart.