Chipotle sweet potato soup with queso blanco makes any weeknight dinner a comfort-food celebration. Cozy, spicy and easy, it's pretty much the best meal you'll have all week. 
You may not think of soup as a culinary experience. Especially a simple pureed soup. But my, oh my, this soup explodes with flavor and is such an exciting meal! True, true, it's just a Wednesday, or a Monday – you just want dinner on the table. If I were you, I'd vote for this!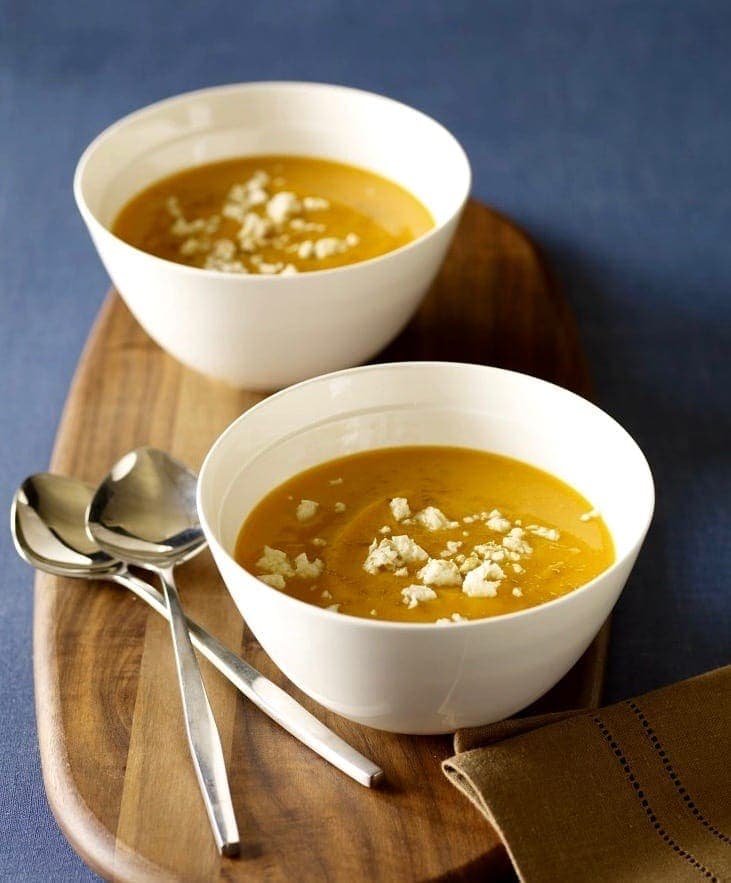 Pureed soup is one of the easiest soups to make. For the most part everything cooks all together, no fancy steps to take. And your chopping skills can be, well, non-existant if you want…it doesn't have to look pretty or be uniform for even cooking. Just roughly chop all the ingredients and they simmer together until soft enough to blend.
You most often see pureed butternut squash soups, but I wanted a more flavorful base and went with sweet potatoes. They are, in fact, sweeter. To play up the sweet and savory mix of this soup I actually added a little honey. I included lime juice too. The acid acts like salt, both bring out the flavor of other ingredients and gives the soup balance.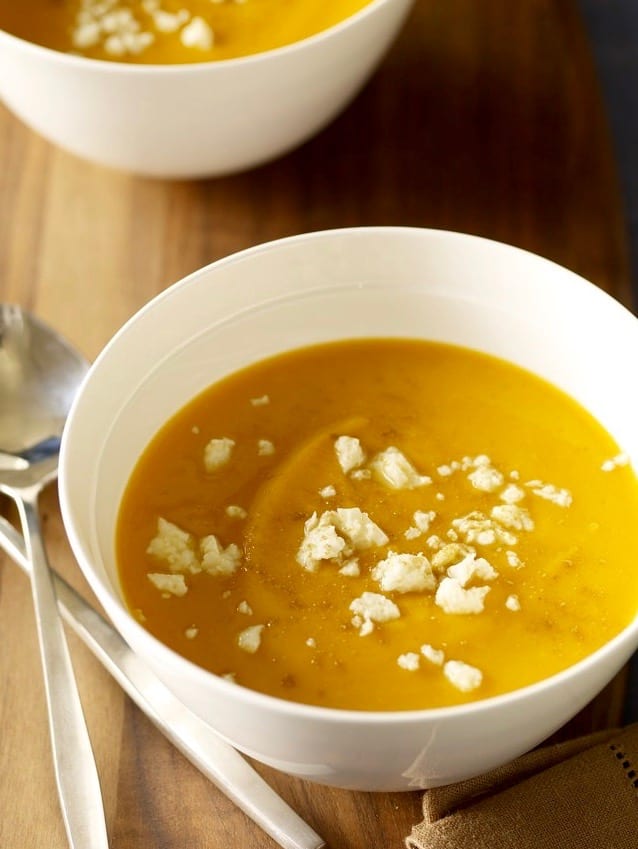 The cumin, garlic and smoky chipotle all bump up a Mexican flavor and simmer into the veggies as the soup cooks. Of course with flavors like those, you garnish with an authentic Mexican cheese like queso blanco. Queso blanco is an unaged, cow's milk cheese with just a little acidic taste. It's mild and great paired with something smoky or spicy.
A mildly spicy, sweet and savory meal, chipotle sweet potato soup with queso blanco is an easy dinner to get on the table for a cozy night in.
How do you puree your soups? Some use a stick or immersion blender. I used to have one. Honestly I don't know what happened to it. I think it broke and I got rid of it…but I can't guarantee that's what happened.
Others use a food processor and others use a traditional blender. The fancy folks use a Blendtec or Vitamix. I have to admit I have all of the things (minus that immersion blender that went missing). And I use the Vitamix most of all. My traditional blender is a great Oster brand blender, but boy, oh boy that Vitamix makes soups silky smooth.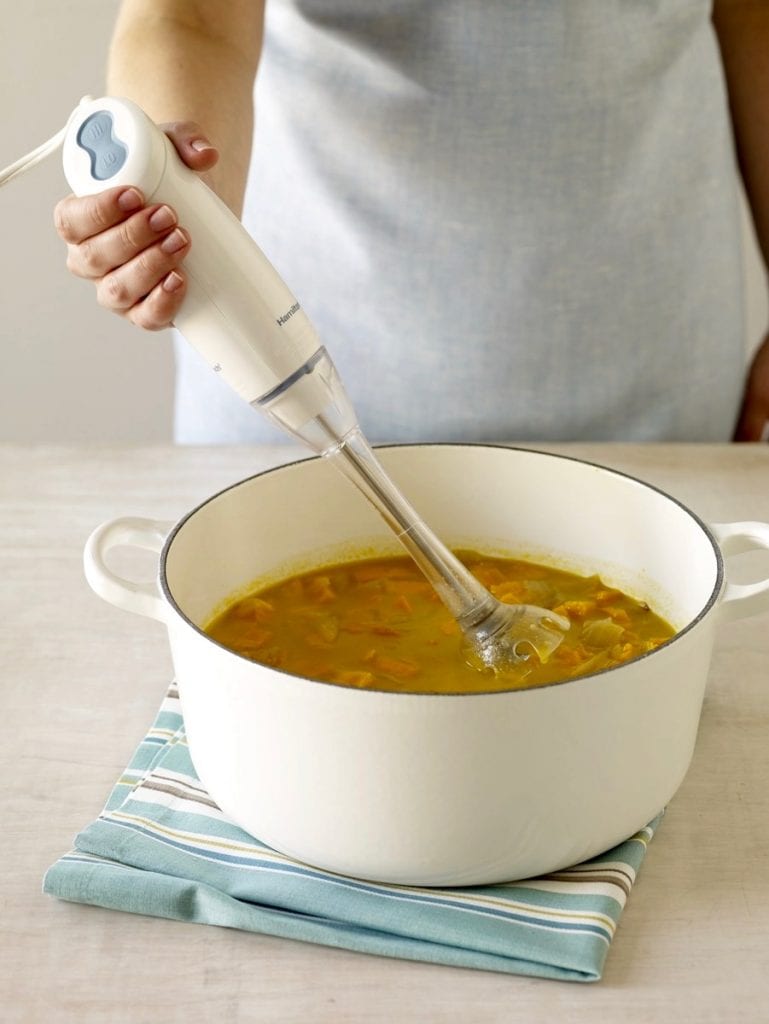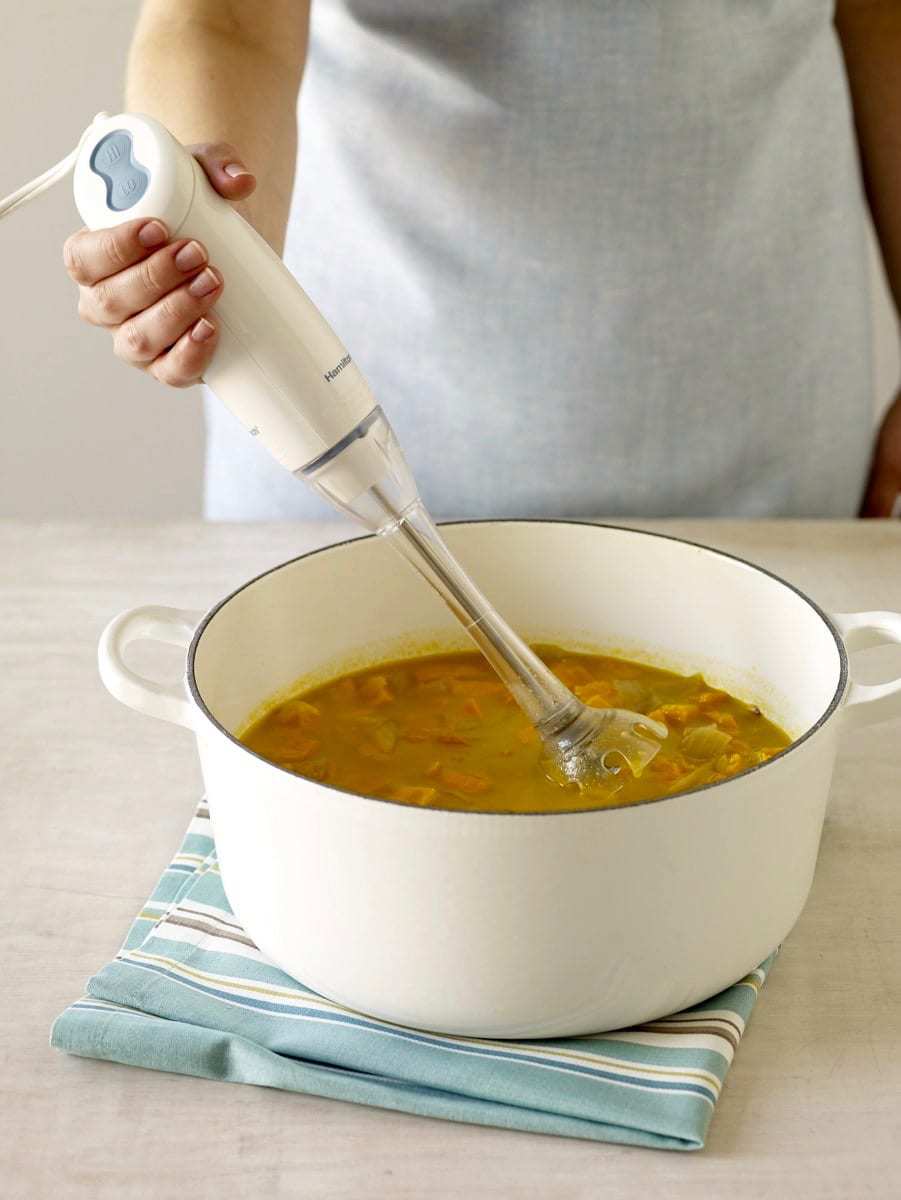 Immersion blenders are fantastic for not dirtying another dish. When I get a new one, I'll go for one of these: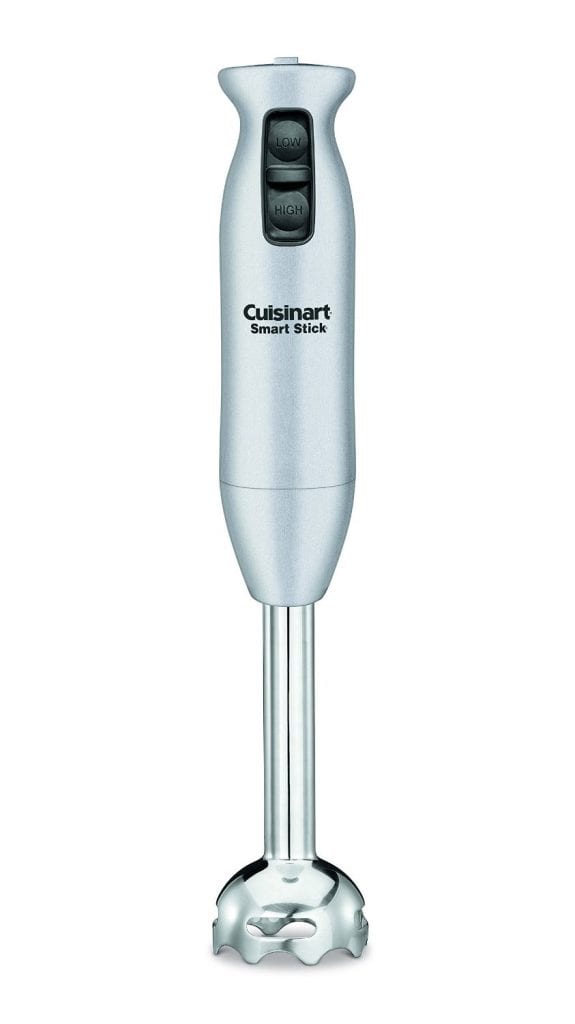 This blender from Cuisinart is straight-forward and simple. It touts 2 speeds and a great blade. Easy to store in the kitchen drawer.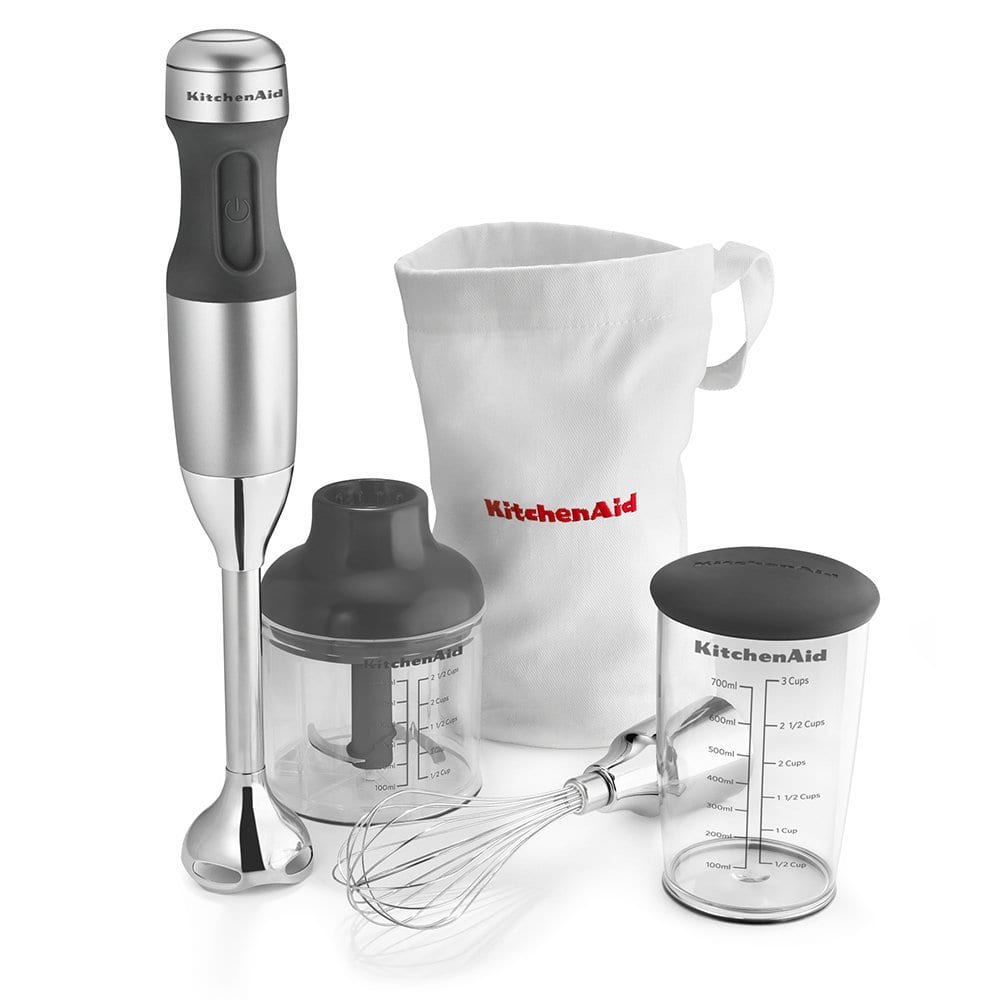 The Kitchenaid model here is loaded! Three speeds and all the attachments one could desire.
Whatever you're method for pureeing, feel free to add more chicken broth if your chipotle sweet potato soup is too thick. There's a fine balance between baby food and a lovely pureed soup. You don't want it too thick, or too thin. Work it out! And enjoy!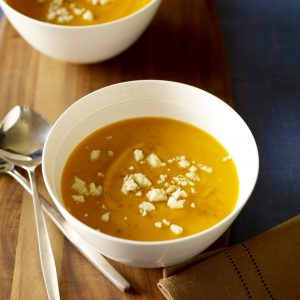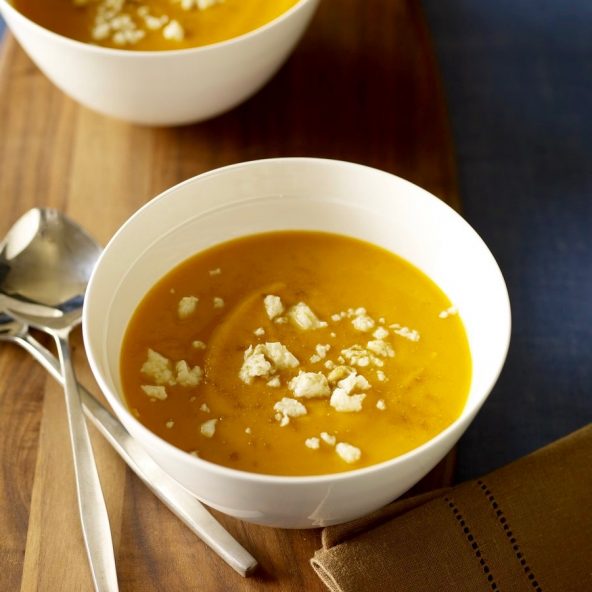 Chipotle Sweet Potato Soup With Queso Blanco
For a satisfying family meal, nothing beats a hearty bowl of soup.
Keyword:
chipotle chilis, queso blanco, sweet potato soup
Ingredients
1

tbsp

olive oil

1

large onion

chopped

2

garlic cloves

crushed

3

lbs

sweet potatoes

peeled and diced

1

tsp

kosher salt

1

tbsp

fresh lime juice

1½

tbsp

honey

¾

tsp

cumin

1

chipotle pepper in adobo

seeds removed

4

cups

low-sodium chicken or vegetable broth

¾

cup

evaporated milk

¾

cup

queso blanco

crumbled
Instructions
In a 4½-quart pot over medium-high heat, combine oil, onion, garlic and sweet potatoes. Cover and cook, stirring occasionally, 10 min. Add salt, lime juice, honey, cumin, chipotle pepper and 3 cups broth and bring to a simmer; cover and cook until very soft, 18 to 20 min.

Remove from heat. Add 1 cup broth and milk. Use an immersion blender to purée the soup. (Alternately, in batches, purée soup in blender, holding lid on with a towel while blending.) Serve with cheese.
Recipe Notes
A mildly spicy, sweet and savory meal, chipotle sweet potato soup with queso blanco is an easy dinner to get on the table for a cozy night in.
Nutrition Facts
Chipotle Sweet Potato Soup With Queso Blanco
Amount Per Serving
Calories 203
Calories from Fat 45
% Daily Value*
Total Fat 5g 8%
Cholesterol 11mg 4%
Sodium 798mg 33%
Potassium 544mg 16%
Total Carbohydrates 34g 11%
Protein 5g 10%
* Percent Daily Values are based on a 2000 calorie diet.
In search of soups? I have quite a few favorites, that I guarantee can become your family go-tos.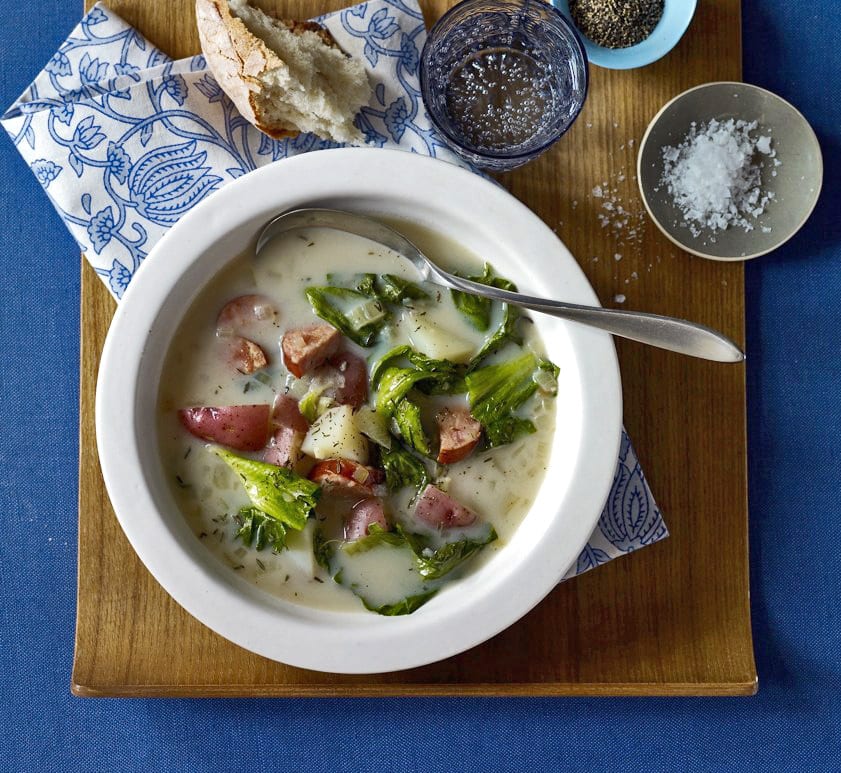 Sausage and Greens Soup boasts some juicy, flavorful kielbasa and a creamy broth. Pretty darn delicious.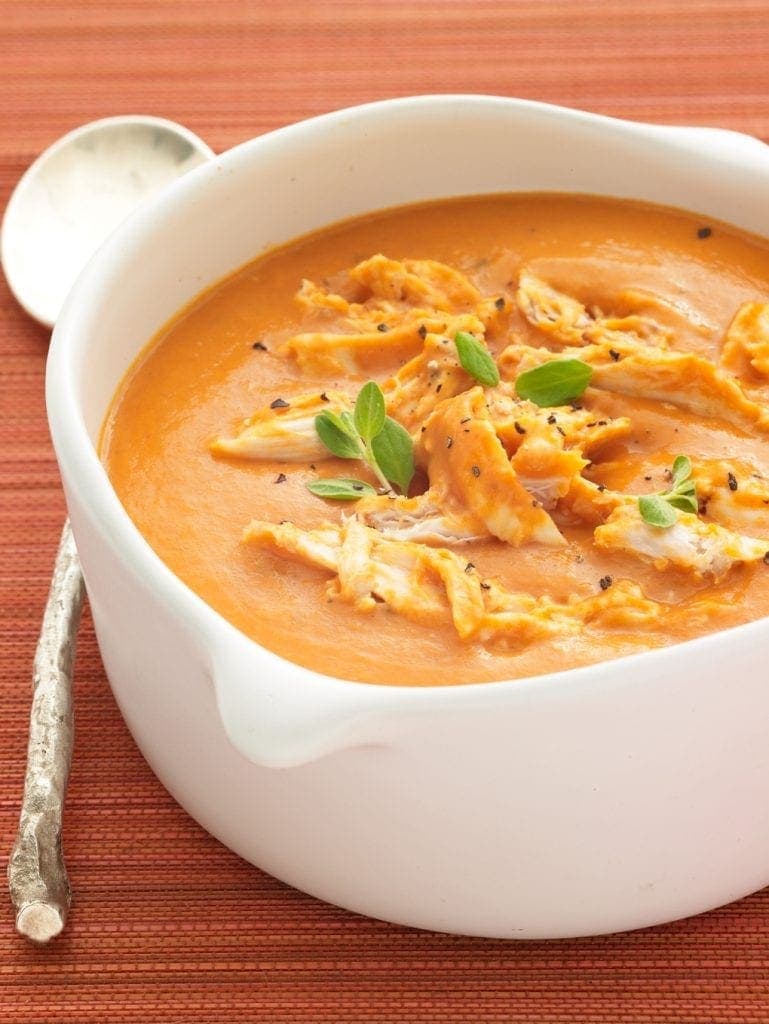 You know dinner is done right when there are no leftovers. My Chicken Tomato Bisque is one of those recipes.
Recipe by Tara Bench and Vanessa Seder. Photographs by Sang An. Prop Styling by Tiziana Angelo. Food Styling by Jee Levin. Originally published 02/09 in LHJ.