Using fresh or leftover turkey, you can make a rich and flavorful Instant Pot turkey stock to use for gravy, soups and more!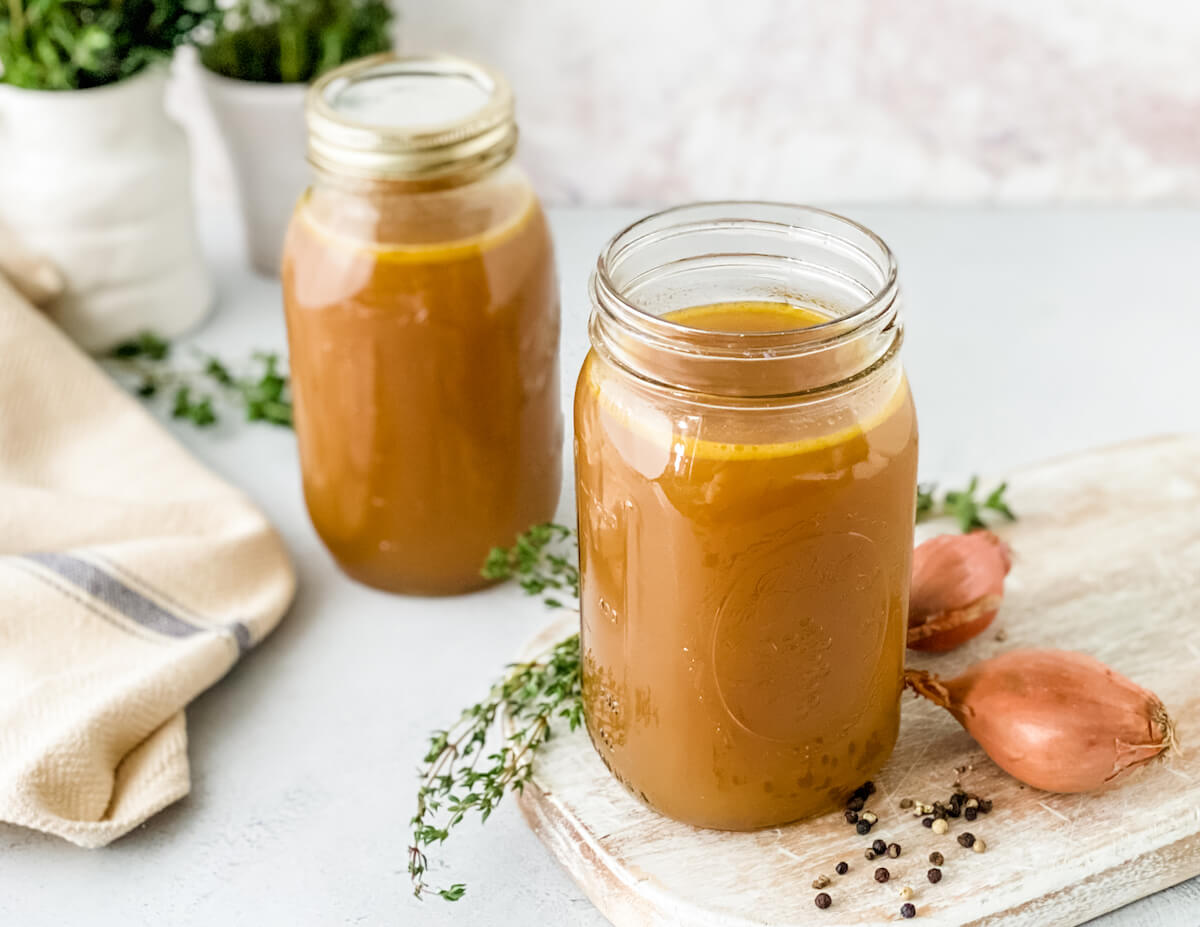 Jump to:
Making turkey stock is a great way to use up your Thanksgiving leftovers or take advantage of turkey sale prices after the holidays.
If making homemade stock of any kind sounds intimidating to you, don't be fooled! Turkey carcass stock requires less than 30 minutes of hands on prep work, and your Instant Pot does the rest of the work for you!
For this Instant Pot turkey stock recipe, I've given directions on how to make it with a fresh or roasted turkey.
No matter what type of turkey you have on hand, turkey stock is in your future!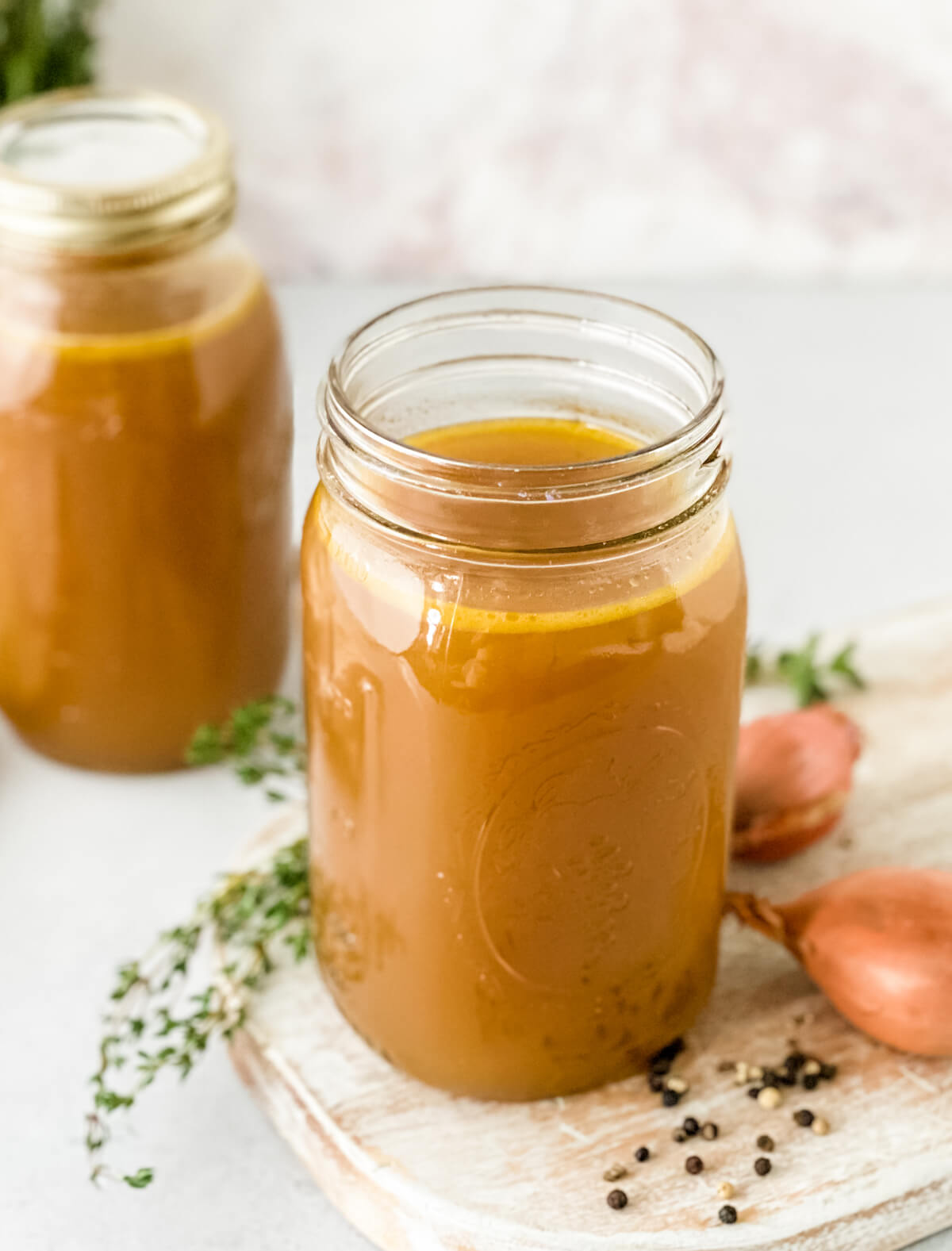 Ingredients in Turkey Stock
Homemade Instant Pot turkey stock requires very few ingredients. The star ingredient, of course, is the turkey carcass. I used a raw turkey carcass for this particular recipe, but you may use a roasted and carved turkey if you have one from Thanksgiving dinner.
For flavor, I added roughly chopped onion, carrots, and celery. A bunch of fresh herbs (any kind!) adds freshness to the stock.
Bay leaves and whole peppercorns deepen the flavor of the stock. You'll also need plenty of water to make Instant Pot turkey stock.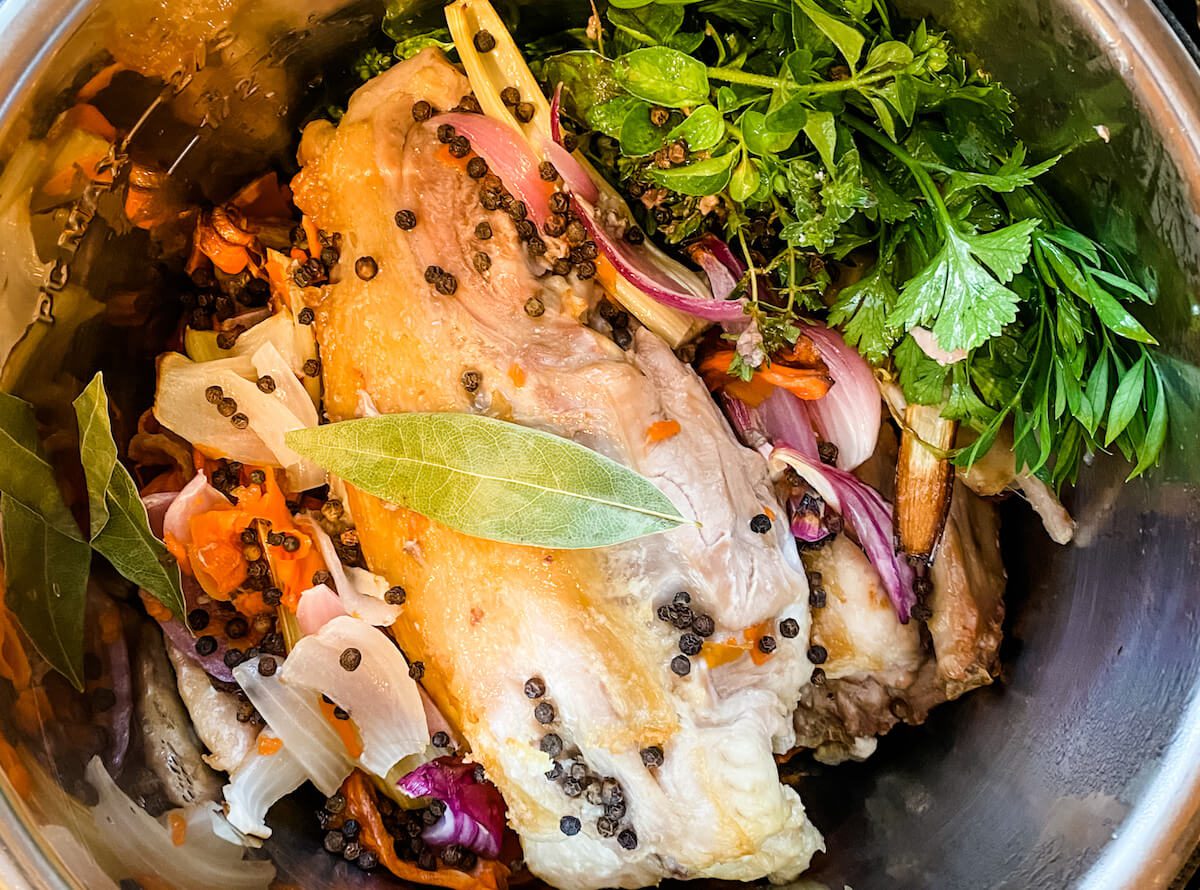 How to Make Turkey Stock
I made this particular batch of turkey carcass stock using a fresh turkey. Before adding it to my Instant Pot, I roasted the turkey carcass and the roughly chopped vegetables just until they started browning.
The browning adds better flavor and color to the stock, as well as bringing out the sweetness of the vegetables.
For any kind of homemade stock, refrain from adding salt. Your roasted turkey carcass might be well seasoned already and that's ok. Keeping the stock bland allows you to use it and season any recipe it goes into, like soups or gravy.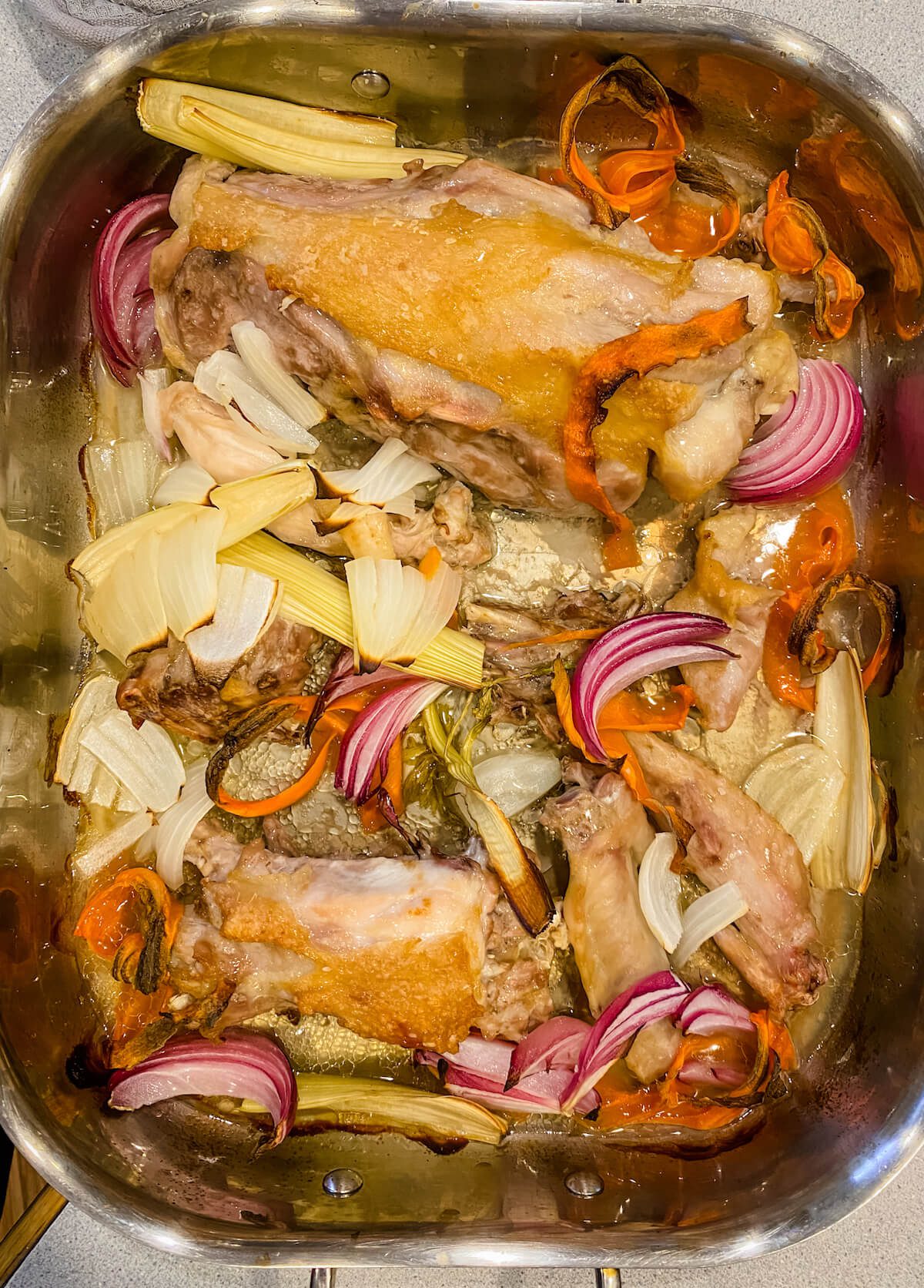 After roasting, it's just a matter of adding all of the ingredients into a 6- to 8-quart Instant Pot and cooking on High for 90 minutes on the soup / broth setting.
Let the Instant Pot naturally release for 30 minutes before removing the larger pieces of vegetables and bone.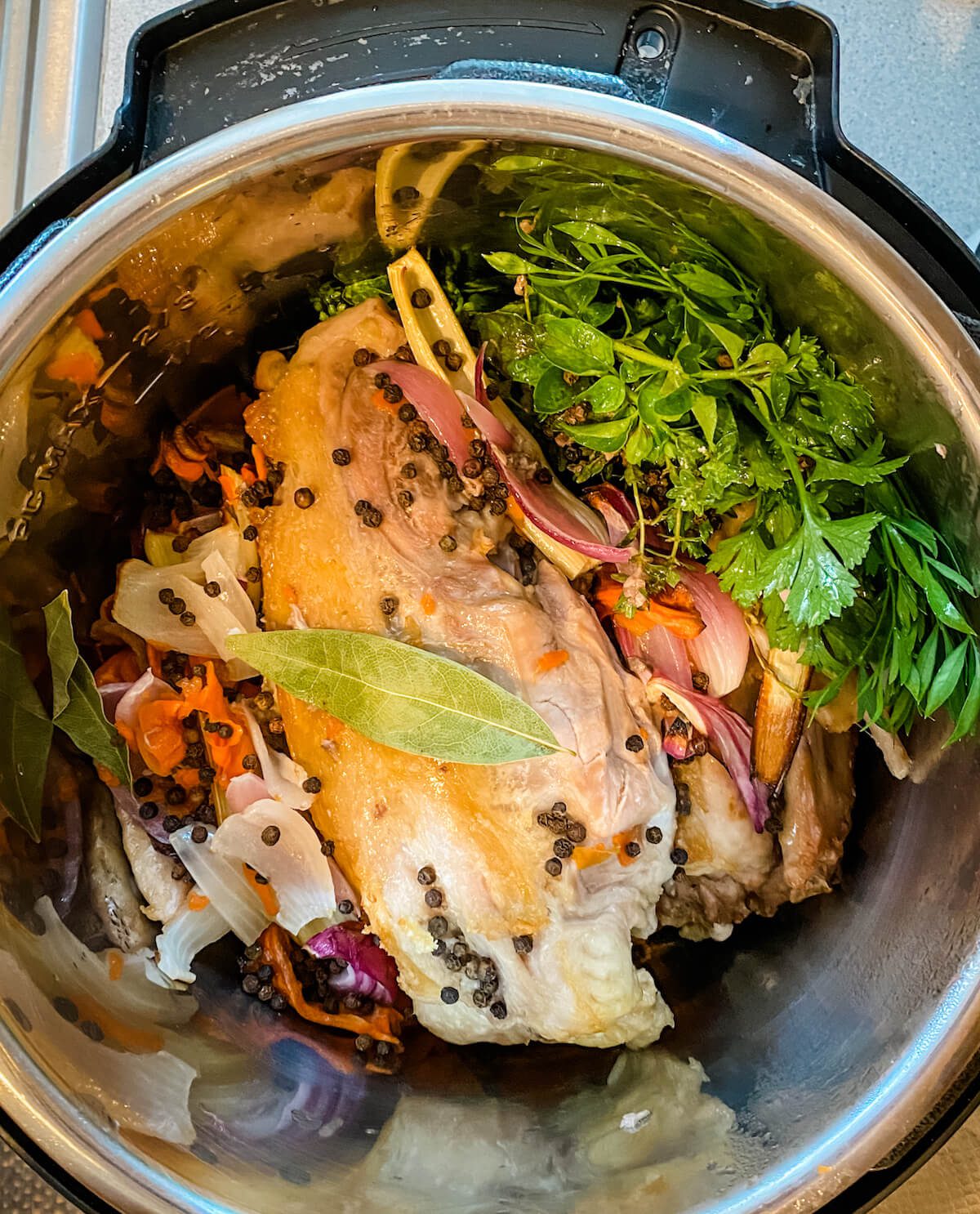 The stock then needs to cool to room temperature before it's safe to strain and store. I like to sit the Instant Pot insert in an ice bath to speed up the cooling process.
To make an ice bath just fill a large bowl halfway with ice and add some water. Set your hot pot or another bowl on top. As the ice melts in the water it will quickly cool the broth. Stir the broth occasionally to help the process.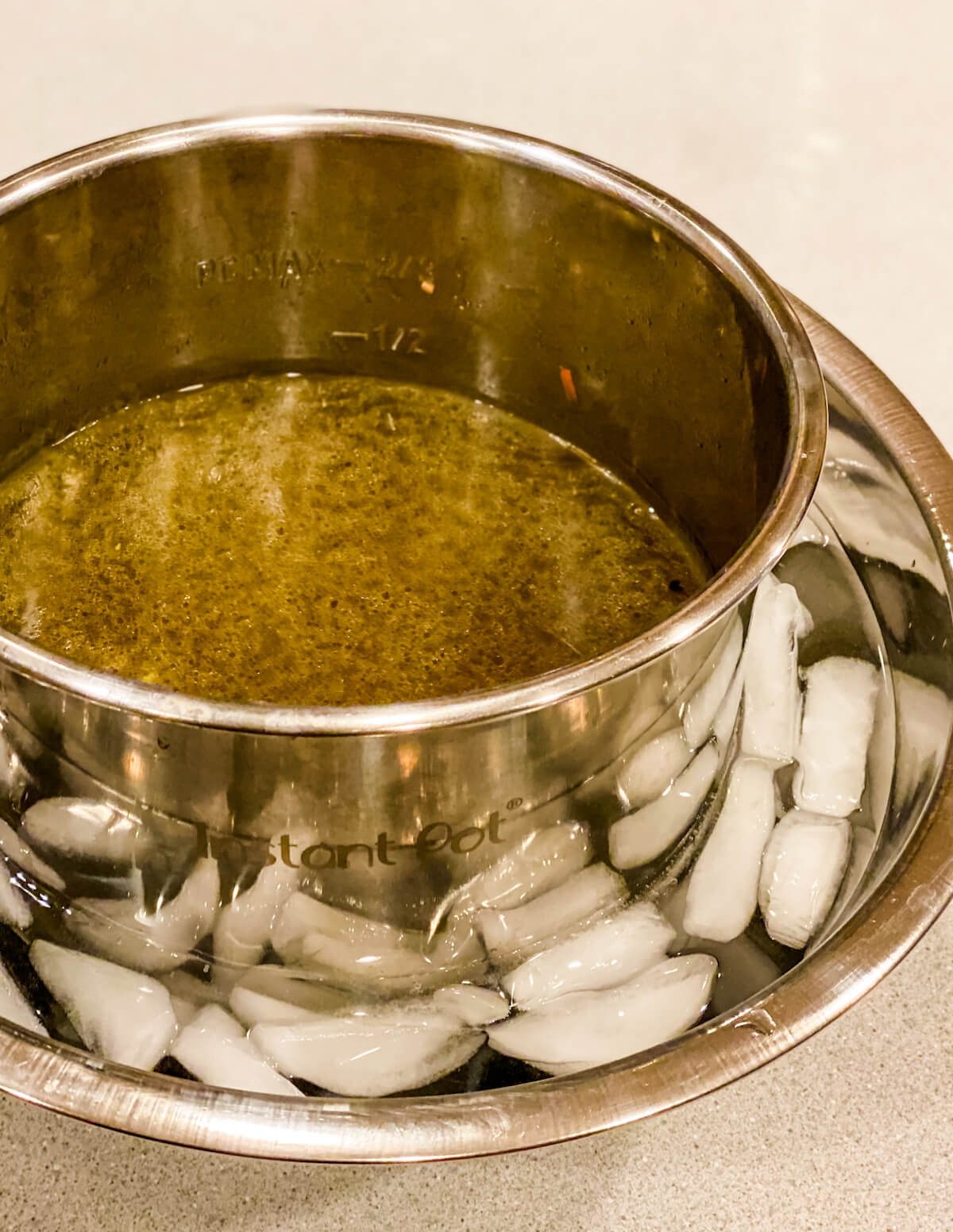 How to Store Turkey Stock
Homemade turkey stock stores in the fridge for up to two weeks, or it can be frozen for up to 6 months.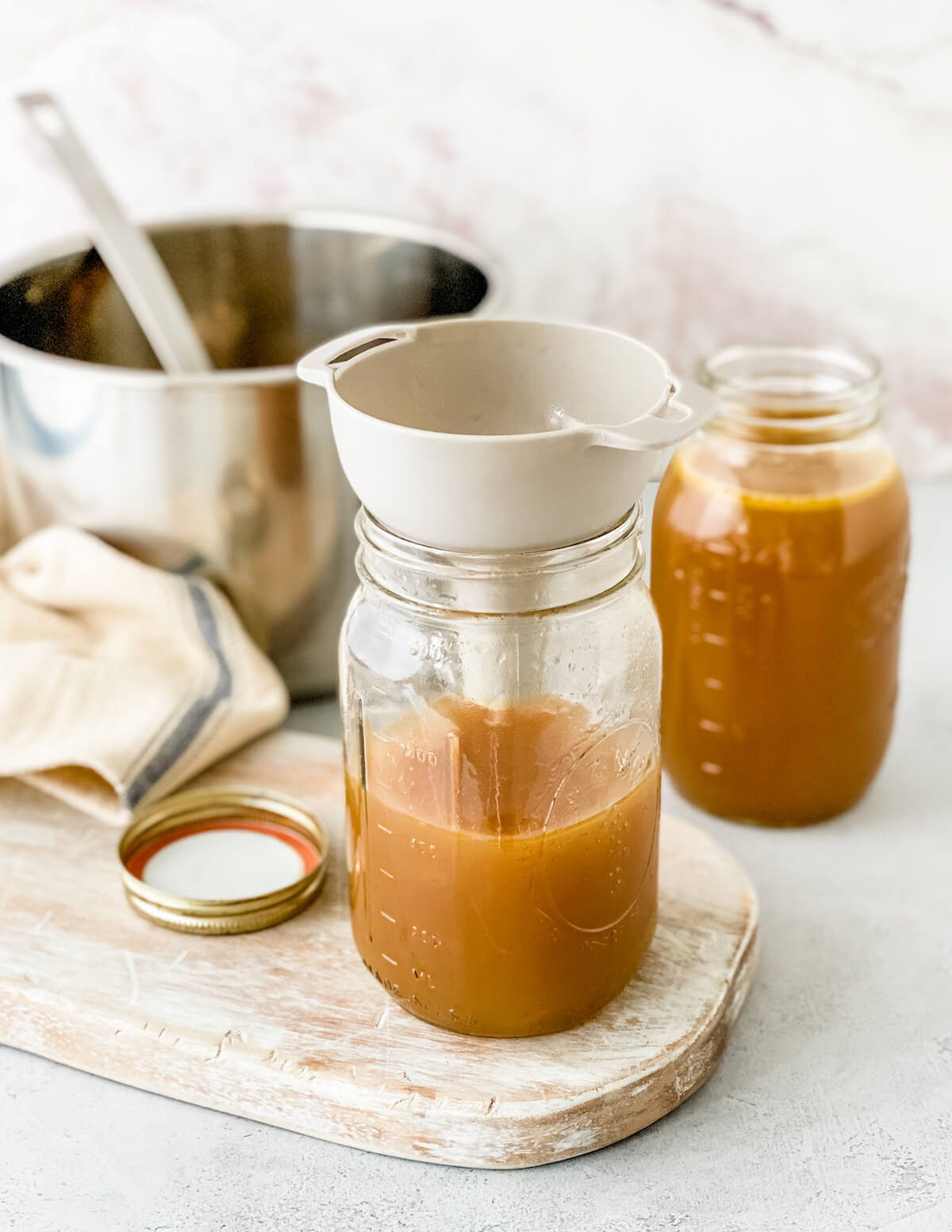 I like to keep it in glass jars in the fridge for up to two weeks if I'm using it soon. Or, I'll freeze it in quart-size, heavy-duty ziptop bags and lay them flat to freeze. This way, they can stack neatly in the freezer!
You can also use reusable silicone bags, or lids on glass jars like these Lekue reusable lids.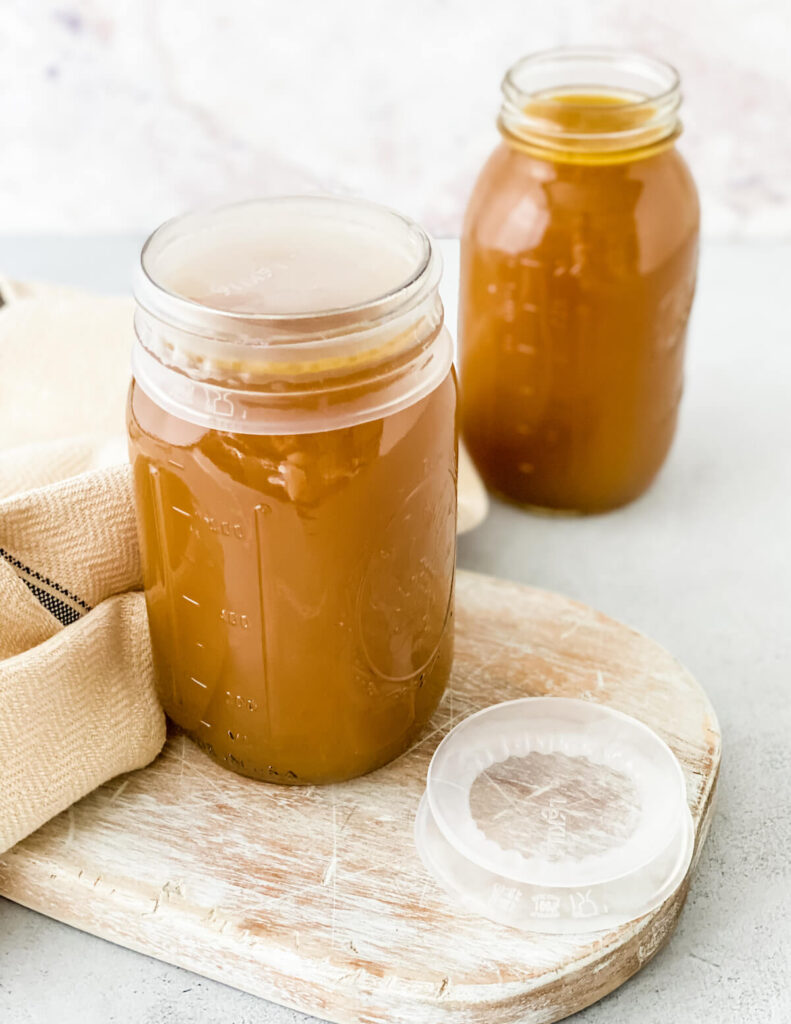 Do I Have to Use a Raw Turkey Carcass?
No, not at all! I used a raw turkey carcass and wings, but you can also use the leftover turkey carcass from your Thanksgiving dinner and forgo the roasting of the meat and veggies entirely.
Turkey Stock Uses
Now that you know how to make stock from a turkey carcass, you're ready to incorporate it into your recipes. You can substitute chicken broth for turkey broth in most recipes.
Some of my favorite turkey stock uses include:
Tips for Making Turkey Stock
I recommend using a fine mesh strainer to strain the turkey stock. If you don't have a fine-mesh strainer, place several layers of damp cheesecloth in a colander and pour broth through that, into a bowl, to strain the small bits out.
Once the broth has chilled completely in the fridge, you can skim off the fat easily from the top.
If the turkey has already been roasted, you can place it directly into the Instant Pot alongside the other ingredients.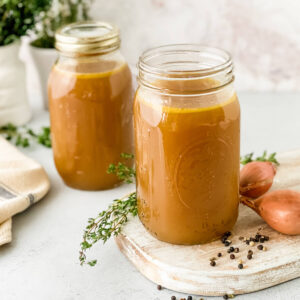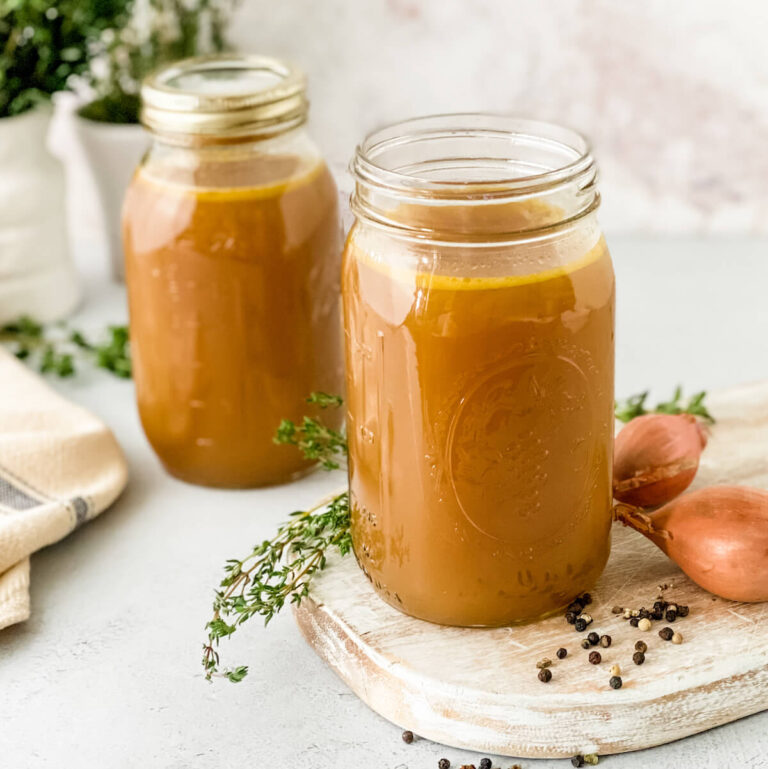 Instant Pot Turkey Stock
Using fresh or leftover turkey, you can make a rich, flavorful Instant Pot turkey broth to use for gravy, soups and more!
Ingredients
3

ribs

celery

2

carrots

washed or peeled

1

large

onion

1

turkey carcass

fresh or carved from

1

bunch

fresh herbs (such as parsley, sage, thyme)

2

bay leaves

1

tablespoon

peppercorns

2½

quarts

water
Instructions
Cut celery and carrots into pieces. If using onion skins, give the outer layer a rinse. Cut onion into wedges.

For a fresh carcass and wings: Heat oven to 375ºF. Arrange cut vegetables in the bottom of a roasting pan and place the turkey pieces on top. Add ½ cup water and roast until turkey and vegetables are just browning, about 40 minutes. Transfer everything to a 6 to 8 quart Instant Pot or multi cooker. Follow from step 4.

For a roasted carcass and parts: Place turkey parts and cut vegetables in a 6 to 8 quart Instant Pot or multi-cooker.

Add the herbs, peppercorns, and 2½ quarts of cold water. Seal lid and set on High pressure for 1 hour 30 minutes (90 minutes) or the soup/broth setting. After cooking let it naturally release for 30 minutes.

Carefully remove large pieces of bone, meat, and vegetables with tongs and discard. Place pot insert in an ice bath (a bowl of lots of ice and water) and stir occasionally until broth is cool about 30 minutes.

Pour cooled broth through a fine-mesh strainer into jars or containers to store. Discard all solids.
Notes
Notes: After the broth has chilled in the fridge, you can spoon off the solidified fat on the top and discard.

If you don't have a fine-mesh strainer, place several layers of damp cheesecloth in a colander and pour broth through that, into a bowl, to strain small bits out.
Storage: Broth can be frozen in freezer containers or freezer quart bags for up to 6 months. Broth can be kept in the fridge for up to 2 weeks.
Nutrition
Calories:
63
kcal
Carbohydrates:
14
g
Protein:
2
g
Fat:
1
g
Saturated Fat:
1
g
Polyunsaturated Fat:
1
g
Monounsaturated Fat:
1
g
Cholesterol:
1
mg
Sodium:
124
mg
Potassium:
432
mg
Fiber:
4
g
Sugar:
6
g
Vitamin A:
8565
IU
Vitamin C:
9
mg
Calcium:
102
mg
Iron:
1
mg
The Greatest Thanksgiving Recipes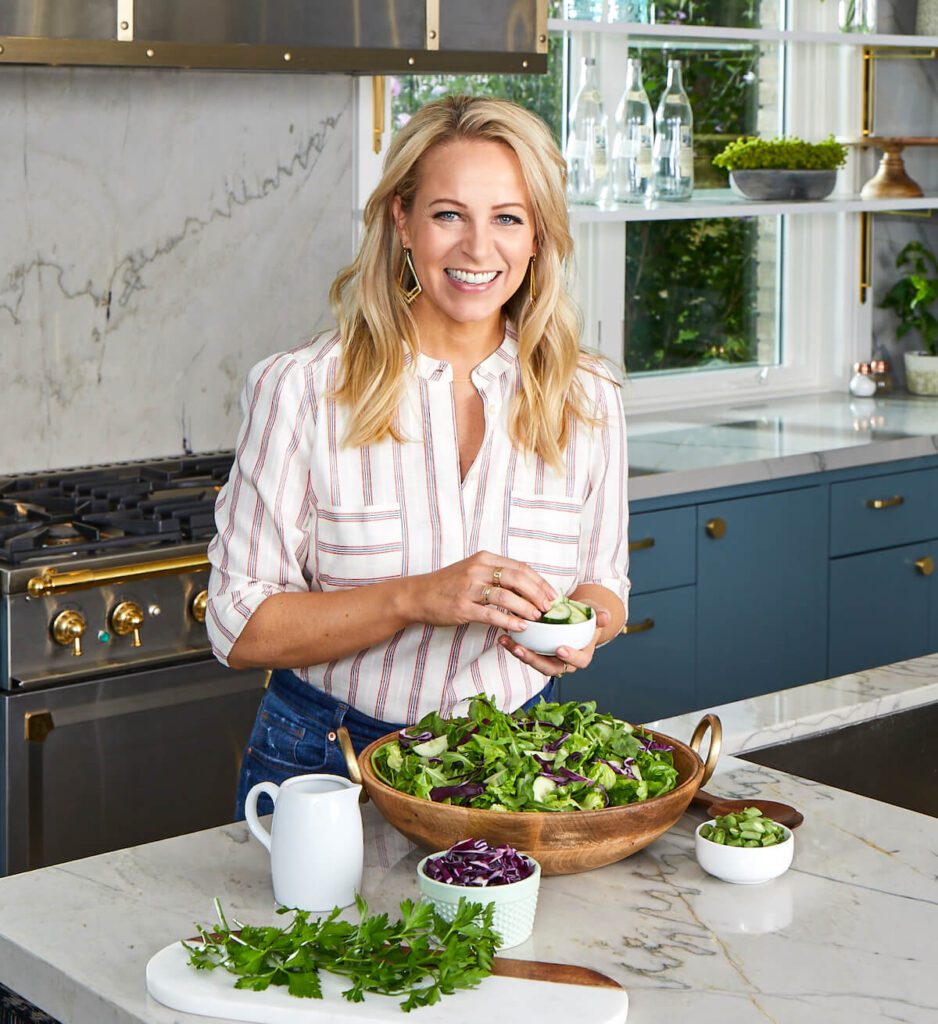 About Tara Teaspoon
I've been in the food publishing business for over 20 years, creating recipes & food-styling for magazines, books, television & advertising. Order my new cookbook & stick around for amazing things to eat.