I'm adding more reusable items to my kitchen, so from freezing food to storing food in the fridge or pantry, I'll ditch the plastic bags. To build a more eco-friendly home, I'm switching to Lekue silicone food storage bags because they're leak-proof, easy to clean, and oh, so chic!
---
This post is sponsored by Lekue. All opinions are my own.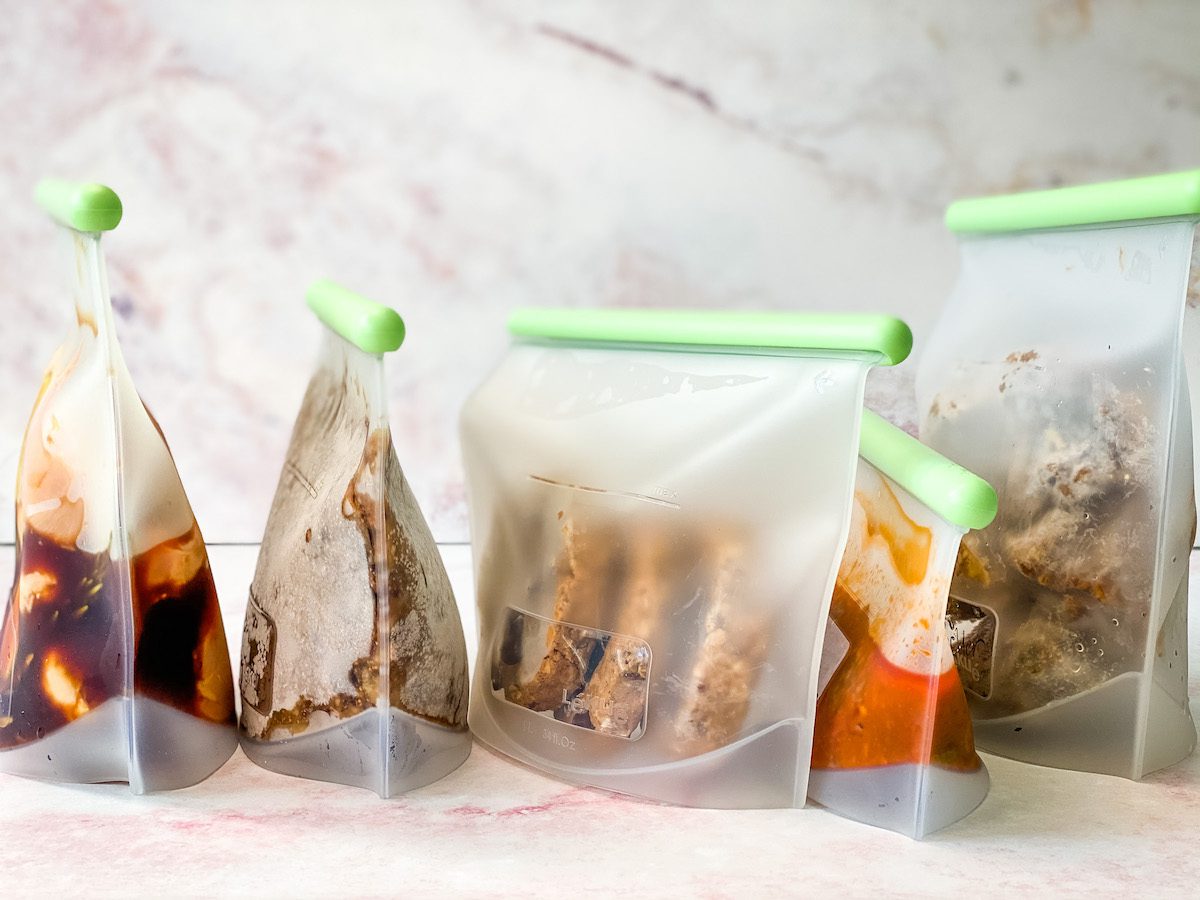 Get thee organized!
That is my monthly mantra. I cook for a living, at home! So, my kitchen pantry, fridge and freezer all get full fast. I have bits and bobs of leftovers around too.
My go-to has been to grab a plastic bag, zip leftovers, marinated meat or scooped cookie dough inside. Changes are coming!
I'll tell you what: my freezer, fridge, and pantry are extremely organized now! Read on to find out why.
No more plastic bags
I am often looking for ways to be more earth-friendly, and create habits that stick. I'm trying to reduce plastic use in my house.
I am awesome at separating my recycling and making sure it get's to the right bin! I mean, if you'll allow me to toot my own horn.
However there are a few things I could improve on. My use of plastic bags is one, and I'm thrilled to have found a leak-proof, dishwasher-safe silicone food storage bag I love.
Lekue silicone bags come in a variety of sizes and are BPA free containers, which is something I'm becoming more aware of.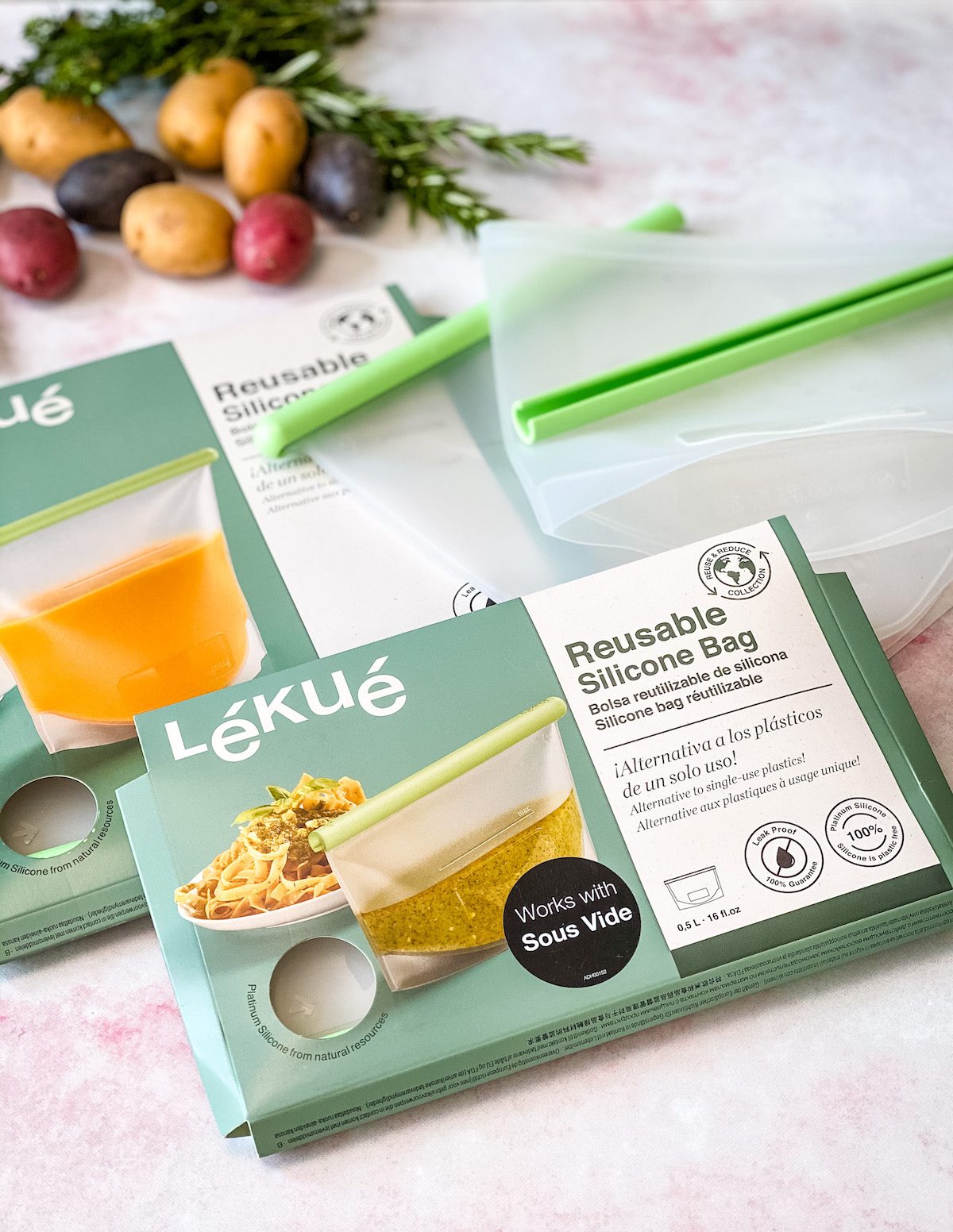 Eco friendly home products: silicone food storage
Silicone is a great option for reusable food storage bags.
Because of some health issues, I've been clearing my kitchen of many things that contain BPA (a harmful chemical in plastics). Silicone fits this profile, plus so much more.
The Lekue brand has so many great silicone products. They can all withstand high temperatures (so you can cook in these bags using the sous vide method!) and can be washed in the dishwasher. I do love a dishwasher!!
Using silicone bags also keeps plastic bag waste from entering the ocean and our water system. Plus since you'll be using them for years and years to come, they won't fill our landfills.
These silicone bags, when sealed with the slender green slider, are completely air tight. Which means other odors and flavors from the fridge or freezer won't seep in.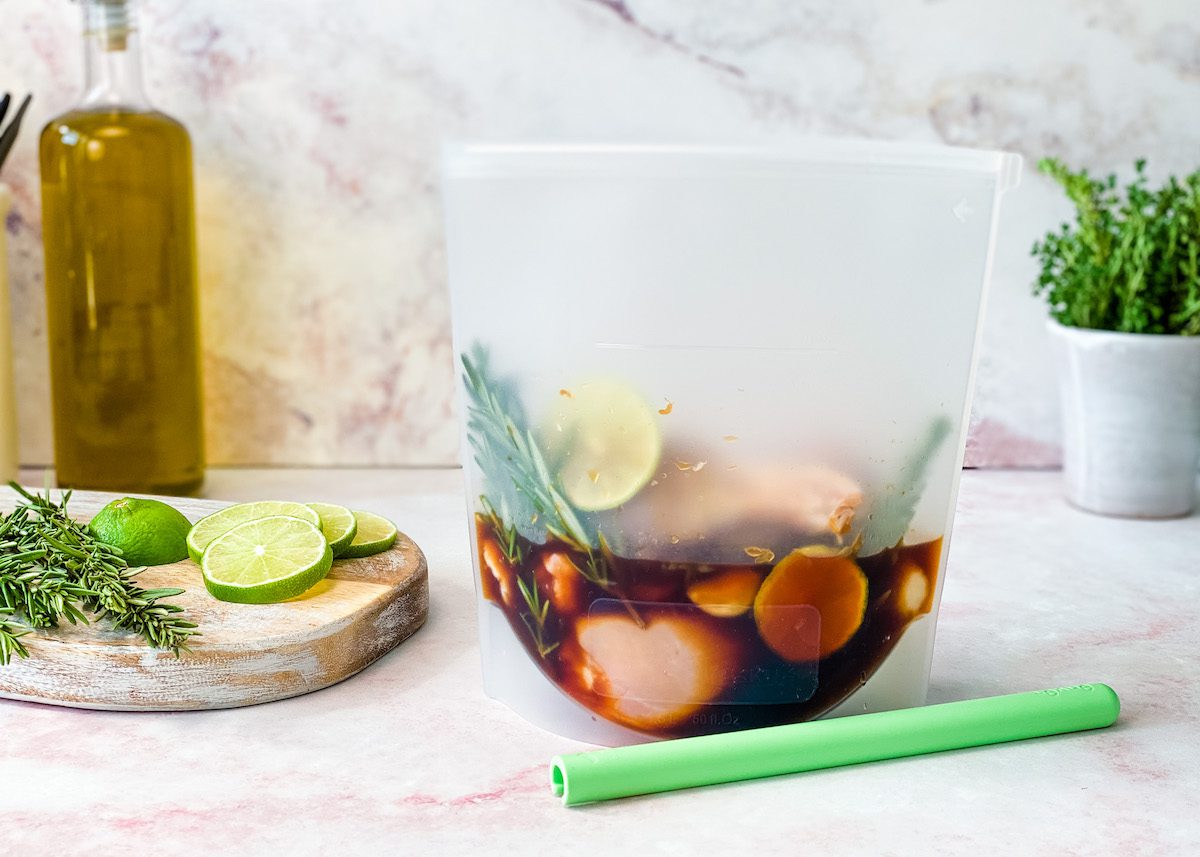 How to use silicone food storage bags
Silicone zip bags are useful for so many great things in the kitchen. Here are a few ways I like to use them.
Store dry goods like grains, beans, rice and even crackers and cereal.
Keep chocolate chunks and chips air-tight.
Marinate meat and chicken in the leak-proof bags.
Cook veggies and meat sous vide style in reusable silicone bags.
Freeze cookie dough balls and meatballs in portions.
Freeze fruit, smoothie mixes and purees.
Portion soup and cooked leftovers in silicone bags and chill or freeze.
Recipes for freezer meal prep ideas: use reusable bags
Chicken Stew with Moroccan Seasoning
Classic Italian Meatballs for Subs or Spaghetti
Award Winning Chocolate Chip Cookies
Butternut Squash Soup with Variations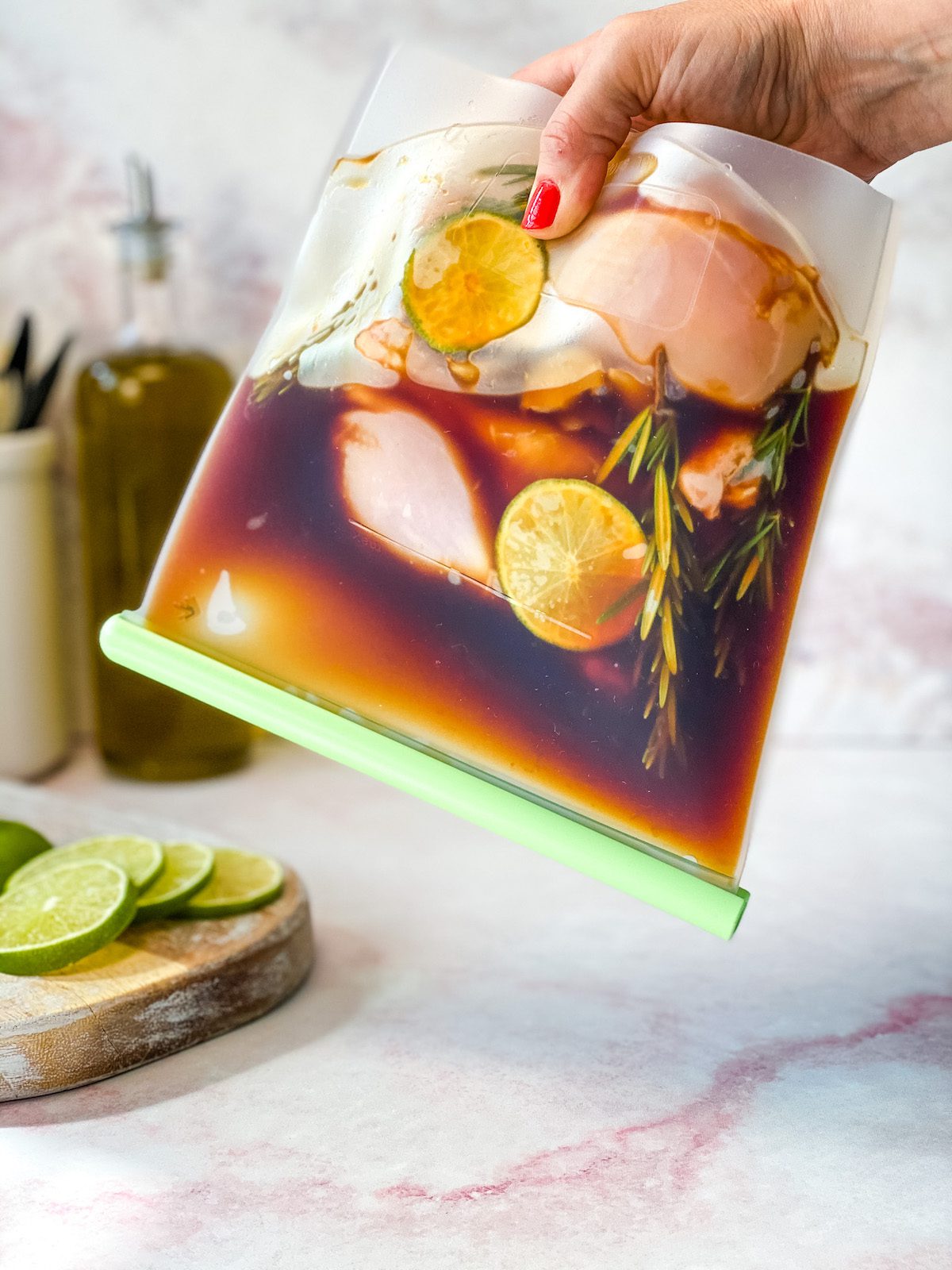 No plastic waste in the kitchen
Reducing waste in my kitchen takes a lot of thought. I try a few new things at a time to create habits.
I love that reusable bags save me from buying plastic bags every month, saving me money!
They come in various sizes, so small bags are great for bits of leftovers or extra dry beans from a bulk buy. I also use the large bags for marinating meat and chicken before dinner.
Silicone food storage bags are leakproof, so you never have an accidental mess in the fridge.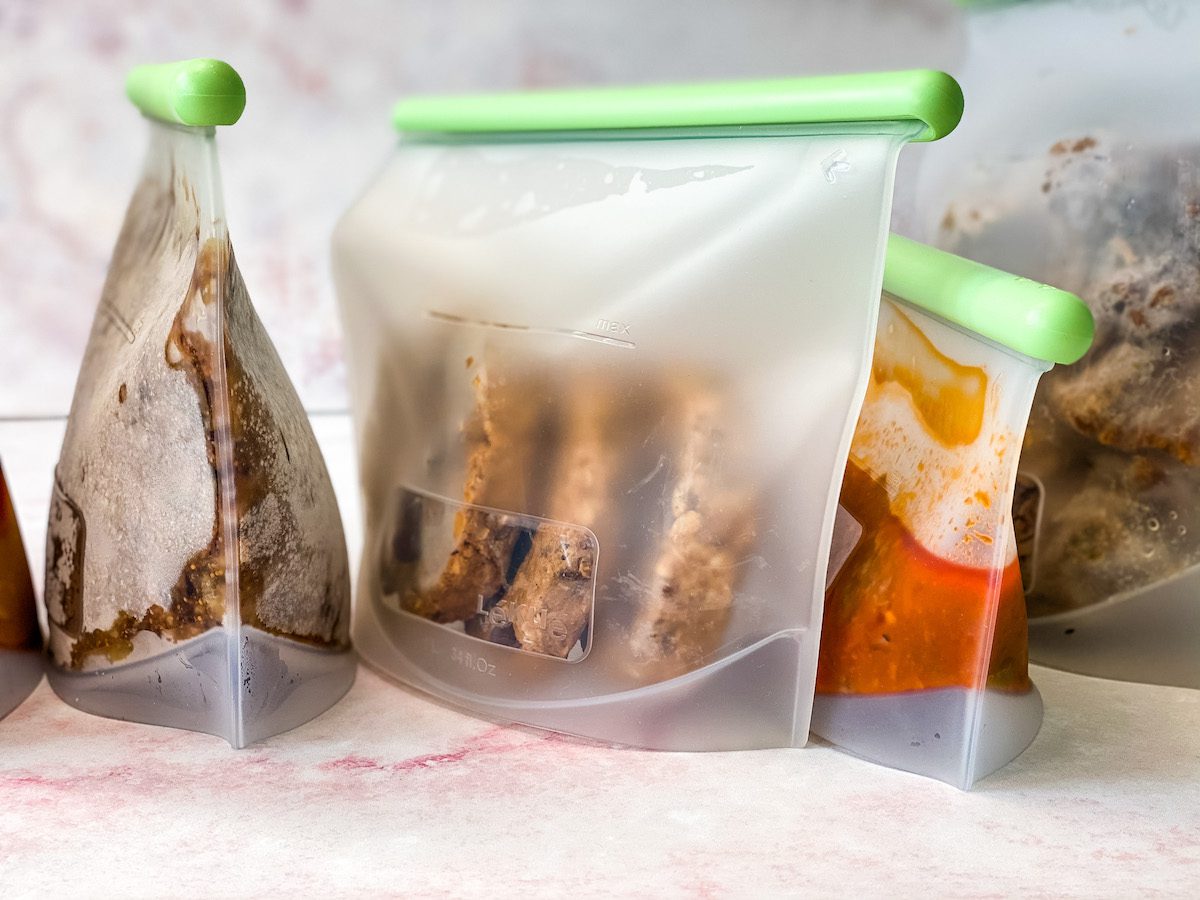 This month I used my Lekue food storage bags for so many things!
I froze chopped fresh figs in several bags. I make jam from fresh figs and didn't have time while they were in the prime season! So I'll have the puree ready to cook when I can do it.
I have also been experimenting with some giant whole wheat chocolate chip cookies and I've frozen a few to see how they bake after being frozen.
If you're in the market for more reusable products in your kitchen, try silicone food storage bags. They are fantastic organizers!!